The story of the Cub
We look back at how it all began. Keep an eye out for the bits in bold to see if lessons can be learned for the future…
The year was 1956 and Soichiro Honda and Co-Founder Fujisawa had left for Europe on what they called an observation tour. On the flight, the two men debated what Honda's next product should be. Soichiro favored a scooter, while Fujisawa favoured a moped. At the time, two-stroke mopeds were extremely popular in Europe, where they were a convenient mode of transportation that didn't require a license. As Soichiro listened to Fujisawa, he gradually warmed to the idea of a moped.
When the two men arrived, they immediately went looking for the mopeds that were currently being produced all over Europe, but none of them really matched the idea of the product Honda wanted to make. Soichiro remarked to Fujisawa, 'These bikes are designed for Europe's well-built roads, but they simply aren't appropriate to Japan. If we want to make a bike with minimum horsepower that's a pleasure to drive in Japan, it really needs to have a four-stroke engine." The two men headed back to Japan with burgeoning dreams of a new kind of motorcycle.
By the time Soichiro returned to Japan, he already had an image in his mind of the new product he wanted to make. It incorporated Fujisawa's idea of creating a small bike that would expand Honda's customer base, plus a low-floor, step-through design that would make it easy for women to ride, too. Soichiro insisted on a four-stroke engine.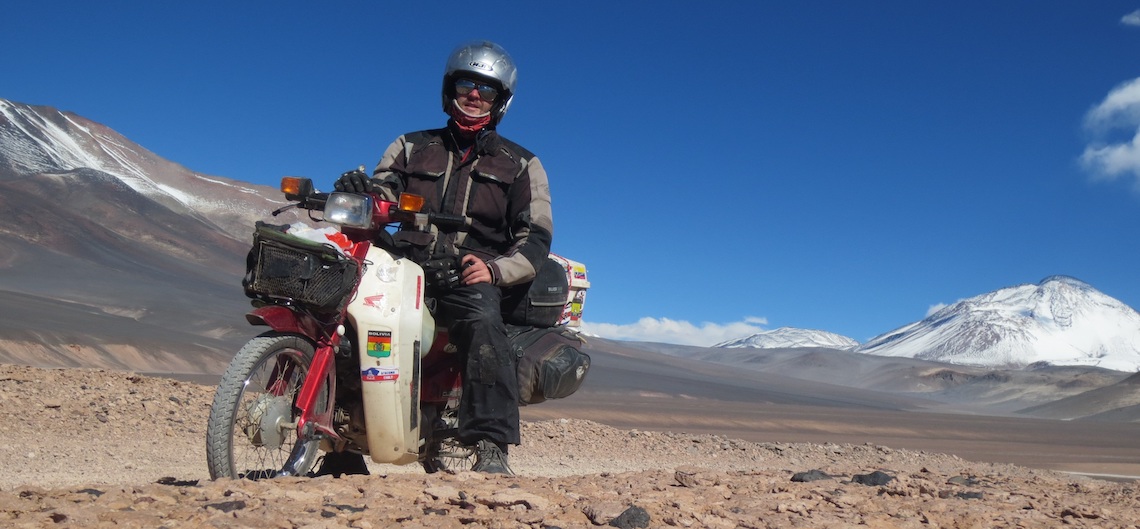 Photo: Sean Dillon
In early 1957, Honda began work on the vehicle's engine. It was the first time anyone in the world had attempted to mass-produce a 50cc OHV 4-stroke engine, and the development team came up with more and more ideas that flew in the face of conventional wisdom. Ultimately, they created an engine with 'phenomenal power': 9,500 rpm and 4.5 horsepower!
At the same time, Honda began to develop the Super Cub's automatic centrifugal clutch. The goal was to produce a bike that could be operated one-handed, as at the time soba restaurant deliveries were made by bicycle riders carrying boxes with their right hand, whilst steering with their left. This turned out to be extremely challenging, however, with difficulties associated with disengagement during shifting and the revolution ratio of the kick starter. The result was the birth of the revolutionary automatic centrifugal clutch.
Soichiro was very particular about the size of the tyres. The bike had to handle well on Japan's unpaved roads, but it also had to be compact. Honda decided that the ideal tyre size would be 17-inches, a size that did not yet exist for production vehicles. The major tyre manufacturers all refused to produce a new tyre size for just one model, but after numerous rejections, Honda finally located a small manufacturer who was willing to do it.
On December 24, one year after development had begun, the final FRP mockup was completed. The intricate mockup was mounted on a table top in the cafeteria, and as they stood in front of it, Soichiro asked Fujisawa, "Senior Managing Director, how many of these do you think we can sell?" Without missing a beat, Fujisawa responded, "30,000 units!" Astonished, the other associates exclaimed, "30,000 units a year?" When Fujisawa responded "No, 30,000 units a month!", everyone was stunned.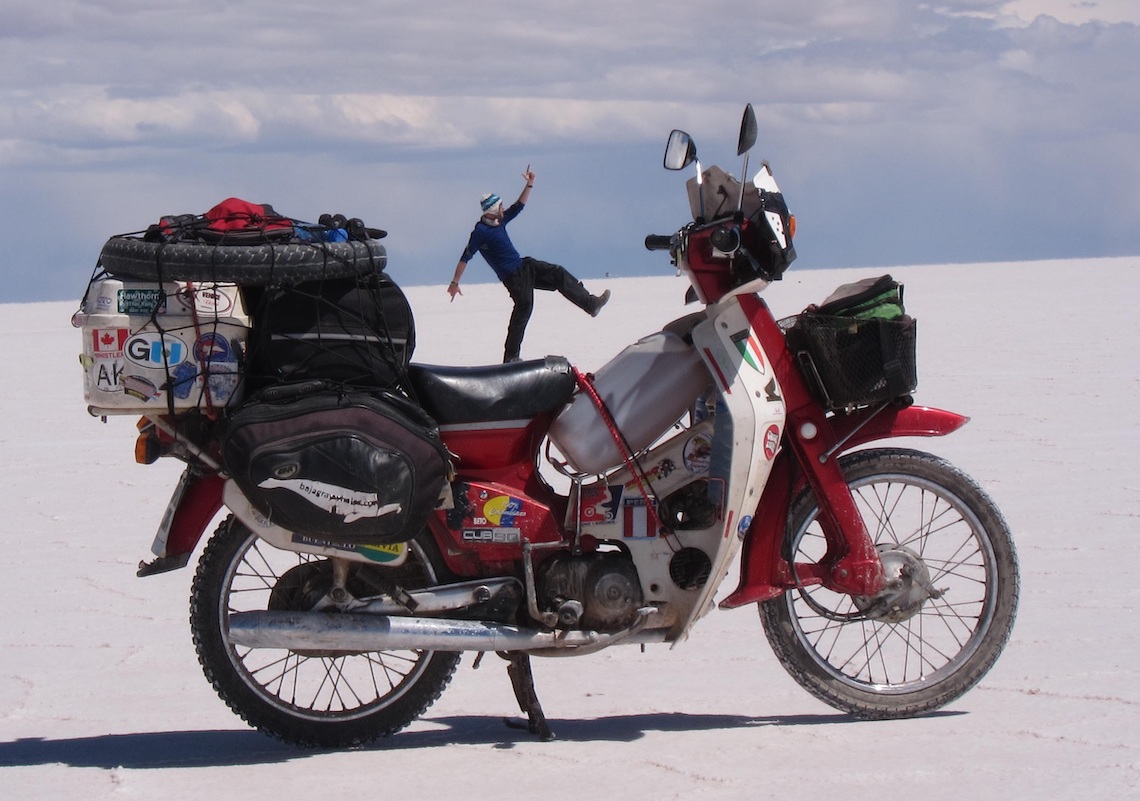 Photo: Sean Dillon
At the time, the total number of motorcycles sold each month in Japan was only around 40,000 units, and besides, Honda did not yet have the production capacity to produce 30,000 units per month. Fujisawa, however, was already envisioning the blueprints for a new factory that would be built to accommodate production of the new motorcycle.
To make the new motorcycle, Honda built a new ¥10 billion factory in Suzuka Mie, manufacturing 30,000, and with two shifts, 50,000, Super Cubs per month. The factory was modelled on the Volkswagen Beetle production line in Wolfsburg, Germany. Until then, Honda's top models had sold only 2,000 to 3,000 per month, so it was a massive gamble for Honda to take. When completed in 1960, the Suzuka Factory was the largest motorcycle factory in the world. The economies of scale achieved at Suzuka cut 18% from the cost of producing each Super Cub when Suzuka could be run at full capacity.
When the Super Cub C100 hit the market, it was priced at 55,000 yen, an amount well within the reach of the ordinary consumer, but challenging profitability-wise. Still, Fujisawa was determined to set a price that was attractive to the average person to expand the customer base. Meanwhile, during development, Soichiro insisted, "I want you to make the best product possible, regardless of cost. We can make up for the cost in mass production." Along with his high standards in manufacturing quality, Soichiro clearly had a lot of confidence in Fujisawa's abilities as a salesman.
Fujisawa came through with a sales strategy full of novel ideas. First, they would need to build a retail network. Fujisawa put the word out via a mass mailing, contacting businesses with strong community roots that until then had nothing to do with motorcycles, such as lumber dealers and grocery stores.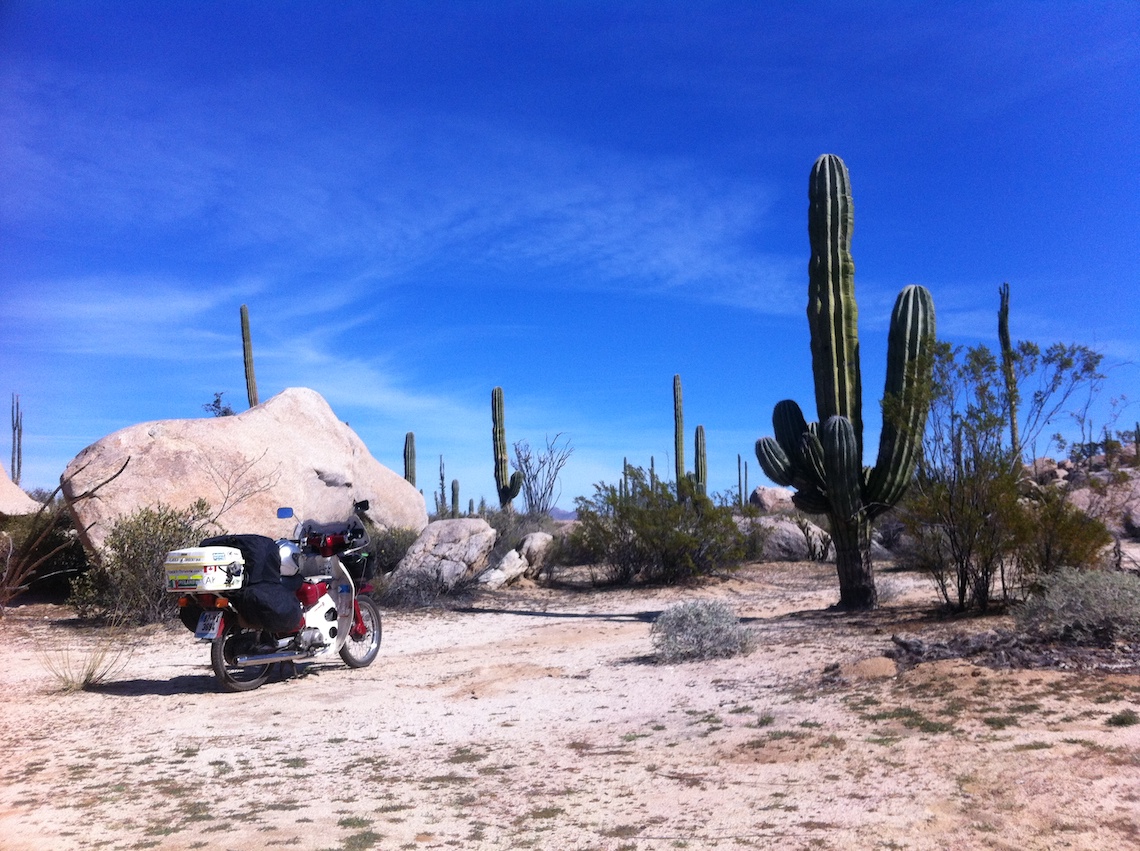 Photo: Sean Dillon
He created a network of shops where women would feel comfortable shopping, and in 1960 he began running ads in general interest magazines. At the time, it was unheard of to advertise motorcycles in anything other than specialized motorcycle publications.
These efforts to expand Honda's customer base were astonishingly effective, and in just a few years, Fujisawa's unbelievable projection of 30,000 units per month had become a reality.
At the heart of the bike's success was the pressed steel monocoque chassis, with the horizontal engine placed below the central spine, a configuration now called the 'step through' or 'underbone' motorcycle. Unlike a scooter the engine and gearbox unit was not fixed to the rear axle. This had several benefits. It moved the engine down and away from the seat, detaching the rear swingarm motion from the drivetrain for lower unsprung weight, and also made engine cooling air flow more direct. Placing the engine in the center of the frame, rather than close to the rear wheel, gave it proper front-rear balance.
The original pushrod overhead valve (OHV) air-cooled four stroke single cylinder engine had a 40-by-39-millimetre (1.6in × 1.5in) bore × stroke, displacing 49 cubic centimetres (3.0 cu inch), and could produce 3.4 kilowatts (4.5hp) @ 9,500rpm, for maximum speed of 69km/h (43mph). The low compression ratio meant the engine could consume inexpensive and commonly available low octane fuel, as well as minimising the effort to kick start the engine. Unlike many scooter CVTs, the centrifugal clutch made it possible to push start the Super Cub.
The early Super Cubs used a 6 volt ignition magneto mounted on the flywheel, with a battery to help maintain power to the lights, while later ones were upgraded to capacitor discharge ignition (CDI) systems. The lubrication system did not use an oil pump or oil filter, but was a primitive splash-fed system for both the crankcase and gearbox, with a non-consumable screen strainer to collected debris in the engine oil.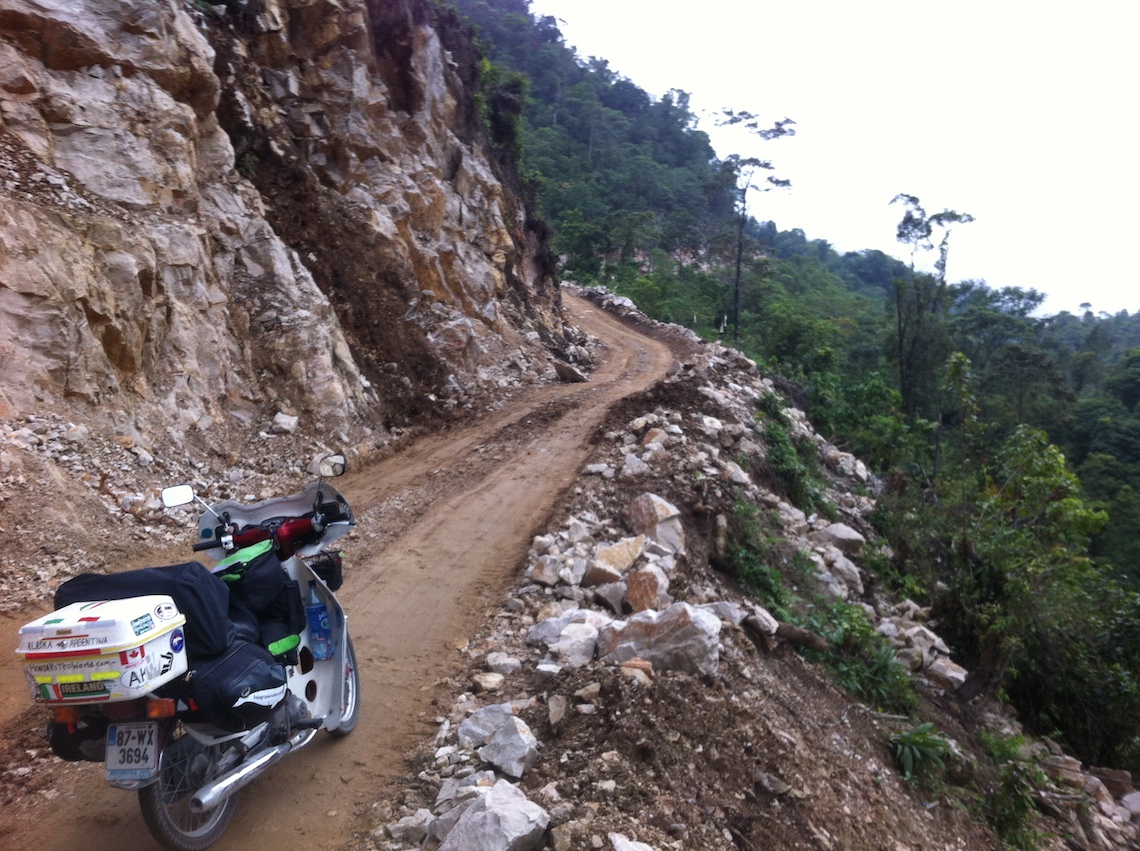 Photo: Sean Dillon
Specific elements of the Super Cub's design were integral to the campaign, such as the enclosed chain that kept chain lubricant from being flung on the rider's clothing, and the leg shield that similarly blocked road debris and hid the engine, and the convenience of the semi-automatic transmission. Presenting the Super Cub as a consumer appliance not requiring mechanical aptitude and an identity change into 'a motorcyclist', or worse, 'a biker'.
But American Honda's Cub sales proved lacklustre. The US market was dominated by motorcycles of at least 500cc displacement, and the pervading image of motorcycles was 'rough and dangerous.' Despite this, they designed a Mini-Trail and other new models that catered to the US market and used the mass mailing strategy to expand their sales network to sports equipment and fishing gear retailers, establishing a sporty image for the brand.
In 1960, Jack McCormack (first national sales manager of American Honda Motor Company) noticed that one Honda dealer in Boise, Idaho was selling more Honda 50s than the combined total of all six dealers in Los Angeles. He found out that the Idaho dealer, Herb Uhl, was selling the CA100s as a trail bike by adding knobbly tyres for off-road traction and increasing the final drive by using a larger rear sprocket with more teeth. Uhl said the advantages of light weight and the automatic clutch allowed unskilled riders to enjoy off-road riding, in comparison to traditional big trail bikes that could be difficult to handle. McCormack shipped a version of Uhl's customised CA100 to Japan and requested Honda put it into production, and by March 1961 it was available to US dealers.
Today, fifty years since its birth, the Cub's market continues to expand while its design remains fundamentally unchanged. Each year, close to 5 million units are produced worldwide. The Cub is truly a global standard, reaching production volumes unrivalled in the history of motorised transportation. While styling and other details vary slightly by location and application, the Super Cub has always retained its identity as a useful vehicle that is easy for anyone to ride.
Following the trail of bold text, it's possible to suggest that the problems facing the motorcycle industry today are no different to those of sixty years ago. What we need perhaps is another 'Cub', whoever happens to build it.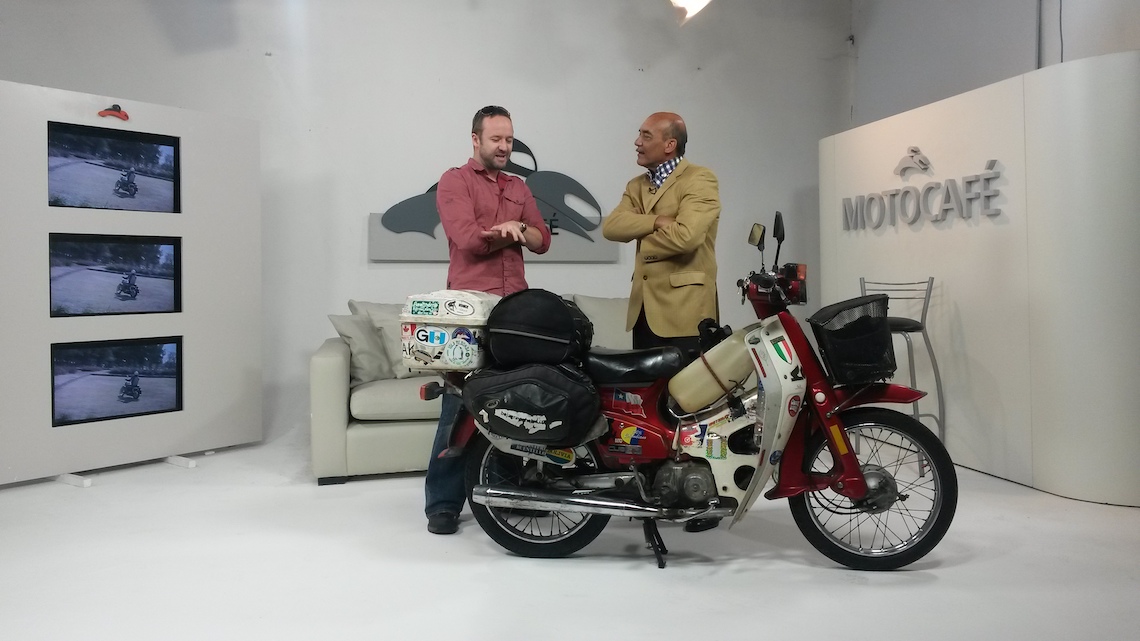 Photo: Sean Dillon
In The Classifieds
Honda C90s are fetching good money these days, aided by the drop in number of the old and tatty ones, and the rising availability of well cared for, low mileage pristine examples. Expect to pay upwards of £400 for a tatty one, and getting on for £2,000 for a mint late model with low miles (whether anyone pays that is another matter). The one pictured is a 1988 model with 21,000 miles on the clock for £1,000. Prices will only keep on rising.