For those of you who went to the 2019 Adventure Bike Rider Festival, it's time to see if you have a starring role in the festival video. And for those who didn't make it, this is what you missed out on.
Judging by the overwhelmingly positive feedback we've had from visitors and the motorcycle industry, the 2019 Festival, which was supported by headline sponsor Bridgestone and official partners REV'IT!, TomTom Rider, Brittany Ferries, Bennetts and Muc-Off, was a huge success.
We certainly enjoyed hosting the biggest gathering of adventure bikers in the UK in the magnificent grounds of the Ragley Hall Estate in Warwickshire.
The good news is that we'll be doing it all again in 2021 and we promise it will be even bigger and better than before. You can expect more bikes, more opportunities to ride, more festival attractions, and plenty more good times.
As the 2019 festival video shows, the event started with a spectacular parade of bikers winding their way through the grounds of Ragley Hall amid a thunderous roar of engines.
The excitement was palpable. After months of eager anticipation, and plenty of long journeys to reach the festival, the action was ready to begin. Those smiling faces you can see on arrival were a permanent fixture throughout the three-day event as people indulged in the huge variety of riding opportunities on offer.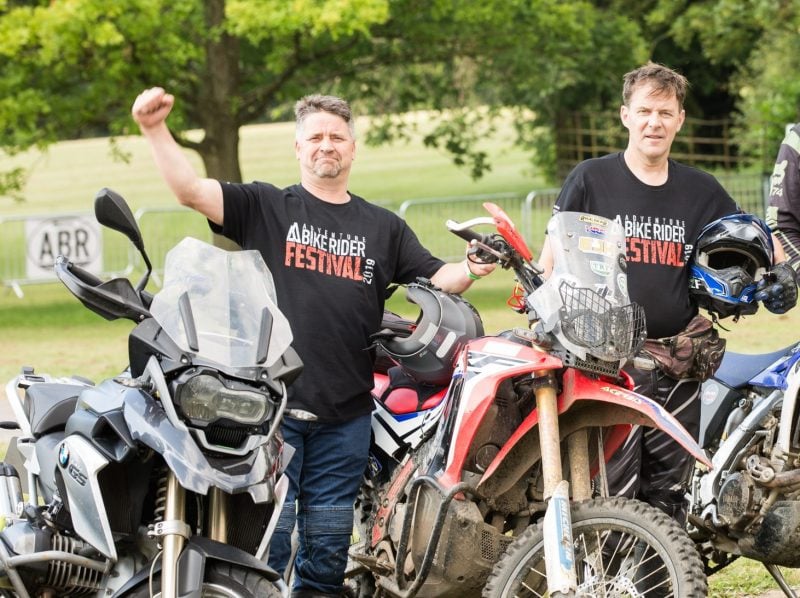 Never before have adventure bikers had the chance to test ride the latest adventure bikes from the world's leading manufacturers, benefit from world-class off-road riding tuition, take part in road and green lane ride-outs, ride a five-mile adventure trail, and learn the art of trials riding, all in one glorious location.
Away from the bikes there were plenty of opportunities to relax and have fun, whether that was hearing from celebrity speakers, sharing a few beers with like-minded riders, kayaking and paddle boarding on the lake, or exploring the adventure village.
Above all else, watching the festival video reminded us of the fantastic atmosphere that permeated the entire event. Whether people were sharing the trails or a few beers together, there was non-stop laughter, smiles and banter going on.
So, without further ado, here's the Adventure Bike Rider Festival 2019 video. We can't wait to see you all in 2021!