As we head into the new year, the entire ABR team have our sights firmly set on making the Adventure Bike Rider Festival the best motorcycle event of 2020.
More bikes, more opportunities to ride, more festival activities, more top-notch facilities, and plenty more feel-good vibes. If you enjoyed last year's Adventure Bike Rider Festival, you're going to be blown away by what we've got planned for 2020.
The event, which is supported by headline sponsor Bridgestone, is shaping up to be the most action-packed weekend of adventure biking ever held on these shores, with so many riding opportunities to choose from, you won't know where to start.
Whether you're new to adventure biking, or you're an old hand, if you ride solely on the road, or you like exploring green lanes, there'll be plenty for everyone to enjoy. Even if you don't ride a motorcycle and simply want to hang out and have fun, there'll be plenty to keep you occupied.
We can't wait to welcome as many of you as possible to the magnificent grounds of Ragley Hall in Warwickshire, on the 10 to 12 July, for what will be a celebration of all things adventure biking.
Plenty of you have snapped up your tickets already, but for those who haven't, here are 10 reasons why the Adventure Bike Rider Festival 2020 should be marked in your calendar.

1. Ride the latest adventure bikes
Where else can you ride a Honda Africa Twin, followed by Yamaha Ténéré 700, before taking a Ducati Multistrada for a spin. In fact, you'll be able to test ride all the latest adventure bikes from the world's leading manufacturers over one glorious weekend.
And, because the test rides proved so popular at last year's festival, the motorcycle manufacturers will be bringing even more bikes to ensure you get to ride as many bikes as you like.
2. A five-star location
The magnificent grounds of the Ragley Hall Estate proved to be the perfect setting for the Adventure Bike Rider Festival last year. It is a grade-A location set in the heart of the beautiful Warwickshire countryside, crowned by the impressive sight of Ragley Hall itself.
Simply visiting this historic estate is an incredible experience. Spending the weekend exploring those magnificent grounds by motorcycle is unforgettable.
3. The Adventure Trail
One of the most popular attractions at last year's festival was the five-mile adventure trail winding its way through the grounds of the Ragley Hall Estate. So, how do we top it in 2020?
Well, instead of providing you with five miles to explore, we're going to carve out 20-miles of adventure trail for your riding pleasure. They'll be something to enjoy for all levels of off-road rider, from complete beginners to experienced greenlaners. We're getting excited just thinking about it.
4. Upmarket facilities
We don't know about you, but our days of roughing it at festivals are well and truly over. That's why there'll be no expense spared on the quality of the facilities at the Adventure Bike Rider Festival.
There'll be plenty of warm showers and posh toilets attended to by an army of cleaners throughout the event to ensure you can do your business in style and comfort. There'll also be plenty of glamping options for those of you who want to add a touch of luxury to your weekend.
5. World-class off-road skills tuition
At ABR, we firmly believe that you don't need to go off road to have an adventure, which is why we design the festival for people who like to travel on tarmac, as well as those who enjoy hitting the trails. However, last year, we found many dedicated road riders enjoyed riding off road for the first time, particularly with the off-road skills schools, so in 2020, you'll again be able to learn from their teams of world-class instructors.
You'll also be able to try out trials riding with Inch Perfect Trials. So, whether you're a complete beginner, or you're looking to hone your skills in the dirt, the festival will be the perfect place to improve your riding.

6. Meet your adventure biking heroes
We've invited some very special guests to the 2020 festival. Some of the most recognisable faces from the world of adventure biking will be giving inspirational talks on their experiences of travelling the world on two wheels, throughout the weekend. We won't reveal who we've lined-up quite yet, but we promise you, you're going to be impressed.
7. Live music and, of course, a bar
If there's one word that could sum up last year's festival, it would be 'fun'. Some of our best memories were made after the bikes were parked up the for night and we all headed to the bar to share a few drinks and swap stories with new and old friends. Relaxing with a beer on a summer's evening in such glorious surroundings was truly special.
We're looking forward to doing it all again in 2020, when we'll also have fantastic bands playing live to soundtrack your evening. And, in the mornings, there'll be biker yoga taking place to ensure your mind, body and soul is ready to ride.
8. Road ride-outs
While they'll be more than enough festival activities taking place on-site to keep you busy all weekend, we know adventure bikers are a curious lot, so we've made sure you'll have plenty of opportunities to explore the surrounding countryside. Ragley Hall is located on the edge of the stunning Cotswolds Area of Outstanding Natural Beauty which is littered with chocolate box villages and seriously fun biking roads.
We'll be plotting a series of routes in the Cotswolds and beyond over the coming months, which we'll feature in the festival programme for you to follow. There'll also be opportunities to join group rideouts if you fancy going for a spin with new friends.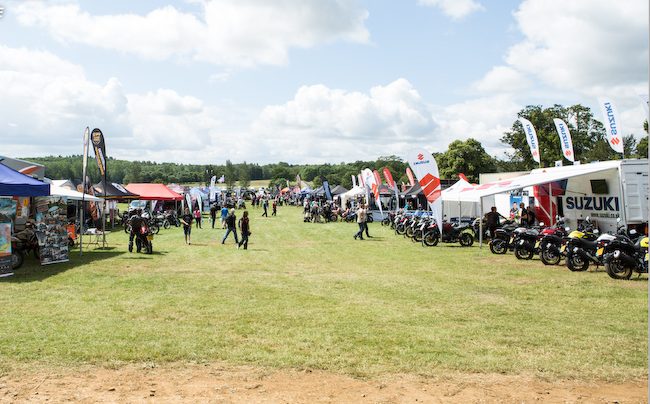 9. The Festival Village
While riding is the focus of the festival, we'll be ensuring there is plenty to do off the bike all weekend.
The Festival Village will play host to a wide selection of trade stands from leading motorcycle brands, along with entertainment, games and competitions, including the ever-popular slow bike race and welly wanging contest. There'll also be a variety of food stalls located in the Festival Village serving up delicious breakfasts, lunches and dinners throughout the weekend.
10. Green lane ride-outs
Whether you're curious about greenlining, or you're a regular on the trails, you'll be able to explore the wealth of green lanes in the Midlands on ride outs led by members of the Trail Riders Fellowship (TRF). These guys are the experts in trail riding here in the UK, so the festival will be an ideal opportunity to tap into their wealth of knowledge and explore off the beaten path.

Get your tickets now
These are just 10 of the exciting activities taking place at the Adventure Bike Rider Festival 2020. We'll be revealing more throughout the run up to the event. To get your tickets click here.