Following the announcement that a new Honda Africa Twin will be released in 2020, James Oxley looks at what we can expect from the latest incarnation of the big-selling adventure bike. 
Africa Twin is a moniker that has rightfully earned its place in motorcycling folklore.
The original XRV650 was inspired by Honda's Dakar-winning motorcycles and carved out a reputation as a globe conquering machine. It became a firm favourite with motorcycle travellers thanks to its capability and reliability as a long-distance tourer. That was until it was discontinued in 2003.
So, in 2016, it was no surprise that Honda chose to revive the Africa Twin brand when it launched a new adventure bike to take on the likes of the mighty BMW R 1200 GS. The result was the CRF1000L, a brand-new machine from the wheels up.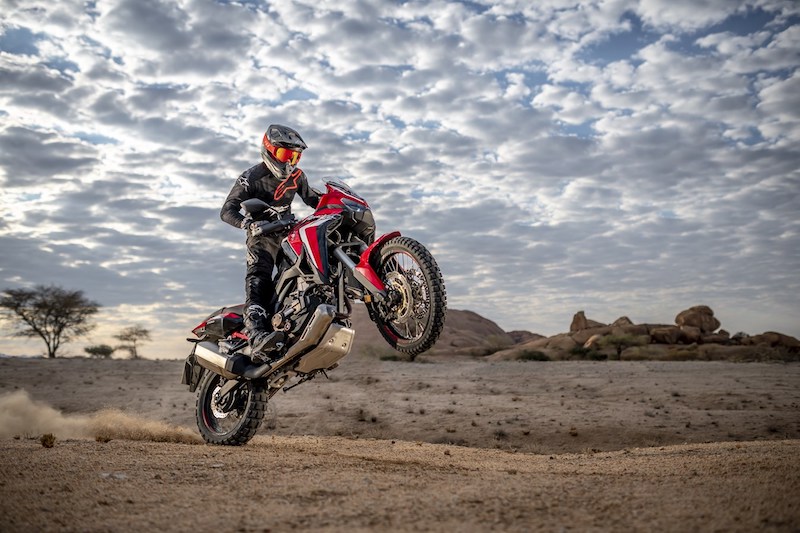 It was a bold move, and one not without risks. That distinctive Africa Twin logo placed on any new motorcycle was certain to make expectations soar. It had to be good, very good. In short, Honda nailed it, producing a superb machine that was as comfortable tackling desert piste as it was continental road touring, or commuting in busy city streets.
Admittedly, not everyone was satisfied, as is the case with the launch of any new bike. There were grumbles from some quarters that the new Africa Twin wasn't off-road focused enough, being too big, heavy, and featuring suspension that would bottom out if pushed it too hard.
Perversely, some people complained it wasn't road-focused enough, with less weather protection than its rivals and too much suspension travel, leading to vague steering in combination with that 21-inch front wheel.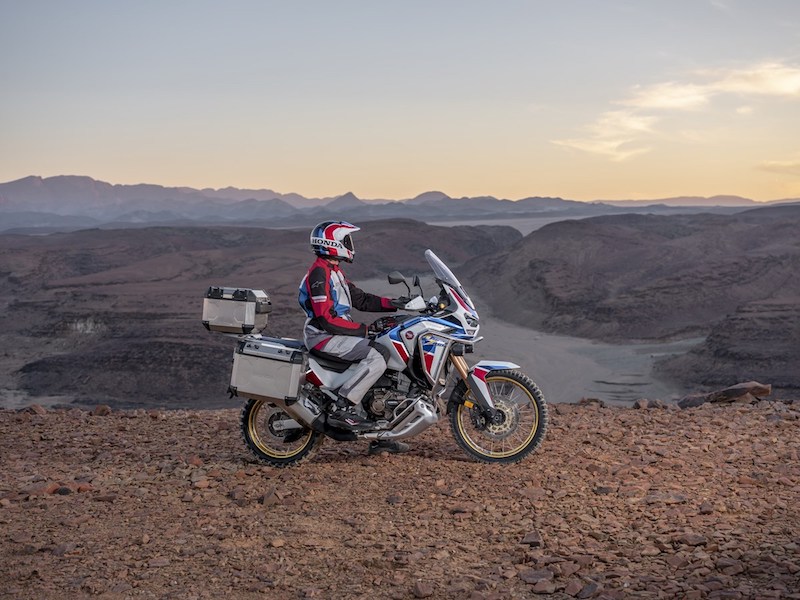 However, no bike is perfect and Honda didn't set out to design a dedicated dirt bike, just as it didn't funnel its research and development yen into the ultimate adventure tourer. Instead, the design concept for the Africa Twin was 'go anywhere'.
It produced a superb do-it-all bike, one that is just as happy blasting across France and scratching around the Alps as it is tackling sections of the Trans Euro Trail, or one of the USA's Back Country Discovery Routes.
It's a machine that may not be the best at anything but aims to be the best at doing everything. The ultimate adventure bike you might say, although there'll be plenty of BMW and KTM owners ready to shoot down that rather bold claim.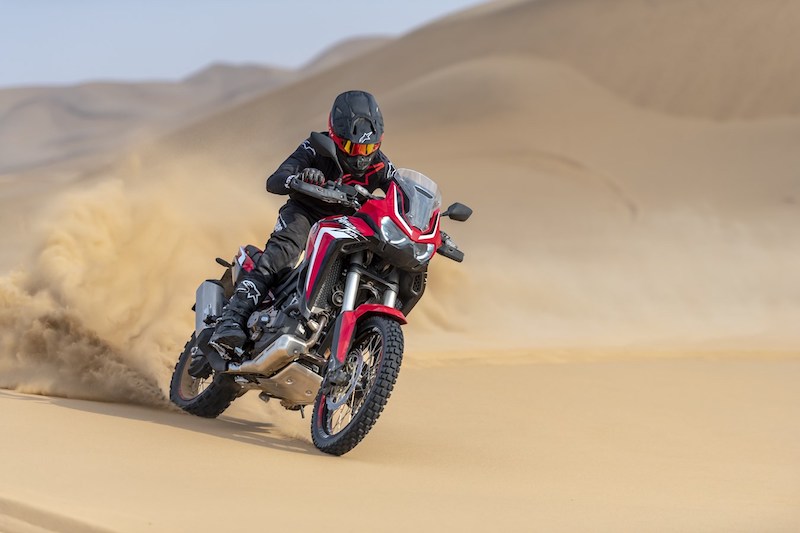 The CRF1000L Africa Twin proved a hit for Honda, and it was followed up in 2017 with the unveiling of the beefier Adventure Sports version. This featured a bigger fuel tank, more ground clearance, a higher touring screen and more suspension travel, addressing some of the concerns raised by the original CRF1000L's detractors. It also looked a million dollars.
Both versions of the Africa Twin enabled Honda to make a big splash in the adventure bike world, selling 87,000 bikes between them and gaining a strong foothold in what is a fiercely competitive market. However, in the past couple of years the competition has hit back, with a slew of new and improved bikes vying for your hard-earned cash.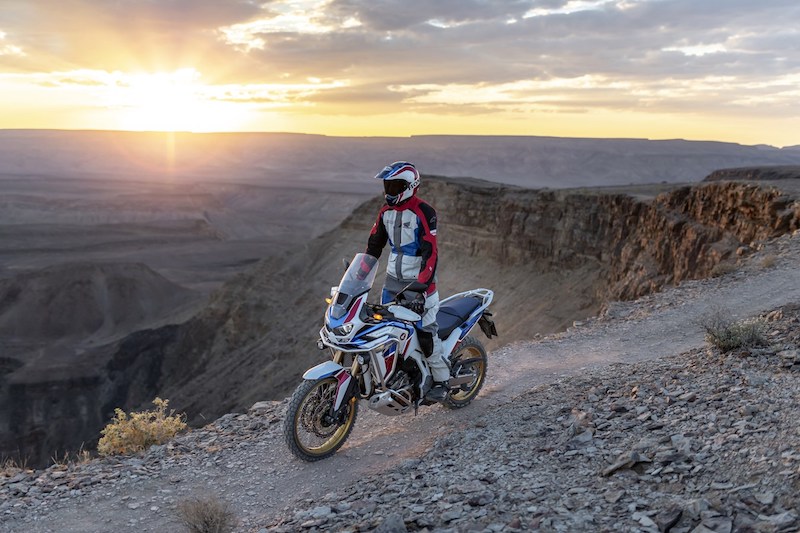 The likes of the KTM 790 Adventure and the Yamaha Ténéré 700 have raised the bar in the mid-sized segment, while machines like the new BMW R 1250 GS and its Adventure variant, as well as the Ducati 1260 Enduro, have packed big adventure bikes with more power, more technology and more refinement than ever before.
In short, the 'new' Africa Twin models were in danger of getting left behind already. Honda of course was fully aware of this (it's not the world's best-selling motorcycle manufacturer for nothing), and has announced the launch of new Africa Twin and Africa Twin Adventure Sports models in 2020.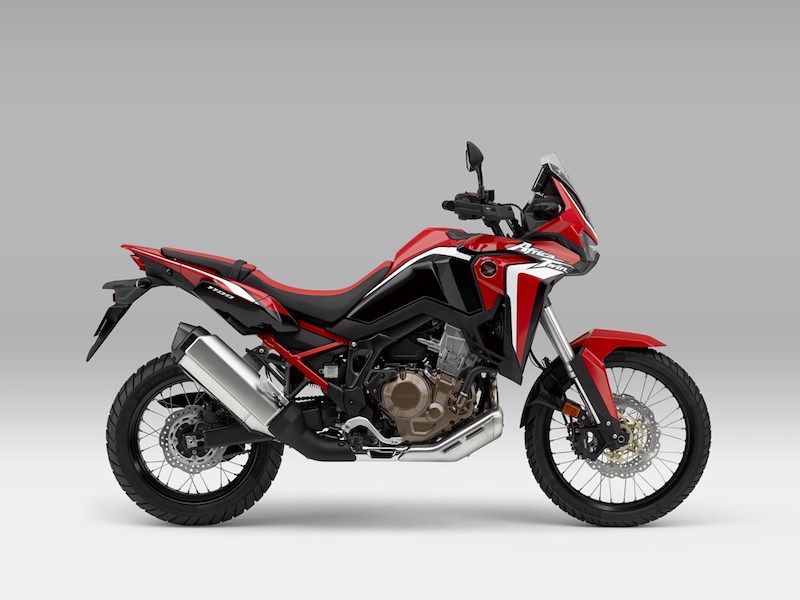 The bikes are due to be unveiled to the public for the first time at the EICMA motorcycle show in Milan this November. Both machines will feature a raft of upgrades, including an increase in engine size and power, and all the signs are pointing towards significant improvements to what were already extremely capable motorcycles.
So, without further ado, this is what you can expect from the latest incarnation of the Honda Africa Twin in 2020 (we'll take a look at the updates to the Adventure Sports in a separate story).
Engine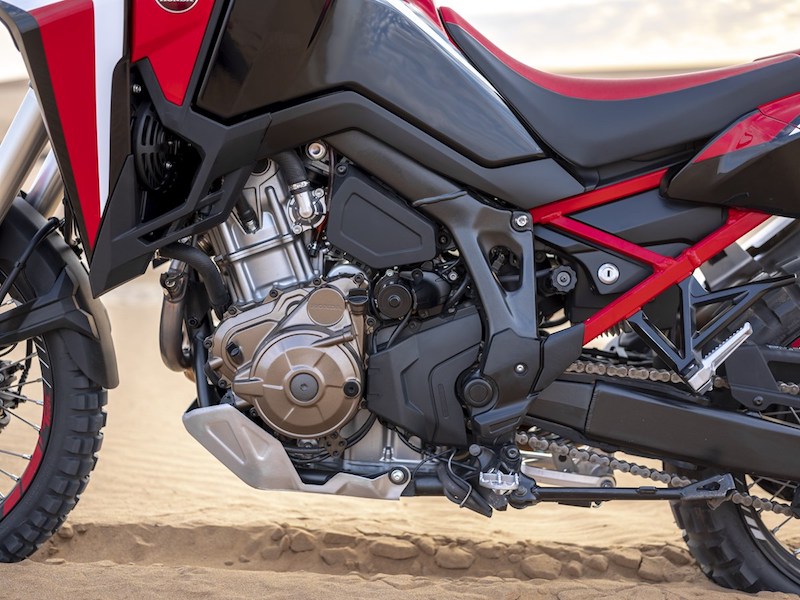 The big news is the Africa Twin's parallel twin engine has been given a larger displacement for 2020, up from 998cc to 1,084cc. As a result, peak power increases from 94bhp to 101bhp. Peak torque goes from 99Nm to 105Nm at 6,250rpm. Throttle by wire remains.
This small hike in power will in part be to cater to new Euro 5 emission standards that come into force in 2020. By increasing the engine capacity of the Africa Twin, Honda can off-set any power loss caused by the new restrictions.
With this in mind, the changes to the engine represent an evolution not a revolution. The Africa Twin's parallel twin is a peach of a powerplant, offering smooth power delivery and plenty of torque, though it's no secret that the CRF1000L lacked a bit of oomph – there was enough power there, but it wasn't the most exciting.
There are four rider modes, with the previously available urban, tour, and gravel settings being joined by a new off-road mode.
Design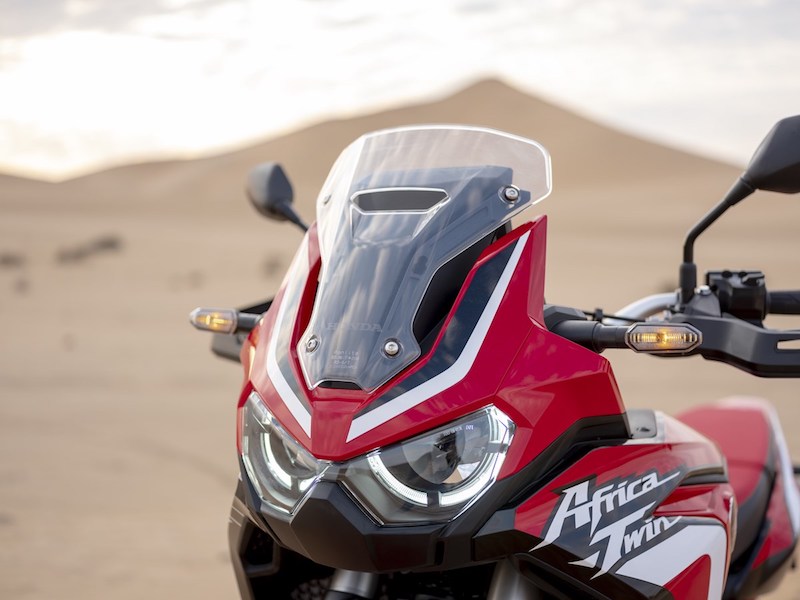 Honda says the new CRF1000L has a 'sharply renewed focus on off-road core ability'. It's design and styling are slimmer, more compact, and more aggressive than ever before, including a shorter fixed screen designed for off-road riding.
It seems clear that the previous model's all-rounder credentials on and off-road may well have been sacrificed to give the standard model Africa Twin better performance in the dirt. Is this the right approach for a bike that has proved a popular road tourer? Only time will tell, but strong sales this year of the off-road focused KTM 790 Adventure R and the Yamaha Ténéré 700 suggest Honda are onto something.
The tail of the bike has been made slimmer along with the seat which is 40mm narrower. The shape of the seat has also been redesigned to make it easier to mover around on the bike, a feature usually found in more off-road focused motorcycles.
There is also a change to the height of the handlebars which have been raised 22.5mm to give a more upright riding position while standing.
Chassis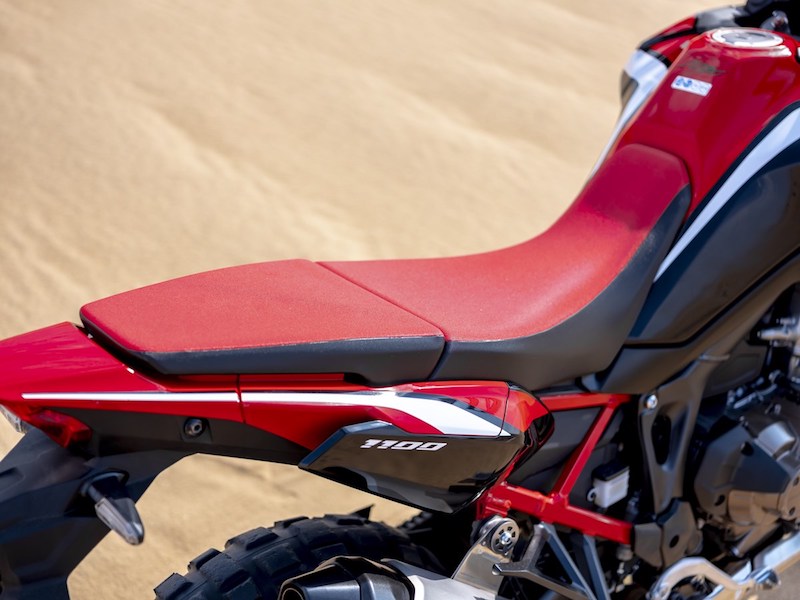 One complaint made about previous Africa Twin models was that they featured a one-piece frame, rather than having a bolted-on sub frame. This meant if you were to crash and twist the frame, there was more chance of the bike being a write off. I know this for a fact because it happened to me just three weeks after buying a brand new Africa Twin Adventure Sports. The bike was indeed a write off.
For 2020, Honda have addressed this by giving the bike a bolted on aluminium sub frame. In fact, Honda says the strength and rigidity of the frame was completely re-examined to provide better performance on and off road. This includes more rigidity at the steering head to provide better feel for front end grip.
Overall, 1.8kg has been shaved off the weight of the frame.
Size and weight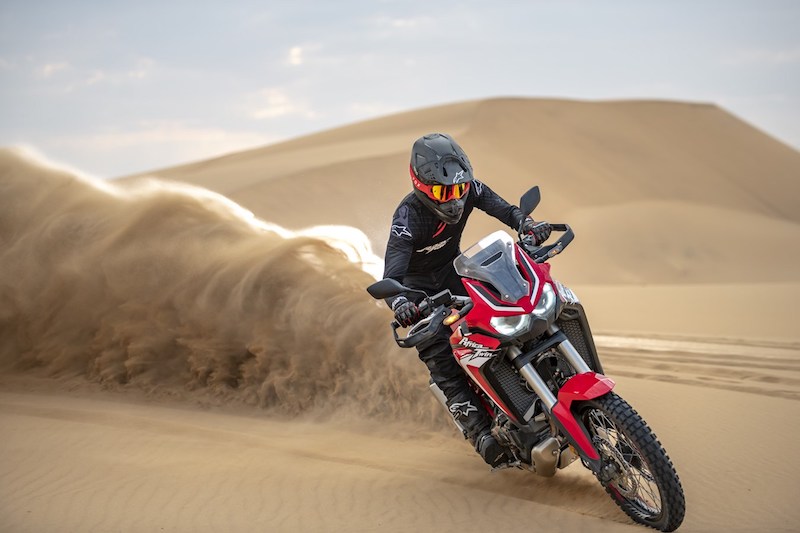 The Africa Twin has trimmed 5kg of fat overall, taking its wet weight down to 226kg. The seat height remains between 850mm and 870mm, although lower and higher seats are available as extras. Ground clearance is unchanged at 250mm.
The tank size remains at 18.8l. The bike rolls on a 21-inch stainless steel spoked front wheel and an 18-inch rear, which use tubes.
Features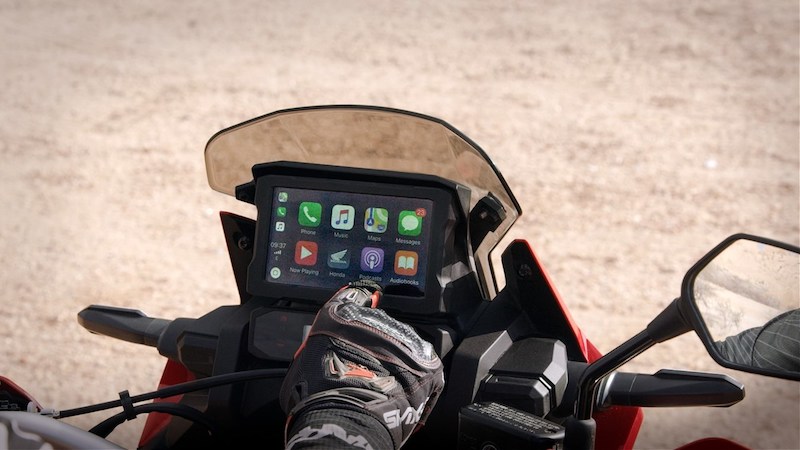 Despite seemingly aiming the Africa Twin at the off-road adventure bike rider, there are plenty of features and creature comforts that suggest it will continue to be a solid touring bike. These include cruise control as standard, a 6.5-inch touchscreen TFT dash (usable with gloves), a USB charging point, Bluetooth connectivity, and Apple CarPlay compatibility.
Hand guards also come a standard as well as daytime running lights that automatically adjust to the ambient light. The LED headlights have been mounted slightly higher than the previous model to improve visibility.
Technological wizardry measures wheel speed to automatically cancel indicators, rather than the often-frustrating method of simply relying on a timer.
The bike also features wheelie control and four levels of traction control, with three levels of engine braking for you to adjust.
DCT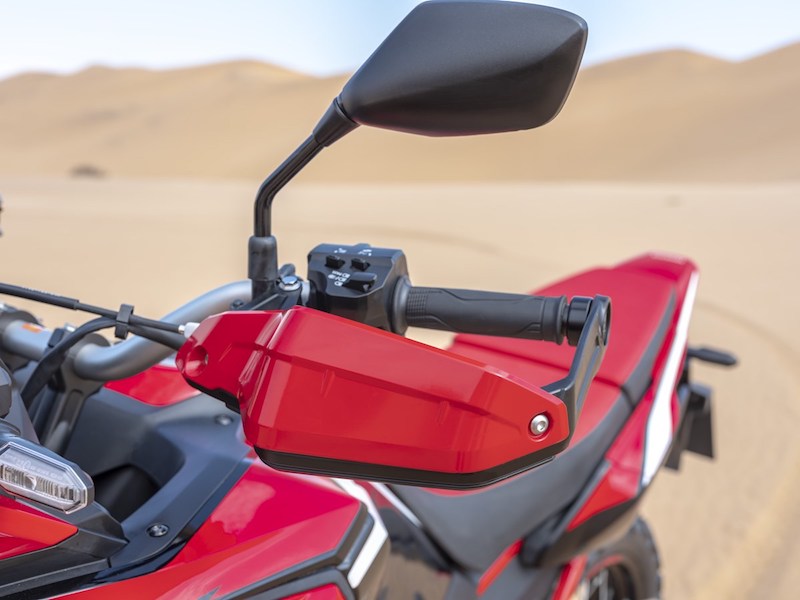 If an automatic motorcycle is your thing, Honda is promising an improved DCT system on the new Africa Twin, including incline detection that adapts gear changes depending on the gradient of the hill you are on.
There is also a new cornering detection feature which recognises the bike is going around a turn and adjusts the gear shift programme for the most natural gear change.
Exhaust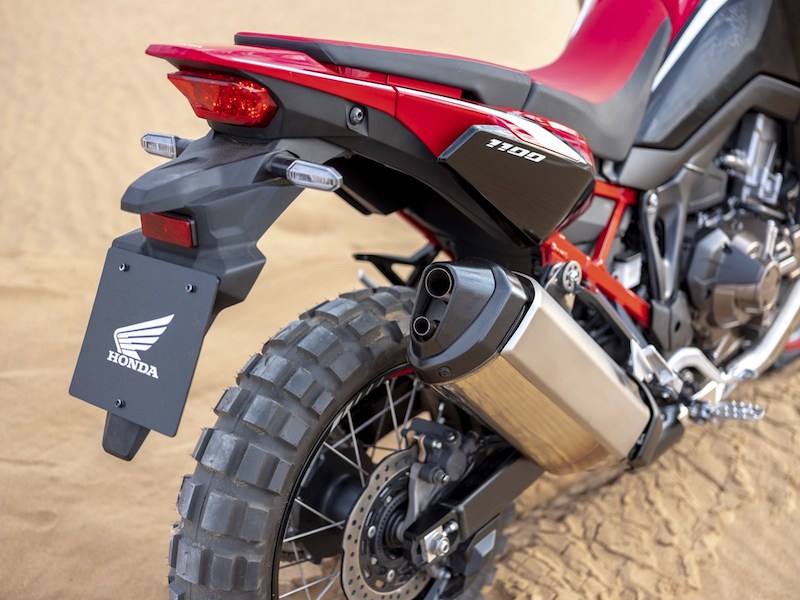 While the Africa Twin Adventure Sports emitted a primal growl that made our hairs stand on end, the standard version sounded a little muted. Honda will address this with the new model by adding a variable exhaust control valve to the muffler to create an improved low-rpm sound, and also increase high-rpm performance.
Suspension
The 2020 Africa Twin features adjustable Showa suspension with 230mm travel at the front and 220mm at the rear.
CRF1100L Africa Twin Adventure Sports
Many of the changes Honda has made to its Africa Twin line-up are shared across both models, including sharing the same frame, engine, riding position, and technology outlined above.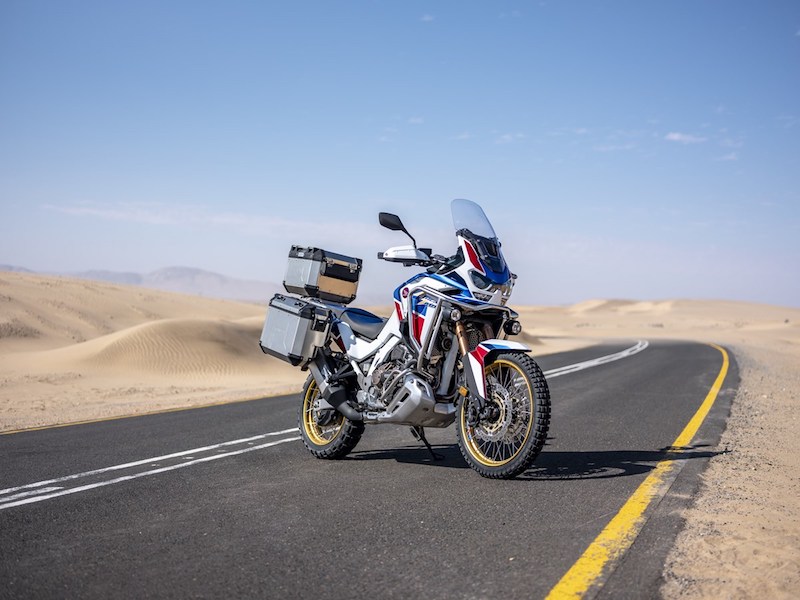 However, it seems Honda are pitching the updated Adventure Sports model more as a long distance tourer, and less of a dirt-focused machine like its smaller sibling.
The Adventure Sports model now gets tubeless tyres (a favourite of road tourers due to the ease of fixing a puncture), a slightly larger 24.8l fuel tank (up from 24.2l) for more miles between stops, a larger adjustable screen for comfort, and a rear carrier rack to mount luggage on.
Features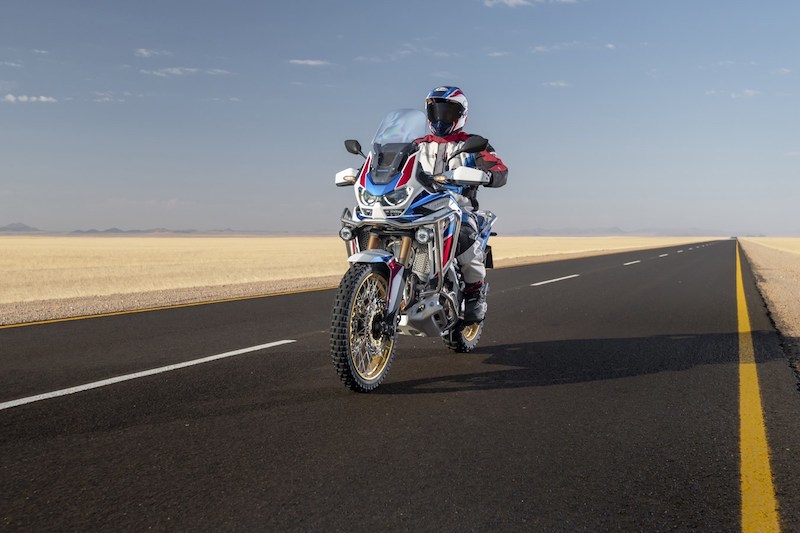 Along with the touring-friendly features mentioned above, the Adventure Sports also boasts heated grips as standard, cruise control, cornering lights, knuckle guards, auto-cancelling indicators, a 6.5-inch touchscreen TFT display, Apple CarPlay and Bluetooth connectivity.
An optional extra is Showa electronically adjustable suspension with five settings, including a User mode to fine tune it to your taste.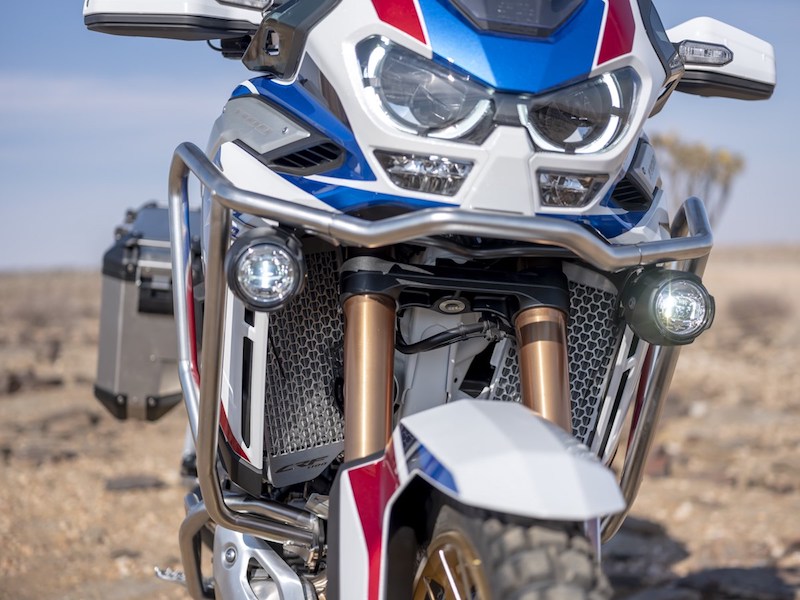 The seat height of Adventure Sports has now been brought into line with the standard model Africa Twin at 850mm to 870mm (down from a whopping 900mm to 920mm). This should make the bike more accessible to riders who were previously put off by the imposing stature of the previous model.
Like the standard Africa Twin, the new Adventure Sports variant rolls on a 21-inch front and 18-inch rear spoked wheels. However, unlike the standard model, the Adventure Sports gets a larger, adjustable screen.
The launch
The press launch of the new Honda Africa Twin and the Africa Twin Adventure Sports is due to take place in Sardinia in the coming days and we'll be there to put it through its paces. You'll be able to read the full review in the November/December issue of Adventure Bike Rider magazine.
Africa Twin full specifications
ENGINE
Type
SOHC liquid-cooled 4-stroke 8-valve parallel twin with 270° crank and Uni-cam
Displacement
1084cc
Bore & Stroke
92mm x 81.5mm
Compression Ratio
10.1:1
Max. Power Output
75kW at 7,500rpm
Max. Torque
105Nm at 6,250rpm
Noise Level
73dB
Oil Capacity
4.8/4.3 (5.2/4.7 DCT)
FUEL SYSTEM
Carburation
PGM-FI
Fuel Tank Capacity
18.8L
CO2 Emissions
112g/km MT

110g/km DCT

Fuel Consumption
4.9L/100km (20.4km/L) MT

4.8L/100km (20.8km/L) DCT

ELECTRICAL SYSTEM
Starter
Electric
Battery Capacity
12V-6Ah Li-ion battery (20hr)
ACG Output
 0.49 kW/5,000rpm
DRIVETRAIN
Clutch Type
Wet, multiplate with coil springs, aluminium cam assist and slipper clutch

DCT – 2 wet multiplate clutches with coil springs

Transmission Type
6 speed manual (6 speed DCT)
FRAME
Type
Semi double cradle
CHASSIS
Dimensions (L´W´H)
2330mm x 960mm x 1395mm
Wheelbase
1575mm
Caster Angle
27.5°
Trail
113mm
Seat Height
850/870mm (low seat option 825mm, high seat option 895mm)
Ground Clearance
250mm
Kerb Weight
226kg (DCT 236kg)
SUSPENSION
Type Front
Showa 45mm cartridge-type inverted telescopic fork with dial-style preload adjuster and DF adjustments, 230mm stroke
Type Rear
Monoblock aluminium swing arm with Pro-Link with Showa gas-charged damper, hydraulic dial-style preload adjuster and rebound damping adjustments, 220 mm rear wheel travel
WHEELS
Type Front
21M/C x 2.15 wire spoke with aluminium rim
Type Rear
18M/C x MT4.00 wire spoke with aluminium rim
Rim Size Front
21″
Rim Size Rear
18″
Tyres Front
90/90-21M/C 54H (tube type)

(Bridgestone Battlax Adventurecross Tourer AX41T /

Metzler Karoo Street)

Tyres Rear
150/70R18M/C 70H (tube type)

(Bridgestone Battlax Adventurecross Tourer AX41T /

AX41T Metzler Karoo Street)

BRAKES
ABS System Type
2 channel with IMU
Selectable ABS MODE with on-road and off-road setting
Type Front
310mm dual wave floating hydraulic disc with aluminium hub and radial fit 4-piston calipers and sintered metal pads
Type Rear
256mm wave hydraulic disc with single piston caliper and sintered metal pads. 2-channel with rear ABS OFF mode.
INSTRUMENTS & ELECTRICS
Instruments
LCD Meter, TFT 6.5inch touch panel multi information display
Security System
Immobiliser, security alarm (optional)
Headlight
LED
Taillight
LED
Electrics
Daytime running lights, Bluetooth audio and Apple Carplay, USB socket, auto turn signal cancel, cruise control, emergency stop signal, IMU, HSTC and wheelie control)
Africa Twin Adventure Sports full specifications
ENGINE
Type
SOHC liquid-cooled 4-stroke 8-valve parallel twin with 270° crank and Uni-cam
Displacement
1084cc
Bore & Stroke
92mm x 81.5mm
Compression Ratio
10.1:1
Max. Power Output
75kW at 7500rpm
Max. Torque
105Nm at 6250rpm
Noise Level
73dB
Oil Capacity
4.8/4.3 (5.2/4.7 DCT)
FUEL SYSTEM
Carburation
PGM-FI
Fuel Tank Capacity
24.8L
CO2 Emissions
112g/km MT

110g/km DCT

Fuel Consumption
4.9L/100km (20.4km/L) MT

4.8L/100km (20.8km/L) DCT

ELECTRICAL SYSTEM
Starter
Electric
Battery Capacity
12V-6Ah Li-ion battery (20hr)
ACG Output
 0.49kW/5000rpm
DRIVETRAIN
Clutch Type
Wet, multiplate with coil springs, aluminium cam assist and slipper clutch

DCT – 2 wet multiplate clutches with coil springs

Transmission Type
6 speed manual (6 speed DCT)
FRAME
Type
Semi double cradle
CHASSIS
Dimensions (L´W´H)
2330mm x 960mm x 1560mm (1620mm with screen in uppermost position)
Wheelbase
1575mm
Caster Angle
27.5°
Trail
113mm
Seat Height
850/870mm (low seat option 825mm, high seat option 895mm)
Ground Clearance
250mm
Kerb Weight
238kg (DCT 248kg)

With Showa EERATM 240kg MT (DCT 250kg)

SUSPENSION
Type Front

Showa 45mm cartridge-type inverted telescopic fork with dial-style preload adjuster and damping adjustment, 230mm stroke

EERATM – Showa Telescopic inverted fork with an inner tube diameter of 45mm, and Showa EERATM with compression and rebound dumping adjustments, 230mm stroke

Type Rear
Monoblock aluminium swing arm with Pro-Link with Showa gas-charged damper, hydraulic dial-style preload adjuster and rebound damping adjustments, 220 mm rear wheel travel.

EERATM – Monoblock aluminium swing arm with Pro-Link with Showa gas-charged damper, hydraulic remote control preload adjuster and electric control unit with compression and rebound damping adjustments, 220 mm rear wheel travel

WHEELS
Type Front
21M/C x MT2.15 wire spoke with aluminium rim
Type Rear
18M/C x MT4.00 wire spoke with aluminium rim
Rim Size Front
21″
Rim Size Rear
18″
Tyres Front
90/90-21M/C 54H (tubeless type)

Bridgestone Battlax Adventurecross Tourer AX41T
Metzler Karoo Street

Tyres Rear
150/70R18M/C 70H (tubeless type)

Bridgestone Battlax Adventurecross Tourer AX41T
Metzler Karoo Street

BRAKES
ABS System Type
2 channel with IMU
Selectable ABS MODE with on-road and off-road setting
Type Front
310mm dual wave floating hydraulic disc with aluminium hub and radial fit 4-piston calipers and sintered metal pads
Type Rear
256mm wave hydraulic disc with single piston caliper and sintered metal pads. 2-Channel with rear ABS off mode.
INSTRUMENTS & ELECTRICS
Instruments
LCD Meter, TFT 6.5inch touch panel multi information display
Security System
Immobiliser, security alarm (optional)
Headlight
LED
Taillight
LED
Electrics
Daytime running lights, Bluetooth audio and Apple® CarPlay, USB socket, auto turn signal cancel, cruise control, emergency stop signal, IMU, HSTC, cornering lights, wheelie control