CAREER OPPORTUNITIES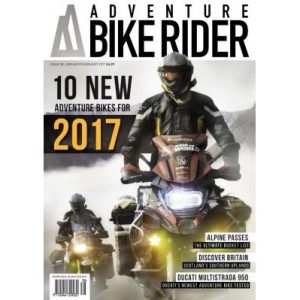 Adventure Bike Rider (ABR) is based in Stratford upon Avon, Warwickshire, UK. ABR is one of two titles owned Adventurize Media, we've been publishing magazines for more than 23 years.
---
Staff Writer
We are seeking a professional and enthusiastic Staff Writer to produce and help manage a stimulating mix of content for ABR magazine, website and social media
The main purpose of the role is to make sure ABR meets and exceeds its audience targets by ensuring all communication channels are populated with compelling, fresh content and by building a strong social media community.
An interest in motorcycles, travel and motorcycle culture is a must, as too is a passion for digital media and desire to build a reputation as a true digital media expert.
Responsibilities
Producing and publishing content on all channels, including reviews, video posts, curated lists, shareable social media posts, news, evergreen content as well as some longer written pieces.
Hunting out videos and content to share on social media, and creating fresh, new video content.
Working with the Editor to produce an online content calendar.
Researching and curating content pieces as necessary.
Using google analytics and social insights to observe how well content is performing and changing what we do accordingly.
Posting updates the optimum number of times on Facebook and other networks to a schedule
Building and nurturing a community on Facebook by engaging directly with users.
Running competitions and user promotions as necessary.
Producing two weekly email newsletters.
Personal Qualities
Must have a clean, current and full motorcycle licence
Keen interest in motorcycles, travel and motorcycle culture.
An active interest in working with other content producers who cover motorcycling.
Fast, organised worker.
Numbers-driven / highly analytical.
Willing to learn and adapt in fast environment.
Thrive on pressure in target-driven culture.
Highly motivated.
Preferred Experience and Skills
Excellent written English with natural, informal, entertaining writing style.
Good relationships and contacts within the industry.
Good working knowledge of WordPress or other CMS.
Working knowledge of the Adobe Suite for both video and photography.
Comfortable using Google analytics.
Good knowledge of how the main social networks work and their insights
General awareness of web technologies.
Understanding of SEO.
Photography and/or filming +editing skills a distinct advantage.
Benefits
Competitive salary.
On the job training.
Pension.
Opportunities for exciting work related travel for editorial content.
---
MEDIA SALES
Basic plus commission OTE £35k
A career in sales can be one of the most rewarding, both financially and personally.
We are looking for a media sales executive to deal with our existing client base and build relationships with new customers. You will have at least one years experience in a telesales or sales environment and be enthusiastic, persuasive and a self starter.
The ideal candidate will have experience and knowledge of traditional print plus web, social and content marketing activity.
To apply for this position, please call 01789 450000
---
 INTERNSHIPS
We have a limited number of opportunities in our editorial, IT and graphic design departments for work experience placements. Placements are for three to six month and you will learn valuable skills and on-the-job experience. We pay travel expenses and outstanding candidates could be offered a full time position at Adventurize Media at the end of the scheme.
To apply email [email protected] with your CV including full contact details and a sample of your writing or design work.