Bryn Davies rounds up a selection of new products and put them to the test…
X-Lite X-1003 Elegance N-Com helmet |£349.99 (Feature Image above)
N-Com BX4 communication system |£239.99
What is it? A flip-front touring helmet with a composite fibre shell.
The X-1003 Elegance is a new flip-front helmet from Italian helmet manufacturer X-Lite. It has a composite fibre shell (made using carbon, Kevlar and glass) and a few features that make it an ideal touring helmet for ABRs. I've been using the X-1003 for over a month now and in all, it's a pretty impressive helmet.
It features X-Lite's Touring Ventilation System that does a great job of keeping the helmet cool in stuffy conditions. Equally, in terms of comfort, I was happily able to wear it continuously on a 16 hour riding day with no issues at all. The inner can be removed when you need to wash it and an ultra-wide visor gives an excellent field of vision.
The flip-front is operated by a 'dual-action double safety chin guard opening system' to prevent any accidental openings. While it's a bit fiddly initially, after a few opens it's actually easier to use than any other flip-front helmet I've tried. You can also lock the flip-front in the up position for those really warm days. The included Pinlock anti-fog visor insert works brilliantly at preventing fog build-ups on the screen (without it the screen tends to fog up quite a lot) and an internal tinted Vision Protection System (drop-down visor) helps when riding towards the sun.
In all, the X-1003 is a brilliant flip-front helmet. It's comfortable, even over long distances, and it has all the features you'd expect from a helmet of this price. One thing I would criticise the X-1003 for is that it was very loud in use, with a lot of wind noise, and while the amount of noise a helmet makes is largely down to the shape of the rider's head, I made sure I was always riding with earplugs in.
---
Helite Airbag vest | £475
www.helite-motorcycle-airbagjackets.co.uk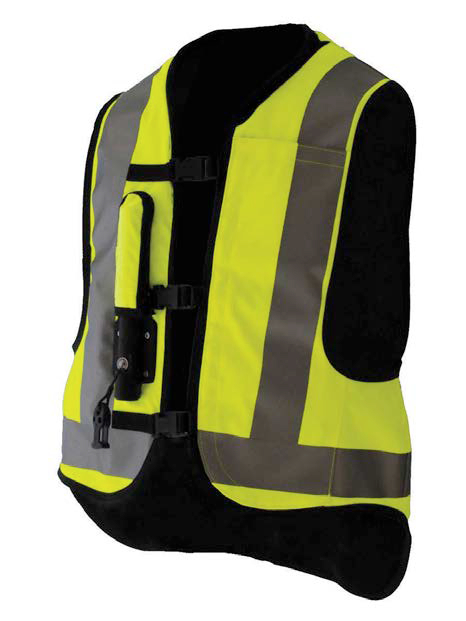 What is it? An inflatable jacket designed to protect you in a fall.
The roads are becoming more congested. Riders seem increasingly concerned about having an accident and are looking at ways to keep them safe, such as hi-vis vests and jackets. This is a hi-vis vest with a difference, simply, because in the event of an accident it inflates.
It works on a lanyard system that attaches to the handlebars of the bike so that in the event of a fall when you are thrown from your bike, the lanyard rips from the device, and through the use of a CO2 canister the vest inflates in 100 milliseconds. The vest is designed to distribute the force of the shock, keep your body in alignment and protect vital organs upon impact.
The technology has previously been used in show-jumping, with it successfully protecting riders thrown from horses. Helite hopes the vest will bring the same level of injury limitation to motorcycling. Once the vest has been activated you simply change the CO2 cartridge and re-attach the lanyard. It's also advised that you have the jacket serviced each year.
We posted about the airbag vest on our Facebook page and received a number of responses from people who have been using them for a year or more, who say the jacket gives them piece of mind and has proven comfortable to wear.
The vest is obviously heavier than a regular vest, with an inbuilt back-protector and adjustment in the sides to optimise fit. James Owens, our UK Roads writer commented on how the vest can impede airflow to vents and cause a little overheating, with that a small price to pay for the increased protection the jacket affords.
This jacket won't be for everyone. There will be those who see motorcycling as an inherently dangerous activity and you live with the consequences of the risks that we take. Conversely, there will be those keen to seek out any technology or equipment that will improve their chances in the event of a fall. We (I) sit on the fence. What does sound appealing is how Helite (and Dainese) are implementing the airbag technology into their regular motorcycle clothing, making it more discrete and no less effective. Perhaps that is the point at which the technology really takes off.
---
AcuTrac Locator2 Plus Starting from | £310 for 1 year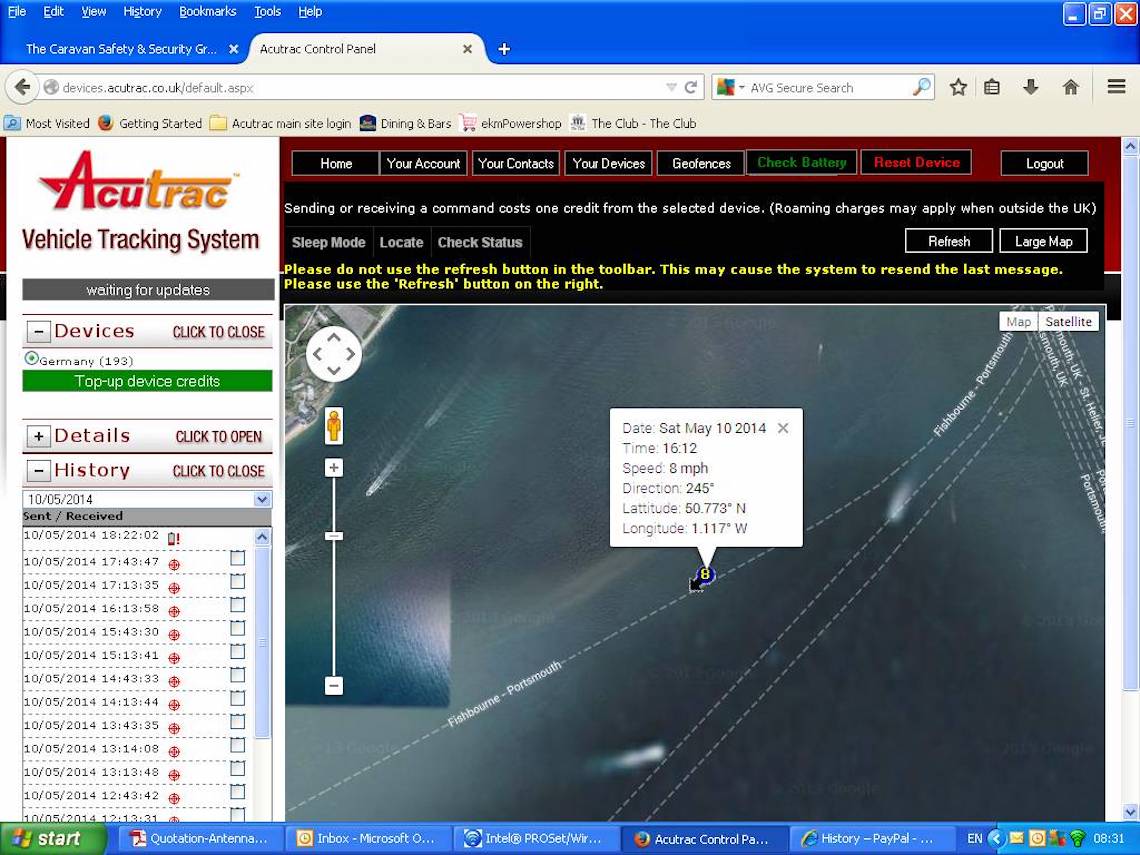 What is it? A vehicle tracker that serves a purpose as a theft recovery device and a route tracker.
While the idea of having someone track your every move on a motorcycle might seem rather 'Big Brother', having a tracking device installed on your vehicle can be invaluable if your pride and joy gets nabbed.
While some tracking devices are large and obvious to any thieves, the AcuTrac Locator 2 Plus markets itself as a product that's discreet enough to effectively be camouflaged onto your bike, so that it can't be found, ripped off and discarded – rendering it useless. The wiring is taped up to the 'normal' electronics to further disguise the fact that the bike is tracked.
You can set your device up in a multitude of ways, from having it send you a text when it's moved without the key in the ignition, to having it send a text when movement is tracked outside of a perimeter. It doesn't only work as a theft recovery tool though and you can get it to track you on your next big trip where you or anyone who you give your password to will be able to track your journey on the excellent web panel (shown in the image). This web panel also allows you to customise the device by letting you decide how and when you want it to update you on your vehicle's movement.
The device is tracked using GPS and GSM signals and it relays the information back to you via SMS (there's a sim card inside it) meaning that it will work in areas where there's very little network coverage. As such, when you buy a device you can choose to have the sim card on a 1 (£310), 2 (£330), 3 (£375) or 5 (£430) year contract (with the most popular option being a 3-year contract).
At this price, you are paying for the actual device as well as the sim card contract. In order for the tracker to send you texts you'll need to buy credits but these are reasonably priced and you can buy 1,000 for £80.
If you're worried about the safety of your two wheels then it's worth spending the money to drastically increase the chances of you recovering it should someone steal it!
---
Hood Jeans NR4 Jean | £119.99
What are they? Motorcycle jeans with armour.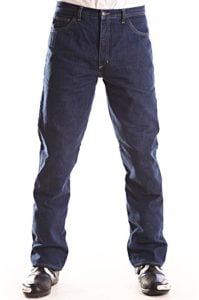 Textiles look great when you're in the saddle, but when you're walking around town or sitting down for a meal they're not ideal.
I've been tempted more times than I can remember to wear my jeans on my bike, but common sense has always told me that if I come off and the only thing I have to protect me from the tarmac is my finest Matalan denims then I can say goodbye to my skin.
That's where brands like Hood Jeans come into the equation. Hood Jeans has been manufacturing armoured motorcycle denims since 1998 when they made the world's first seamless motorcycle jean.
The company has come a long way since then but they still manufacture all of their products in Norfolk, UK, and new for 2014 the company has started to make their jeans with D3O; a strong, lightweight and incredibly comfortable to wear armour.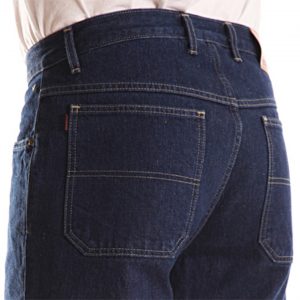 We had a pair of the Hood Jeans NR4s in on test for this issue and we love them. In honesty, they're not the most fashionable jeans on the market but they're comfortable, protective and certainly safer than riding in normal jeans.
They're lined with military-grade K-tech Para-aramid, a fibre that, weight for weight, is five times stronger than steel and for an extra £30-£50 you can have them fitted with D3O armour, which locks together on impact to absorb and disperse energy, reducing the force of impact to your body.