A 15-hour journey gives James Oxley plenty of time to reflect on the long-distance touring credentials of the KTM
It was 11 pm by the time I pulled into my driveway and switched of the engine of the KTM 790 Adventure. The orange haze of the streetlights reflected my fuzzy state of mind. I was shattered after a 15-hour journey plotting the latest TomTom Amazing Britain route through the southeast of England (you can read all about it on page 35).
It had been a thoroughly enjoyable day but the final 200-mile slog from Dover up to Stratford upon Avon in the Midlands had done me in, despite stopping for an energy-boosting KFC along the way.
I learned two things that day. Firstly, 15 hours is longer than I want to spend on a motorcycle while riding in the UK, and secondly, the KTM 790 Adventure is far more comfortable than it looks.
You see, despite the late hour, I hopped off the bike without the usual aches, pains, and flurry of old-man groans that usually accompany the end of a long journey for me. And, my backside wasn't suffering any of the usual numbing or soreness that it commonly complains of after extended periods on other bikes.
Sure, I was feeling a bit stiff, but nothing more, and I've got the KTM to thank for that. At first glance, you might wonder how the 790 Adventure manages to be such a comfortable long-distance tourer. After all, the seat is firmer than most, the riding position doesn't look overly roomy, and while the screen offers decent weather protection, it's not the largest around.
However, the magic happens when you combine all these elements together on the road.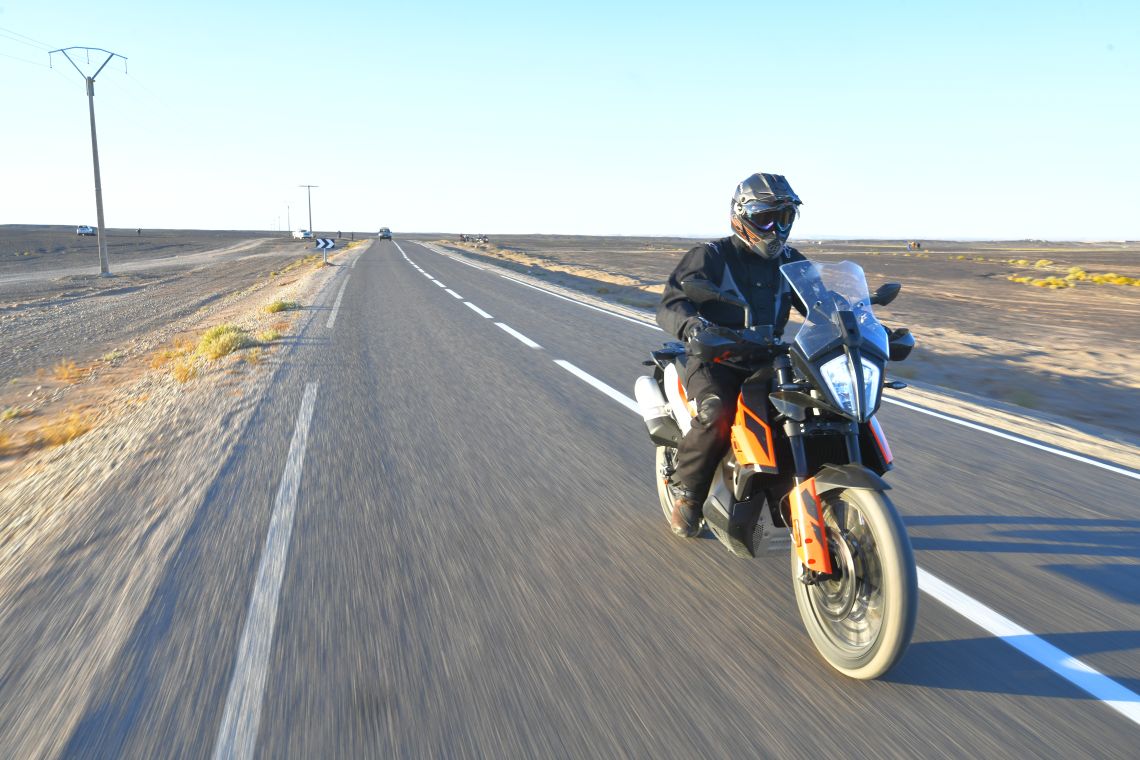 For me, as a 6' tall man with a 32" inner leg measurement, the hands, backside, feet triangle are near perfect, and the seat that felt so firm, to begin with, has become supremely comfortable now my arse has got used to it. And, while the screen could offer more coverage, it manages to channel turbulent air away from my head, chest, and shoulders, helping to create a relaxed ride.
If you combine the excellent ergonomics with a feisty 94bhp engine that provides more than enough power for high-speed overtakes, along with stable and controlled handling on the motorway, you have a recipe for a very good long-distance touring bike indeed.
Now, I'm aware comfort is a very personally thing, and I feel for motorcycle manufacturers that need to design machines to suit all different shapes and sizes of rider, but in this instance, the clever folks at KTM have hit the sweet spot for a rider of my shape and size.
As I wearily wheeled the 790 Adventure into my garage and shut the doors behind me, I spent a few minutes reflecting on a machine I've developed a genuine affection for, not only during that day's ride but also over the nine or so months it's been my long-termer.
True, it may not be the most attractive bike with its praying mantis-style headlights and squat appearance, but that adds to its character and there's no denying it's a supremely capable and versatile motorcycle.
No matter what I've asked of it over the past nine months, it has risen to the challenge whether I've been travelling long distances, chasing mates along country roads, or plunging down green lanes.
To me, the 790 Adventure is an adventure bike in its truest form: Excellent on the road, very good off it, comfortable over long distances, and a hell of a lot of fun to ride.