Finding comfort in an orderly queue, talking endlessly about the weather, and the ability to find a stoic calm in any crisis by making a cup of tea may be traits many of us Brits share, but there is so much more to us than the national stereotypes.
Our rich and varied history is interwoven with moments of bravery in the face of adversity, of lavish excess and eccentricity, and of innovation and technological advancement. It's this history that provided the inspiration for the TomTom Amazing Britain series of motorcycle routes, the aim of which is to combine fantastic riding with a number of fascinating, awe-inspiring, quirky, and sometimes downright ridiculous places to explore along the way.
One-day motorcycle route in south-east England
This one-day route in the southeast of England nails that aim perfectly. We begin by celebrating the birth of a nation as we visit the Coronation Stone, used during the coronation of the first king of England.
From there we explore sites of lavish splendour, seaside eccentricity, and even a community that has a distinctly post-apocalyptic feel. Along the way we ride a selection of splendid roads and discover a little more about what makes this island nation of ours so damn amazing.
I purposefully designed the route to end in Folkestone with easy access to the Eurotunnel or the cross-channel ferries in nearby Dover. This gives you the option of starting your next motorcycle tour on the continent a day early with a sensational ride through the southeast of England. Let's get started!
1. Coronation Stone, Kingston upon Thames
I admit, I thought twice about starting an ABR route inside London's M25 orbital motorway. However, for this Amazing Britain ride we travel back in time to the birth of England and that requires starting our journey in Kingston upon Thames, in the far southwest of London.
Located in a quiet corner of the grounds of the Guildhall, without fuss or fanfare, sits the Coronation Stone which is believed to have been sat upon by seven Saxon kings while they were crowned. Among those was Athelstan, grandson of King Alfred the Great, and the man widely cited as the first King of England.
With typically understated British charm, a small rusty fence is the only thing that stands between you and an artefact that was integral to the birth of a nation. You can literally reach out and touch history.
2.
Hampton Court Palace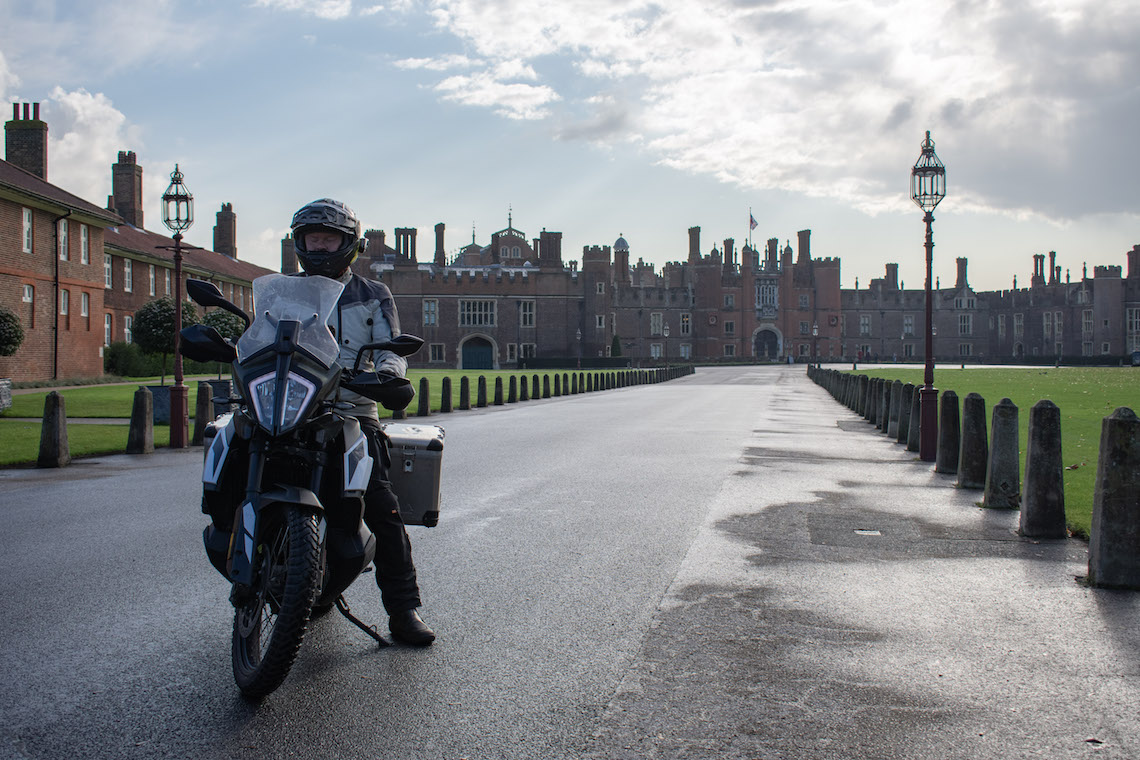 From understated charm to opulent splendour, we travel the three miles from Kingston upon Thames to Hampton Court Palace, a favourite residence of one of England's most infamous kings, Henry VIII.
Despite being best known for his six wives, two of which he sent to their deaths at the hands of an executioner, King Henry's reign had a lasting legacy on the nation through the creation of the Church of England. Reflecting the larger-than-life King Henry, Hampton Court Palace is a perfect depiction of royal grandeur and excess.
If you don't have time to take a tour, at least park up nearby and stroll along the grand drive that leads you to the gatehouse of this magnificent palace to get a close up view.
3.
Box Hill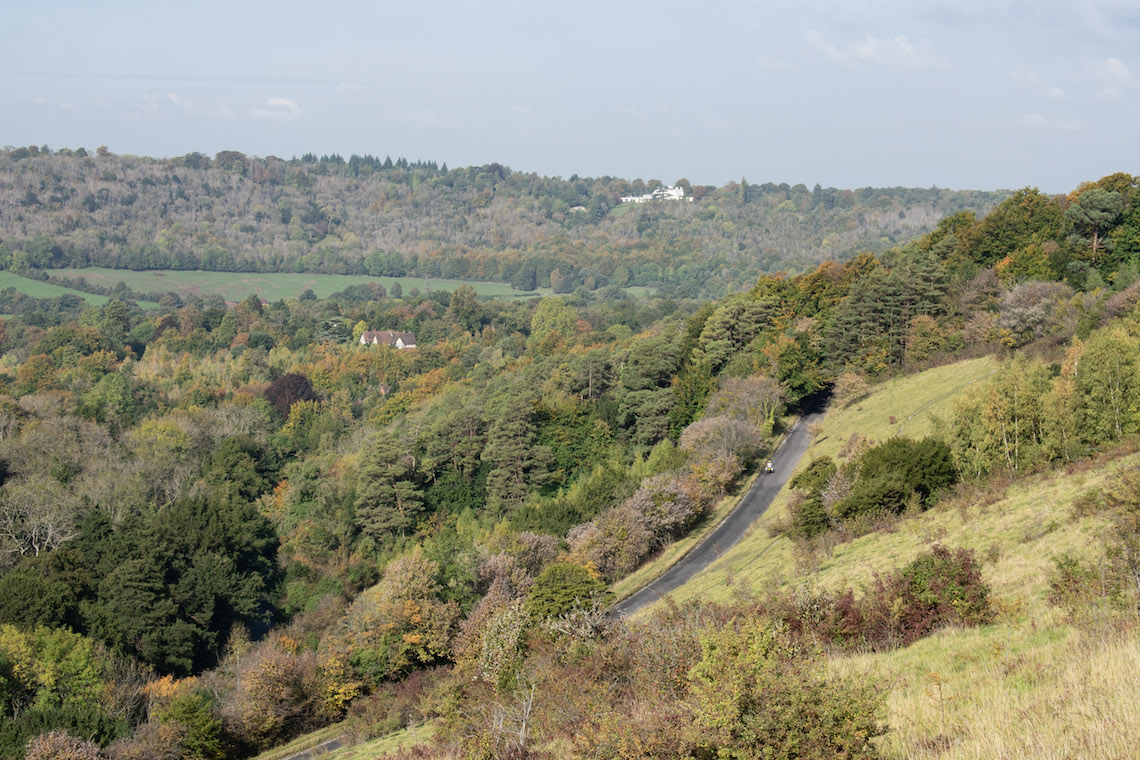 From Hampton Court Palace, we delve deep into the leafy lanes of Surrey to Box Hill, located just outside Dorking. The area has been a popular meeting point for motorcyclists for a century thanks to two very good reasons.
Firstly, the aptly named Zig Zag Road contorts its way up the hillside through three hairpin turns before levelling out and affording a panoramic view of the surrounding countryside. The second reason for Box Hill's popularity with motorcyclists is the fact Ryka's Café is located at the bottom of the hill.
This biker stop has been a meeting point for generations of riders and I'd recommend stopping for a bacon bap and a coffee before setting off on the next leg of our journey. 
4.
Ditchling Beacon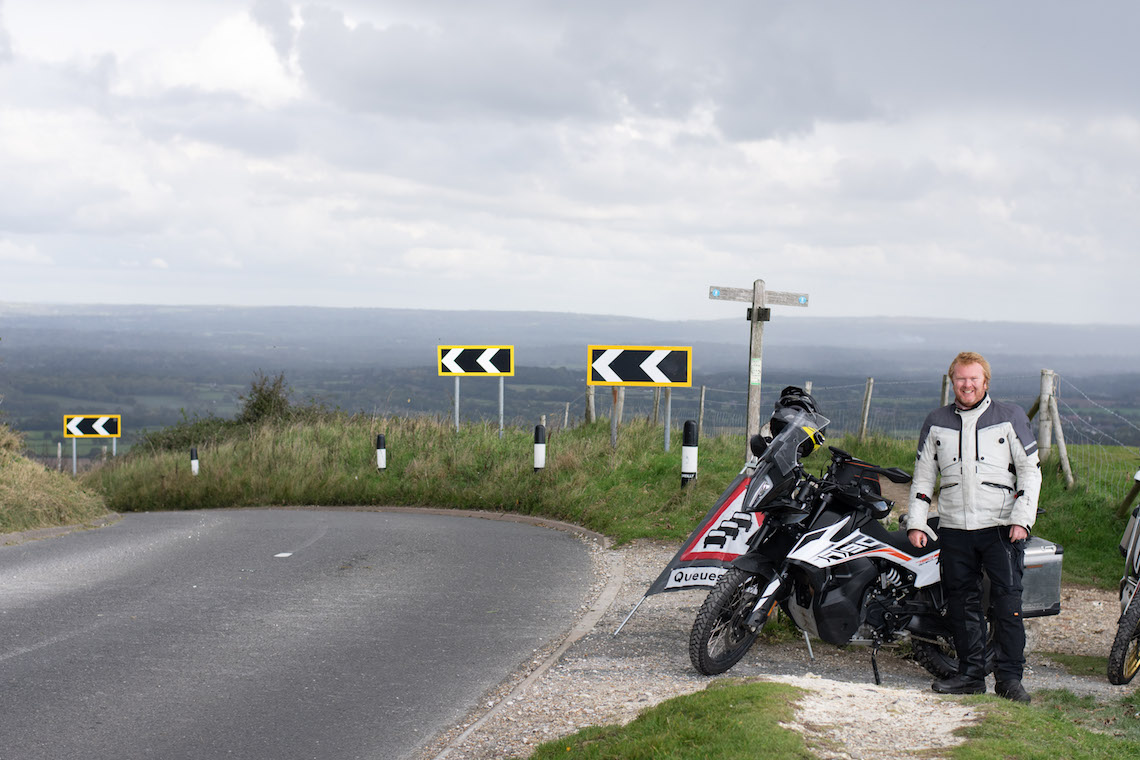 Whether you're a mod or a rocker, a cyclist, or a classic car enthusiast, the London to Brighton run is one of Britain's most iconic road trips.
There is a myriad of routes you can take through the meandering country lanes of Surrey and Sussex and, as long as you avoid the busy A24 and A23, you're guaranteed a pleasurable ride through England's green and pleasant land.
Our route takes us along a network of leafy lanes and through picturesque villages before making the steep, twisting climb up to Ditchling Beacon, one of the highest points in the South Downs National Park.
Make sure you park up at the top to take in the magnificent view and imagine the chain of beacon fires stretching across the land in times gone past, warning of impending invasion from the coast.
5.
Royal Pavilion, Brighton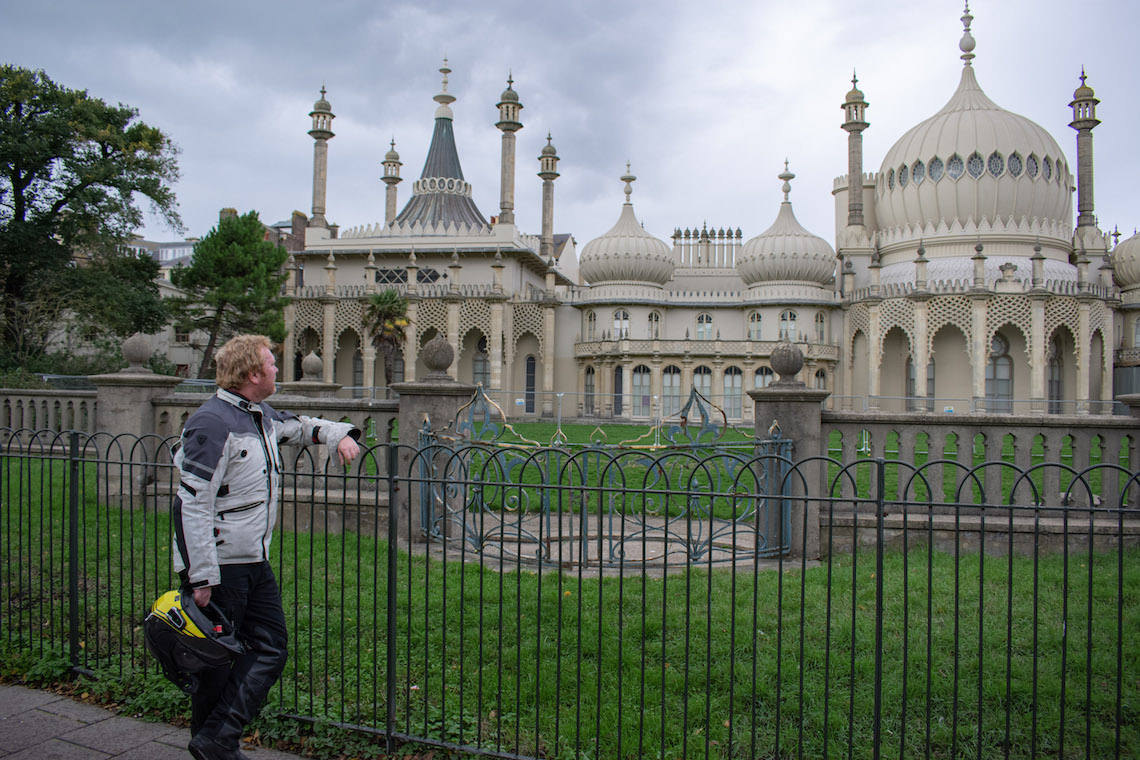 We can see the ocean sparkling in the distance as we ride over the South Downs before descending into the bustling city of Brighton and our next stop, the Royal Pavilion. Park up on the seafront and take a short stroll to this exotic seaside pleasure palace built for King George IV.
The extravagant ruler had a lust for decadent living, bringing his enjoyment of drinking and womanising to his favourite seaside retreat. In doing so, he commissioned an architect to transform his Brighton home into a lavish oriental palace featuring distinctive domes and minarets, along with opulent furnishings.
The Royal Pavilion remains a landmark in Brighton today, with its royal owner's excesses and eccentricities laying the foundations for modern Brighton, a city famed for its vibrancy and openness.
6.
Beachy Head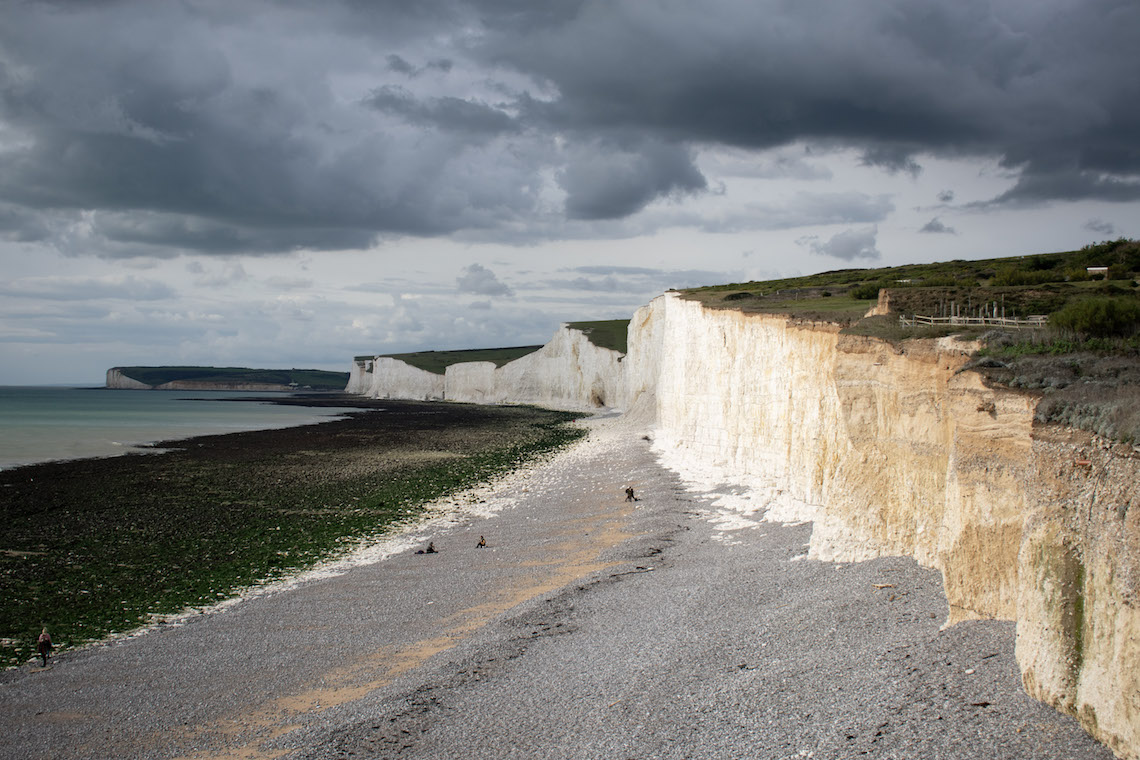 From Brighton, we ride along the south coast with the English Channel to our right, through the port of Newhaven, and along a sensational stretch of twisty road as we make our way back into the South Downs National Park to Beachy Head.
Leave your bike in the car park and take a walk along the coastline to the UK's highest chalk sea cliff which stands at more than 150m tall. It's the perfect opportunity to stretch your legs and marvel at sweeping views of Britain's famous white cliffs and the carpet of sea ahead.
You'll also be following in the footsteps of filmmakers, with James Bond and Harry Potter movies among those to have shot scenes in the area, along with the cult mod film Quadrophenia.
7.
Battle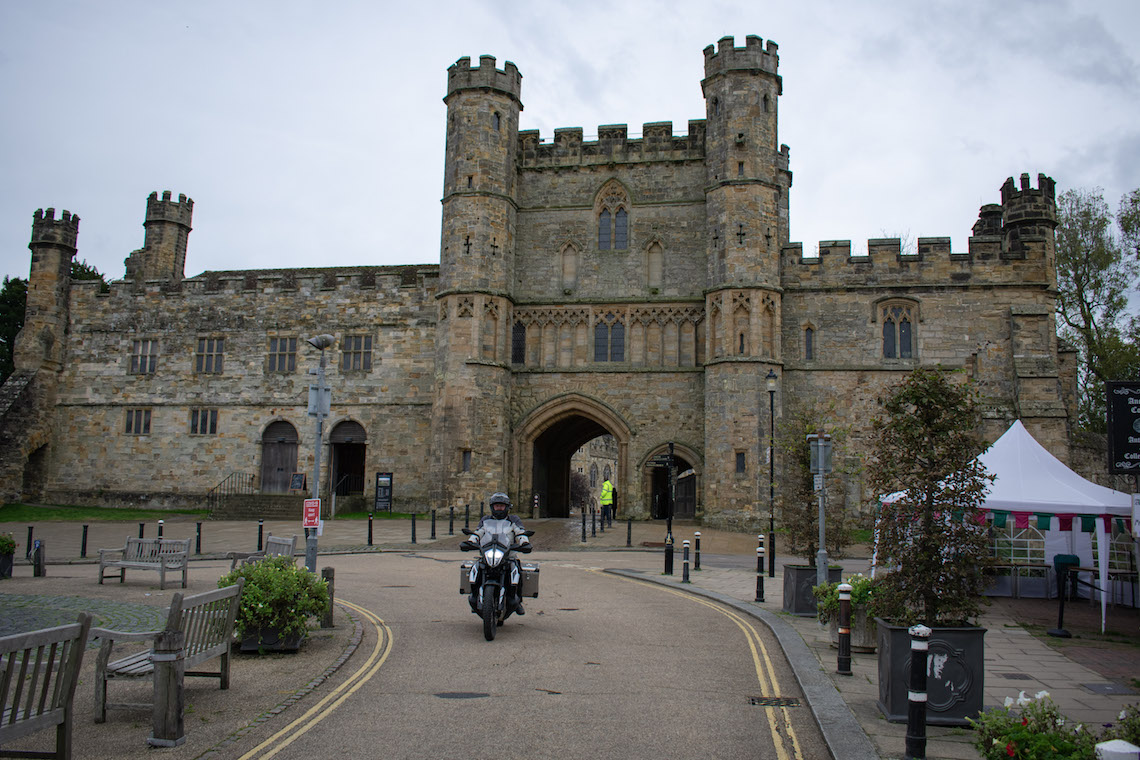 Our route continues east along Eastbourne's picturesque seafront and then along country lanes to the small market town of Battle. It was here on 14 October 1066 that the forces of King Harold met those of William, Duke of Normandy, for a battle that would change the course of history.
According to legend, King Harold was shot in the eye with an arrow and killed, with William then marching on London and later being crowned King of England. The events that unfolded in Battle led to huge changes, including the blending of French with the Anglo-Saxon language, which led to what we now know as modern English.
You can't miss Battle Abbey which looms over the town, the location of which played a pivotal role in the history of Britain. Inside the abbey, the high altar of the church is said to be located on the spot King Harold died.
8.
Dungeness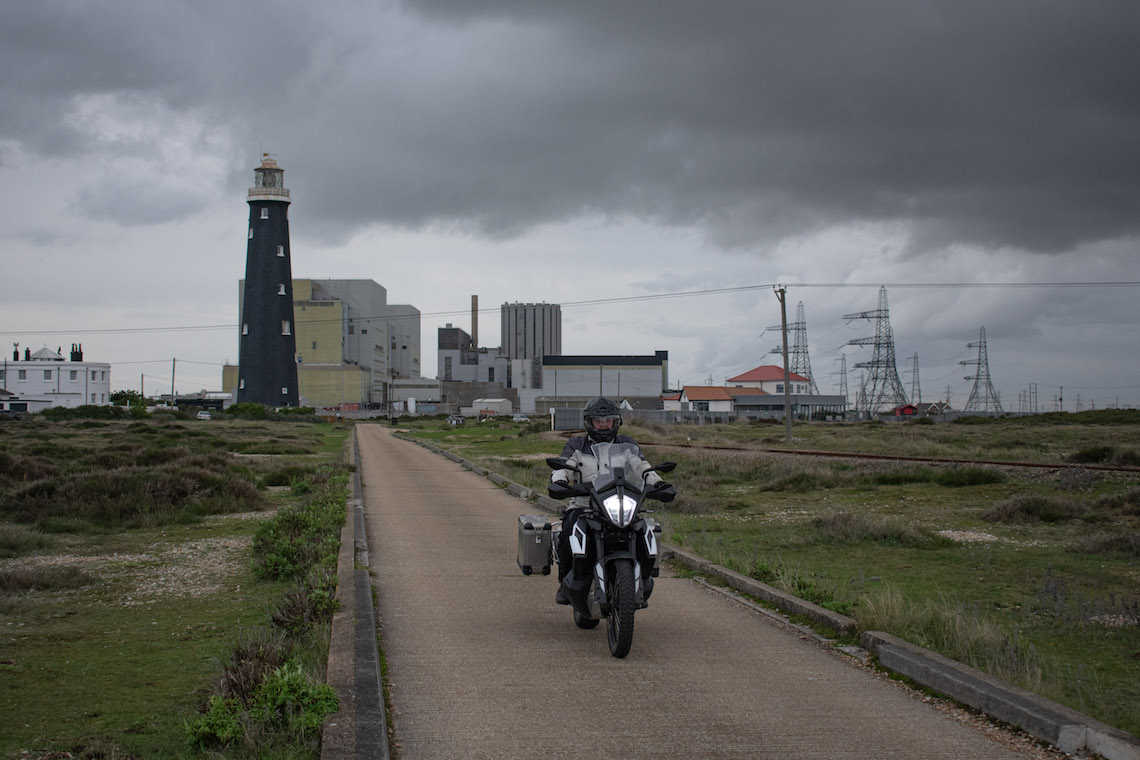 TomTom Amazing Britain routes are all about combining great riding with fascinating and quirky places to explore on our shores, and Dungeness sums this up very well indeed.
The flowing roads that cut across the pancake-flat Romney Marsh are a joy to ride as you make your way to a community that feels like it's located at the edge of the world. Dungeness' stark, remote, and windswept beauty is both beguiling, eccentric, and a little unsettling in a post-apocalyptic kind of way.
A jumble of scattered wooden homes, traditionally built around old railway carriages, sit upon a vast shingle beach dotted with old boat wrecks. This community of artists, writers, and fishermen is overlooked by two lighthouses and two nuclear power stations.
And, being an English community at world's end, there is of course a local pub.
9.
Sound Mirrors, Greatstone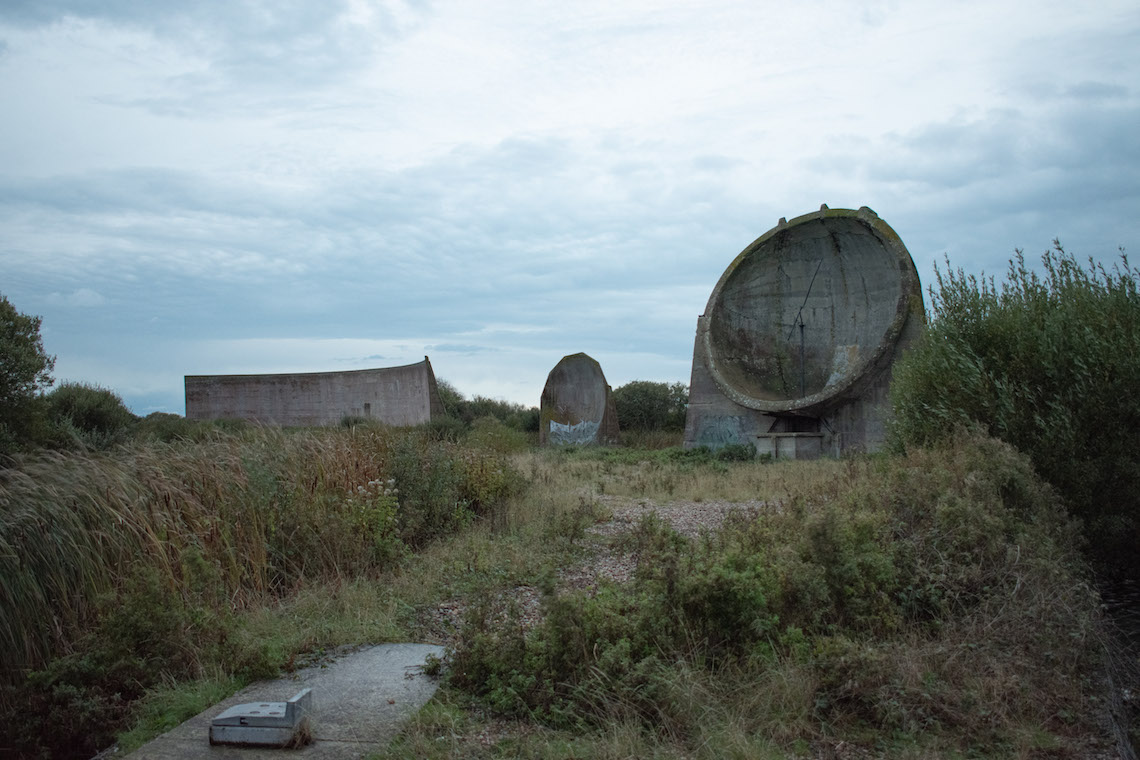 After a short ride along the windswept Coast Drive, we take a left turn and park our bikes at the end of a residential street. From here you get a distant view of the Sound Mirrors. These huge concrete structures were designed to detect the sounds of enemy aircraft approaching as part of a national defence strategy in the late '20s.
Tests revealed they gave up to 15-minutes warning of enemy aircraft approaching, but a few years after their creation, they were made obsolete by the invention of radar. If you fancy a close-up look, lock up your bike and take the 15-20-minute walk across the shingle.
Be warned, it's quite a trek in motorcycle gear, especially as your boots will sink into the shingle, but I'm glad I made the effort. From Greatstone, we jump back onto the bikes to ride to our final destination of the day and this route.
10.
Folkestone's Zig Zag Path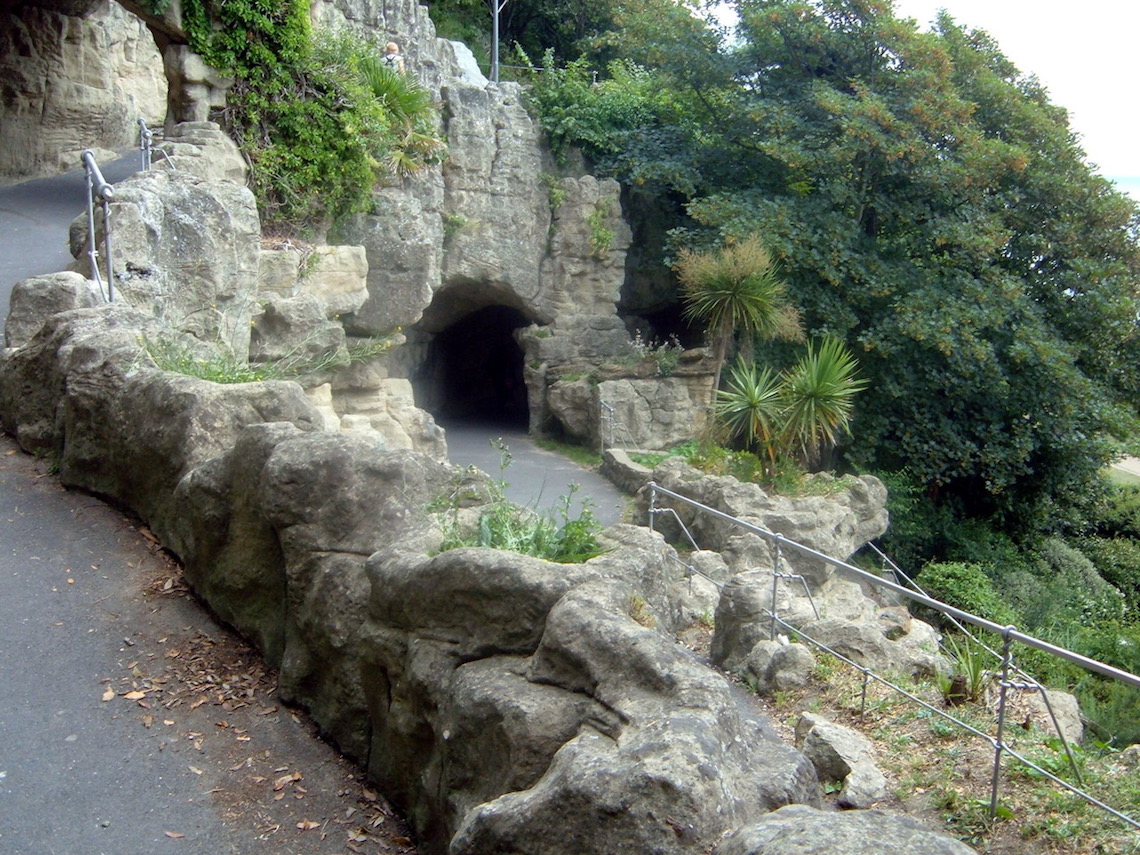 Credit: Helmut Zozmann / CC BY-SA 2.0
As we approach the end of this TomTom Amazing Britain route, there's time to squeeze in one more quick stop before we head for home, or the warmth of a hotel.
About 15 miles down the road from Greatstone is Folkestone's Zig Zag path which was built as a public works scheme in the '20s to provide employment for returning WWI soldiers. The winding walkway contorts its way down the cliffside through a series of caves and grottos, providing stunning coastal views. It's a steep path and a good way to stretch your legs after a long ride.
At Folkestone, you have the option to jump onto the M20 and head for home or, if you're heading over to the continent, there are plenty of places to stay in the town or in nearby Dover, which is a short ride along the coast, depending on if you're travelling to France via the tunnel or ferry.
Ride this motorcycle route in south-east England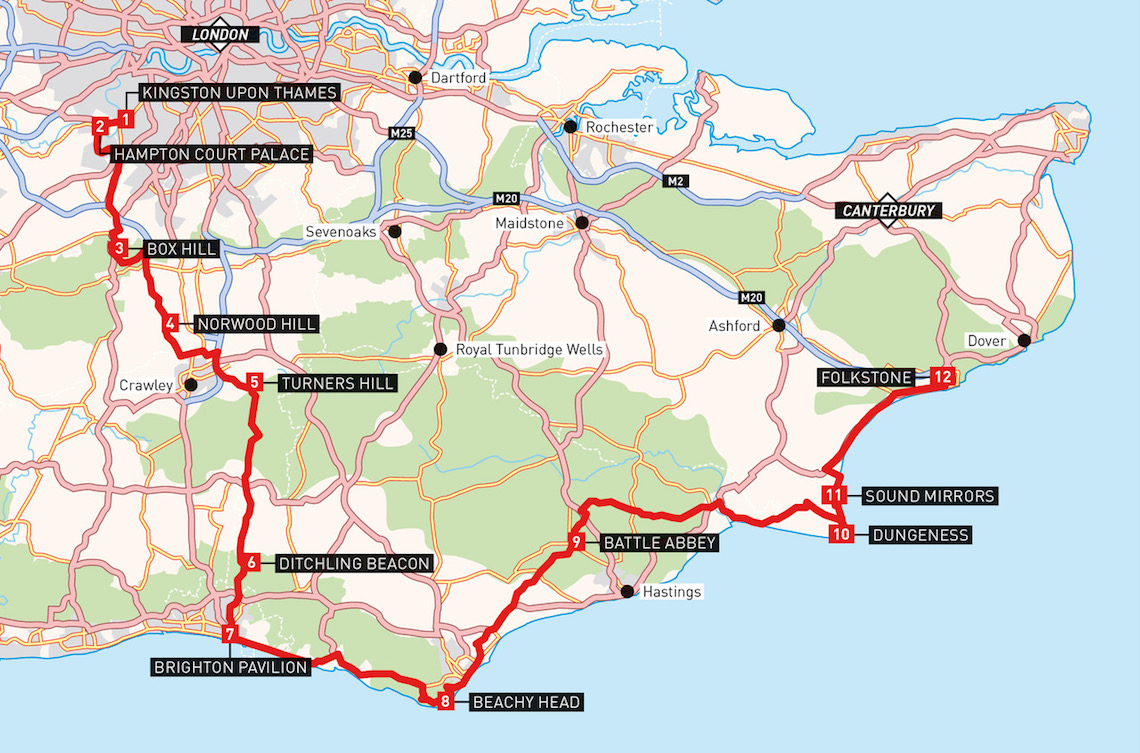 Plug these waypoints into your SatNav to follow, as near as dammit, the ABR and TomTom Amazing Britain route. It's also available to download as a gpx. file so that you can stick it straight into your device without the hassle of thumbing in a new stop every so often.
Simply head HERE and your download will be waiting for you.
Kingston upon Thames Borough Council, KT1 1HD

Hampton Court Palace

Box Hill, Tadworth

Norwood Hill, Horley

Turners Hill, RH10 4PT

Ditchling Beacon (Ditchling Road)

Brighton Pavilion, Brighton, BN1 1EE

Beachy Head, BN20 7YA

Battle Abbey, TN33 0AB

Dungeness Old Lighthouse, TN29 9NE

Taylor Road, Greatstone, TN29 9PA (Sound Mirrors)

Lower Sandgate Road, Folkestone
Total miles: 151 miles
Discover over 200 UK motorcycling routes with access to the ABR Online Library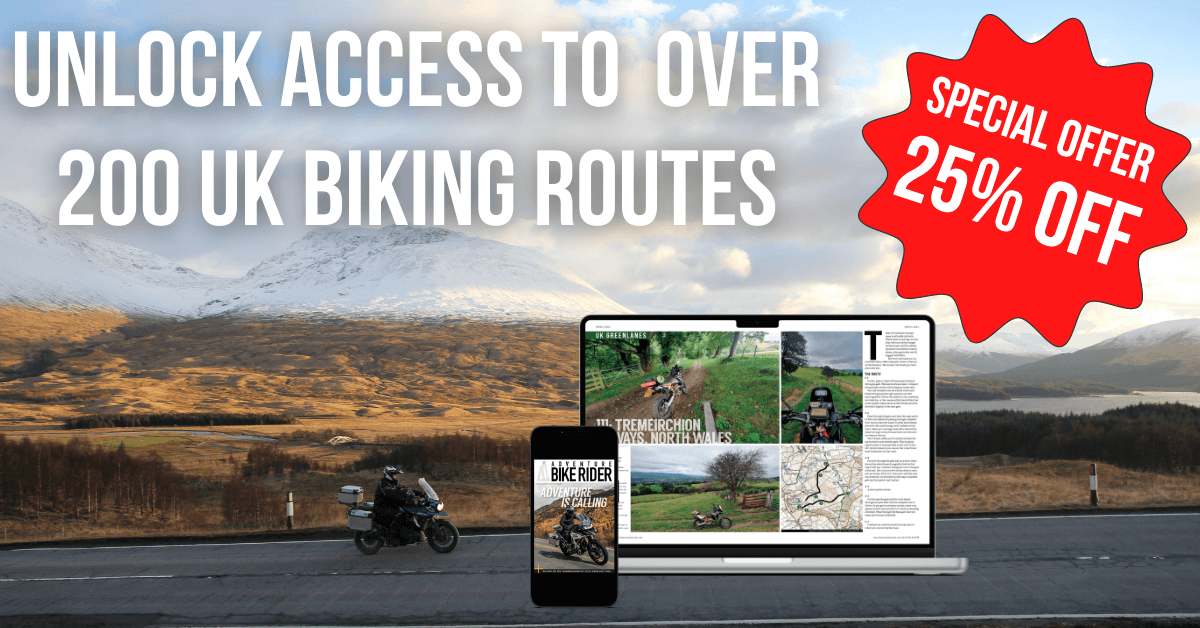 With an ABR Digital Library membership, you'll have access to an online library of over 200 UK route suggestions, complete with maps to follow and gpx. files to download for your SatNav. It's the key that will unlock a whole new world of weekend adventures!
Find out more about the ABR Digital Library and how you can save 25% on membership here.