Photos: Iain Crockart
Mount Everest has captivated the imaginations of the daring and pitted man against nature for generations. Reaching its peak is the Holy Grail of mountaineering, a place where heroes are made, dreams are realised, and an obsession to conquer the highest mountain in the world can finally be laid to rest.
But Everest's story is also one of tragedy, of loss, of death. Its frozen faces are as lethal as they are beautiful, but despite the danger, its seductive lure continues to act as a siren call to the ears of those of us born with a lust for adventure.
A destination for bikers
Motorcyclists certainly aren't immune to that call which explains why riding to Everest Base Camp has become one of the world's ultimate adventure biking experiences. It's a journey that will stay with you for the rest of your life.
Here's something to think about. The next time you're at a dull dinner party, someone might mention their recent trip to Disneyland, or perhaps their luxury cruise in the Caribbean.
That all sounds perfectly pleasant but watch everyone's jaws drop when you tell them you rode a motorcycle to Mount Everest, a name shrouded in myth and legend that everyone has known since childhood. It's a truly awesome ride to undertake.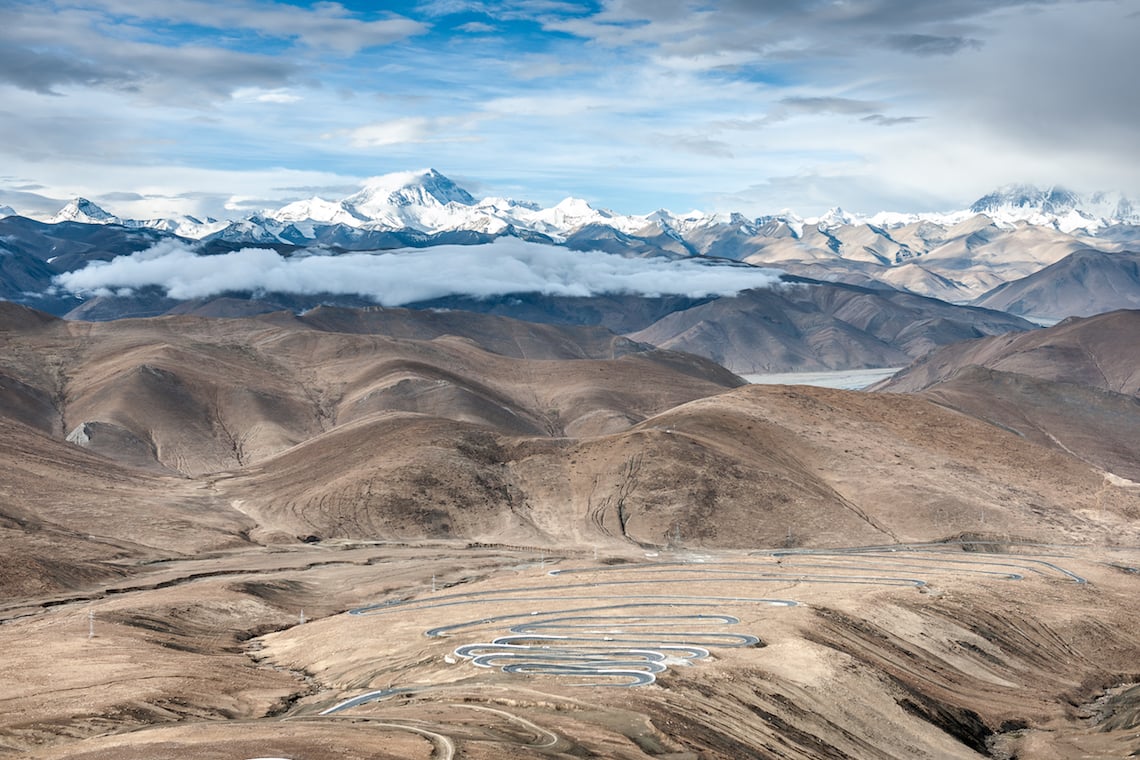 Seeing Everest for the first time
I've been asked many times by riders I've led on tours to base camp: "How will I know when I see Mount Everest?" Make no mistake, she needs no introduction.
You will be in awe when you see her for the first time. I guarantee you will need to pull over because the majesty of her peak in full view will literally stop you in your tracks. I've taken groups there many times and I still get butterflies in my stomach. Sharing the experience with a bunch of like-minded riders takes some beating.
A lot of people don't realise that Mount Everest has two base camps and each one is in a different country. Base Camp South is in Nepal and Base Camp North is in Tibet. You can ride a motorcycle to the base camp in Tibet but the Nepalese side can only be reached by trekking.
At this stage, it's worth pointing out that Tibet is an autonomous region of China. Tibet's status has been disputed for many years and continues to be so. However, we stay out of politics and for logistical purposes, you need a Chinese visa to enter Tibet, and you'll need to pass through a Chinese border post. 
There are a few options when it comes to which route to take. None of them are easy, that's what makes the journey an adventure, but the most straightforward is to start and finish in the city of Lhasa in Tibet. However, for me, this just doesn't hold a candle to starting and finishing in Nepal.
I've ridden all the routes on different kinds of motorcycles over the years and I've learned that, in terms of the ultimate motorcycle adventure and an all-out, once-in-a-lifetime experience, starting and finishing in the fabled city of Kathmandu is by far the best.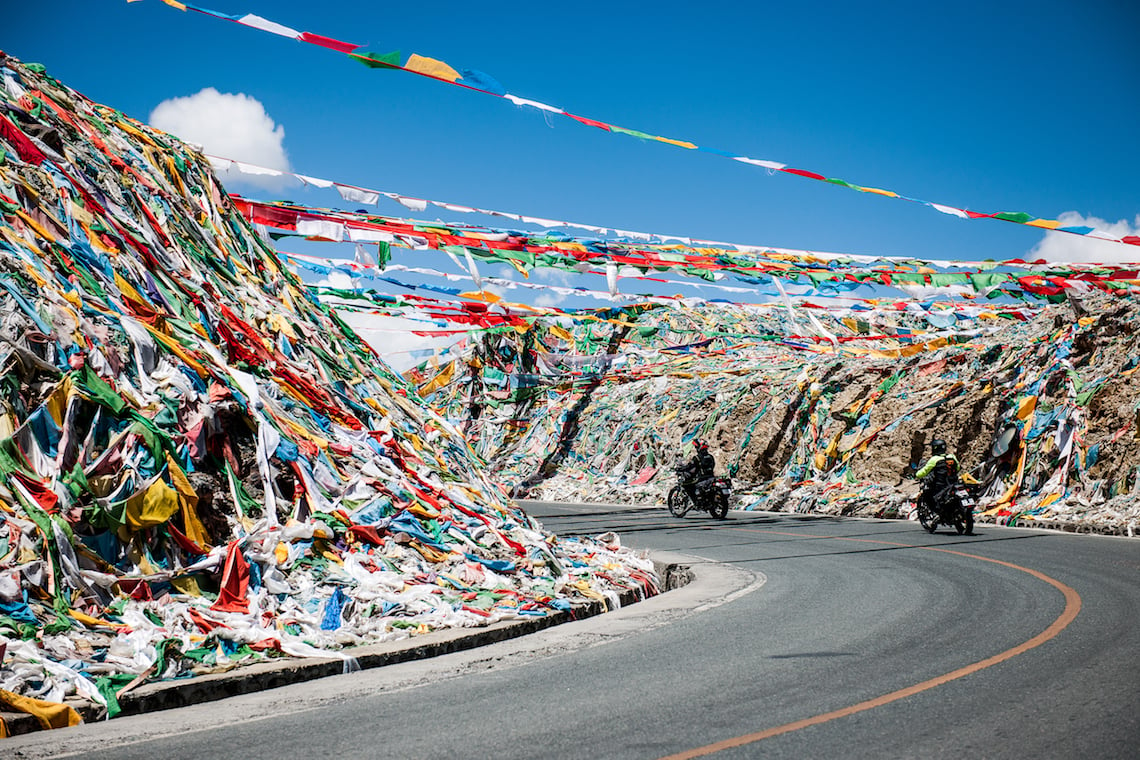 Preparing for your trip
Riding to Everest Base Camp requires a huge amount of preparation with a slew of permits and permissions needed that seem never-ending. I'll be honest, this process can be long and frustrating. If you ride with a reputable tour company, the bureaucratic hassle will be sorted out for you and you'll be guided through obtaining your Chinese/Tibetan visa.
We use our own fleet of Royal Enfields so we can be certain they've been properly maintained and prepared for the ride ahead. The Enfield is perfect for the job. It's tough enough to handle the rugged terrain, it's easy to repair if there were to be any issues, and it's also a lot of fun to ride. 
Riding conditions in Nepal and Tibet are varied and unpredictable as you're travelling in the mountains. You can expect to find well-surfaced tarmac and cement roads, mountain trails, and mud and loose gravel. Of course, riding conditions also vary with the weather.
In all my times of motorcycling in Tibet, it has never rained once. There has been the odd cloud and a few raindrops on the visor but nothing worth mentioning. Here's the thing though: Rain at high altitude turns to snow. It's important to be prepared for all weathers as it's possible to experience sunshine, rain, sleet, and snow all in one day.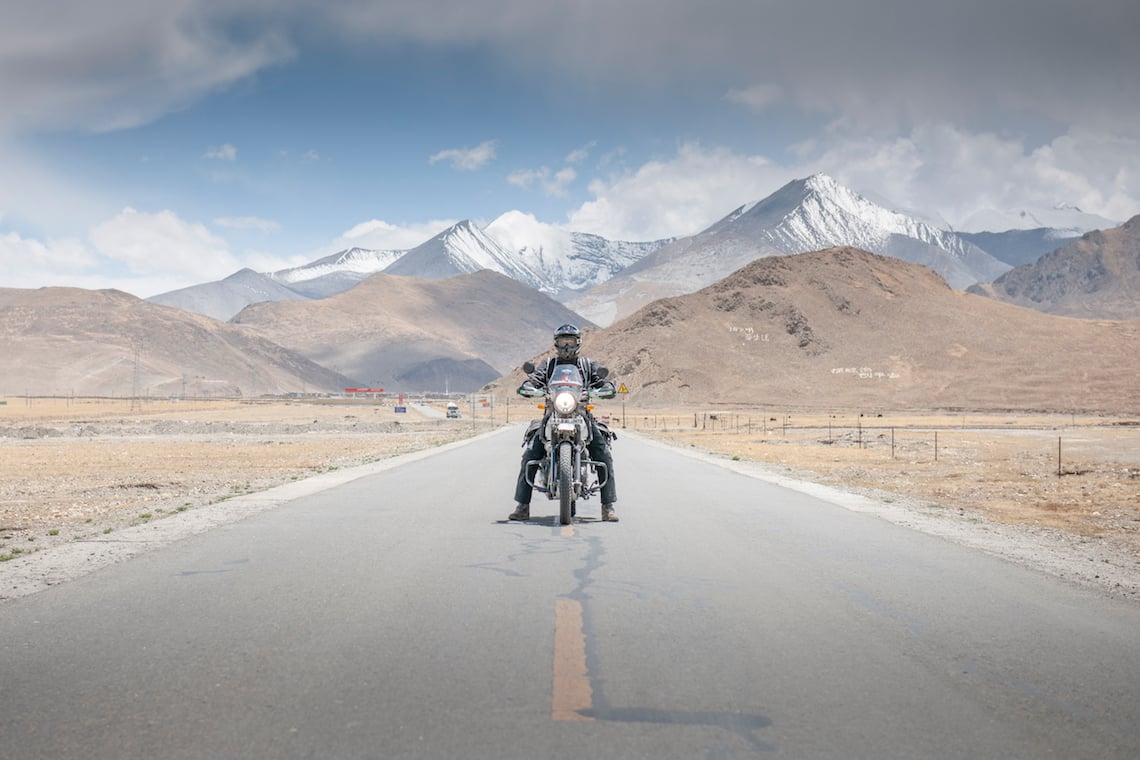 What kit will I need?
This should tell you something about the kit you need to take. The essentials are of course a helmet, a warm textile jacket with a removable lining, protective trousers that are hard wearing and breathable, and protective armour.
You'll also need gloves and motorcycle boots that go over your ankles, as well as a thermal base layer and waterproofs. You'll also need a hydration backpack, a basic first aid kit, sun cream, sunglasses, and a waterproof bag for all your essential documents.
Remembering to bring the correct riding gear with you is very important. You would be shocked to discover how many people turn up unprepared. I've even seen riders turn up with no jackets. Yes, you're reading this correctly…. No jackets!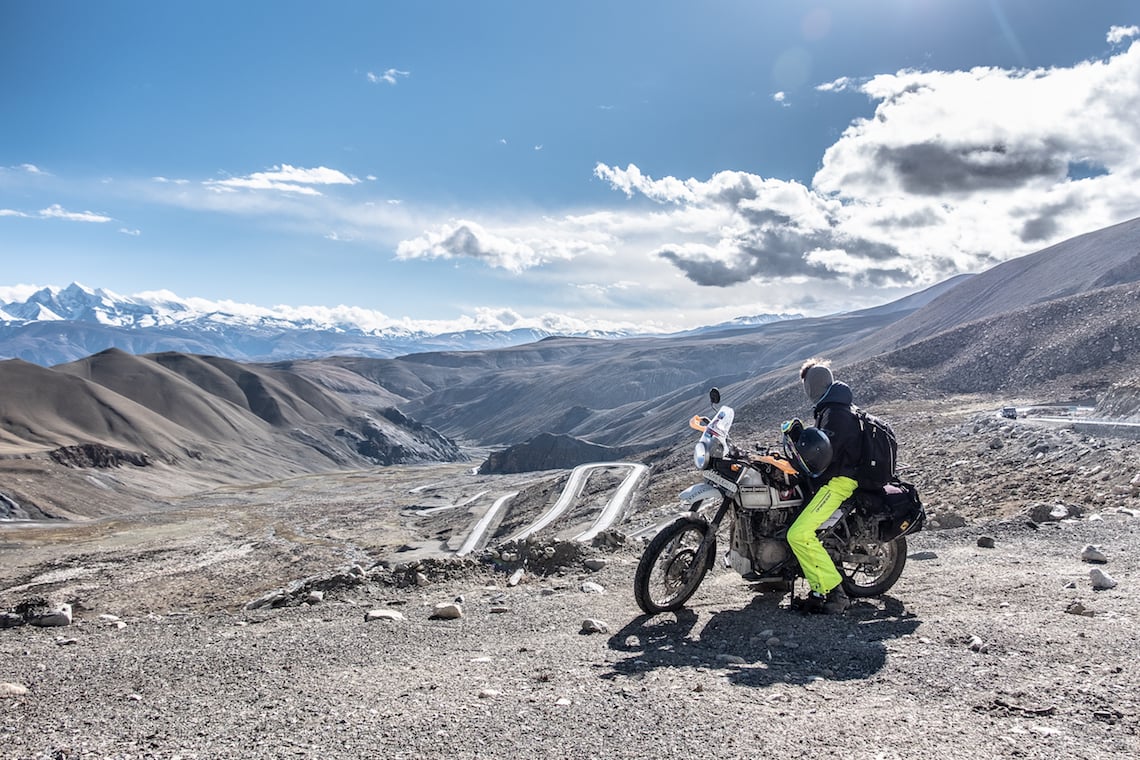 Riding in Nepal
Kathmandu is a hectic and bustling city that I'd recommend everyone visit at least once in their lifetime. On the tours I lead, the first couple of days are taken up with sorting out visa applications at the Chinese Embassy and then a bit of sightseeing.
There's lots to see and do and the Nepalese people are so friendly and helpful. There's also no shortage of places to stop off and have the odd beer or two should you fancy.
Riding in Kathmandu isn't for the faint-hearted. The population of Nepal is reckoned to be around 29 million people and it usually feels like half of them have decided to hit the roads of the capital city on the same day. Your riding and concentration skills will be pushed to their limits.
There are trucks, buses, taxis, motorcycles, the odd cow or two, and pedestrians all headed in different directions at the same time. If the weather's been dry, the roads are dusty. If it has rained, yep, you guessed it, mud and puddles. On our tours, we call the first riding day a warm-up ride.
It's a short day of around 50 miles to get people used to the bikes and the riding before stopping just outside Kathmandu in Nagarkot. It may be a short ride but you can't let your guard down for a second. If you ride self-supported, I'd recommend not pushing too many miles on your first day.
The ride to the Chinese border is a mixed bag and it's impossible to predict the conditions ahead. This is due to the changeable weather. There are three different routes you can take and none of them are easy. We cover the 80-mile journey to Syabrubesi in about 10 hours on a mix of forest trails, single-track road, and deep valleys.
It's an absolutely stunning route but it's also tiring. I'd highly recommend upping your fitness level and preparing for the ride in advance. It'll pay huge dividends.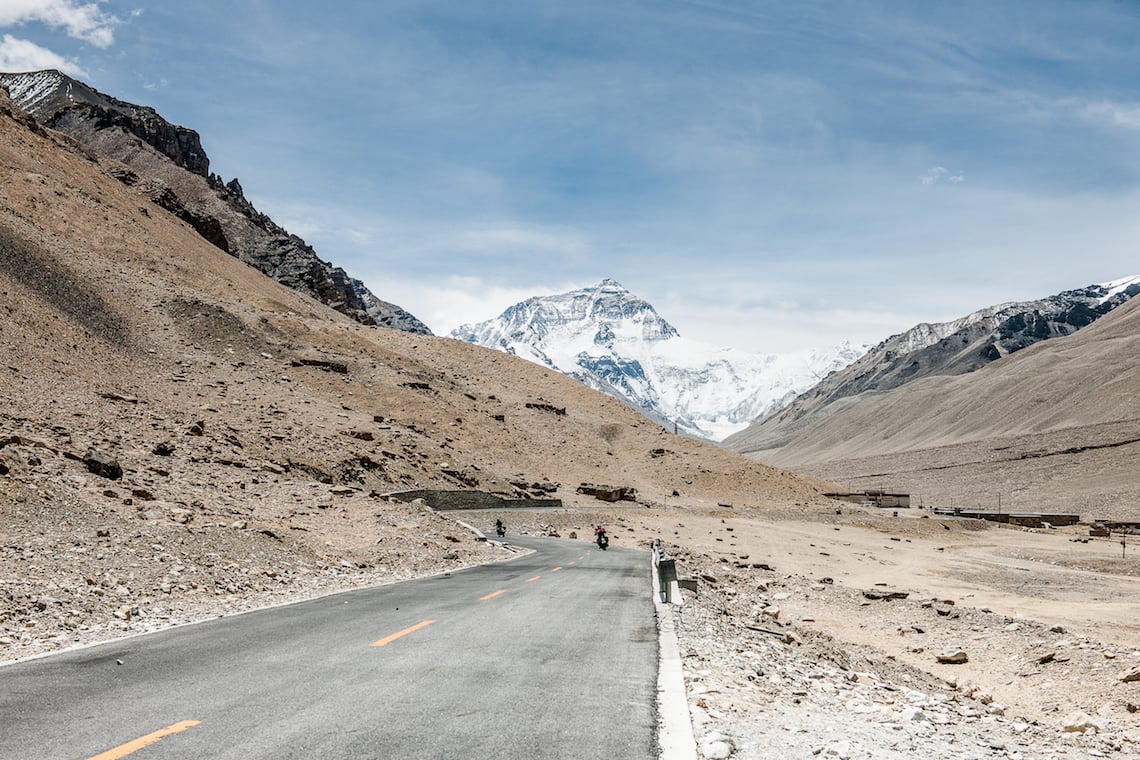 Into Tibet
The border crossing is yet another memorable part of the adventure. It's never the same experience twice and patience is the key. Travelling in this region is very different to the western world. Accept the fact that it will take some time, relax, and go with the flow. Mount Everest isn't going anywhere soon.
On the road to Everest, we ride at an average of 4,000m above sea level and travel over high passes peaking at around 5,200m. The next time you will be at that altitude will be on your flight home. You'll certainly feel the altitude as the decrease in oxygen affects your performance. Even taking the petrol cap off your bike when refuelling can be an effort.
There is also the risk of suffering from acute mountain sickness which generally affects people at heights above 2,500m. The lack of oxygen can cause a headache, nausea and dizziness, and disrupt sleep, although the symptoms are usually temporary and can be reduced by staying well hydrated with water and by taking Diamox tablets.
Altitude affects everyone, including myself and my team when we lead tours. We have a medic travelling with us and he has a constant supply of tablets and oxygen if needed. I find the best way of dealing with it short term while riding is to just pull over and rest for some time.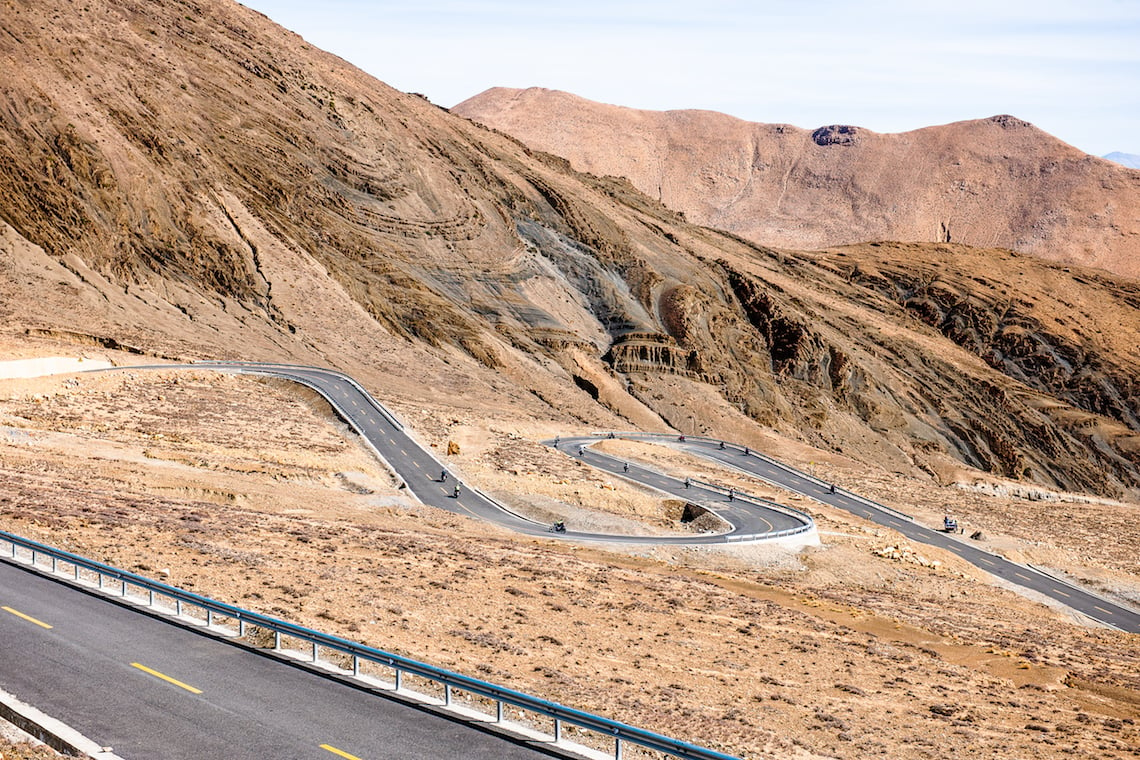 The views aren't the only thing that will leave you breathless
The lack of oxygen also affects the performance of the bike. There's a drop off in horsepower and twisting the throttle even harder makes no difference. On the long days riding over the Tibetan Plateau, I like to settle into a steady groove and just let the engine work.
The Himalayan is only 411cc but ridden properly, it's perfect. I like to keep the engine at around a maximum of 4,000rpm on the long climbs and 50-55mph is a good speed. It doesn't sound like much but it's fast enough when you have wild yak wandering where they like. There are no fences and we're actually in their territory.
Fuel stations are few and far between so conserving fuel is essential. This is especially true because it is illegal to carry spare petrol in a can or any other type of container in Tibet. We don't do it and can't risk it as we wouldn't be allowed back into the country if we did. This is very inconvenient and gives us a huge challenge but we respect the rules and comply as requested.
We always plan to have a rest day in Lhasa, the capital city of Tibet. It's a beautiful place and visiting the Potala Palace has to be one of the highlights of the trip. It's the spiritual home of the Dalai Lama and has five tons of gold within its walls.
There's also plenty to do in the evening. We take in a cultural event and mix it with our evening meal. If you like singing and dancing, or you like to laugh at other people singing and dancing, you'll love it. What else would a bunch of bikers do on a Friday night as they hit the town?
The roads in Tibet are in fantastic condition. They are mostly smooth tarmac and there are lots of twisty sections. I love the uphill climbs when you ride numerous hairpin bends, made all the more enjoyable by the fact there is very little traffic. If you're riding with a mate or just a few other riders, getting into the groove on good roads like these is such great fun. Safety first of course but you're here to enjoy yourself!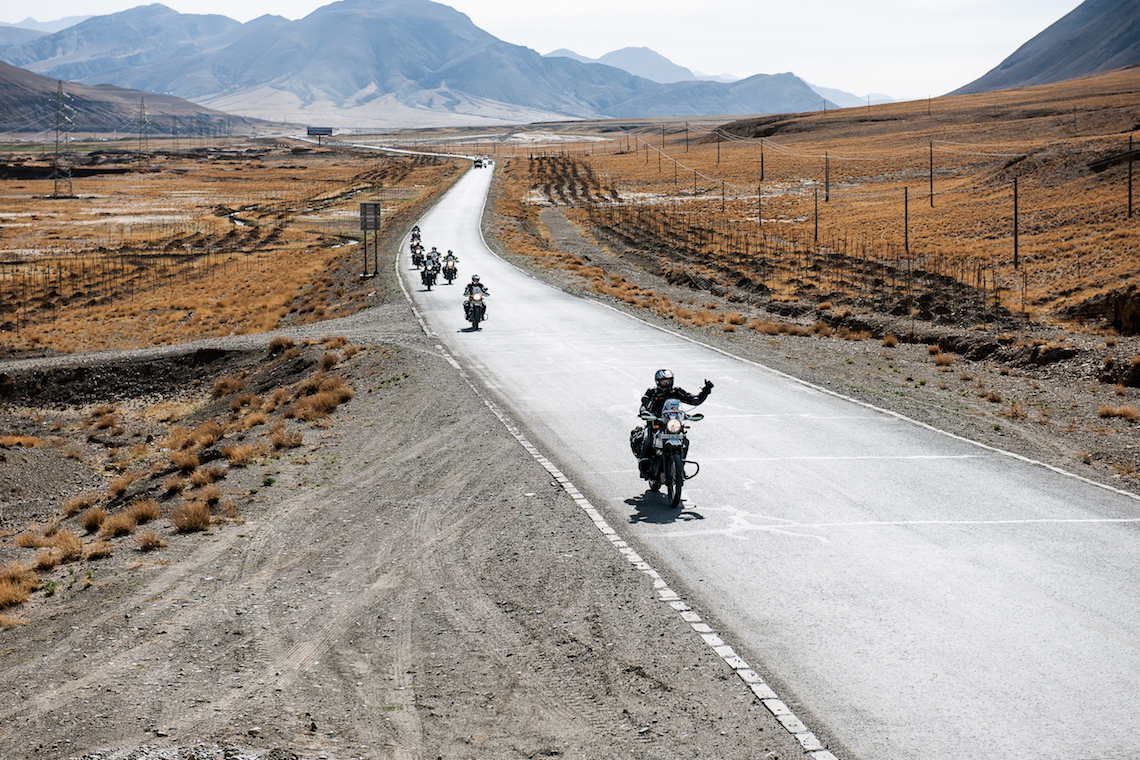 The night before base camp
The night before we ride to base camp is always filled with excitement. It's like Christmas Eve as a child except this isn't make-believe. It's common for the riders I take on tour to have booked two years in advance, so the excitement of seeing Everest for the first time is certainly justified.
The ride to base camp is fabulous and I assure you, you will be stopping constantly to take it all in. You'll climb over the final pass before Mount Everest comes into view and then wow, just wow! Take your time and enjoy the view, you've earned it.
Base Camp is an incredible place and the highest point where we spend the night on the journey at 5,150m. We generally sit around a wood-burning and dried yak dung stove watching the sun go down over Mount Everest.
We try to arrive around 2 pm in the afternoon as this gives everyone plenty of time to marvel at where are, wander around, and take photographs. Those moments are the reason everyone signs up and takes on such a challenging journey.
I'm often asked if I ever get used to being at Base Camp and, honestly, I don't. I've ridden all over India, in Burma, China, Tibet and Nepal. I've covered hundreds of thousands of miles over the years in the Himalayas but it's safe to say that riding to Mount Everest is the pinnacle, if you'll pardon the pun.
There's so much more to this ride than I can possibly write in this article, but rest assured, if you're a biker with a sense of adventure, and you like the thought of challenging yourself, then riding to Everest Base Camp is for you. I guarantee you won't regret it. I look forward to seeing you on the road.
Want to ride to Everest base camp yourself?
Looking for your next big adventure? Alex's company Nomadic Knights runs a 13-night guided tour to Everest Base Camp on Royal Enfield Himalayan or Royal Enfield Bullet Trials Works Replica 500 motorcycles. Places are available on the next Rode to Everest tour which leaves on 9 May 2021.
The company will provide your motorcycle, fuel, internal transport, permits, accommodation, breakfast and evening meals, as well as full medical, mechanical, and logistical support throughout the tour.
Alex personally leads every tour, drawing on his extensive local knowledge, alongside a dedicated team of mechanics, medics, and local contacts to ensure you enjoy the ride of a lifetime. Start your adventure HERE.
Who's writing?
As founder and ride leader of Nomadic Knights, Alex has been leading people on life-changing motorcycle adventures through India, Nepal, and to Mount Everest in Tibet for the past 12 years.
After previous careers in sales, management, and then running his own business in the UK, a craving for adventure led him on a motorcycle ride across India.
It was the first of many epic adventures which instilled in Alex a desire to help others experience such journeys, and Nomadic Knights was born.