Fed up with unwrapping pants and socks every December 25? Then slip this gift guide to your loved ones to ensure you have a very Merry Christmas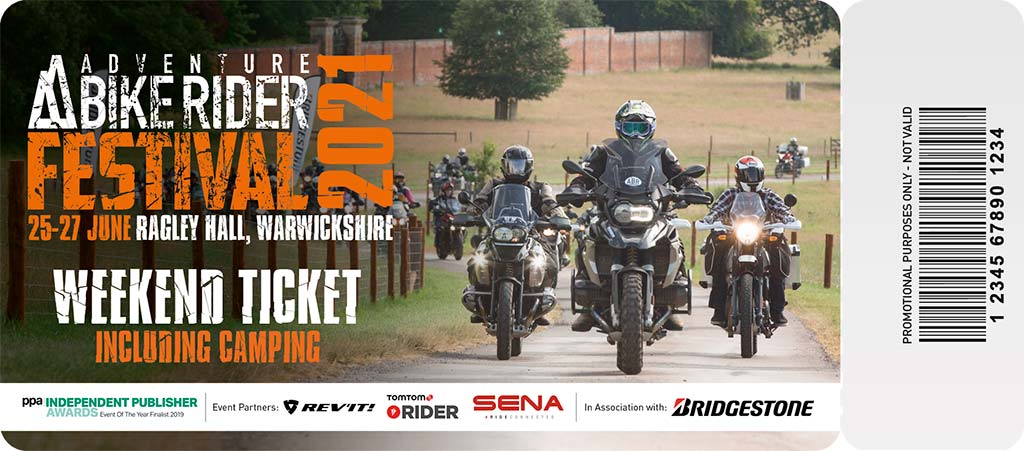 Adventure Bike Rider Festival 2021 tickets (25-27 June)
From £55
www.adventurebikerider.com/festival2021
The greatest celebration of adventure biking ever held in the UK will take place next year and you're invited. The 2021 Adventure Bike Rider Festival will be an unforgettable weekend of non-stop action and entertainment, on and off the bike, so make sure you ask Santa for your tickets this Christmas.
The jewel in the crown will be the 20km-long, AX41 Adventure Trail that'll weave its way through the magnificent grounds of the Ragley Hall Estate in Warwickshire. The route will be big bike-friendly with enough beginner, intermediate, and advanced sections to keep you happy no matter your riding ability.
Elsewhere, you can test ride the latest adventure and touring bikes, meet heroes of the adventure biking world like Elspeth Beard and Austin Vince, take part in road ride outs, receive world-class off-road tuition, explore the Adventure Village, and chill out (or rock out) with live music, a full bar, and delicious street food.
And, because our days of roughing it are over, the five-star festival location will be reflected in the first-class services on-site, including plenty of hot showers, fully serviced posh toilets, and the chance to enjoy the luxury of glamping.
So, if you want to spend a glorious weekend in June riding on or off-road, getting advice for your next bike trip, improving your riding skills, testing out the latest motorcycles, and sharing a beer with like-minded riders in magnificent surroundings, I'd recommend you start writing your Christmas list pronto, especially as a limited number of discount festival tickets are still available.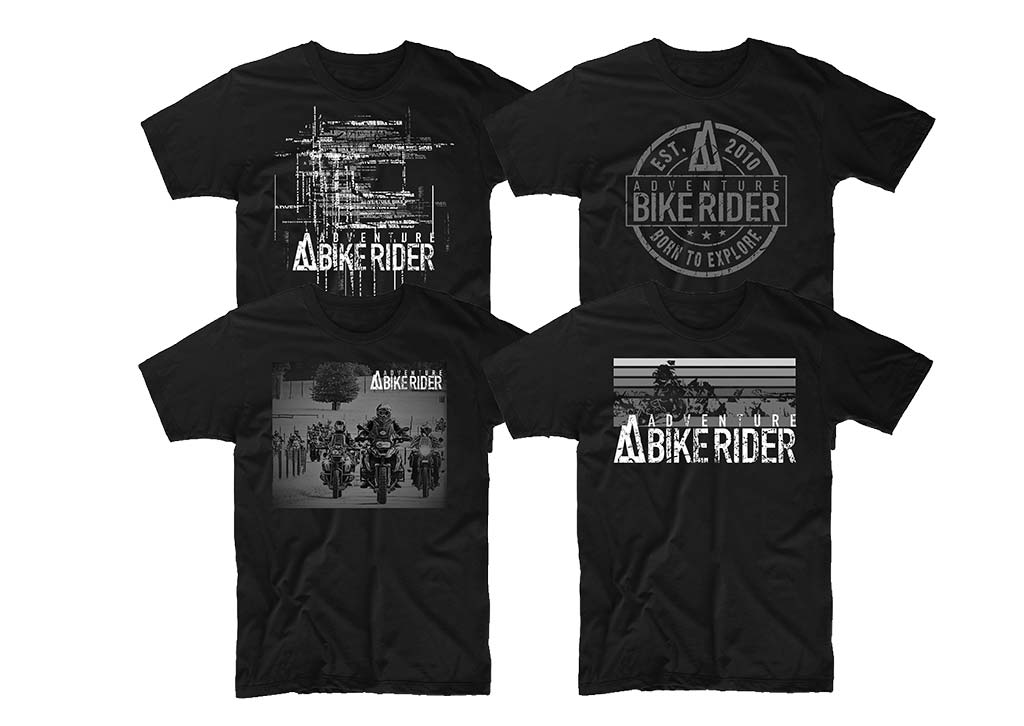 Adventure Bike Rider T-shirts
From £19.99
www.adventurebikerider.com/merchandise
A gang, a brotherhood, a community: Call it what you will. When you swing your leg over your motorcycle, you become part of something bigger, something special. But that feeling doesn't need to end when you switch off your engine thanks to the new range of ABR T-shirts.
They're for people like you, adventure bikers who want to wear their love of exploring the world by motorcycle on their chest. They're a companion and a constant reminder that the pursuit of freedom is only a turn of the ignition key away.
So, instead of unwrapping the same old boring T-shirts from M&S this Christmas morning, make sure your loved ones know you want an Adventure Bike Rider T-shirt instead. There are limited edition and classic ranges to choose from in a selection of sizes up to XXXL.
Whether you want to show the world your love of mountain passes with the Mountain Trails T-shirt, or you'd like to celebrate the joy of riding in the UK with the Rock, Paper, Bike GB design, there's an ABR T-shirt to suit every riding style.
So, be part of something bigger. Nail your colours to the mast. Live adventure this Christmas. Just make sure you don't spill gravy down your new ABR tee while you're eating your turkey dinner.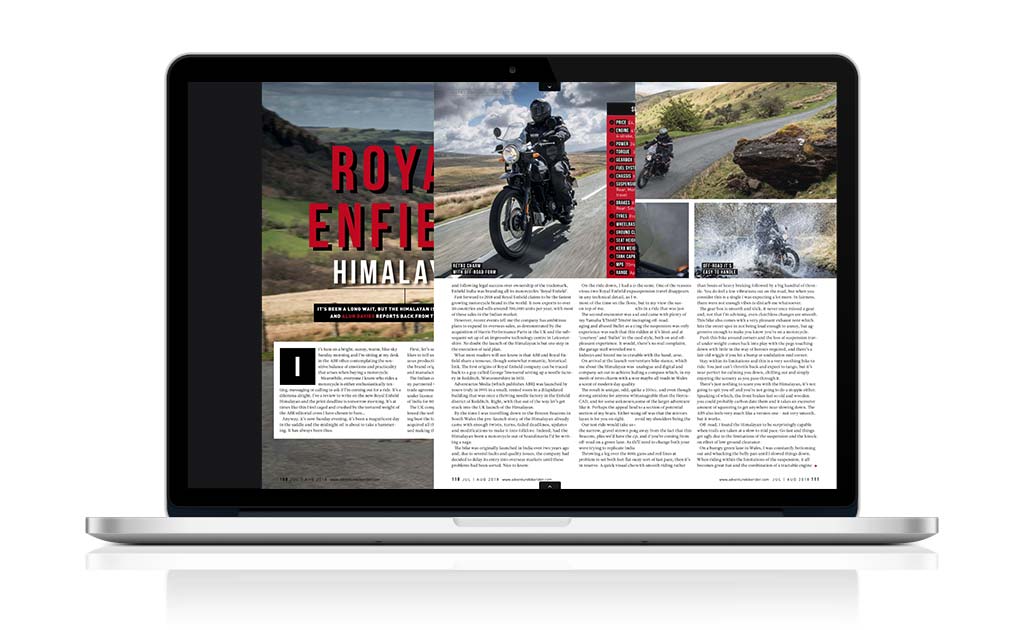 Adventure Bike Rider Digital Library annual membership
£32.99
www.adventurebikerider.com/shop
If you fancy getting 10 years' worth of adventure biking inspiration, information, and entertainment this Christmas morning, then I've got the perfect gift for you.
With an Adventure Bike Rider Digital Library membership, you'll get access to every issue of ABR ever published. That's 60 issues of the magazine available to read on your phone, tablet, or computer immediately. If you ask me, immersing myself in a world of adventure biking is a much better way to spend Christmas than watching repeats on the telly.
Better yet, throughout the next year you'll be the first to receive each new issue of ABR the moment it's published, so there's no more waiting around for the postman to get your adventure biking fix. Once you've downloaded the new issue onto your device, you can read it at your leisure anywhere in world, even without an internet connection.
Once you're a digital library member, you gain access to a wealth of motorcycling knowledge. This includes reviews of every new adventure and touring bike from the past 10 years, a detailed library of hundreds of green lanes across the UK, masterclasses to help improve your riding skills, in-depth gear reviews, and of course, inspirational travel features from across the globe.
So, after a tumultuous year, there's no better way to make up for lost time in 2021 than by becoming a member of the ABR Digital Library. It's time to start dropping some hints about what you'd like for Christmas.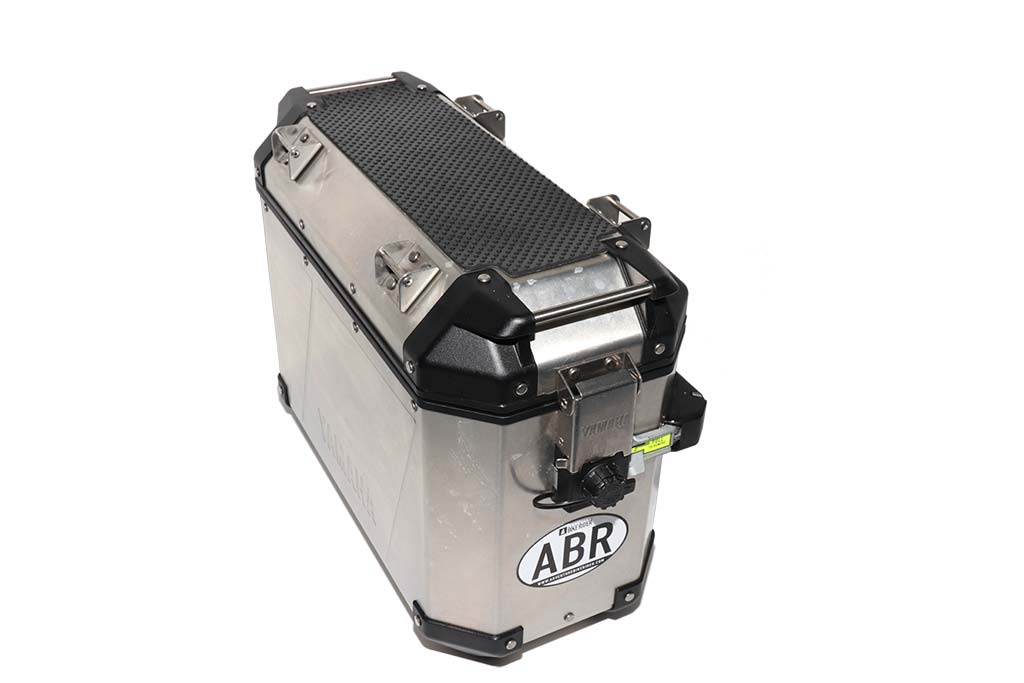 Pannier Protectors
£28.95-£68.95
www.pannierprotectors.co.uk
If, like me, you use your panniers as a make-shift sideboard while on tour, you've probably had a mishap or two. A combination of slippery aluminium and my motorcycle's lean angle on its side stand don't offer much resistance to gravity, and it's a habit that has claimed a few victims, including a lovely French baguette, countless cups of coffee, and most frustratingly of all, a rather expensive helmet.
There are two things to take away from this. The first is that I should really learn from my mistakes. The second is that it's about time I cover the tops of my panniers with a grippy surface. This would have the added benefit of protecting them from those little scratches and marks that can make an expensive piece of kit look shabby. That's where the Rubber PrecisionTech pannier protectors come in.
Made from UV protected, heavy-duty synthetic rubber, they are designed to withstand the rigours of a life spent touring in a range of conditions, having been tested from -45C to a searing 110C. Alongside this, the dimpled top offers plenty of grip for whatever you use your panniers for. They are also cut to fit the various sizes of luggage offered by motorcycle manufacturers and aftermarket suppliers, ensuring a perfect fit every time.
So, whether you're strapping a tent or an extra roll bag on top of your panniers, or even using your luggage to make yourself a ham sandwich in a layby, you'll be safe in the knowledge that your valuables won't end up on the floor and your panniers will be free of unsightly marks.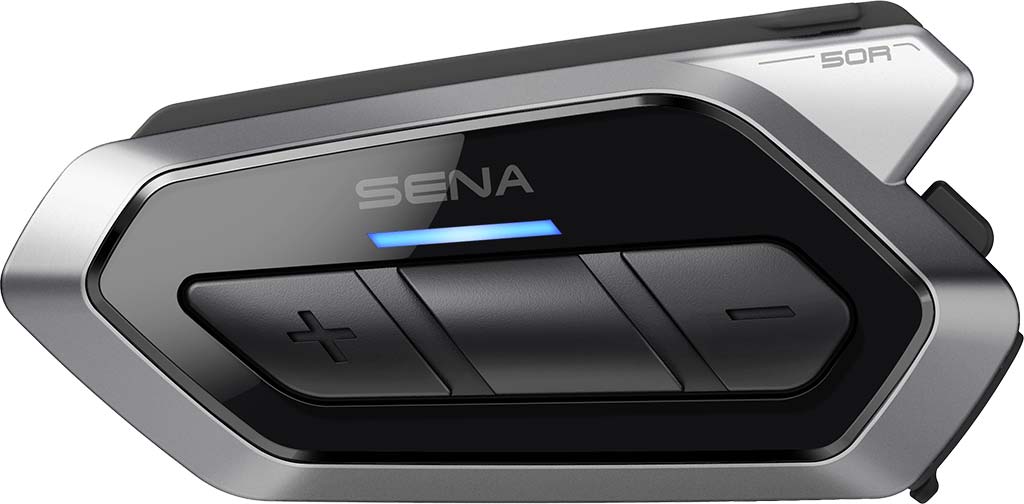 Sena 50 Series Intercoms
£309
www.sena.com
Whether I'm chatting to a mate on tour or listening to music on a long motorway slog, a motorcycle intercom always makes a day in the saddle more enjoyable. However, the first headsets I used were a far cry from the technology on offer today, as demonstrated by Sena's new 50 Series units, the 50R and 50S.
Both feature improved Mesh 2.0 technology, which supports a mammoth five-mile range and three different intercom modes. Group mesh allows for a private channel which can host up to 23 other users, multi-channel open mesh allows for a CB radio-style open network, and there's also a traditional Bluetooth mode.
Alongside these tweaks there are plenty of other improvements. I'm particularly fond of the re-designed speakers which are now smaller and more comfortable than previous models, while offering fantastic sound quality. There's also the addition of support for multi-language voice commands and the Google and Siri digital assistants, providing a hands-free experience to enable you to change the channel, adjust the volume, or answer a phone call without taking your hands from the handlebars.
The physically larger 50S unit offers a maximum chat time of 14 hours (Bluetooth chat), which drops to 13 hours on the more compact 50R. Sena has also introduced fast charging, meaning a 20-minute blast will add six hours of Bluetooth chat, perfect for a quick boost while on tour. This is a great piece of kit that has pushed the motorcycle comms bar that bit higher.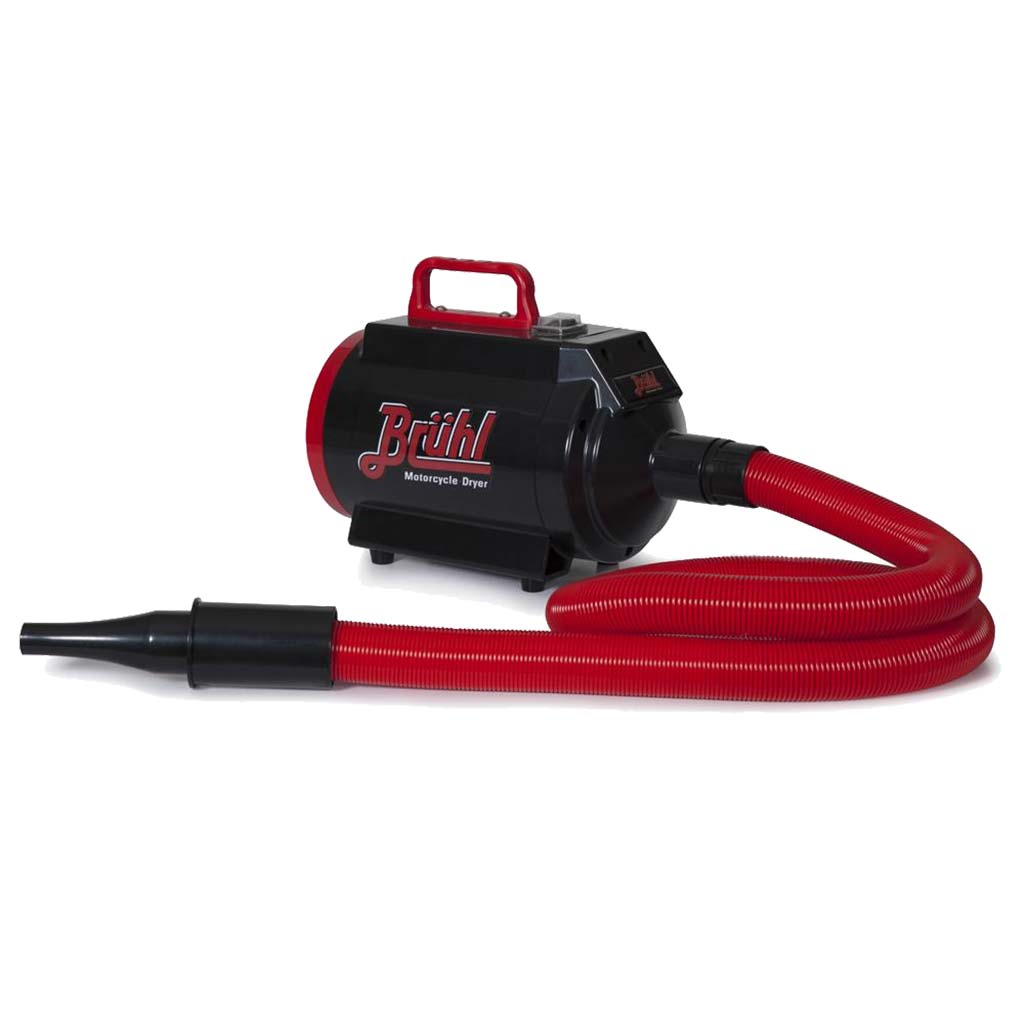 Bruhl MD1900+ Bike Dryer
£139.00
www.bruhl.co.uk
How much is your time worth? It's a question I would pose potential customers in my previous life working in IT sales. We'd discover where and how much time was being wasted, then multiply the result by the cost of their time. If our solution was cheaper than the cost of the time wasted, I'd have a sale. Simple, and applicable to the real world.
Let me give you an example. After returning home from a typical Sunday morning ride, I'll always give my bike a wash to remove any corrosive muck that I've picked up. I'll then leave it to dry in the sun outside of my house, before spending the next hour anxiously peeping out of the window to check if it's dry yet and still there. Oh, and feel free to add in another hour if you own a bike decked out in chrome that needs further attention.
Clearly, my wasted time is found in the drying phase, and the solution comes in the form of the Bruhl MD1900+ Bike Dryer. It features a single turbine, heating elements, and an air filter which directs a hot, debris-free blast of air onto my bike. Unlike a towel, the Bruhl dries every nook and cranny in no time at all. The result is a bone-dry bike with no water spotting or corrosion, keeping it in tip-top condition for longer. It also gives me a free hour or two to kick back and relax after a ride and it's hard to put a price on that.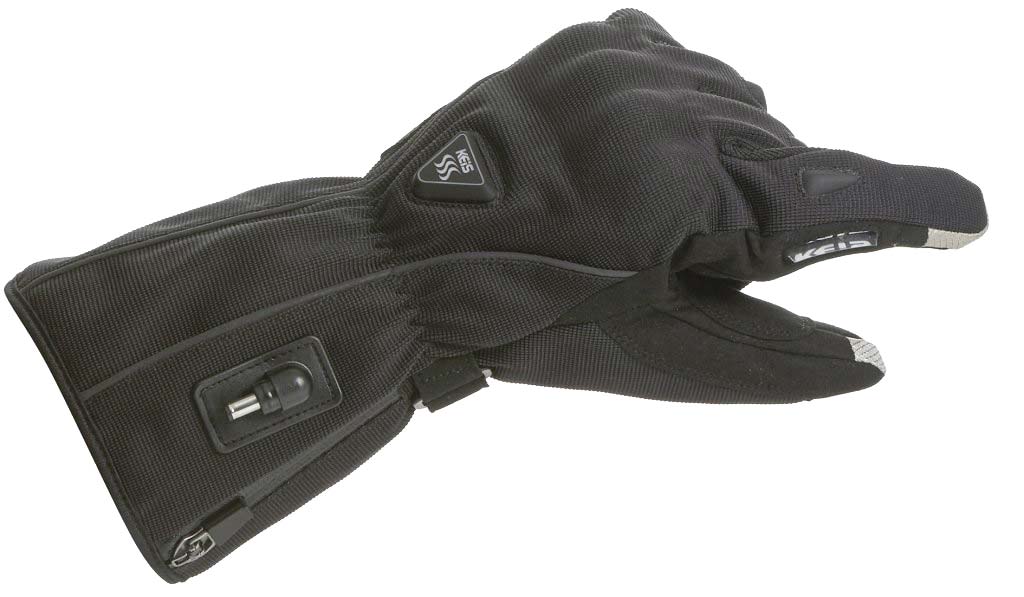 Keis G701 Heated Gloves
£199.99
www.keisapparel.com
Since discovering the joy of heated gloves, my winter rides have been transformed. No longer do I make a beeline for the kettle as soon as I arrive at the office, desperate to thaw out my frozen digits around a piping-hot mug of tea. That's why I was so interested to see the manufacturer of my current pair, British brand Keis, release its new G701 heated gloves.
The new model features a semi-bonded construction which, through some clever trickery in the manufacturing process, bonds the different layers of the gloves together. This reduces slippage between the outer textile material and the inner layers, resulting in a winter glove with a lot less bulk than you'd usually expect but which still keeps your hands warm and dry,
On top of that, the G701 comes with a new grippy surface on the palms and fingers to ensure your grip on the handlebars doesn't slip. To protect your hands in a slide there's a palm slider, knuckle protection, and a robust ballistic spandex outer shell.
The heat controllers are located on the back of the gloves and are reachable when they are tucked under the sleeve of a jacket, while the heating elements can be powered by battery packs or wired in directly to a bike's battery. A small visor wipe and touchscreen-capable thumbs and index fingers are also nice touches to cap off a glove that has a distinctly premium feel to it.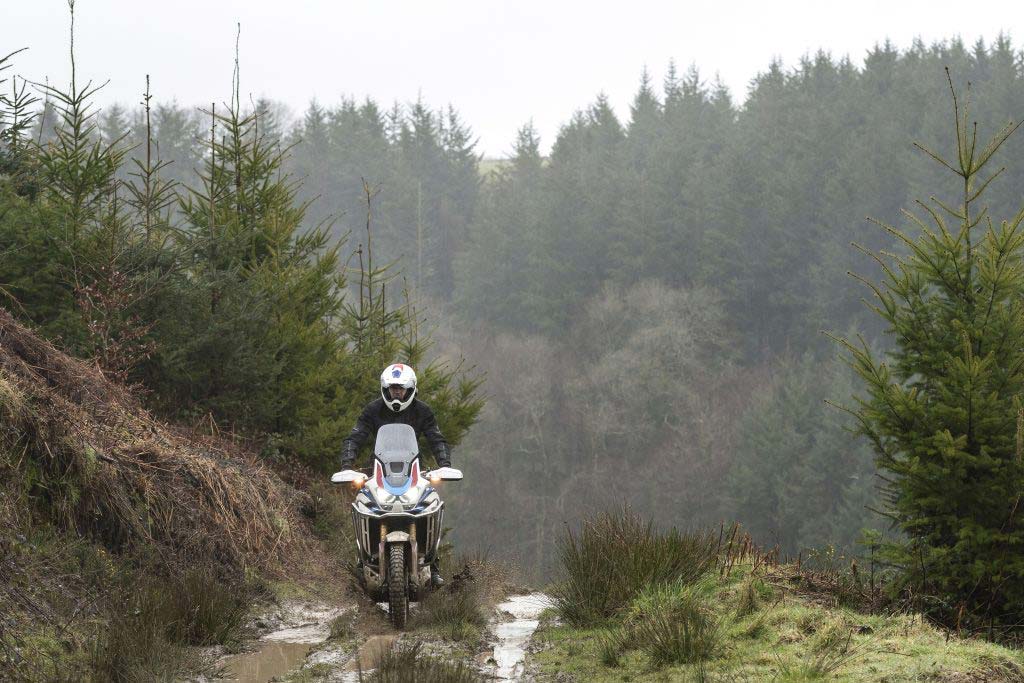 Honda Adventure Centre Courses
£299-£499 for courses
www.davethorpehonda.com
Riding an adventure bike off-road is arguably the most fun you can have on two wheels, but taking your first steps into greenlaning can be a daunting prospect. This is where the Honda Adventure Centre comes in.
Located in the stunning surroundings of Exmoor National Park, the centre stretches across a vast area encompassing every type of riding terrain imaginable. It's range of one and two-day courses cater for all riding abilities, from complete beginners to regular trail riders who want to improve their skills, all under the watchful eye of former Motocross World Champion Dave Thorpe and his team of experienced instructors.
I spent a cracking day at the Honda Adventure Centre this year on one of its brand-new Africa Twins. I made my way up tricky hill climbs, slid down boggy descents, splashed through deep water-crossings, and even learned how to power slide on loose gravel. The day was a chance to improve my skills and also have a huge amount of fun. It's certainly an experience I'd recommend everyone try at least once, even if you don't have an adventure bike in your garage right now, although you may just find that changing when you return home.
If enduro riding is more your thing, Dave Thorpe also runs the Honda Off-Road Centre. A ticket to an enduro day would certainly make me a very happy boy come Christmas morning. I'll just have to make sure this gift guide ends up in the right hands.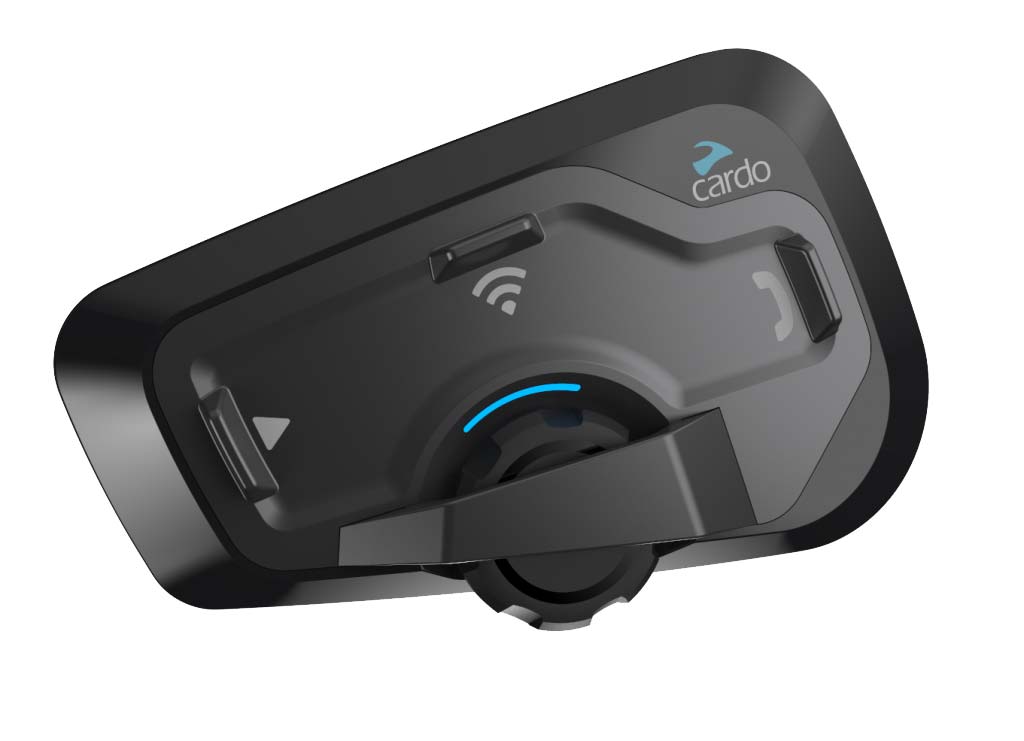 Cardo FREECOM 1+ and FREECOM 4+
£129.98 / £234.98
www.cardosystems.com
Good intercoms don't have to break the bank. While I'm a fan of the added features and cutting-edge technology that make up the spec-sheets of top-of-the-range units, there are plenty of riders looking for the convenience of an entry-level intercom unit. Those that simply allow you to chat with a pillion or a small group of riders, or even just listen to music or GPS directions on a Sunday ride.
Fitting that bill perfectly are Cardo's Freecom 1+ and Freecom 4+. Best known for its premium intercoms, Cardo has produced two entry-level Bluetooth units without sacrificing the premium quality I've grown to expect from the brand. For solo riders, or those who only want to communicate with a pillion, the Freecom 1+ is the unit of choice, while the Freecom 4+ caters for those who want to communicate with up to three other riders while they're in the saddle.
Both offer 13 hours of talk time, a slim and lightweight unit, and full waterproofing. The units differ in Bluetooth range, with the Freecom 4+ offering a range of 0.8 miles compared to the shorter rider to pillion range of the Freecom 1+.
The Freecom 1+ comes with a set of Cardo's own speakers, but the Freecom 4+ benefits from a partnership with speaker brand JBL for enhanced sound quality. Both also feature automatic volume adjustment, which alters sound levels based on ambient noise, as well as voice commands, and universal Bluetooth connectivity to other units. Sometimes, less really is more.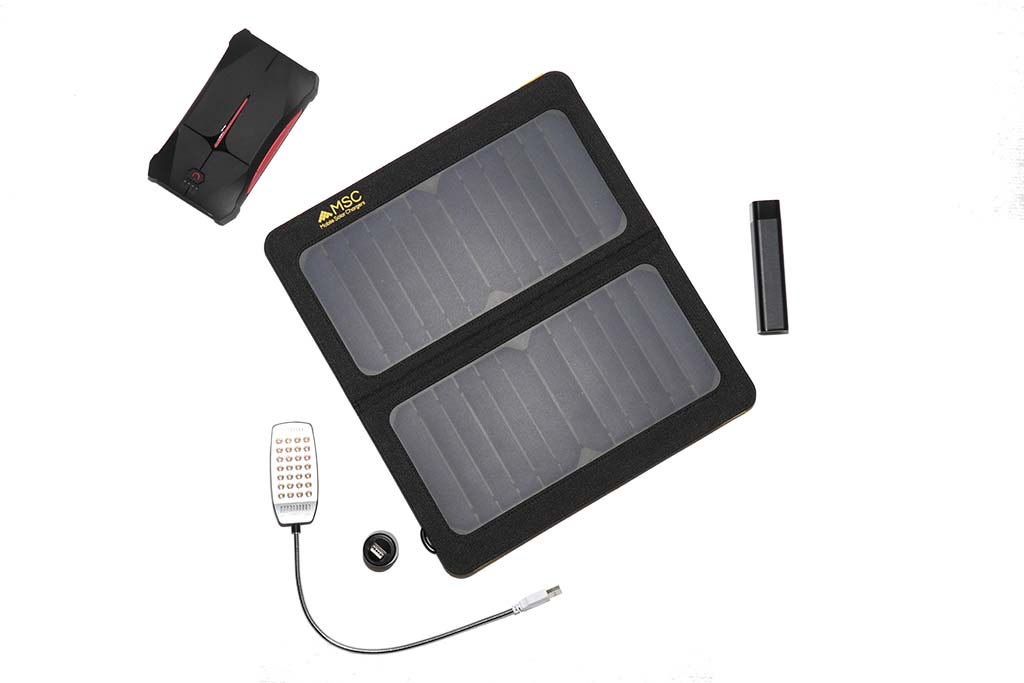 Solar and Overland Power Bank Bundle
£124.95
www.mobilesolarchargers.co.uk
I can think of few better feelings than the excitement of setting of on a motorcycle tour. The prospect of loading up my bike with camping equipment and exploring the unknown, with all the self-sufficiency that motorcycling brings, is unbeatable. However, going off-grid can create problems when my phone, camera, action cam, and intercom all compete for the attention of the single USB charging port on my Honda Africa Twin.
If you find yourself having the same issues on tour, then put this Power Bank Bundle on your Christmas list. It includes a Solar Panel charger, an Overland Power Bank, a Powerstick, and a USB LED torch. The Solar Panel clips to the lid of my top box using carabiners (included) where it converts the sun's rays into electricity to charge up the water-resistant Power Bank. This can then be used to charge all your electronic devices on the road.
The Power Bank also doubles as a jump starter for your motorcycle and an emergency torch. Alongside this, the small Powerstick, which comfortably fits in my pocket, provides a little more juice should my electrical devices require it in the evening, and it can also power the small USB torch included.
Packing down into a small package, which takes up very little room in a pannier, this is a touring-friendly bundle that will help you enjoy your two-wheeled camping adventures with fully charged devices.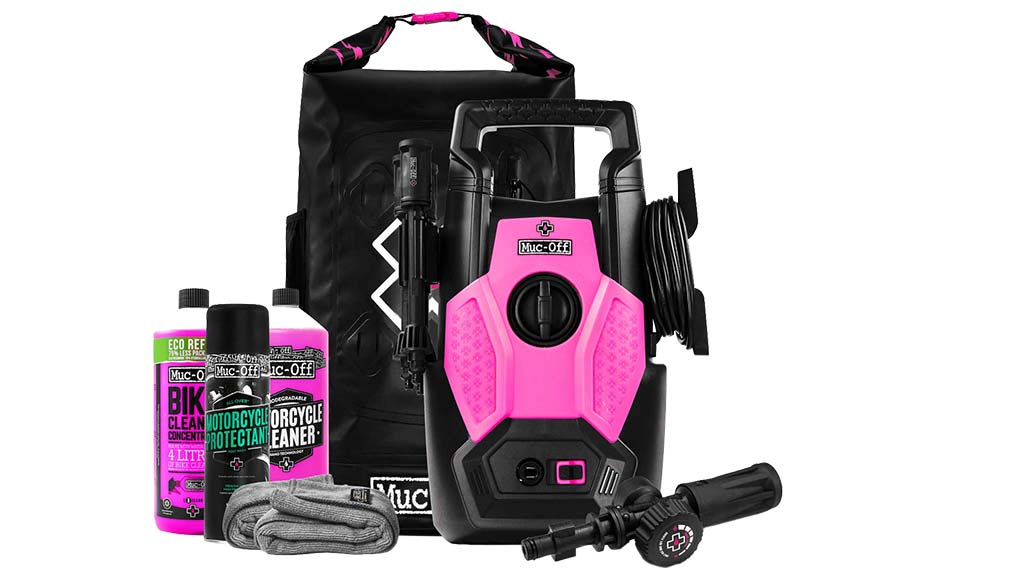 Muc-off Pressure Washer Motorcycle Bundle
£139.99
www.muc-off.com
You may have heard the horror stories of how petrol station jet washers can damage bearings and other motorcycle parts, but it can be hard to look past the convenience and ease of use they offer. A quick blast with a pressure washer is certainly less time consuming than spending my weekends scrubbing away at dirt and grime with a bucket and sponge. However, for the past year I haven't had to compromise because I've been using Muc-Off's pressure washer, built with bikes in mind.
The pressure washer features three different nozzles, one for bicycles, one for motorcycles (which is safe to use on bearings and suspension parts), and an adjustable pressure lance that can deliver a bit more oomph to get rid of hard-to-budge dirt on my tyres. All I have to do is hook the washer up to mains power and the garden hose and I'm free to start spraying.
A snow foam lance is also included which coats my bike in a thick layer of soapy foam to ensure a deep clean. I'll then hose it down with the pressure washer before using the motorcycle protectant and microfibre polishing cloth to dry my bike off and add a bit of resistance to road crud. Offering the convenience of a petrol station washer on your driveway without risking damage to your pride and joy, this could be one of the most useful Christmas presents you find under the tree this year.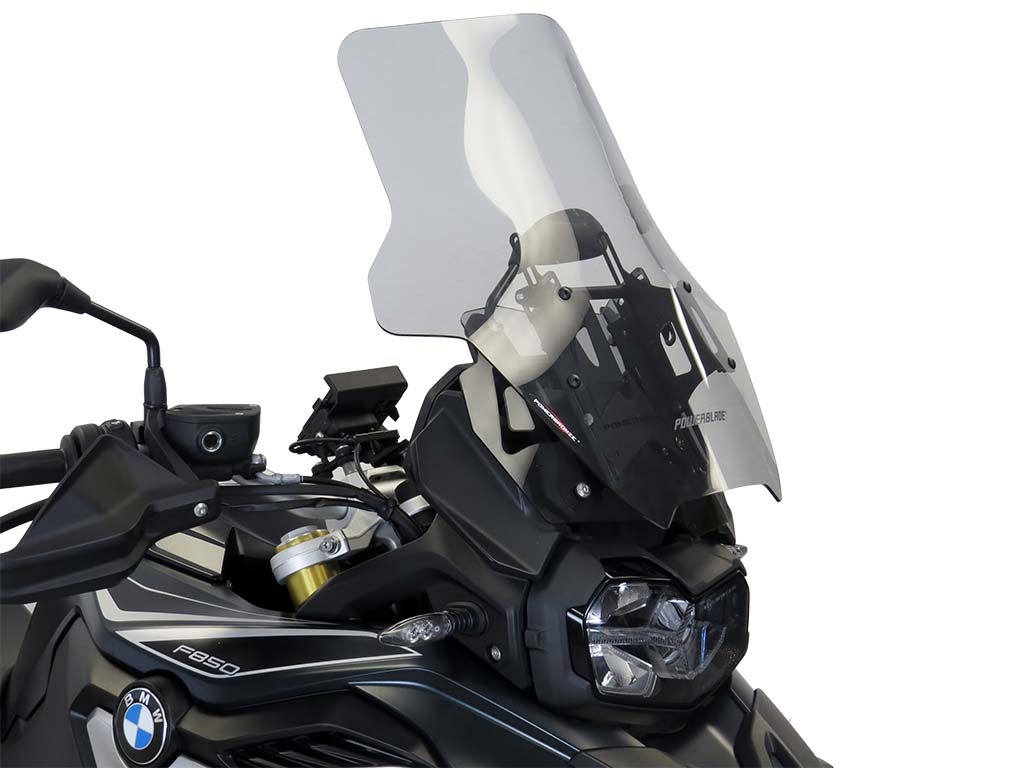 Powerbronze Powerblade
£195
www.powerbronze.co.uk
A good windscreen can be the difference between an enjoyable cruise or arriving at your destination with neck ache and the sudden desire to take the train home. Sadly, it often seems that manufacturers see them as an afterthought, and many riders find themselves turning to the aftermarket to solve their buffeting issues. If all this sounds familiar, then the Powerblade screen from Powerbronze may well be the solution to your windswept woes.
The Powerblade is fully adjustable with two ranges of movement which means I can move it up and down, as well as tilting it forward and back in my search for the perfect position. So, after a day hitting the trails with the screen out of the way on its lowest setting, I can then raise it to full height for a sheltered motorway ride home. Meanwhile, the angle adjustment helps me avoid the dreaded turbulence that some other screens can create as they hit the air with the aerodynamic efficiency of a barn door.
Powerblade screens come either clear or with a light tint, while Powerbronze offers bike-specific mounting kits for a number of popular adventure bike models. If long-distance touring comfort is a present you'd like to receive this Christmas, it may be worth showing your loved ones this gift guide over the next few weeks.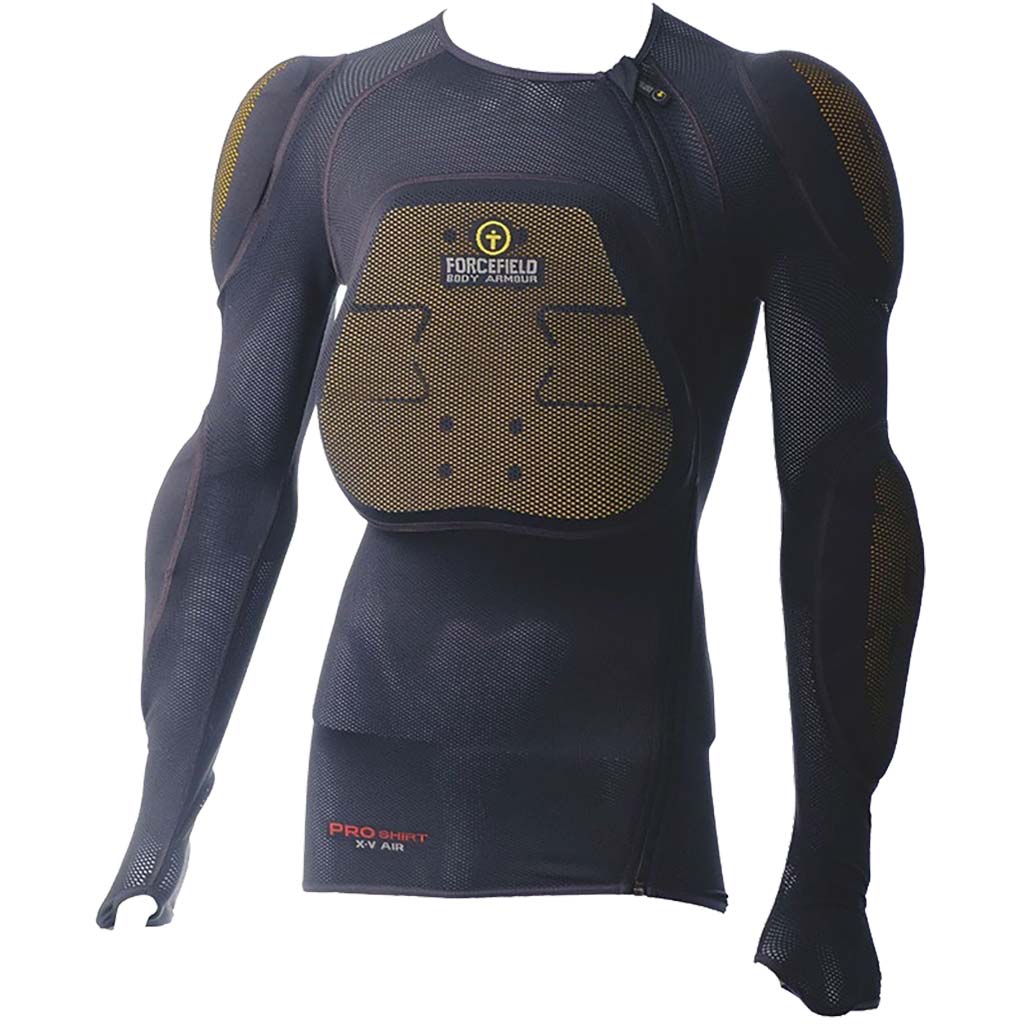 Forcefield Pro Shirt XV 2 AiR
£224.99
www.forcefieldbodyarmour.com
Fans of greenlaning and off-road riding may already be familiar with armoured under layers. There are few bits of kit better suited to keeping you safe and cool while working up a sweat on the trails. The Forcefield Pro Shirt XV 2 Air does both by providing high levels of impact protection in a cool, lightweight package. However, even if riding off-road isn't your thing, don't discount an armoured underlayer just yet.
When the mercury soars to levels that induce mild hysteria in the UK, riding a motorcycle can become a sweaty affair. While vents in your standard textile adventure suit can help channel cooling air around your body, they're not particularly effective when you're waiting at traffic lights or filtering through gridlocked A roads, where I often find myself overheating quickly. That's where an armoured underlayer like the Forcefield Pro Shirt XV 2 Air can help.
It combines CE level 2 elbow, shoulder, back, and chest armour with a fabric that's soft against my skin. It's also breathable and helps wick sweat and moisture away from my body. Throw a thin, abrasion-resistant jacket over the top and you've got a cool riding set up for warm days that will keep you protected on and off-road
Of course, it can also be used throughout the year as part of a layering system when temperatures drop. The body-hugging design helps keep the armour in place, ensuring it won't slip out during a spill when I'm wearing a mid-layer, jumper, and winter riding jacket over the top.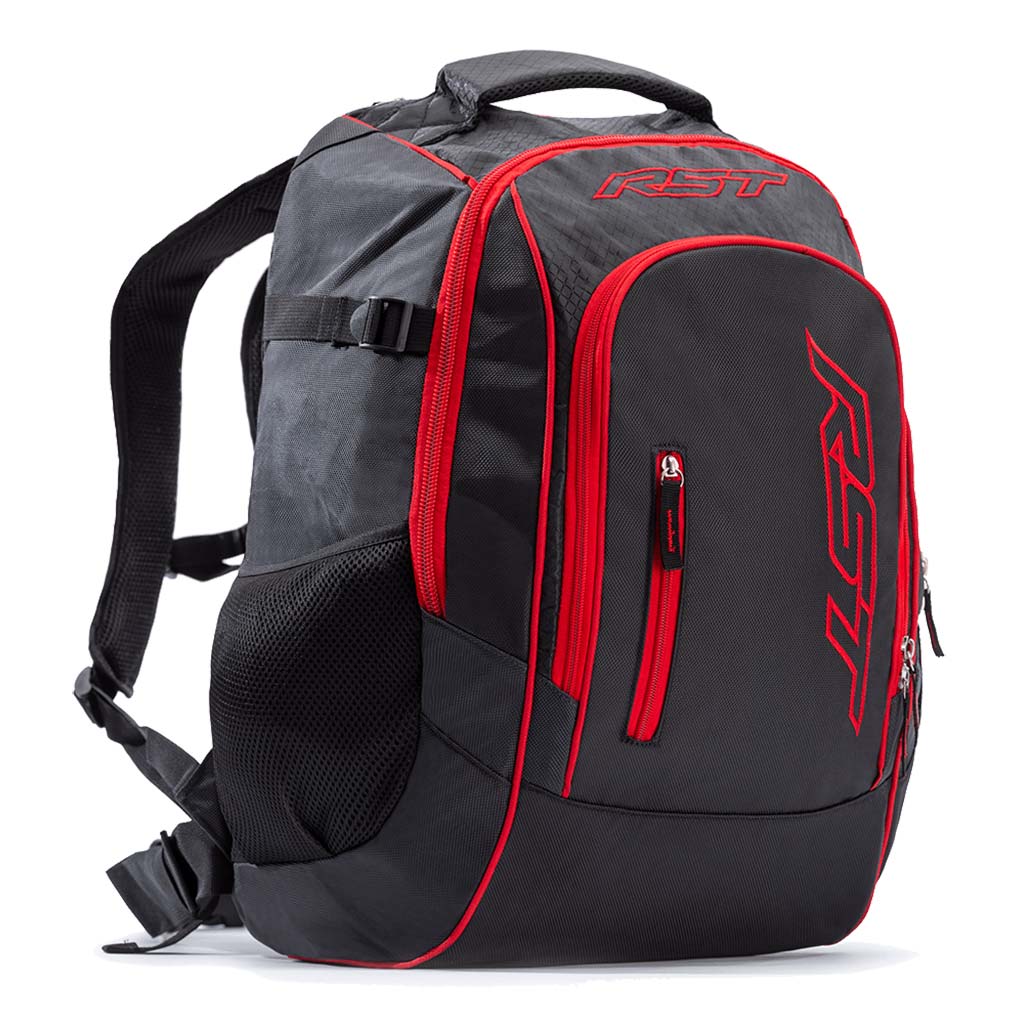 RST Rucksack
£39.99
www.rst-moto.com
While hard luggage is my go-to choice for touring, there's no doubt a set of panniers and a top box adds weight and width to my ride. It's a compromise I'm happy to make while cruising down a French toll road, but it can be a little impractical when it comes to commuting or filtering through dense city traffic. It's in these situations I've been turning to the RST Rucksack.
As a popular British motorcycle brand, RST knows a thing or two about producing kit for riders, and this wealth of knowledge is evident in a rucksack which is comfortable to wear and packed full of nice little touches with bikers in mind.
Space is often an issue when it comes to soft luggage, which is why it's so impressive that the Rucksack boasts a whopping 42.5l capacity. That's at least equal to, if not larger than, most panniers and top boxes I've come across. Alongside a vast storage space, there's also a padded laptop pouch, an easily accessible top pocket that is perfect for storing my wallet and keys, and a couple of outer stash pockets for more bits and bobs.
If that sounds like too much space to fill, there are two compression straps that help reduce the bulk and ensure the fabric doesn't flap about in the wind. There are also chest and waist straps to keep the rucksack tight and secure as I ride along, while a padded back area provides comfort during longer stretches while wearing it. Considering the competitive price, it's a handy piece of luggage to have around.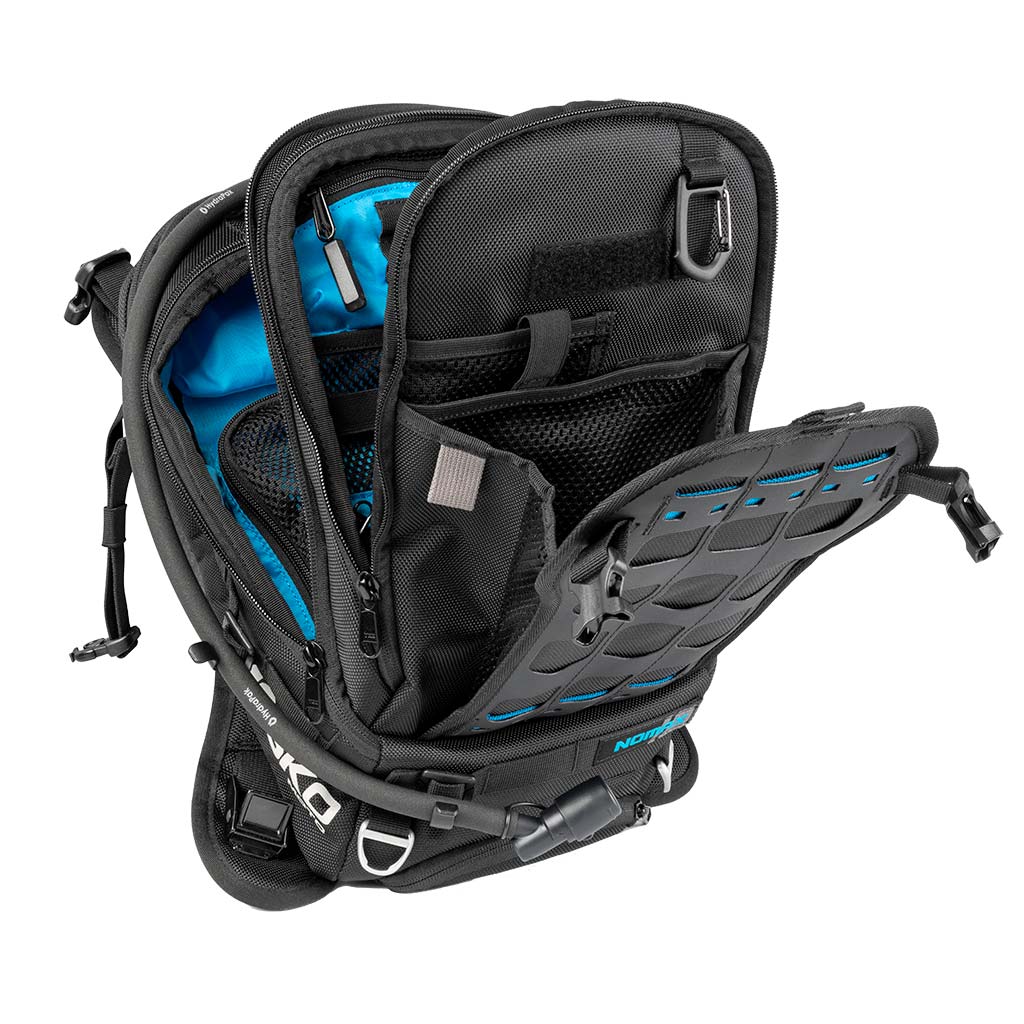 Mosko Moto Nomax Tank Bag
£162.34
www.moskomoto.eu
How do you keep hydrated while touring on your motorcycle? To be honest, it was never something I thought about too often until one day when a combination of hot temperatures, heavy bike clothing, and a few beers the previous evening resulted in the onset of the early stages of heatstroke. By lunchtime, I had my head under a tap in a service station bathroom desperately trying to rehydrate.
Thankfully, Mosko Moto is on the case to help you avoid a similar situation. Taking inspiration from hydration packs used by skiers and mountain bikers, the company has created motorcycling's equivalent in the Nomax tank bag. The most impressive feature is the large 2l hydration reservoir and drinking tube that you can use on the go, as well as multiple layered storage areas with handy stash spots for documents, a phone, a wallet, and just about anything else you need to hand on tour. On top of all of that, the Nomax quickly unclips from the bike and can be worn as a backpack off the bike. So, when it comes to lunch stops, you can keep your essentials with you without filling your pockets or carrying around a bulky tank bag in one hand.
The Nomax is constructed from the same rugged ballistic nylon that makes up Mosko Moto's hard-wearing soft panniers. There is also a waterproof rain cover, a quick-release mounting system, and webbing up top to help you stash the map pouch included with the tank bag, or your own accessories.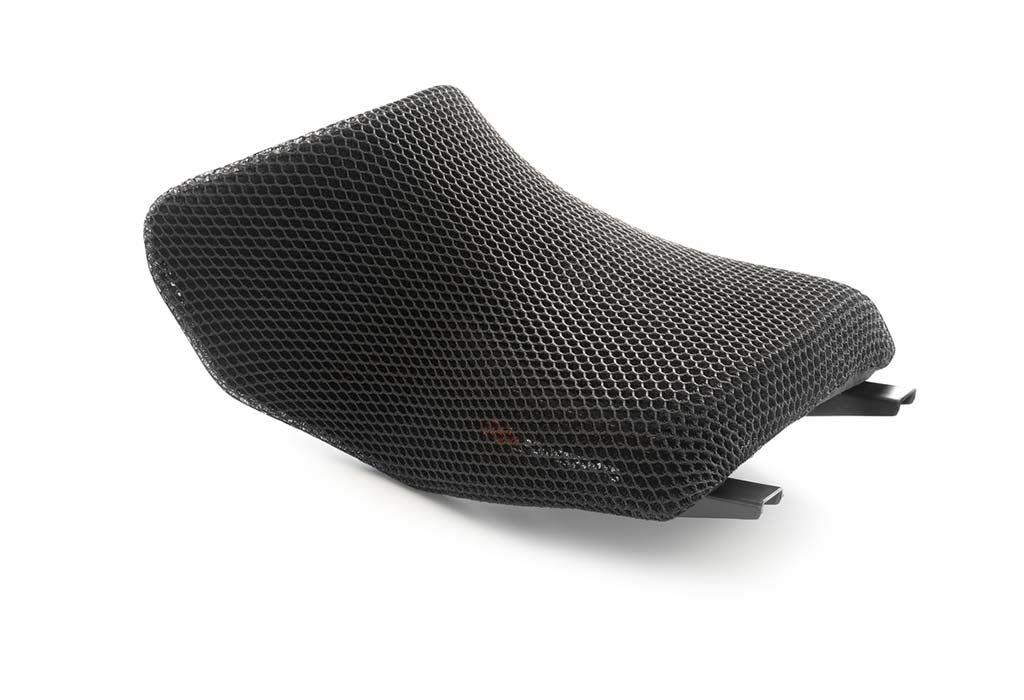 Cool Covers Seat Cover
£45-75 depending on seat and model of bike
www.coolcovers.co.uk
It's not hard to spot a biker who has spent the day on an uncomfortable seat. They waddle around bike cafés and hotel lobbies like John Wayne wearing a pained expression across their faces. I admit I've been that guy.
For those of you looking to alleviate a case of saddle sore, there are a few options from the aftermarket such as premium comfort seats, gel inserts, or even blow-up pads. However, these can prove expensive and sometimes ineffectual. This is where a Cool Cover comes in.
It's a mesh cover that slips over your motorcycle seat and allows airflow to keep your backside cool when the temperature rises. But a Cool Cover doesn't just provide air conditioning for your arse. It also gives a massaging effect, working on the same principle behind the beaded seat covers you find in cars, helping to reduce fatigue over long distances which makes life a lot more comfortable for your backside.
A Cool Cover also helps keep your bum dry. During a deluge, it allows water to drain away instead of pooling on the surface of your bike seat.
Cool Covers has a wide variety of seat covers to fit the stock perches on most adventure bikes, while the team also offers a custom fitting experience in-house for those with less common seats. Alongside this, the company also offers gift vouchers, which are perfect stocking fillers for those looking to treat their riding mates to comfy, cool, and dry bums in the saddle this festive season.