Green lanes featured in issues of Adventure Bike Rider…
| | | |
| --- | --- | --- |
| No | ABR | Name/Location (see map) |
| 1 | 9 | Kiln Bent/Ramsden Road (W Yorks) |
| 2 | 9 | Stanage Edge (Peak District) |
| 3 | 10 | Salter Fell (Lancashire) |
| 4 | 10 | Wayfarer Trail (North Wales) |
| 5 | 11 | Rowland (Peak District) |
| 6 | 11 | Sarn Helen, Betws-y-Coed (Wales) |
| 7 | 12 | Strata Florida (Mid Wales) |
| 8 | 12 | Corwen Car Wash (North Wales) |
| 9 | 12 | Winton (Cumbria) |
| 10 | 13 | Old Coach Road (Lake District) |
| 11 | 13 | Sarn Helen (South Wales) |
| 12 | 14 | Beginner's Loop (The Cotswolds) |
| 13 | 15 | Rudland Rigg (North Yorkshire) |
| 14 | 15 | Three Shires (The Peak District) |
| 15 | 16 | Farm Trails (North Yorkshire) |
| 16 | 16 | Pant Lane Farm (Mid Wales) |
| 17 | 17 | Mynydd Bach (Brecon Beacons) |
| 18 | 17 | Little Langdale (Lake District) |
| 19 | 18 | Askam in Furness Coastal Trail (Cumbria) |
| 20 | 18 | Macmillan Way (Gloucestershire) |
| 21 | 19 | Fosse Way (Somerset) |
| 22 | 20 | Stalling Busk (Yorkshire Dales) |
| 23 | 21 | Bwlchy Groes (North Wales) |
| 24 | 21 | The Highway (Yorkshire Dales/Cumbria) |
| 25 | 22 | Claerwen Reservoir (Mid Wales) |
| 26 | 22 | Cyffylliog Trails (North Wales) |
| 27 | 23 | Kings Lynn, Hunstanton (Norfolk) |
| 28 | 25 | Chatsworth & Two Dales (Peak District) |
| 29 | 25 | Kirkby Stephen Trails (Cumbria) |
| 30 | 26 | Golf Links (Rhayader) |
| 31 | 26 | Four of North Kent's byways (Kent) |
| 32 | 27 | Alcester Trails (Warwickshire) |
| 33 | 27 | A Trip Around Vigo Village (Kent) |
| 34 | 28 | Llwybr Ceiriog Trail (North Wales) |
| 35 | 28 | Toft Hill Trail (North Yorkshire) |
| 36 | 29 | Breasthigh Road (Cumbria) |
| 37 | 29 | Four More Kent Byways (Kent) |
| 38 | 30 | Coast to Coast |
| 39 | 31 | Pheasant Penn Steps (North Wales) |
| 40 | 31 | Harrop Edge (West Yorkshire) |
| 41 | 32 | Holmfirth Trails (West Yorkshire) |
| 42 | 32 | Settle Trails (North Yorkshire) |
| 43 | 33 | Settle Trails, Part 2 (North Yorkshire) |
| 44 | 33 | Glaisdale Rigg (North Yorkshire) |
| 45 | 34 | Masham Moor (Yorkshire) |
| 46 | 34 | Stonehenge (Wiltshire) |
| 47 | 35 | Bwlch Y Rhiwygr (Wales) |
| 48 | 35 | Salisbury Trails (Wiltshire) |
| 49 | 36 | Roman Road (Yorkshire Dales) |
| 50 | 36 | Rivington Pike (West Pennines) |
| 51 | 37 | Inmoor Lane (Yorkshire Dales) |
| 52 | 37 | Danby Beacon (Moorland Tracks) |
| 53 | 38 | Charity Lane, Macclesfield Old Rd (Peak District) |
| 54 | 38 | Thurrish Lane (West Yorkshire) |
| 55 | 39 | Llwybr Ceiriog Trail (North Wales) |
| 56 | 39 | Whitestones and Hafod Adams (North Wales) |
| 57 | 40 | Salisbury Plain (Wiltshire) |
| 58 | 40 | Shropshire Trails (Shropshire) |
| 59 | 41 | Butser Hill (South Downs) |
| 60 | 41 | Long Mynd (Shropshire) |
| 61 | 42 | Ashley Down/Parnhold Wood (Hampshire) |
| 62 | 42 | Lower Claerwen (Mid Wales) |
| 63 | 43 | Horndean (Hampshire) |
| 64 | 43 | Llwybr Ceiriog extension (North Wales) |
| 65 | 44 | Clwydian Hills (North Wales) |
| 66 | 44 | Hexham Lane (County Durham) |
| 67 | 45 | Offas Dyke (Shropshire) |
| 68 | 45 | Slaley Forest (Northumberland) |
| 69 | 46 | Foxton Lane (North Yorkshire) |
| 70 | 46 | Berkshire Downs |
| 71 | 47 | Back Lane / High Lane (Yorkshire Dales) |
| 72 | 47 | Lambourn Downs (Oxfordshire) |
| 73 | 48 | Houndkirk Moor (Peak District) |
| 74 | 48 | Malpas Lanes (Cheshire) |
| 75 | 49 | Cheshire Lanes (Cheshire) |
| 76 | 49 | Clun Lanes (Shropshire) |
| 77 | 50 | Soar y Mynydd (Mid Wales) |
| 78 | 50 | Ughill Moor (South Yorkshire) |
| 79 | 51 | Cadair Idris (North Wales) |
| 80 | 51 | Teignmouth (Devon) |
| 81 | 52 | Happy Valley (North Wales) |
| 82 | 52 | Mold Trails (North Wales) |
| 83 | 53 | Dawlish (Devon) |
| 84 | 53 | Water Breaks Its Neck (Mid Wales) |
| 85 | 54 | Littleton Drew (Wiltshire) |
| 86 | 54 | Kemble (Gloucestershire) |
| 87 | 55 | Dolgellau (North Wales) |
| 88 | 55 | Salisbury Whoops (Wiltshire) |
| 89 | 56 | Hell Lane (West Dorset) |
| 90 | 56 | Sunken Lane (South Wales) |
| 91 | 57 | Mach Loop Trail (Wales) |
| 92 | 57 | Wye Valley Walk (Mid Wales) |
| 93 | 58 | Eyam (Peak District) |
| 94 | 58 | Pindale and Dirtlow Rake (Peak District) |
| 95 | 59 | Sedgefield (County Durham) |
| 96 | 59 | Botallack Mine (Cornwall) |
| 97 | 60 | Beacon Brow Road (North Yorkshire) |
| 98 | 60 | Trevillis Wood (Cornwall) |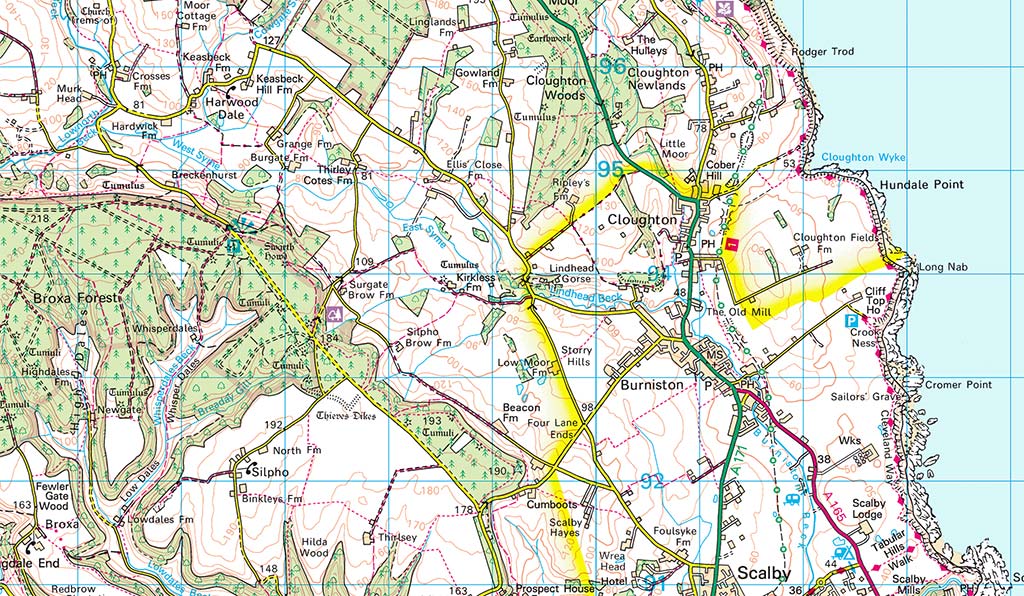 97 – Beacon Brow Road, North Yorkshire
These lanes are just north of Scarborough near the North Yorkshire coast and I've split them into two parts. The first is fantastic and can be attempted by riders of all abilities. However, the second lane should only be ridden by experienced riders on smaller enduro bikes. It's a grade five in terms of difficulty, only the third green lane I've awarded such a high difficulty rating to.
Be aware that, although there were no signs stating this second lane is not legal to ride, I did get stopped by local people in a car who told me I shouldn't be on the track as its private. However, the North Yorkshire local government website lists it as a track and certainly doesn't point towards there being any restrictions placed upon it.
And, put it this way, the presence of plenty of deep ruts points towards the lane taking a hammering from the 4×4 brigade, so I don't believe the person who stopped me. It certainly wouldn't stop me riding what is a great little lane.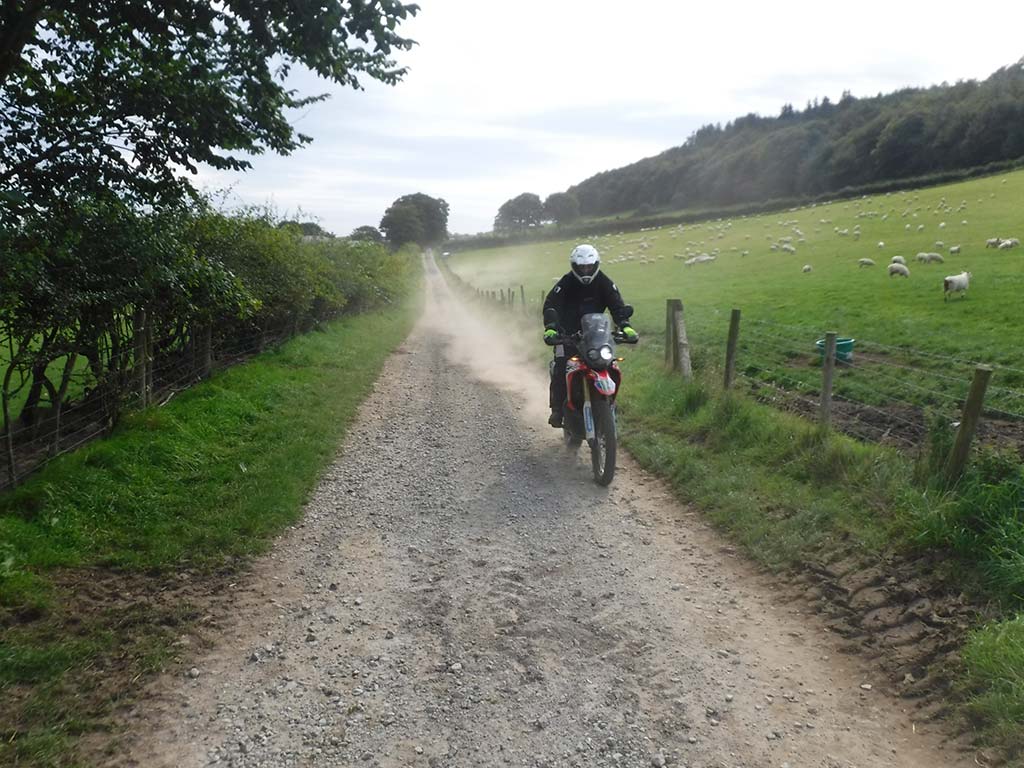 THE FACTS
Distance:
2.5 miles
Nearest town:
Scarborough
Maps:
OS Explorer 301 Scarborough
Start/End grid reference:
SE993922 / SE964944
Difficulty rating:
2-5
Wow factor:
3
Other trails:
I linked together a good mixture of trails to the west of Scarborough. The total distance was about 70 miles and took in legal trails in Dalby Forest, Wykeham Forest, and Broxa Forest,. Bar the grade five documented here, the rest were straightforward.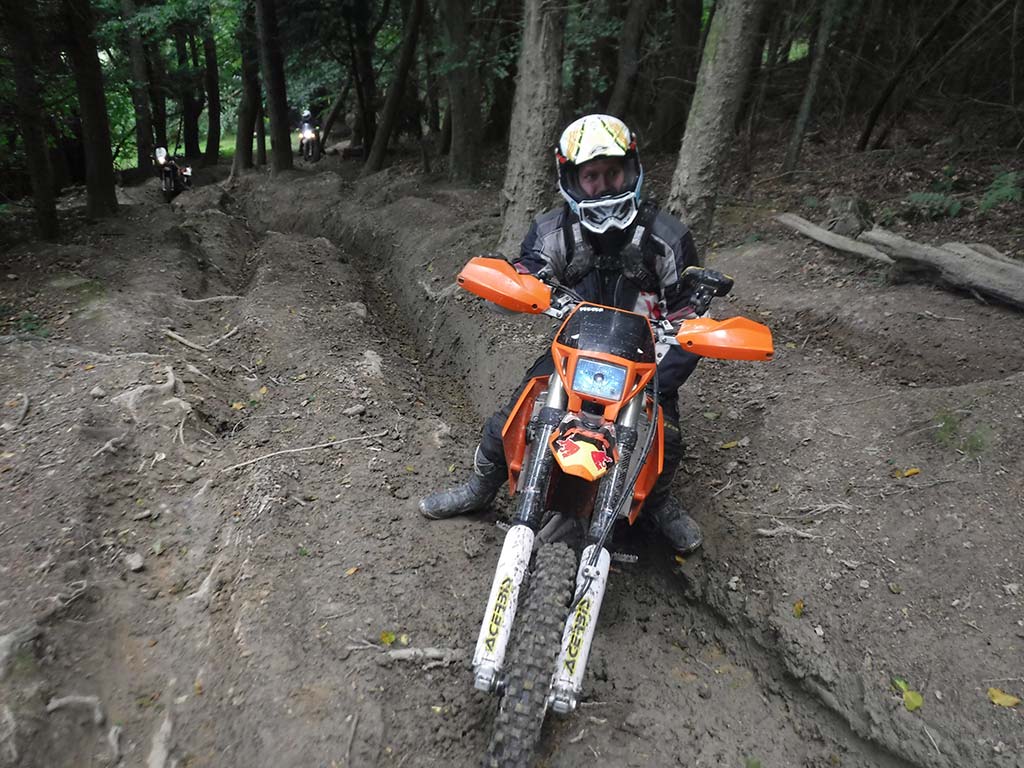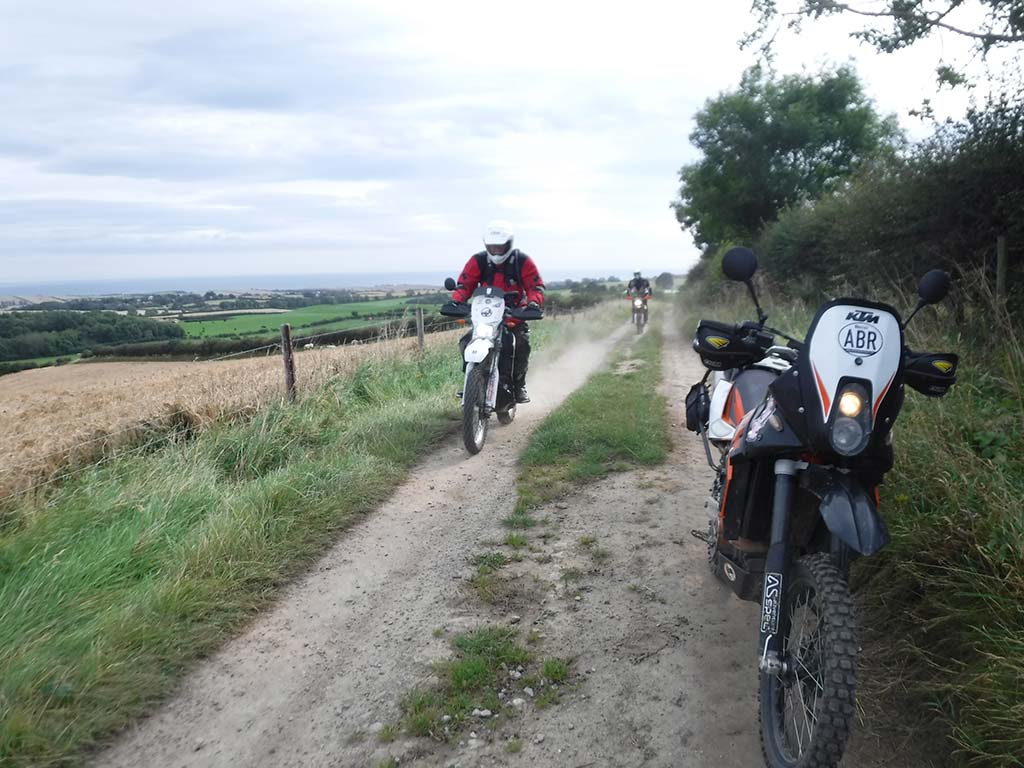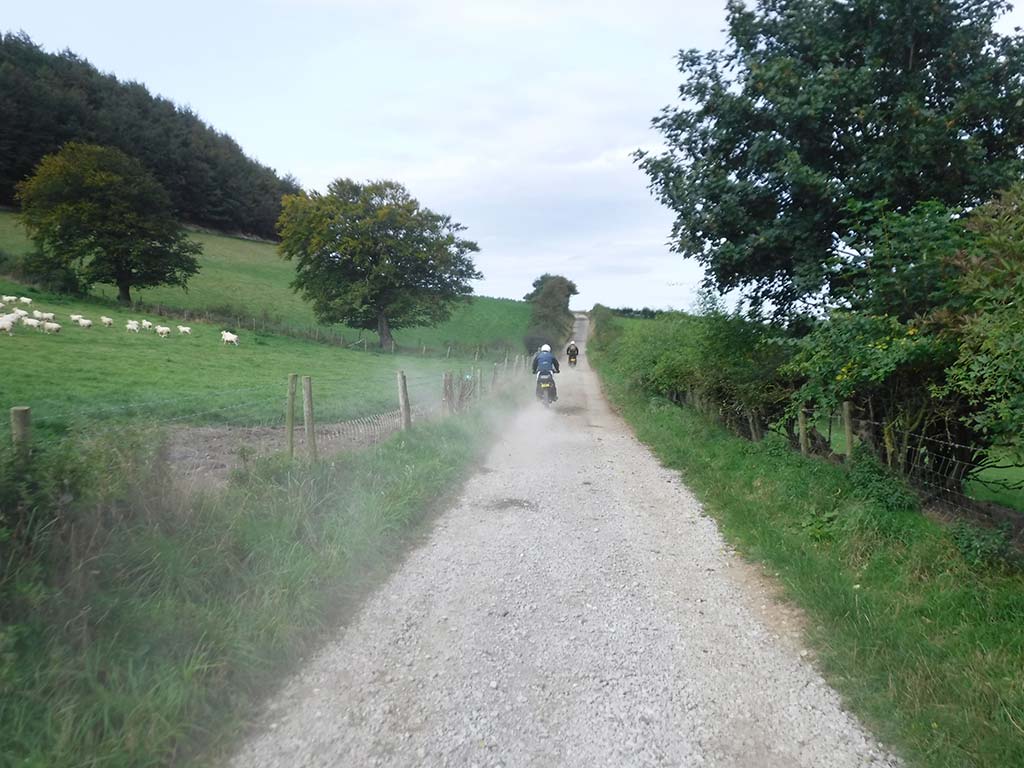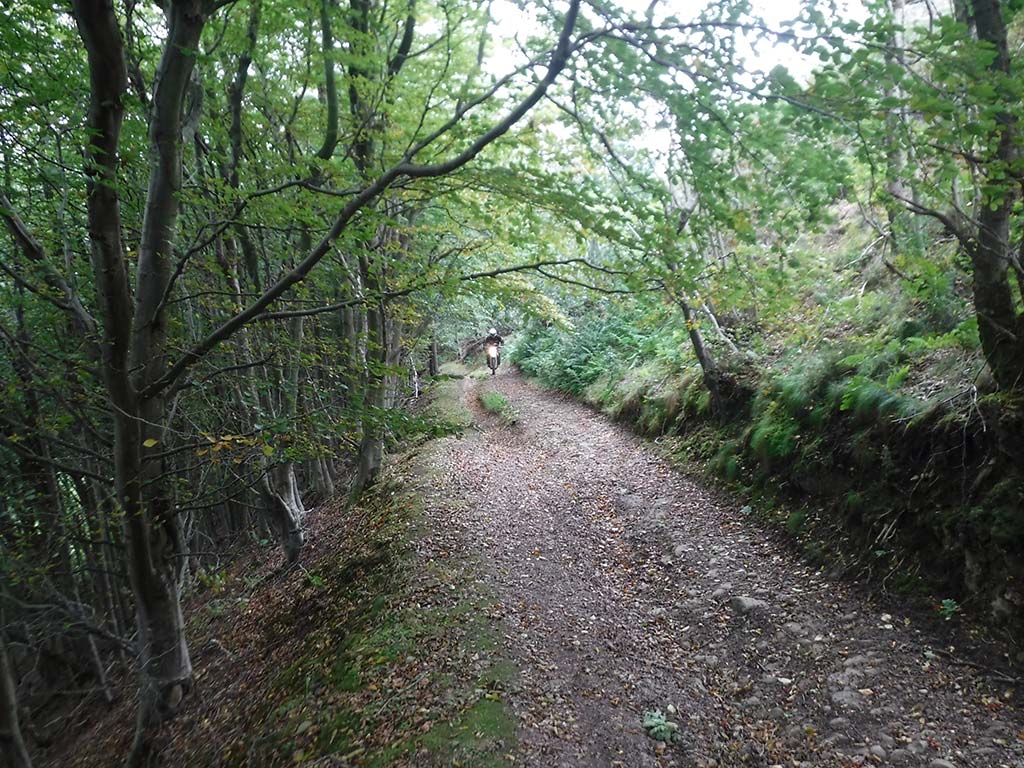 The route
1-2
Pass a farm on the right where the tarmac ends and the hard-compacted track begins. It's dead straight as the track heads into the distance. There were farmer's fields full of livestock on both sides when I rode this route.
2-3
Once you crest the hill, there are fantastic views to the right of the rolling Yorkshire countryside with the North Sea as a backdrop. The track changes ever so slightly here, but it's still easy riding on a hard-compact base with some grass growing in the middle.
3-4
Head downhill. The track is still dead straight and there are a few loose stones around, but it's an easy ride all the way to the end. A slight right-hand bend takes you into a farmer's field with no hedge or fence on the left, the track has more grass growing in the middle so stick to one of the 4×4 vehicle tracks.
4-5
Round a slight left-hand bend and travel through the middle of a field. This is a little tricky as you are mainly riding on grass so take care in the wet. Follow the obvious track all the way uphill to the farm, and then through a gate, where you'll complete the lane.
5-6
A tarmac section.
6-7
Only proceed if you are an experienced rider with the right type of bike. Head through the gate and follow a track which isn't obvious to begin with as it's just a farmer's field. However, the track soon becomes visible and it is easy riding to start with.
7-8
Head through the gate and the track gets muddier and slightly overgrown. Head downhill until you come to a sharp left turn.
8-9
You can see from the start that this isn't going to be easy. The ruts are deep and there are awkward hanging trees and plenty of roots. It would be pointless trying to ride in the ruts as they are so deep. The centre of the ruts is also very difficult. It's at a very steep angle, and once you are on it, you cannot dab as the ruts on either side are so deep. I wouldn't advise trying this solo. Trust me when I say this is a challenging lane.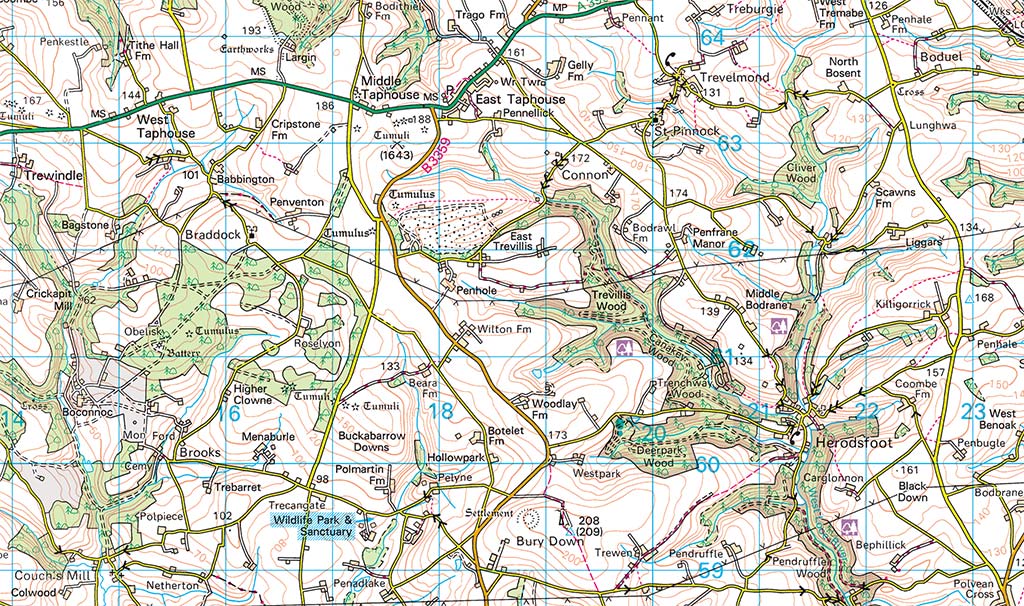 98 Trevillis Wood, Cornwall
This is a cracking lane just south of Liskeard in Cornwall. It begins easily enough but turns into a long, steady, rocky decent. Once you reach the bottom, there are a couple of rewarding climbs as you proceed along the trail. As there is a tricky muddy section on this lane, it's not really suitable for beginners, plus the rocky decent isn't for the faint of heart.
That said, it's not overly difficult. Just approach it with caution and a sense of adventure. The trail would also be fun to ride in reverse. Once you finish, there is an additional short trail (9-10) which I researched but it isn't recorded on an OS map (not even as a footpath). It certainly looks well used by bikes and there weren't any signs stating otherwise. I've decided to include it but please be aware I cannot be 100% certain of its legal status.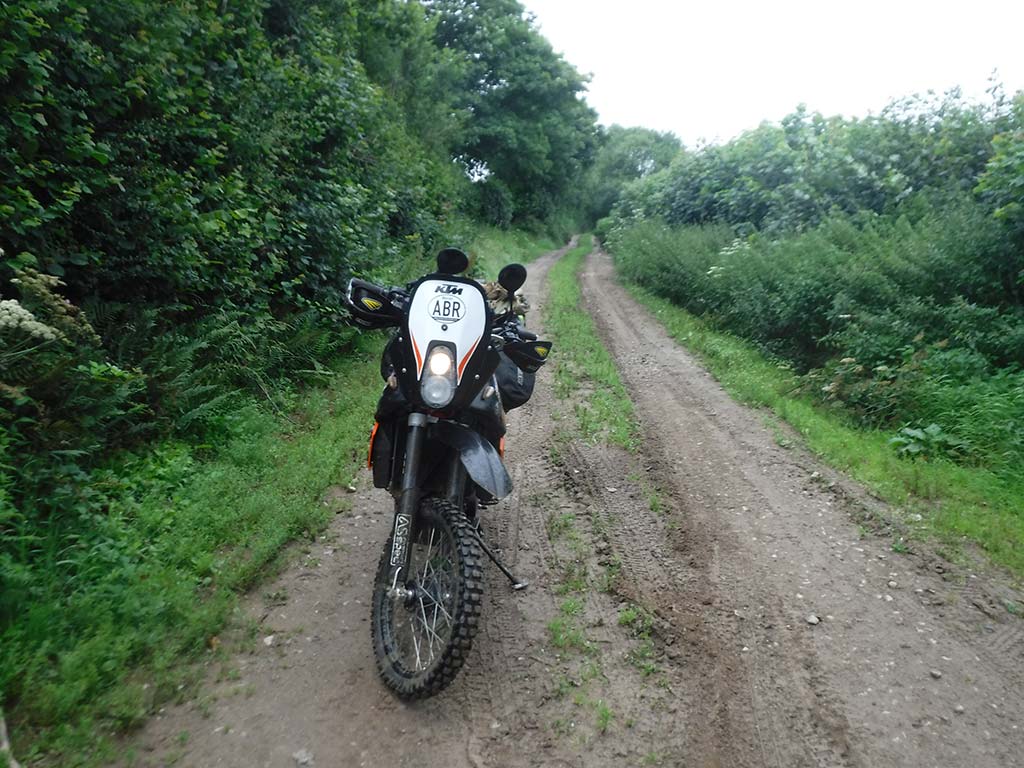 THE FACTS
Distance:
2 miles
Nearest town:
Liskeard
Maps:
OS Explorer 107, St Austell and Liskeard
Start/End grid reference:
SX202620 / SX170605
Difficulty rating:
3
Wow factor:
3
Other trails:
I rode this green lane while riding the Great Western Trail section of the Trans Euro Trail (TET), so there are plenty of lanes to follow nearby.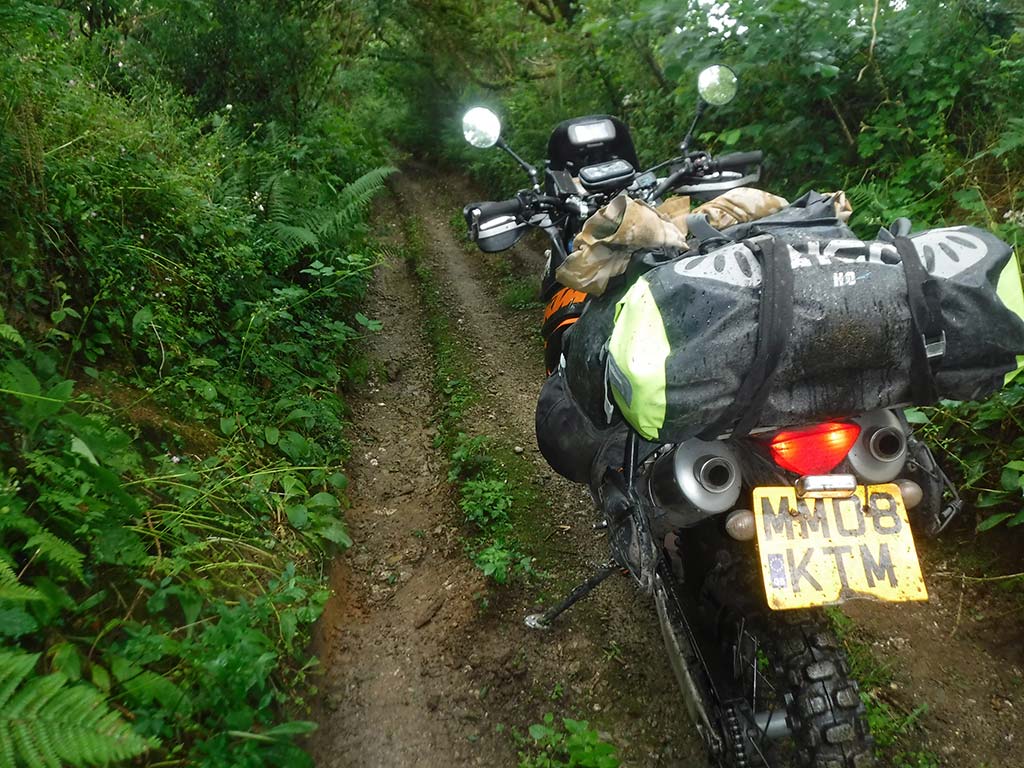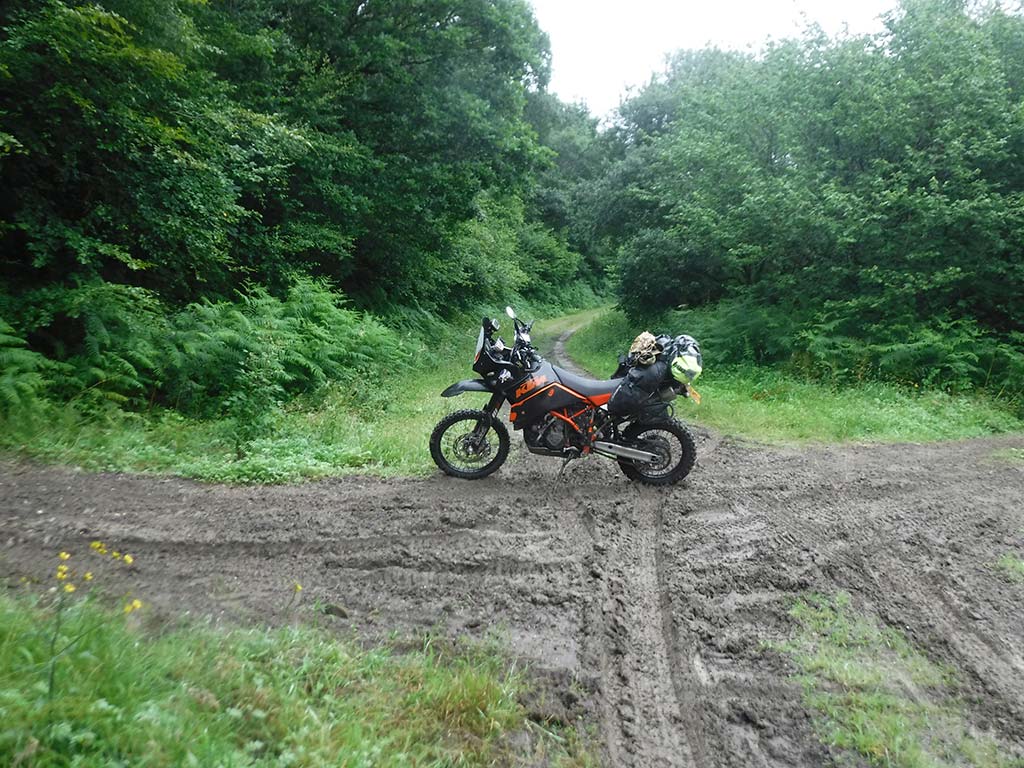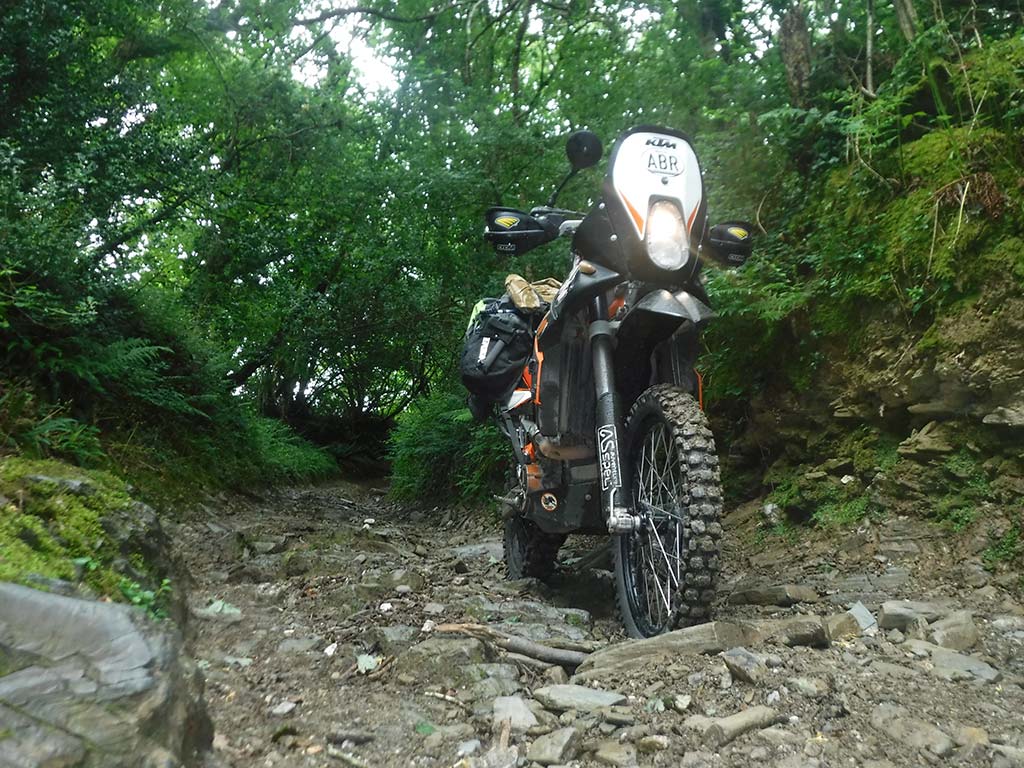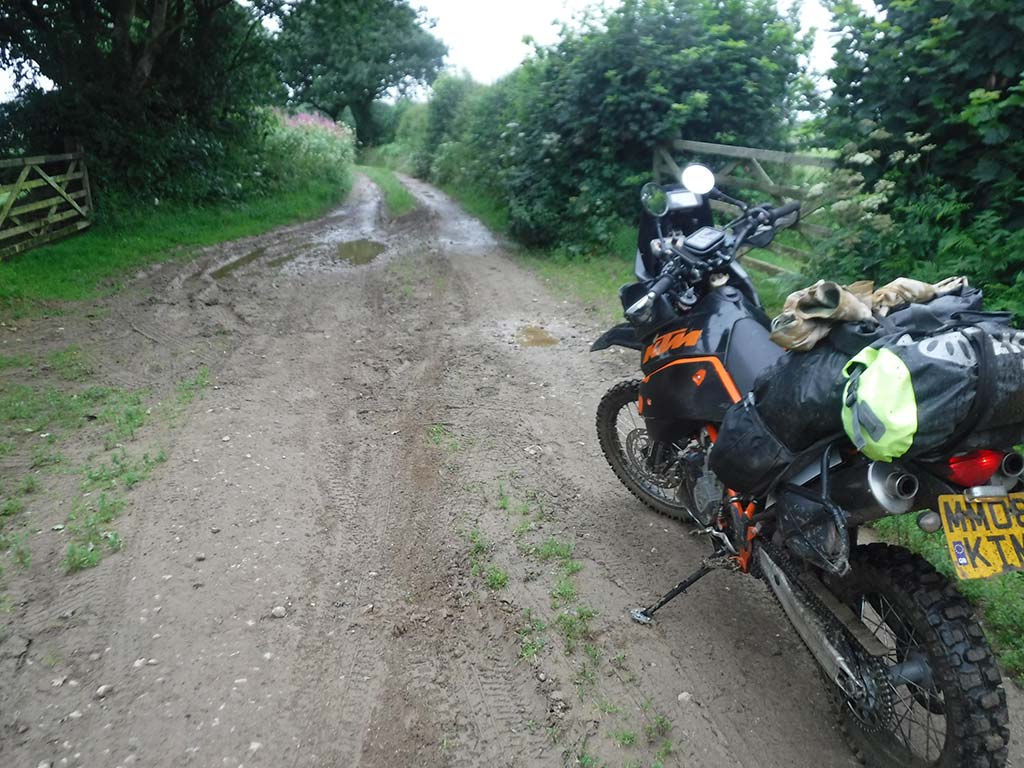 The route
1-2
Leave the road and ride down a track with an 'unsuitable for motors' sign. The trail starts off as a wide, solid-based track. Pass a few outbuildings and head towards and into the trees.
2-3
The trail is straight ahead with a canopy of green above. It's a solid track with no ruts and is easy riding. Pass a couple of farm gates and start heading downhill. The middle rut here is the easiest, the left rut is a lot deeper. If you mess up and need to dab, chances are you will drop the bike as your legs won't be long enough to reach the bottom of the rut. It's a bit more overgrown here as well. There then follows a rocky decent. Keep going downhill and watch out for loose stones.
3-4
Take a sharp right turn. As you head downhill it gets rockier but it's OK if you take it steady. Further downhill the riding gets more technical with more rocks and a steeper descent. I got off the bike and clutched it for the last little section. I'm not sure why, I think I just lost my bottle being on a bike loaded with camping gear and riding solo, so I opted for the safe option. At the bottom, there's some off-piste activity from 4×4 vehicles. Continue straight ahead then to the left.
4-5
You'll ride some nice deep muddy ruts now. Head uphill into a clearing where a dirt crossroads appears. Head upwards into the trees. It's fairly steep but OK if you commit. The track has a solid base with loose dirt in the middle. Keep going uphill then enter another dirt crossroads.
5-6
It's a lot muddier now. There are two tracks ahead. The left one looked very steep with deep ruts. The right track looked easier. I walked up 50m or so to take a look. Both tracks end up converging. Taking the right track was definitely the easier option.
6-7
Things get very muddy but after the tracks meet the going becomes easier. Keep heading uphill and beneath the trees. A track joins from the left. Head right and uphill. It's easier to pick speed up now.
7-8
Grass appears in the middle of the trail which is long enough to ensure you will be riding either side of it. The trail opens up a bit towards the end. Round a corner and there will be a few puddles. Continue on and the riding becomes easier as you travel on a fairly wide track with a solid base. Pass farm buildings on your left.
8-9
A tarmac section.
9-10
I can't be 100% certain of the legal status of this section. It's not marked as anything on my OS map (not even a footpath). However, there is a visible trail through the woods. Cross over the main road and down a gnarly trail through the woods. There are some deep, muddy puddles and lots of tree roots.
10-11
A tarmac section.
11-12
You'll pass some houses and the track is fairly obvious ahead. Ride downhill before the trail opens up and allows you to get some speed up. You'll pass between bracken and through a few puddles. Continue to the tarmac road where this trail ends.