James Oxley is handed the keys to the new for 2020 Husqvarna 701 Enduro LR and discovers what could be the ultimate off-road-focused adventure bike
"Bloody hell, I never realised you were so good at riding off-road," my ABR colleague Ollie bellowed at me over the noise of our motorcycle engines.
"Neither did I mate," I replied. "Neither did I."
It was a beautiful late summer evening so, after switching off our office computers at the stroke of 5:30 pm, Ollie and I both jumped onto our bikes and made a beeline for the nearest green lanes.
It's not unusual for us to ride a lane or two after work but tonight was special. I'd recently taken delivery of a Husqvarna 701 Enduro LR and I was itching to see what it could do on the trails.
Boy, I was in for a treat. The big Husky danced over the dirt and rock with an effortless grace I've rarely experienced. Despite the fact the lanes we rode were on the 'lighter' end of the dirt riding spectrum, it was immediately clear this was a seriously capable machine.
Muddy ruts were dispensed with ease, a tight technical section was mastered assuredly, and the general lumps and bumps of the trail were dispatched at a faster pace than I'd ever felt comfortable travelling on them before.
Which brings me to Ollie's generous proclamation about my riding skill. While I thoroughly enjoy turning off the blacktop and indulging in some trail riding, I'm the first to admit my enthusiasm often exceeds my skill.
True, I'll happily roll my wheels across any terrain I come across, but this will usually be at a steady pace to make progress rather any attempt to dazzle my mates with daring deeds of speed or flair.
That all changed when I swung my leg over the 701 Enduro LR. I was like Popeye after eating a can of spinach. The bike is so incredibly confidence-inspiring it was like I'd been endowed with super enduro powers. I felt as if I could conquer the world.
It was an apt feeling because this is the LR, or Long Range, version of the Husqvarna's popular 701 Enduro bike, and conquering vast swathes of the globe is exactly what it's been designed to do. Like the standard model, the LR has a 13l fuel tank at the rear but it also boasts an additional 12l tank at the front, taking the overall fuel capacity to a whopping 25l, which is huge for an enduro bike.
This gives the bike a range of around 300 miles, putting it in the same league as big adventure bikes like the Honda Africa Twin Adventure Sports or BMW's R 1250 GS Adventure in terms of miles between fill-ups.
But, why should we care about how the 701 Enduro LR stacks up against road-biased adventure motorcycles? Surely, this is an enduro bike we're talking about, right? Well, yes and no, and here's why we should care. For those of us who want a large-capacity trail bike to enjoy exploring the green lanes of the UK, the 13l fuel tank on the standard 701 Enduro is going to be perfectly adequate for our needs. You also won't have to carry around the extra weight of that additional fuel tank and associated petrol (9kg according to Husqvarna).
With this in mind, if you're considering spending your hard-earned cash on the LR model, there's a good chance you've got a long-distance journey planned. Most likely, you want to ride a mix of roads and trails, perhaps across a country, continent, or even around the world. It's at this point the 701 Enduro LR starts muscling in on territory traditionally held by adventure bikes with their excellent road-riding credentials and off-road prowess.
So, is the 701 Enduro LR a viable purchase for an adventure biker? To answer this question, I first needed to take this oversized trail bike on a road trip to see how it faired on a long journey. And so, one Friday evening, I strapped a bag to the back of the Husky and set off on my weekly commute from the ABR offices in the Midlands to my home in the far South West of England. Ahead of me lay 210 miles of motorway with around 40 miles of twisting A-roads at either end, all of which would need to be re-ridden 48 hours later in order to be back to work on Monday morning.
I left the office a little later than I would have liked as I struggled to strap my dry bag down securely without the presence of grab rails or any other tie points. I managed to loop by straps around the bodywork, but if I was to keep the bike, I'd invest in Husqvarna's luggage options or delve into the thriving aftermarket dedicated to making your 701 Enduro LR travel-ready. Once on the road, the upright seating position proved comfortable and provided a commanding view of the road ahead. The bend in my legs wasn't particularly acute and the reach to the handlebars was natural and didn't involve any uncomfortable stretching.
Despite being 6' tall, I had no chance in hell of flatfooting while sat on the towering 925mm seat. There's no mistaking the 701 Enduro LR is a tall bike and unless you possess the inside leg of a Harlem Globetrotter, you're going to be sliding your bum sideways to put your foot down when you roll to a stop. To be honest, this is to be expected on a big trail bike and the benefit of that tall seat is a healthy 270mm worth of ground clearance which reduces the chances of you bottoming out on the trails significantly.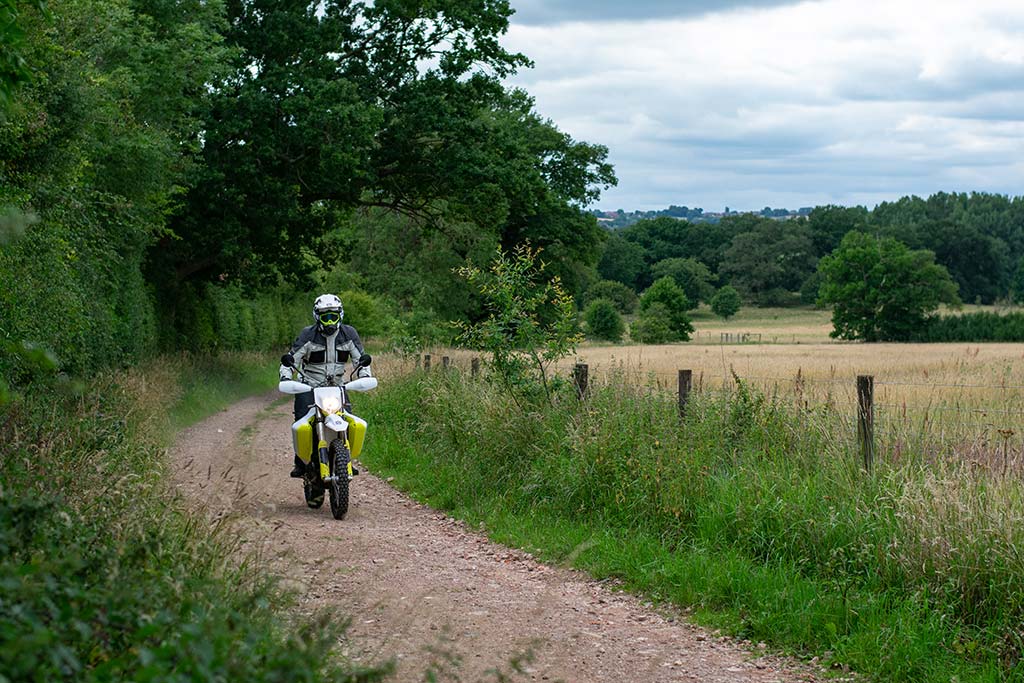 Bare essentials
Usually, at this early stage of a bike test, I'll spend a while toggling through rider modes, adjusting the screen, and generally fiddling around with anything and everything on hand to get a feel for the motorcycle. This didn't take long on the Husky because, in terms of creature comforts, you don't get a lot. There is no screen, no heated grips, no cruise control, and no TFT dash. However, I loved the enduro-style handgrips, which reminded me of the BMX bike I had as a child, and while the basic LCD display was one of the smallest I've seen on a motorcycle, it managed to convey its information clearly and concisely. To be honest, I'm happy to forgive the 701 Enduro LR for its lack of extras, it is an enduro bike after all, but one glaring omission on a bike equipped designed to travel long distances was a lack of a fuel gauge. All you trail-riding purists out there can call me a big adventure biking sissy if you want, but range anxiety is bad enough on the M5 motorway, let alone in the more remote parts of the world where this bike will no doubt be put to good use.
Talking of fuel, the petrol tanks on the 701 Enduro LR are two separate entities with individual pumps and they need to be filled separately. There is a small switch on the handlebar to toggle between the two. A warning light appears on the dash when the rear tank is running low, although I travelled a least 20 miles accompanied by its orange glow before I filled up and I could still hear the sound of petrol sloshing around in the tank. Unfortunately, no fuel light appeared when I ran out of fuel in the front tank, which led to a few seconds of stuttering and surges in the fast lane of the motorway before I flicked the switch.
Another switch located on the handlebar toggles between two rider modes which changes the characteristics of the engine's power delivery. The first mode is more road-focused and provides a livelier throttle response, as well as engaging cornering sensitive traction control and limiting rear-wheel slip. It also limits your ability to pull wheelies which is a good or a bad thing depending on your view of wheelies. The second mode has been designed with off-road riding in mind. The throttle response is neutered and off-road traction control is engaged which allows for more wheel slip and makes it easier to lift the front wheel over logs, rocks, and any other obstacles on the trails. You also have the option of turning the traction control off completely.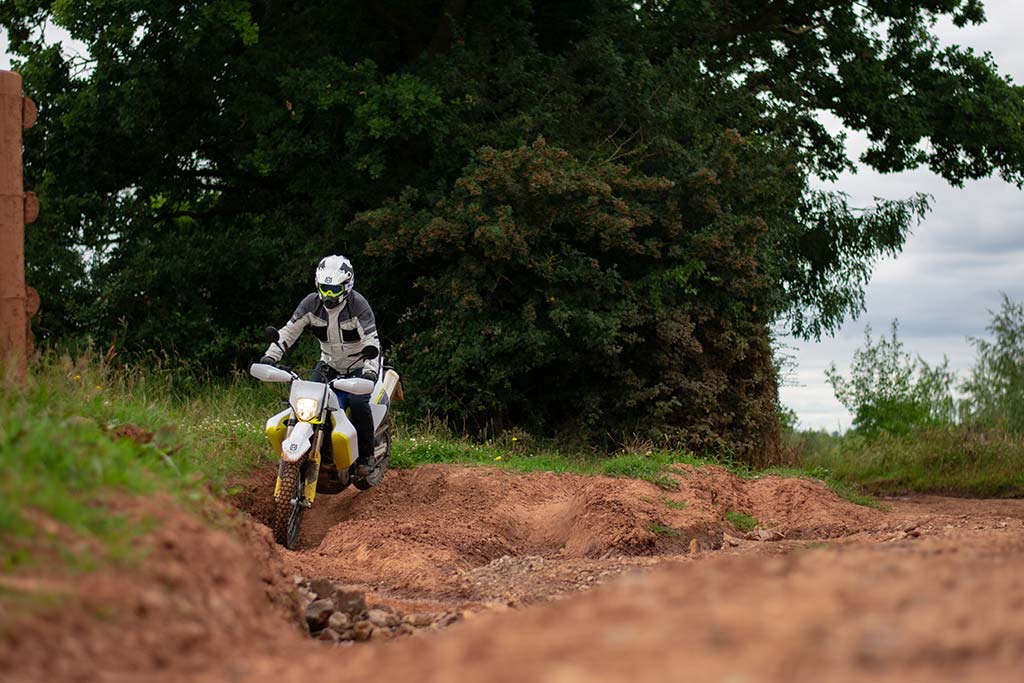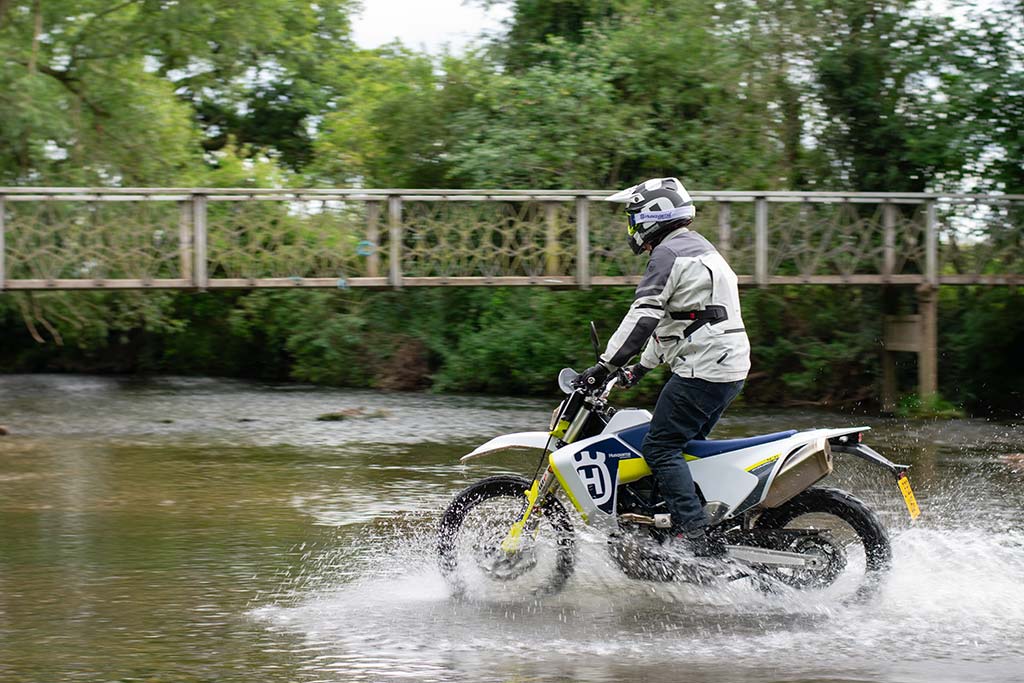 Rhythmic thump
After fully familiarising myself with the bike, I made my way onto the motorway on my Friday night commute and settled into the ride accompanied by the rhythmic thump of the single-cylinder, liquid-cooled, 74bhp engine. Being a single, it doesn't feel smooth or refined and it certainly produces plenty of vibration through the handlebars and foot pegs. However, twist open the throttle and the torquey burst of acceleration that follows was violent enough to get a big shot of adrenaline pumping through my veins. I admit to frantically squeezing my legs together once or twice as my arse threatened to slide backwards along the bench seat.
At motorway speeds, the bike felt impressively stable cruising at 70mph with enough power in reserve for overtakes in the fast lane. The lack of a screen was causing me problems though. It was fine up to around 55-60mph, but at faster speeds I found myself clinging on to the bike as the wind attempted to shove me backwards. It would also have been nice to have some heated grips to turn on as the temperature dipped over Dartmoor.
I was, however, impressed by the level of comfort the seat offered which, by adventure bike standards, looks like it possesses all the long-distance comfort of a wooden picnic bench. Yes, it's flat and narrow, but having tested my backside on plenty of motorcycle seats over long distances, I've come to the conclusion that the most comfortable ones are those that give me the freedom to move around and mix up the pressure points on my rear. This also helps reduce fatigue throughout the rest of my body. So, while the 701 Enduro LR's seat isn't the most comfortable I've used, it certainly isn't the worst.
By the end of the 250-mile journey (without stopping for fuel), I admit to feeling pretty knackered and definitely more so than I would have been riding my KTM 790 Adventure long-termer along the same route, although I'll put much of that tiredness down to a lack of wind protection. Despite this, for a bike that wasn't designed to eat up motorway miles, it did a damn good job.
The following morning, I awoke early and jumped back onto the Husky to take it for a blast on a series of twisty country roads and along a selection of green lanes in Cornwall. Despite its 21-inch front wheel, 250mm of suspension travel front and back, and the Continental TKC80 knobblies it was sporting, the 701 Enduro LR proved great fun in the twisties. The bike is superbly balanced and the handling is lively and nimble enough to make darting into corners and accelerating out of turns an immensely enjoyable experience. For a dirt bike it's brilliant, and compared to plenty of road bikes, it more than holds its own in the thrills departments.
However, it's when you venture onto the trails that the 701 Enduro LR truly comes alive. I'd say the KTM 790 Adventure R is the most capable adventure bike I've ridden off-road, but the Husky is a class above. I whizzed up tricky rocky inclines that I usually take extra time and care to navigate, sandy and muddy sections were dispensed with ease, and I found myself attacking the lanes in a way I would never usually do on an adventure bike. The Husky felt light, poised, and perfectly balanced as the excellent WP suspension soaked up every rock, bump, and rut I rolled the 21" front, and 18" rear, spoked wheels over. And, that torquey, single-cylinder engine felt as though it would happily chug me up a mountainside if I asked it too, although sadly there wasn't one nearby to test out this theory.
The standing position is, as you would expect, extremely comfortable, pitching me far enough forward to put weight over the front wheel for increased grip but without putting too much pressure on my arms. The bike's steel trellis frame, wheels, and fork helped channel plenty of feedback from the trail through the pegs and the handlebars, and the Brembo brakes front and rear were powerful enough for one finger braking with confidence. This was especially handy because it's very easy to get carried away while riding the Husky. There's so much power available and the bike is so confidence-inspiring that it made me feel like I was a far better rider than I am. This was fine 99% of the time, but once or twice I found myself consciously dialling down the speed after getting carried away.
Helping me feel like Cornwall's answer to Chris Birch was an engine management system linked to the bike's throttle valve and off-road traction control. It's a clever system that constantly monitors the speed of the rear wheel and reacts in milliseconds if it thinks you're heading for trouble. You can turn off the traction control completely, but I found the settings in rider mode two weren't too intrusive and still allowed for plenty of fun.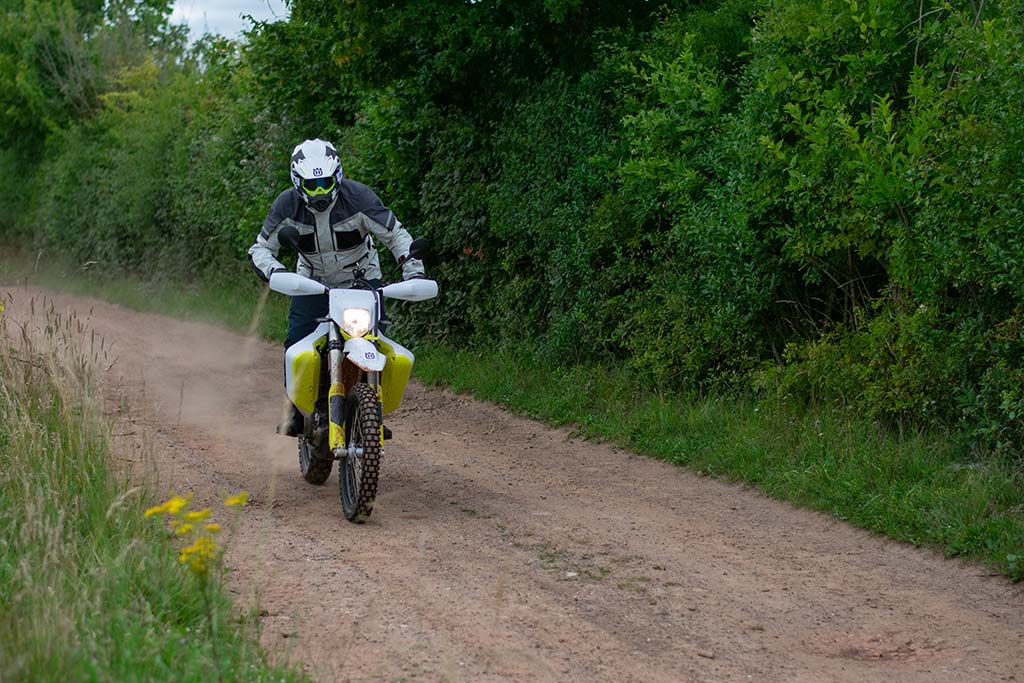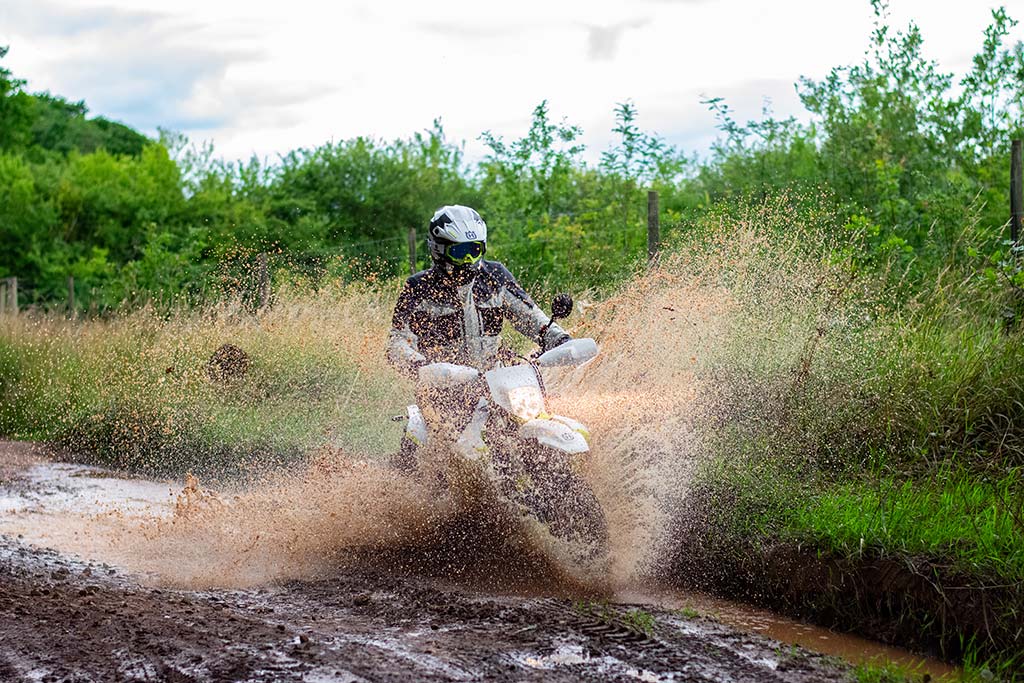 Conclusion
You can probably tell by now I thoroughly enjoyed my time with the Husqvarna 701 Enduro LR, from that first ride after work with Ollie, to exploring the country roads and green lanes of Cornwall. If you already ride smaller and lighter trail bikes, the Husky may feel too heavy and powerful for your needs but for me, coming from a background of riding big adventure motorcycles, it was a revelation on the trails. The bike enabled me to push myself harder and faster than ever before and it instilled a confidence and belief in my riding that took it to new heights. And, despite the fact the Husky wasn't designed for motorway commutes, it made a decent job of mine, although the vibrations from the big single did cause a fair bit of fatigue.
So, would I contemplate chopping in my adventure bike for a 701 Enduro LR any time soon? The answer is a reluctant no. It's simply not refined and comfortable enough to take on the long-distance road tours I regularly ride, and I can still see the terror in my wife's eyes at the thought of covering any distance as a pillion rider on that bench seat.
However, the 701 Enduro shines as a bike that will take you relatively long distances by road before eating up the trails you've travelled all that way to ride, with no need to carry your motorcycle in a van or trailer. It's also the bike I'd choose if I was heading off to Europe for a few weeks or months to tackle stretches of the Trans Euro Trail.
In fact, with a few additions like a screen, a luggage rack, and my favourite creature comfort, heated grips, you could turn this 'travel enduro' into the most off-road capable adventure bike around. It's perfect for a trip around the world along the path less trodden. What an adventure that would be.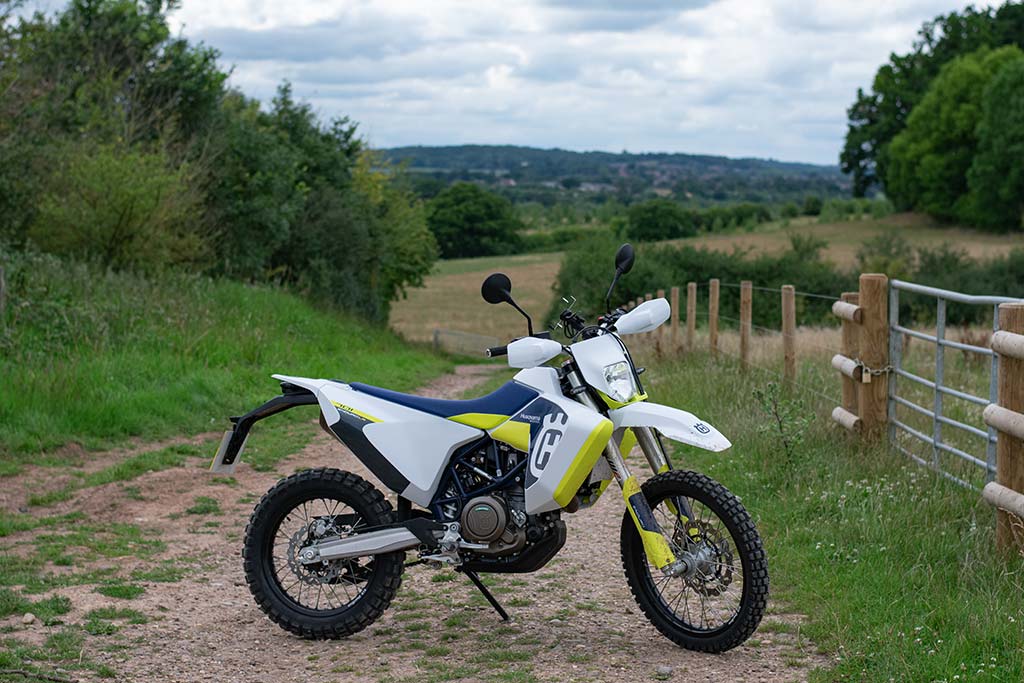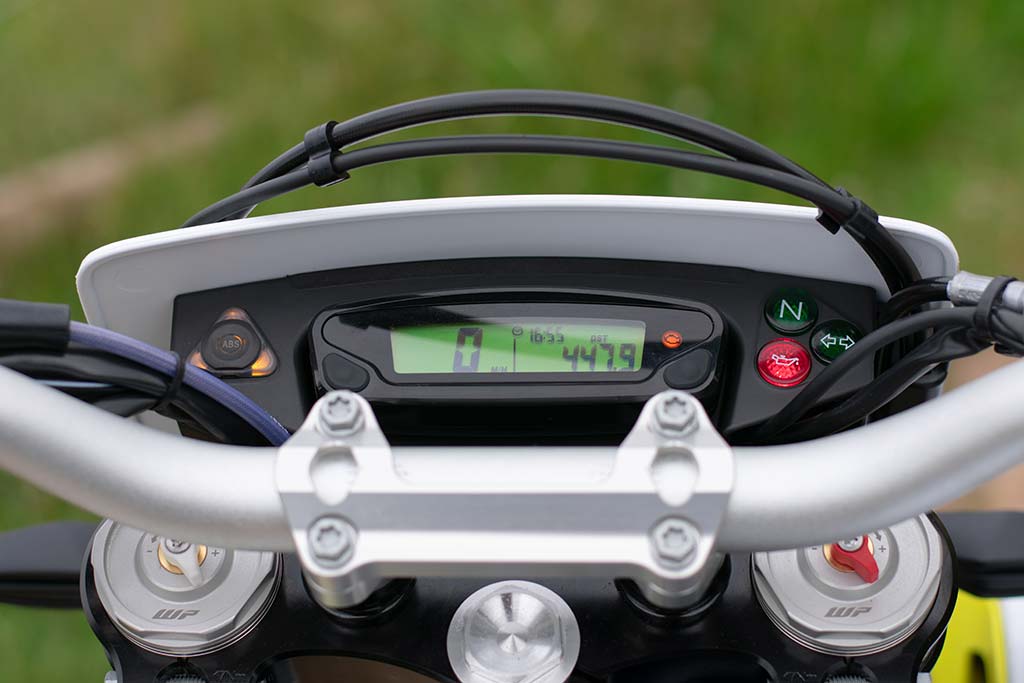 ABR Verdict
As a commuter
The Husky would make a competent city commuter to filter through traffic on thanks to its upright seating position, commanding view of the road ahead, and plush suspension to soak up potholes and hop over kerbstones. However, the 925mm seat height would make paddling around tight spots with your feet down difficult for all but the tallest of riders.
As an off-roader
The 701 Enduro LR is a sensational off-road machine that will take you anywhere you want to go. While it's certainly not the smallest or lightest trail bike around, if you're coming from an adventure biking background, it will prove a revelation and help take your riding to the next level.
As a weekend tourer
If your weekend touring involves tying a dry bag to your bike and exploring the UK's network of green lanes for a couple of days, then the 701 Enduro LR would be a superb companion. If you spend more time on the road than off it, and a pillion is regular feature of your weekend jaunts, I'd look elsewhere.
As a continental road tourer
Continental road touring usually suggests travelling long distances at motorway speeds, and in this scenario, there are a lot of bikes I'd choose over the Husky. However, when I did take it on a long motorway journey it proved competent at the task, although vibration from the big single did cause a fair amount of fatigue.
As an RTW overlander
I can't think of anything more I'd like to do than disappear off around the world on the 701 Enduro LR. The additional fuel tank will save you from fuel anxiety even in the most remote parts of the globe, and you'll be safe in the knowledge you're on a machine that can tackle almost any terrain you come across. Just be sure to add a screen and luggage rack before you leave.
As a pillion carrier
How do I say this politely? Hell no! The Husky is good at some things and sensational at others, but keeping your better half happy and comfortable on the pillion perch is not one of them.