Bryn Davies, James Oxley and Ollie Rooke put 11 flip-front helmets to the test to help you choose the perfect lid for your next bike tour
It was during a motorcycle tour through France and Spain that I first came to appreciate the faff-free pleasure of wearing a flip-front helmet. My awakening began after rolling off the ferry into the French port of Roscoff. Rather than going through the rigmarole of taking off my gloves and helmet at immigration to reveal my handsome face to the border patrol officer, I simply flipped up my lid, flashed my passport and a smile, and whizzed off in seconds leaving a queue of motorists behind me.
The convenience continued at petrol stations, in shops, at toilet stops, when talking to locals, and while stuffing my face with snacks and drinks at the roadside.
Spending a few moments taking off a motorcycle helmet and gloves may not seem much of a chore, but on tour, you tend to find yourself doing it a lot so the convenience of simply being able to flip up the front of your helmet isn't too be underestimated. And, when temperatures rocketed in Spain, it was a relief to ride with the chin bar in the up position with a cooling wind in my face.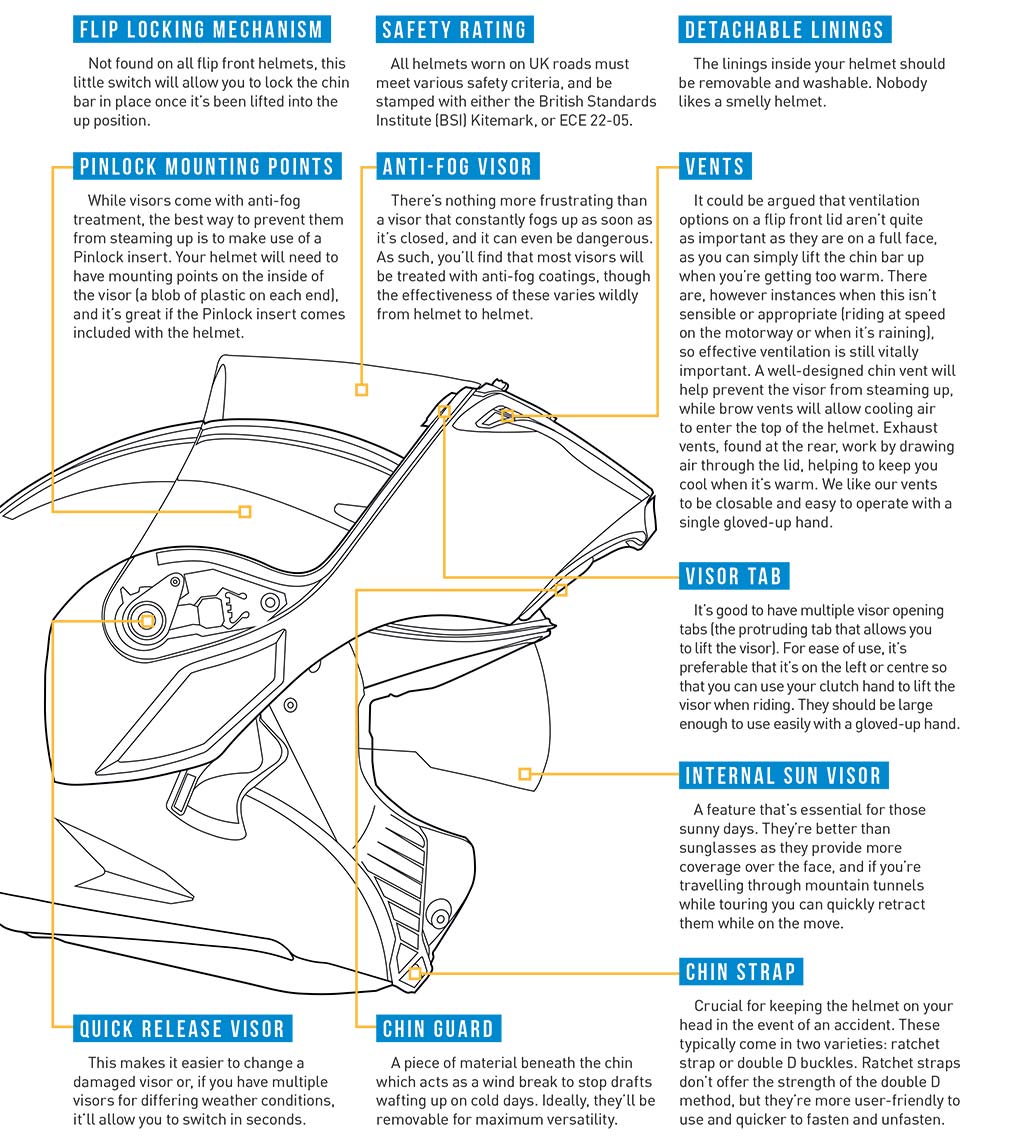 Pros and cons
So, what exactly is a flip-front helmet? Put simply, they are characterised by the ability to lift the chin bar above the visor, effectively creating an open-face helmet. As I discovered on tour, they make regular tasks like stopping for a fag or chatting to your mates at the roadside easier and more convenient.
With all this in mind, a flip-front helmet might be sounding like the perfect choice of lid right now but there are some downsides. In general, they suffer from more wind noise than full-face helmets, although this will vary between manufacturers and individual designs. And there is also the nagging doubt that a moveable chin bar won't be as sturdy as a solid full-face option if you were to crash and land on your kisser.
Quality motorcycle helmets need to pass rigorous safety tests but in the past we have had poor quality flip-front helmets in the ABR office with chin bars that broke off when we dropped them. With this in mind, it's important to spend some time getting the best quality flip-front you can afford.
Safety first
Thankfully, you can take steps to ensure your new helmet offers sufficient protection by keeping an eye out for the correct safety certificates. All helmets worn on UK roads must meet the British Standard BS 6658:1985 and carry the BSI Kitemark. Those that don't must comply with UNECE Regulation 22.05, or comply with a standard set by a member of the European Economic Area offering at least the same level of protection as the BSI Kitemark.
When it comes to flip-front helmets, there are additional safety marks to look for. Helmets designed to protect you when the chin guard is down and locked into position should clearly display type P certification (often on a tag on the chin strap) revealing it has passed the relevant safety test. Helmets that are designed to offer protection with the chin bar in the raised position will display type J certification. If a helmet is approved to be worn both in the up and down positions, it will have a P and J safety certificate. These helmets are often referred to as being dual homologated.
You may also come across flip-front helmets that feature a chin bar which hasn't been designed to provide any protection at all. These will be labelled NP and would not be something I'd recommend for touring, particularly if long journeys at motorway speeds are on the cards.
Fit and comfort
Our heads come in all different shapes and sizes and so do motorcycle helmets, which is why it is important to try before you buy. COVID-19 precautions may make this trickier to do these days so call ahead to your local bike shop and organise a time to try a few helmets on. Make sure you talk to the staff who should have plenty of experience at matching riders with correctly fitting lids, and don't be afraid to stroll around the shop for a few minutes wearing different helmets to get a good feel for them. You may look a bit silly but it's worth spending plenty of time getting this stage right because an ill-fitting helmet can prove to be painfully uncomfortable, lead to increased wind noise, and may not protect you if you crash.
It's also important to take a close look at the padding inside of any helmet you intend to buy. Your head could be spending days or weeks nestled inside on your next summer tour so ensure the padding is comfortable, and ideally, removable so it can be taken out and washed once in a while.
Special features
Once you've found a helmet that meets all the necessary safety requirements and fits your head perfectly, it's worth considering what features you'd like included in your new lid before you part with your cash. For example, does it come with an internal sun visor? Is it Pinlock ready? What is the ventilation like? What type of chin strap fastener does it have?
Personally, I always opt for a helmet with a built-in sun visor and I prefer the security of a double D-ring fastener. I also don't mind some extra wind noise caused by plenty of ventilation if it stops my glasses from fogging up. Chances are your preferences are different to mine so make sure you spend a bit of time mulling over what features you can and can't ride without.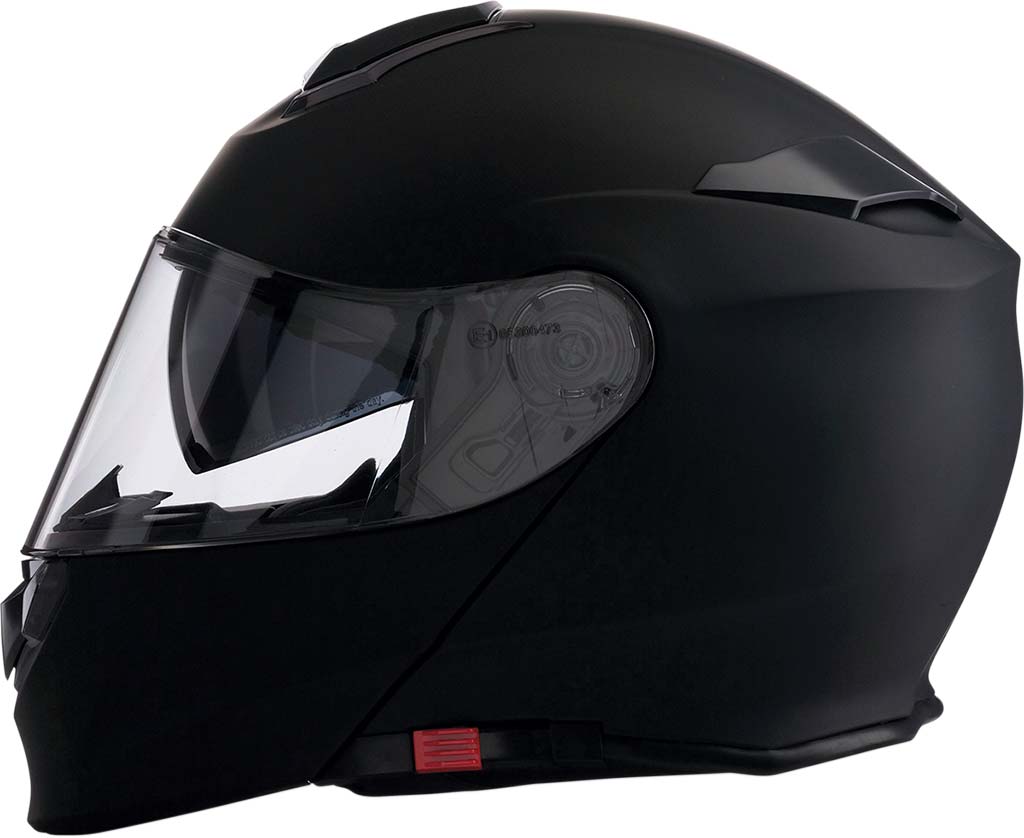 Z1R Solaris
£105
www.partseurope.eu
While it may not be a household name in the UK, for the last 25 years American motorcycle clothing manufacturer Z1R has developed a reputation stateside for producing competitively priced products for road and trail riders. With this in mind, I was intrigued to see how its entry, the Solaris helmet, stood up to the demands of British autumnal weather.
Priced at £105 and made from an injection-moulded polycarbonate shell, the Solaris is the least expensive helmet on test. However, the good-quality finish and assorted touring-friendly features offer great value for money and disguise that low price point very well.
While the Solaris weighs in at 1,633g, which is above average among the modular helmets on test, it feels well balanced and stable when riding. Inside, mesh inserts help cover up the unsightly EPS foam (a nice touch some competitors have neglected), while the moisture-wicking, fully-removable polyester liner offers a comfortable fit for extended time in the saddle.
Chin and brow vents allow airflow, along with an exhaust at the rear, but the venting isn't particularly effective and wearing the helmet in summer will be a sweaty affair. However, on a chilly UK morning, I appreciated the warmth.
The visor offers a wide view of the world ahead although there is no Pinlock insert or mounting points. The Z1R does include a breath guard which did an admirable job of keeping heavy misting at bay. The internal sun visor is a nice touch although the mechanism is clunky to operate and feels a little cheap.
The chin bar release catch is easy to locate and operate, although the bar doesn't raise fully if the visor is open. It's also worth noting that the helmet is not rated as dual-homologated, so keep it closed when riding. The Solaris is rather noisy at motorway speeds, even with earplugs in, which means this helmet is best suited for commutes and cruises where you won't be hitting high speeds regularly. OR
In a line: Cheap and cheerful. A low price is disguised by plenty of features and a decent quality finish.
ABR Rating 7/10
COMFORT 7
WEIGHT 7
STYLE 7
VALUE FOR MONEY 8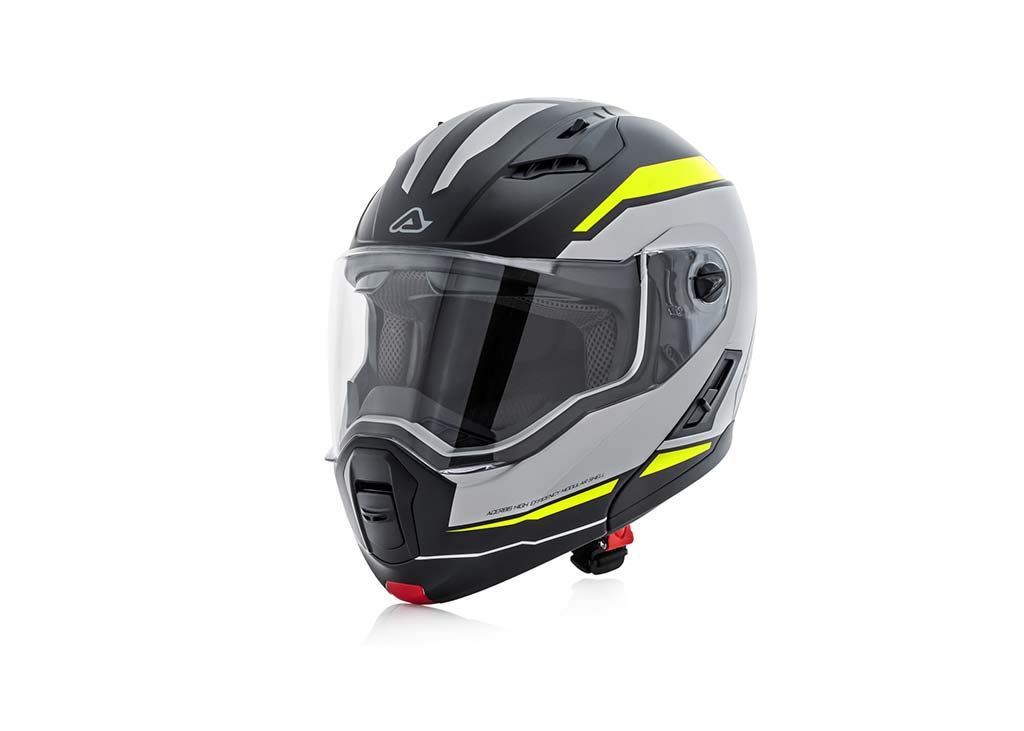 Acerbis Derwel
£139.99
www.acerbis.com
Hailing from Lombardy, Italy, Acerbis has made its name protecting off-road motorcyclists since the early '70s. However, it also produces helmets for road riders including the Derwel.
Priced at £139.99, the Derwel is one of the most affordable helmets on test and first impressions are promising, with its attractive matt colourway and several touring-friendly features. However, the inside of the helmet betrays the Derwel's low price. The removable and washable internal liner is pretty thin and offers little comfort, and the overall fit and finish of the helmet feels a little cheap.
The visor provides a wide field of vision although there's no Pinlock insert or mounting points which even at this price point I'd like to have seen. Unfortunately, the breath guard doesn't prevent misting on a cold morning which is a shame. It was nice to see an internal sun visor for bright days, operated by an easily located switch on the left side of the helmet. However, it didn't entirely retract back into the helmet meaning it was always slightly visible.
When it comes to ventilation. there's plenty on offer through brow and chin vents as well as a rear exhaust. The Derwel is so well ventilated that even when the vents are closed it can feel breezy, which suits summer riding but left me feeling chilly on a brisk autumn morning. Despite the ventilation, the helmet is relatively quiet for a flip front, particularly with the price point in mind, which is pleasant when cruising at motorway speeds. At 1,591g, it's also among the lighter helmets on test.
The chin bar is easy to operate and slips into place at the top of the helmet with a reassuring click. However, in the closed position, there is a little bit of give between the chin bar and the rest of the helmet which rattles if you give it a wiggle and isn't particularly confidence-inspiring. The Derwel is only designed to be worn in the closed position when riding as it isn't dual-homologated. OR
In a line: Offering a lot at a very reasonable price, the Derwel is let down by its overall fit and finish.
ABR RATING 7/10
COMFORT 6
WEIGHT 8
STYLE 7
VALUE FOR MONEY 7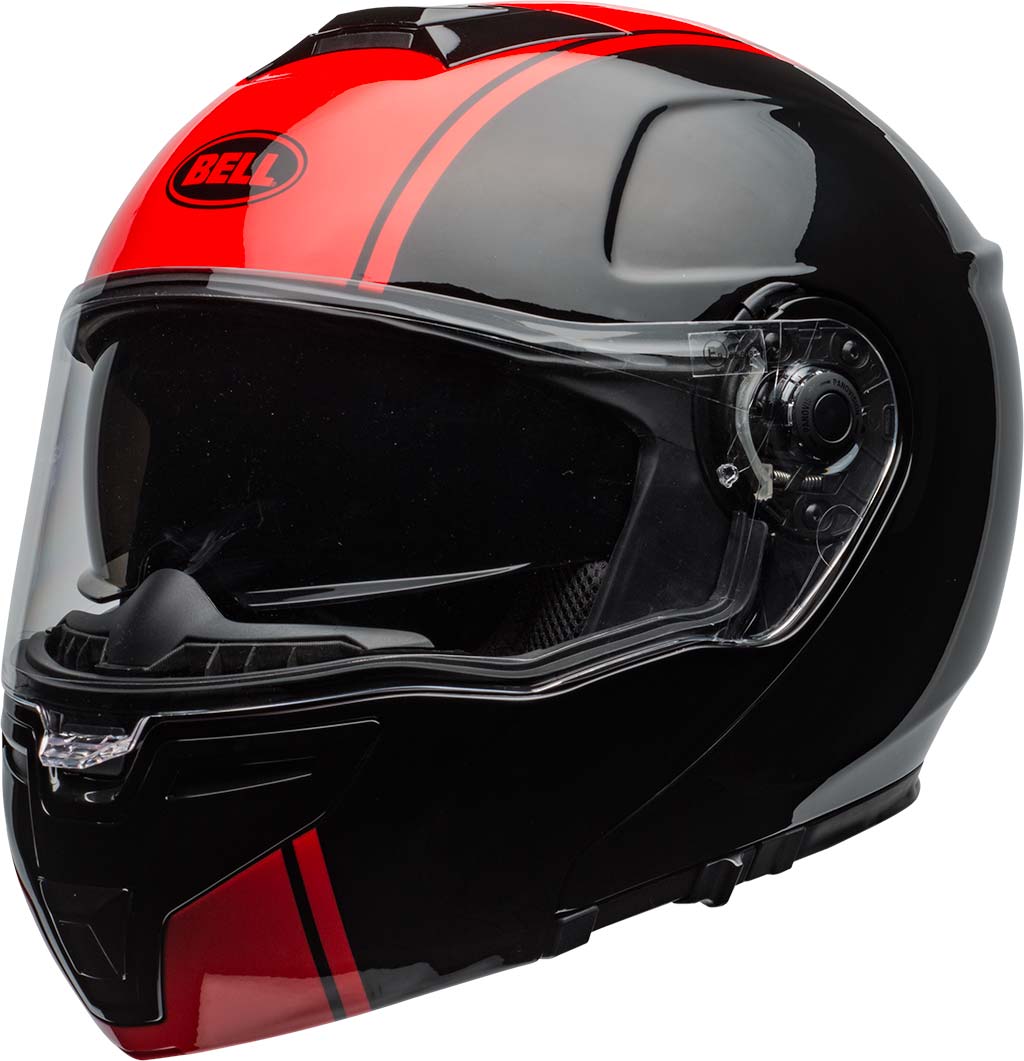 Bell SRT-Modular
£249.99
www.racefxb2b.com
American firm Bell Helmets began life in '50s California amid the hot rod and racing scenes and has since grown to become one of the most recognisable helmet brands in the world. It's entry into this group test is the SRT-Modular which arrived in a fetching black and red ribbon design reminiscent of a racing stripe you'd find on an American muscle car.
The stylish colour scheme combines with a solid fit and finish that makes the SRT-Modular look good value for money at £249.99. Weighing in at 1,076g, and made of a fibreglass shell, it is on the heavy side compared to most helmets on test but it is also nicely balanced and my neck certainly didn't feel overburdened on the road.
Once on, the helmet fitted securely yet comfortably around my head with the removable inner padding providing plenty of support and comfort. The Pinlock-ready visor (in the box) provided good vision but the release catch was a bit stiff, although it did begin to loosen up with use. The helmet is secured with a ratchet fastener.
On the road, the SRT-Modular isn't the quietest helmet on test but the noise levels were acceptable at motorway speeds providing I wore earplugs.
The chin bar catch is easy to use with gloves and the bar locks into place with a reassuringly secure clunk. The SRT-Modular does not display type J certification so it hasn't been designed to be ridden with the chin bar up.
The helmet comes with an in-built sunshield which would have benefitted from dropping down a few mm further to provide more coverage, and the slider used to operate it was a little stiff. Ventilation is provided by two chin vents, a brow vent, and two exhausts at the rear, all of which allowed plenty of air to flow through the helmet.
Apart from a couple of niggles, the SRT-Modular is a solid performing helmet overall, that looks great, at a very reasonable price. JO
In a line: A solid flip front that won't break the bank.
ABR RATING 8/10
COMFORT 8
WEIGHT 6
STYLE 9
VALUE FOR MONEY 8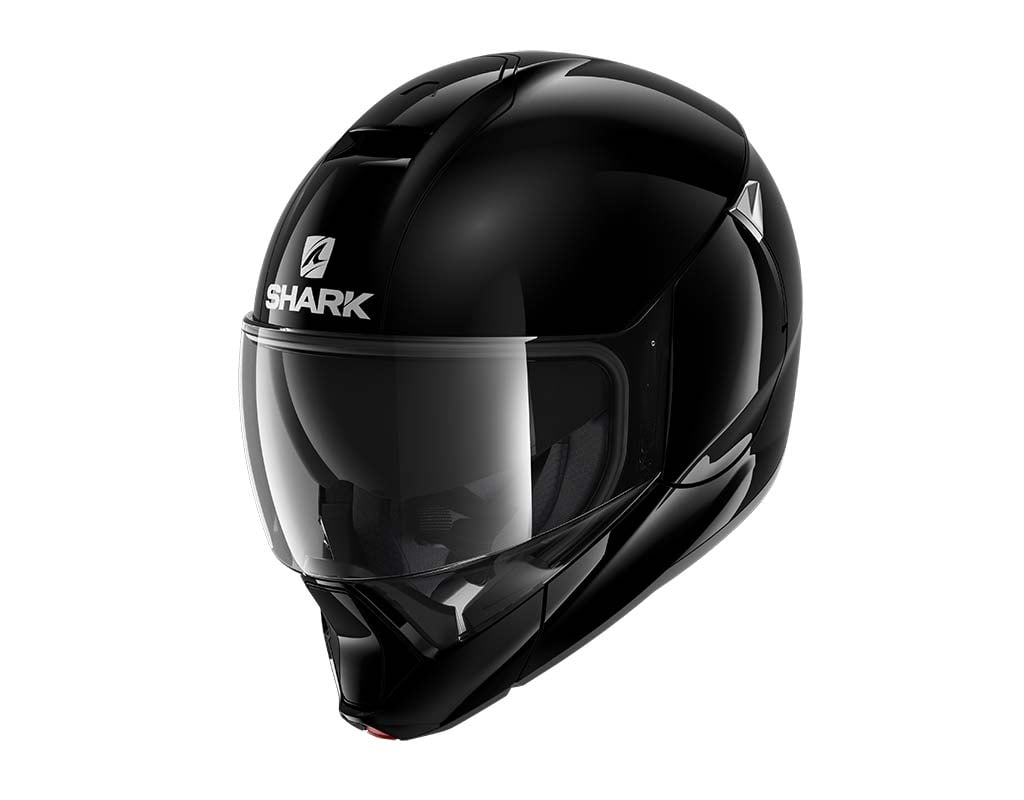 Shark Helmets Evojet
£259.99
www.nevis.uk.com
In 1988, two brothers from the South of France joined forces with the aim of designing a helmet that was safer than the ones they'd been racing in. The result was the first Shark helmet. More than three decades later their company has become a popular brand throughout the world and across biking disciplines, from motocross to MotoGP and everything in between.
Shark's entry into this group test is the new-for-2020 Evojet which immediately stands out for its unusual visor design that extends downwards into the chin bar. The result is a goldfish bowl effect that provides a huge field of vision. The visor is actually built into the chin bar so one can't be lifted independently of the other. This means you won't be able to crack open the visor to let air in, which isn't ideal.
However, the Evojet is dual homologated so the chin bar can be worn in the raised position while riding. That moveable section of the chin bar is also very narrow so you're left with more protection around the side of your face when it is raised than you would usually find on a standard flip front. The visor doesn't feature Pinlock mounting points but it has been given an antifog treatment. This worked fine on a crisp Autumn day but experience has shown a Pinlock is the best solution to prevent visor fogging.
The Evojet is made from thermoplastic resin, and at 1,552g, it is among the lightest helmets on test. This combined with plush internal padding, which offers plenty of support, makes the Shark a comfortable lid to wear.
Features include an internal sun visor, a ratchet fastener, and chin, brow, and exhaust vents which created just about enough airflow, but on hotter days I imagine I'd be raising that chin bar plenty of times to cool down.
In reality, the Evojet is best suited to urban and suburban riding rather than touring, and if you like the looks, the extra vision the visor affords would make it a solid helmet for a city commute, although not being able to raise the visor independently isn't ideal. JO
In a line: Innovative design makes for a good city commuting helmet.
ABR RATING 7/10
COMFORT 7
WEIGHT 8
STYLE 6
VALUE FOR MONEY 7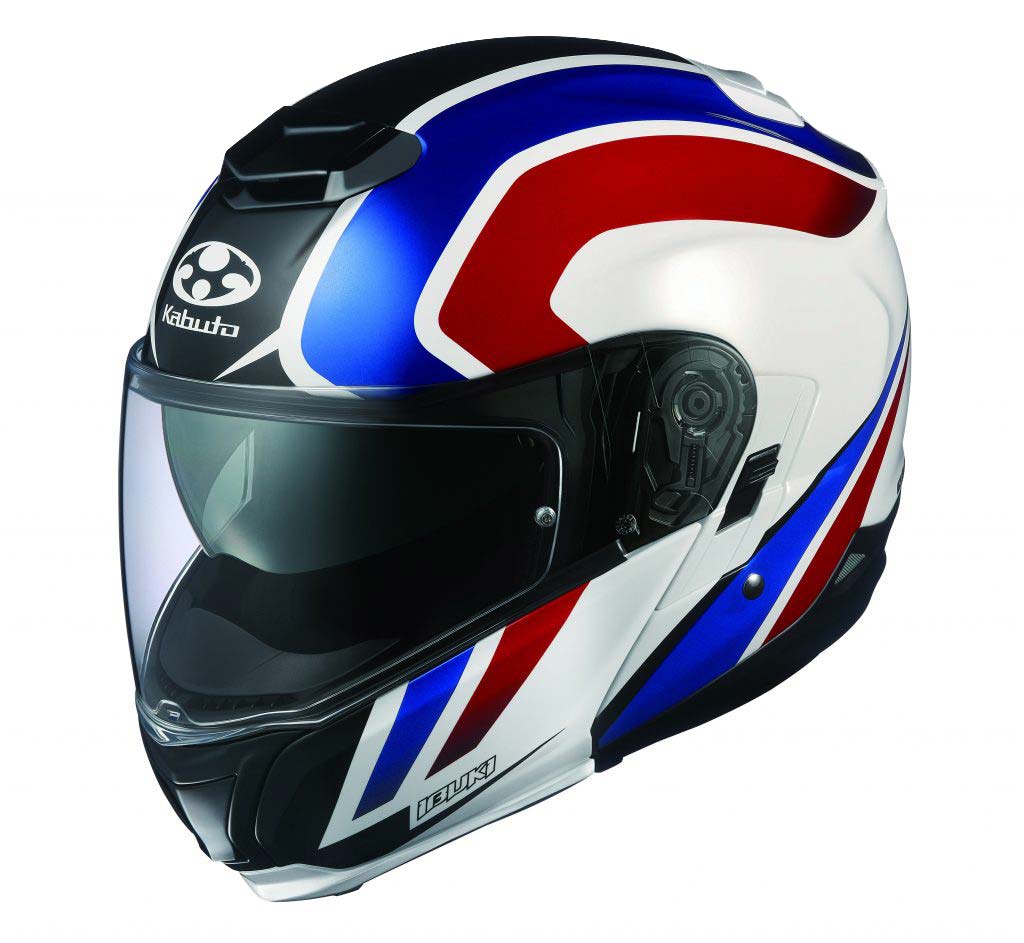 Kabuto Ibuki From
£355
www.honda.co.uk
Kabuto is Japan's third-largest helmet manufacturer (behind Arai and Shoei) and it's been making helmets for just over 40 years (you might recognise the older brand name, OGK). The reason Honda submitted the Ibuki for review is because the motorcycle manufacturer has chosen Kabuto as an approved partner for the brand and will stock them at Honda franchise dealerships.
At £355, the Ibuki sits itself in the middle of the flip-front helmet price range. This is reflected in the feel of it when you take it out of the box. It doesn't feel tacky, but it doesn't have that top-drawer feeling to it either. At 1,067g, it is the second heaviest product in this group test, although I didn't find the weight being much of an issue in use.
The visor, which comes Pinlock ready, provides a good field of vision and has a nice stiffness to it, allowing you to ride with it in a 'barely open' position. This is complemented by an easy-to-use internal sun visor which does its job well, though I would have preferred it to drop down a few more mm as the edge was slightly in my line of sight.
Unusually, the flip front is operated by a small lever located under the left-hand side of the chin. This did take some getting used to, but I actually prefer the mechanism being positioned here instead of the 'traditional' central positioning found on other lids. Once flipped, the chin bar stays firmly in the 'up' position with a satisfying click, although it doesn't lock into place and the Ibuki isn't dual homologated.
When it comes to ventilation, the Ibuki is a bit hit and miss. You get two front-facing vents (brow and chin) and a rear exhaust vent, all of which can be closed. The brow vent and exhaust vent are excellent, though the chin vent isn't so good, being too small to provide much use.
Overall, the Ibuki is a solid choice if you're looking for a middle-of-the-range flip-front helmet. It's well made and comfortable, the ventilation is good enough for all but the hottest days and, despite its weight, it performs well in the saddle. I'm reluctant to say it's a no-thrills steady eddy, but that's what it is. BD
In a line: A solid choice for the price.
ABR RATING 8/10
COMFORT 8
WEIGHT 7
STYLE 8
VALUE FOR MONEY 8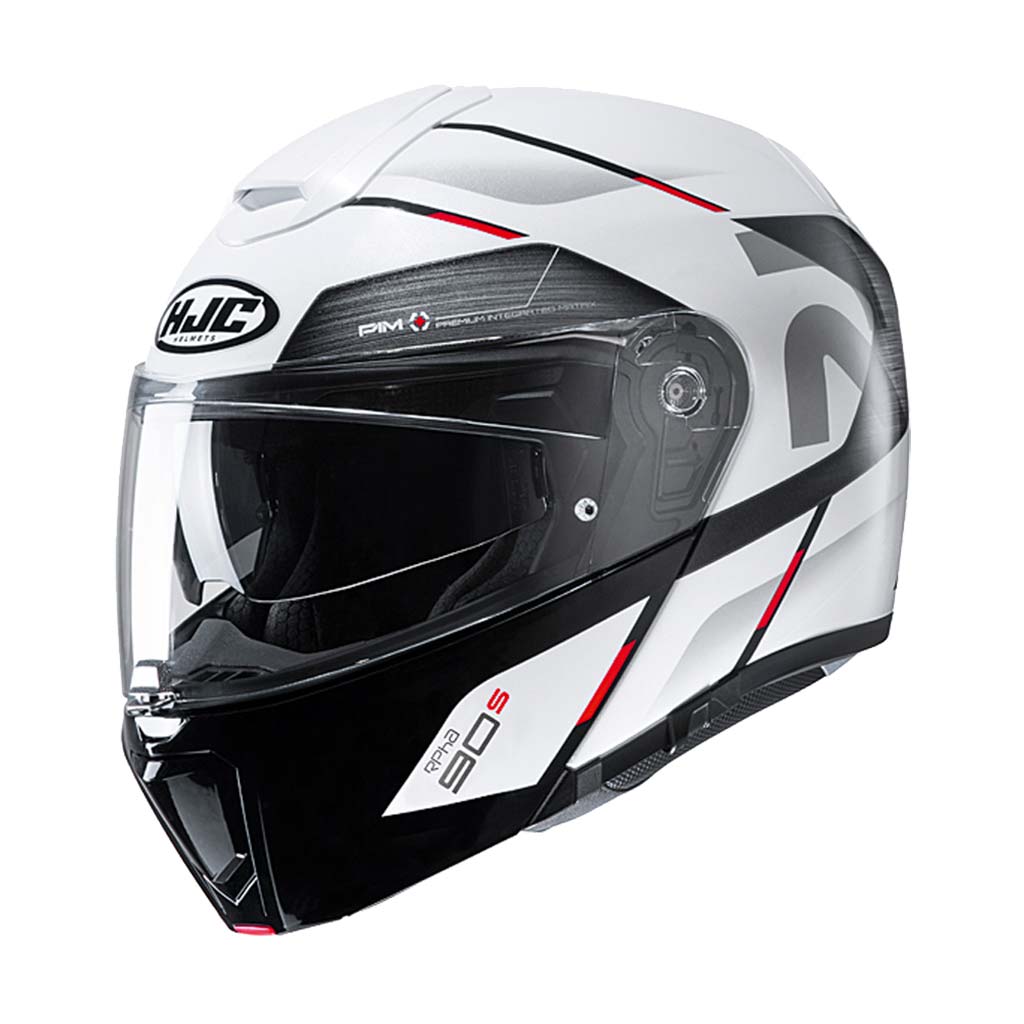 HJC RPHA 90s
£449.99
www.oxfordproducts.com
My first motorcycle helmet was an HJC which set me back £110. I rode it for thousands of miles throughout the UK and wider Europe and it never let me down. Sadly, one morning I found myself catapulted from my motorcycle with my helmet sliding against the asphalt. My head was unscathed but my HJC was kaput, so I went straight out and bought another.
That experience made me a fan of the brand and so it seems are many others, with HJC producing more motorcycle helmets than any other manufacturer worldwide. Since the '50s, the company has built a reputation for offering reasonably priced lids, so I was intrigued to test one of HJC's premium offerings, the RPHA 90s, priced at £449.99.
In short, I wasn't disappointed. The build quality feels solid with no unwelcome rattles or ill-fitting joins and the chin bar locks in both the raised and lowered positions with reassuringly secure clicks. The helmet is dual homologated with a chin bar release button that is easy to use while wearing gloves.
The RPHA 90s is made using HJC's composite fibre Premium Integrated Matrix, which blends layers of materials like fibreglass and aramid to create a strong and lightweight lid. At 1,569g, it's one of the lightest lids on test which aids comfort over long distances, while inside, the removable padding provides plenty of support and comfort. However, the helmet did prove a tight fit so I would recommend trying a size up before you buy.
In terms of features, there is a substantial sunshield along with the standard chin, brow, and exhaust vents which did a good job of getting air flowing through the helmet. The Pinlock-ready visor (in the box) can be set to six open positions and provides plenty of vision, although I did find the metal visor release button a little fiddly to operate while wearing gloves. The helmet is fastened by metal ratchet strap.
Overall, I was impressed by the RPHA 90s and, sizing issues aside, I'd be happy to travel long distances while wearing it. JO
In a line: Quality and comfort at a mid-range price in a good-looking package.
ABR RATING 9/10
COMFORT 9
WEIGHT 8
STYLE 8
VALUE FOR MONEY 9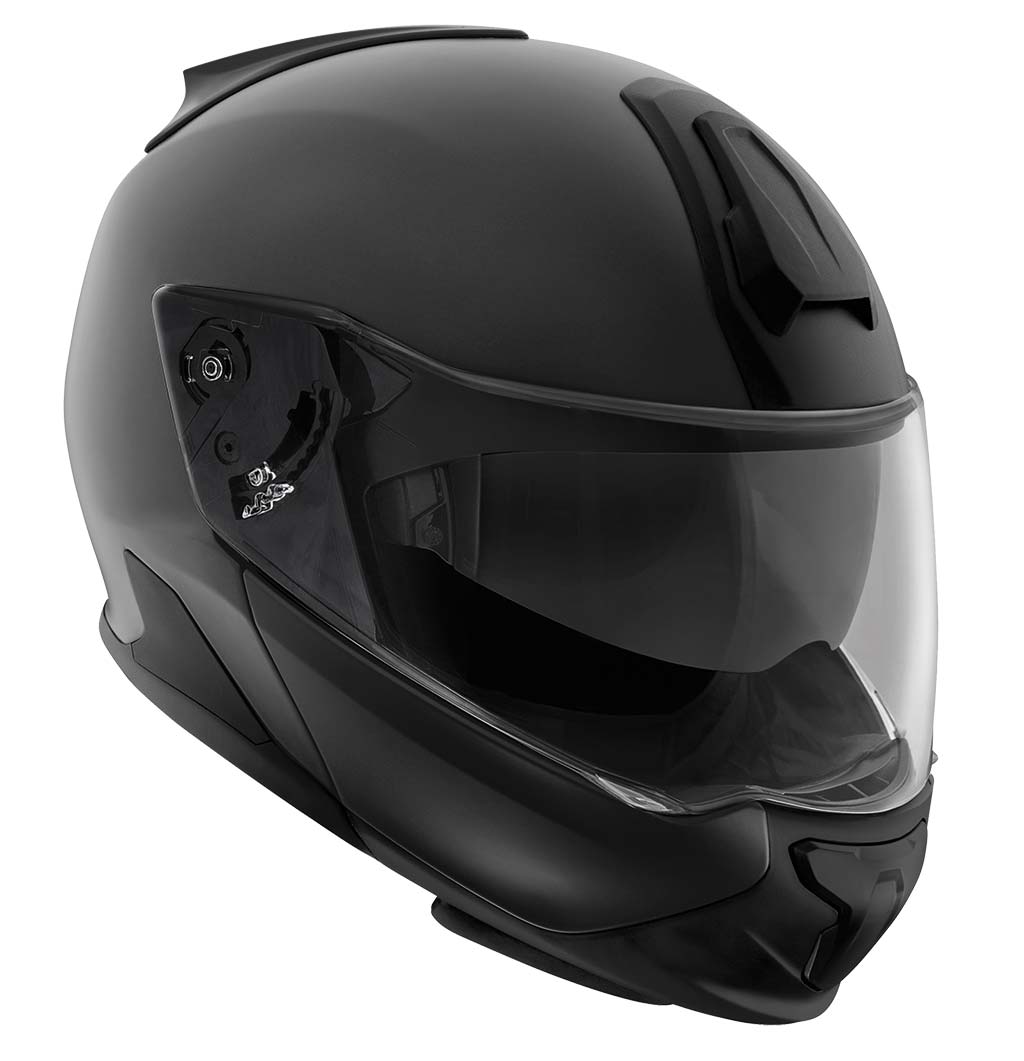 BMW System 7
£495
www.bmw-motorrad.co.uk
Having had a BMW as my long-term loan bike for the past two years, it's only natural that I've slid my head into a lid or two from the German manufacturer. When I rode the GS, I was regularly wearing the GS Carbon, but now I'm on the S 1000 XR it only made sense to try out the System 7, BMW's premium flip-front touring helmet.
Introduced in 2017 as a successor to the popular System 6, the helmet's been designed to provide top-tier quality at a low weight. To do this, the shell of the lid is full carbon, while the inner shell is a multi-segmented EPS. These materials allow the System 7 to weigh in at 1,600g, which putting it in the middle of our weight range, which is still impressive given how incredibly light the other helmets in this group test are.
Slipping your head into the System 7, weight aside, the first thing you'll notice is the delightfully soft interior lining. This makes the lid a pleasure to wear, though you'll also notice the fit will initially feel very snug. After time the helmet bedded in and became very comfortable, though you'll definitely want to try this on before you buy.
The opening mechanism for the chin bar is amongst the smoothest and most satisfying I've had the pleasure of using. It's nice to know that the helmet's dual homologated so, if you want to, you can ride with the chin bar flipped open.
The visor provides a good field of vision and comes Pinlock ready, though I wasn't a fan of how flimsy it feels. It is very flexible and doesn't stay open when riding which is something that became a great annoyance to me. The helmet comes with an internal sun visor, which is easily operable with gloved-up hands, and this works smoothly and nicely.
In terms of ventilation, you get chin and brow vents which are both closable and easy to operate with gloves. The in-flow of air they provide is good, though it could be improved with the addition of an exhaust vent to really draw air through. That being said, the chin bar on the System 7 is removable so you can ride with an open-face when temperatures soar. BD
In a line: A comfortable helmet with a premium feel.
ABR RATING 8/10
COMFORT 8
WEIGHT 7
STYLE 8
VALUE FOR MONEY 8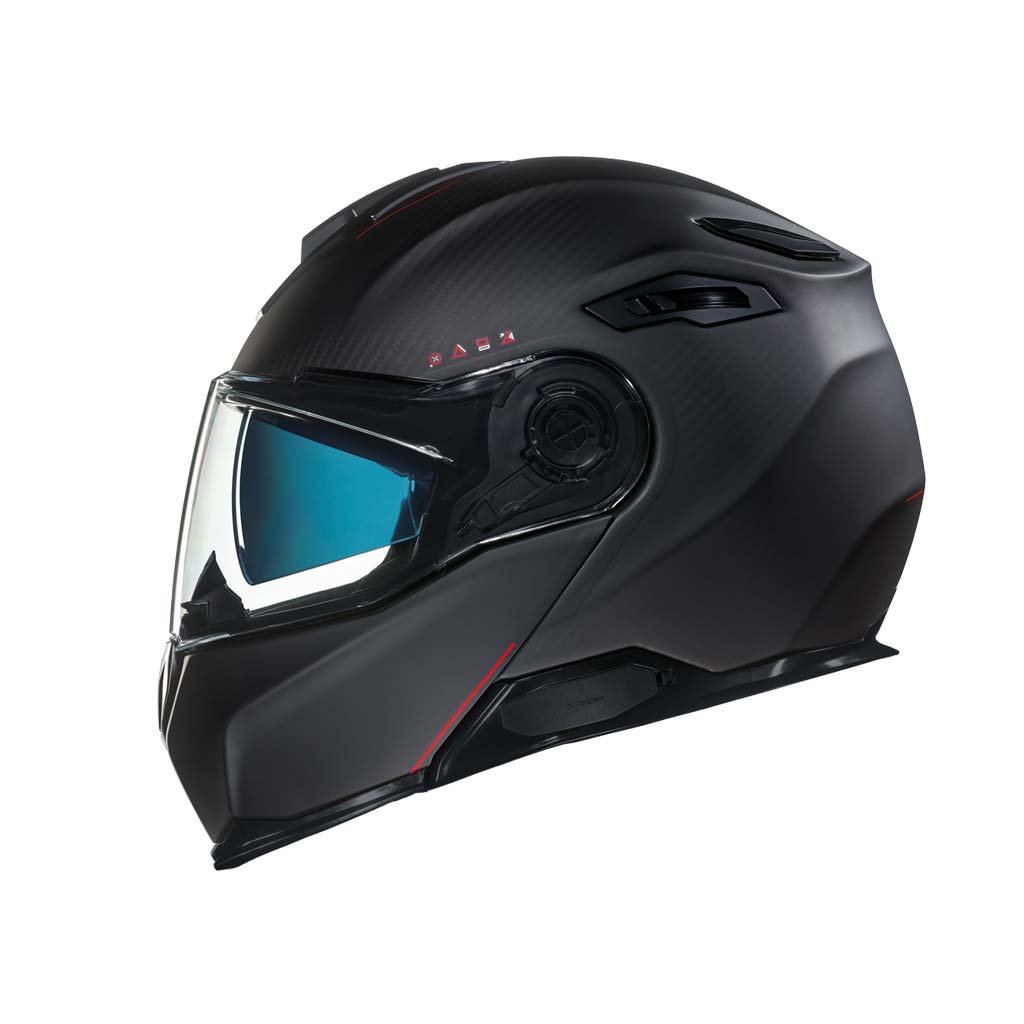 Nexx Helmets X.Vilitur Carbon Zero
£499.99
www.factoryagencies.co.uk
Since its inception in 2001, Portuguese manufacturer Nexx Helmets has forged a reputation for making high-quality lids combining style and performance, with all of its products being manufactured in Portugal.
Perhaps more than any other helmet on test, I got to know the X.Vilitur Carbon Zero intimately during a 10-day, 2,000-mile motorcycle tour through France and Spain. I'd hardly worn the helmet before I set off so I was understandably a little anxious about taking it away. I needn't have worried as the X.Vilitur Carbon Zero proved to be a very competent helmet for long-distance touring.
In terms of style, the matt black and carbon finish may not make you particularly visible on the road but it looks very cool on what is a stylish lid. The fit, finish, and overall build quality is excellent with a chin bar that locks into the raised and lowered positions with a reassuring clunk. The helmet is dual homologated which means it's certificated to be used with the chin bar up, and the release button is easy to use even while wearing gloves.
Once on, the helmet fitted securely and snugly around the contours of my head, proving perfectly comfortable during 250-mile days through France. Weighing in at 1,596g, the X.Vilitur Carbon Zero didn't strain my neck during more than a week in the saddle and noise levels were comfortable at motorway speeds.
The visor, which is Pinlock ready (in the box), provided a wide field of vision and can be set in four positions to let extra air flow through the helmet. There is also a large internal sunshield which was substantial enough to enable me to ride along at speed with the visor up. Comfort is aided by plush inner padding that is removable for washing and the helmet is secured using a ratchet fastener.
In terms of ventilation, the chin, brow, and exhaust vents provided enough airflow to keep me cool, although I did find myself cracking the visor open on the hotter days that I rode on in Spain. JO
In a line: Quality and comfort combine in a high-quality helmet.
ABR RATING 9/10
COMFORT 9
WEIGHT 8
STYLE 9
VALUE FOR MONEY 8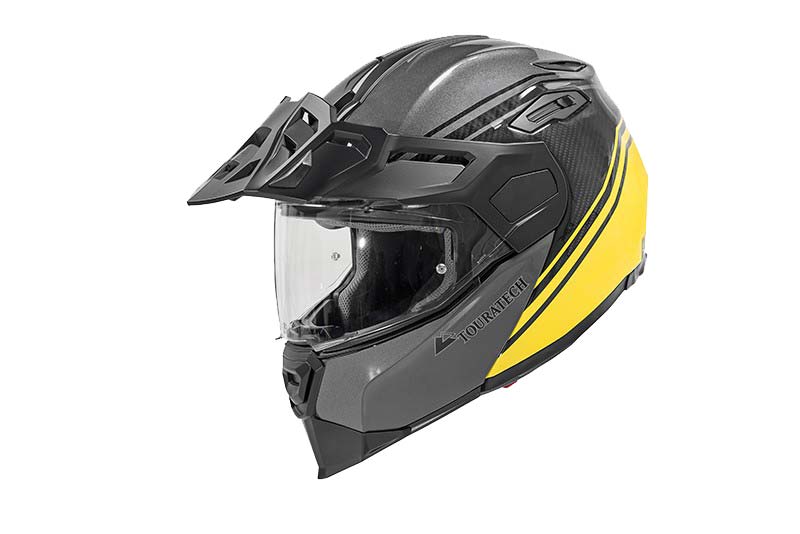 Touratech Aventuro Traveller
£590.91
www.shop.touratech-uk.co.uk
German company Touratech is a household name among adventure bikers and any piece of kit bearing its logo comes with high expectations. The Aventuro Traveller mostly lives up to this, although at £590.91, you'll pay for the quality.
At this stage, it's worth pointing out that Touratech collaborated with Portuguese brand Nexx Helmets in the design and manufacture of the lid which is heavily based on Nexx's own X.Villjord flip-front.
Straight out of the box, it's clear the Aventuro Traveller is built to a high standard, although at 1,810g, it is heavy and certainly doesn't have the same lightweight feel of the Klim or AGV helmets on test. It does, however, feel reassuringly substantial with a quality fit and finish. Immediately noticeable is the adventure-style peak, but apart from this, the helmet looks and performs very much like a dedicated road lid, hence its inclusion in this group test. That peak is well designed, it didn't catch the wind unexpectedly, and proved an asset with the sun so low in the sky at this time of year.
The Aventuro Traveller is dual-homologated, although riding with the chin bar up did an uncomfortable amount of weight on the back of my neck. With the chin bar down, the helmet provides a comfortable and reassuringly snug fit with plush inner padding (removable for washing) which features a Coolmax liner to wick away sweat. The chin, brow, and exhaust vents provided a huge amount of airflow although the brow vent was a little tricky to operate because it is partially covered by the peak.
The Pinlock-ready visor (in the box) gave plenty of vision of the road ahead and could be set in four positions. Once the visor was closed, the Aventuro Traveller Carbon proved comfortably quiet at motorway speeds. However, during a long-distance ride in the rain, a lot of water leaked inside and ran down the inside of the visor, despite the vents being closed, obscuring my vision and forcing me to pull over to wipe it multiple times. JO
In a line: A comfortable yet heavy helmet but visor leakage was a big problem.
ABR RATING 7/10
COMFORT 7
WEIGHT 6
STYLE 8
VALUE FOR MONEY 7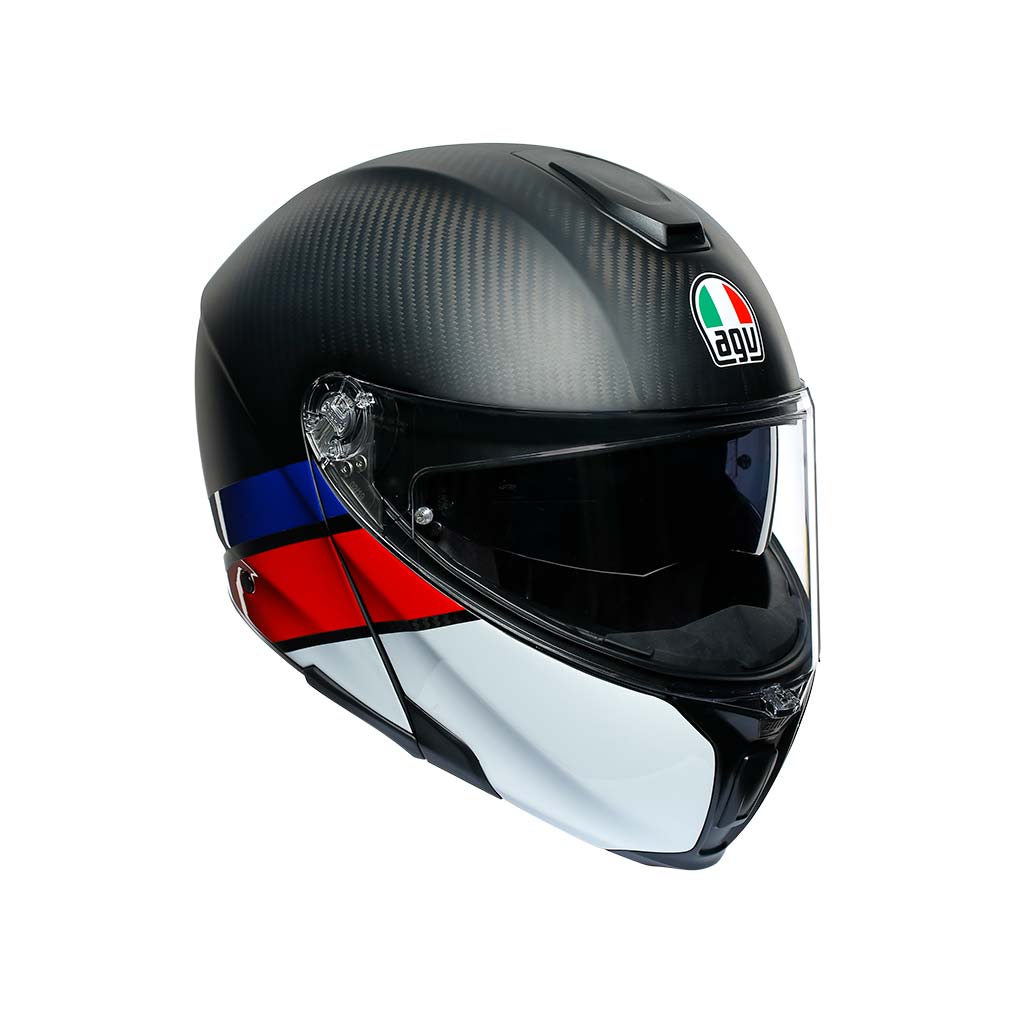 AGV Sport Modular
£599.99
www.agv.co.uk
Founded in 1947, AGV's long history is intertwined with motorcycle racing. Some of the world's greatest riders have sported its helmets on track including superstars Giacomo Agostini and Valentino Rossi. It comes as no surprise then that AGV's entry into this group test has a sporty feel thanks to its aerodynamic design, adjustable spoiler, and racing stripes colourway.
Straight out of the box, it's clear the sport modular is a quality piece of kit. The fit and finish is excellent, and at 1,314g, the featherweight AGV is supremely light for a flip front. You don't realise how liberating it is to wear such a lightweight lid until you go for a spin and almost feel like you're riding helmet-free.
Inside, the plush padded lining provides good levels of comfort and support, and the Pinlock-ready visor (in the box) gave plenty of vision of the road ahead. However, the visor release button was fiddly to use while wearing gloves. I had no such qualms with the chin bar release, but be aware the helmet was not designed to be ridden with the chin bar raised.
I was pleased to see the AGV Sports Modular utilise a good old-fashioned double D-ring fastener, a design which offers more strength than the ratchet strap alternative found in many helmets. The chin and brow vents provided adequate airflow, although try as I might, I couldn't feel any difference between the two adjustable rear spoiler exhaust settings
Overall, I was impressed with the quality and comfort of the Sport Modular but there was one glaring issue in the fact it wasn't long enough for my head. Let me explain. The helmet is so compact that my chin was pressed against the inside of the chin bar and the drop-down sunshield hit my nose. This isn't something I've experienced with a helmet in the correct size before. Clearly, the Sport Modular isn't designed to suit my particular head (or nose) shape, so I'd recommend you try before you buy what is otherwise a very good flip-front helmet. JO
In a line: Super lightweight and compact, a little too compact for my liking
ABR RATING 8/10
COMFORT 7
WEIGHT 10
STYLE 8
VALUE FOR MONEY 7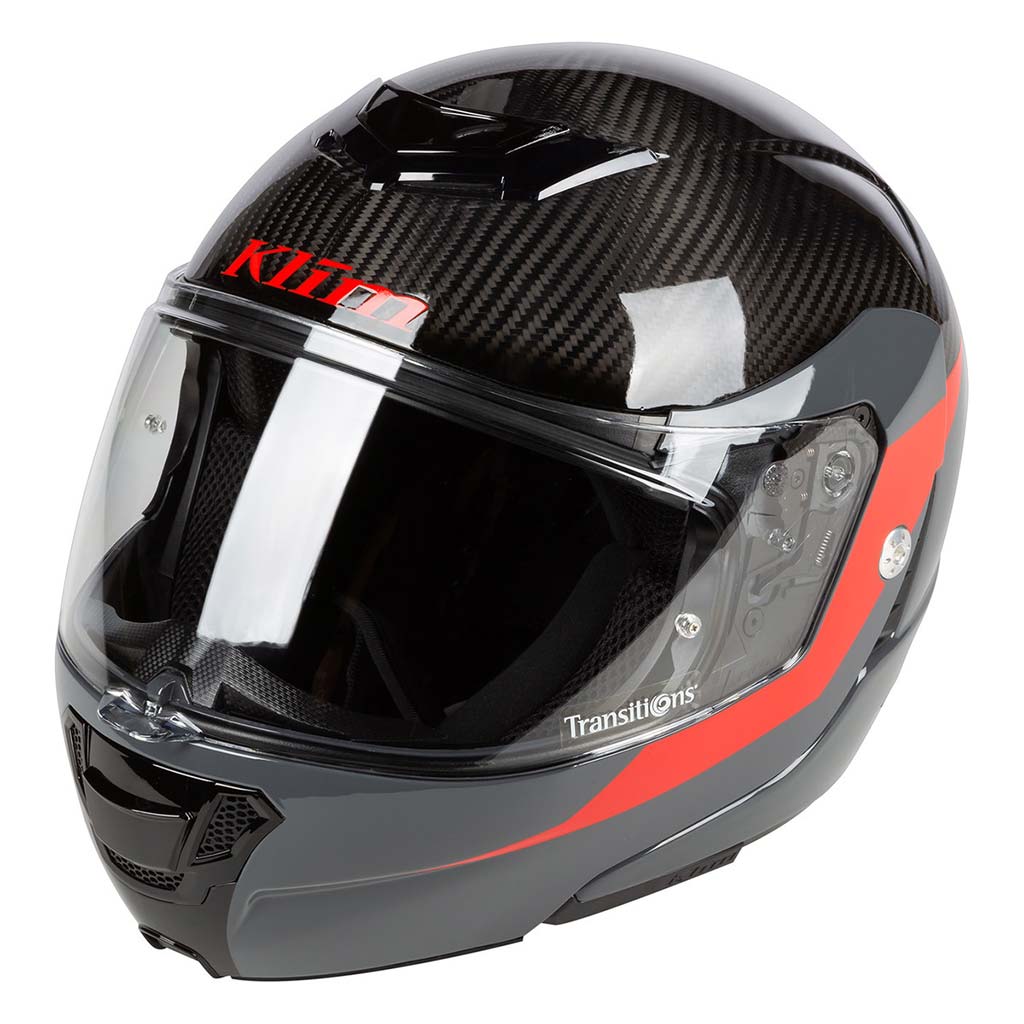 Klim TK1200 Karbon Around
£632
www.klim.com
American company Klim produces some of the most sought-after adventure motorcycling gear in the world. Premium products like the Badlands Pro jacket and the Krios Pro helmet are wish list items for plenty of dual-sport riders who spend their time ripping up the trails. However, in this group test we're looking at Klim's new road touring helmet, the TK1200 Karbon, which the company says has 'revolutionised' modular helmet design'.
In terms of styling, the TK1200 doesn't look particularly revolutionary but it's a very good-looking lid all the same with an understated black, grey, and red colour scheme. However, there are two things that make it stand out from the crowd immediately. At 1,512g, the TK1200 is one of the lightest helmets on test thanks to a full carbon fibre shell, and at £638.39, it is also the most expensive.
As you'd expect from a helmet at this price point, the fit and finish is very good. There are no unwelcome rattles and the chin bar locks into place with a reassuringly crisp click in both the up and down positions, although you do need to exert some force to pull it down. Keep in mind the helmet isn't dual homologated which means it wasn't designed to ridden with the chin bar raised.
Inside, the moisture-wicking, removable inner padding is comfortable but there is less of it compared to other helmets on test, in part because there is no inner padding around the ears. I enjoyed the airy feeling it gave, although it did contribute to the helmet being a little noisy at motorway speeds.
Despite this, the TK1200 is a pleasure to wear thanks to its lightweight and excellent balance. Motorcycling is a liberating experience but wearing a helmet as light as the TK1200 made it even more so.
Another standout feature is the Transitions visor which adapts to changing light conditions, negating the need for a drop-down sun shield. It's clever stuff and worked superbly the majority of the time, including at night, although the world did appear slightly darker than I would have liked on cloudy days. Klim also includes a Pinlock in the box. JO
In a line: Quality and innovation combine in a lightweight but expensive lid.
ABR RATING 9/10
COMFORT 9
WEIGHT 8
STYLE 9
VALUE FOR MONEY 8