Nestled in a garage in a sleepy corner of Cornwall is a secret I've been keeping from the adventure biking world. Behind a set of wooden doors, cosseted under a collection of dust blankets, sits a gleaming Triumph Bonneville: my Triumph Bonneville.
I know it's not an adventure motorcycle, nor a touring or a trail bike, but I love her all the same. The seat has been removed and the battery is linked up to a trickle charger to ensure it doesn't run down in the weeks and sometimes months she stands idle.
And, when she does emerge from her cosy home, I can guarantee you I spend more time fettling, cleaning, polishing, and lovingly gazing at the bike than I do riding it.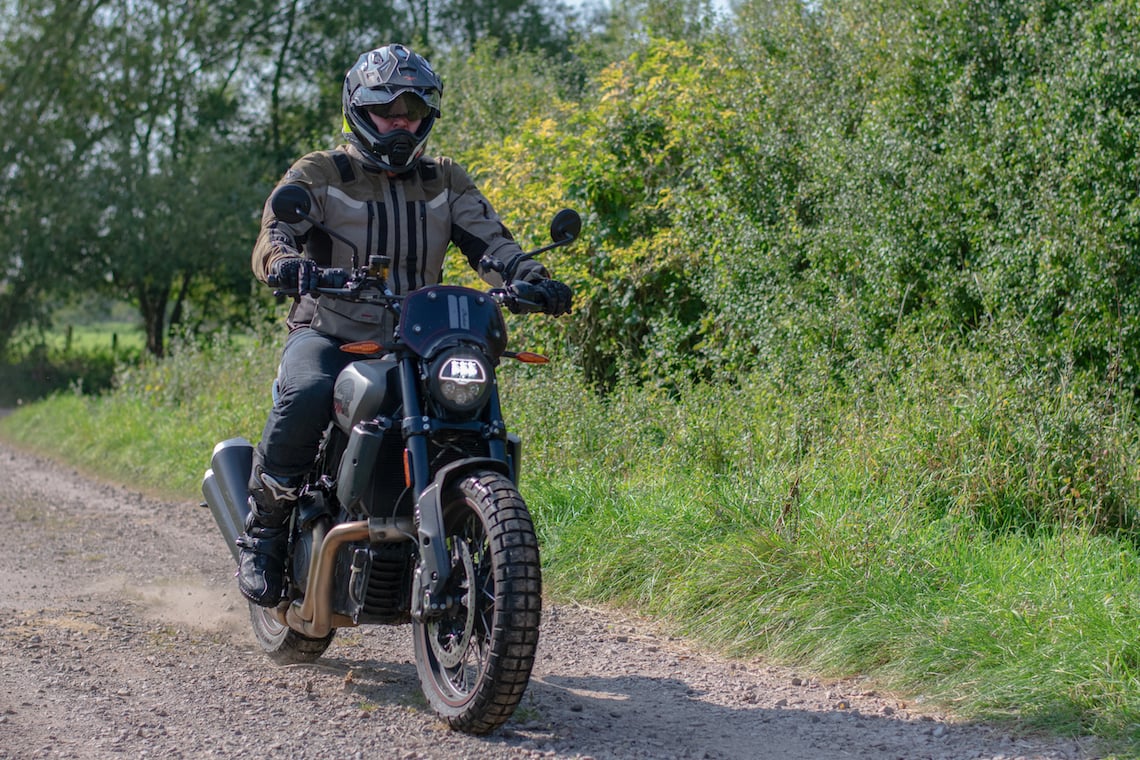 Second bike joy
In short, put me next to that gorgeous collaboration of classic design, paint, and chrome, and all of my off-road, long-distance, year-round adventure biking aspirations gently fade away. I become a Sunday rider wearing a fetching leather jacket, jeans, and ankle boots, happy to cruise lazily along the blacktop in the sunshine, while looking good and feeling even better.
Don't get me wrong, my first love is adventure biking and I can be found more often than not merrily employing cruise control, heated grips, semi-active suspension, and various rider modes with a Sat Nav pointing me forward.
But there's a visceral feeling to be had riding a bike as simple as the Bonneville that isn't replicated on more sophisticated machines. I somehow feel more connected to the road.
So, on those rare days when I've got nothing to do and nowhere to be, when my phone is switched off and I've got a primal itch that only the sound of the twin chromed exhausts from my 'second bike' can itch, I open up those garage doors in Cornwall.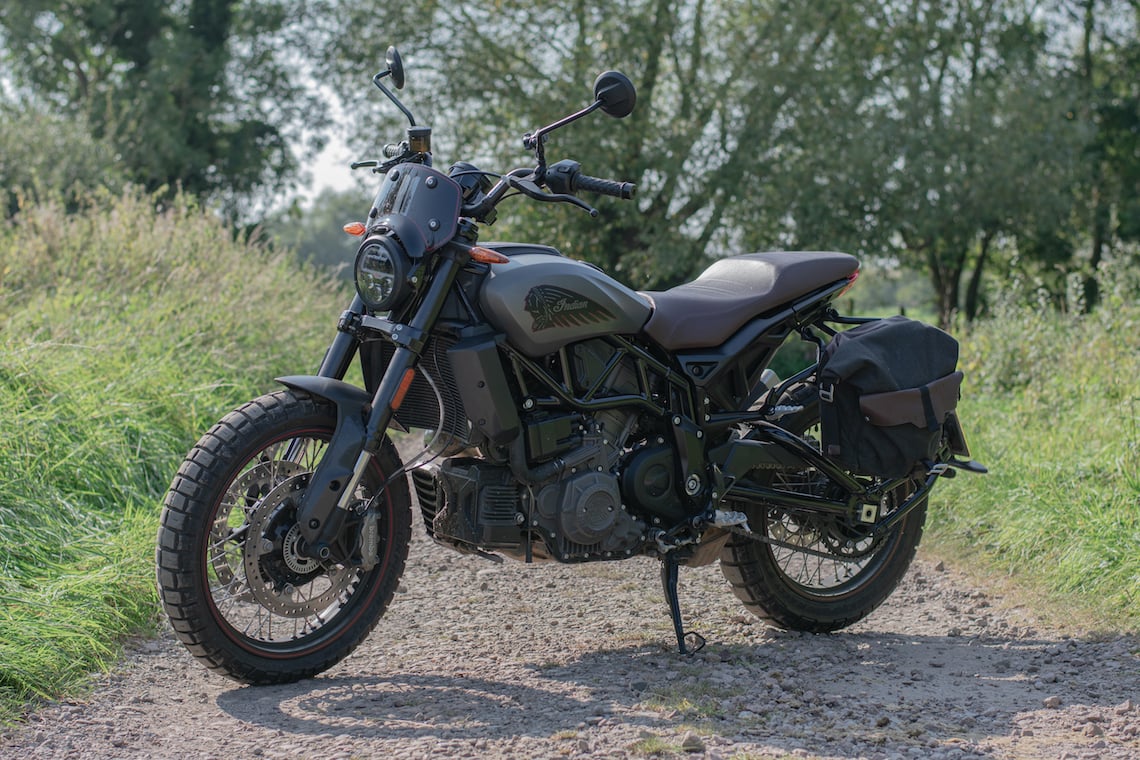 The Indian FTR Rally
So, when the idea of road testing the Indian FTR Rally was first mooted, any scepticism I may have had about reviewing a retro-looking motorcycle in the pages of ABR, that isn't an adventure bike, a touring bike, or a trail bike was fleeting.
I know all too well the joy of owning and riding a second bike that's very different from my 'first' and I'm pretty certain that, for the majority of ABR readers, this is what the FTR Rally could represent.
It isn't a motorcycle you'd bolt metal luggage onto and cross France in a day or two on, your better half isn't going to appreciate sitting in the less than luxurious pillion position for days or weeks on tour, or even on a Sunday afternoon, and I don't reckon you're going to want to tackle the Strata Florida on a bike that looks this good and costs £12,149.
However, on those days when your diary is free, you've got no commitments, and all you've got to think about is the engine between your legs and the road ahead, the Indian FTR Rally is an absolute treat.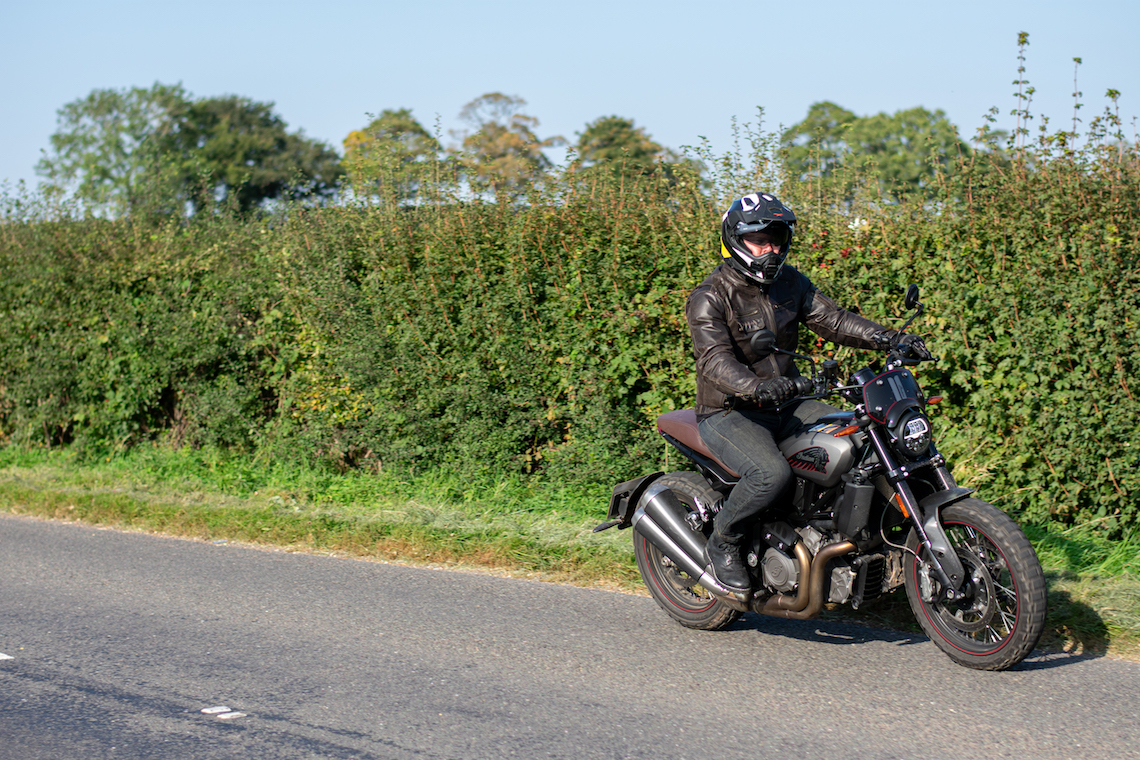 Flat tracking heritage
The Rally is the 'off-road' version of Indian's standard FTR 1200, a motorcycle the manufacturer describes as a flat tracker for the street. If you haven't come across this predominantly American pastime, flat tracking dates back to the early 20th century and involves racing motorcycles around an oval dirt track at speed with all the slides, crashes, and high-speed action you can imagine. It looks like brilliant fun.
In making the FTR 1200, Indian drew inspiration from its racing heritage, and in particular the championship-winning Scout FTR750, to create a machine with flat tracker style for the road.
It proved a winning formula because, if good looks could kill, the FTR 1200 models would be deadly. From the lines of the distinctive fuel tank that flow into the neatly-stitched leather saddle, to the curves of the twin exhaust, this is one damn good-looking machine that manages to be both rugged and beautiful in equal measure.
It's the young Marlon Brando of motorcycles, oozing a disaffected cool which you can't help but feel rubbing off on you when you ride it along the road.
To differentiate the FTR Rally from the standard model, it has been given knobbly Pirelli Scorpion Rally STR tyres, a small wind deflector, a taller seat (although no more ground clearance), handlebars that are 2" higher than the standard bike, and a subtly attractive titanium grey colour scheme paired with a not-so-subtle Indian logo.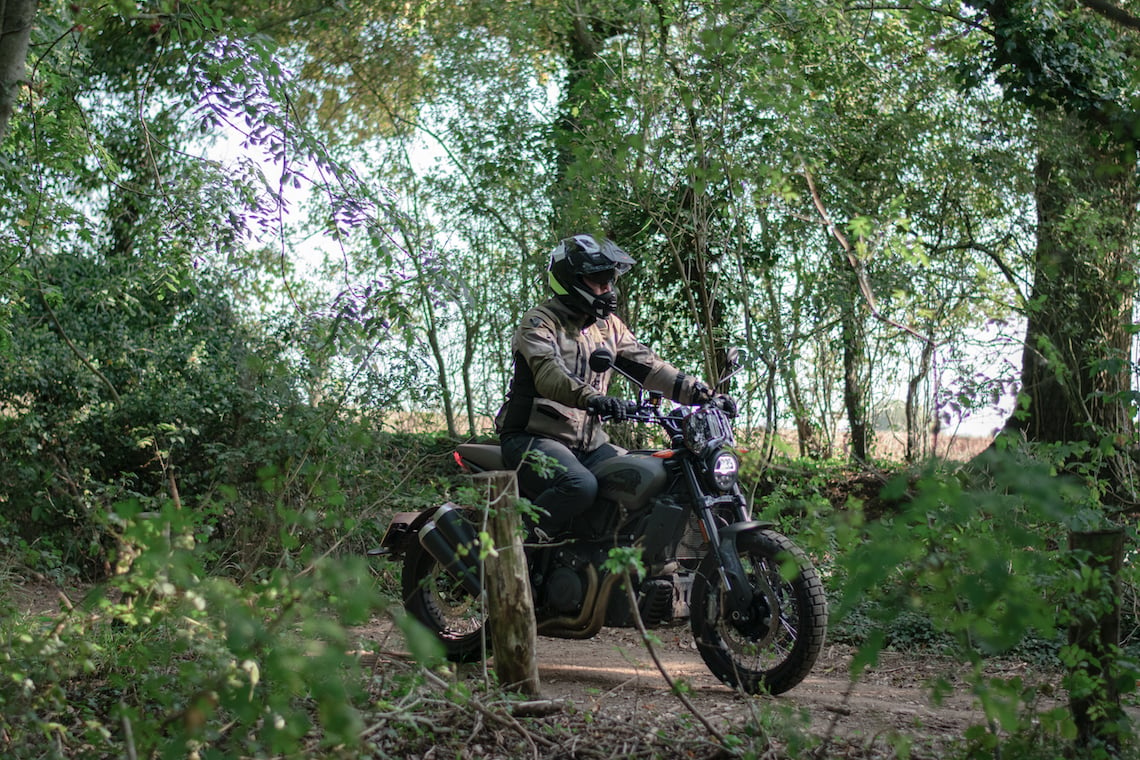 The wild one
But rugged good looks and rich heritage aside, what's it like to ride? Well, to milk the Marlon Brando analogy further, it's a wild one. In fact, the Indian FTR Rally is a brawling beast of a machine that's as charismatic yet rough around the edges as Johnny Strabler in the Black Rebels Motorcycle Club.
And rough around the edges it certainly is. Fire up the 1,203cc, 123bhp, liquid-cooled V-twin engine and it barks into life before settling into a primal rumble.
Unusually, in this day and age of fuel injection and engine management systems, the FTR Rally needs a minute or two to warm up or the fuelling struggles and the throttle response becomes jerky and erratic. The fact it never stalled on me really is damning with faint praise a bike that will set you back more than £12,000.
However, in my mindset as a 'second bike' owner, I rather came to enjoy the ritual of standing and admiring the Indian as it awakened, that was until it rained or I was running late for work. What I didn't grow to enjoy was trying to operate the steering lock which was frustratingly fiddly thanks to an ignition keyhole being partially obscured by the analogue speedometer.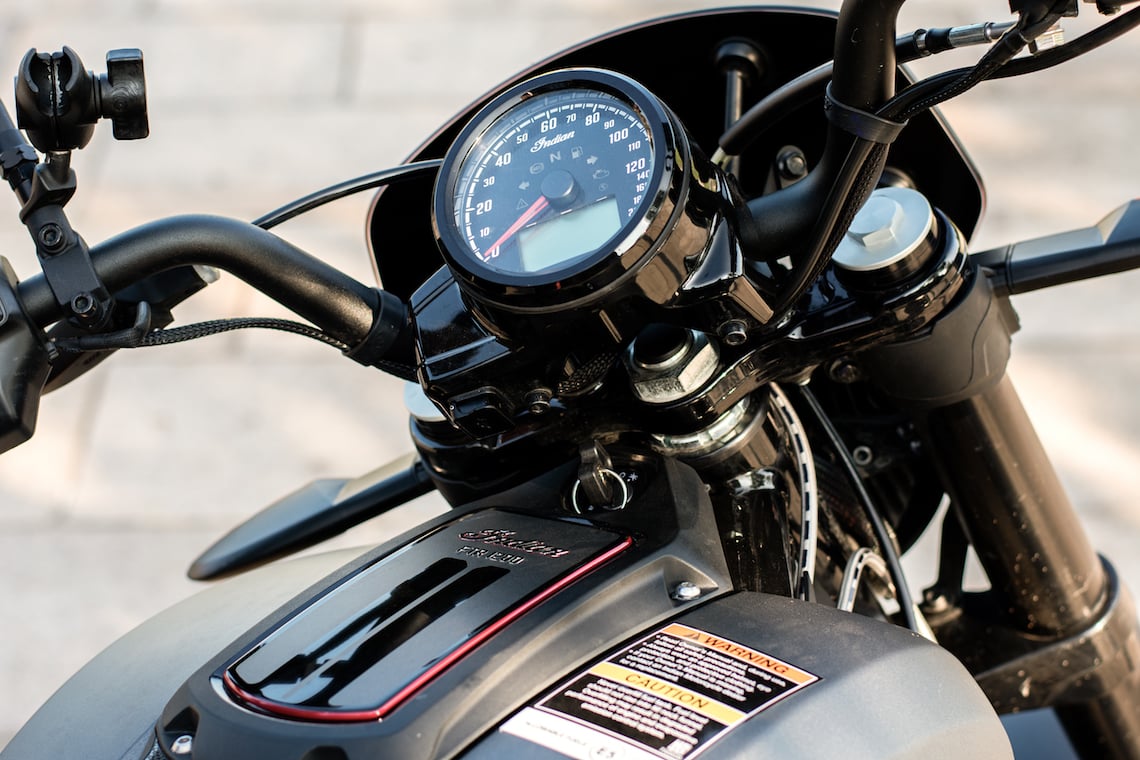 Bags of character on the road
However, once on the road, any gripes I had soon melted away as I got into the groove of riding the FTR. It's part cruiser, part naked bike, with a comfortable upright seating position that straddles the two, and enough engine vibration to provide cruiser-style character without causing too much fatigue.
At 6' tall, the 840mm seat height allowed me to plant both feet firmly on the floor at traffic lights, although once my feet were on the footpegs, the acute bend in my legs led them to start aching after half an hour or so.
Upfront is a simple yet stylish analogue speedometer, accompanied by a small LCD display featuring basic information like a fuel gauge, odometer and gear position indicator. There are no bells and whistles in the instrumentation department, much like the rest of the bike, but the simple approach suits this retro style of motorcycle.
There are also no rider modes or traction control settings to switch through, and no high-tech internal computer monitoring your every move and adjusting how the bike performs. Apart from ABS, the Indian FTR Rally's performance is governed by good old-fashioned inputs from your hands, feet, and body. The result is a similarly stripped-back visceral riding experience to my Triumph Bonneville, although with a hell of a lot more torque and power.
One creature comfort that does come as standard is cruise control which is controlled by a switch on the handlebar. To be honest, I was a little surprised to see cruise control appear on a bike that wasn't designed to cover long distances, but then I remembered this is a machine predominantly made for the American market where long straight roads stretching to the horizon abound.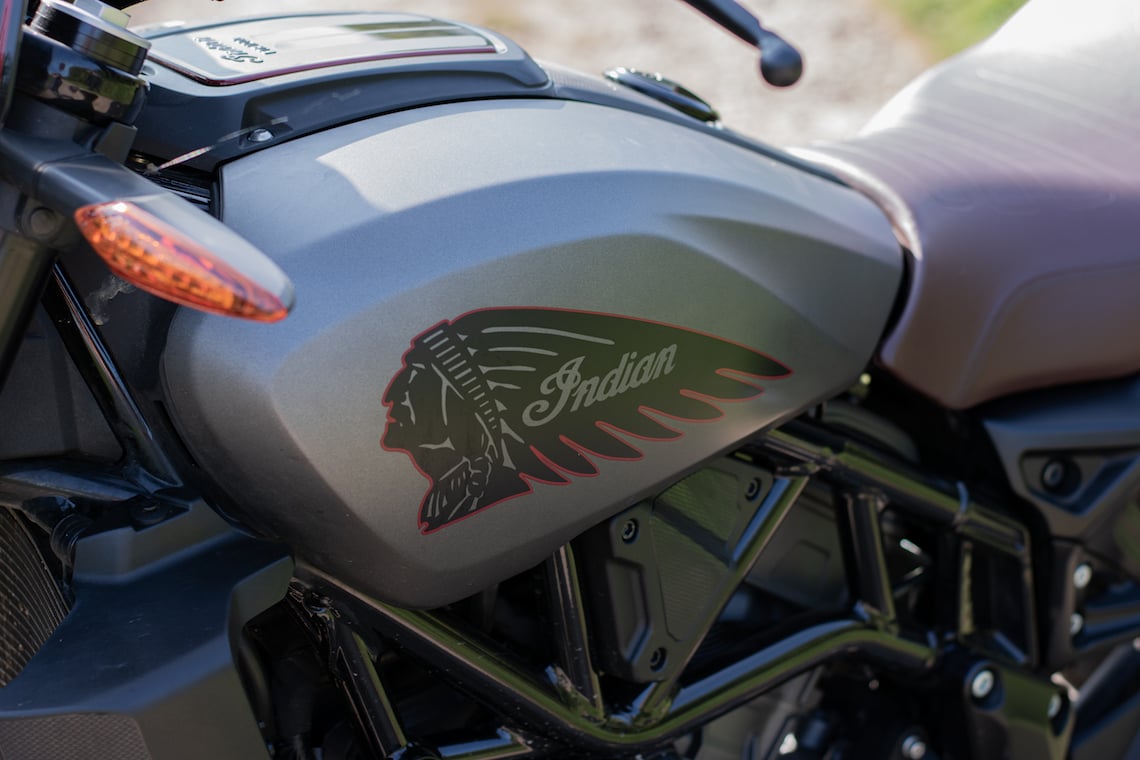 Brutal power
At 240kg (wet), the FTR Rally is certainly a heavy beast, but open up that V-twin monster and it thrusts you down the road like a cannonball fired from a pirate ship. There's a brutality to the power delivery (peak torque is a whopping 120Nm at 6,000rpm) that's exhilarating and scary in equal measure.
While it would be disingenuous to say Indian's engineers built a violently powerful engine, simply shoved it into a chassis, and shipped it to dealerships, it does sometimes feel that way. Boy, it's a lot of fun.
While the bike is happy to cruise along the road at low rpm, it needs very little encouragement to become a complete hooligan. The raw, instant power delivery can quickly overwhelm – smooth it certainly isn't. Care certainly needed to be taken in corners when a couple of ill-timed twists of my wrist laid down massive slabs of torque through the rear wheel and left me running out of road fast.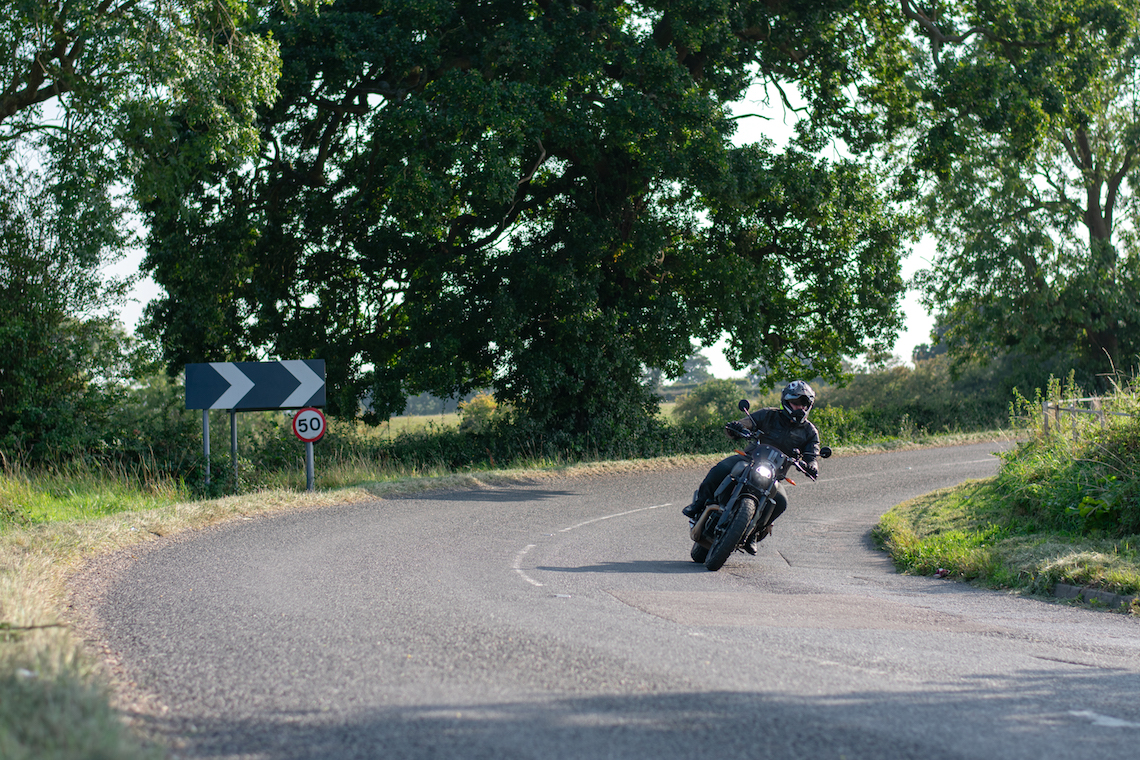 There's more to the Indian than just good looks
The threat of this fierce burst of low-end grunt occurring at any time means the FTR Rally is a bike that needs to be kept under control with a watchful eye at all times. It's not a forgiving machine and I wouldn't recommend spending too much time staring at the scenery.
However, once I'd got to grips with how to keep the power caged until I wanted to release it, I soon realised there is more to the Indian than good looks and low-end grunt. Give the aluminium bars a nudge of counter steer and the FTR Rally's spoked 19" front wheel dives into turns nimbly.
I admit, I was expecting a 240kg piece of American muscle to be a bit of a lazy bloater on the road but it carved its way through the country lanes of the Cotswolds like a knife slicing through a Christmas turkey.
It also provides a comfortable ride, the suspension doing a decent job of soaking up the bumps and undulations on country lanes while ensuring I received plenty of feel from the road. The brakes, a double-disc four-piston calliper up front and a single-disc two-piston calliper at the rear, provided plenty of initial bite and were certainly powerful enough to stop the juggernaut in full flow.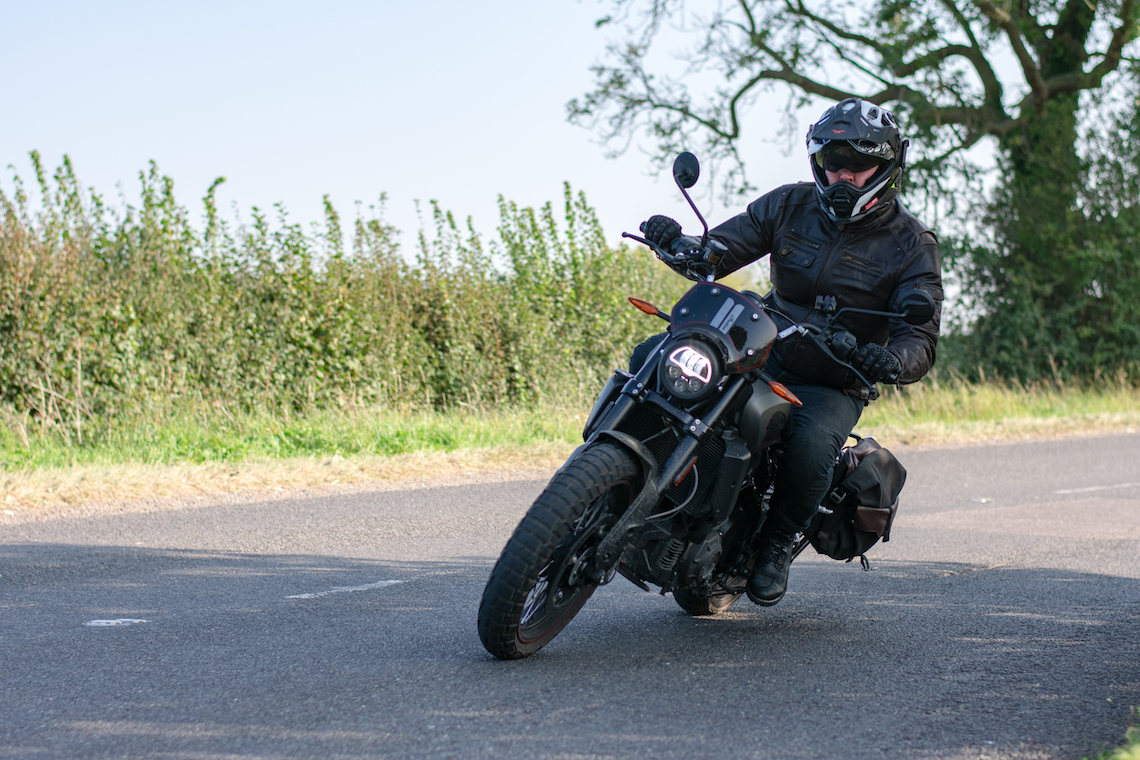 Soft roading
As I mentioned earlier, the Indian FTR Rally is the 'off-road' version of the standard FTR 1200 so, after getting to grips with it on the road, I took it along a few green lanes.
On paper, the bike sits firmly in the 'soft roader' camp of motorcycles, which is reflected in its 19" front and 18" rear wheels, limited 150mm of suspension travel (front and rear), and 183mm of ground clearance. The underbelly of the bike is also worryingly exposed and I can imagine inflicting plenty of damage on rockier terrain.
As I cruised along a selection of light dirt and gravel trails, the suspension proved more than capable of soaking up the ruts and bumps I encountered, and overall, the bike was a pleasant ride.
Unfortunately, the standing position is unconventional and uncomfortable due to the footpegs being angled downwards and positioned further back than you'll find on most adventure bikes. When it was time to take on a few descents with loose surfaces, the bike's heft came into play and it began to feel unwieldy.
This wasn't helped by the relatively wide front tyre which, rather than slicing into the loose trail material to provide grip, felt a little skittish as it danced over the surface. And, the lack of an 'off-road' rider mode to temper the bursts of torque and power on offer meant the very real threat of ending up in a hedge was never far away.
While the FTR 1200 is certainly capable of taking on a few green lanes, it's nowhere near as competent in the dirt as a motorcycle like the Triumph Scrambler 1200 XE for example, which shares the Indian's retro good looks but is mighty impressive off-road.
However, if you have the experience and skill to take the FTR Rally on gnarlier terrain, it will rise to the challenge but the reality is there is a world of bikes out there better suited to riding off-road.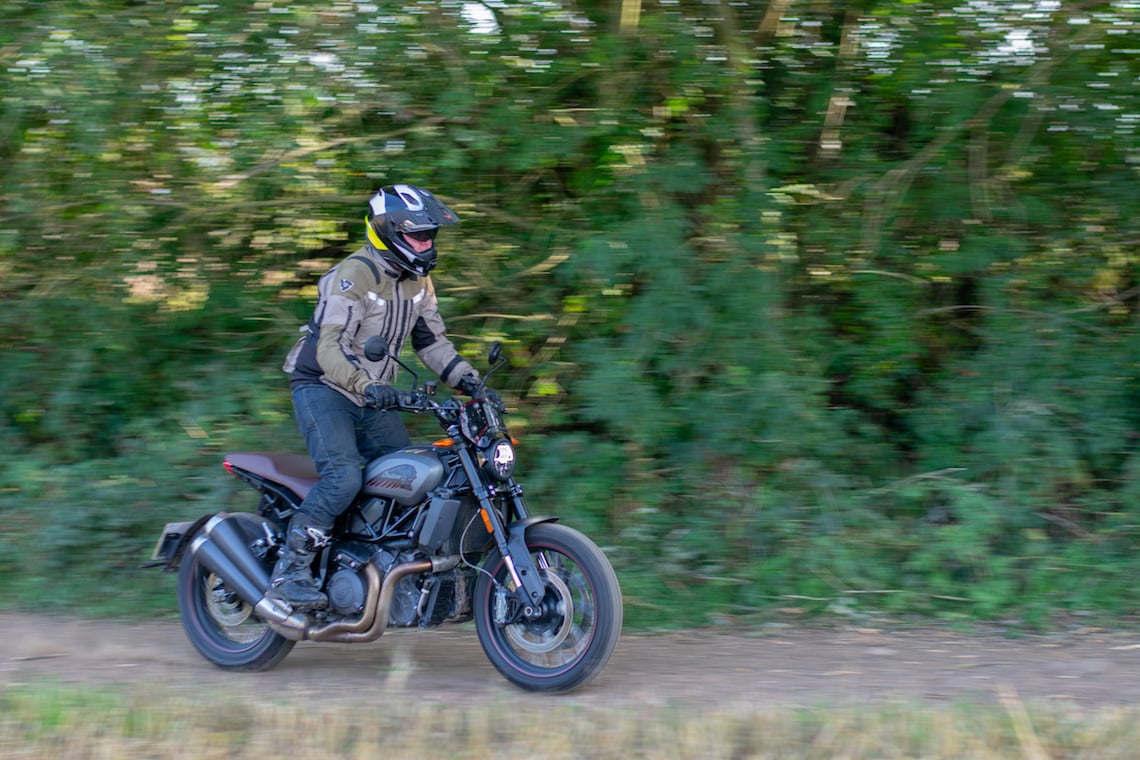 Conclusion
As adventure bikers, we make a number of demands of our motorcycles. For instance, you might ride long distances on tour, carry plenty of luggage, and occasionally travel with a pillion rider. If this is the case you'll need a machine that can do all this in comfort.
You might also enjoy riding off-road and appreciate a bike that you can grow into as your skills improve. In these scenarios, the FTR Rally sits wide of the mark. It doesn't have the comfort, range in its 13l fuel tank (around 120 miles), off-road prowess, or luggage options to meet those demands, although the rather fetching soft bag provided with my test bike (an optional extra) did prove handy during trips to the supermarket.
However, if you are a second bike owner (or contemplating becoming one), you'll likely make different demands of that motorcycle. If top of your list are stylish good looks, an engine note that arouses something primal within, oodles of character, and a machine that makes you feel as cool as Marlon Brando, Steve McQueen, and James Dean rolled into one, then in this scenario, the Indian FTR Rally unequivocally nails it.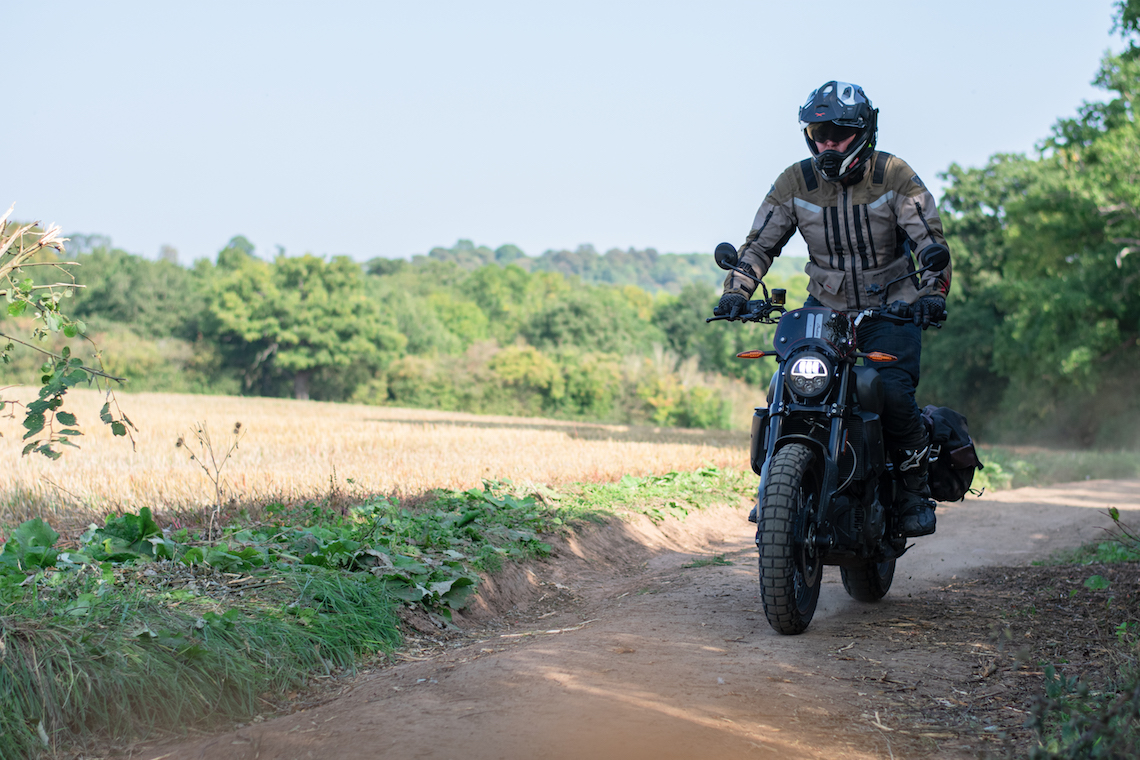 Specs at a glance:
Price £12,149
Engine

Liquid-cooled V-Twin

Capacity

1,203cc

Gearbox

Six speed

Power 123bhp

@

8,250rpm
Torque 120 Nm

@

6,000 rpm
Suspension

Front; 43 mm inverted telescopic cartridge fork / 150 mm. Rear; Monotube IFP / 150 mm

Brakes Front; Dual 320mm x t5 rotor with four-piston callipers. Rear;

 

Single 265mm x t5 rotor with two-piston callipers
Weight 240kg (wet)
Tank capacity

13l

Seat height

815mm-853mm

Ground clearance

183mm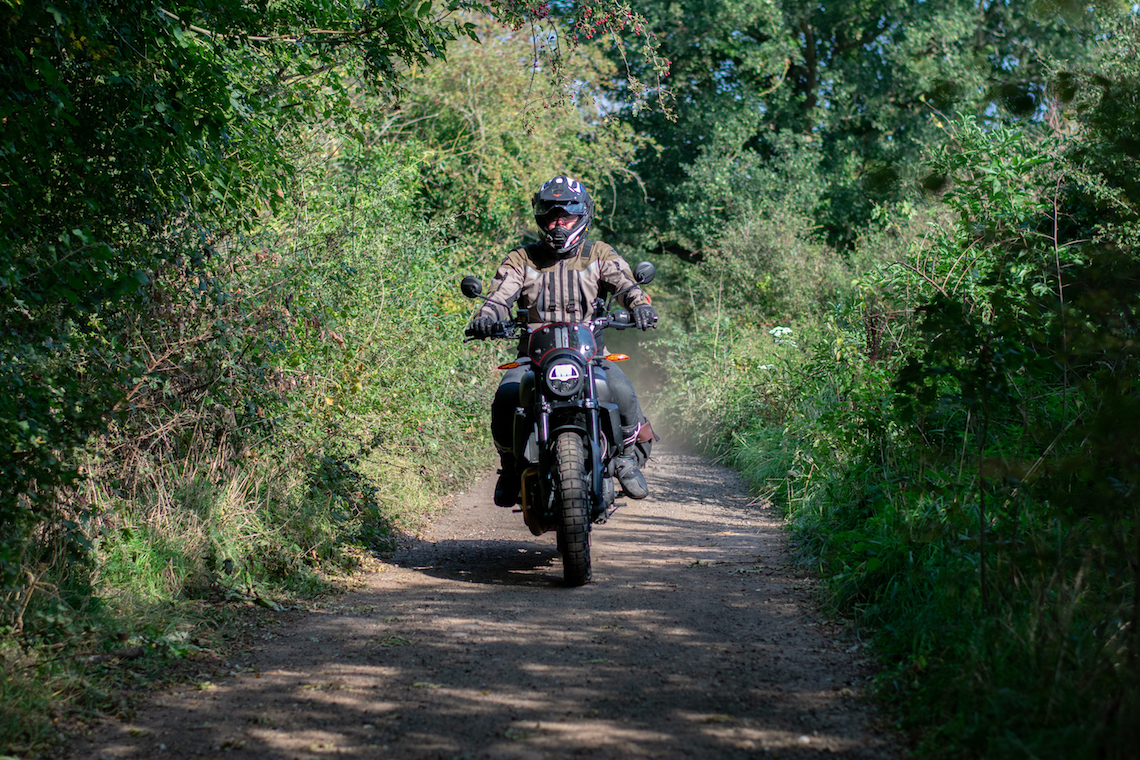 ABR Verdict: Indian FTR Rally
As a commuter:
Let's be clear, this is no winter hack to commute to work on. In fact, it would be a crime to subject a bike this good-looking to the crud and salt found on UK roads on a daily basis.
However, on those glorious summer days when the sun shines and the sky is blue, I can think of nothing better than cruising to work to the soundtrack of the Indian's 1,203cc engine, and you're guaranteed to turn heads in the office car park.
As an off-roader:
Indian says the FTR Rally is its first dual-sport bike but this is pushing the definition a bit far. Yes, riding it on a few green lanes was fun, and it certainly has the suspension travel and handling to tackle light trails, but it is also heavy and cumbersome in the dirt.
You'll need plenty of talent and bravery to push it any harder than the soft-roading it was intended for. The standing position is also far too awkward to spend more than brief periods in it.
As a weekend tourer:
The FTR Rally is loud, brash, and unrefined but it's also a lot of fun on twisty country lanes. And, while its image may be one of an urban brawler, rather than country gent, I'd happily saddle up and head off on it for the weekend in search of some glorious roads. Luggage options are limited so make sure you pack light.
As a continental road tourer:
If your brand of continental road touring involves time spent on high-speed European motorways, a lack of weather protection and limited fuel range means the Indian isn't ideally suited to a quick blast to the Alps.
However, if you've got the time to take slower roads, and you're prepared to make plenty of stops, then the FTR Rally would make a very cool continental cruiser.
As an RTW overlander:
As the saying goes 'any bike can be an adventure bike' and the FTR Rally is certainly capable of taking you around the globe. However, a lack of fuel range would be a pain and I'd certainly stick to tarmac and lighter trails.
In reality, there are plenty of bikes better suited to an RTW trip, although the lack of sophisticated electronics would make the FTR Rally simple to repair if you were to break down in remote areas.
As a pillion carrier:
The FTR Rally isn't a tall bike which made it easy for my wife to hop onto the pillion perch. Once onboard, she found the seating position "unusual and a bit awkward", with the pegs located higher and further forward than she would have liked. It was OK for a short Sunday blast, but she was keen to jump off after an hour.