While filming the 1963 war movie The Great Escape, Steve McQueen approached director John Sturges with an idea. Instead of using a train for his escape, as originally written, McQueen suggested his character made his bid for freedom on a motorcycle. The director agreed, and cinema history was made soon after.
McQueen and his stunt double Bud Etkins rode a modified TT Special 650 Triumph for the stunts, including that iconic 6′ fence jump. With filming over, the bike in question was gifted to the farmer who owned the land, where he used it to herd cows for a few years before locking it away in a barn where it remained, forgotten and unused, for decades.
It was this story that inspired Triumph to invite ABR to a farm in south Wales to put the new Triumph Scrambler 1200 XC through its paces off-road. Unlike the TT Special 650, the Scrambler was designed with this sort of terrain in mind, and it was a setting that would have had the 'Cooler King' himself nodding his head with approval.
After a morning testing the limits of both myself and the bike, I was seriously impressed. Although I didn't attempt any 6′ jumps, I can happily say Triumph has delivered a bike that's an absolute peach off-road. Here are five things that made it so good in the rough stuff.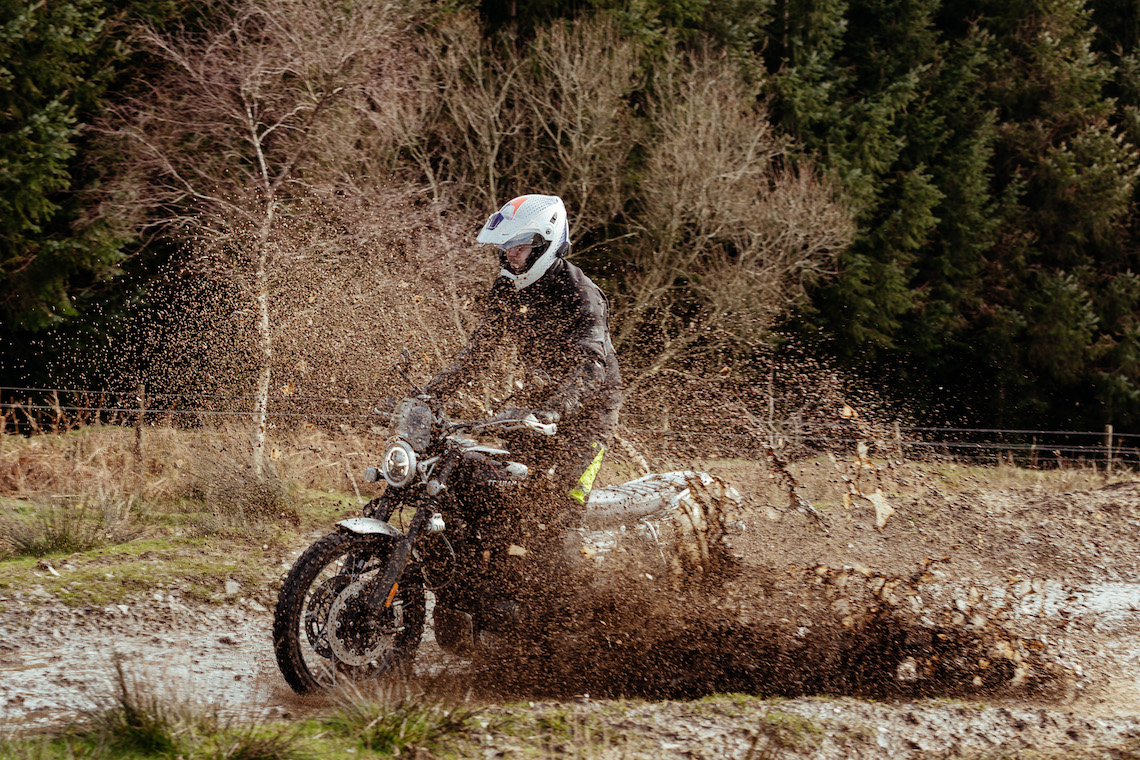 The standing position
The Scrambler is a bike that wouldn't look out of place parked outside a café selling cappuccinos for a small fortune in East London. Dismiss it as a poser's bike at your peril though. It's equally at home in some seriously gnarly off-road terrain thanks, in no small part, to its ergonomics.
The standing position feels perfectly natural for my 6′ frame, with my weight kept off my arms and firmly over my legs. The result is a comfortable stance that I could remain in for quite some time, and a bike that handled very well off-road. The serrated foot pegs gave me plenty of grip and, with the majority of my weight centred over my feet, I was able to turn the bike with ease by shifting my weight from peg to peg.
Triumph has also clearly put in some work to ensure the high-slung exhaust is suitably tucked away, ensuring it doesn't interfere with your stance by pushing your right leg out and away from the bike.
The traditional seated 'scrambling' position is also well suited to paddling your way through deep ruts or boggy fields, the relatively low 840mm seat height keeps you from toppling over whenever things come to a stand-still.
How it carries its weight
The Triumph Scrambler 1200 XC is also stripped back when compared to the large fuel tanks and fairings offered on adventure bikes with similar engine capacities. The engine is still relatively heavy, but the bike carries its 205kg (dry) weight low down, and it's pleasantly deceiving how light it feels.
Combine this with the comfortable standing position and you get a bike that performs very well off-road. ABR Bike Tester Julian said the ride 'is not dissimilar to 450 enduro bike' in his initial review, and I'm inclined to agree.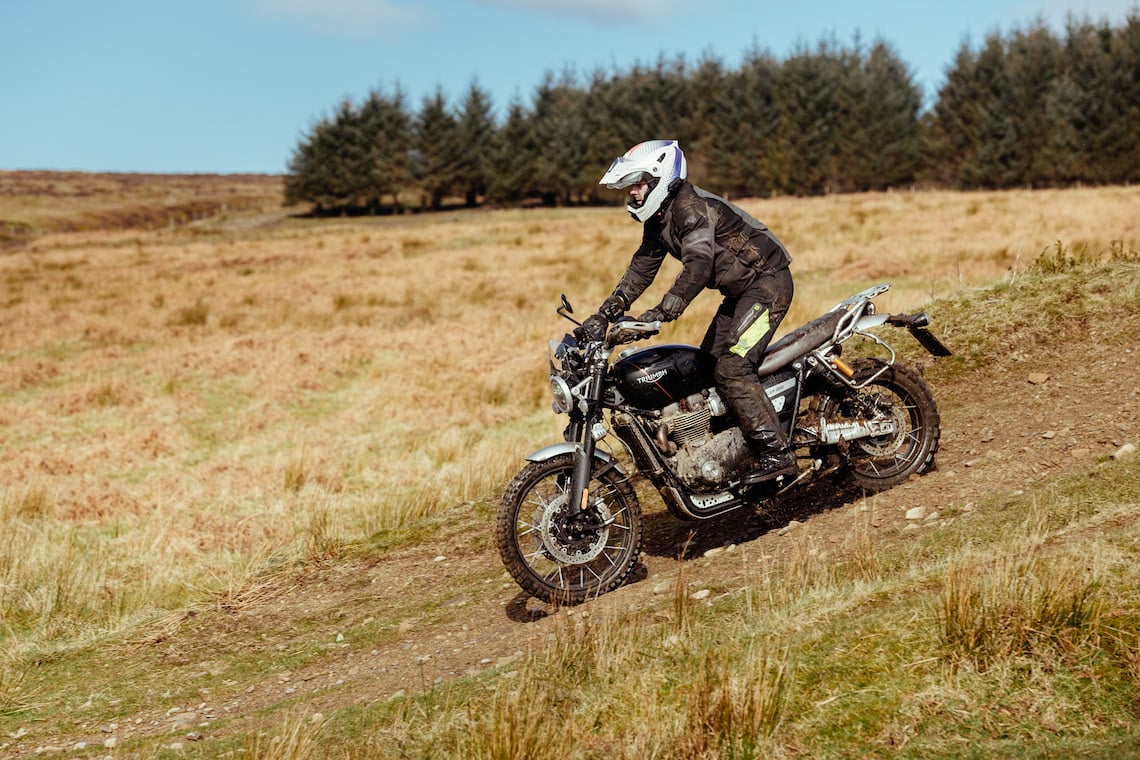 Addictive power
Of course, there are plenty of differences between the Scrambler and a 450 enduro bike. Indeed, 750 of them can be found in the engine alone, with the Scrambler housing a monstrous 1200cc twin engine, which pumps out 89bhp and 110 Nm of torque.
While some may argue that amount of power is unnecessary off-road, it makes for an utterly addictive experience. A quick twist of the throttle brings you up to eye-watering speeds on more established tracks and helps keep you powering on when the track turns boggy or muddy.
It's confidence-inspiring
On the other side, although the Scrambler is seriously powerful, Triumph have found a fine balance to ensure that it isn't an intimidating ride. Far from it in fact. I'm no Dakar racer, but I found myself chucking the Triumph around on some gnarly terrain with an air of confidence that far exceeded my off-road experience.
This approachable, confidence-inspiring ride is down to that low centre of gravity and off-road focussed suspension (offering a very respectable 200mm of travel at the front and rear) which soaks up bumps, ruts and steps with ease.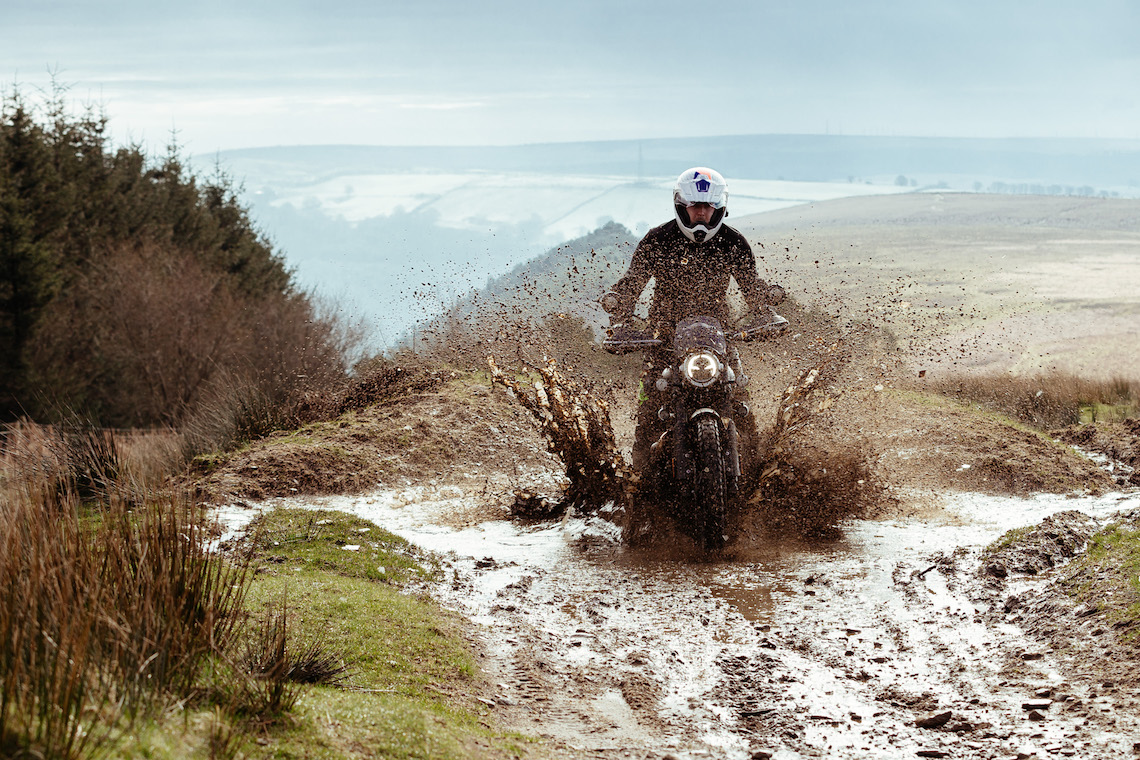 Looks
Of course, beauty is only skin deep and does little to add to the experience of riding a bike. Still, it doesn't hurt to look good while riding, and the Triumph Scrambler is easily one of the best looking off-road ready bikes around at the moment.
That leggy Scrambler stance, a high-slung dual exhausts, and the twin-spring suspension at the rear. It's safe to say Triumph have made a bike that would look as good on a runway in Milan as it did in a bog in Pontypridd, South Wales.
It's a shame that these good looks may deter owners from taking their Scramblers off-piste, because they really are capable bikes in the dirt. And, take it from me, if you add some splashes of mud from your local green-lanes, it's only going to look better.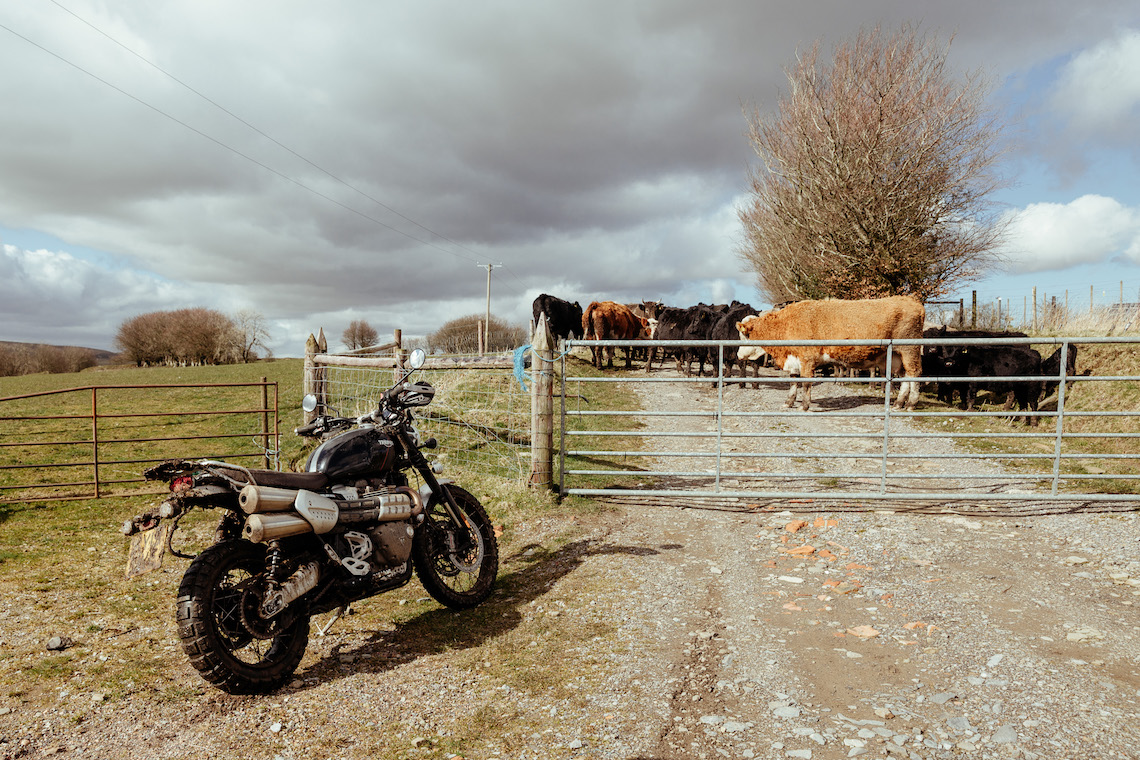 Why we love the Triumph Scrambler 1200 XC off-road
As Steve McQueen once said: "I don't believe in that phoney hero stuff." And, having put the Scrambler through its paces off-road for a day, I think he'd agree that the Triumph Scrambler is no phoney hero. Instead it is a remarkably capable bike off-road.
With bags of power, comfortable ergonomics and striking good looks it is an absolute joy to ride. It would certainly put a smile on my face if I was lucky enough to find it parked up in my garage, and I'd have great pleasure ripping along local green-lanes, ready to tackle whatever I found on the way. And you know what, it wasn't half bad at herding some cattle either…
Put the Triumph Scrambler through its paces yourself
Looking to test out the Scrambler yourself before buying? We have just the event for you…
With every major manufacturer in attendance, including Triumph, the Adventure Bike Rider Festival 2021 is the place to visit. With gleaming fleets of test bikes waiting to be ridden both on and off-road you'll have the perfect opportunity to try before you buy.
Pick up your discounted tickets and save £10 by clicking HERE. Previous years have always sold out, and 2021 will be no different, so book today to avoid disappointment.