Kenneth Friedman travels to Antarctica to fulfil his dream of riding a motorcycle on each of the Earth's seven continents
Minutes after the stroke of midnight, my crated BMW F 700 GS and I landed upon a blue-ice runway in Antarctica. A Russian Ilyushin cargo aircraft had deposited me on a vast glacier approximately 600 miles from the South Pole. A few hours later, I found myself riding upon the frictionless surface, completing my aspiration to ride upon all seven of the Earth's continents. Others have accomplished this feat, but as far as I know, I'm the first person to have done it by riding a motorcycle on the interior of Antarctica, rather than the more accessible Antarctic Peninsula. It was the culmination of many years and numerous adventure biking excursions. But before I get into that, let me rewind to the beginning.
My introduction to motorcycling began, like so many of us, on a dirt bike as a teenager. My friends and I would ride through the agricultural lands and rolling hills of the San Fernando Valley of Los Angeles. After graduating from our Schwinn Stingray bicycles, we tasted the speed and freedom of our motorcycles and we liked it. Indian Dunes was our mecca for motocross racing and riding in the sandy desert and rocky expanses. However, as we matured to the ripe old age of 16, our Chevelles, Camaros, Firebirds, and other big block V8-powered vehicles relegated our motorcycles to the back of our garages. Then life, college, career, and family continued to press the biking pause button.
A midlife crisis
Fast forward to the proverbial midlife crisis and the realisation of my mortality as I approached the 'mature' age of 50. My antidote of choice was a new Harley-Davidson Softail Deluxe straight off the showroom floor, not exactly the personification of an adventure bike, I know, but stay tuned. Riding the Harley-Davidson helped me experience the freedom that exploring by motorcycle brings, but keeping strictly to asphalt roads within the United States became too restrictive, so off to Italy, I went. Tuscany, the Amalfi Coast, and Sicily were just some of the locations that whetted my appetite for adventure, so once back home, I enrolled in an off-road training program to prepare myself for a return to my trail riding roots and to embark upon adventure motorcycle journeys worldwide. The option to explore routes off-road, only limited by my riding skill and curiosity, unfurled a vast amount of terrain otherwise not explorable by conventional travel.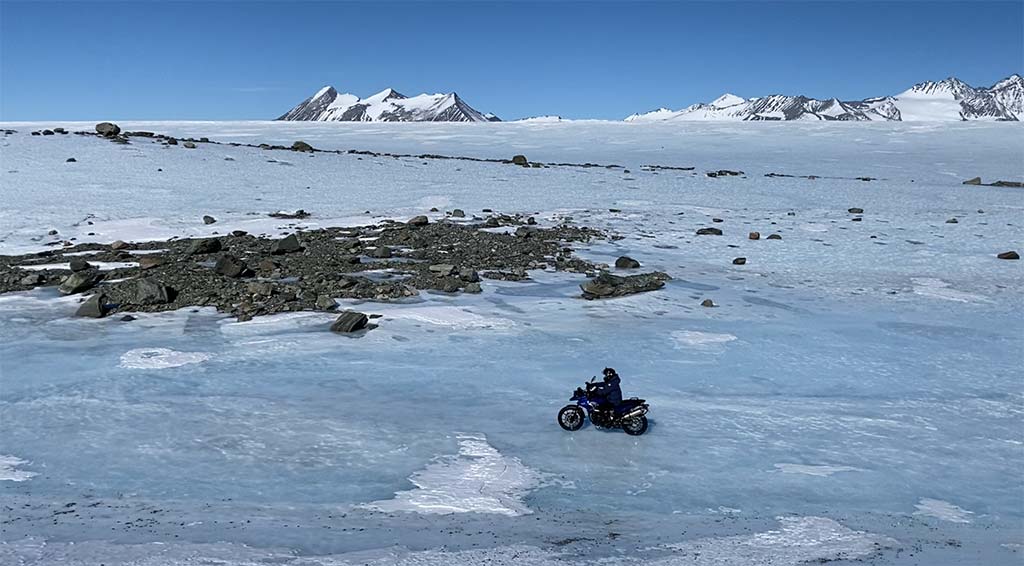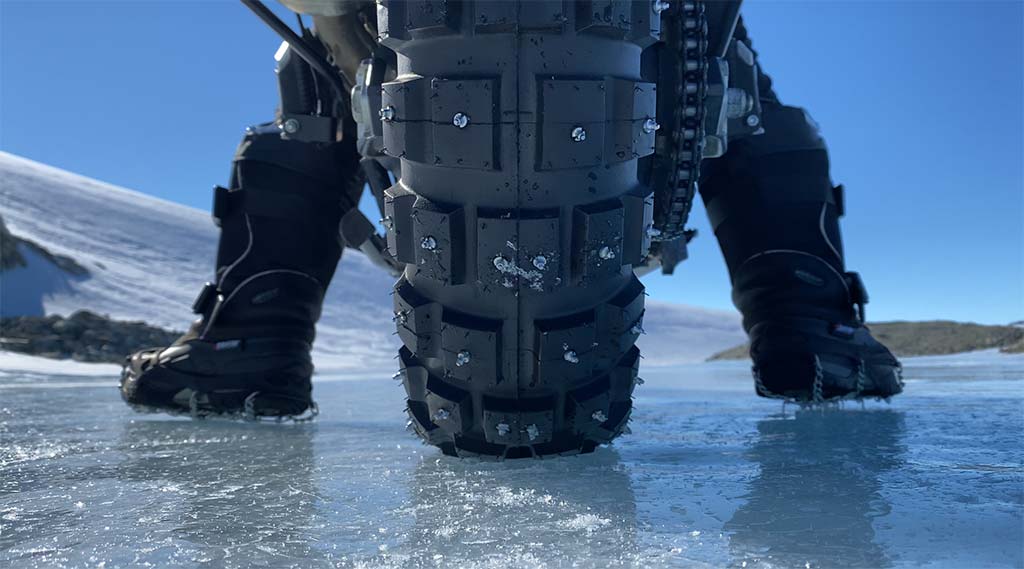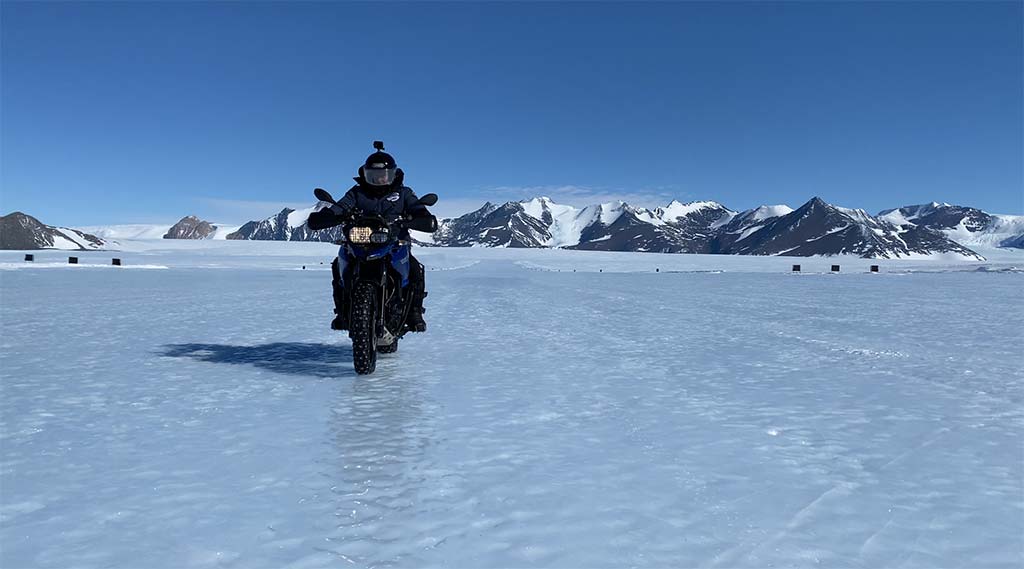 Travelling the world
Accordingly, for the last 13 years, I have travelled worldwide by motorcycle, riding and surfing upon six continents. Surfing is another almost daily endeavour and passion of mine. It evokes a sense of freedom and unity with nature similar to riding a motorcycle off-road. These adventures gave me an insight into a broad variety of cultures, cuisines, and languages, as well as the splendours of Mother Nature. I experienced the grandeur of the Himalayas of India, observed the wildlife of Africa, I enjoyed the scenic and cultural splendours of Europe, and I had some absolutely extraordinary riding adventures throughout South America.
However, there remained one significant jewel missing from my riding crown. I needed to ride in Antarctica to reach my goal of motorcycling on all seven continents. I was aware that a handful of bikers had achieved this, but to the best of my knowledge, each had ridden on the more accessible peninsula and not upon the icy interior. I discovered someone who had ridden on the interior almost 30 years ago, but I found no evidence to suggest they rode on all seven continents. So, five years ago, I embarked upon my mission. Antarctica is a unique continent in that it is not a country and contains no native human population. Accordingly, international relations and rules are generally dictated by the Antarctic Treaty and associated agreements. Most activity on Antarctica is comprised of a number of research stations and tourism, and there is a ban on any type of military activity. Tourist visits require a permit, hence my initial challenge.
I canvassed the internet and spoke with any company that had a hint of a connection to providing products or services to Antarctica. I was summarily rebuffed by each. Additionally, I was in contact with the US State Department which exclusively issues private US expedition permits, but I wasn't succeeding on that front either. However, as it seemed I'd exhausted all of my options, I discovered a website for a company that provided logistical and expedition support on the interior of Antarctica. Their website pictured someone riding a fat tyre bicycle on the snow so my hope was reignited. I contacted them about logistics, riding conditions, weather, permitting, motorcycle and crating requirements, and a series of other issues to make the expedition a reality. After approximately two months, an agreement was reached and a period of intense trip planning began.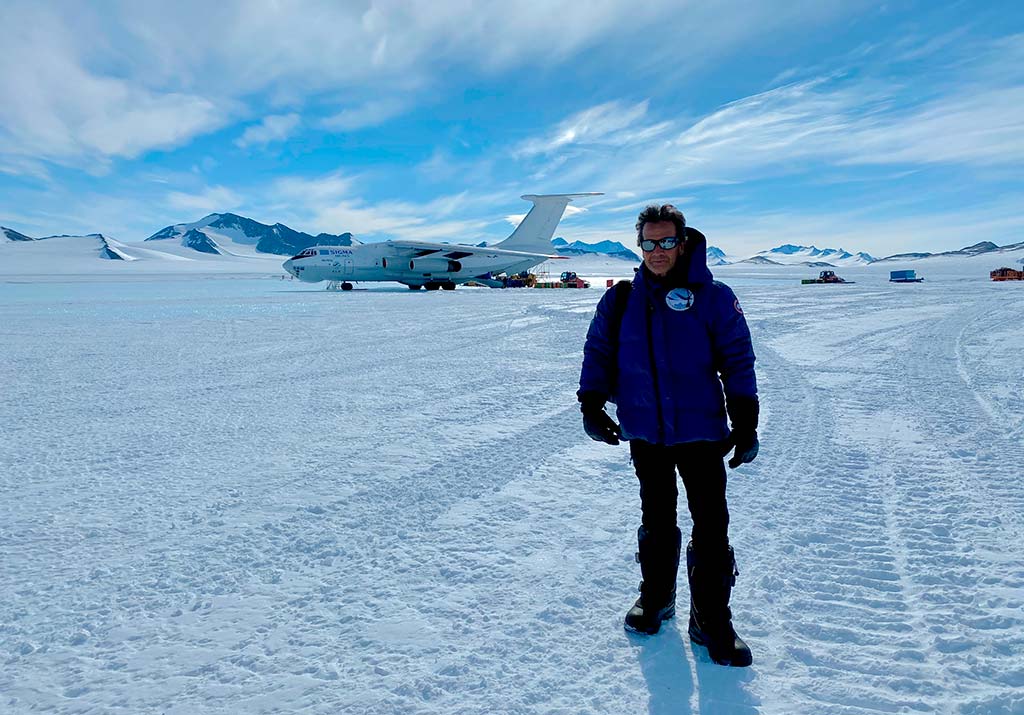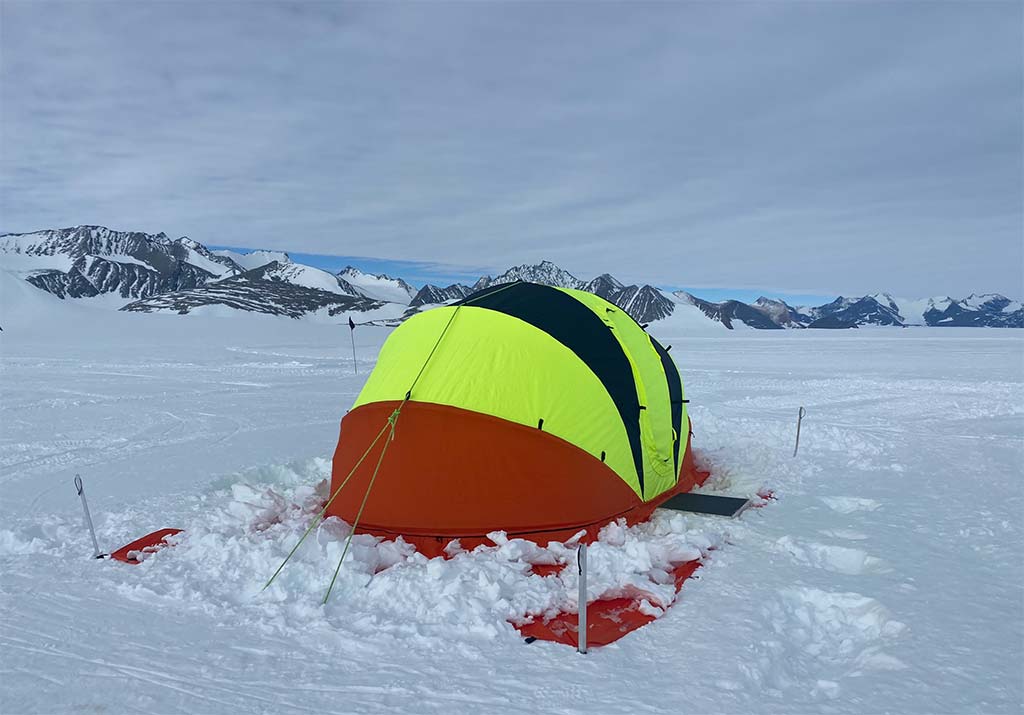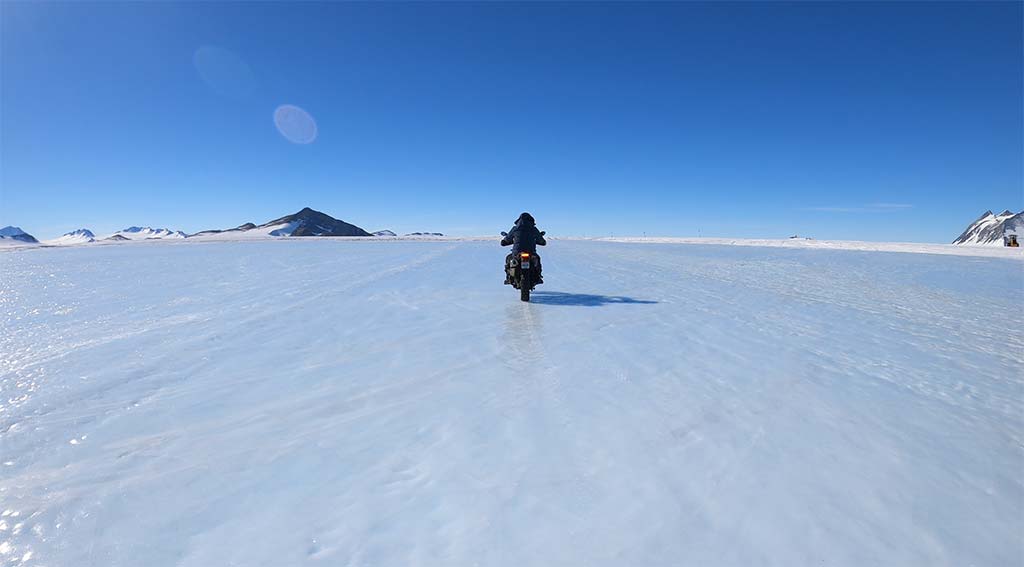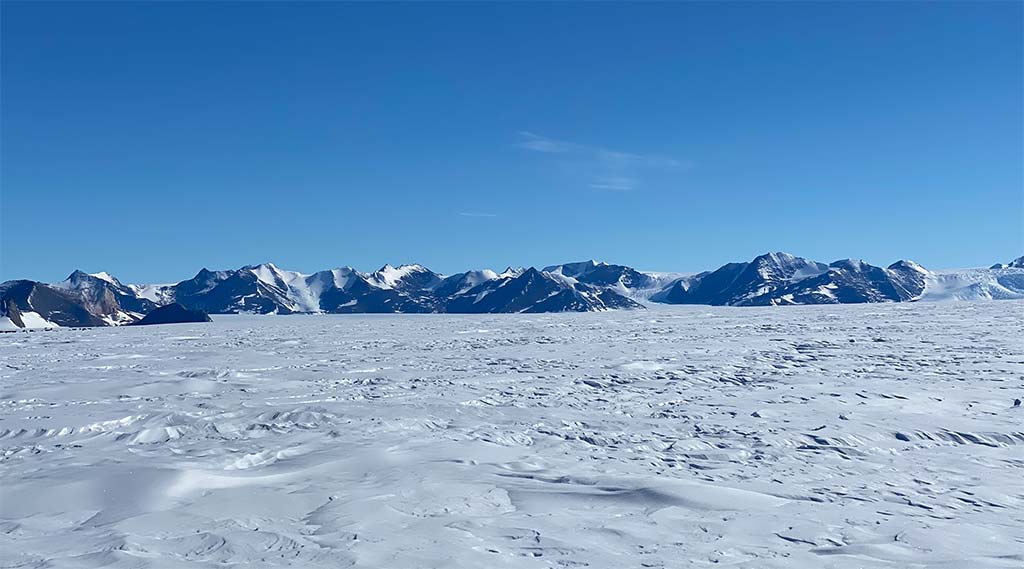 The plan comes together
Over the next six months, I put all my efforts into solving the logistical, regulatory, and practical solutions that would make my dream a reality. As my only riding surfaces were to be frictionless ice and snow of varying degrees of compaction, researching the optimal tyres and accompanying metal studs was an imperative. Additionally, regulatory requirements meant my motorcycle needed to be certified and placed in a crate constructed with a specific heat-treated wood to mitigate the introduction of non-native organisms to this ecologically sensitive part of the world. Furthermore, there was the task of ensuring the lithium batteries in my cameras would work in Antarctica's cold temperatures. I devised a system to house lithium battery packs under my polar jacket and run wiring to my GoPro cameras and iPhone for which I designed custom enclosures. Wind chill factors of -20C to -30C meant I chose traditional multi-layered Antarctic polar gear instead of conventional motorcycle clothing.
So, armed with adventure tyres inserted with almost 400 metal studs, I set off to Punta Arenas in Chile where my rental bike, a BMW F 700 GS, was waiting. As well as mounting my studded tyres, I adjusted the height of the clutch pedal to accommodate my oversized boots before putting the bike into its wooden crate in preparation for the flight to Antarctica. On the evening of December 6, 2019, the Russian aircraft was cleared for take-off and we embarked upon a flight to the spectacular Union Glacier on the interior of Antarctica.
Accompanying me on the plane were a variety of expeditioners seeking unique journeys and adventures. There was a group who planned to climb Mount Vinson as part of an attempt to summit the seven highest peaks on each of the Earth's seven continents. Others would be flown to 89 degrees south to ski the last 60 nautical miles to the South Pole. Three of the passengers would be pursuing their dreams of parachuting onto Antarctica. There was even a group who flew in to run a marathon on Union Glacier. They were all fascinating individuals with adventurous spirits with a desire to dance upon the precipice of life.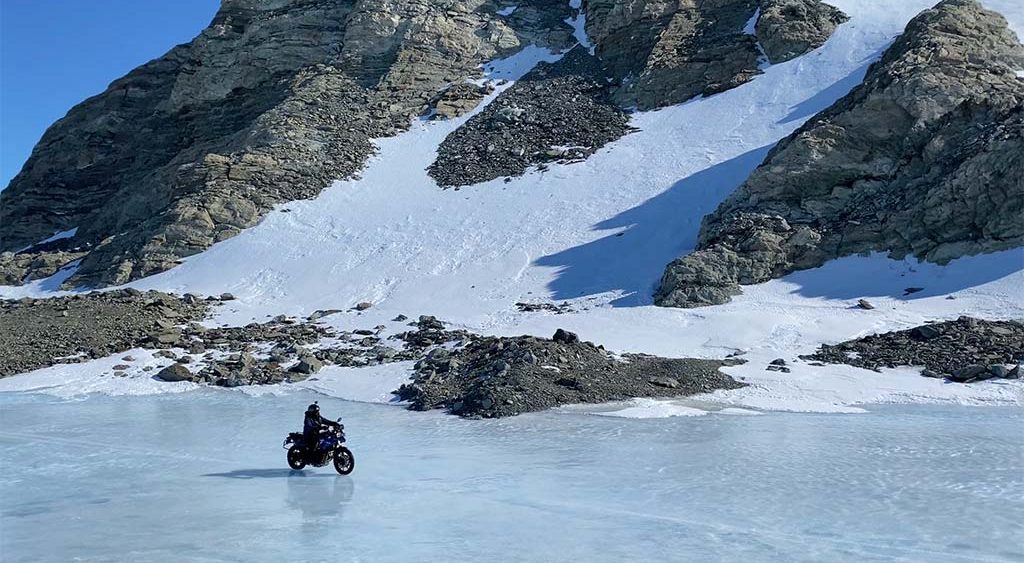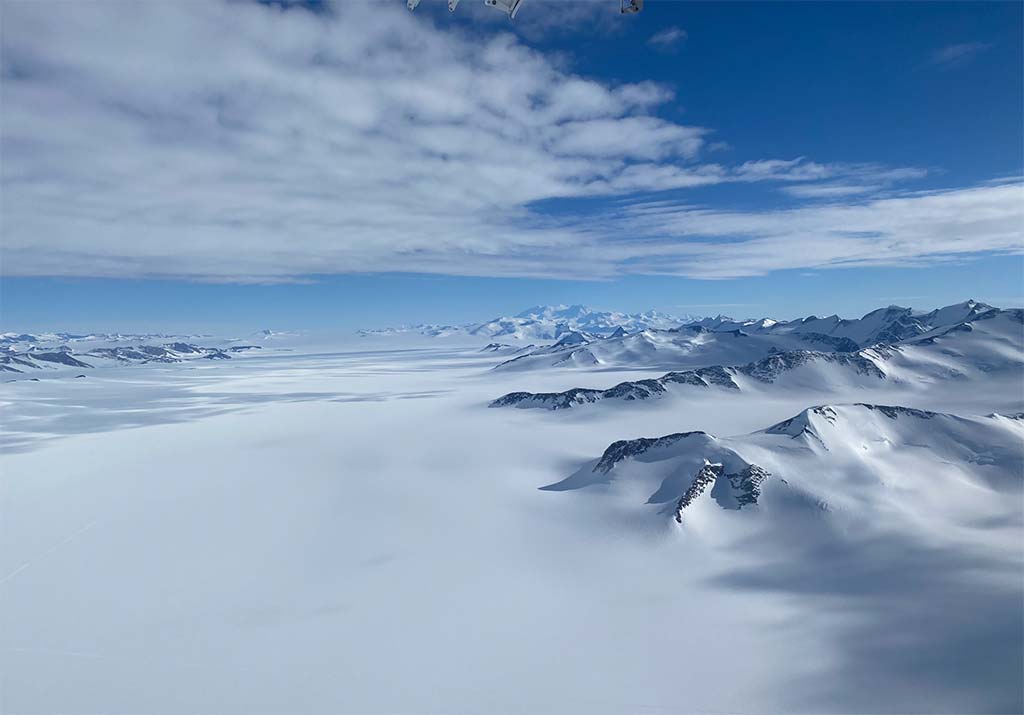 A land of snow and ice
Landing on an ice runway under the midnight sun was a surreal experience, almost like entering a dream. Once on the ground, I made my way to expedition base camp where I would stay in my small multicoloured tent on the snow for almost a week. My adventure would begin the next morning and I spent the night anxiously thinking about the reality of riding upon the snow and ice in such a spectacular and remote location.
The following day, armed with fresh warnings of the likely locations of clandestine crevasses that could terminate my adventure (and me), I took my first ride on the snow. With my tyres initially inflated, or as it turns out overinflated, to 25 PSI, maintaining traction and balance required the deftness of Baryshnikov as the studs were of negligible value. The key to riding upon terrain without traction was to adjust my approach to that of riding upon deep sand, with my weight back, maintaining speed, and allowing the front end to float and dance freely with a loose grip.
After my initial day of riding on the snow, the next day I approached the luminescent blue ice. It was brushed with a microlayer of melt which was almost impossible to walk on without slipping over, despite the metal treads on my boots. However, as I set off, I found the weight of my GS concentrated onto two small points of contact on the ice yielded a perceptible grip. Despite appearances, the ice was a more amenable riding surface than the snow, especially with less pressure in the tyres which enhanced traction. As my confidence grew, I ventured further across the vast glacier.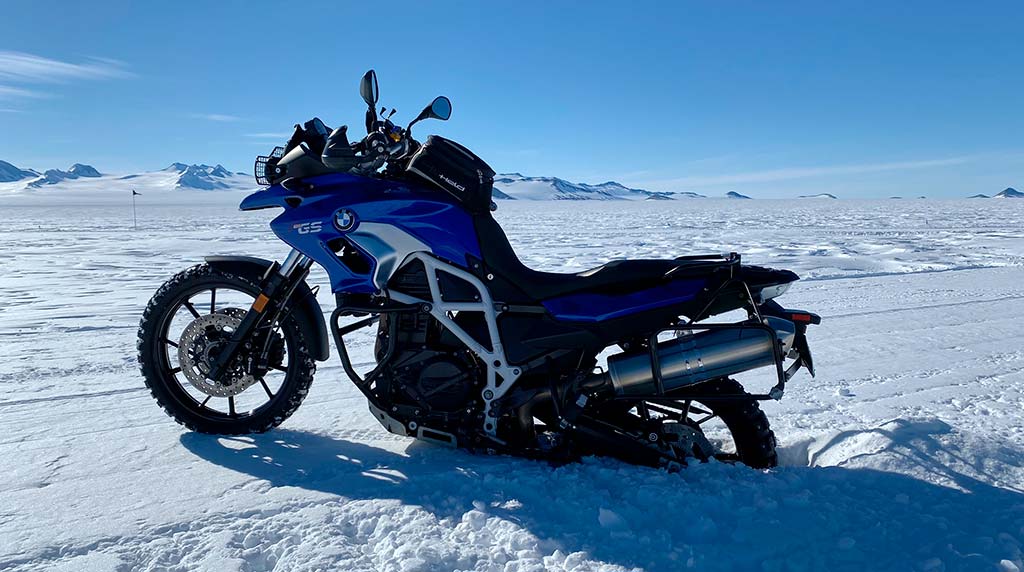 Exploring the glacier
Over the course of the week I rode around 150 miles and exploring the icy world on the polished surface of the glacier became a daily ritual. All the time, my experiences were framed by a remote landscape of undulating snow, rocky outcrops, and sculpted ice. I was accompanied by the sounds of howling winds and the ever-present sight of intense, azure blue skies, as well as the sculptural formations of the Ellsworth mountain ranges. It was a surreal and extraordinary experience which became indelibly etched into my mind.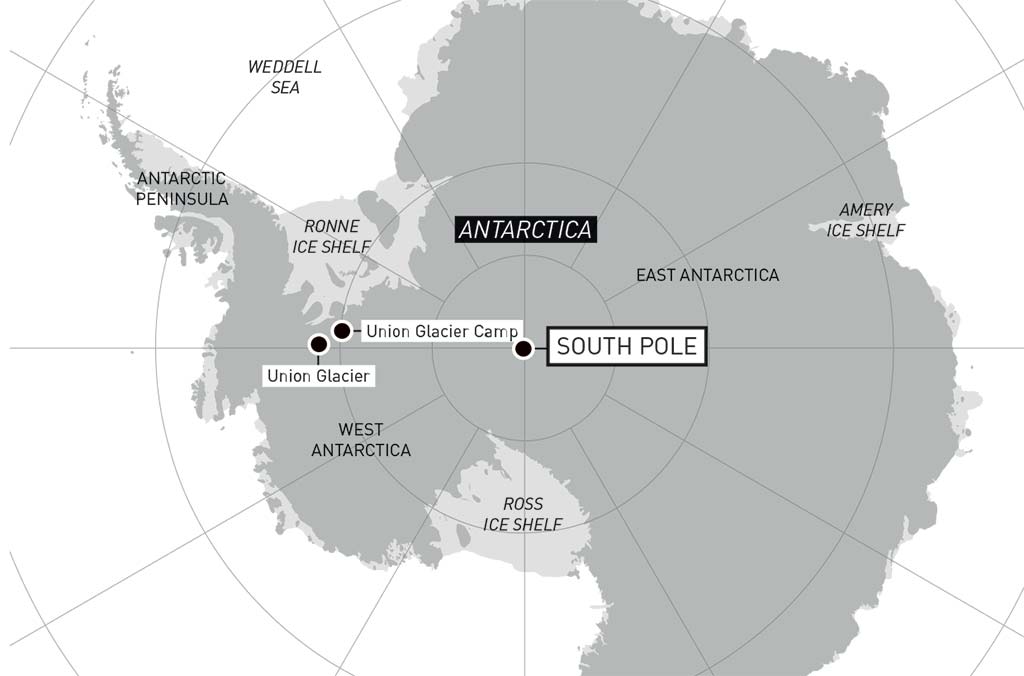 However, the impact of riding in Antarctica didn't strike me fully until I completed my riding and sat waiting for the flight back to Chile with my motorcycle tucked away in a crate. It was the end of a five-year journey to ride in Antarctica. Despite the adversity and the naysayers, I'd achieved my goal. It was a humbling experience which left me with a cornucopia of cherished memories and eternal gratitude.
So, what do you do when you've fulfilled such a long-held dream? Well, I've become focused on inspiring others to go beyond their comfort zones, set ambitious and challenging targets, and persevere with tenacity to achieve their goals. Accordingly, I am forming a not-for-profit entity called Dance Upon the Precipice (@DanceUponThePrecipice) to provide a social media hub to connect inspiring individuals with those seeking such inspiration. My goal is to encourage people to cease merely treading water in life and to pursue challenges in any field in recognition of the brevity of our existence and the personal growth that is a result of such adventures. Adventure bikers are uniquely tuned into this and I hope my journeys over seven continents, culminating in riding Antarctica, inspire you to dance upon your own precipice.