Julian Challis continues his exploration of the UK on the Trans Euro Trail as he travels from Bristol to the southwest tip of England at Land's End
If there is one thing that this awful pandemic has taught us all, it's to value and cherish the people and things that are close to us. And right now, thrashing through achingly beautiful Devon lanes with a group of mates on a big red dirt bike, this could not be more apparent. While my 2020 diary might have become filled with page after page of cancelled trips and missed opportunities, blasting along the fantastic roads and lanes of the Great Western Trail section of the Trans Euro Trail (TET) has to be the best possible antidote to start of the new decade. Motorcycling may have taken me all over the world but right now, this is the only place I want to be, and it feels fantastic.
Regular readers of ABR will doubtless be aware of my three-year love affair with the UK leg of the Trans Euro Trail, so consequently, this post lockdown adventure will come as no particular surprise. Since a bitterly cold morning way back February 2018, when my intrepid companions and I set off from Dover, we've ridden the whole of the British TET in four bite-sized adventures: Dover to Chepstow, Chepstow to Crewe, Crewe to Kendal, and finally last year, Kendall to Newcastle, to complete all 1,800 miles of the original route. First off, I was on the Ténéré 660 which proved a handful on those chilly southern lanes. The middle two sections were on my far more slimline KTM 250 EXC, and the final schlep was on KTM's rather wonderful 690 Enduro R which proved to be almost the perfect bike for the task.
But since we started the original TET two years ago, the route has got a whole lot bigger, largely thanks to the efforts of James Higgs of the Wiltshire Trail Riders Fellowship (TRF). Doubtless keen to ensure that riders both domestic and foreign were not deprived of the wonderful lanes that were on his doorstep, the estimable Mr Higgs has crafted a truly wonderful southern leg to the TET, a delightfully meandering route that dives down through Wiltshire and Dorset before heading south to Devon and then Cornwall. After taking in Land's End, the route follows a different path back up through the same counties to re-join the main TET in Somerset. The name, with its obvious references to Brunel's railway, could not be more appropriate. It truly is a Great Western Trail across a region packed with superb riding.
So finally, some two-and-a-half years after our first TET trip, and following four months of near-constant gardening, DIY and binge-watching box sets thanks to a global lockdown, the five members of the Great Western Trail 2020 squad assembled bright and early at the side of the River Avon within sight of the Clifton Suspension Bridge. OK, so the Great Western Trail, or indeed the TET, does not actually go into Bristol, but it seemed a suitably auspicious place to start the trip with Brunel's wonderful engineering making a fitting start point to our journey. With the whole of the route totalling more than 800 miles, we'd elected to make this a four-day trip from Bristol to Land's End rather than try to tick off the whole route over a week.
On the squad, we have trip organiser Matt on his SWM RS 300R, Chris on his trusty Honda CRF250X, Alex on an incredibly tidy 2003 Suzuki DRZ400, Steve on a Honda CRF250L, and me on the ABR long-termer Honda CRF450L bristling with upgrades and trinkets. Luggage options for the trip are as varied as the bikes, with Matt and Steve going for enduro panniers and rucksacks, myself with a rack-mounted rear pack, tank, and fender bags, Chris with his now trademark 'middle of Lidl' panniers and rear bags topped off with a child's Captain America rucksack that he found outside a house during lockdown. Finally, there is Alex who has invested in arguably the world's largest tank bag. It's a good job he's a tall lad as it towers almost 3' above the tank.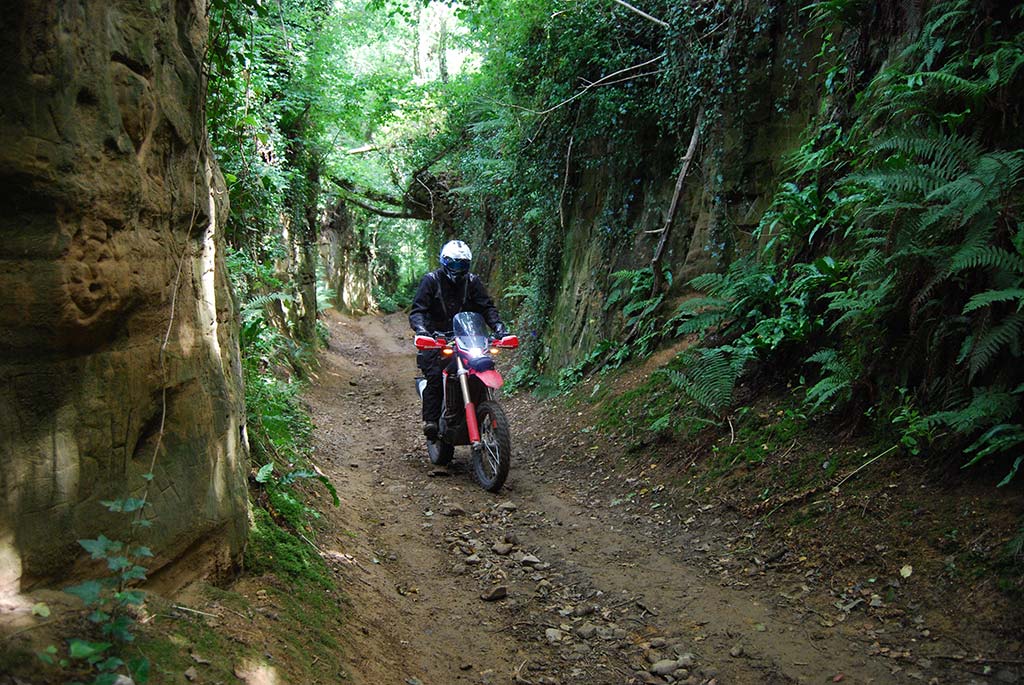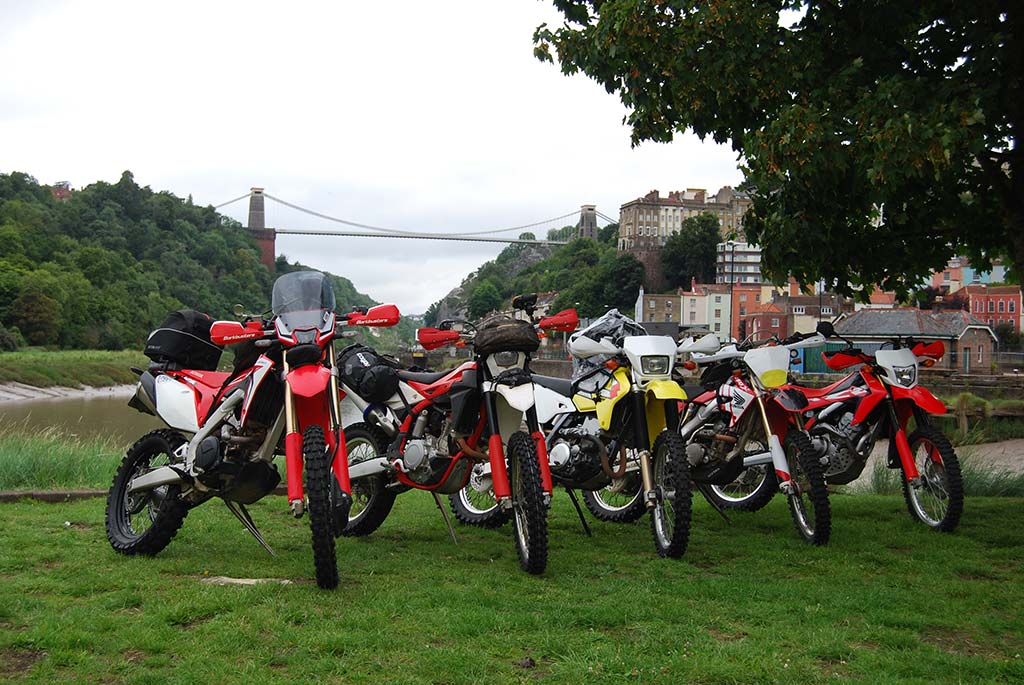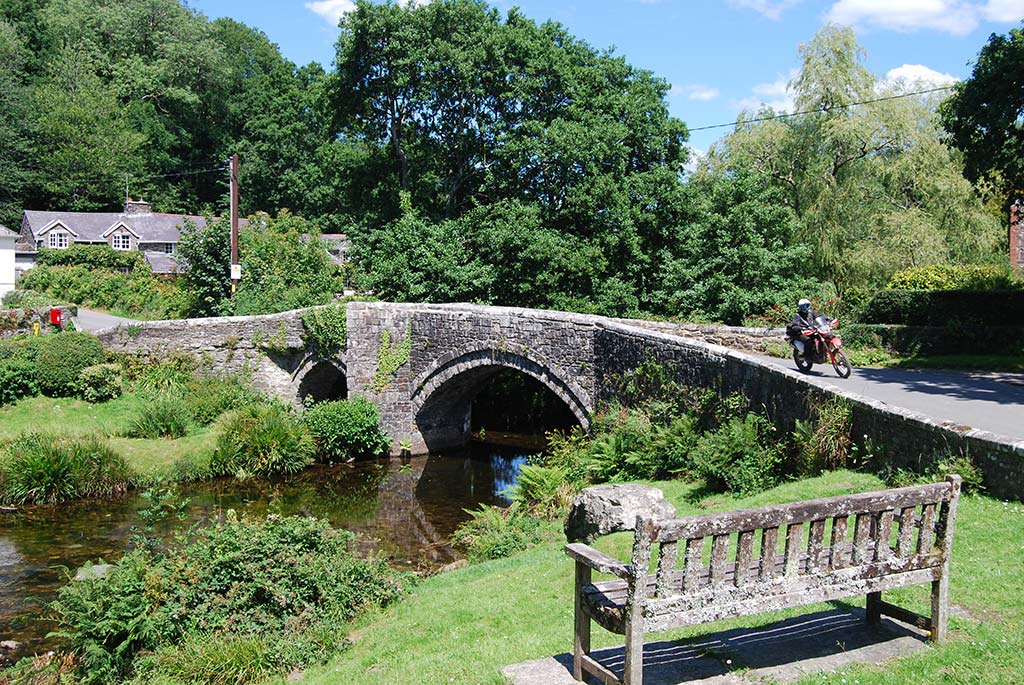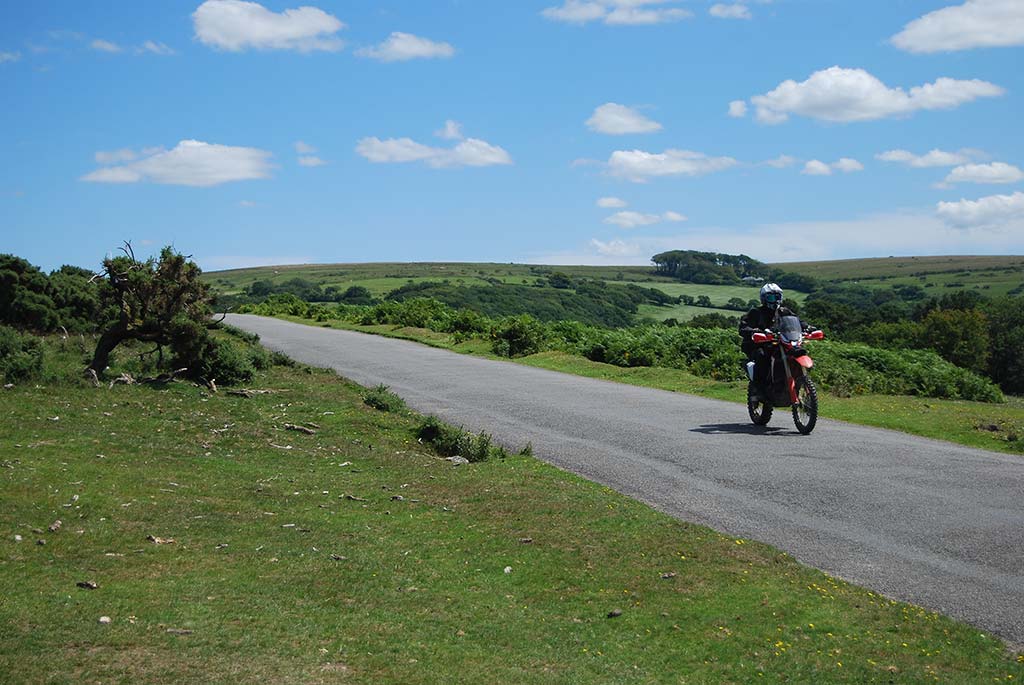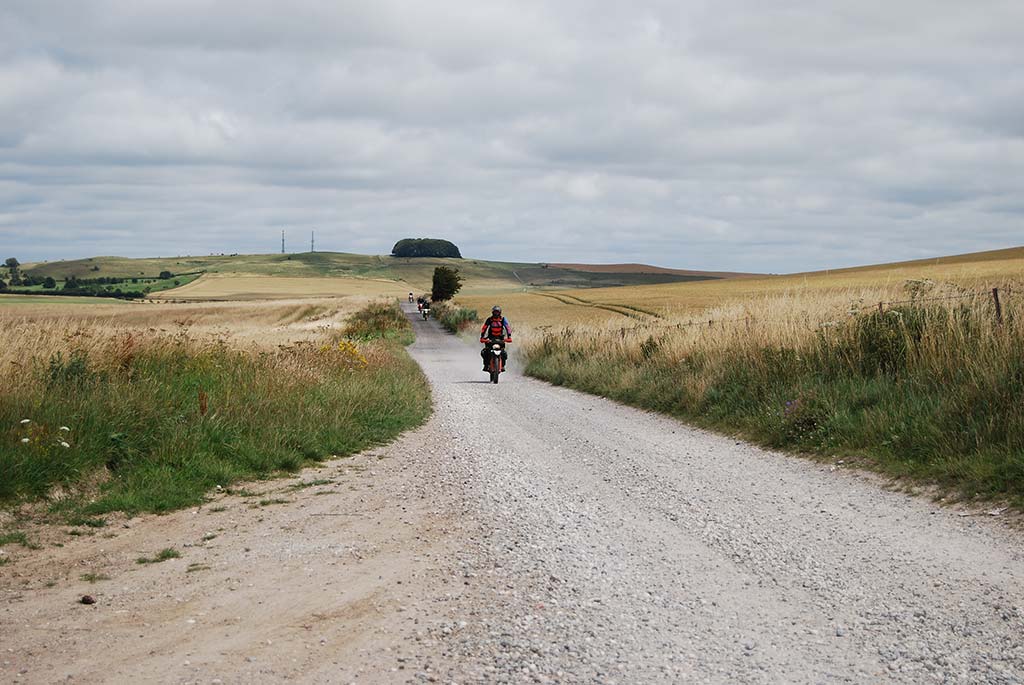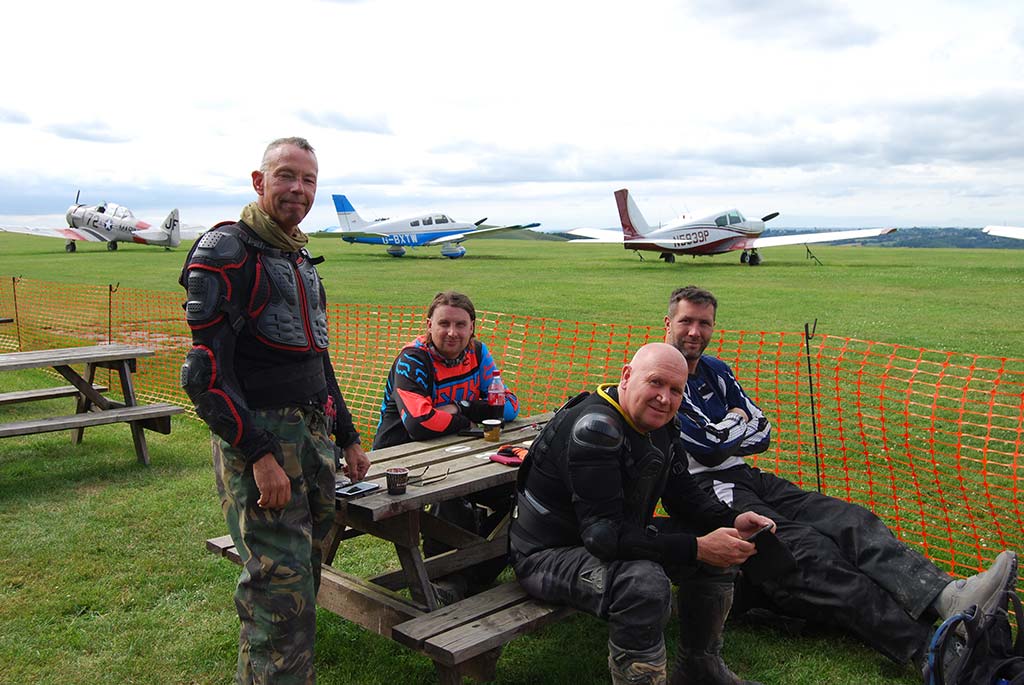 Setting off
With the start line photographs fired off and Matt's delivery of warm sausage rolls quickly dispatched, our journey begins as we weave through Bristol to pick up the trail to the east at Keynsham. Somewhat worryingly, Matt's SWM sounds terrible, but he's been assured that it's just a loose cam chain and it's good for 500 miles, a prediction that will later turn out to be both optimistic and indeed inaccurate. We pick up the Great Western Trail just off the A4 and it leads us through the outskirts of Keynsham and onto the first lane, a familiar but nonetheless tricky one thanks to the chunky hardcore that forms the surface on the short climb to re-join the road.
With all successfully at the top, we follow a path that most Bristol-based trail riders will know well, taking in sweeping country lanes and some great byways as we curve round the bottom of Bath towards Wellow. If you do decide to follow the Great Western Trail on a bigger adventure bike, then many of the early lanes of this section will present some very real challenges. Be prepared to turn back on quite a few unless you are Chris Birch, and at all costs don't try the snotty little bugger at Inglesbatch, it will end in tears.
Just outside Wellow, we stop for a breather and to adjust clothing for the rapidly warming weather. We also need to resecure our various luggage options from their first proper shakedown test. Half an hour later, we've followed the route through to the eastern edge of Bath and we drop down to cross the tiny toll bridge at Bathhampton, with Matt paying the 50p per bike for all of us in his role as 'trip dad'. We continue up toward the popular cycling climb at Bannerdown, before diverting for a great little byway. It's not so great for Steve, as stopping to close a gate, his dismount goes terribly wrong when he catches his foot on his pannier strap and swiftly ends up trapped on the ground by his little CRF. Luckily his mates were there to help, laugh, and take photos in equal amounts.
A few miles and a few lanes later we enter Wiltshire, and at Colerne, we gradually begin to head south-east. A brief stop in Pickwick refreshes the fuel tanks and provides an impromptu brunch before we continue. The weather is improving all the time and we are treated to a wonderful selection of country roads and sun-dappled lanes for mile after mile. We're gradually heading for Salisbury Plain in a rambling kind of way and the TET linesman has done a cracking job of showing us the best of tarmac and trail that the county can offer. A brief overgrown lane takes us up onto the plain and for close on an hour we're treated to long and sweeping gravel trails that are simply joyful in the summer sun.
We stop for a much-needed pint of shandy at Durrington before another refueling stop and a forecourt sandwich lunch. The route then takes us through the achingly beautiful Woodford Valley, following the River Avon as it lazily flows through the landscape. Skirting Salisbury, it's more breath-taking scenery and roads as we head for one of the longest trails on the Great Western Trail, the ancient Shaftesbury Ox Drove that runs for mile after mile of fantastic riding through arches of trees and above the rolling hills south of Shaftesbury. We stop at Compton Airfield for ice creams and take in the busy toing and froing of the tiny planes as they too enjoy the glorious sunshine.
The final part of the day is swiftly despatched in a mix of winding country lanes, tight overgrown trails, and thanks to the progress we've made, a late afternoon pint, before pulling up to our first billet, The Full Moon in Sherbourne, just a few miles away from the route and some 151 miles from our start point in Bristol. The evening is made even sweeter when we get invited to the soft opening of a tapas bar opposite the pub where they insist that food is free, and we just need to pay for drinks. Casa Abadia, we love you.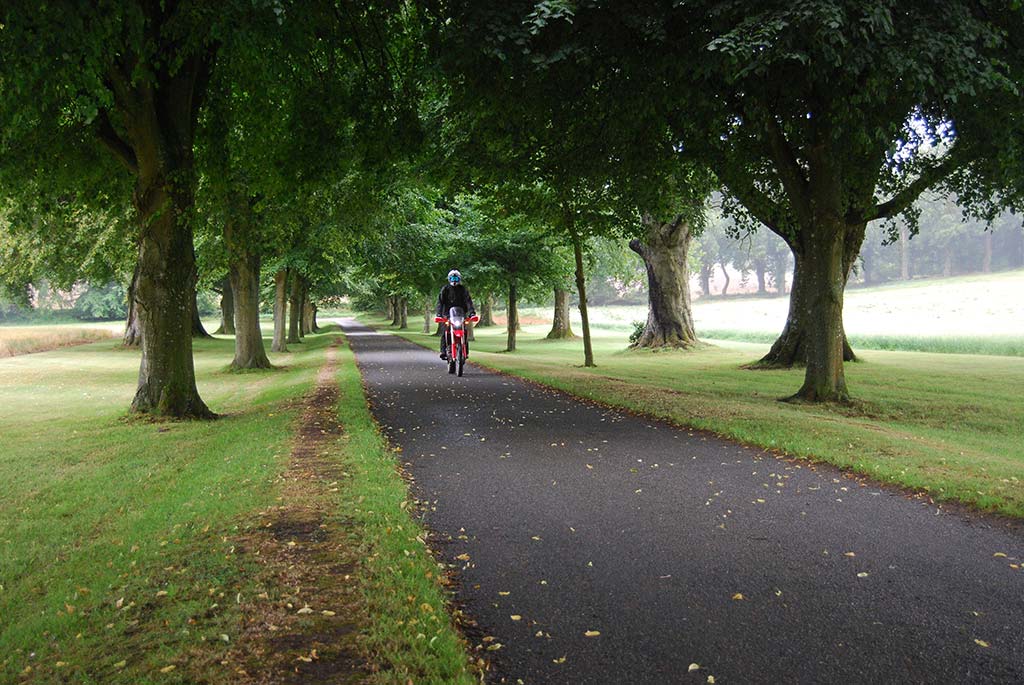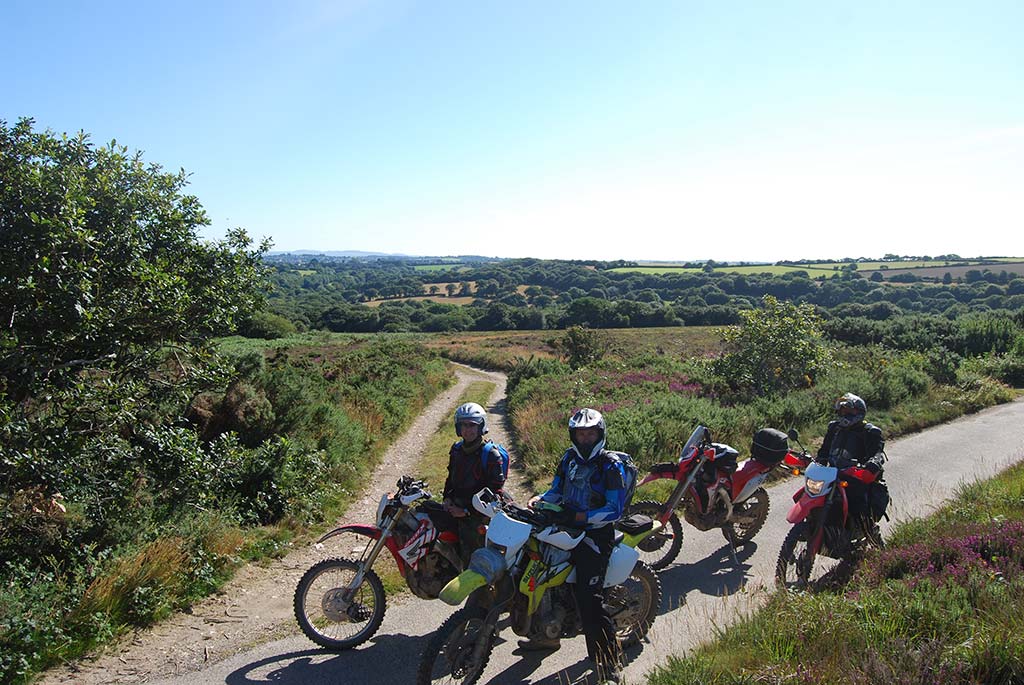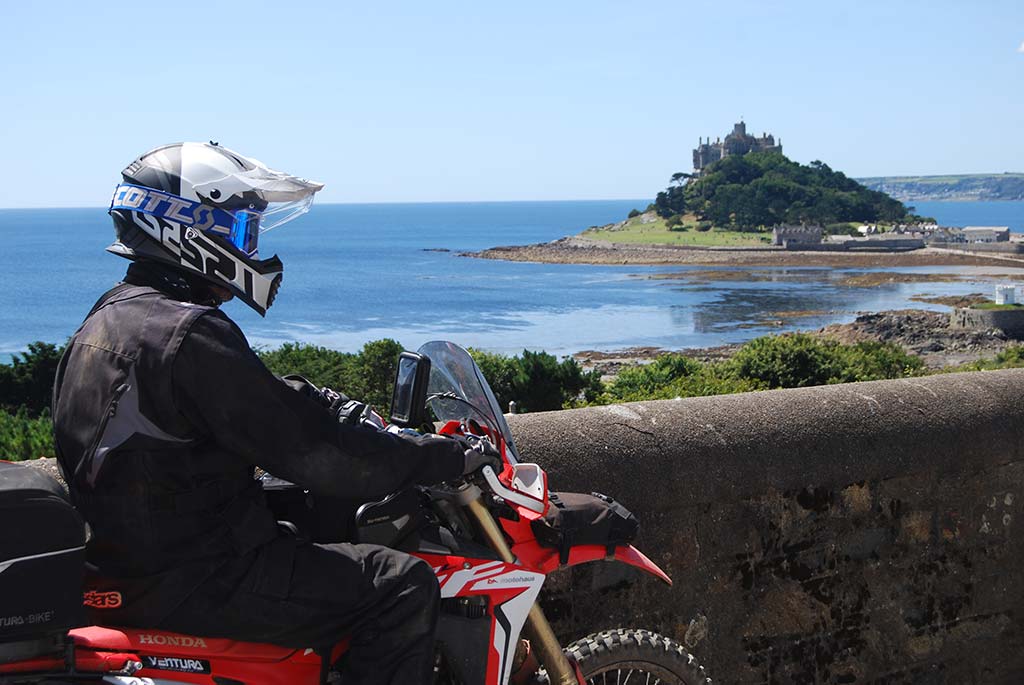 A damp start
Day two dawns, and somewhat annoyingly, the promised overnight rain has persisted into a soft drizzle as we pull out of Sherbourne to rejoin the Great Western Trail outside Shilingstone. We ride southwest on mainly damp and slippery roads interspersed with lanes where the wet vegetation drenches us further. Matt detours to take in the vast Cerne Abbas Giant for the obligatory photos and knob jokes before continuing on as the drizzle tries to become rain. The frequent climbs on marble-size rocks become treacherous and I rapidly begin to question my decision to fit a brand-new mousse to my rear Dunlop. It might be impossible to puncture, but right now I could really do with dropping pressures.
My problems however fade into insignificance compared to Matt, who's bike is sounding even worse than yesterday. It eventually gives up the ghost just outside Bridport, and despite Alex being a professional mechanic and whipping apart the engine faster than most of us could change a bulb, his skills can't extend to mending a shattered camshaft sprocket bearing at the side of the road. It's a case of 'for you Tommy, ze war is over' and reluctantly we have to leave him to wait for the RAC recovery truck.
To overcome this blow, we immediately head over to a craft beer pub in Bridport for lunch. Dragging ourselves away amid the rapidly improving weather and lovely ales, we are soon treated to some truly epic sunken lanes through deep rock chasms at Symondsbury. It's a privilege to ride in such a magical place even if the photos can't quite capture this wonderful part of Dorset. Our route away from the lane is somewhat delayed by a stroppy woman on a mountain bike who clearly objects to our presence on the planet and appears to want four motorcycles following her down a tight lane. When we eventually get past, we smile and wave, fighting back with love, not hate.
Our route continues west across the top of the Jurassic Coast with occasional glimpses of the sea to our left, the trail following a wonderful variety of roads, tracks and tunnel lanes. If you are looking for big speeds, look somewhere else as the Great Western Trail rarely touches a main road for more than a few miles. We drop down towards Lyme Regis and back out again, and a few miles later, pass through Exmouth and Seaton. After a swift refuel and coffee, we drop down a tricky stony lane into Beer before climbing back out on a wonderfully sweeping track that goes from left to right like a rock-filled slalom run.
We then follow the south coast over the top of Sidmouth and Budleigh Salterton before an extended road section takes us through the south of Exeter and back down towards the sea at Dawlish. We cross the river at Teignmouth and we're all getting tired now so the handful of cracking little lanes above Shaldon are just enough to lift the spirits before we break off the route and head to our hotel in Babbacombe just before 7 pm. A tea of fish and chips from Drakes Fish and Chips soon revives us an hour or so later, as do a few scoops overlooking the millpond smooth water as the sun sinks into the Atlantic. What a day.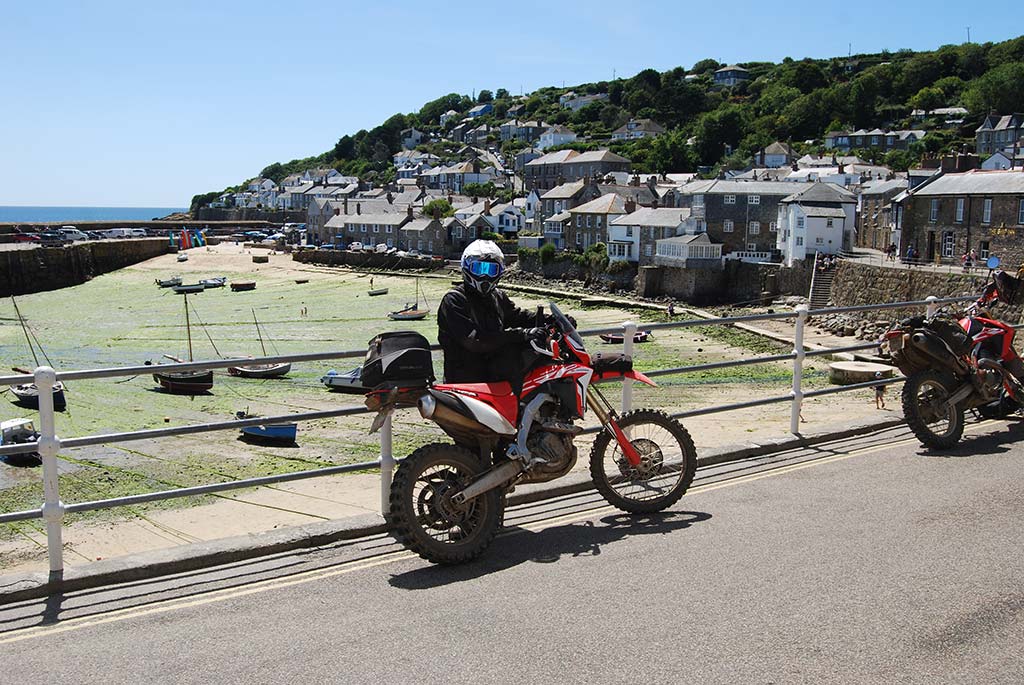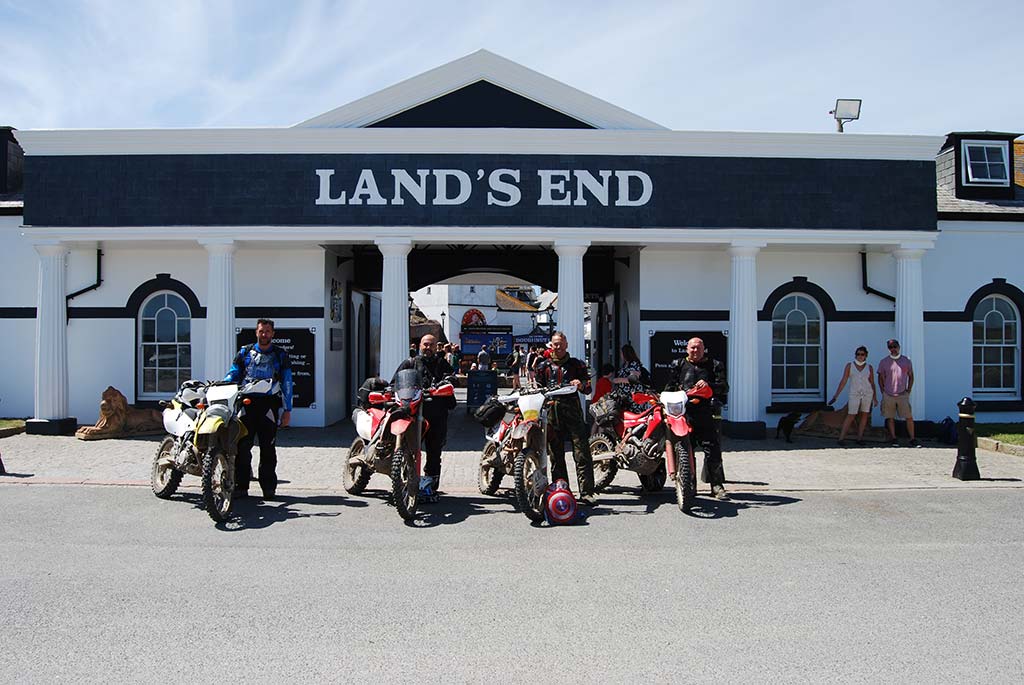 Noisy neighbours
The departure on day three cannot come fast enough for any of us. Alex and Steve had been woken in the small hours by their hotel neighbour returning extremely drunk and spending many hours shouting, singing, and subsequently snoring. Chris and I had entirely different interruptions earlier in the night when it seemed likely that the room next door was being used for an amateur porn shoot. Either that or the young lady involved was enthusiastically agreeing with someone for an unfeasibly long period of time.
With the luggage repacked and the bikes fired up, we dive back towards Shaldon to resume the Great Western Trail, and from the moment we hit the first lane the day just gets better and better. Wonderful sunken Devon lanes are interspersed with joyful and sinuous back roads and gravel tracks. We sweep from side to side up rocky steps, clatter down tricky descents, and carve lines through the rich Devon mud. Within half an hour or so we are cruising through the rolling contours of the South Hams area, a region that the Bristol TRF visit regularly for the rich palette of wonderful roads and exquisite trails.
We head away from the farm along some stunning trails, heading past Ivybridge to pick up the bottom edge of Dartmoor and the epic roads that criss-cross the national park. We ride over Cadover Bridge on the upper stretches of the River Plym where holidaymakers are parked up and children are swimming in the cool water and jumping into the river from the bridge. There's a definite 1930's feel to the scene and it's lovely to see people enjoying themselves. Just before lunch we find a partially blocked ford on the route, but it doesn't defeat Alex as he heroically jumps the mighty DRZ from the bank into the water, the thump doubtless detectable back in Bristol.
We stop at Maevy for an unexpectedly sumptuous lunch sat on the village green outside The Royal Oak. It would be too easy to stay here for the rest of the day, but I crack the whip to get us back on the road. We start the afternoon with a bit of wife swapping as both Chris and Alex want to try the CRF. Both come away with a big grin. The afternoon passes in a delightful blur of delicious roads and great lanes. It is, without doubt, the best section of the trip and comes thoroughly recommended whatever bike you are riding. Chris is leading and throws in the odd additional lane he's researched beforehand as we zig-zag gently up towards Tavistock and cross the River Tamar into Cornwall.
Our route heads down to Callington and Liskeard and then towards the coast again. With the sun dropping in the sky we stop by the River Fowey at Lerryn for ice creams and then realise the same shop sells Doom Bar beer in bottles. It would be rude not to. An hour or so later we roll into our final lodgings for the night, the appropriately named Duke of Cornwall.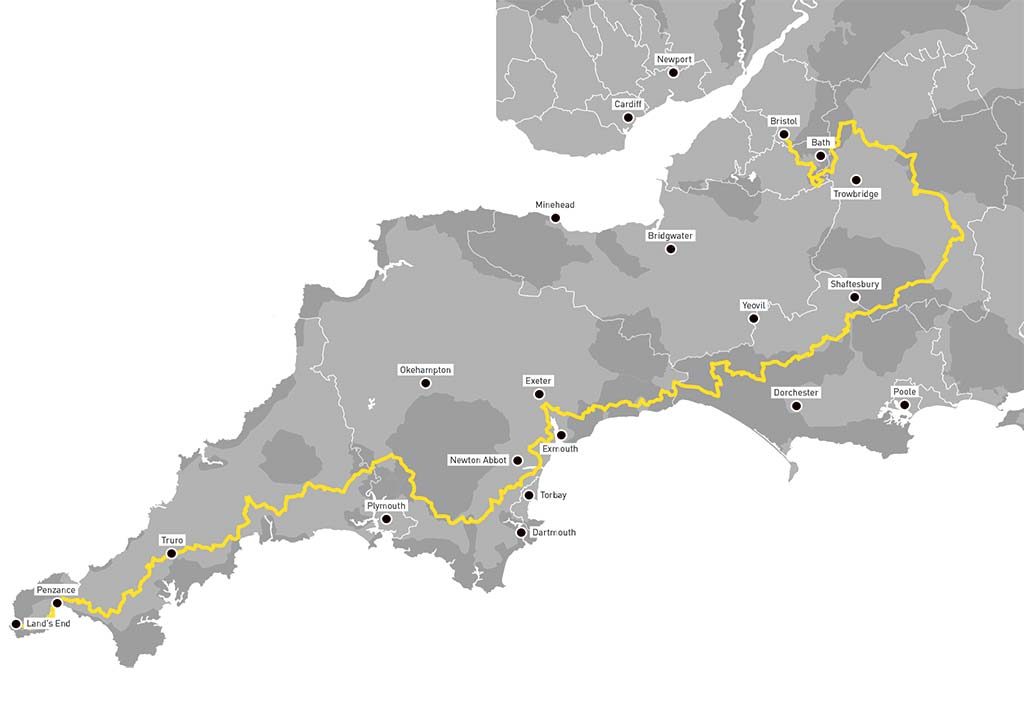 Cornish cream
The final day dawns in St Austell, and although we've only got a short distance to cover, we're up and out of the pub car park at 8.30 am. Although we're expecting a lot of tarmac today, the Great Western Trail soon turns onto a morning's worth of great tracks and life-affirming lanes and back roads. There's a noticeable difference in the trails that are now wider farm tracks framed with overhead trees, rather than the tight and winding trails in Devon. The country roads are different too, the stunning views often obscured by the high banks that line both sides of the blacktop like some vast countywide Cresta Run.
We drop into Truro for a few miles, the vast Cathedral thrusting up into the deep blue Cornish sky above the rooftops. We follow Alex out of the city and over a tract of sweet-smelling moorland, eventually reaching Twelveheads, an area scattered with the skeletal remains of the dozen pitheads that once dominated the community. Pressing on southwest towards Helston and the coast, the route goes right past the golden beach at Praa Sands, so we stop for a brunch of pasties and tea among the smiling holidaymakers scattered across the beach.
The final section of our journey takes us along the coast, through Marazion with stunning views of St Michael's Mount, into Penzance, and around to the tiny harbour at Mousehole. There's just one more tight little lane to negotiate before I lead my three companions on a fast and sweeping blast along the B3315 through Boleigh, Trethewey and Trevescan under cloudless skies. We reach Land's End just after 1 pm, posing with the bikes for the obligatory photos outside the slightly gaudy visitor centre.
So that's it. A total of 501 miles over four glorious days on the best of routes through the South West of England. We've clattered through overgrown lanes, blasted along glorious deserted tarmac, and had a fantastic time with a great group of mates. Travelling all over the world might be off the agenda for a while, but with routes like this on our doorstep, I'm not sure I care. The Great Western Trail is epic.