Geoff Crowther and pal Bernie take us on a month-long tour of Morocco
We rode across the desert plain as the wind strengthened and the sky blackened behind us. Sand, kicked up by our wheels, blew and skittered across the stony track. We were heading for the Auberge du Sud, an adobe-built hotel, nestled beneath the dunes of Erg Chebbi. We arrived just in time.
No sooner had we ordered mint tea than the clouds erupted in peals of thunder and lightning and the sky emptied its heavy load of hailstones onto the unsuspecting desert sands. A group of Australian backpackers rushed out onto the front porch to gaze in awe and snap photos of the spectacle of hail in the desert. Bernie and I smiled at each other and sipped the sweet tea.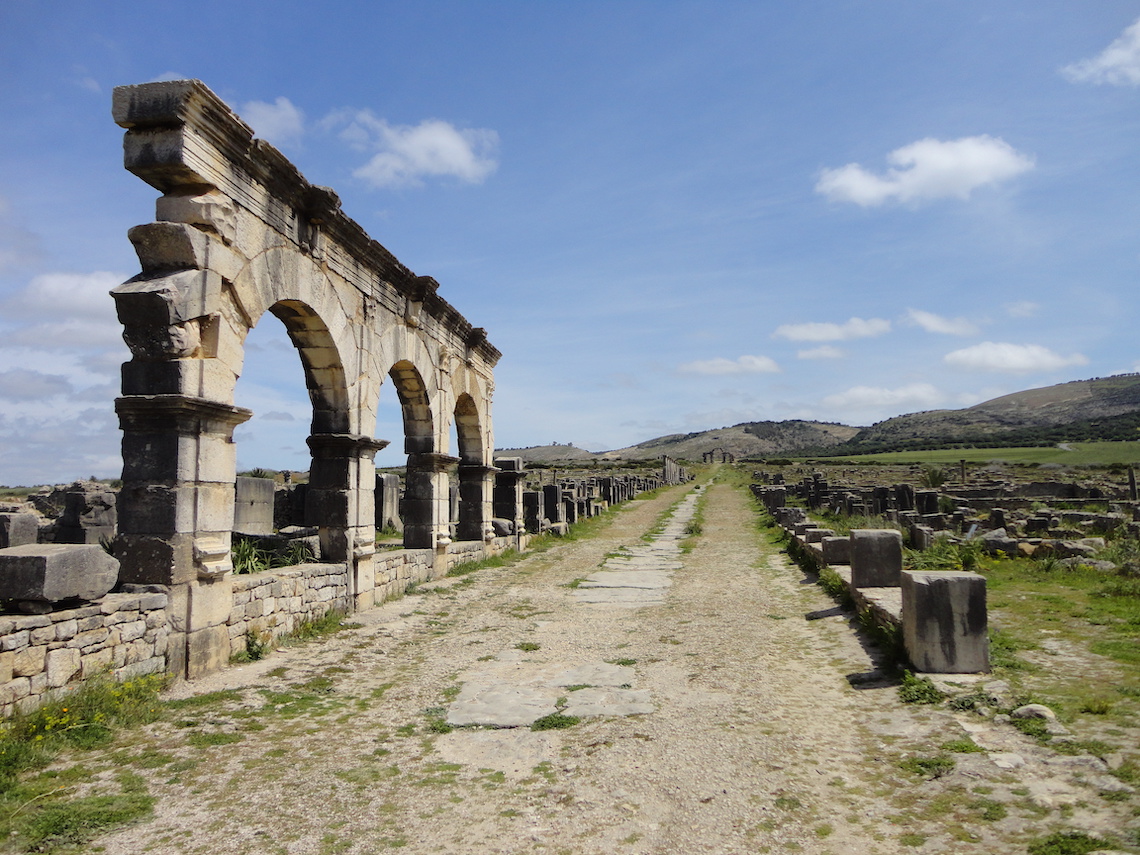 We were now almost two weeks into a month-long trip. Soon, it would be time to end our relentless route south and turn north again, in the vague direction of home.
I'd been to Morocco on my bike a couple of years earlier; on a guided tour. It was too short and hurried. Ever since I'd longed to return. My pal Bernie had learnt to ride a motorbike in his late 50s; enthused by a pillion ride on my old K series sports tourer. He was filled with enthusiasm for motorcycling and, like me, retired. After only a short hesitation he agreed to join me.
Our plan was to take a month; crossing to Spain on the ferry from Plymouth, spending three nights en route, then crossing the Med to Tangiers. We booked hotels in Spain and Tangiers but otherwise left our route open. I wanted to get south into the Sahara and take in some off-tarmac routes but, other than that, we'd go wherever the whim took us.
It was April; a good time for motorbiking in Morocco. High mountain roads should be clear of snow and low desert plains would be without the searing summer temperatures. We left Tangiers in mist and drizzle and pointed the bikes southeast towards Fes. As we left our hotel in Fes that evening the manager warned us against going into the medina at night.
We thanked him and set off for the medina. I suspect his motives were to persuade us to dine in the hotel restaurant but we were adamant we wanted to immerse ourselves in Moroccan culture, rather than hide behind the protection of a western-style hotel. Our reward was a feast of colour and bustle and we enjoyed a tasty meal in the busy market.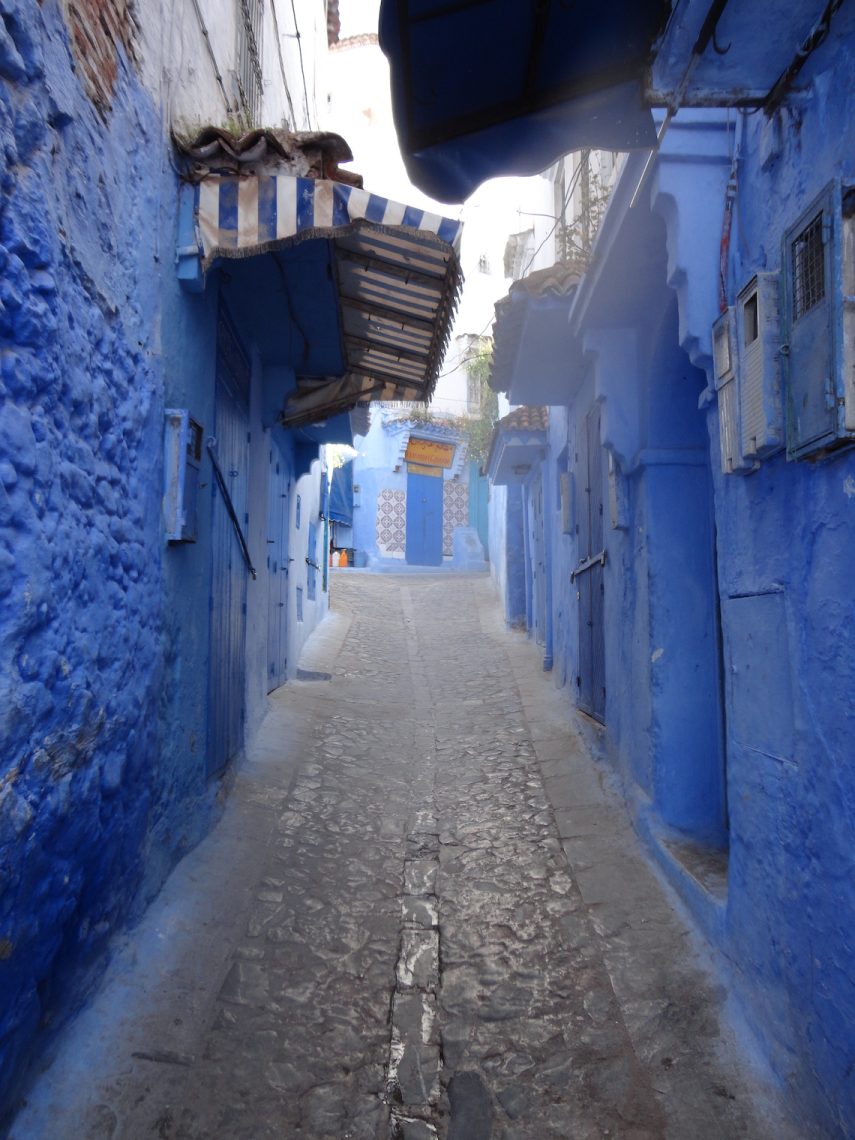 Next, to Ifrane, high in the Middle Atlas mountains and home to King Mohammed IV's summer palace. Ifrane's a ski resort in the winter and remains pleasantly cool in the heat of summer, but we weren't expecting the snowfall which greeted us as we rode into the alpine-style town. The next day dawned cool but sunny and, by the time we left the hotel, and our heavy luggage, in search of some off-road adventure, the sun was warming and bright. The cedar forest and high mountain pastures up here are crisscrossed by pistes (unsurfaced roads) and I led the way out of town to find a suitable access point.
"This'll do," I called to Bernie, pointing at an obvious route to across a bowl, into the forest, and, standing on the pegs, I turned off the tarmac and down the easy slope. But as I rolled onto the red earth I felt the front wheel slide. I slowed to a halt, kicked down the side stand and turned just in time to see Bernie drop his bike, somewhat inelegantly, into the mud.
There then followed an hour or so of us, sweating profusely as we laboured to extricate both machines from their entrapment in sticky, Moroccan mud, clearly still damp from yesterday's snowfall. Having then retraced the 200 metres or so back to the tarmac we found a more appropriate track for our skill level and spent a cheery couple of hours exploring the forest and plains. By the time we pulled up at a roadside restaurant in nearby Azrou, the bikes were filthy.
Our bikes were both BMW R1200GSs; mine was an Adventure version. Both shod with dual-purpose, but off-road biased, Continental TKC80s they were easily up to all we might throw at them on this tour. Arguably, all that was lacking was our skill levels. I'd completed an off-road riding course before my last trip and had some confidence with easier trail riding, but Bernie had no training or experience, relying instead on my dubious guidance and his natural over-confidence.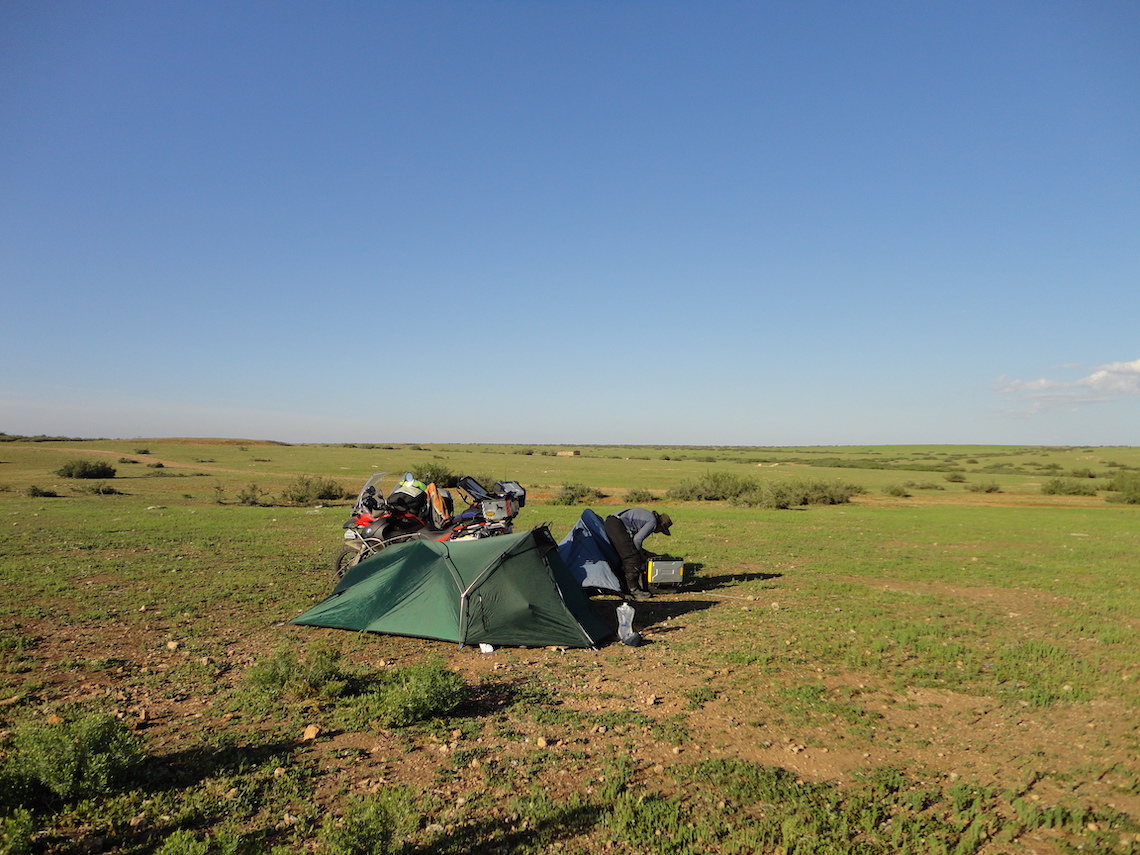 Despite all this, sinking our mint tea and cakes we congratulated ourselves on the teamwork that had seen us through a sticky situation, both physically and metaphorically. We both felt our competence had increased a little for the experience.
Leaving Ifrane the next day we stopped for a gang of Barbary apes, blocking our way on a forest road then headed south again. At Midelt we turned west along the upper reaches of the Ziz valley taking the easier of two mountain roads to Imilchil; from here we hoped to access a remote piste up to Lake Isli, right in the centre of the High Atlas mountain range. We lunched at a friendly eatery in Imilchil before setting out on the piste.
This time our bikes were fully laden and we hoped to be able to camp. The track was only four miles or so in length but, at around 9,000 feet above sea level and heading away from the town, it felt very remote. Added to this, the sky was darkening and I couldn't help but wonder what this dirt track would be like if it rained overnight. Being a dead-end, this was our only route back out. It was a delight to ride out there though and Bernie looked much more comfortable handling his bike than during our efforts near Ifrane.
As we approached the end of the track the lake came into view and the splendour of the landscape was overwhelming. We pitched our tents on the flattest patch of ground we could find and, cooking dinner, were joined by two shepherds. Each spring, they told us, they brought their sheep up here from Imilchil, to graze on the lush mountain pastures. They lived up here for the whole of spring and summer, living in simple huts we could see on the distant hillside. It struck us that they were living pretty much the same life as their counterparts in biblical times.
We awoke the next morning to low cloud but, thankfully, the dirt road was still dry. Bidding farewell to the shepherds we rode back along the track and were soon enjoying coffee in Imilchil once again. From here, we travelled south, down through the Todra Gorge to Tinerhir and, after a night in a basic but clean hotel, set off down to Erfoud and the desert.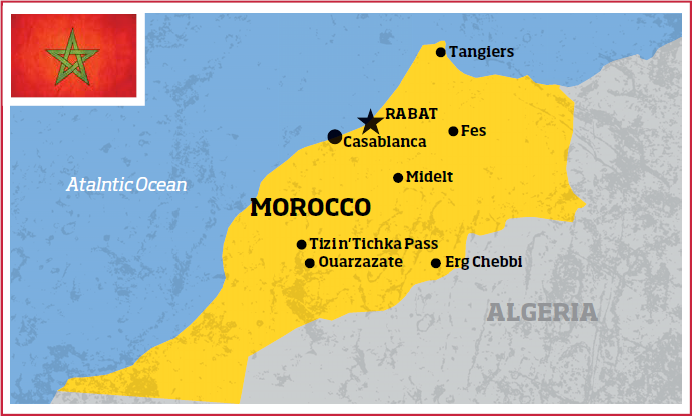 Leaving luggage in a comfortable hotel on the south side of the town we headed off to the edge of the Sahara and the dunes of Erg Chebbi. A wrong turn off the tarmac found us in a small village on the edge of the desert where a gang of kids rushed us, one boy grabbing the bag of emergency essentials off my rack. The former teacher in me gave such an assertive, vocal admonishment that the miscreant quickly dropped my bag and, having retrieved it, we made a sharpish U-turn, returning to the main road.
Locating the correct desert piste a mile or so further on brought us right back to where I started this tale; with the hailstorm in the desert. By the time we'd extended our stay at the Auberge du Sud to include a simple but delicious lunch of bread and cheese, the hail, thunder and lightning had ceased, leaving only puddles in the sand; the only evidence of the enigmatic storm.
From Erfoud, our next destination was Zagora, even further south. From here we took a day trip to Mhamid, known as 'the end of the road', where the tarmac just stops, giving way to indistinct tracks in the sand. And then it was time to change direction. Heading west we crossed a windy mountain pass before descending to the desert city of Ouarzazate.
Feeling the need for a day off the bikes we took a Grand Taxi, a ubiquitous, ancient, cream Mercedes 190D, into the city centre. We mooched around the market and ate a delicious lunch at a street café. Ouarzazate is a busy place. Many foreign tourists see it as the gateway to the desert, travelling here by bus or rental car, having flown into Marrakech or some other travel hub.
In some ways, it's a typical Moroccan city; a vibrant mix of old and new cultures. There's an old medina but new buildings house banks and hotels. It's perhaps more 'real' Moroccan than Marrakech or Casablanca, being far less tourist-orientated.
After our well-earned rest, it was off to tackle the infamous Tizi n'Tichka Pass. Reaching an altitude of almost 7,500 feet, it's the highest sealed road in the country. It's often lauded as exciting to drive but, having now covered it twice, I hate it. The endless switchbacks, poor surfaces and inconsiderate driving (think buses approaching around a blind bend, in the centre of the road) require superhuman concentration from a motorcyclist and rankle my nerves, but Bernie wanted to ride it and it's the only straightforward route between Ouarzazate and Marrakech; our next destination.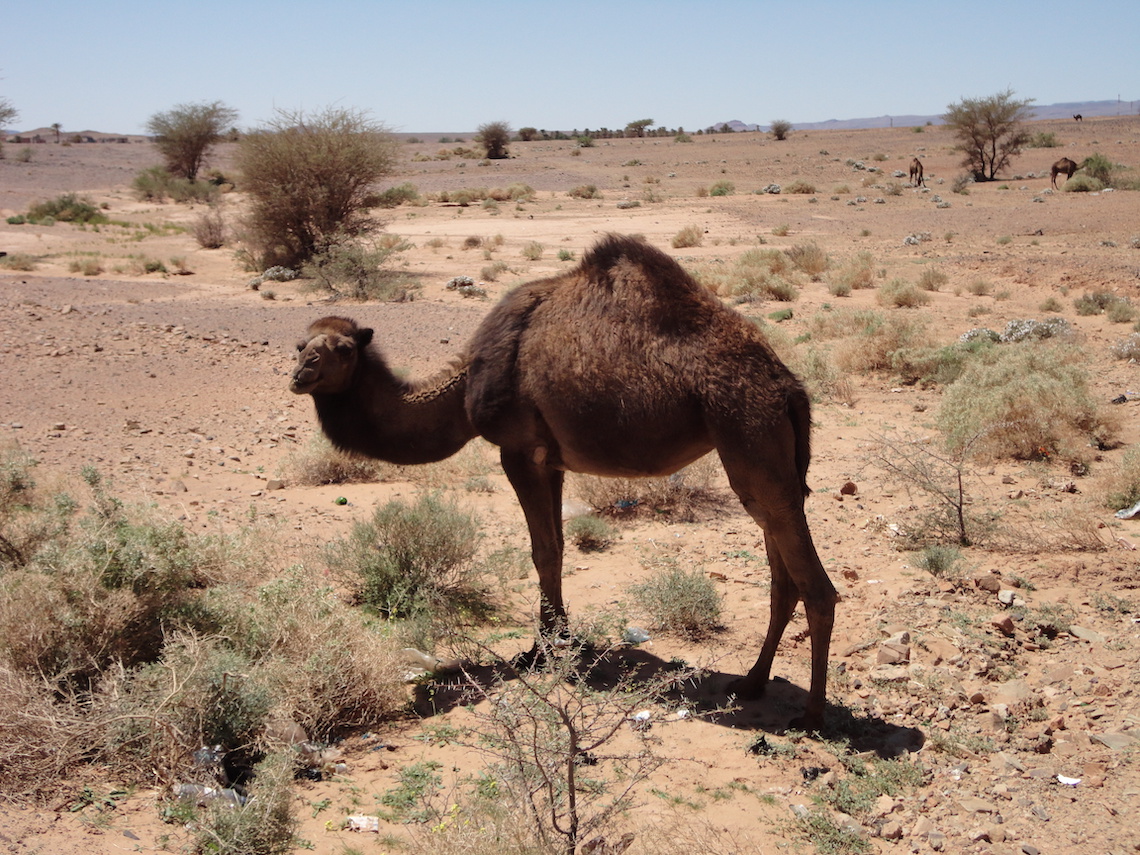 The upside of that day? Well, we did visit the ancient town of Ait-Benhaddou and took the fabulous and peaceful back road from there, emerging almost at the summit of the Tizi n'Tichka. It was an amazing ride through tiny hamlets and mountain peaks.
Tired and frazzled we hit Marrakech on a hot afternoon. For the first time on our trip we experienced some difficulty finding a room but eventually settled at an out of town place which was clean and comfy. Taking a ridiculous, hair-raising taxi ride into the centre, we partook in the madness of the Jemaa el-Fnaa market, ate spicy sausages and were fleeced by the taxi driver on our return trip. I was warned and doubt I'll visit Marrakech again.
Tell anyone you're off to/have been to Morocco and you get lots of, "Yes, I've been" type replies. Generally, people mean they've flown into Marrakech or Agadir or some such tourist mecca. Believe me, travelling like we did gives a whole different experience, revealing the magnificence of the country's landscape, its fascinating culture and the welcoming conviviality of the people.
Leaving the metropolis behind, there began, in earnest, our homeward route north. We spent another night camping in the peace of lush green heathland near Boujad and the following day found a hotel in Meknes enabling us, next morning, to visit nearby Volubilis.
The ancient Roman remains at Volubilis are a UNESCO World Heritage Site. We explored in the heat of the sunny morning, took photographs, had a memorably amusing argument over change at the ticket office and lunched at the site's café. From here, we set off for Chefchaouen, the blue town. We were now only a couple of hours from Tangiers and a ferry back across the Med to Spain, so planned another rest day.
Wandering through the town's market and around the blue-painted houses was a delightful, relaxing experience and made for a perfect finale to our Moroccan tour. The faded elegance of our hotel provided us with everything we needed for a refreshing rest and, on a bright, fresh morning we loaded the bikes for our last few Moroccan miles.
The border crossing and ferry journey proved uneventful and there then followed three days of tarmac thrashing back north towards Santander.
As we neared the port on the eve of our final day we received news that our ferry had been cancelled due to bad weather. What's more, we had to wait three days for the next one.
We holed up in a pleasant hotel in Burgos before riding the final wet miles to our rescheduled ferry. The long, 20 plus hour crossing was less than pleasant and left us with a night-time ride home; an inauspicious end to a trip full of new experiences. It took a few days for me to calm down and realise just what a truly extraordinary journey it had been.
---
Things To remember when riding in Morocco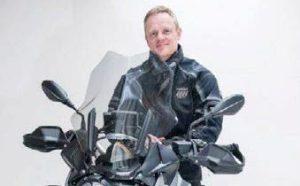 With help from our legal eagle Andrew Dalton of White Dalton Motorcycle Solicitors, we look at things you need to be mindful of when riding in Morocco.
Andrew explains;
'Morocco is not part of the European Union, so if you have a serious prang in Morocco then you are in a legal system based on post-Independence French law with a distinctly North African flavour. Moroccan law is a mix of Sharia law and French-style civil law which has developed since Moroccan independence in 1956.
Motoring law, unsurprisingly enough is similar to French, as Islam has little to say on cars and motorcycles. However Sharia/Muslim/Arab law has a lot to say on the writing of civil wrongs, and the system is quite alien to western lawyers.
I have recently been to Morocco and driving in Morocco is an experience. Once you have dialled into the Moroccan driving it makes sense, but be aware;
1. The Police can require immediate production of all driving documents by the side of the road, license, logbook and insurance as is common in most jurisdictions. If you cannot provide these documents in a language which the Police can understand, you stand a very good chance of having your bike impounded. Most Moroccans speak good French, the local Arab/ Moroccan dialect, but English is not commonly spoken in Morocco.
2. To ride in Morocco you need a full UK bike license, which authorises you to ride in your home country. Therefore if you have a restricted license in the UK, you cannot ride an unrestricted bike in Morocco.
3. There is no visa requirement to enter Morocco for UK nationals, but you will have to fill in a simple entry form when you cross into Morocco, as well as a similar form for your bike.
4. Your bike will be registered on entry into Morocco and you will need to leave with your bike. Morocco customs officers are exacting. If you leave the Kingdom you must have your vehicle entry papers stamped as having exited the country, and if you cross the border and intend to return you have to go through the whole process again. This is to stop vehicle smuggling.
5. Moroccan insurance is tricky. Your UK policy must clearly state (and in French/Moroccan) that you are insured in the Kingdom otherwise you will need to obtain local insurance which can be obtained in Tangier. You will however be over a bit of a financial barrel if you obtain your insurance in Tangier. It is wise to sort this out here in the UK, but expect to spend a lot of time speaking to various call centres.
I would not go to Morocco without a green card, and just make sure that you are not covered for just 'Monaco'. Make sure that if you are relying on your UK organised cover that you read and check it carefully and a number of insurers will require a specific underwriting in your time in Morocco and most standard policies do not allow being outside of the EU for more than 30 days. You need to check the stuff carefully.
6. The cities and major highways in Morocco have numerous speed traps. When I was last in Morocco, I was genuinely surprised at the Police presence around Agadir.
7. If you are involved in a serious injury-causing collision, the police have the power to detain you in custody. If your insurance is a bit hooky, then you are in a whole world of problems.
8. It is worth printing off the Constat Amiable D'accident Automobile, which is used across numerous European and other countries. What is available on our website which has vehicle A in English and vehicle B in French. Whilst I have no direct experience of how this could work in Morocco, it certainly is something which is expected in a number of French-speaking nations. Our website has The Constant Amiable on it.
9. As a general tip, you should laminate all of your key documents, or otherwise waterproof them. It is well worth your while scanning all of your original documents and emailing them to an easily accessible email address.'
See www.whitedalton.co.uk for more info.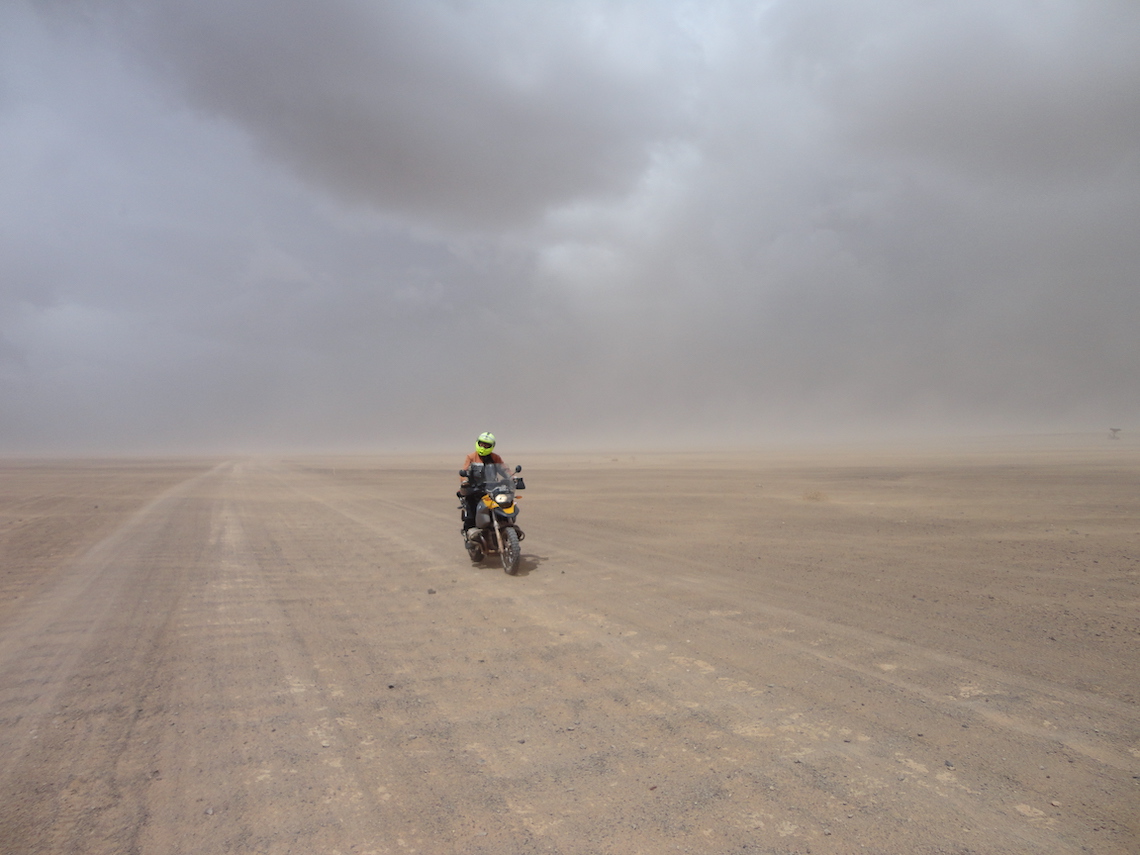 ---
10 Bikes for Morocco
Geoff and Berni took R1200 GSs. Here we look at what other bikes might be suitable for your trip to Morocco
BMW F650GS Dakar

The bulletproof BMW, built from 2000 to 2007 and using the old Austrian built Rotax engine before production switched to China. This is the bike the Sertao should have been. Dakar model increases suspension travel, seat height and wheel size.
Yamaha XT225 Serow

Small, light and dependable is the mantra here. Lois Price rode one from Alaska to Argentina proving the XT more than capable. Will force a more interesting route down there (avoiding motorways) and make travelling cheap.
Yamaha XT660Z Ténéré

Publisher Alun swears by his 660, claiming it to have the best balance of attributes on any current 'adventure' bike out there. Plenty of accessories and modifications available, with prices starting to dip below £3,000, or half that for an older model.
CCM GP450 Adventure

There's been some delay with the CCM (expected now August 2014) but once ready this lightweight bike with 40bhp and 17.5-litres of fuel should/could be the bike for getting down there, and for conquering some dunes.
Triumph Tiger 800

This or an original 855, or 955 should do the trick, with many finding the 800 a perfect blend of on-road comfort and off-road useability. Plenty of accessories and mods available. Kit the bike out with decent tyres and panniers and off you go.
Suzuki DRZ400

Hard to find fault with the age-old Suzuki, with either this or the 650 DR ideal for Morocco. With prices of the 350 and 400 dropping closer to the £1,000 mark, you could have a bike, and fund the adventure for less than £2,000.
KTM 640 LC4

Prior to the 690 Enduro R, the LC4 was sold from 1997 to 2007 and has 3,000-mile service intervals. Reliability is said to be excellent, and there's currently a 2001 model with 5,600 miles on eBay for £1,995. Happy bidding.
Honda XR400

The bike Austin Vince and his gang took on their recent trip across the desert for Mondo Sahara. Bullet proof, cheap to pick up, fix, and once out there a perfect bike for taking to the back roads and getting lost for a while. Not many about mind.
Harley Davidson Night Rod

A strange inclusion, but we use the Night Rod to illustrate that you don't need an 'adventure' bike to head off to Morocco. On our Facebook page, Vernon Keylock messaged to say he'd done just that on his HD, with his wife on the back.
Honda Africa Twin

The ultimate adventure bike from the eighties/ nineties? We certainly need another one like it. In the meantime, get in quick before the prices keep on rising. At some point we'll have a buyer's guide for the Africa Twin. Maybe next issue.