We take a quick tour of the Triumph factory in Hinckley, including a look around the engine shop
Triumph has six factories around the world, all 100% owned by the company. Two of these factories are based in Hinckley in the UK. There are three in Chonburi, Thailand and one in Manaus, Brazil. Triumph employs around 2,100 people globally, of which around 850 are in the UK with 350 employed in R&D.
In 2014, Triumph aims to produce approximately 54,000 units, with 85% exported to over 750 dealers in over 55 countries. This tour was of Factory Two's 36,000m2, which is also corporate HQ, the main R&D department, and where work is carried out on new concepts, engines, chassis, electrical systems, plus supporting functions such as EFI development, homologation, technical publications, R&D workshop and development/test riders.
The factory itself contains the assembly line on which the Explorer, Rocket, Sprint, Speed Triple and Daytona 675 are 'built', as well as machine shops for crankcases, cylinder heads, camshafts, crankshafts etc., with engine assembly, chassis and final assembly all done here in Factory Two. The factory is also the centre point for Triumph's European bike storage and distribution and pro- duces approximately 40% of total units.
There is also Factory One, just around the corner, housing the paintshop, parts, clothing, accessories and distribution. It's worth noting that adventure bikes now account for 24% of Triumph sales. Unfaired sports bikes at 27%, classic at 14%, touring at 9%, cruiser at 10% and faired Supersport at 6%.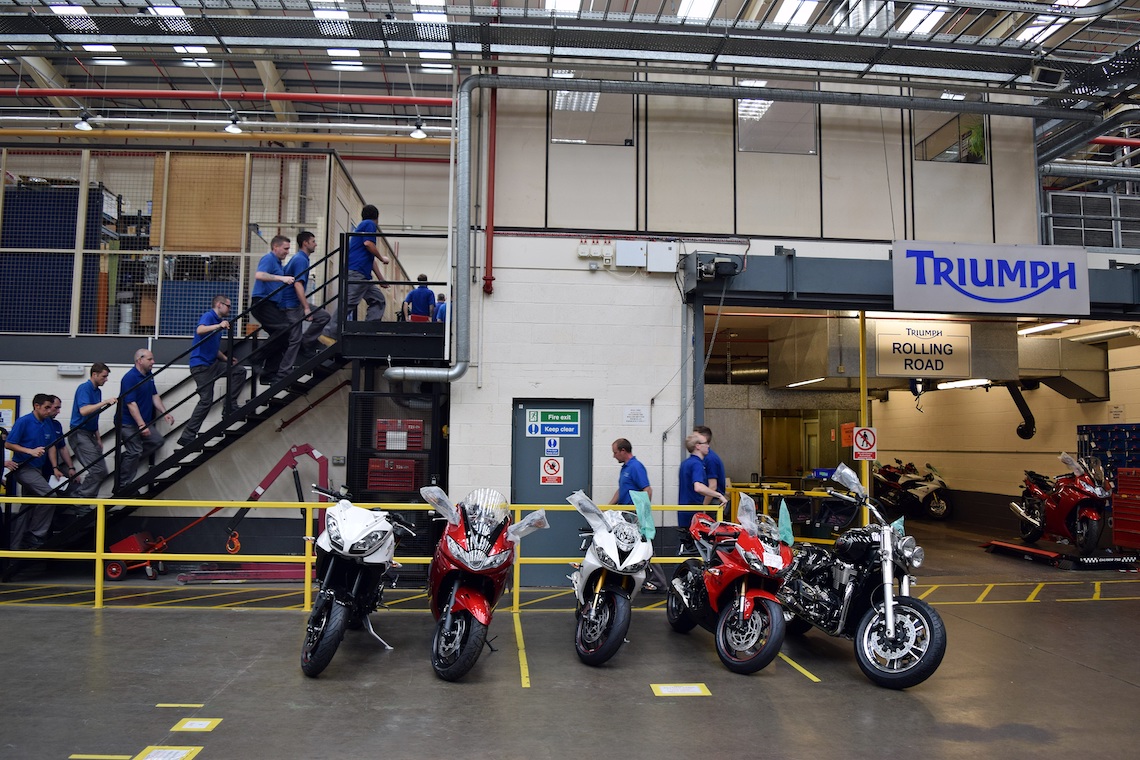 Clearly, the adventure market is a substantial one for Triumph, and bodes well for the coming years as the adventure market continues to grow.
The Thruxton, Scrambler, Bonnie and T100 are built overseas, as is the Tiger 800. The process usually is for a new bike to spend its first few years of production in the UK, before being transferred over to Asia, freeing up space in this UK factory for new models coming through.
You can tell if your Triumph has been assembled in the UK or overseas by the codeontheVINplate–JisUKandTis Thailand. M is Manaus, which is where all bikes for Brazil are assembled from kits. For reference, VIN plates identification for Explorer is VG, whilst the XC is identified as VK.
How assembly works is that when a new model is ready for production, it gets stripped down and broken up into five minute 'tasks' or 'jobs,' with each man on the assembly line being given five minutes to complete that task. So it might be five minutes to assemble the pistons, or attach the forks, and from the initial engine assembly the bike goes through the process of bolting to frame, attaching suspension, radiators, pressing in the bearings, mounting handle bars, forks and footrests.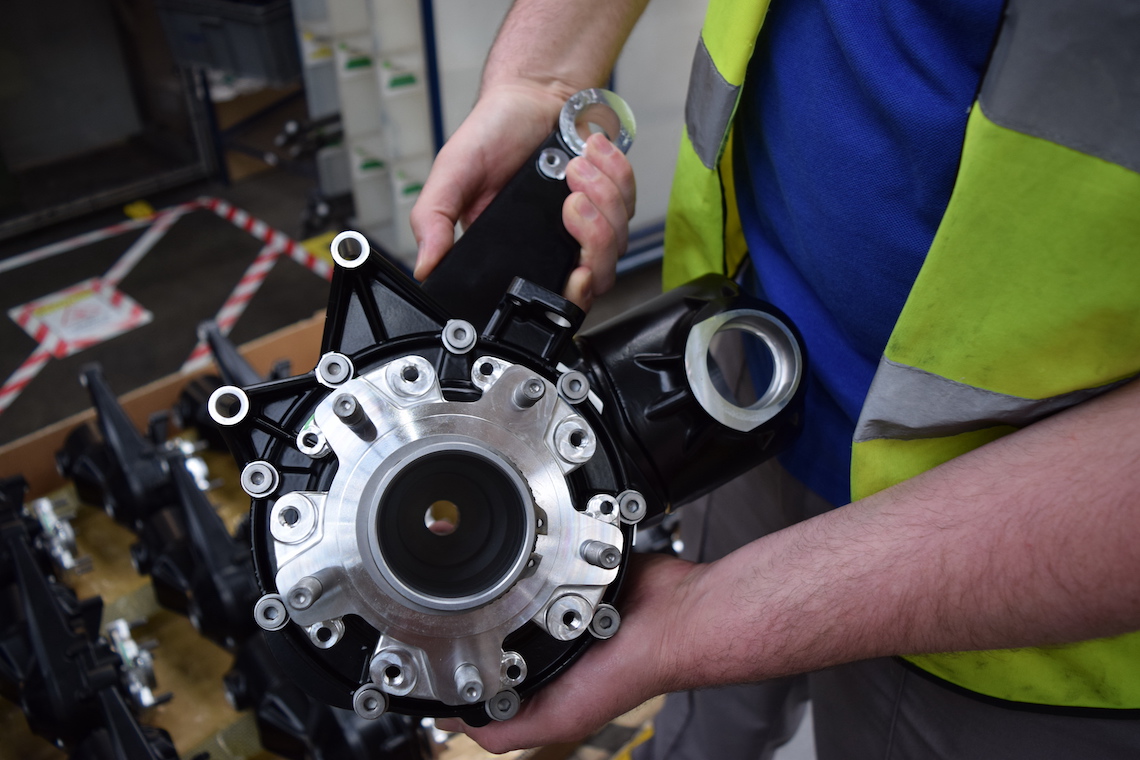 Because of this five minute production rota, a new Triumph motorcycle therefore comes off the production line once every five minutes, with the factory able to build around 130 bikes each day, with a similar number produced in Thailand. The company has the capacity to produce more if demand dictates.
Triumph – like most other companies – work to a 'just in time' delivery method, to ensure there is just the right amount of stock out on the factory floor, and that once run down to a certain level the stocks are immediately replenished. The team of three effectively operate like the 'pickers' in an Argos store, being fed instructions electronically as to what components are needed, by which sec- tion of the factory process, with these then sourced from the warehouse and delivered to the relevant work bay.
Once the bikes have been completed they then get inspected and tested on the rolling road, with any defects or flaws in the assembly taking them back to a diagnosis bay to find out where the problem lies.
The most interesting part of this production process was seeing the machining of the engine's internals. This was still a proper, one man, hands on job, with it much more than just assembly. As an overview, each camshaft goes through a series of processes, taking around 20 minutes to complete. There are nine different types of crankshafts machined across two lines of produc- tion, with each crank going through a series of machining processes that take around 6 and a half minutes each. The machines and the process are running 24 hours a day, working to tolerances of + or – 10 microns. Once the crank-shaft has passed through the balancing it then goes through a furnace for plasma nitride hardening; a process taking 24 hours. The cylinder heads also go through a furnace for 30 minutes, expanding all bores, then the seats and guides are all pressed into place. The machine process takes place in a fluid that is 8% oil, the rest water, known as 'coolant'.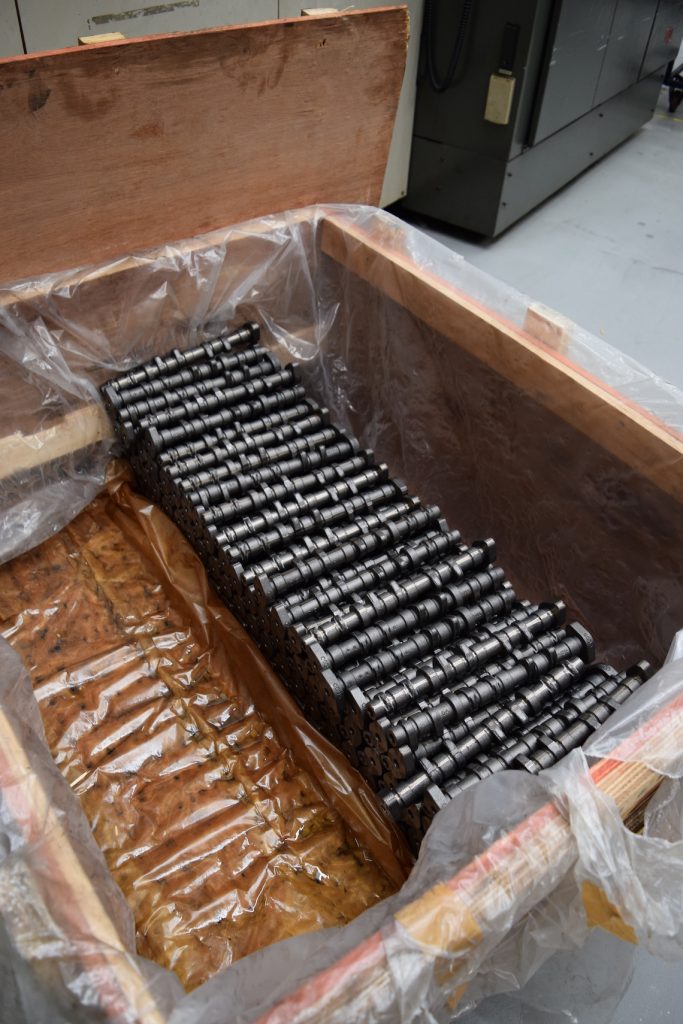 The crankshafts are measured and barcoded so the correct bearing shells can be fitted during engine assembly, with all engines pressure tested to check for leaks before receiving their first oil fill. They are then tested again to check oil pressure, before being fitted to the chassis. In total the engine takes around 45 minutes to assemble, with each model given a unique barcode. It is then scanned as it comes down the line to optimise torque settings for all machinery in the assembly process.
This is necessary as Triumph do not batch build. Each bike is built independently, meaning than an Explorer can follow a Rocket and a 675 down the production line, with all parts, components and settings always on hand for the team of fitters. All valve adjustment is done in a climate controlled room prior to assembly, and from a row of pistons to a finished bike takes just over five hours.
It was an impressive sight to see, and to try and appreciate the thousands of processes that are taking place in order to make those individual components into a finished motorbike.
For those who say Triumph do nothing but assemble their bikes in the UK there is perhaps an argument here to say that's not the case, and to imagine that one factory could make every component for an object as complex as a motorcycle just isn't realistic these days. 'Built' in Britain? Not quite. But they don't just tighten nuts and bolts either.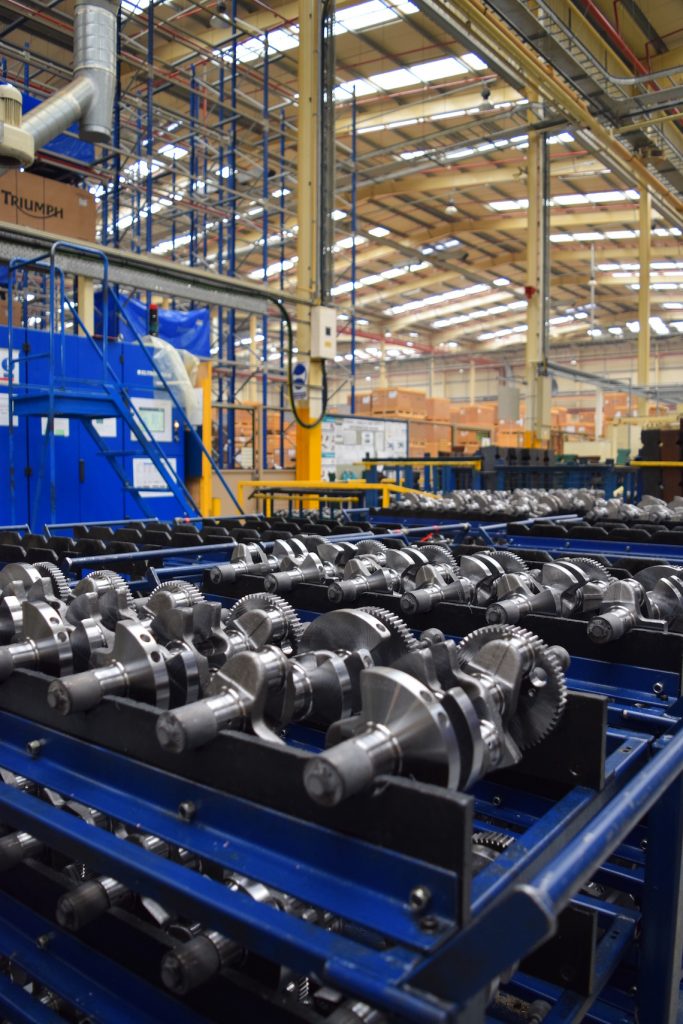 HISTORY OF TRIUMPH
1887 Siegfried Bettmann founded the Triumph Cycle Company in Coventry manufacturing bicycles
1902 First motorcycle produced – "Triumph No 1"
1914 The Type H "Trusty" Triumph adopted as the despatch bike for the Great War
1935 Car and motorcycle divisions separated and sold off
1940 November 14th, factory destroyed in the blitz of Coventry
1942 New factory opens its doors in Meriden
1951 Triumph is bought by BSA motorcycles
1959 Infamous Triumph-powered Johnny Allen streamliner inspires the first Bonneville
1969 Production peaks at 47,000 units per year, with 60% exported.
1973 Workers sit in aſter Meriden plant is threatened with closure following merger with Norton Villiers, and Norton-Villiers-Triumph (NVT) was formed
1975 Workers cooperative introduced and production resumes
1977 Commemorative Silver Jubilee limited edition Bonneville produced
1983 Despite Government support, Triumph enters liquidation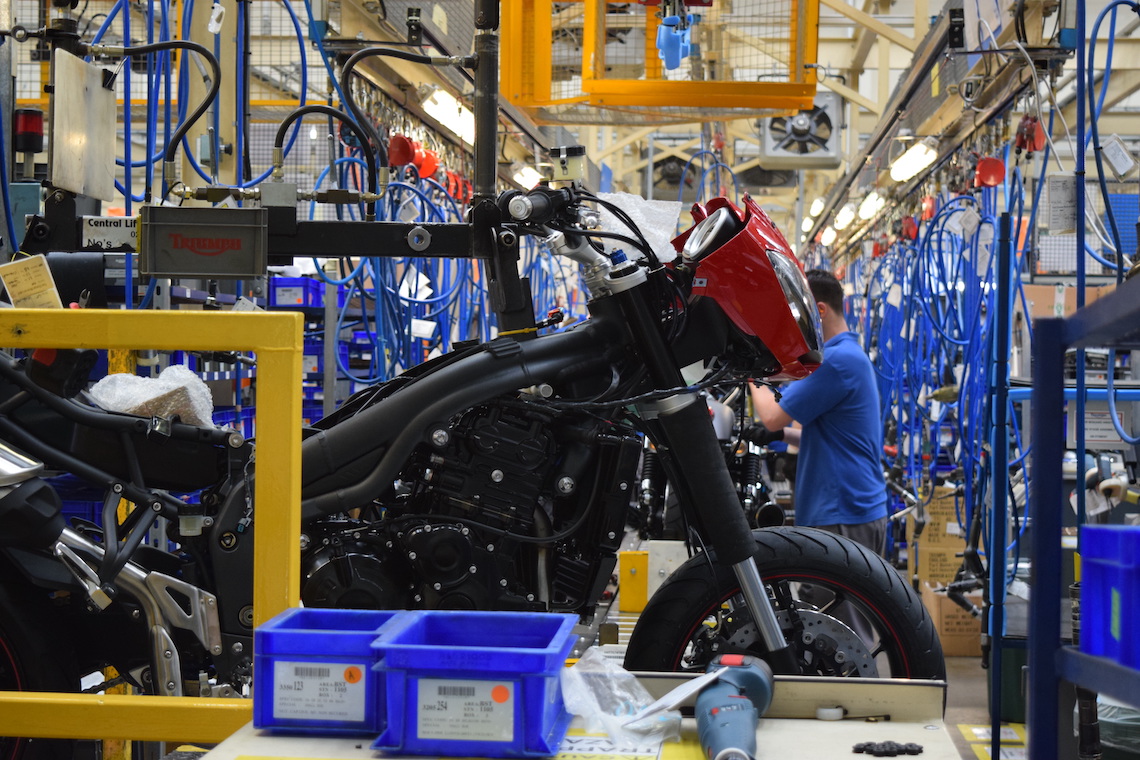 1983 Businessman John Bloor buys the rights to Triumph name and assembles a team to develop a new range of bikes
1988 Construction begins of all-new Triumph factory in Hinckley.
1990  First models unveiled at Cologne Motorcycle Show
1991  Production begins of the new modular range
1996 First non-modular bikes – Daytona T595 and T509 Speed Triple – announced
1999 Construction of Triumph Factory 2 completed 2001  Triumph announce the new Bonneville
2002  Fire destroys Factory 1, halting production for six months
2004 Triumph launches largest capacity production motorcycle, the 2,298cc Rocket III
2006  Triumph launches the Daytona 675 – uniquely a triple in the supersports class
2007  Street Triple unveiled, the first high performance middleweight naked bike
2008  Triumph produce and sell over 50,000 bikes in one year, overtaking the 'golden age' of Meridan Triumph
2009  Factory 5, Thailand, completed including own casting plant
2010  Launch of the Tiger 800 range, which goes on to become a global best seller
2011  Triumph extends adventure family with shaſt-drive Explorer
2013 Triumph Brazil established including an assembly plant in Manuas
2013 Triumph India established including an assembly plant close to Dehli
TRIUMPH LIVE
To see for yourself the inner workings of the Triumph factory, get yourself tickets to Triumph Live, taking place on the weekend of the 12th July, with factory visits taking place on Friday 11th. Taking place over the weekend will be a festival of music, festival marquees, riding opportunities, motorcycling, aeroplane and car stunt displays, industry celebrities, custom zones, classic zones, fresh local food, craſt zone, a large retail zone, kids zone, plus loads of other arena attractions and shows.An adult ticket to Triumph Live is £28 with camping an additional £12pp. Tickets will be available on the gate, but in order to save money and to avoid disappointment get your advanced tickets now. Entry for under 16s is free, but anyone under 16 years must be accompanied by an adult over the age of 18 years.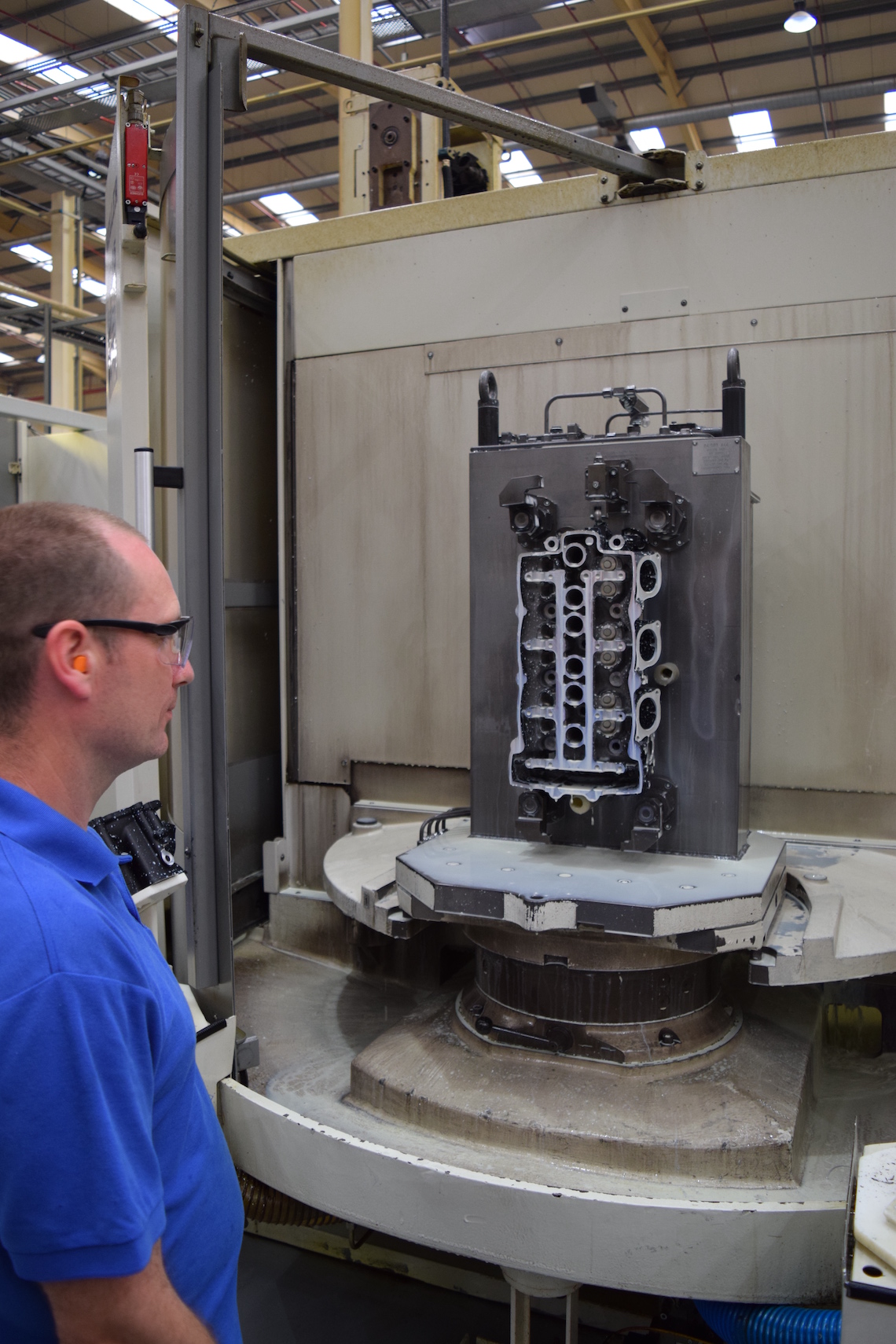 RHYS LAWREY – 2MORO RIDER
Whilst at the factory in Hinckley we also caught up with Rhys Lawrey, a 22-year old from Cambridge who is hoping to set the record for 'The Youngest Person to Circumnavigate the World by Motorcycle'. He also hopes to set an official Guinness World Record for 'Most Consecutive Capital Cities Visited by Motorcycle'. The bike in question is a brand-new Triumph 800 XC, complete with Metal Mule panniers. Rhys hopes to cover 50,000 miles, passing through some 73 countries, and is hoping to encourage young riders to embark on their own adventures along the way. Rhys's adventure began on the 3rd May, with him already making good progress through Europe and into China, where he will then pass down through South East Asia, to Bangkok, before shipping the bike to Perth. From Australia, to New Zealand, air freight to South America and then heading north. He expects to be on the road for a year, with him completing the initial leg of the journey through China as part of the Globebusters tour, with his father no other than Kevin Sanders, world record holder for circumnavigating the world in nineteen and a half days. A record breaking family then. We wish Rhys all the very best for his adventures ahead. To find out more and follow Rhys on his travels visit; www.2mororider.com