We take a closer look at Turkey thanks to Armagan Babayigit of Turkey Motorbike Tours

ABR: Tell us about Turkey and what it has to offer?
AB: Turkey is famous for its culture, history, hospitality, food and good weather. Did you know Turkey has over eight months of sunshine each year and over 7,000 kilometres of beautiful coastline to ride? In every part of the country, there are many different things to see and do, such as riding in a hot air balloon over the fairy chimneys at sunrise in Cappadocia, to relaxing in the hot natural springs in Pamukkale, to taking a ferry boat over the Bosphorus in Istanbul, the only city in the world that links two continents, Europe and Asia.
ABR: Tell us about your tour company, when you set it up, and why you set it up?
AB: I officially set up my tour company and started touring in 2013, however, I have always been giving advice about riding motorbikes in Turkey, where to go and what to do to my customers of my other London-based bike cleaning business (moclean.com).
It was my customers who gave me the idea in the first place as they said I'm Turkish, I know the language, I know the country really well, the popular places as well as the off-road secrets so why not! I've been in the motorcycle trade in London for a long time and everyone knows me and I have motorcycle contacts in Turkey from when I was a biker living there, it's the perfect opportunity for me to combine my two greatest passions – motorbikes and Turkey!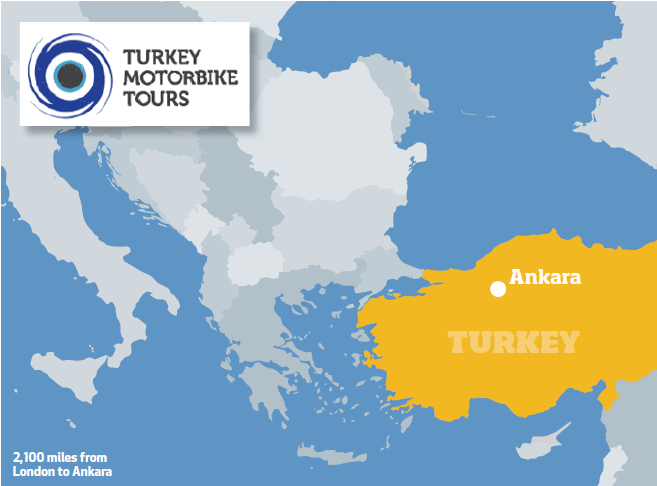 ABR: Are you safe riding in Turkey?
AB: Always. I take extra care with my group and always look after them. I never leave anyone behind and we always look out for each other. We don't do fast riding as we don't need to because I plan the days very carefully so there is no rush! There are too many fantastic things to do and see in Turkey and so we take our time, enjoy the view and the ride and travel back home safe and sound after an unforgettable tour.
ABR: Is it an expensive country to travel in?
AB: No Turkey is not expensive. As Turkey is not in the European Union, our currency the Turkish Lira is not as strong so you get more for your money! Flight tickets can cost between £120 to £250 return depending on the time you book. Food is cheap in Turkey too as we always use local places to eat that cook great home-cooked food. You will not need too much money in Turkey anyway as our tour price package covers pretty much everything apart from flights so you will just need pocket money for lunches and drinks.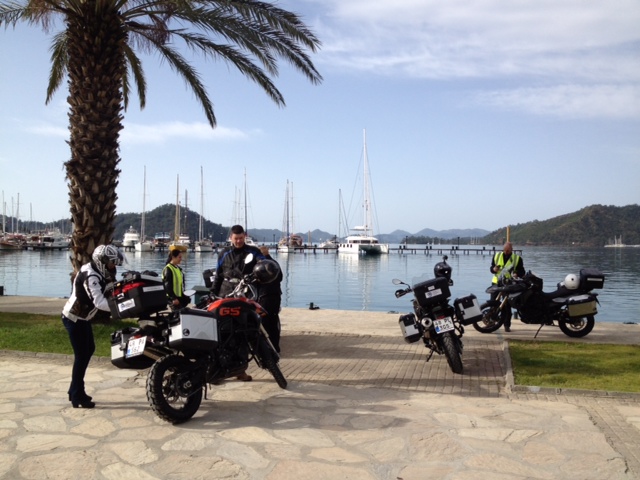 ABR: Are there many places to get your bike fixed and buy spare parts?
AB: Yes there are plenty of places to get your bikes fixed or spare parts should you need to as you can find all big major motorcycle brands in Turkey. But we've never had problems because we do our tours with hire motorbikes and they offer breakdown cover should we need it so it's nice to know that we have a plan B! We've never had any hiccups yet and all our bikes in Turkey are well looked after and gives us a safe and comfortable ride.
ABR: What are the most suitable bikes for riding Turkey on?
AB: Any bike really as roads are in very good condition. But we do our tours with BMW 700, 800, 1200GS, Yamaha XT660 Ténéré, Honda NX750X, Transalp 700cc, Suzuki DL 650 and 1000.
ABR: What is the situation with riding off-road in Turkey; is it allowed?
AB: Yes you can ride off-road in Turkey as long as you don't interfere with private land. There are lots of mountains and forests in Turkey and it's perfect to enjoy off-road riding.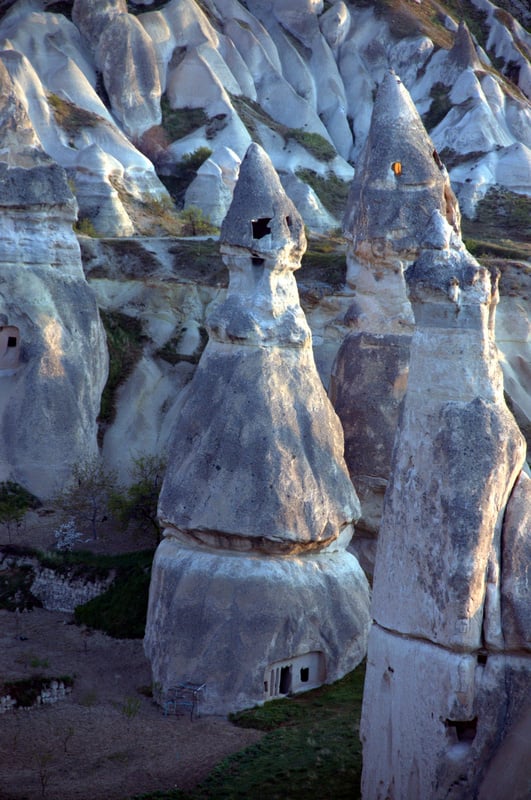 ABR: What about camping; are there any laws against camping wild?
AB: No there are no laws against camping in the wild. You can camp anywhere you like in the wild.
ABR: Are there any areas to avoid?
AB: Turkey is a safe country to visit, but again like any country, there are some places to avoid at the present moment such as the Syrian or Iraq border in South East of Turkey. It's best to check the area via the internet before you visit.
ABR: What are the best areas to ride?
AB: There are lots of amazing places to ride in Turkey but I would stick to the West, South and Northside of Turkey.
ABR: How does the country change the further east you go?
AB: The further east you ride, there are more rocky mountains and fewer forests. The roads are emptier and there is not as much history as the west and south coast. The South East also suffers with extreme weather conditions being either too hot or too cold, which makes riding difficult either way!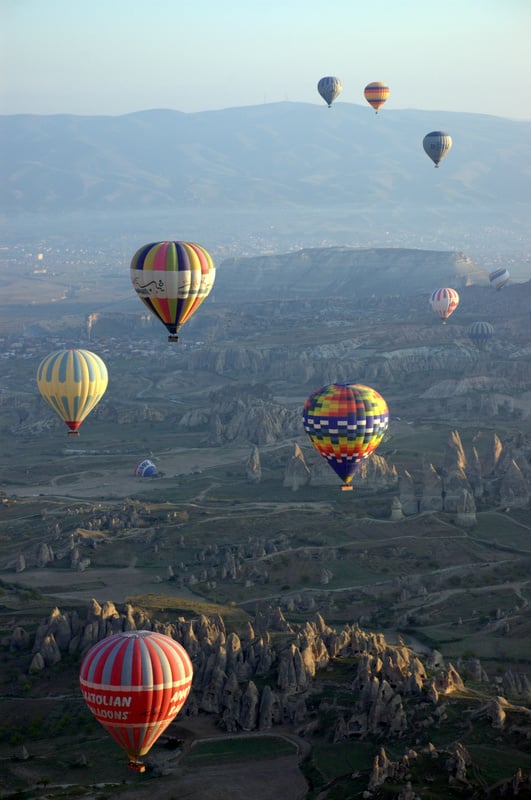 ABR: What are the must-do areas and where can you find the best roads?
AB: My favourites places to ride is the South coast of Turkey with amazing coastal roads towards Cappadocia, Aladaglar National Park, around Beysehir and Egirdir lake, between Kalkan to Antalya. Also, the West coast roads towards Gallipoli, between Bursa to Afyon through mountains and Black Sea Region (weather depending).
ABR: What's the food like?
AB: Yummy! It is delicious. Turkish cuisine is very famous all over the world. Whoever I take to Turkey, they all loved the food! We have plenty of meat and vegetarian dishes to keep everyone well fed and happy and the food is another highlight of our tour!
ABR: What else is there to do there other than ride?
AB: Too many things to mention! Check out the beautiful beaches, the traditional Turkish baths, our natural hot water thermal springs, go sailing, swimming, diving, fishing, experience a hot air balloon tour, go skiing in the morning and then drive down the mountain and swim in the sea in the afternoon! The list is endless! Turkey offers too many choices for holidaymakers! The most difficult part is choosing!!
ABR: What's the benefit of going on a guided tour to Turkey rather than going by themselves?
AB: Going on a guided tour means we do all the work for you and you just enjoy the ride! We plan the route, book the hotels and show you the best places to visit as well as its off-road secrets! I know the country better than any visitor and can plan the best places to go on tour. All riders are safe and have 24-hour help and advice while they are touring in Turkey.
Also, I record all my tours with my GoPro camera and give everyone a copy after the tour as a memorable souvenir. I know the laws and regulations in Turkey and this helps to avoid any problems such as speeding. I pick the most pretty roads and places to visit too so whoever joins my tour will see the best part of the country and experience the Turkish hospitality.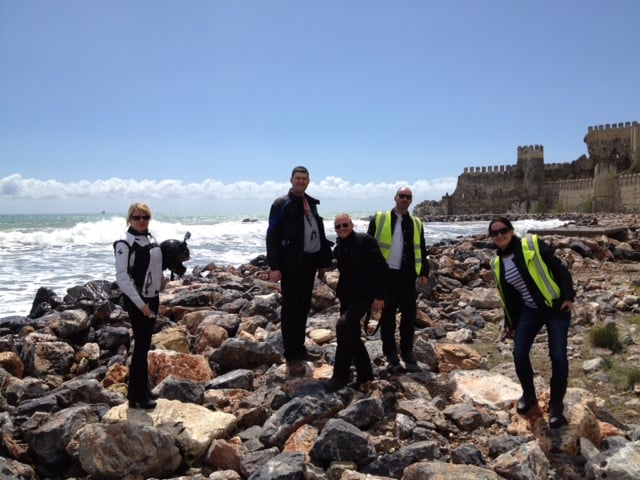 ABR: How many different tours do you offer?
AB: At the moment I offer two tours, a South and West tour, but hoping to offer a North tour too in the near future. Check the website for updates.
ABR: How long do they last?
AB: 10 days/11 nights.
ABR: What do they include?
AB: All tours include your choice of bike hire for 10 days, 11 nights good quality accommodation, all breakfasts, 4 evening meals, all fuel for the trip, comprehensive bike insurance (an excess applies), airport transfers, detail route plans and maps, a bilingual experienced motorbike tour guide, tour logo t-shirt and hi-viz and a GoPro recording and photos which are sent after returning from tour.
ABR: What riding ability are they most suited to?
AB: You just need to be a competent and confident rider of an intermediate level or above. The tours are not suitable for new or less experienced riders.
ABR: Is there any preparation you need to do in advance?
AB: I've done my homework so everything is ready for those who would like to join my tours. I arrange a briefing night out in London before the tour starts to highlight what we do, what we see and where we go etc., just to check everyone's happy and it's nice for everyone to meet before the tour if possible.
ABR: When is the best time to ride in Turkey?
AB: From 1st April to the beginning of June and from September to Mid-November. It's too hot to ride in July and August and too cold from December to the end of March!
Further Information:
Tours, rentals and general help see: www.turkeymotorbiketours.com
---
TURKEY — Doing it on the cheap
John Cook and Rod Shaw show just how cheap you can travel with a ride out to Turkey for £900, and film it all for prosperity (with the aid of the Austin Vince documentary-making guide back in ABR 21)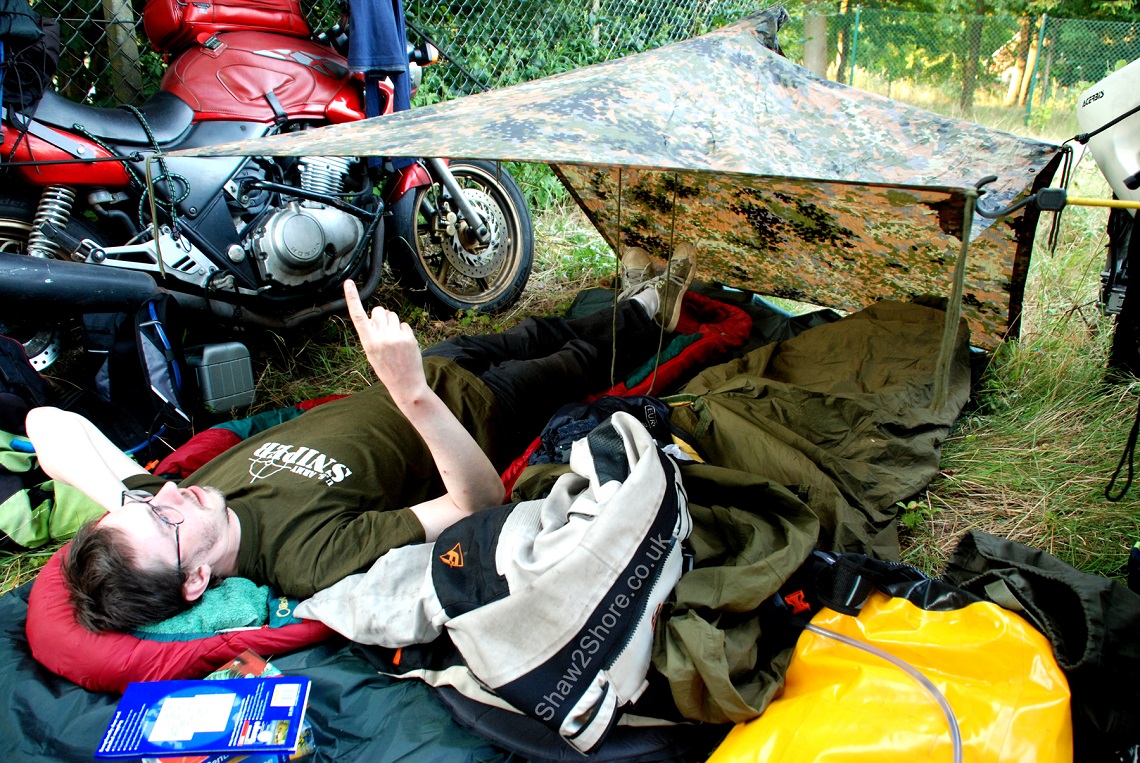 John Cook (38) is a one-eyed newly qualified motorcyclist nicknamed 'Sniper'. Rod Shaw (47) is a fully qualified Driving Standards Agency approved Motorcycle Instructor and has known John for the last fifteen years. To prove that you don't need a massive bank balance or an army of support vehicles to have an adventure, together, they embarked on 6,000 plus journey to Turkey and back.
"The most memorable trips are those that don't go quite according to plan,' confessed Rod. "I won't be forgetting this adventure in a hurry!" he added.
Planned over two weeks of furious email ping-pong, Rod and Sniper planned their trip through Europe to Turkey around a meagre budget of just £900. Rod videoed the trip using two small contour cameras, with still shots taken on a Nikon D80.
"The aim was to see more of the real countries, while acknowledging the conventional tourist attractions along the way," Sniper recounted.
Visiting locations such as Mohne Damn, Colditz, the Church of Bones and the world's most twisty road Transfăgărășan along the way, the pair navigated with map compass and GPS avoiding motorways and A roads, opting to camp in fields/forests and discussed buildings, ensuring they remained within budget.
The trip took a dramatic change, and not for the better, in Bulgaria, as Sniper lost all his documents, money and passport. "I planned for most eventualities, but how do you plan for this? It's where the adventure really kicked in!"
Reorganising their route to collect an emergency passport from the British Consulate in Sofia, the pair travelled through the Bulgarian interior, stumbling across unmarked disused airfields and factories. Perhaps the most distinctive building was the Buzludzha – looking like Blowfeld's lair from a James Bond movie – and Bulgaria's largest ideological symbol to communism, it now left to decay.
The emergency passport restricted the riders to a maximum of five border crossings, within an imposed tight time schedule of eleven days to return to the UK. The new route was now governed by borders, time and a distinct lack of money.
Further 'tests of character' included punctures, losing each other in the Alps and various accidents. While in Paris, Sniper, whom had been notably camera-shy throughout the filming of the trip, leapt into view to recount how a car stopped on his foot, while simultaneously setting a scene of French road rage at the Arc de Triomphe. The video ends positively with Sniper overcoming his fears as he finally speaks to the camera!
The video of the trip is split into nine episodes, each of approximately twelve-minute duration. Set as a lighthearted documentary, aimed towards bikers with a sense of humour and a desire to travel.
Subscriptions and positive responses have come from as far as Tokyo, Australia and The United States of America.
Rod chipped in, "The alternative locations and the crazy situations we were thrust into ensured each episode was raw yet still humorous. I really enjoyed my 'adventure' into film direction and editing"
---
Watch the videos
The full series can be viewed at Shaw2Shore.co.uk or on Youtube (search: bravefart). Rod and Sniper are planning a new trip and are want you to come along!
If you would like to be part of the next video trip or simply want to follow their exploits, drop them a line at Shawa2Shore.co.uk