After four months and 4,000 miles with the bike, here's how we're getting on with the big Strom.
Bike: Suzuki V-Strom 1000
Rider: Nathan Millward | Time on test: 4 Months | Miles Covered So Far: 4,500
We've had the V-Strom 1000 on test now for almost four months. In that time we've covered almost four thousand miles, many of those motorway miles, with the biggest run being up to Scotland and back (from the Midlands) in the space of a few days. It's fair to say that the V-Strom has grown on us in that time. There was initial scepticism about the bike and about its pitch, aimed as it was at the adventure bike market but having no ambition of off-road ability.
It's interesting to note that BMW's forthcoming S1000 based adventure-sports bike has been attracting a lot of interest in the spy shots seen recently, when in all fairness, Suzuki has already beat them to it; an adventure sports bike, more in common with the Verys 1000 and Tiger Sport 1050 than the GS or Ténéré.
But that's no bad thing, because by stripping away that pretence of adventure you're left with a very competent and straightforward bike, a bike that you just get on and ride, without needing the occasion you sometimes feel you should have with a big adventure bike.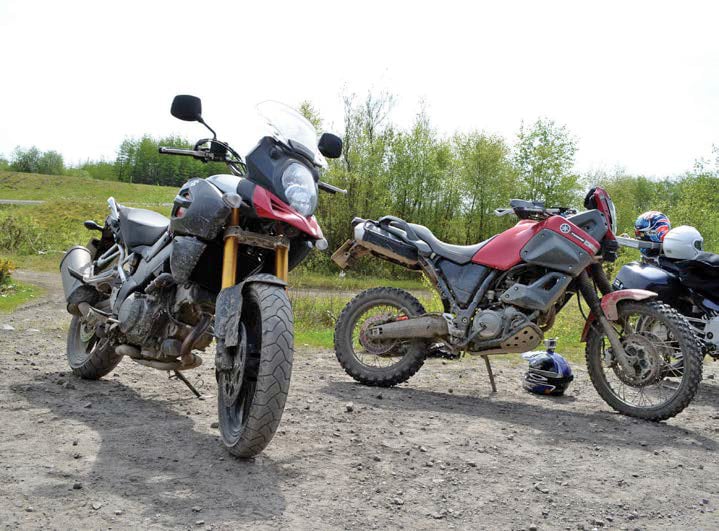 The engine is the strong point. It has plenty of whoomph. Not blisteringly quick, but it sounds good and in being a V-twin benefits from plenty of useable power. Mate this to a firm, but well-controlled suspension set up and you have a bike that does encourage you to ride it hard. The brakes are also sharp and the handling crisp, that nineteen-inch front adding a degree of stability to the bike, noticeably when you ride the Versys 1000, with its 17-inch front feeling quite unsettled by comparison.
It was the right decision to go up a wheel size from the old model V-Strom. We also like the instrument cluster with clear and easy to read speedo, rev and gear indicators. We've also been experimenting with different suspension settings, with the bike adjustable for preload and damping (rebound and compression). We haven't got it perfect yet, but we have taken the edge off the over firm standard setting.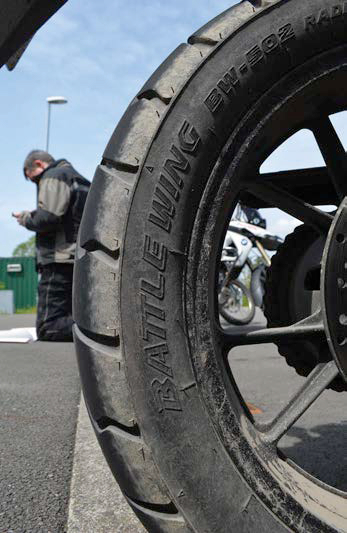 Despite having no pretence of off-road ability, the bike has also proven itself pretty handy off-road, too, keeping up and doing all the sections the more 'suitable' bikes were doing at a recent Touratech event over in Wales. Up on the pegs, the bike feels light and agile. Traction is good (three-stage traction control) and with a grippier set of tyres, the confidence would only increase.
That protruding exhaust header and oil filter are vulnerable, with a plastic sump guard to be fitted in time for next issue, and a sturdier metal one fitted to follow in good time.
Fuel economy has been consistent at around 47mpg, with it edging upwards during regular commuting (possibly to low 50s), but 47.3mpg is always where the gauge settles at. Range at those figures is around 150 comfortable miles, though with a lighter throttle you could stretch it to 200 (by comparison to other adventure bikes it is almost equal to the Versys 1000, a touch worse than 1200 Ténéré, and up on new GSAs 44mpg average.
Tyre wear has been as expected, with the rear Bridgestone Battle Wing beginning to flat spot given the number of motorway miles done on the bike. I'd say it has another few thousand left in it A DR750 replacement it's not, but it has more talent than you'd give it credit for at least, though you can now feel it 'dropping' in just past upright. The tyres are proving favourable though, offering plenty of grip in the dry, and bags of confidence in the cold and the wet.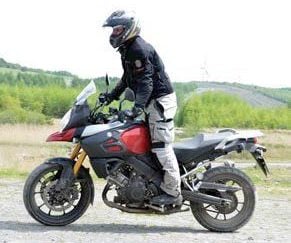 Given the bike's use through the tail of winter, we're actually surprised at the finish, which has held up better than we were expecting. It still cleans up good.
The only weak and annoying bit is the rear rack, which scuffs and chips easily due to what must be thin unlacquered paint. Not really good enough on a bike costing ten grand.
The paint on the tank also seems to scratch easily and on the recent trip down to Kent to ride the Laguna bikes, it was interesting to see how, with Bryn on board (6'2″, 16-stone), the V-Strom looks small and insubstantial, certainly around the rear, which doesn't seem to have much mass; something that is helped by the optional Suzuki panniers that give the bike better visual balance. We're hoping to have them fitted to our bike in the next few weeks so we'll soon find out.
The V-Strom is then something of a weird fish. It's an adventure-styled bike, that is actually pretty handy off-road. It has a great engine, good brakes, it handles brilliantly and from the front at least looks visually interesting. But it's not exactly flying out of the showrooms.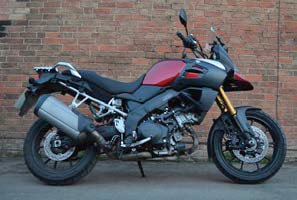 The obvious answer to that is price, with discounts already available. Thunder Road in Bridgend are offering them with the full Adventure kit on (panniers, sump guard, hand guards, centre stand for just over £10,299, and some dealers even going lower than that, almost to £9,000.
The bike clearly needs this discount, with it interesting to look across the rest of the Suzuki range and see that you can get a flagship GSXR1000 with far more power and technology than the V-Strom for £10,999 or a GSX1250FA (effectively a faired Bandit) for £7,865, or probably the V-Strom 1000s biggest rival, the V-Strom 650, for £6,899.
Call it an 'adventure' tax, call it a misjudging of the market, but it's clear to see that whilst the likes of KTM and BMW can charge the higher prices and compete on the desirability those two brands possess, for the likes of Suzuki and the rest of the Japanese manufacturers, price and value is still an issue, and clearly, you can't charge BMW prices for a Suzuki because people just won't pay it.
That said, the V-Strom is a brilliant bike. I'm having a great time riding it. It's useable, plenty fast enough, sounds good with the new can (see next page) and the handling and brakes are superb. A fantastic bike, and the one I'd choose if I had to set off on a big adventure tomorrow, mainly because after 4,500 miles I feel I can trust it.
---
What we've fitted to the V-Strom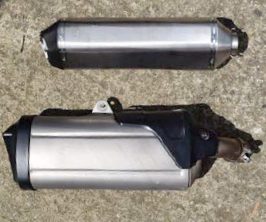 To fit to the V-Strom we've kindly been supplied with a titanium Remus end can from Performance Parts (www.performanceparts-ltd.com). Standard stainless steel and carbon fibre options are also available, but we thought the titanium would do the trick nicely. It certainly saves weight, with the standard silencer 5.6 kilos and the Remus at 2.10 kilos. So a decent weight saving there.
Retail cost of the silencer is £410. Fitment wasn't so tricky, though there was some discrepancy as to what to do with the mesh gauze located on the end of the feeder pipe, which apparently just comes off with the old (standard) silencer on a new bike, but after 4,000 miles the gauze on our bike had 'baked' to the pipe.
In the end, we had to force it off, knocking it out of shape in the process, meaning that to re-fit the standard can we're going to have to order a replacement gauze component, as the neck of the original silencer is wider than that of the Remus. Alas, the new Remus certainly improves the look of the bike, tidying up the rear end considerably.
The sound has also been deepened, but not to an unpleasant or anti-social level, just deeper, bass-ier. Performance increases are hard to measure. 'Is it quicker, isn't it quicker?' Hard to say for definite; though it has for sure given the bike more character. All in all a worthy addition to the bike.
| | |
| --- | --- |
| Garmin unit let down by cheap mount | Still does the job though |
We've also fitted a Garmin Zumo 660LM motorcycle sat-nav unit (www.garmin.com/en-GB), which is a decent enough bit of a kit (though a bit laggy in updating the map when changing direction/route etc.) The biggest criticism is the mount that comes with it.
Spend all that money (£469.99) and it's the sort of cheap, single u-bar item you might get on a market stall, taking the paint off the handlebars as well. Not good enough, and easy to see why BMW have got so far ahead of the game when their sat-nav systems are nicely integrated with a motorcycling version of the i-Drive to operate it on the move.
Why other manufacturers can't get their act together when it comes to accessories such as sat-nav units can only hint at why they're being outsold by BMW. From a consumer's point of view, things need to improve.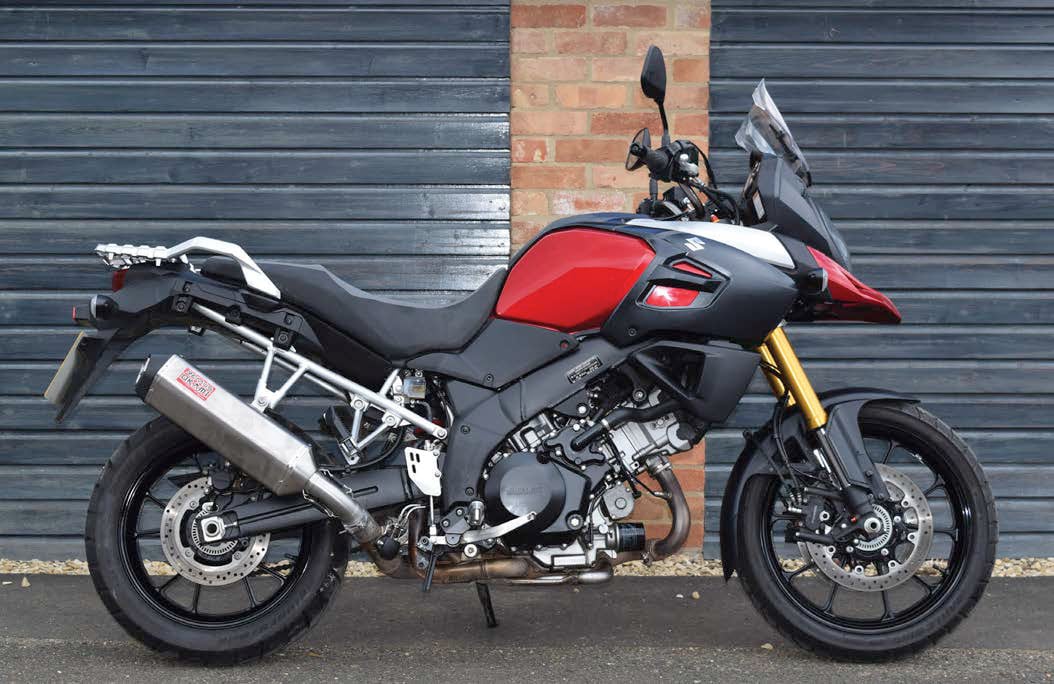 Next issue we fit a set of knobbly Metzeler Karoo 3s and some crash bars.