Cold weather riding need not be a marathon of pain and endurance. Bryn Davies takes a look at heated jackets and gilets that will keep you in the saddle for longer this winter.
Ah, biking. In the summer there's nothing quite like it, in the winter it can become a different ball game. Temperatures drop, fingers get numb, feet get cold and bikes usually get put away for the season. Of course, it's not just the lower temperatures that make riding in the winter an unpleasant experience, there's corrosive road salt to contend with, not to mention streaks of ice that can have you off the bike in no time. But if the only thing stopping you from riding this winter is a desire to be warm and cosy then there's a solution; heated clothing. 
I know, I know, you don't need heated clothing because you're a double 'ard bastard who doesn't care about a bit of cold, but tell me that after you've ridden through the winter while wearing a heated jacket, gloves, trousers and boot liners. It's easy to dismiss a heated liner as a poncey luxury, but while you're huddled around your hotel room's only radiator trying to thaw out your numb extremities, the guy who was wearing the heated gear is already relaxing in the bar with a pint. 
Heated gear has come a long way since its first introduction. In days gone by a heated jacket would produce a lukewarm radiance that was just about enough to stave off hypothermia, but you'd still be sitting in the saddle freezing your nuts off . In more recent times things have changed, better heating elements provide instantaneous, deep and comfortable heat, garments are fitted with heat controllers so that you can decide whether you want the inside of your jacket to be red-hot or 'just' warm, and modern bikes have alternators that generate a lot more amperage to facilitate all of these energy sapping add-ons. 
Of course, it still pays to layer up effectively when out in the cold, but a heated jacket will add just that little more warmth that'll keep you smiling in the saddle all year round. 
In this review we're going to be looking at heated jackets from six manufacturers, along with the other heated accessories they have on offer. There are other brands out there, but the six we have should give you plenty of food for thought and you'll see that there's something for everyone, be it a good budget buy if you don't want to break the bank or the best, most expensive heated kit on the market.
Heated jackets and waterproof membranes 
There's a common misconception that a heated jacket liner can compromise the effectiveness of waterproof membranes, such as Gore-Tex. The theory goes that the heat from the liner can actually reverse the properties of the membrane, soaking the rider if caught in rain. The truth, however, is that this is a load of rubbish. The way waterproof membranes work is that the warm air on the inside of the jacket (usually created by your body heat) in essence forces moisture from the inside to the outside (where the term 'breathable' comes from) so a heated jacket will, if anything, aid this process rather than reverse it. 
The confusion may however come from heated grips when used in conjunction with waterproof gloves. As the grips warm up air on the outside of the membrane to a temperature that's hotter than the inside it can compromise the performance of the membrane which will draw in water and leave you with sodden hands.
FEATURES WE LIKE… 
Heat Controllers 
Warmth on tap is great, but sometimes heated gear can get a little too hot. Being able to control the temperature of a jacket is ideal. Most heated jackets these days have various heat settings to make them suitable for a variety of cold weather situations. 
Easy Connections 
An easy connection to the battery terminals with supplied leads and in-line fuse is all it usually takes to connect your jacket. However, more and more bikes are coming with an auxillary power socket as standard and these are useful for easily and quickly connecting your heated jacket to the bike when you want to wear one. 
Cable Storage Pockets 
It's good to have enough cable free when riding so that you don't suddenly unplug the jacket when you're doing a particular manoeuvre, however it can be a bit of a pain if you're then walking around town with a metre of cable dangling off you. The solution is a zippered pocket that will house the lead when not in use.
Lightweight 
Motorcycle kits are heavy. So it's best not to add too much to that weight and bulk, try replacing your textile jacket's thermal liner with a heated liner, you'll be happy you did. 
Snug Fit 
When buying a heated jacket you'll want to look for the brand that offers a good fit for you – a nice, snug fit that doesn't restrict movement and sits nicely under your motorcycle jacket is perfect. A closer fitting heated jacket will also keep you warmer. 
Add-ons 
In this review we're primarily looking at heated jackets and gilets, but you'll notice that these manufacturers also produce other heated kit for cold weather bikers. Some of the jackets we have on review have the facility to add glove liners, trousers and even boot liners to them with built-in leads and connection points.
Ask the experts
Ian Wilson, heated clothing expert and UK distributor of Gerbing, answers your questions about heated jackets.
ABR: Are there any dangers of wearing heated clothing? Has it ever been known to catch fire? 
IW: In terms of the heated clothing itself, it is very safe. Built in fuses protect the rider should any shorts occur caused by damage to the heating elements. The use of heating clothing only enhances the safety of riding a motorcycle. The biggest danger caused by getting cold on a bike is that your reaction times slow considerably. By staying warm your reaction times are increased plus the increase in comfort and enjoyment is considerable. As for catching fire – the short answer is no. Though, as a cautionary tale, we did have a customer around 10 years ago who burnt his T-shirt. How did he do this? He was touring Norway at the time and had an 'old' copper wired Gerbing jacket. A fuse blew, he replaced it with an old bent nail he found on the road and carried on using his jacket …say no more ! 
ABR: What impact does heated gear have on the battery of a motorcycle? Especially if used in conjunction with a satnav etc. 
IW: Every Gerbing item comes with a battery harness. Supplied with this is a chart listing all Gerbing products and their amp usage, and you can usually find the same details for different manufacturers. This makes it easy for users to determine how much power their kit will use when attached to their motorcycle For example; our most popular seller, the XR12 gloves, use 2.4 amps or around 30 watts. That's less power than the low beam on a motorcycle. This will have no detrimental effect on the life of a battery. 
ABR: Do brands differ in their energy efficiency? 
IW: Yes. The MicroWire we use is the most efficient heating system available. Carbon fibre is not as efficient. MicroWire warms up quicker, usually around 10 seconds, whereas carbon fibre takes around 30-40 seconds. The other and more serious issue with using carbon fibre is that it will wear out and after a few years it will not be as warm as the day you bought it. 
ABR: Do you recommend a certain standard of electrical equipment on a bike? If so, what battery or alternator upgrades are there out there? 
IW: Most medium to large engined modern motorcycles need no modifications. They tend to charge at about 300 watts; more than enough to run heated clothing without causing a flat battery.
ABR: Do all manufacturers use the same connectors? I.e. if I have a Gerbing jacket, but I see some Keis gloves on special offer, will they fit/work with my Gerbing jacket? 
IW: Officially we say no. This is because there might small differences between plug manufacturers, which can cause power supply failure to the garment. However, 90% of companies use a 5.5×2.5 DC coax plug so you should be OK. 
ABR: I need to wash/clean my heated jacket, am I OK to put it in the washing machine? 
IW: We don't recommend using a washing machine as the coax plugs might damage it. It's best to hand wash is best and hang out to dry. 
ABR: Is heated gear safe to wear in the rain? Electricity and water doesn't sound like a good mix. 
IW: Heated gear is completely safe to wear in the rain – it's DC power – water and DC power can mix. Remember the Lotus coming out of the sea in The Spy Who Loved Me? His hazards were on! 
ABR: Can you get heated socks? If not, why not? 
IW: Gerbing makes heated socks – these are far better than heated insoles as the heat is on the top as well as the bottom. 
ABR: What can you do if the wires break? 
IW: One of the advantages of using Gerbing kit is the heating elements are covered by our lifetime warranty. If you do get a breakage, it won't be a wire more likely a solder joint, simply send the garment back and it'll be repaired or replaced under warranty. The length of warranty on other heated gear will vary but usually the damage is the same and can be replaced. 
ABR: Is there a particular way I should store my heated jacket over the summer? 
IW: Most heated jackets require no special storage. However it is sensible to squirt a little AFC/WD40, or similar, in the connections to stop any moisture build-up which may cause corrosion if you leave your kit unused for a long time. The same advice goes for the battery harness – if you leave it on your bike during summer, a squirt of water displacement spray and replacing the cap works wonders… 
EXO2 ExoGlo3 Body Warmer 6/10
£129.99 | www.exo2.co.uk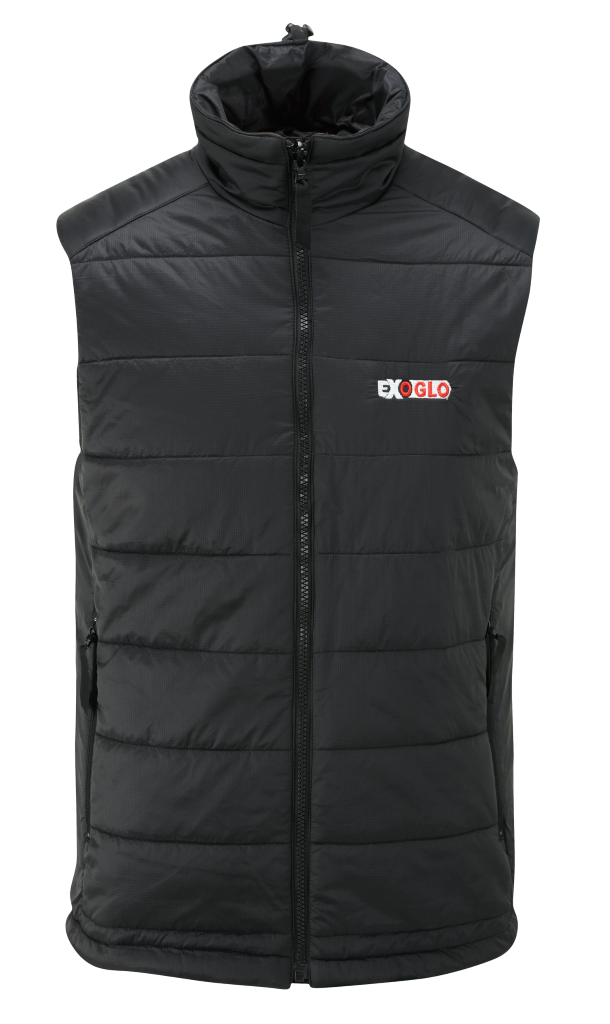 Kicking off our reviews at a very reasonable £129.99 is the ExoGlo3 Body Warmer, a sleeveless heated liner which features PrimaLo Gold synthetic insulation as well as three heated zones to help keep you warm while riding this winter. The gilet comes with the facility to wire it up to your bike's battery as standard but for an extra £43 you can purchase a very useful and neat portable battery pack with wireless remote and three heat settings. 
In the years of testing outdoor gear PrimaLo consistently impresses and once again it does a great job in the ExoGlo3, trapping warm air very effectively and working well to keep you cosy. The heated elements on the gilet run around the chest and the upper back. This means that you'll find the heat protecting your vital organs, but we believe that a heated jacket should be about comfort, not just survival, and we would have preferred a larger area covered by the heat. A look at the heat map to the right shows that the majority of the warmth is placed on the upper of the back with very little actually coming around the front. 
It's disappointing to note that there's no temperature adjustment facility as standard (an in-line controller can be bought for an extra £49.96), though we really like the optional extra battery pack and wireless remote and three heat settings. This is perfect for those cold days when you're walking around off the bike. The fit of the gilet perhaps comes out on the large side (I usually wear an XL and a L fitted me pretty perfectly) so bear this in mind when buying. 
In all it's a nice gilet considering it's the cheapest in this test, but it's very basic unless you spend the extra money for the battery pack and remote or in-line control. 
In a line: Cheap and cheerful but would have preferred a larger heated area.
Oxford Inox Heated Vest 8/10
£149.99 | www.oxprod.com
In terms of heated gear, Oxford Products is probably most well known for the excellent, affordable Hot Grips heated grips and their entry to this review is the Inox Heated Vest. The Inox is a shell gilet which uses Oxford's woven stainless steel heat pad technology to offer a flexible and comfortable fit. Together with the snug fitting so shell outer and stretch side panels the gilet ends up feeling like it's hugging your upper body. 
The Inox comes with all the leads required to hook it up to your bike's battery and an in-line temperature adjuster works well with gloved up hands allowing you to switch between four heat settings; low, medium, high and max. The positioning of the adjuster is, however, a pain in the jacksy as it's placed so far up the wire that it sits underneath your outer jacket making it a fiddly ordeal to change settings on the move. 
In terms of heat the four settings provide warmth in expectance to their names, with max verging on almost too hot in anything but sub-zero temperatures. A look at the heat map shows that this warmth is generated around the upper back, along the collar (a lovely touch) and across the chest, similar to the ExoGlo3, protecting the body's vital organs. The difference between the Oxford Inox and the ExoGlo3 is that the Oxford produces a lot more warmth around the chest (and the warmth is adjustable while connected to the bike's battery). 
Once off the bike the control unit can be stored in the small zipped compartment near the gilet's hem and a single hand warmer pocket can be used for stowing wallets, phones etc. 
The Inox is a great heated gilet. It has everything you'd want and at £149.99 it's nicely priced too. 
In a line: A great heated gilet from Oxford
Keis X20 Hi Powered Bodywarmer 8/10
£139.99 | www.keisapparel.co.uk
Keis heated gear comes highly recommended by those who have worn it, and at £139.99 for the Hi Powered Bodywarmer, we're looking at a reasonably priced piece of kit (a standard, non-hi powered bodywarmer is also available for £109.99 which has half the power). The Hi Powered Bodywarmer is made from a lightweight so shell fabric with elasticated stretch panels to help provide a close yet unrestricted fit, with the Keis website suggesting that you order a size smaller than usual. 
The heat is in this bodywarmer is provided by heat panels positioned on the upper back, kidneys, collar and chest and they have a typical power of 40W with a current drain of 3.3A, offering a nice amount of warmth without major power drain affecting the bike's battery. The heating elements protect the body's vital organs nicely and the heat seems to resonate throughout the rest of the garment, as you can see in the heat map below and right. 
The Hi Powered Bodywarmer comes with everything you need to get it wired up to the bike and if you'll be using any other heated products then it's nice to know that various outlet points on the gilet will allow you to connect them up with minimal fuss and wire tangling. For times when you're not on the bike all wires can be zipped away to keep them tidy and easy to find. 
There's the option to add the Keis Heavy Duty Controller which plugs into the jacket nicely and is able to be stored neatly in its own independent pocket. The controller has four diff erent heat settings; low, med, hi and max. Also, for £79.99 you can purchase an external battery pack which will allow you to feel the heat off the bike – it's a lovely touch but with the extras purchased the price of the gilet starts to rise and rise. 
In all, the Keis X20 Hi Powered Bodywarmer is a really nice bit of kit that becomes more useful when you purchase the optional extras, but they come at a cost. Of course, without the heat controller it'll still keep you warm, but it's nice to be able to turn the heat down once you've reached a level of comfortable heat. 
In a line: A great bodywarmer when used with the optional extras.
Bike Tek Heated Inner Jacket 8/10
£149.99 | www.bikeittrade.co.uk
Manufacturer of a variety of motorcycle accessories from bike stands to rucksack covers, Bike Tek is a brand that seems to pride itself on offering functional gear at reasonable prices. Their entry into this review is the Heated Inner Jacket, a heated liner that features an in-line temperature controller with three heat settings as standard as well as a wind and water-resistant ripstop nylon shell. The jacket also features an unbranded synthetic insulating fill to help trap the warm air generated by the heating elements. 
The jacket comes with everything required to get you started and once on the thing you notice most is that it's fairly bulky, mostly down to the insulating fi ll. This means that it's a little bit restrictive when worn underneath a motorcycle jacket, but the strategically placed stretch panels allow a bit more freedom in movement while the insulation does away with the need to wear another layer on top of it. 
In terms of warmth, a look at the heat map shows that the jacket provides warmth all over, from the collar down to the hem, and this is a feature that we love. On some instances, in particular on the forearm, you can feel the intensity of the heat from the heating wires but as long as you don't have the jacket in direct contact with your skin you'll be fine. The in-line controller has three heat settings which can be changed with the click of a button, though the quality of the controller is a bit questionable with the off button being a bit temperamental (though you can quickly unplug it if you want to turn it off ). 
We like the Bike Tek Heated Inner Jacket, it provides warmth all over and it's reasonably priced. Just make sure it fits under your motorcycle jacket. 
In a line: Warmth all over
Gerbing Heated Jacket Liner 9/10
£169.99 | www.gerbing.co.uk
When I think of heated clothing the first brand that comes to mind is Gerbing. The American company has been around for over 30 years now making coldweather clothing for everything from piloting an airplane to riding a motorcycle and their submission to this review is the to-the-point named Heated Jacket Liner. Like all things Gerbing, this long sleeved heated liner comes with a lifetime (yes, lifetime) warranty on all of the electrical components, you can't argue with that. 
The jacket is made from a windproof and water-resistant material and it looks good enough by itself to suit those fashion conscious riders when not on the bike. You get all of the wires you need to connect it up to your bike's battery and there are a selection of fuses included so you can use the same wiring with a variety of add-ons (heated gloves etc.). Once connected to your bike the in-line temperature controller can be used easily with a gloved up hand to turn the heat on and flick between four settings. Red (100%), yellow (75%), green (50%) and flashing green (25%), there's no indication of what these colours mean, however, unless you do a bit of research to find out. 
Looking at the heat map and you'll see that the heat down the outside of the arms is the most intense and there's also great coverage on the chest, upper back and around the collar (we'd advise wearing a buff as the next-to-skin heat can be a bit too much. 
The fit of the jacket is perhaps a little bit bulky underneath a motorcycle jacket, so make sure you buy the snuggest fitting size you can without going too small. The provision to allow you to plug other Gerbing accessories (heated gloves, pants etc.) into the jacket is a great touch as well. 
In a line: Gerbing consistently provides quality heated kit – this is a cracking jacket at a good price.
Powerlet RapidFire Heated Jacket Liner 9/10
£191.95 | www.adventure-spec.com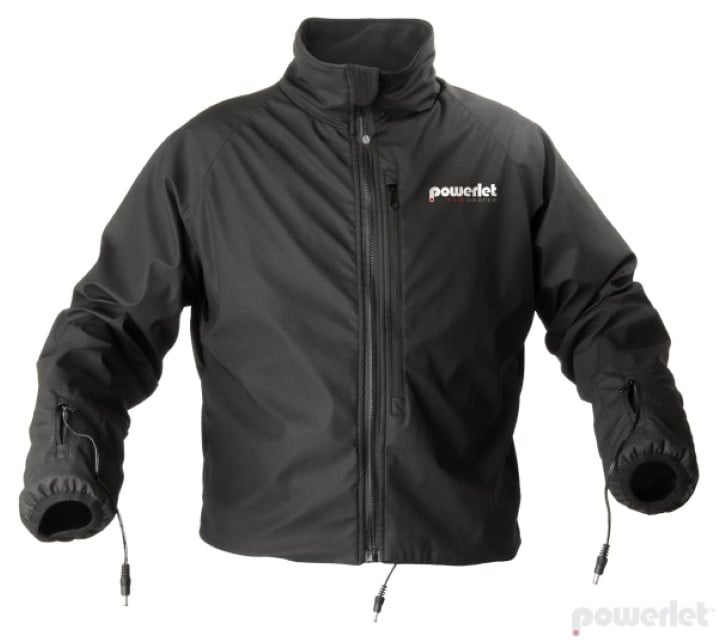 At £191.95 the Powelet RapidFire is the most expensive jacket in this review but from the off it's clear to see that it's a quality piece of kit. The jacket features Carbon Nano Core (CNC) heating which uses FAR infra-red technology to provide a heat that is elegantly marketed as fast, deep and soothing. The inner and outer of the shell is made from a wind and water-resistant polyester with a four way stretch and it's incredibly light and non-restrictive to wear, fitting underneath a motorcycle jacket with no problems at all. 
The CNC heating is provided via thin and flexible panels on the chest, upper back, arms and neck and a look at our heat map will show you that it keeps all the important parts of your body nice and warm. The heat provided by the infra-red technology isn't particularly smoother or deeper than the heat in, say the Gerbing jacket, but it does warm up incredibly fast. 
The RapidFire Jacket comes with dual-power connectivity so that you can choose to run it at either 105 or 60-watts, a lifesaver for those with smaller bikes as the 60-watt option will allow full use of the liner without putting too much strain on the bike's battery. Excess wiring can be tidied up in individual zipped pockets and there's a nicely sized, very handy zipped chest pocket for storing wallets, phones etc. and it also doubles up as a stuff sack for the jacket when not in use. 
For an extra £77 you can get an incredibly useful wireless control unit which allows easy adjustment of the temperature settings as if you were turning on an oven (the red knob is for the jacket and yellow is for the optional heated gloves). 
In all the RapidFire is a very good heated jacket. There's no doubting the quality of the kit whether it's the heat adjuster, the garment itself or the way in which the heat is provided. It might require you to break open the piggy bank, but you can't go wrong if you're able to get the money together.
In a line: An excellent heated jacket.