We're on a mission; perfect the ABR Suzuki V-Strom 650's road touring credentials and beef up its off-road ability. This issue Alun Davies fits a GIVI RP3101 bash plate.
During the spring of 2014, I fitted an after-market Givi Airflow screen to the ABR V-Strom 650 in preparation for a couple of summer tours. This was followed up with a review in ABR (issue 23) where it must have been pretty damn obvious that I was displaying a level of affection for the Airflow which was bordering on unhealthy.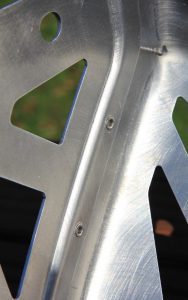 Six months on and I'm happy to report that the love-in between that slab of clear plastic and yours truly has deepened into one of the most satisfying relationships known to man and I can confirm that the Givi Airflow is the most effective and easy to adjust after-market screen I've ever used.
Anyway, having got to the point where mounting anything thicker than a twig or tackling small rock steps were making me feel vulnerable on the V-Strom 650 the decision was made to fit a skid plate to protect the exposed oil filter, header pipe and sump.
After a bit of research, I chose the Givi RP3101 Aluminium Oil Carter Protector. With prices ranging from £139 to quite a lot less it's competitively priced and it looks the part. However when compared to the Touratech bash plate mounted on my 660 Ténéré there's little doubting that it's not the most robust piece of kit on the market.
The plate is made out of 3mm brushed aluminium and held together with rivets which protrude so they are a little exposed when grinding over those high rock steps. In reality, I'd go out of my way to avoid the sort of obstacle where I'd be sliding the V-Strom on its undercarriage, as I'm sure most other owners would, but as a plate that'll protect the bike from loose stones and other flying debris, it's good enough for me.
| | | |
| --- | --- | --- |
| 1. The stock engine guard | 2. Parts worth protecting | 3. GIVI RP3101 bash plate |
The Givi comes with steel mountings and everything needed to fix it to the bike and even with my history of suffering panic attacks on sight of a Meccano set the job of securing the plate to the Strom was a simple, if a little fiddly, a process taking about 30 or so minutes.
When secured the plate totally protects the vulnerable oil filter and header pipes and wraps neatly around the sump. It certainly adds to the visual appeal of the bike, though it would make an oil change more time-consuming.
On a test ride down a local trail, I was surprised at the number of 'pings' I heard as stones bounced off the new aluminium guard as it protected the bike, and protection is a feature the original plastic panel was very light on. All in all, a nice piece of kit that does the job I want.