With winter creeping in, Bryn Davies takes a look at nine down insulated jackets to keep you warm on your adventures.
As one of the nicest British summers we've had in years draws to a close it's time to start preparing for cold weather riding. Whilst the winter we had last year wasn't particularly numbing it's always best to have the right kit in case the mercury does decide to drop. Many textile riding jackets will come with their own insulated drop liner, but these don't compare in quality and warmth to a specialist insulated coat that you can throw in your panniers and slip-on if need be.
A decent insulated jacket will also double up as warm clothing to don when you're sat around at the campsite, be it drinking beers in Wales or fighting off hypothermia in Alaska, or when you want to take a stroll off the bike and explore a new town. 
There are two types of insulated jackets you can buy, those that use duck or goose down to trap warm air and those that use synthetic, man-made fibres to do the same job. Where they differ is in the conditions that they work best in. Synthetic insulating fills will tend to work better than down in damp environments and more often than not a jacket using a man-made fill will be cheaper to buy as it's easier to mass-produce the insulation that is used.
Down on the other hand is more expensive as it's both time and cost consuming to gather (the down isn't actually the duck or goose feather, it's the 'fluff' underneath). Where down excels, however, is in its ability to pack down small, its warmth-to-weight ratio and its longevity. You'll also notice that several companies are beginning to offer 'treated' down that'll handle wet conditions far more effectively. 
In this review, we're going to be taking a look at lightweight down insulated jackets. A lightweight down insulated jacket is the perfect size to wear as a mid-layer beneath your outer, more protective motorcycle jacket and over the top of your riding thermals. They'll pack down incredibly small, easily fitting into panniers and even tank bags and they provide exceptional warmth-to-weight.
This type of jacket is more likely to be used as a mid-layer on the bike or an outer layer when sat at camp, as such we like them to have decent handwarmer pockets, a nice high fitting collar (preferably with a soft lining), zips that can be used with a gloved up hand, a protective zip baffle and an adjustable hem. If the jacket has a hood that isn't too obstructive to wear under your motorcycle jacket and offers a good fit when in use, all the better. 
We have nine jackets in this review and you'll notice that they're all quite expensive, but if you want a good quality down jacket then you'll have to be prepared to fork out a bit more money.
---
Understanding swing tags
It's hard to ignore the handful of swing tags attached to your jacket when you first buy it. They'll usually highlight the technical features of the jacket as well as the care instructions but what does the technical talk mean? 
Fill Power
Fill power is a measure of the quality of the down used in the jacket. The fill power rating on the swing tag relates to the down's ability to resist compression and how well it lofts in use. A higher fill power will offer a better warmth-to-weight ratio.
Down Content
The fill of a jacket will be composed of both down and feathers (down is the layer under a bird's feathers) and, generally speaking, the higher the ratio of down, the better the insulation on offer. The combination used will usually be presented as 90/10. This means that the fill is 90% down and 10% feathers. These figures, however, offer no indication of the quality of down used. 
How we're judging
We're going to be rating these jackets on their suitability as a mid-layer for cold weather riding and as an outer-layer when you're sitting at camp or strolling through town in winter temperatures and conditions in the UK and Europe (think around 0C). A jacket's overall rating will take into account the following criteria: weight and pack size, fit, insulation and value for money.
---
Sub Zero Lightweight Thermal Unisex Down Jacket
£129.99 | 365g www.subzero.co.uk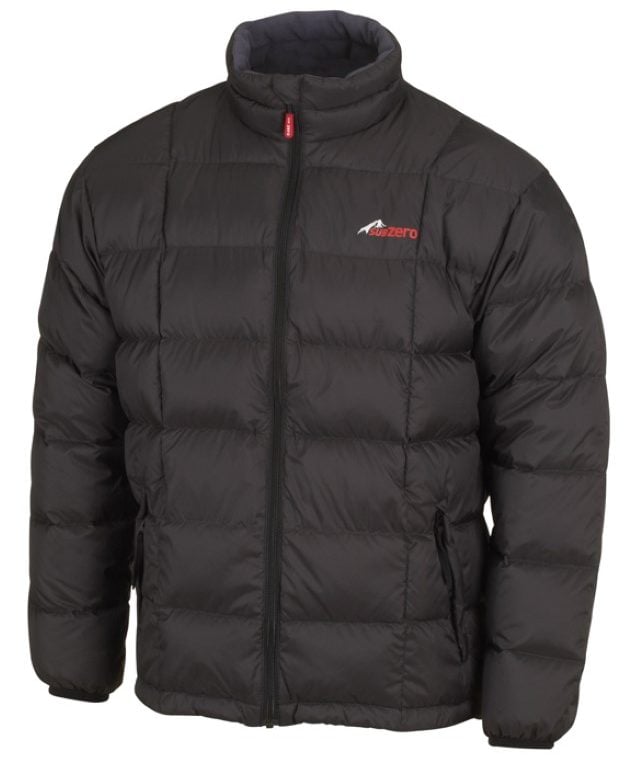 The Sub Zero Lightweight Thermal Unisex Down Jacket is, as the inspiring name suggests, a lightweight down jacket from UK company Sub Zero. It uses an 800+ fill power goose down to keep you warm with a 90/10 down to feather fill composition. 
It's the fit of the jacket that's noticeable at first. Presumably due to the unisex nature it isn't able to offer a specific fit and so I found that the XL was a little on the short side particularly in the torso and on the arms and the back and sleeves often rode up when in the saddle. The elasticated cuffs also have a tight fit which is good for trapping warm air but they're almost a little too tight. 
In use, the jacket has a nice loft to it and it's very warm. A nicely placed draft baffle on the inside of the zip helps prevent an unwelcome cold spot and there's a soft microfleece lining on the collar which makes a world of difference in terms of comfort. The two handwarmer pockets are zippable and are of a decent size and the compression sack supplied will help you to store it neatly in your panniers. 
In terms of styling, this Sub Zero jacket isn't going to appeal to everyone, best resembling the sort of bomber jacket you'd see a bouncer wearing on a Saturday night. At £129.99 you can do worse than to buy Sub Zero Lightweight Thermal Unisex Down Jacket, it's the cheapest in this review by far and it'll keep you toasty on those cold days – but the fit won't be suitable for all. 
In a line: Cheap, cheerful, warm and comfortable.
ABR Rating: 6/10
---
Adidas Terrex Korum Down Jacket
£190 | 416g | www.adidas.co.uk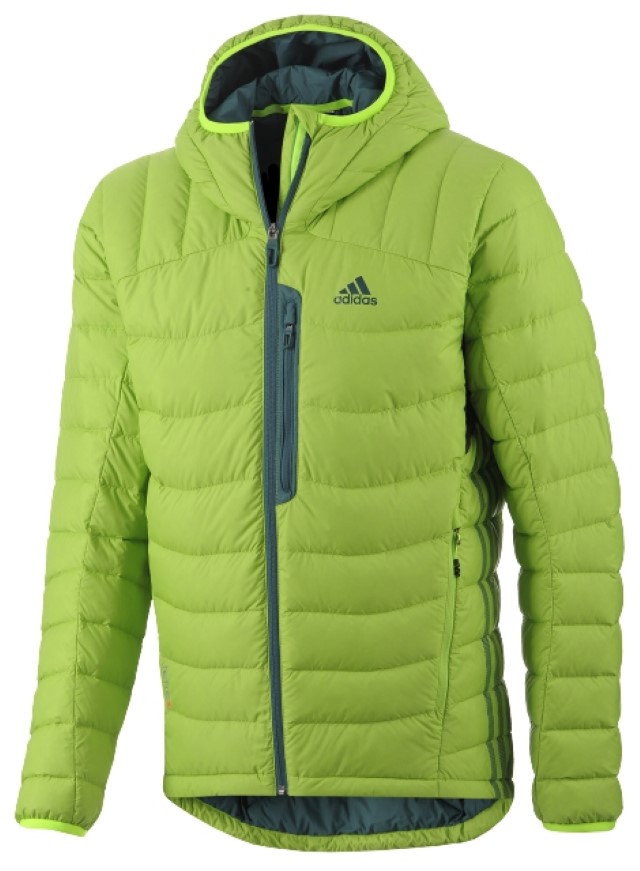 For anyone who was around in the nineties, Adidas is a brand that's likely to conjure up images of tracksuits with the trademark three stripes down the legs and arms. However, over the past few years, we've seen the company try and force its way into the outdoor market, with varying degrees of success. The Terrex range is their latest foray into the world of outdoor clothing and we've got the Korum Down Jacket in for this review. It's a 416g (in size XL) jacket that's constructed with a 700+ fill power goose down to keep you warm with a 90/10 composition. 
Our sample came in a lime green colour and it certainly stands out, if you're worried about getting lost on the way back from the pub then this colour will make you easy to spot along with its luminous green cuffs and collar. The Korum has a more athletic fit than most, comparable to the fit you'd expect from a Rab jacket. The arms are articulated with stretch fabric panels on the arm pits to allow for reaches – perfect for the riding position, though I found the torso to be verging on the short side, riding up my back on more than one occasion. 
You get two huge, zippable handwarmer pockets (one of which doubles up as a stuff sack) and a zippable chest pocket that is of a very useful size. The hood offers a snug fit and sits under an outer jacket nicely. The hem is adjustable with a single gloved up hand. In terms of warmth, it's really toasty, the 700 fill insulation performing very well. 
In a line: A great piece of kit from Adidas – not a bad price either.
ABR Rating: 7/10
---
The North Face Imbabura Hooded Jacket
£200 | 383g | www.thenorthface.co.uk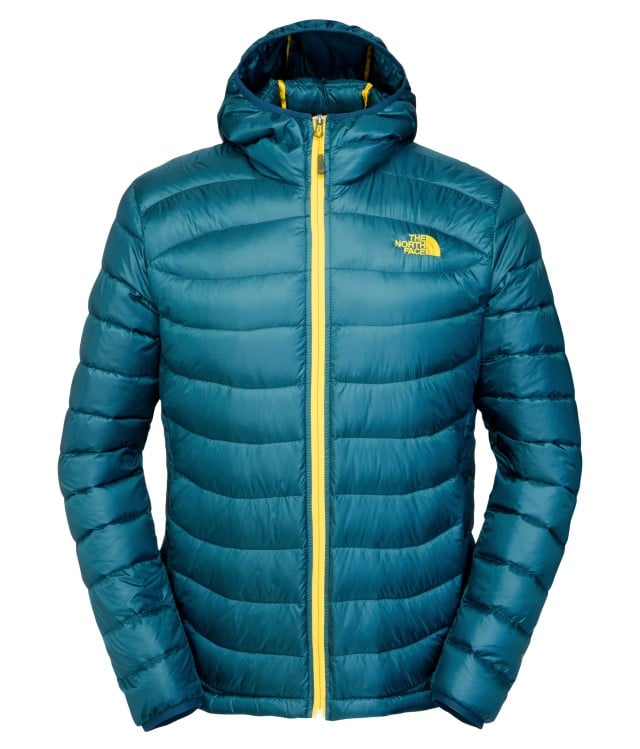 Coming in pretty much slap bang in the middle of the price range is The North Face Imbabura Hooded Jacket. This lightweight (383g for a size XL) down insulated jacket uses a 700 fill power goose down to help keep you warm. 
The jacket has everything you'd expect to see on a lightweight insulated coat. You get two large, zippable hand-warmer pockets, which can double up as a compression pouch for storing the jacket in, a large internal pocket which is the perfect size for a 1L water bottle, a full-length zip baffle to prevent cold from entering and a fully adjustable hem. The hem pull-chords are located inside the pockets to keep them out of the way and they're easy to use with a gloved up hand, though this also makes the hem difficult to adjust when wearing a layer on top. 
The fit of the jacket is on the large side when compared to the Adidas or Yeti products we have in this review but it's a style that I'm a fan of, the jacket sits nicely around the gut and there's very little riding up when you reach for the handlebars. This is also down to the slightly stretchy nylon outer fabric which allows you to perform reaching movements with little hindrance from the coat. 
In all the Imbabura is a nice jacket from The North Face. It's perhaps not as warm as some of the others we have in this review but it's lightweight, it packs down small and at £200 (and I've found it for a lot cheaper online) it's not too pricey when you compare it to other down jackets. 
In a line: Simply put, it's a good down jacket.
ABR Rating: 8/10
---
Berghaus Furnace Hooded Hydrodown Jacket
 £200 | 422g | www.berghaus.com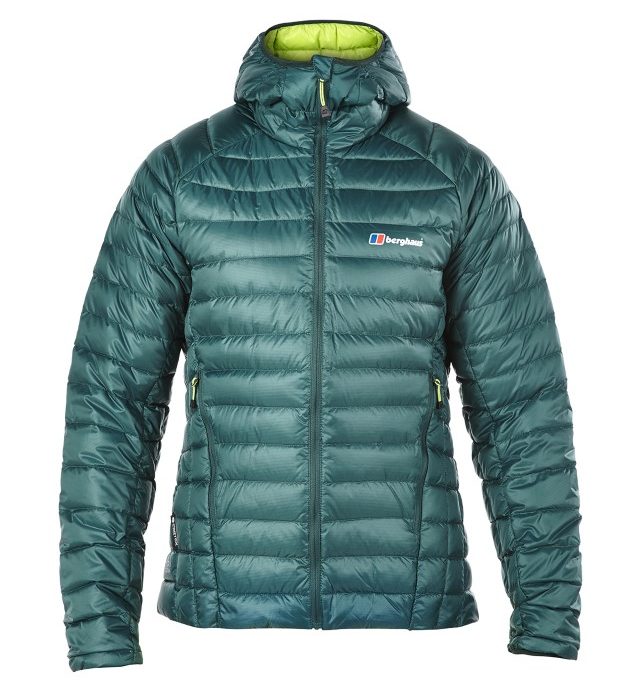 The Berghaus Furnace Hooded Hydrodown Jacket weighs in at 422g for a size XL and features a medley of various technologies to make what we think is a very good insulated down jacket indeed. First off, perhaps the main selling point of the Furnace is the use of Berghaus's Hydrodown which promises to keep you 'warmer for longer'. This 700 fill goose down is treated in such a way that it does away with many of the weaknesses associated with 'normal' down. It retains some loft when it's wet (and therefore some insulating properties), it dries far faster than its untreated counterpart and it'll resist damp build-ups. 
The other technology that the Furnace makes use of is Pertex Microlight fabric with a ripstop finish which strikes a very good balance of weight and durability. The spread of the insulating fill is quite an interesting talking point as well, with Berghaus Body Mapping ensuring differing amounts of fill throughout the jacket. The purpose of this is to provide more warmth in areas where you need it and less fill in areas where you don't. With this interesting way of spreading the down the jacket provides more effective insulation and less bulk, making it easier to fit under an outer layer. 
You get two zippable handwarmer pockets and a full-length zip baffle, which has been lined with a really nice and soft microfleece fabric at the chin, and the hood fits nice and snug. 
In all the Berghaus Furnace Hooded Hydrodown Jacket is a really great piece of kit. The Hydrodown is brilliant and will make the jacket more usable in damp conditions. 
In a line: A down jacket that won't self destruct in wet conditions!
ABR Rating: 9/10
---
PHD Wafer Down Jacket
£232 | 239g | www.phdesigns.co.uk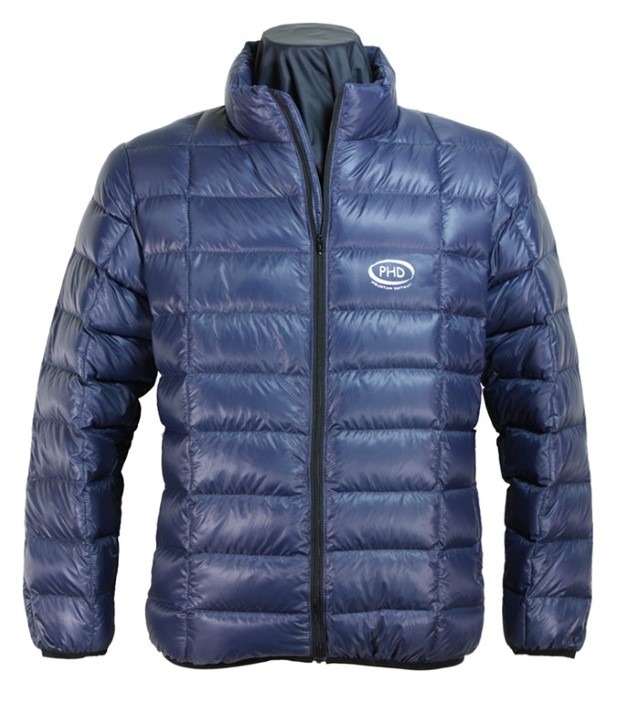 Peter Hutchinson Designs, more commonly known as PHD, is a company that's been around since 1998 and their rather modest aim is 'to make the best gear we know how'. The Wafer Down Jacket is actually the first piece of kit from PHD that I've tried and I just hope that it's not my last. If the best gear they know how to make is some of the lightest, warmest and most comfortable, then they're doing pretty well for themselves! 
The Wafer Down is unique in the fact that it uses 1000 fill power down, unlike any of the other jackets in this review, meaning that it can offer exceptional amounts of warmth at a ridiculously low weight. And that it does, weighing in at just 239g for a size XL it's the lightest jacket in this review – though it's worth taking into consideration that it doesn't have a hood. It's not just the featherweight of the Wafer Down that impresses. Thanks to the 1000 fill power down it's incredibly compressible and once in its stuff sack it packs down to roughly the same size as a 1-litre bottle. 
Despite the emphasis on lightweight and small pack size the Wafer still does everything you want a down jacket to do. You get a full-length zip baffle, two zippable handwarmer pockets, the hem and cuffs are elasticated and the overall fit of the jacket is spot on with minimal riding up when sat on the bike. The warmth provided is quite simply astonishing when you take into consideration the weight. I'm also amazed that this jacket is as 'cheap' as it is, lightweight kit usually demands such a premium yet it's £70 cheaper than the most expensive, and third lightest in test. 
In a line: Mind-blowingly light and compressible while still retaining warmth.
ABR Rating: 9/10
---
Sherpa Hooded Down Jacket (ABR BEST IN TEST)
£250 | 470g | www.sherpaadventuregear.com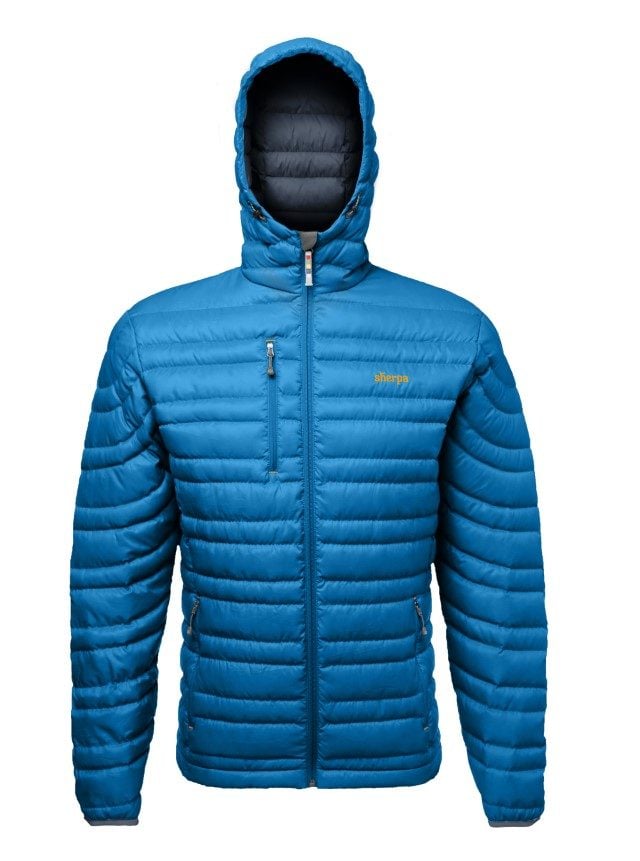 We were shown this jacket by PrimaLoft as it's one of the flagship items of clothing to make use of their new insulation, PrimaLoft Gold Blend. While it sounds like something that should be on the shelf next to Nescafé in Tesco, Gold Blend is actually a mixture of hydrophobic down and PrimaLoft which the company reckons is able to outperform any sort of down when damp, being able to retain a claimed 90-95% of its warmth. 
I haven't been able to verify those exact figures but based on my scientific approach of walking through a rainstorm while wearing the jacket and measuring the warmth in intensity of shivers I can reveal that they're on to something. Despite getting almost completely wetted out the Nangpala kept me warmer than I'd expect any other down jacket to, even if I was a bit sodden. 
But it's not just this brilliant new blend of down and PrimaLoft which makes this jacket a winner, it's the whole package. The Nangpala is everything we want a down insulated jacket to be, and slightly more. It's lightweight at 470g (for a size XL), it packs down to a size that's only slightly bigger than your standard iceberg lettuce and there are a number of features which make it a joy to wear. 
You get two zippable hand warmers which are luxuriously lined with a microfleece fabric for warmth and comfort (as is the collar) and you also get a zippable chest pocket and two large internal pockets. The adjustable hood offers a great fit and it won't feel uncomfortable under a jacket, a very effective zip baffle prevents cold spots from forming and most of all it's incredibly warm. 
In a line: Everything you could ask for from a down jacket, and more.
ABR Rating: 9/10
---
Jack Wolfskin Argo Down Jacket
£250 | 246g | www.jack-wolfskin.co.uk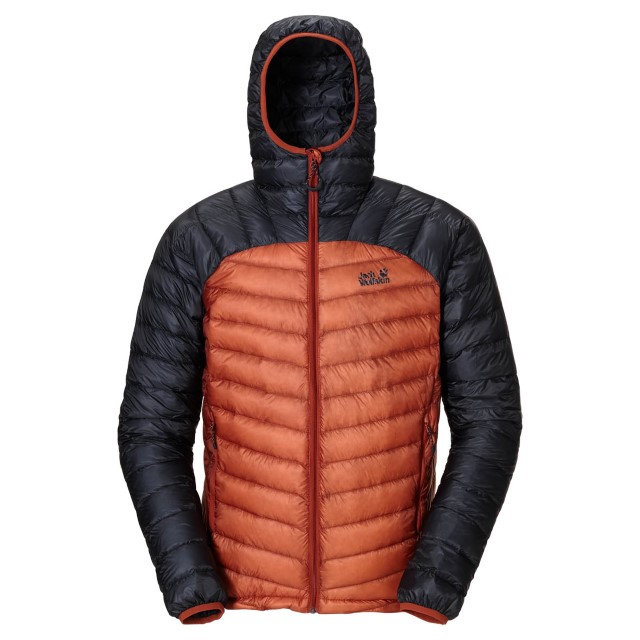 In the Argo Down Jacket, we've got an ultra-lightweight down jacket that weighs in at 246g (in a size XL) and uses a high quality 800 fill power goose down with a composition of 90/10 to keep you insulated and warm. The impressive thing about the Argo is its lightweight and tiny pack size. It's just 7g heavier than the PHD Wafer Down (the lightest in this test), though the Argo has a hood, and it packs down to a minuscule 15cm x 11cm when stored in the supplied stuff sack. 
This makes the jacket the ideal mid-layer for riding when it's going to spend more time in your panniers than not. And even for those days when you want to wear it under your motorcycle jacket, its close fit makes it unrestrictive and comfortable. In use, the jacket is nice to wear, though the fit is on the tight side so don't plan on throwing it over too many layers. With that said, the warmth provided was impressive for such a light garment. It's not on par with the PHD Wafer, but it'll keep you sufficiently insulated at temperatures of around and just above freezing. 
One thing that I noticed in particular with this jacket is that the inside will become damp with sweat very quickly if you exert yourself. This will affect the performance of the coat in cold conditions as the moisture that's trapped on the inside of the jacket will be allowed to cool, making you cold. If you can avoid doing anything too taxing then the Jack Wolfskin Argo is a great lightweight jacket. Warmth is good and the comfort provided is spot on, even if it has a very close fit. 
In a line: Incredibly light with a tiny, tiny pack size.
ABR Rating: 8/10
---
Yeti Purity
£299.99 | 266g | www.yetiworld.com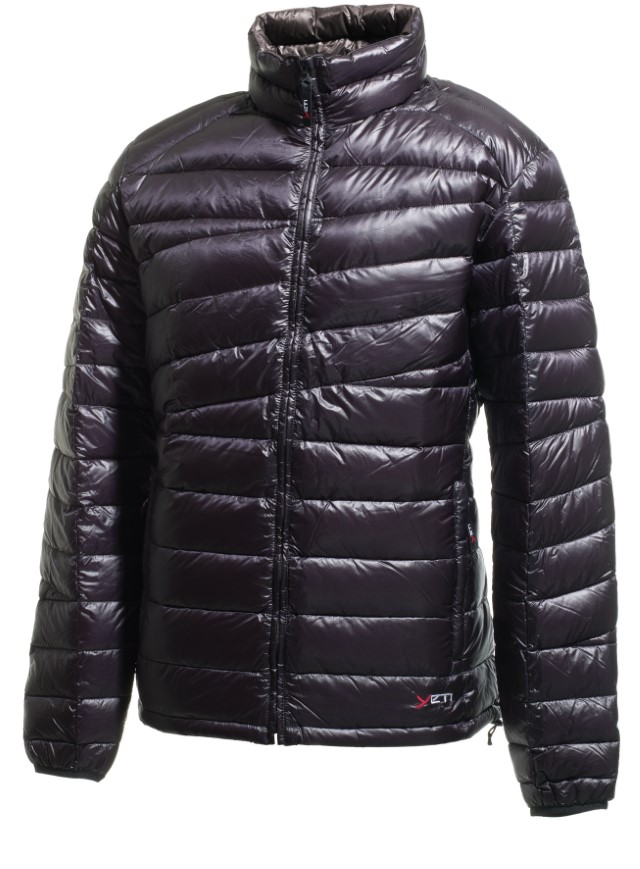 If you like to count every gramme of your gear then you'll no doubt be aware that the lightest of lightweight kit doesn't come cheap and at £299.99 the Yeti Purity will make even those with the deepest pockets grimace. At 266g for a size XL it's the third lightest jacket we have in this test. It uses an 800+ fill power European goose down fill with a 95/5 composition – a higher than usual ratio and already we can start to see why it's so expensive. 
There's a nice little graphic on the inside of the jacket which says 'next to nothing' and when you put the Purity on for the first time it makes sense immediately. If it weren't for the warmth provided by the down then you'd feel as though you were wearing just that, pretty much nothing. The outer shell is made using LightyGram, a super-lightweight micro ripstop nylon and in use, it strikes the unusual balance of looking flimsy but feeling tough. It also makes a 'crisp packety' noise as it ruffles about, something to be aware of. 
It's incredible that something this light and small can offer you so much warmth. It's almost on par with the Sherpa Nangpala, this issue's best in test. In terms of pack size, it'll slide almost unnoticed into your panniers, rolling up into a bundle that's no bigger than a large baked potato. You also get four pockets, two zippable hand warmers with a mesh inner and two internal pouches that can be used for stashing treats or a water bottle. 
In a line: Expensive but mind-blowingly lightweight 
ABR Rating: 8/10