Not all adventures involve being up to your goolies in grime. Road trips with a partner or group of mates can be life at its best. Alun Davies reports from the saddle of the road touring Harley Davidson Switchback.
It's been a while, but as far as I recall the most critical aspect of riding an American V-Twin involves adopting facial expressions to match the model. A custom stretched chop with high apes demands a curl of the upper lip and the narrowing of the eyes, behind shades, naturally. On the other hand, when mounting a full touring Electra Glide with the Mrs in tow, you can get away with looking normal. All other models fall somewhere in-between.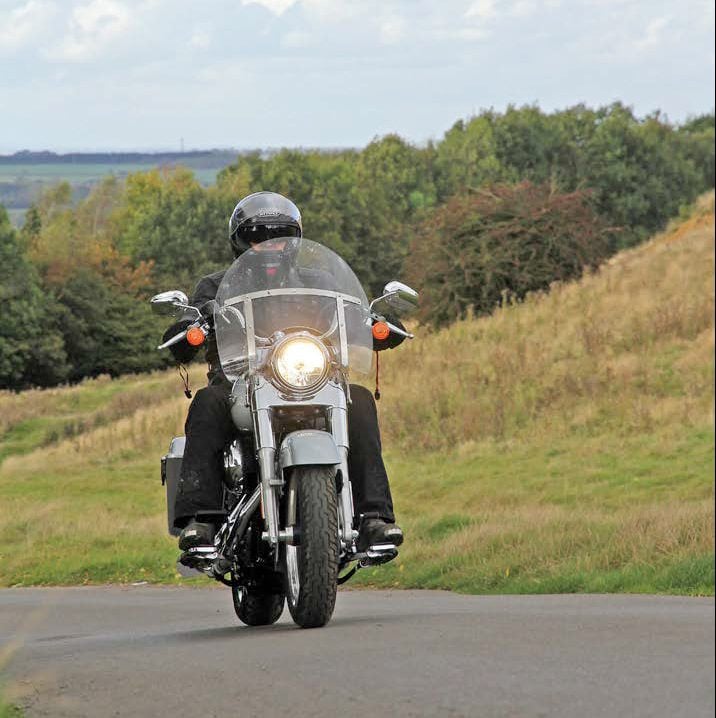 So, when Harley Davidson, the Milwaukee based doyen of hardcore adventure bikes, suggested we check out the Switchback I read up on the specs and ordered a new mirror for the bathroom. The big sell on this Dyna model is that it morphs from being a cool cruiser to a comfortable tourer in an instant; featuring a detachable screen and panniers the Switchback is a bike designed for moody posing around town and for chomping miles on longer trips. 
It follows, that during my time with the Switchback I worked through the full gambit of HD inspired facial contortions. A snarly pout for around town sans panniers and screen to the contented, browbeaten, family man with the better half on pillion for a trip to Mid Wales. 
I have to say, never in the history of mechanical propulsion has a petrol-driven engine induced such a Mike Yarwood style of riding as the Switchback. Plus, if you need to Google 'Mike Yarwood' you're far too young to be owning a Harley. It was in the late '80s when I lived in the pre-Celtic Tiger Ireland that I bought my first HD. Back then there was no official dealer in Eire, just a couple of lads from the Dublin based Devils Disciples back-patch club selling second hand imported models out of a pop-up shop named Barnstormers. 
The model was a 1979 Ironhead Sportster and in keeping with tradition, it was under the spanner more than on the road. In short, it was a desperate bike though it gave me the opportunity to perfect pouting and, if truth be known, attend some of the best rallies I'll never remember.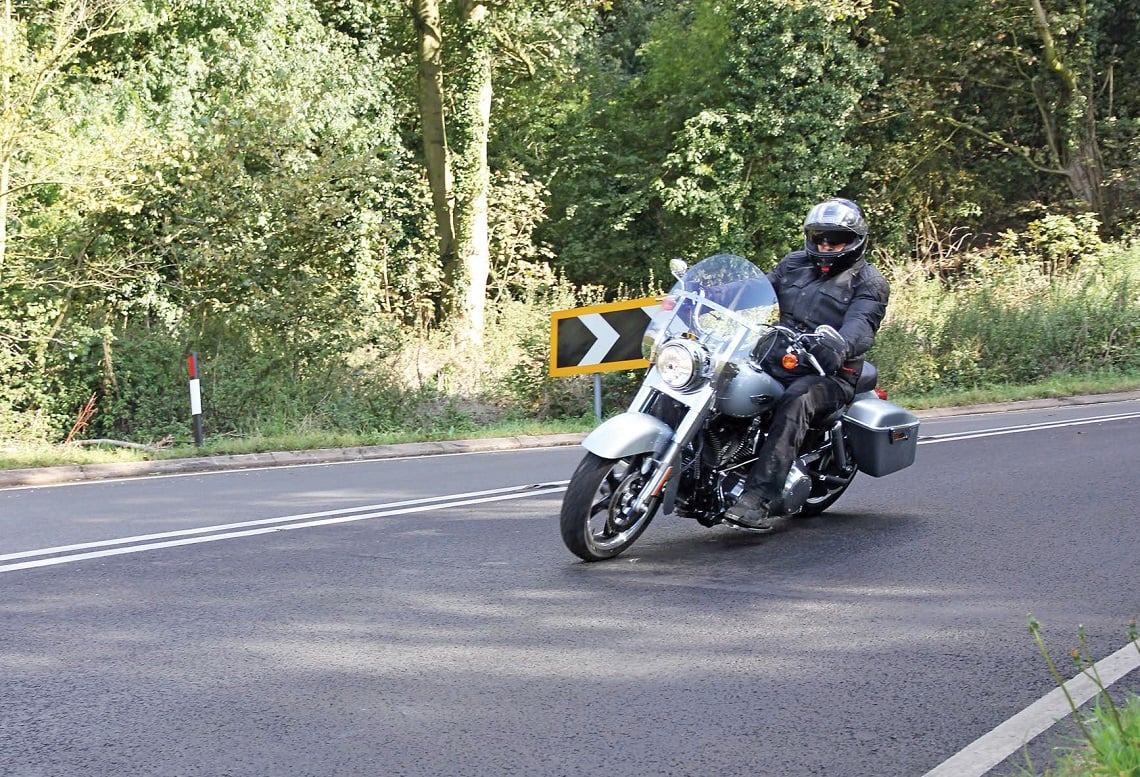 One such meet proved beyond doubt that any bike, including a heavy lump of US scrap, could be taken off-road as reaching the campsite involved a three-mile scramble through an Irish peat bog that would out-Congo anything in Central Africa.
My affection for HD took a severe dive after the third repair bill over £500 and I offloaded the Ironhead to a prospect of the Devils Disciples with an overly optimistic nature. Fast forward to the Millennium and the snarl returned with a vengeance in the shape of a custom-built, Night Train chopper featuring huge ape hangers and no front mudguard. With a middle-aged, badass crisis in full throttle, the bike served its hormonal purpose though ultimately it was un-rideable in any meaningful way. 
Next up came a chance trip to the Faroe Islands in 2008 and a meeting with Ove Ritter, the owner of the most remote Harley Davidson shop in the world. Over a couple of pints, Ove offered me the loan of a 1200 Sportster to go touring the 18 lumps of rock thrusting out of the North Atlantic. During the next week, I experienced some of the best biking ever and HD was back in my good books. 
Harley has come a long way since the bad old days of the unreliable Ironhead. The current models are soundly built and reliability is good. The company's range extends from the lower cost, entry-level Sportster to huge, wallet sapping, road touring monoliths. In the middle, you'll find the Dyna and Softail models.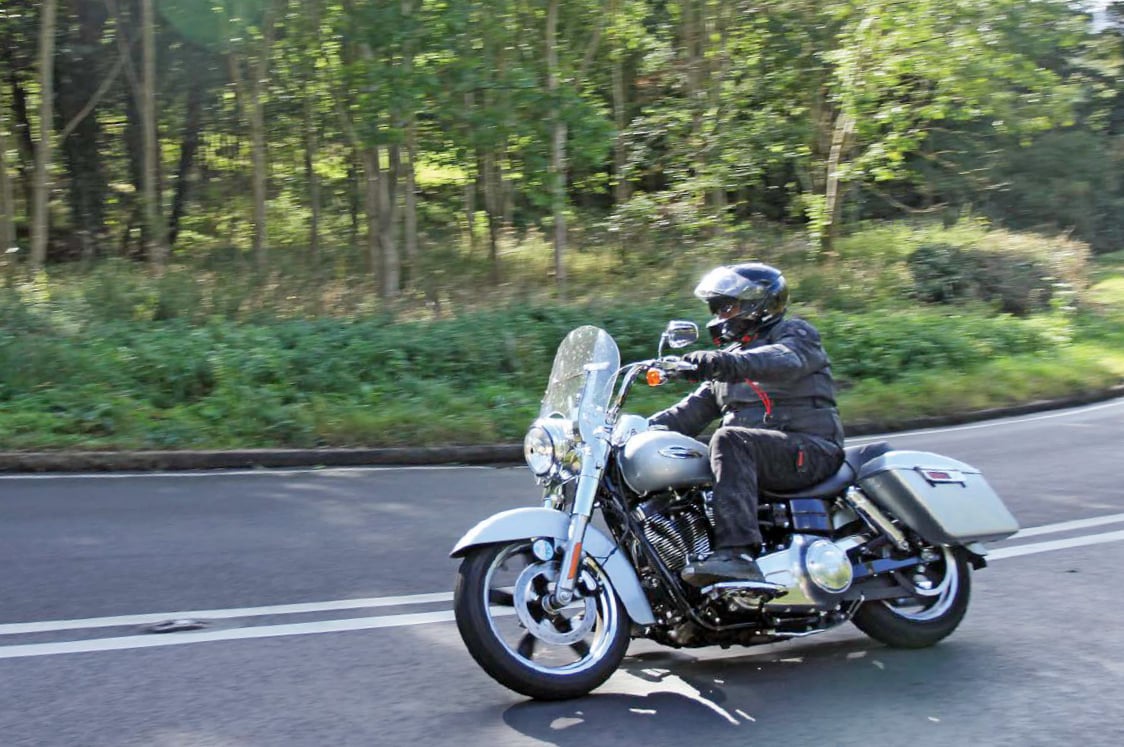 It's all a matter of opinion but I reckon the Softails look better with the rear suspension hidden to mimic the hardtail chops of olde. The Dyna range display traditional twin shocks, but it's in the vibration department where you're more likely to feel the difference. Softail engines are solid mounted to the frame and come fitted with a balance shaft, Dynas are rubber mounted and lack a balance shaft. What this means is, Dynas come with more vibes, man. 
Let's start with some good news for the older, less athletic adventure bike rider with a penchant for tight-fitting pants. If you're struggling to throw a leg over a high backed adventure bike then a Switchback could play a part in your touring future. And I'm not jesting here. Over the past few years, a couple of mates have bought a Harley for this reason alone. The Switchback, with a seat height of just over 27in (695mm) it's no effort to mount even when wearing the tightest most unforgiving pants. Plus, if you're over 5ft tall you should be able to plant at least one foot, and more probably two, firmly on the ground.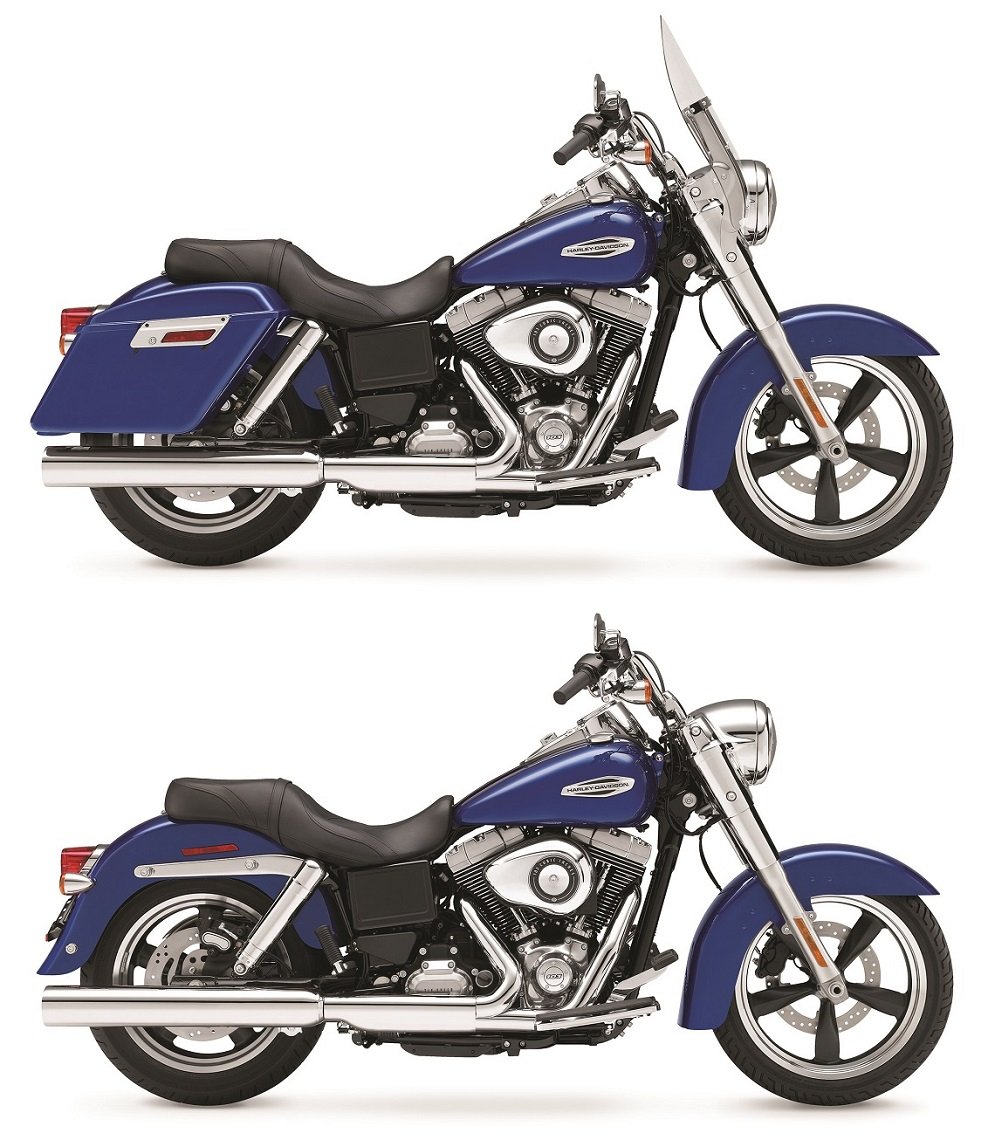 The bike supplied by Harley for the test ride came in what appeared to be a light powder blue livery. Being more of a gnarly black persuasion, I was surprised to be riding something that looked more Mothercare window display than Sons of Anarchy poster boy. Fortunately, the bike does come in more manly colours and when I was informed it was actually 'silver' and not 'powder blue' I cheered up some. (NB – I've since noticed Harley have dropped the powder blue from their website). 
The ergonomics of the Switchback are sweet once you get used to the forward controls and floorboards. Surprisingly, at least for someone who's 6'2", it does feel a little compact, not uncomfortably so, but certainly not as spacious as the layout on larger capacity adventure bikes. 
Harley make a big shout about the fact that you can ditch the Switchback screen and panniers in seconds. However, when compared to 'adventure' style luggage, I'd have been in the bar ordering drinks with Metal Mule panniers at my feet whilst the Switchback rider was still walking to the front door. And speaking of panniers, the set that comes with the Switchback are nicely styled for the bike and offer a narrow profile but they are small. Okay for the solo rider staying in hotels, and that's about it.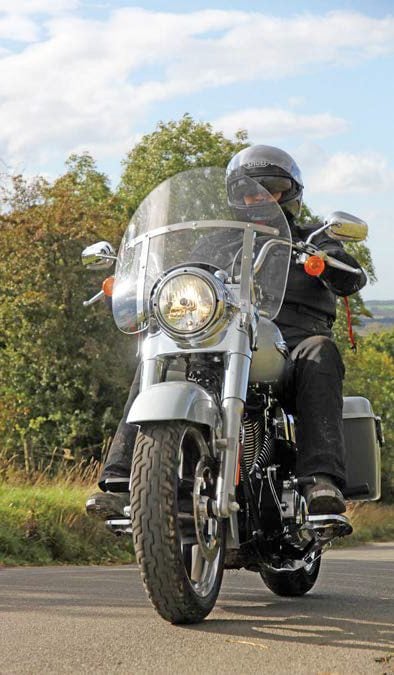 The removable screen works well, it comes away in no time, the only downside is that with no way of securely locking it everyone else can detach it quickly too. On the plus side, it's effective and remarkably stable for a removable feature. Security aside, I like it. 
Firing up a Harley is a wonderful and emotive experience and that's why on February 1, 1994, the company filed a registration for a trademark, with the following description: 'the exhaust sound of applicants motorcycles'. Harley attempted to trademark the rumbling 'potato, potato, potato' exhaust note but to no avail. After six years of legal fees and no success, the claim was dropped. 
Just as much a part of the HD experience are the vibrations and throb produced by the huge 1691cc V-twin engine. To put this into perspective, if you've never ridden anything other than a silky smooth Japanese four-cylinder, you're in for a big shock. On the other hand, you could just get why riding a Harley is one of the most emotive experiences you can have on two wheels.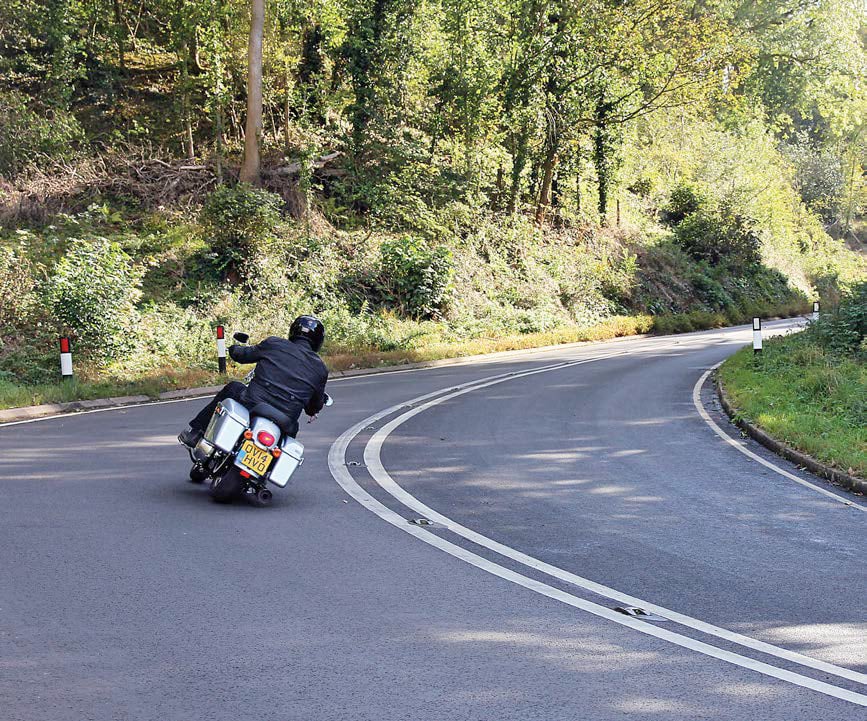 The controls include a small LCD display activated via a switch on the left bar which displays basic information including clock, trip meter, rpm and gear. You also get keyless ignition and dual indicator switches mounted on the left (for left) and right (for right). The indicators are self-cancelling which is a nice feature some of the time though annoying for the rest of the time. In use, they can and do self cancel at the wrong time. 
Around town, it's easy to appreciate the low seat and stability of being able to plant two feet firmly on the ground.
At 320kg it's a heavy bike but the weight is well balanced making it feel far more stable at paddling speeds than many of the top-heavy adventure bikes. 
I'm not a great fan of floorboards and getting used to the foot position, in relation to the forward controls, takes a little conscious thought if you want to dab the brake rather fresh air. On the other hand when cruising out on the open road floorboards are a very welcome feature for relaxed, comfortable riding. 
On A-roads, it's easy to be caught out by the low revving power of the Switchback. The motor is a typical HD Twin Cam with the power and torque delivered at low revs, stick it in sixth and you'll be doing 70mph at a remarkably low 2500rpm. 
Coming off a plush adventure bike which smooths over road imperfections highlighted the harsher nature of the Harley. I could feel just about every lump, bump or minor crack in the road though it's something you quickly get used to, in a nostalgic kinda way. 
The handling feels neutral and responsive, like a bike with a shorter wheelbase, and grinding floorboards on bends is part of the ride, but then they do bottom out a little too quickly for my liking. It would be disingenuous to describe the Switchback as nimble and agile but it's no lumbering bind either. Once you're in tune with the bike's manners you'll be hustling along faster than you'd have imagined. 
The Switchback could benefit from a little more function over form in the front brake department. Whilst it would be a shame to hide those luscious wheels behind an additional front disc, knowing there's extra stopping power, should I ever need it, especially when fully loaded with a pillion would be comforting. That said, the brakes performed well and when ridden at a pace to suit the style, the single front disc was adequate and the rear just fine. 
The Switchback vibrates, of that, there is no doubt, fortunately, there's a sweet spot at legal motorway cruising speeds where you can just chill in the sumptuous rider's seat and the world is a wonderful place. Go above, or below 70mph and the vibes kick back in, to the point where I had to pull the clutch in to get a clear view in the mirrors. 
As a pillion carrier, the stock Switchback is lacking in comfort. On the plus side, you could carry a sumo, or tow an oil tanker without the grunty engine noticing the extra weight but the pillion perch is just too small and not a place to be for any length of time. In addition, my partner had trouble tuning out those vibes. 
There are many aspects of the Switchback that I like and admire. With modern bikes looking ever more like plastic Lego creations it's pleasing to see that the Harley still resembles a machine made out of a chunk of solid metal. Throw in the cool looks, great sound and the Harley heritage and image and it's easy to see how these bikes appeal – I know so, I've bought so. 
Added to the above, and once you've dialled into its design and performance limitations, you have a bike that rides and handles well enough, offers great rider comfort and from most accounts now comes with excellent reliability built-in. However, you'd need to invest in a more comfortable seat for a pillion and with a tank size of approximately four gallons, you'll be running dry in 160 miles which is disappointing for a tourer. 
Overall, this is a bike I could see myself enjoying more on each trip, but it would have to be black.