Paul Jennison gives us a heads up on the best adventure and Enduro-style helmets out there
A few years ago, helmet choice was very limited. The first helmet I bought some 30-odd years back was a polycarbonate Centurion open-face with a peak, held on by snap fasteners – cool or what?! Well, I thought so.
Today, if you take yourself into any motorcycle shop you'll be dazzled and no doubt confused by the vast array of lids on offer. Now we're not just looking for a piece of safety kit. We're looking for a helmet that will complement our choice of bike and our yearning to travel in adventure mode. We've seen the 'cool guys' on telly, riding around all over this planet of ours, and the helmet of choice seems to be the Enduro-style lid, the one that makes you look like an off-road god or a dyed in the wool 'Adventurer' with a capital 'A'.
But buying a helmet is about more than looks. Practicalities like long-distance comfort, visors and removable peaks must come into consideration. The list of individual requirements goes on and on. Budget will also be a major factor in choosing the right lid for you, but remember: safety first. The space between our ears is taken up by the most vital organ in the whole body. Without
the brain, none of the other bits will work, and if it gets damaged, the rest of the body becomes impaired. A sobering thought, but true. My biggest piece of advice would be to get the best helmet you can possibly afford; you get what you pay for.
Who's writing
Paul Jennison: I'm a 50-something retired police officer and have been riding bikes for well over 30 years – 20 of which I was paid for! Bikes and all things associated with them are in my blood; it's all I've ever wanted to do from an early age and
having the chance to ride for a living was a dream come true. I started riding on an old step-through over the fields with my mates, and then it was onto the road with everything from an old Lambretta LI 150 to sports bikes of all kinds. Now I'm retired I just love to travel on my bikes – oh, and I've developed a healthy a gear fetish, too!
Features we like…
Removable peak with side-pod option
When you want to ride without the peak, some of the manufacturers allow for its removal and include side pods in the deal to cover the visor mechanism. This will cut down on a lot of the noise created by the turbulence around the peak
Anti-misting visor
Whether it's an anti-fog coating applied at the manufacturing stage, or a Pinlock insert which double glazes the visor, the absence of a misted visor in cold or wet conditions is a blessing
Adjustable vents
Cool air circulating around your head on a hot summer's ride is heaven sent. But if it's still there blasting down the M25 on a wet and cold winter's day, you'd be forgiven for thinking you're on the road to hell. Adjustable vents which you can open and close at will are the answer
Goggles option
Riding down an overgrown green lane with twigs and branches raking across your visor will leave you cursing the price of a replacement. However, taking it off and replacing it with a pair of goggles that offer the same eye protection means your visor's safe and you need only fork out for cheap replacement goggle lenses
Washable liner
Being able to whip out the liner and give it a quick launder not only restores the plush lining but also avoids the problem of having to put your head into something that smells like a wrestler's armpit
Chin cuffs
The extended chin bar design on an Enduro-style lid gives great extra ventilation, but you won't want that in the cold weather. Insert the chin cuff and cosy up inside.
Caring for your helmet
The helmet outer is obviously open to all elements from sun and rain to flying objects, insects, and grit. The outer should be cleaned with warm water and a neutral detergent. Let the water loosen the grime before wiping it over with a non-abrasive cloth to remove the dirt. Then dry it with a clean, dry lint-free cloth. If it becomes soaked, always allow to dry at room temperature away from any direct source of heat.
The liners, if removable, should be cleaned regularly. Not just for hygiene, but because the bacteria build up will degrade the lining material, padding and the inner shell. There are some proprietary helmet sanitizers on the market, which will freshen the linings up, but don't make up for a good wash in the machine. Place your lining inside a pillowcase and put it through on a gentle wash with a little detergent
Clean the visor as per the manufacturer's guidelines. If it has any anti-scratch or fog properties, be extra vigilant. Always use clean water to soak the worst off and then wipe with a lint-free cloth or tissue. Don't use abrasives!
When should I replace a helmet?
The recommended lifespan of a helmet varies between manufacturers. Some believe that they should be replaced anywhere between two and four years, but the general rule of thumb is five years, based on average use. Most of you will know when it's time to trade in your lid, but the following may help you decide:
If it shows any signs of damage it should be replaced immediately. It's impossible to see minor damage and underlying structural faults with the naked eye, so some manufacturers offer an inspection service, which will check the integrity of the helmet. This is definitely worth checking out before shelling out for a replacement.
The properties which make up the helmet construction can degrade over time, from resins and glue to liners and padding. When a helmet shows signs of wear, or becomes looser when worn, it should be replaced
Regular cleaning of the helmet and liners will increase longevity
Safety first
All helmets sold in the UK must comply with British Standard BS 6658:1985 and carry the BSI Kitemark. Those that don't must comply with UNECE Regulation 22.05 or comply with any standard accepted by a member of the European Economic Area, which offers a level of safety and protection equivalent to BS 6658:1985 and carries a mark equivalent to the BSI Kitemark.
For added safety, look for a lid which also has an ACU (Auto Cycle Union) gold sticker on it. This means the helmet has been subject to super rigorous testing and been certified as good enough for racing on metalled surfaces.
If a helmet suffers an impact, the damage can be unseen; a damaged helmet is next to worthless if it's called upon to do its job in a spill, so it's recommended that it be replaced. On the same note, don't buy second hand. A second-hand helmet may look perfect and seem like a good deal, but there's no guaranteeing its integrity.
A word on visors
Over time and use, the visor will become worn and scratched. When this occurs, it will need replacing. A scratched visor will impair your vision, especially at night, when it will cause headlight glare to be distorted.
Any visor (or goggles) sold for motorcycle use must have been tested to BSI or its European equivalent standards. Look for visors marked BS 4110 or ECE 22-05. Visors must be able to transmit at least 50 per cent light. Deeply tinted visors, which will not have a mark of approval, are illegal in the UK.
I would only ever replace my visor with OE (original equipment). Sure, buying official manufacturer's parts can be expensive, but think about how a visor operates. Aftermarket ones do a job, but not as well.
They rarely fit or fasten down properly because they're made from cheaper materials and can't follow the original visor's design exactly because of copyright laws. An Arai or Shoei replacement visor is in the region of £50. A pattern one can be obtained for around £30, but you will certainly notice the difference in fit an quiality.
Brand Rayven Vcan 370 £69.99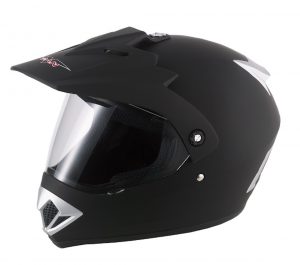 The first thing I noticed with this helmet was the price, and I admit that some preconceptions entered my head when I saw how cheap it was. Then I looked at the specifications and the lid itself, and I had a rethink. For the money this is indeed a bargain.
The construction is a thermoplastic (polycarbonate) shell with an EPS inner, which helps to spread the point of any impact. It bears an E22/05 safety mark and has an ACU Gold recommendation.
The comfort liner is a removable and washable fabric, which has a soft feel, but the padding does seem a bit sparse and has a loose feel until the helmet is on your head.
The chin strap fastener is of the double D-ring style, which is the most secure method of fastening. The D-rings have an inferior look and feel to them, and although they'll probably be strong enough to retain the helmet in an impact, the rougher edges may cause premature wear on the strap itself.
The visor is of a sturdy construction, with an anti-scratch coating. The ratchet system has four detents and stays in place once set. When closed it also stays closed and seals well. The opening tab is larger than those on some of the helmets on test here and is easy to operate with a gloved hand. Peripheral vision is good and goggles can be easily accommodated with the visor fitted or removed.
The peak is secured at the top and sides, and is height adjustable. The sun shade will be most effective at its lowest setting, however there's no provision to remove the peak for use as a full-face helmet.
Ventilation is good with a fixed vent on the deep chin bar, which will keep cool air around the face and assist with de-misting. There is a closable crown vent beneath the peak and four exhaust vents to draw out hot air, two behind the spoiler and two at the back of the head.
In a line: The old adage 'you get what you pay for' is true in many ways, but with the Vcan 370 you get a bit more
ABR Rating 6/10
Brand Spada Sting £89.99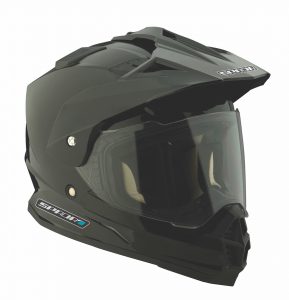 The Far East is well known for its mass-produced, low-cost kit, and sometimes the quality, or lack of it, shows. So when it comes to motorcycle clothing, does the same apply? Well, Spada has introduced a range of gear manufactured in the Far East which seems to break the mould.
The company's contribution to the adventure helmet market is the Sting. The angular design, which wouldn't look out of place on the set of a Sci-Fi movie, may be in vogue but will likely have Marmite appeal; you'll either love it or hate it. The shell is of a thermoplastic (polycarbonate) construction and has the appearance of something a lot more expensive. This is bonded to the EPS inner and has reached European safety standards as well as earning itself an ACU Gold Mark, too.
The padding and liner are sumptuous and have a nice feel when on your head. The cheek pads and central pad are removable for washing, which is just as well, as the one we have on test is cream coloured. This will be in the wash quite often, then!
The helmet fastener is the ratchet type and has plenty of adjustment in the strap.
The visor fits the aperture well and gives good peripheral vision, as well as accommodating goggles with the visor in or out. It does not, however, boast any anti-scratch or anti-fog properties so care will be needed otherwise you'll be shelling out for a replacement in no time. There are two opening tabs either side of the visor, but these are on the small side for operation with a gloved hand.
The peak is adjustable to offer sun shade. It is sturdy and has slots to allow air flow and reduce drag and vibration. Side pods are available to give the option of taking the peak off and converting it to a full-face helmet.
The ventilation on this helmet is abundant. The inlet vents are all adjustable, but the catches are small and fiddly, especially with gloves on, and do not inspire confidence with their robustness. Cool air should circulate well though and there are several exhaust vents to keep it moving.
In a line: The Spada Sting is a budget-entry helmet, but has quality running through it
ABR Rating 7/10
Brand Shoei Hornet-DS £330.95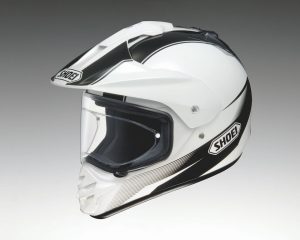 The Hornet-DS (dual sport) is Shoei's entry into the adventure helmet arena and its answer to fellow Japanese manufacturer Arai's X4.
Introduced a couple of years ago, the Hornet was seen as a godsend by many ABRs who wanted a quality helmet but couldn't live with the Arai for one reason or another.
The Hornet is built with the proprietary AIM+ technology Shoei uses for all its lids. This is a combination of fibreglass and natural fibres (Shoei claims it can only be cut with a laser) which bond together producing a very strong and durable shell designed to spread collision energy across the entire surface of the helmet.
The shell is then bonded to an EPS liner, which absorbs any shock waves from an impact. The liner also has grooves cut into it to allow cool air from the excellent ventilation to circulate around the rider's head.
The liner is then covered with a wick- ing material that has antibacterial and anti-fungal properties (it's claimed the liner can be removed for washing, but I found it a bit of a fiddle to get it back in).
There is a removable chin cuff, which is larger than some of the others tested here, but is effective and not too claustrophobic when in place.
The helmet is fastened via double D-ring and strap, which is the safest system by far.
The visor comes with 'Pinlock' which prevents fogging and is removed by taking out the single screws either side of the peak, which stays attached via the top vent. Goggles can be easily used instead. The ratchet for the visor keeps it locked into any position but requires a firm push for the final seal to take effect. The peripheral vision is very good.
On the subject of the peak, it is sturdy but suffers from a minor but irritating 'buzz'. It's also set quite high on the helmet, which although allows air to pass into the front head vents, also negates any shade from that awkward low sun. That said, I like it.
In a line: Another great helmet from Shoei, which would have scored higher if it had a longer peak
ABR Rating 8/10
Brand IXS HX277 Enduro €99.95 (£83)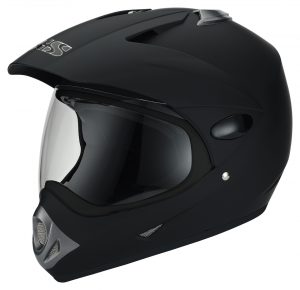 If you're motorcycling on a tight budget and need to spread the cost of your kit, the HX277 Enduro helmet from Swiss manufacturer IXS is a decent-quality lid which will still leave you plenty of spare dosh for other ABR-ing bits and bobs.
The outer is a sturdy polycarbonate construction made using thermoplastics, which are characterised by surface hardness and good absorption of impact energy; this is bonded to polystyrene which also helps absorb hard knocks. The HX277 is well put together and finished in matt black, with the most basic of features.
It has a removable lining with firm but comfortable padding. The liner can be cleaned, but only using a damp cloth and mild detergent and then dried at room temperature.
Vents are plentiful in the chin-bar area and on the forehead, but these are fixed open, which may restrict the helmet's use in winter. There is no additional chin cuff for added draft proofing either. If you're riding off road and working up a sweat, the ventilation will be most welcome, but it's also worth remembering that as well as air getting in, so will the water when it starts to rain!
The peak is rigid and offers good protection from branches and works well as a sun shade, although with this helmet there is no option to remove the peak for riding without it, as no replacement side pods are available.
The visor has no ratchet system, but stays in place even if cracked open at speed, so there were on nasty surprises from it opening spontaneously, and peripheral vision is good. There are no anti-fog properties on the visor so the use of a propriety treatment will be required. Alternatively you can use goggles with the visor removed or in place.
The helmet fastener is of the ratchet type and gives a quick and easy operation even with gloved hands.
On the road test it was reasonably comfortable but does suffer from wind noise and on the motorway the peak vibrates which resonates through the rest of the helmet.
In a line: A budget beater in this year's 'it' colour –
ABR Rating 5/10
Brand BMW Enduro from £330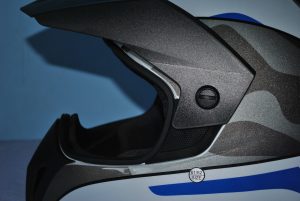 BMW makes the best-selling adventure motorcycle currently on the market, so it follows that its customers want quality equipment, bearing the same logo.
The BMW Enduro helmet has been specially introduced to go hand in hand with the GS range of bikes, and doesn't disappoint.
In the Enduro, BMW has produced a helmet with a Kevlar and fibregalss outer shell. This makes it not only strongly impact resistant, but also very lightweight compared to other lids on test. The shell is bonded to an EPS inner shell, adding to the strength and lightweight qualities, and tips the scales at mere 138kg. An uber-lightweight carbon fibre version of the Enduro is also available – if you've a spare £875 in your pocket!
The liner of the helmet is removable and washable – always a bonus after a hot summer – and the cheek pads are replaceable.
The fastening for the helmet is of the double D-ring type, which is the safest and most comfortable style out there, and is easily adjustable.
The visor is injection-moulded, three-dimensionally formed with anti-scratch and anti-fog coatings, and these properties will last if the manufacturer's cleaning guides are followed. The ratchet mechanism holds the visor in any position and allows good peripheral vision.
The visor can be removed in seconds for changing or cleaning with a quarter turn of the fastening screws, and allows for the use of goggles with ease.
The peak offers good protection of the visor/goggles from stray branches or twigs if riding off road, as well as an effec- tive sun shade. It also has minimal vibra- tion at higher road speeds and allows for lifesavers without your head being pulled around from the wind blast.
Ventilation is afforded by two vents on the top of the helmet with exhaust outlets behind a small spoiler. Two additional fixed vents are on the chin bar, to assist with visor misting. A removable chin cuff is a great feature for those chillier rides.
All in all I find it hard to fault anything about this helmet; its safety features and its comfortable, light weight make it ideal.
In a line: A great Enduro helmet to suit all, and not just for BMW owners
ABR Rating 8/10
Brand HJC IS-Muli £179.99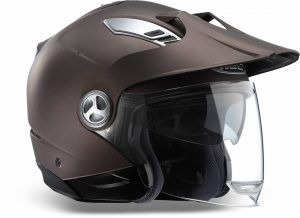 The HJC IS-Multi is a Modular helmet, that is, it's seven helmets in one! It's a full-face, a Super Moto, an off-road; open-face (with visor and peak), open-face (visor only), trial-type (peak only) and open-face (no visor or peak), phew!
The helmet is fully homologated in both the full face and open face options.
It has a few accessories, to help with the various configurations, but in essence it's a full-face helmet that can be converted into several others as you desire.
The shell is made from polycarbonate, although the finish of the paint and styling suggest it's of a higher quality. The shell is bonded to an EPS inner, which helps absorb any impact to the shell. The inner is then covered with a removable and washable liner, which incorporates firm but comfortable padding.
The IS-Multi also incorporates a retractable sun visor, which is spring loaded, so only requires a touch of a button for it to automatically retract. I felt that the sun shield could be a little deeper and darker, but its operation is a nice feature.
The larger-than-large visor enables excellent peripheral vision and also includes a chin vent, to assist with any misting issues – the narrow chin bar has no vents. There is a removable mouth vent, which can be screwed to the chin bar, but for this to be used the visor has to be removed as it will not fully close when in place.
With the peak in place the visor fouls on the peak when opened, even with the peak at its highest position. This keeps the lower edge of the visor in the rider's eye line.
On the road test I was impressed with the low noise levels, especially given the large visor, and the peak was sturdy, although I found that if I moved my head to the side at speed there was a droning noise caused by the interrupted air flow on the peak.
In a line: he IS-Multi is a well-thought-out design which offers a flexibility that many other helmets don't
ABR Rating 6/10
Brand AGV AX8 Dual Evo £249.99
Can you feel The Force? This adventure helmet from AGV is styled for Star Wars fans everywhere! The angular design, deep chin bar (with added nose guard), obscurely shaped visor and spoiler-type peak put me immediately in mind of a Storm Trooper from that epic movie.
Despite being a quirky looker, though, it has all the quality you would expect from this Italian manufacturer.
The SSL (super-super light) shell is made from a Kevlar/carbon mix making it very strong and highly impact resis- tant. Bonded to the shell is the EPS inner, which will help absorb and spread the impact shock waves.
The Dri-Lex moisture management liner and padding has that quality feel to it and is also fully removable and washable, as is the rubber nose guard and the chin cuff, which are located top and bottom of the chin bar. The double D-ring fastening strap is used on this helmet.
As mentioned the shaped visor is unique but works well. It has an anti-scratch coating as well as a 'NFS' anti-fog treatment. It has three detents on the ratchet and is very positive in operation, although the opening tab is on the small side for gloved hands. It stays in place at whatever position you want, though, and when it's shut it's shut and well-sealed against any ingress of water. There is enough space for goggles to be used, with or without the visor.
There are vents aplenty here, with the usual closable chin, brow and head vents which will give good airflow when opened keeping you cool on a hot day. Then there are also eight exhaust vents to complete the cooling procedure and allow the hot air out.
The peak is secured by two screws either side and is none adjustable. It should, however, be removed if travelling at speeds above 62mph! It's simple to remove for the full-face option and is independent of the visor.
In a line: This is a comfortably fitting helmet with good features – may the force be with you!
ABR Rating 7/10
Brand X-lite X-551 from £320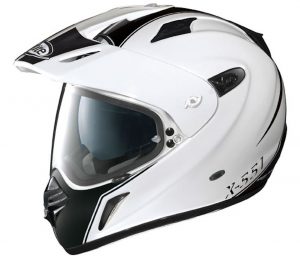 The X-551 is a full-visor adventure helmet from an Italian company which is part of the Nolan group. This helmet can be used on and off road and as either a full-face with peak removed or full Enduro-style with or without the visor. It also has an integral sun shield.
The lightweight construction and the sumptuous padding make it one of the most comfortable helmets in whatever mode you choose to use it.
The shell is made from lightweight high-strength composite fibre and is bonded to an EPS inner, which helps ab- sorb any impact shock. It's worth noting that virtually all the X-551's component parts are made by the company and not subcontracted out, which means you can be assured of quality consistency throughout.
The lining is a removable unitherm light racing material which offers maximum breathability, and is, of course, washable.
Fastening is by way of a double D-ring and strap, which is the most secure way of keeping it in place.
The visor is very sturdy and has a which is part of the Nolan group. This helmet can be used on and off road and as either a full-face with peak removed or full Enduro-style with or without the visor. It also has an integral sun shield.
The lightweight construction and the sumptuous padding make it one of the most comfortable helmets in whatever mode you choose to use it.
The shell is made from lightweight high-strength composite fibre and is bonded to an EPS inner, which helps ab- sorb any impact shock. It's worth noting that virtually all the X-551's component parts are made by the company and not subcontracted out, which means you can be assured of quality consistency throughout.
The lining is a removable unitherm light racing material which offers maximum breathability, and is, of course, washable.
Fastening is by way of a double D-ring and strap, which is the most secure way of keeping it in place.
large lift tab, making it easy to find and operate with gloved hands. It's scratch resistant and has an anti-fog coating. It also has the provision for adding a Pinlock insert. The peripheral vision is excellent, and goggles can be accommodated with the visor in place, but I'd recommend it's removed first.
The integrated sun shield is operated via an on/off tab on the left side of the helmet, and again this is easy to use.
Ventilation is plentiful and comes courtesy of some very effective chin-bar vents, two brow inlets below the peak, and large spoiler scoops on the top of the helmet. All of these vents can be closed. The exhaust vents are positioned behind a rear spoiler. There is also a chin cuff that can be taken off to allow more air in under the chin bar.
The peak is a sturdy item secured in three places, which is adjustable as well as removable. With it in the foremost position it offers good sun shade.