A good sleeping bag can be the difference between fun and hell on a ride like the Elephant Rally. Bryn Davies tests four-season bags fit for bedding down in Bavaria
If you're heading off on a winter rally, one of the first items on your kit list is bound to be a bloody good sleeping bag. And unless you're going to be spending your nights tucked up in a comfy hotel bedroom then the sleeping bag you take can make or break your adventure, and in extreme cases, save your life.
When buying a sleeping bag the main thing to consider is its warmth. Forget all the technical mumbo-jumbo and just remember that your bag must be able to perform to the lowest temperature you expect to encounter while out on your ride. If it doesn't, you're going to be in for some long, uncomfortably cold nights at best, and at worse, the possibility of freezing to death.
After you've figured out whether a bag is warm enough for your needs, the other things you should consider are weight and pack-size. If you're planning on stuffing your sleeping bag in to a pannier, ideally you want a lightweight bag that packs down as small as possible. Bear in mind, though, that ultra-lightweight kit can be expensive, so you'll need to off-set the cost against the amount of pannier space and overall weight saved.
We're reviewing 10 four-season sleeping bags from across the price range, starting at just under £60 and finishing at a staggering £410, to give you a good idea of what you can get for your hard-earned dosh. And the great news is that every bag here is fit for a purpose, whether it's an ABR winter rally or Norway's Primus Rally, said to reach temperatures somewhere around the -20 mark!
What to look for in a four-season bag:
Down vs synthetic
The sleeping bags on test here either have a down or a synthetic fill. Down is more expensive than its synthetic counterpart but it generally packs down smaller, has
a better warmth-to-weight ratio and will last longer. On the negative side, if you get down wet the feather structure will collapse and it'll lose its thermal insulating properties. Not only that, but if you're unfortunate enough to get down wet it takes a long time to dry. Synthetic bags aren't going to be like ovens if you get them wet, but they still maintain some thermal properties, plus they'll dry out quicker than down bags and they're generally cheaper. Most sleeping bags have water-repellent coatings but this won't completely stop the fill getting wet, so if you're going to a cold and dry environment consider using down; if it's likely to be cold and damp where you're going, opt for a synthetic bag.
Down construction
Understanding the different types of construction manufacturers use when making down sleeping bags can help explain why some bags are warmer than others of the same weight. The most basic construction technique is called stitch-through. This basically means that one side of the material that holds the down in is stitched to the other, to create what are called baffles for the down to sit in. The problem with this is that where the material is stitched together, cold spots can form as there's no insulation. The plus side of stitch-through is that it's the cheaper way to make a bag. More technical methods include box-wall constructions where, if you were to cut a baffle in half, you'd see vertical side walls keeping the inner layer of material away from the outer, and stopping the down from migrating. A box wall construction will add to the price of the bag but reduce cold spots and increase thermal efficiency.
Fit
A bag that's close fitting while still giving you room to wriggle around in is best. Most winter bags will be a 'mummy' design – wider at the top, narrower at the feet – as the moulded shape means there's less air around your body to heat up, so you'll stay warmer.
Looking after your bag
Sleeping bags are expensive, so once you've got one, look after it as well as you can. Here are a few tips for keeping your bag in top condition:
When riding with your sleeping bag, pack it in a waterproof liner and stash it in the bottom of your pannier where it's out of harm's way
When you're storing the bag at home, don't keep it compressed in a stuff sack – this is a sure way to damage the fill and reduce the life of the bag. Most bags come with larger sacks for storage, or you can hang them from a hook or coat hanger
When washing your bag always follow the manufacturer's guidelines to the letter. Detergents can strip the water repellent from the fabric and damage the fill, so use a detergent-free powder or soap. Down bags are particularly delicate so they're best washed by hand or sent to a specialist cleaner
Letting a sleeping bag dry naturally is the best way to stop it from being damaged. Don't store a sleeping bag until it's totally dry
Temperature ratings
All sleeping bags will come with tempera- ture ratings, although these are a guide to performance rather than an absolute measure (we've found in the past that some manufacturers' claims can be a little overdone which is something you'll find difficult to evaluate in a gear store). Bags usually come with four figures: upper lim- it, comfort rating, lower limit and extreme rating. Understanding these will help you pick a bag that's right for you…
Upper limit: The upper limit is the maxi- mum temperature at which a 'standard' adult can have a comfortable night's sleep in the bag without excess sweating. In other words, how warm it has to be outside before your sleeping bag becomes too hot for the job Comfort rating: As the name implies, if you use the bag within the temperatures given for the comfort rating you should have a decent night's sleep – not too warm, not too cold Lower limit: The lowest temperature in which a standard adult can have a comfortable night's sleep in the bag. If the temperature is below the lower limit of the sleeping bag, consider wearing some extra layers because it's going to be chilly. Extreme rating: You don't really want to be relying on the sleeping bag's extreme rating as it's the 'survival only' rating (for standard adults). If you're forced to push the sleeping bag to its extreme limits prepare for a cold night's sleep!
Highlander Echo 400 £58.99 2,250g

Highlander has a reputation in the ABR offices for offering quality kit at very reasonable prices, and at £58.99 (and cheaper online) the Echo 400 looks set to build on that reputation. This four-season sleeping bag uses a synthetic fill to give a comfort rating of -8oC and an extreme rating of -15oC. Not the most impressive figures in this test, but not everyone will be needing a bag that goes down to Absolute Zero.
The bag uses a synthetic fill called QXF3D. It's a hollow fibre, which means it's able to trap more insulating air than a non-hollow fibre, and it'll maintain a degree of its thermal properties when damp. The fill isn't the lightest around though, and at just over 2.2kg the Echo 400 is the heaviest bag in this test.
The inner is soft and comfortable, the fit of the bag is great – not too restrictive but not too loose – and an effective shoulder baffle helps keep the heat in. The drawcord on the baffles can be a bit of a faff though.
In a line: It may be big and bulky, but if it's value you're after, consider this bag
ABR Rating 7/10
Alpkit SkyeHigh 1000 £125 1,680g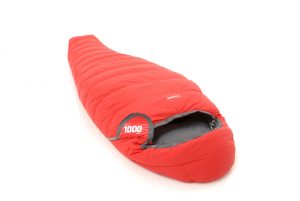 Alpkit is a UK-based company that was started up by four guys with a passion for mountaineering and being outdoors, particularly in the Alps. Its kit is only available to buy off the website (www.alpkit.com) and we've got its four-season SkyeHigh 1000 sleeping bag in for this review. The SkyeHigh 1000 uses a 90/10 650 fill goose down and Alpkit reckons it's good
for use down to -16oC (lower limit). While we haven't had a chance to test it in tempera- tures this low we'll take their word for it as it's a bloomin' warm bag.
An effective shoulder baffle does a great job of keeping warm air in and cold air out and it's easy to adjust when you're in the bag. The two-way zip also means you can ventilate if you start to overheat (which is likely in a bag this hot). The bag has a fairly large pack-size but at just over 1.6kg it's not much heavier than the lightest bag in this test. The SkyeHigh 1000 comes with a large cotton sack for storage and at the foot of the bag there are some hanging loops so you can dry it out if it gets wet. Neat.
In a line: Seriously comfortable and warm at a reasonable price
ABR Rating 8/10
Vango Supernova 8000 £130 1,850g
Vango has been making camping and hiking equipment since 1963 and its product portfolio includes gear to suit every type of outdoor enthusiast. We've got the Supernova 8000 in for this review. With a comfort rating of -16oC to +15oC the Supernova 8000 uses what Vango calls a Thermal Embrace System to provide a snug and comfortable fit. Basically the bag's lining contains elasticised threads that pull the bag towards the body to increase the loft between the inner and outer layer. The snug fit is noticeable as soon as you climb in and zip up and it sure is warm and comfortable, but it's perhaps a little too snug if you're a husky chap. The bag has a two-way zip so you can ventilate if you get too warm, and this zip goes all around the foot box, which
means the bag will open into a flat blanket if you want. For those adventuring on a budget the Supernova 8000 is one
to consider. It'll keep you warm down to -16oC and the Thermal Embrace System makes it a comfortable bag to be inside, providing you're not too big.
In a line: A very warm and comfortable bag for a reasonable price
ABR Rating 7/10
Snugpak Softie Technik 4 £159.99 2,200g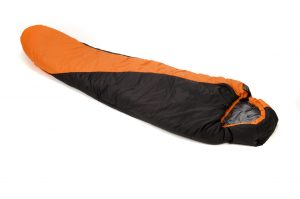 Snugpak has a reputation for making quality insulated clothing and sleeping bags. The Technik 4 is part of the Softie range
of sleeping bags that are handmade in the UK, refreshing to know when a large majority of outdoor gear is manufactured in the Far East. The Technik 4 has a comfort rating down to -10oC, an extreme rating down to -15oC and it has been designed for cold weather camping and low alpine conditions. The bag uses Snugpak's Softie synthetic insulation to keep you warm. Once in the bag there's a surprising amount of room thanks to the ergonomic design. Weight-wise it's the second heaviest in our review at 2.2kg. As well as the heavy weight, the bag has a fairly large pack size, too. All in all, though, we're impressed with Snugpak's Softie Technik 4. It's been well designed to fit the shape of the body and the foot box provides adequate insulation. It's probably too heavy and bulky to use on tour, but if you're not going to be travelling from place to place that's less of an issue. We also love the fact that it's manufactured by hand and in the UK.
In a line: A quality handmade bag; if you like to buy British, buy this
ABR Rating 8/10
Apex by Blacks Ridge 550 £169.99 1,350g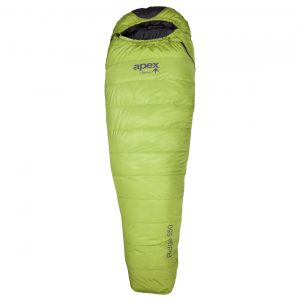 The Ridge 550 has been made for use across all four seasons with a comfort rating of +20oC to 0oC. Although the bag, which uses a 550 fill goose down, has an extreme rating of -22oC you won't want to be relying on it if you're in a situation where temperatures are that low.
At 1,350g the Ridge 550 is the lightest bag in this test and its pack-size is pretty impressive for a four-season sleeping bag, compressing to 27cm by 15cm. The bag features a two-way zip so you can ventilate your feet if necessary and the anti-snag zips work. The shoulder baffle provides an effective barrier to keep warm air in and cold air out. The bag uses the box-wall construction technique rather than stitch through, so cold spots should technically be minimised. I say technically because, while the box-wall baffles minimise cold spots at the stitching, it almost seems like there's not enough insulation in the bag.
All in all the Ridge 550 is a four-season sleeping bag to look at if you're after a lightweight bag with a small pack-size. It's a shame that the down doesn't stay in place because otherwise we'd really like this bag.
In a line: Not for the coldest winter nights, but it has a great weight and pack-size
ABR Rating 7/10
Marmot Sawtooth £185 1,559g

Marmot was started in 1974 when two American college students with a passion for mountaineering made prototypes of down products in their dorm room. Three of the first few products they made were sleeping bags, and since then the company has earned a reputation for manufacturing quality bags. The Sawtooth is a four-season down sleeping bag with a 600 fill power. According to Marmot it'll keep you warm in temperatures as low as -9oC comfortably, and will help keep the blood flowing down to -28oC. The Sawtooth weighs in at a reasonable 1.5kg. While that's not the lightest in test it's not particularly heavy and the surprisingly small pack-size of the bag means you won't be too pushed for pannier space. The Sawtooth is a very comfortable bag to be inside, although sizing-wise it seems a bit more restrictive than the other bags on test, especially for someone who's six foot with a larger than average build. You get a two-way zip for ventilation; the hood is a good shape and the shoulder baffle is easy to adjust and works effectively. You also get a stash pocket for storing your cash or anything you want close to hand.
In a line: Well-thought-out design that's ideal for small builds
ABR Rating 8/10
Ajungilak Lahar Winter £260 1,400g

Norwegian brand Ajungilak has been making top quality sleeping bags since 1855 but it's since been taken over by the renowned mountaineering gear manufacturer Mammut. The Lahar Winter bag has a 650 fill goose down and it features a water and wind-resistant VentX fabric on the outer to help keep the fill dry and effective. The Lahar Winter weighs in at 1.4kg making it the second lightest bag in test, just behind the Blacks Ridge 550. But the Lahar Winter has a much better warmth-to-weight ratio and will keep you toasty down to a shivering -13oC and, if you wanted to push the bag to its limits, -33oC.
The bag has wave-shaped baffles to prevent down migration and reduce cold spots. An easy-to-adjust, button-up shoulder baffle gives effective insulation and a two-way zip lets you ventilate if you get too warm in the bag. The Lahar Winter bag is a great example of a serious piece of kit. At £260 it may be a bit expensive for most, but it's worth filling up the piggy bank for if you're considering the likes of the Elephant.
In a line: Seriously warm, seriously comfortable and seriously recommended
ABR Rating 8/10
Jack Wolfskin Mountain Sunrise £275 1,460g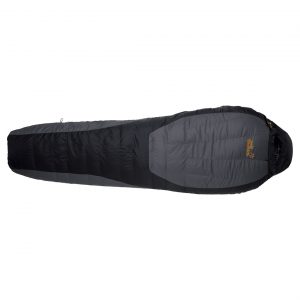 Jack Wolfskin has been making top-quality outdoor kit for 30 years. Its submission to this four-season sleeping bag review is the Mountain Sunrise with its 90/10 700 fill down. If the thought of sleeping in a cold tent in a sleeping bag isn't appealing, the Mountain Sunrise is out to change your perception of winter rallies. Seriously, get inside this bag and you'll feel like you're back in the womb. To protect the down from getting wet (which would compromise the bag's insulating properties) the Mountain Sunrise has a waterproof shell – ideal for dealing with the annoying moisture that builds up in tents. For a four-season sleeping bag the Mountain Sunrise has a great pack size and the 1.46kg will probably only faze the ultra-lightweight lovers among us. At £275 it would be a major purchase, but in our opinion it's worth it for comfort down to -9oC (or -28oC is it's extreme rating).
In a line: Very comfortable and surprisingly warm for its weight
ABR Rating 9/10
The North Face Solar Flare 800 £410 1,877g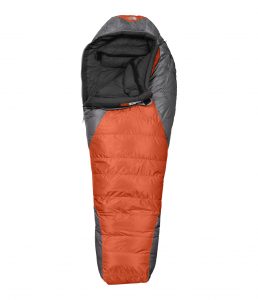 You may have turned your head in disgust as soon as you saw the price of this sleeping bag but this is a serious piece of kit for seriously cold temperatures and environments. The North Face Solar Flare 800 uses an 800 fill goose down and the name alone should give you a clue as to just how warm this bad boy is. It offers a comfort rating of an amazing -29oC making it an ideal choice for those looking for a bag to take to the likes of the Primus Rally. The bag may weigh in at a pretty heavy 1.8kg and have a pretty
bulky pack size, but for someone who's six foot there's still plenty of room to move about. The bag also features anti-compression pads – strips of Polarguard 3D – in areas that will be in contact with the ground. This greatly helps improve its thermal efficiency.
We can't get away without mentioning the price though and at £410 it's going to be too expensive for most, but can you get the same thing for half the price? Not in our experience.
In a line: For use on seriously cold adventures, if you can afford it
ABR Rating 8/10
Rab Andes 800 £410 1,490g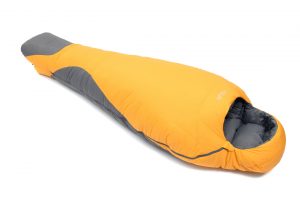 The Andes 800, which is one of three bags in the Andes range (the other two are the Andes 800 Women's, the same but with a better fit for women, and the even more extreme Andes 1000), has been designed to appeal to high altitude and winter mountaineers, the light weight and small pack size being a big selling point as well as a comfort rating of -13oC, a lower comfort limit of -21oC and an extreme limit of a staggering -43oC. This bag means business. At 1.4kg the Andes 800 is very light considering the warmth on offer and it packs down small into a waterproof compression bag which is great for keeping it dry when it's in your panniers.
In use the bag is exceptionally comfortable. The Pertex Microlight inner is soft against the skin and a well-designed mummy shape allows for a comfortable night's sleep. For deep-winter rallies we can't fault the Andes 800. It's got a great pack size, it's very light considering its warmth and it's so comfort- able in use. The only problem is that eye watering price tag…
In a line: If you're looking for a lightweight winter mountaineering bag, get this
ABR Rating 9/10