Last issue we left Brit ABR Paul Beattie and buddies near the Grand Canyon, midway through their 4,800-mile dirt road journey across the States. Here's what happened on the second leg of the Trans-America Trail en route to Port Orford, Oregon…
The early morning sunshine does remarkable things to the rocks around Moab, Utah, turning them a deep red colour. It makes riding among them something like how I'd imagine riding on Mars might be. There's no other landscape quite like this anywhere else on earth. Within minutes of leaving the bustling town we were back in the hills without another living soul in sight. Here starts the second half of the Trans-Am Trail.
Green for stop
As we followed the twisties out of Moab, winding our way over the rocky hills, the trail continued to throw up scenery that had us gasping in awe at each turn. We couldn't afford to get too distracted though. Occasionally the road surface would turn to fine sand midway up a climb, resulting in lots of wheel spinning and cursing. Even when on the flat the sudden appearance of sand caught us out, as I discovered when I hit a particularly deep section. I got almost all the way through before I found the buried rock that tipped me off, the soft stuff affording me a comfortable landing.
As the trail reached an area known as 'Green River' the landscape changed again, from the red rocks and brown sand to a greenish-tinged dry dirt. Here the TAT route notes have a bypass marked for dual-sport bikes, warning of deep sand and a steep ascent. Having had our fill of heroics on the high passes of Colorado and learning the hard way just what a handful the F800GS is in soft sand, we opted for the bypass, a 40-mile section of boring highway that reminded us why we love riding dirt roads so much!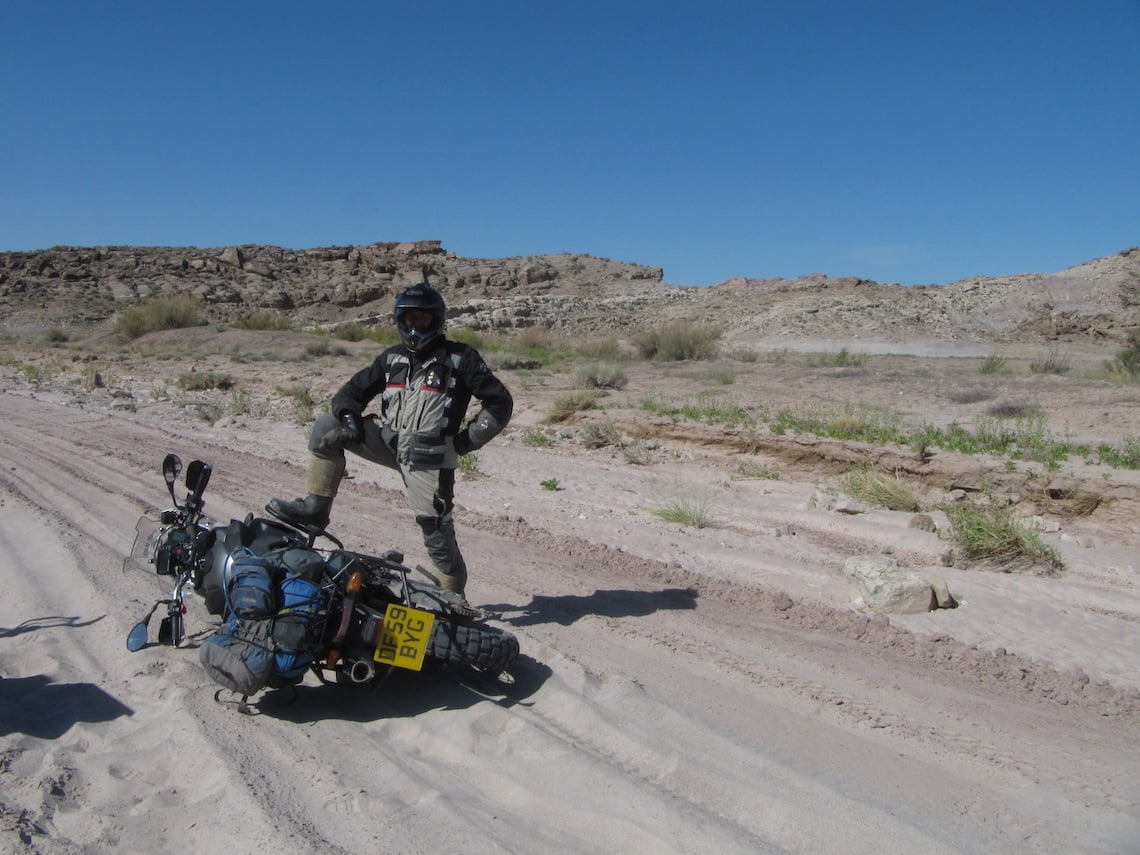 Photo: Paul Beattie
Fortunately the bypass included a dirt service road that runs parallel to the highway, occasionally crossing underneath it and passing through a couple of old railway tunnels, which have been blasted out of the solid rock. At one stage we even found ourselves in a field where the trail suddenly disappeared, and in its place was a new dirt road the other side of a steep bank running alongside a canal. The steep bank served to demonstrate how far our riding had improved during the trip as we all got up and over it without incident, no doubt fuelled by the prospect of a cold beer as day drew to an end.
Rough riders
The final day's riding in Utah would also prove the hardest of the trip, even top- ping the difficulties of the high passes in Colorado. Our route led us down a path clearly marked as 'not suitable for motor vehicles'. The path was blocked with a narrow gate, preventing anything wider than an ATV from continuing. Reasoning that what's good for an ATV is good for a motorcycle, we continued.
The track was now loose dirt, rutted and very narrow, winding through a forest before suddenly emerging and dropping at around a 60 degree angle off the side of the hill. Having already come down a section of fairly steep hill, and with nowhere to turn around, the only option was to continue downwards.
Adopting the technique perfected on the Colorado passes, with the engine off, bike in gear and using the clutch as a brake, I paddled and slipped and slid my way down. At one stage I willingly accepted the help of a forest ranger, who, after helping me down a particularly difficult section, cheerfully mentioned that this was the easiest of the three descents we had to do before we got back to the trail.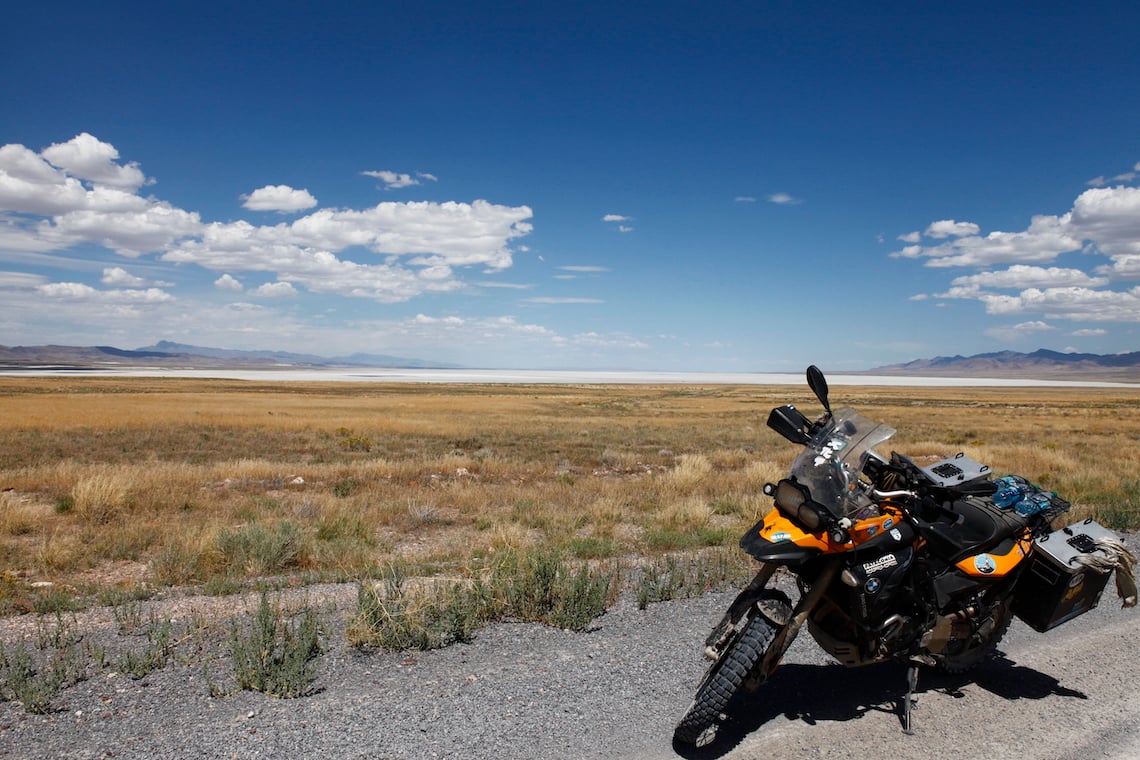 Photo: Paul Beattie
Needless to say that by the time we were all down we were exhausted again, another five hours spent covering a measly 38 miles. When we studied the maps later we discovered we'd made a mistake and that the official TAT route avoided the narrow path altogether. Well, it's supposed to be an adventure, right?
Flat out
Fortunately, once we dropped off the hills we entered salt-flat country, which is exactly as the name suggests; salty and flat. With the road stretching out in a long line in front of us, the surface solid and with a light smattering of gravel, I was able to regain my composure again.
Crossing the salt flats you get a real sense of just how vast this continent is. As you ride all the way to the horizon across a huge expanse of land, land that fills your entire field of vision, you think, 'this must be it'. But it isn't. You keep going and going only to repeat the exercise again and again. We rode for maybe an hour to reach and cross the mountains that had at first sat far away on the horizon; an hour later they were no longer visible behind us as we headed towards the next. All this without seeing another vehicle. It was vast and empty. A true wilderness.
As we reached the border with Nevada, we stopped at the aptly named Border Inn, a motel, gas station, restaurant and, on the Nevada side, casino. The proprietor was very friendly, the beer cold and the food delicious. Just as well really as the next motel was over 100 miles away! We spent a very enjoyable evening chatting and drinking with Rick and Mike, the father and son duo riding the TAT on their WR250s, and Brookes and Doug, also riding the trail on an F650GS and KLR650. As the sole Brit present, it naturally fell on me to ensure that everyone had far too much to drink, which at least meant that we could hit the trail while our new friends were still sleeping!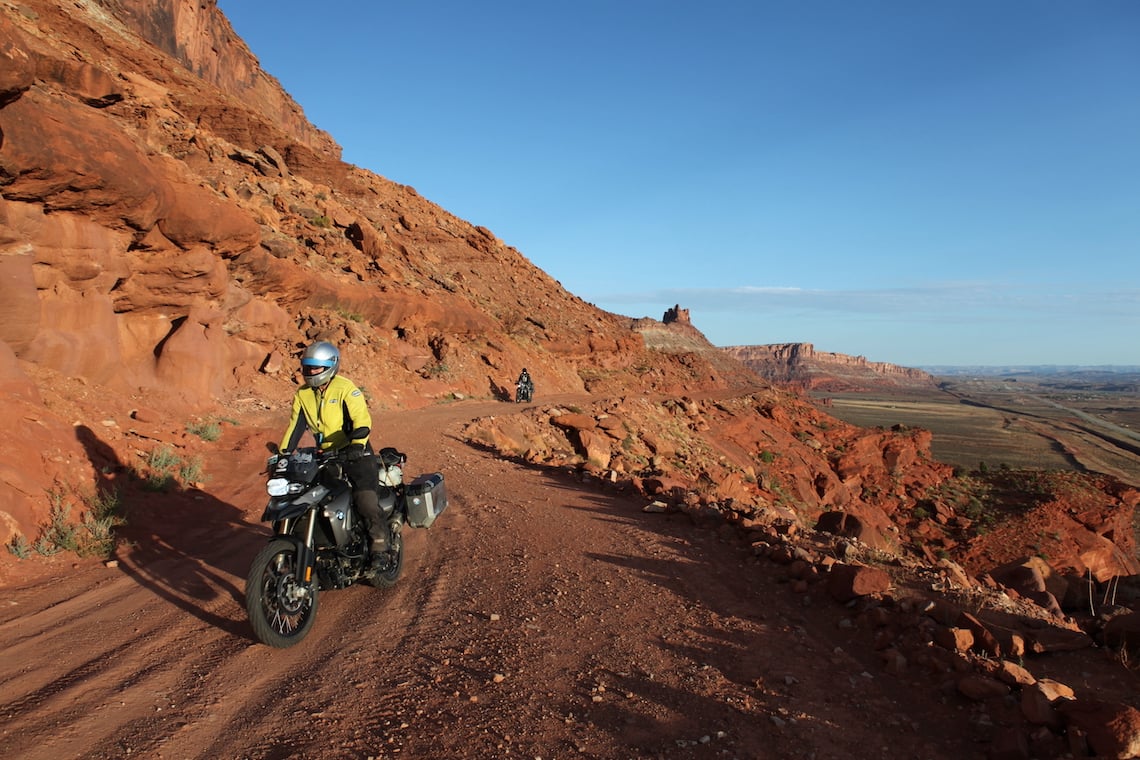 Photo: Paul Beattie
SOS
The following morning's ride took us directly off the highway into the sage-bush covered scrubland. We followed a narrow path that wound its way up and down small, dry creeks as it crossed the plain to the hills beyond. The smell of fresh sage was incredible as my boots brushed against the bushes at the side of the trail.
Eventually we were released from the scrubland and headed up the hills on a rocky trail that topped out at a small clearing. Here we found a guy sat alone under a tree, surrounded by water bottles.
We got chatting and he explained he'd been out scouting out suitable hunting ground for his musket hunting buddies (chaps who hunt <with> muskets, that it), when he got his truck stuck. He'd walked the short way back to the main trail in the hope help might pass by. That was 30 hours ago! Giving him some of our water, we promised to send someone from the next town to rescue him once we reached it, and set off on our way.
Later that day Harold got another puncture, which we had no choice but to repair at the trail side. While doing this we expected to see Rick and Mike or maybe Brookes and Doug pass by, but no one came. We reasoned that they had perhaps taken a different route after lunch, or that once again we were off-route. It was only when we got to our intended stop in Eureka that we discovered another possible reason: there were no rooms at the inn. All four motels in town were fully booked by a party of construction workers and our ABR-ing friends had clearly had the foresight to phone ahead and check availability.
By now it was nearly 6pm and we had no choice but to ride another 110 miles on the highway to the next town of Elka in order to get a room. This also meant we had to cut out a whole day's worth of TAT riding, which was a pity, but worked to our advantage as our schedule was pretty tight. An extra day would come in handy if we encountered any more bike troubles.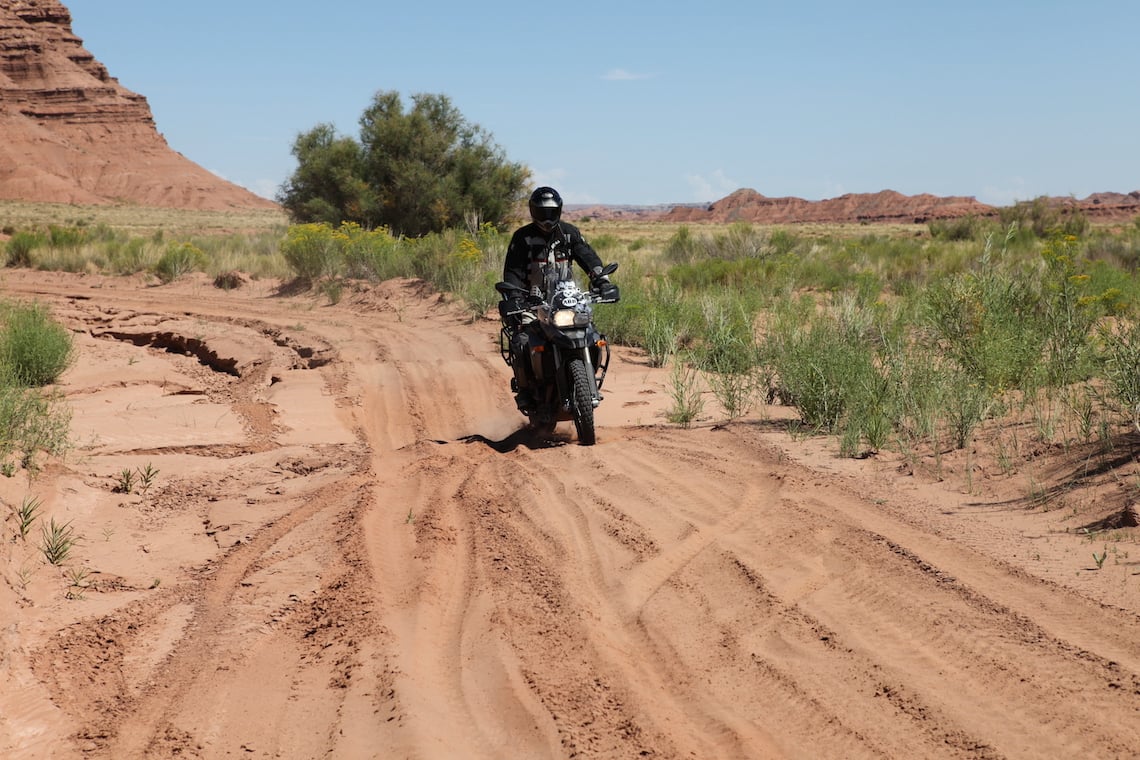 Photo: Paul Beattie
Once we'd checked into the motel at Elka we called Mike to make sure he and his dad were okay. He told us his dad, Rick, had a bad fall and had broken his shoulder and a rib, as well as trashing his WR250. They'd managed to get him to a hospital, but were trying to work out how to get home; their TAT journey was over. It was a sad end to the day, but both father and son were in good spirits. They informed us that Brookes and Doug had indeed found out about the motel prob- lem in Eureka and were staying down the road in another town.
Yee-ha!
Back on the trail in the early-morning sunshine we encountered yet more sand. It took us over an hour to plough through a six-mile stretch running alongside the railway just outside Battle Mountain.
Here we arrived in what can only be described as cowboy country. Wide-open plains of sun-bleached grass stretched out before us through which a single gravel road passed, with not a soul in sight.
I had the theme tune from High Chaparral running through my head the whole day, and at one stage could have sworn I saw a tribe of 'Injuns' on the top of a nearby hillside, hollering and preparing to attack. But it wasn't the natives that got me; it was another deep section of sand. My energy sapped by the intense heat and the effort of trying to keep the bike pointing the right way, I succumbed to the inevitable and went down again. It was hot, very hot, and being at the back of the group I had to heave my bike upright on my own.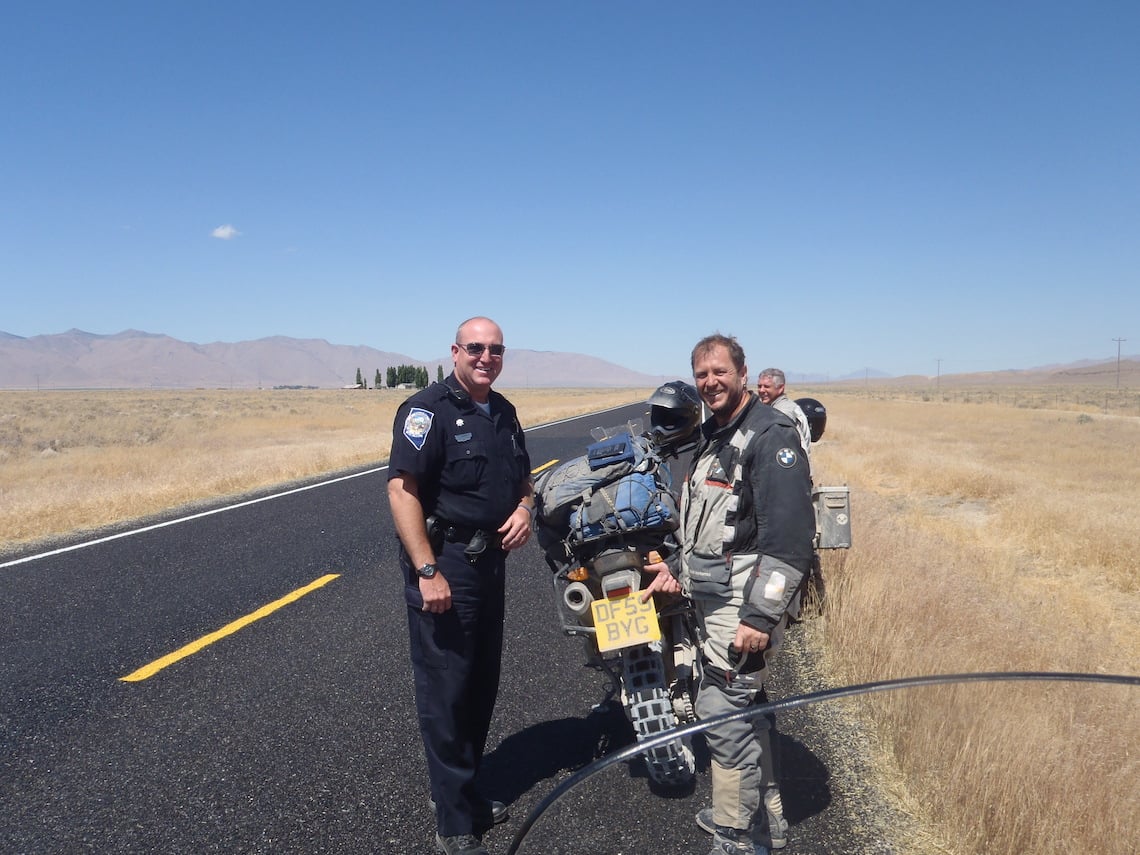 When I finally caught Aaron and Harold they were sat in the shade of some trees by a babbling brook on the only patch of green grass for miles, looking cool and relaxed. I arrived looking anything but, parked up and joined them, using the cold water from the brook to cool me down.
Later, crossing Coyote Pass after another rocky ascent leading high into the mountains, we were rewarded with a dramatic descent. The road wound its way down the mountain like an Alpine pass, wide and well surfaced with spectacular views across the smaller hills to the plain below.
After an overnight stop in the one-horse (and one-motel) town of McDermitt, our final day in Nevada was a mix of hot desert riding, sand, sage bushes and scrubland, with some severe navigational challenges thrown in too. The route, carefully plotted into the GPS, was proving difficult to follow, as the GPS base map didn't show many of the farm tracks that were indistinguishable from trail we were trying to follow.
At one stage we lost the route completely, heading into a farmyard and through a gate onto a sand track that just got deeper and deeper until the only thing we could do was stop and build a castle. Or turn around and go back. We opted for the later, but not before I got my bike completely stuck across the trail, one wheel in each rut. By the time we'd worked out our bearings we were once again hot and exhausted.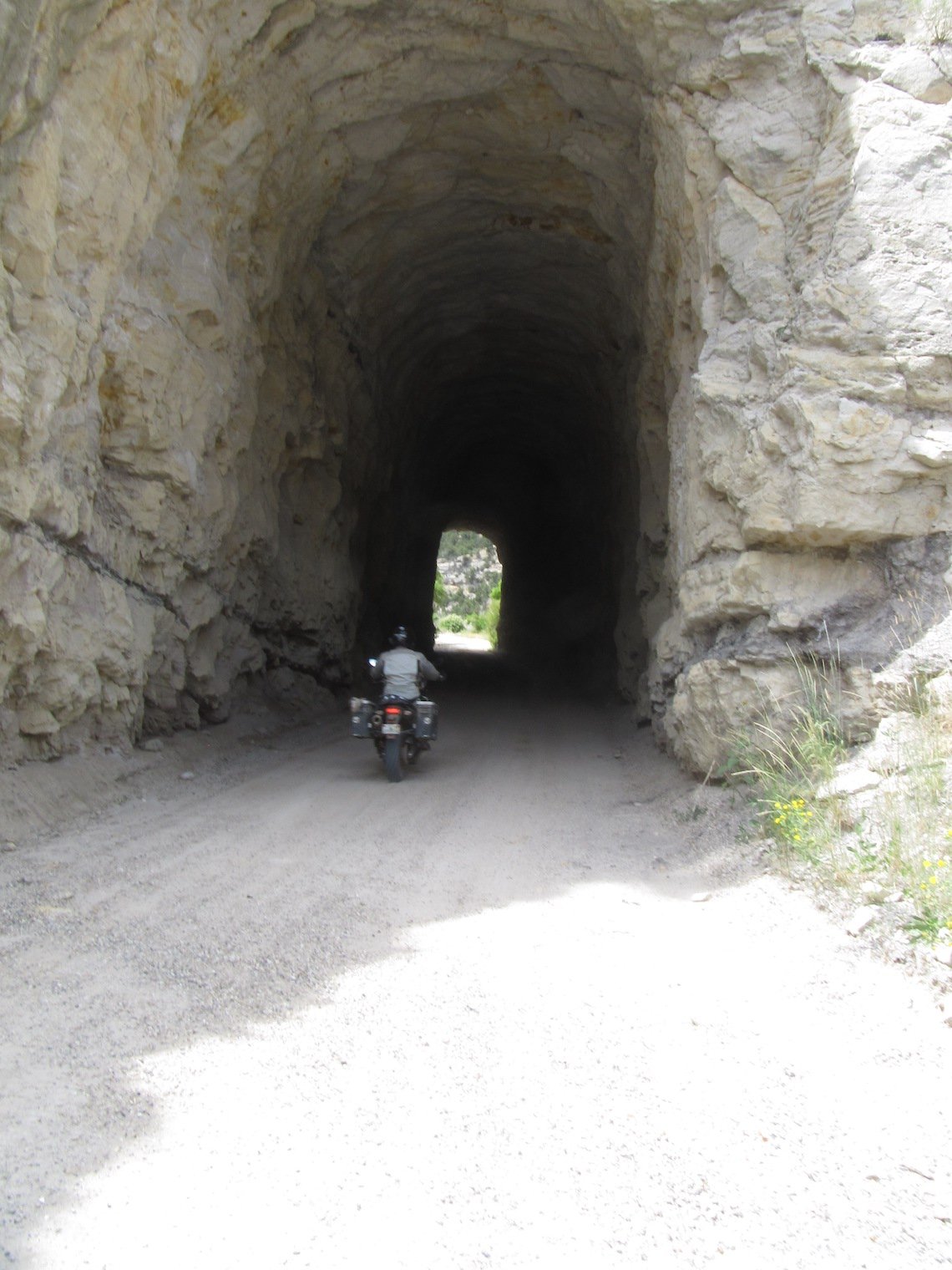 Photo: Paul Beattie
Nowhere fast
We had a late lunch at Denio Junction, our proposed stop for the day, and another one-horse town, but one with a sense of humour. In the window of the motel-café-gas station was a Larson cartoon showing an old couple in a car. The woman was holding a map entitled 'Nowhere' and pointing to a road-sign reading 'entering the middle'. Apt, very apt! Given the time, and the amount of desert and sand riding we'd done over the past couple of days, it didn't take much discussion before we reached the unanimous decision to skip the next section of the TAT and get out of the biking hell that is Nevada. As someone put it, it wasn't so much a case of 'doing the TAT', anymore. The TAT was doing us!
We began headding west on the highway again, but before long the boredom of the endless straight highways was getting to us. To relieve the tedium, one naturally tries to find ways to make it more interesting. Like riding alongside your buddies and taking pictures, or passing them while riding with your feet up on your crash bars. Which is exactly what I was doing when I was spotted by a State Trouper going the other way.
Suddenly the sky lit up with blue and red lights, and a whooping siren filled the air. A voice came over the loudspeaker or- dering us too keep our kick-stands up and our feet down over. It was clear he wasn't amused. He then explained that he'd pulled me over for riding on the wrong side of the road, much to the amusement of my American colleagues! I explained I was only overtaking, and after he'd checked my documents (title, insurance and import permit letter) and reprimand- ed me for overtaking so slowly, he posed for a picture and sent us on our way.
Bush diving
When we finally arrived at Lake View, Oregon, we discovered a group of guys from New Zealand staying in our hotel. They'd all bought identical KTM 640R Enduro bikes in Trinidad, Colorado, and were riding the latter part of the TAT. They even had one guy's wife riding the support vehicle containing all their luggage and spares! Of course, we were not jealous at all. Our battered and overloaded F800 GSs were clearly a better choice of machine for riding these conditions than a feather-light Enduro bike. Ahem.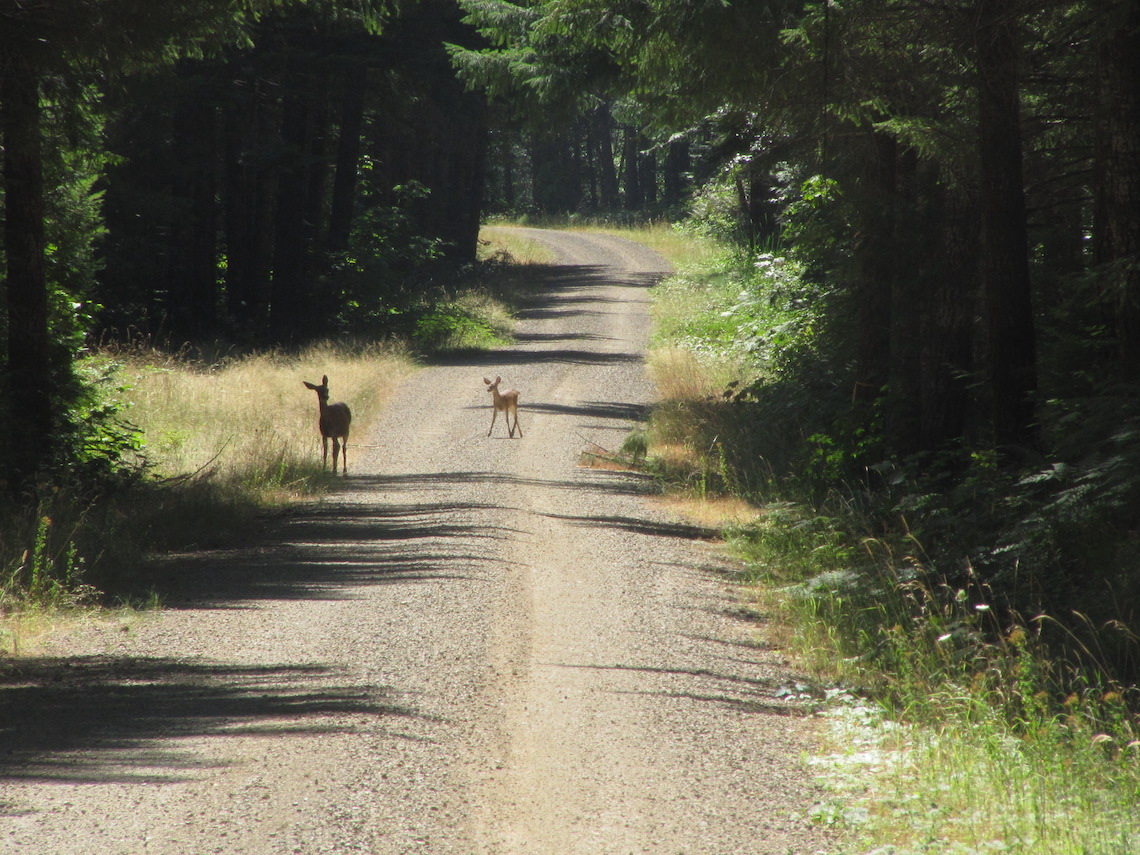 Photo: Paul Beattie
After Nevada's relentless desert heat, the beautiful pine forests of Oregon proved a godsend. Our problems with navigation weren't over, though, as once again we were faced with many more trails than appeared on the GPS maps. Unable to make sense of the trails in front of us we started navigating by choosing the most likely-looking road, then, when it deviated from the waypoints I'd plotted, working out how to get back on track.
One particular trail took us down into a valley among the trees where we were faced with a barricade of mud across the trail. Undeterred, Aaron tried to ride over it, only to get completely stuck as his bike dug a big hole. We rode around the obstacle and onto the valley floor, then spent the next hour looking for a way back out again, before finding a track that was clearly marked on the GPS but had been hidden behind a small bush.
By the time we'd managed to extricate ourselves from the forest and stopped for lunch it was getting on a bit, so we chose a mix of highway and trails to get to our next destination of Crescent and the motel. En route we met up with the Kiwi KTM contingent, who had also chosen to abandon much of the trail after encountering similar problems, which made us feel a whole lot better.
Last but one
The penultimate day on the trail took us deep into the forest. This time we were on excellent gravel roads, high up in the mountains under a glorious blue sky. We saw more deer at the roadside, curious as ever as to what was making the noise. We also rode down some beautiful narrow trails where the forest closed in on us, almost turning day in to night, before spitting us back out onto wide-open roads once more. It was a spectacular day, and probably the best day's riding of the entire trail.
Our final day dawned cool and we packed the bikes with mixed emotions. We were all excited at the prospect of having got almost all the way to the end of the trail, but it was tinged with sadness knowing our adventure would soon be over. Once on the move and back into the forests, all such thoughts were banished by the sheer joy of the ride. The usual navigational challenges were back with a vengeance though, and we got lost several times before we were able to pick up the trail again.
Once we'd rejoined the TAT the route took us down a very narrow forest track that was festooned with fallen trees. It was obvious someone had been this way before us. Some of the trees had been cut, leaving just enough room for a motorcycle to squeeze between the trunk and the edge of the trail, or to squeeze under the tree between the branches. We rode on for quite a while, limbo-ing under fallen trees and riding over dead ones that cracked and crunched under our wheels. We must have skirted death several times as the narrow path passed between tree trunks and the steep drop to the abyss of the forest valley far below the trail.
Following Aaron and Harold, I was riding across one particular dead tree when suddenly and without warning my bike came to a dead stop. With both feet on the pegs I couldn't stop it toppling over and I was thrown into the undergrowth. I got up, wondering what the hell had happened. I found the answer in the shape of a large branch that had wedged itself firmly between my crash bars and engine. Like a knight lanced off his horse, I'd been punted off my bike by the tree, the branch breaking off in the process. Fortunately it hadn't done any damage to me or the motor, apart from levelling the score in the fall league between me and Aaron (Harold was still two ahead).
End of the line
By this time, Aaron and Harold had reached a dead end and could go no further. We must have somehow lost the trail and had no choice but to turn back. On the way back down, I made the mistake of looking below me into the abyss while passing a fallen tree trunk. With my focus on the drop and not the trail, I hit the trunk and slipped off down the slope, leaving my bike right on the very edge. Another foot to the right and my bike would have eventually come to rest 100 yards below the taril!
When we finally emerged from our forest adventures it was well past lunchtime and we were all famished. The nearest town, Agnes, was some distance away and off-trail, but hunger prevailed and so we left the official route and rode a gravel trail to Agnes, only to be told the nearest food source was actually a restaurant on the highway a few miles out of town. Once fed we realised we were within shouting distance of the coast, so took the easy option of riding the highway to Gold Beach and up to the end of the TAT in Port Orford.
As I proudly placed my official Trans-Am Trail sticker on my battered screen, I reflected on what we'd just accomplished. We'd ridden 4,809 miles across America, all the way from Jellico in Tennessee to the Pacific Ocean, the vast majority on small dirt roads. We'd ridden through mud, sand, gravel and dirt; crossed rivers, mountain passes, high plains and desert; through fog, rain, thunderstorms and searing heat. We've seen America the way very few people see it – as a vast, largely empty country, sparsely populated by friendly people – and it was a real joy. A real adventure.
My advice? If you dream of crossing the US by bike, don't take a Harley. Take an adventure bike instead and ride the road less travelled. I should also mention it would be wise to work out how to use a roll-chart before you go, and perhaps learn how to ride in sand!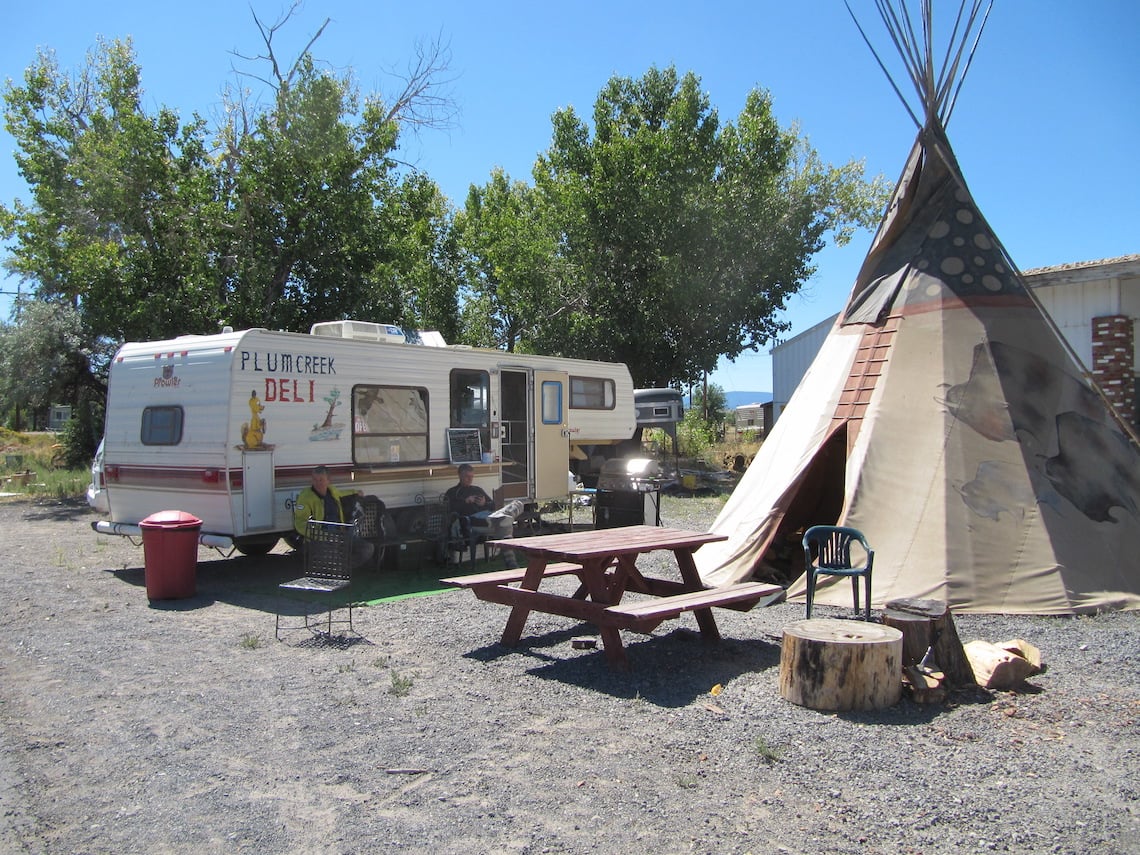 Photo: Paul Beattie
The bikes
They may be three of a kind, but these 2009 BMW F800 GSs have some major differences…
Harold's bike The newest of the three, this bike had just 2,000 miles on the clock at the start of the TAT. Modifications are minimal and include a taller screen, Trax panniers, and HID headlight
Paul's bike The only UK-registered among the fold, it set out with 10,000 miles on it. Modifications include Adventure Spec crash bars (which took a hell of a beating), sump guard and luggage rack as well as Metal Mule pannier rails – the boxes stayed at home!
Aaron's bike A tried-and-tested adventure machine, Aaron's bike had already clocked up 48,000 miles before the TAT. Modifications include Sargent seat, Denali lights, Metal Mule panniers, Wunderlich throttle lock, BMW crash bars and Ohlins progressive fork springs and custom rear shock. Oh, and lots of stickers from previous travels…
With special thanks to…
Sam Correro of www.transamtrail.com for defining the official route, even if we didn't always follow it; Chris of www.unchainedtours.com for help shipping my bike across the pond and getting it back again; Aaron of www.eurocyclesoftampabay.com for having the idea to ride the TAT in the first place; and of course my wife, Tracy, for encouraging me to pursue my dreams
TAT: the DVD
If you fancy a squiz at ABRs in action on the trail, this DVD features interviews with three experienced US riders, James Beatty, Chris Jones and director Michael Murray, talking about the ups and downs of the TAT. As well as trail footage there's also plenty of helpful first-hand advice thrown in too, including how to plan for riding the trail, how to camp safely en route, when to go, riding techniques, budgeting for your trip and some all-important navigational pointers. Available from www.motorcycletraveldvds.com, priced $24.95 (£16.25)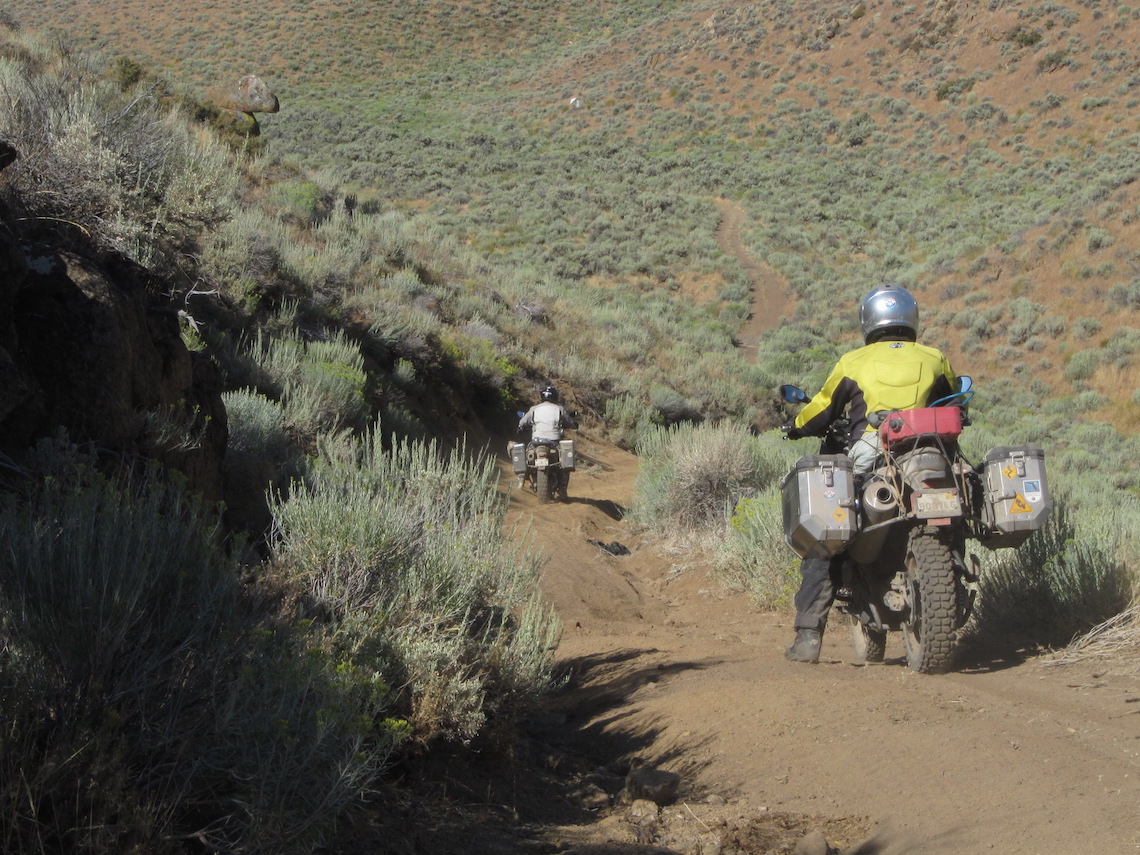 Photo: Paul Beattie
Want to ride the TAT?
If Paul's TAT tale has inspired you to tackle the Trans-Am Trail, your fist port of call should be this: www.transamtrail.com. Put together by route creator Sam Correro, this website has virtually everything you'll need to kick start your TAT adventure, including a link to purchasing all the necessary roll-charts and maps.
Paul shipped his BMW F800 GS to the States with motorcycle tour company www.unchainedtours.com. Companies such as Tennessee-based www.gsmmotorent.com have dual-sports bikes and Super Teneres available for hire from $533 (£348) for five days, but five days' riding won't get you very far and you'll still have to find a way to return the bike. The alternative and probably most cost-effective solution to sourcing a bike in the States is to do like the Kiwi KTM contingent and arrange to buy one second-hand when you get there.
Paul got his insurance through www.motorcycleexpress.com. The level of cover available varies according to what you need, as does the price. Paul's cost $355 (£215) for two months, including a service charge. UK drivers licences are valid in the US, so there's no need to apply for an international licence. If you plan on importing your bike, you'll also need a V5C and importation documents. Paul got himself a Non-Resident Exemption letter from the Environmental Protection Agency (EPA) to cover the temporary import of his motorcycle into the US by filling in a form and sending the agency a copy of his V5C. Once back on British soil, you'll need to send the EPA paperwork to confirm the bike's been exported out of the US. See www.epa.gov for more.
Tennessee's international airport is in Nashville, TN, roughly 189 miles west of Jellico where the TAT starts. Flights are available from London Gatwick and Heathrow, Birmingham, Manchester, Glasgow and Edinburg from around £450 each way.