Endurance fan James Owens gives his 50,000-mile verdict on the Honda Varadero
I found myself in the market for a new bike rather suddenly when my Aprilia Caponord ETV1000 was written off in a fight with a Renault Clio. I'm a tall guy at 6'2" and weigh in at about 17 stone, so something with some poke was required and I didn't want to be hugging a tank for hours on end!
I needed a big mile-munching machine that could cope with the god-awful roads of the Ukraine and Russia, with a high saddle and wide seat – a true 'sit up and beg'. I also wanted trusty build quality for those solo middle-of-nowhere endurance rides.
I'd not heard anything about the Varadero before I saw one on Honda's website – a name synonymous with quality and reliability. I'd also glanced at the Suzuki V-Strom 1000 online, but as it was due to be removed from sale in Europe for exceeding its emissions quota, I thought spare parts might pose a problem. It was the look of the Varadero's seat which really caught my eye; it looked like one on which I could do 1,000-plus miles easily. When 'Lola' was delivered it was love at first sight. I've since covered over 50,000 trouble-free miles on her and have many more planned.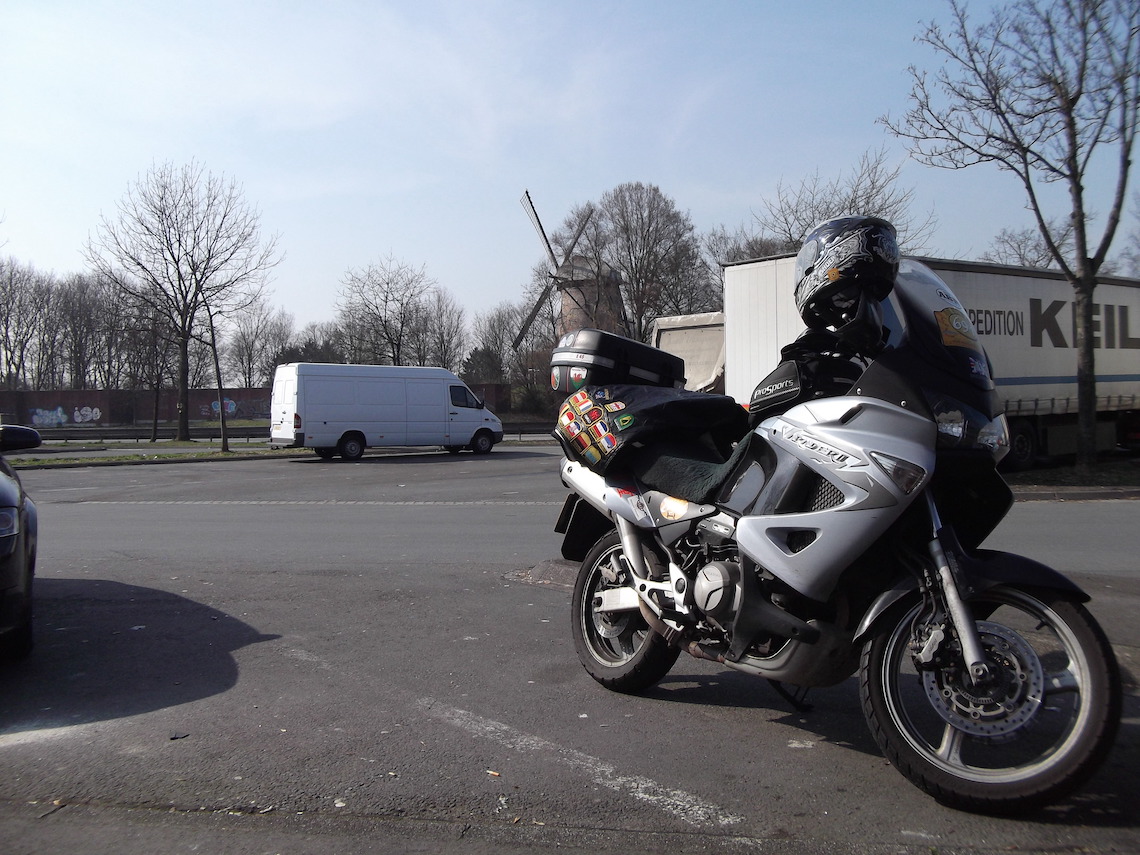 Comfort
The layout of the XL1000V8's controls is superb, requiring minimal hand and foot movement to operate the simple but functional systems. It's a tall bike and at 6' 2" I can just about get my feet down flat. The riding position, however, is excellent, giving good all-round views for those all-important lifesavers.
That twin-section seat with which I was so taken doesn't disappoint either. The lumbar support lip encourages you to sit straight and correct while the seat itself is broad enough to displace weight well. After a day blasting though the Ukraine on destroyed roads, I was still grinning 500-odd miles later and ready to do the same again the next day.
Unlike on the Pan European, the Varadero lacks feet protection from the elements. At sub-zero temperatures you'll quickly find the wind bites at your toes and thumbs, which are left exposed by the stingy hand guards. I'd have also preferred a taller front screen than is supplied with the stock model; riders over 6 foot will find wind and noise can be an issue, but there are plenty of add-ons available to counter this.
Performance
Performance-wise the Varadero has enough power to take out the prat in the GTI at the lights and the ability to stop on a coin, thanks to the ABS 296×4.5mm dual hydraulic discs with combined three-piston callipers and sintered metal pads on its front wheel and Honda's Dual Braking System. This does become a pain if you want to do any serious off-road stuff, though.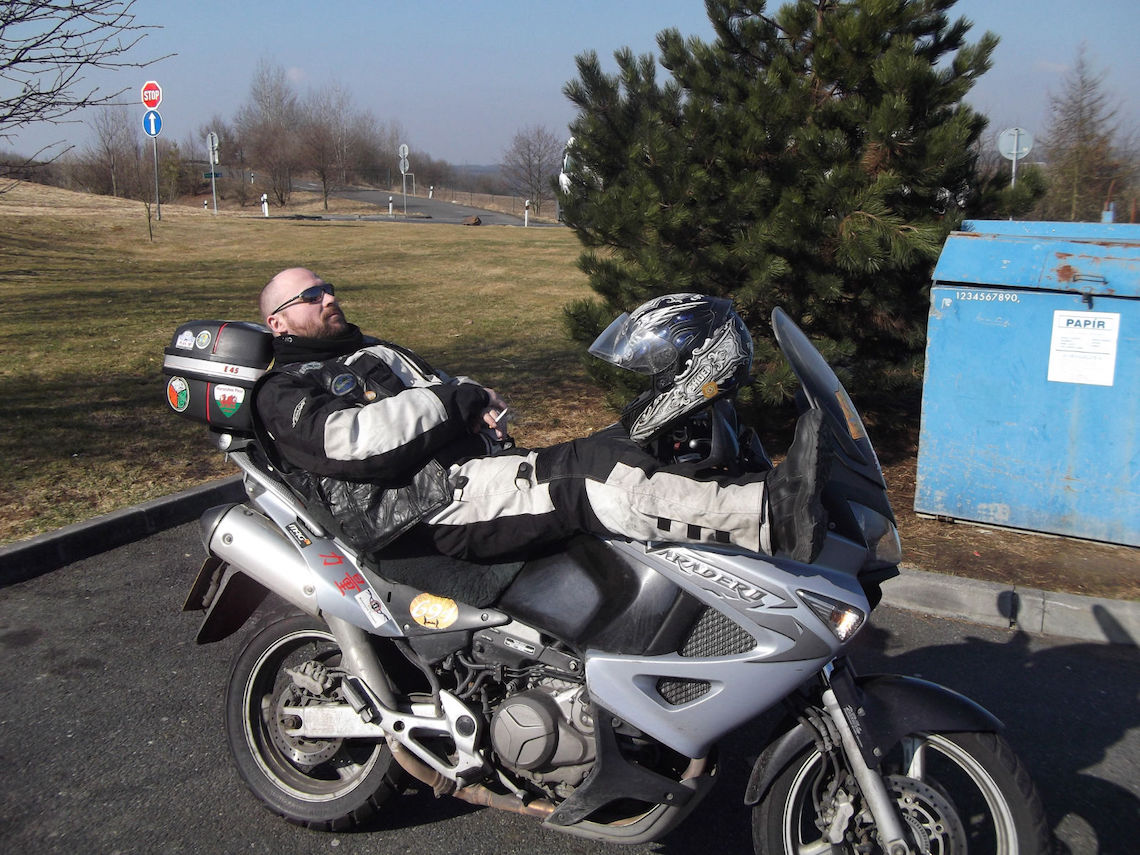 Mid-range power delivery is respon- sive with a 'dignified' sound. The bike reacts at just 3,000 revs, playing all the way up to 7,000rpm if you really want to. Watch those mufflers, though. They can tend to burn out if you play too hard for too long. They cost about £6 each, but the fitting is about £120! The lack of vibration when tweaking the revs on an apex is a godsend, though. Over the miles, the vibration from the pegs and through the seat will bring fatigue on like a hurricane. The Varadero has no such issues, with a smooth power delivery going to the wheels and not your arse.
Changing gear is a 'clunk' to first, which I rather like. I've had the odd 'false' neutral from third to fourth, but nothing that has given me cause for concern.
Two-up and fully loaded its 93Bhp at 8000rpm is more than enough to en- sure a smooth ride while making great progress though any sort of road.
Handling
She may be a big girl at 244kg, but the Varadero's handling will surprise you. Flickable and light to the touch, it will perform relentlessly in the most arduous of conditions as long as you show it respect.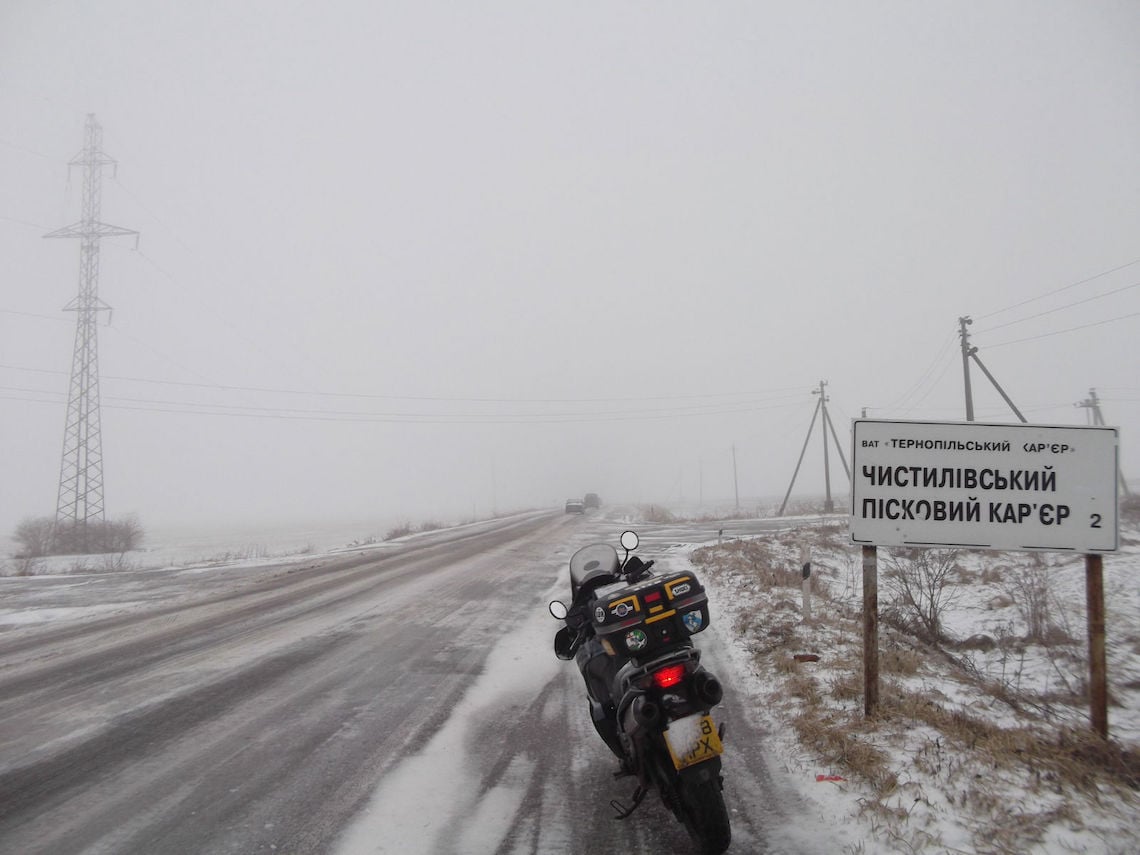 On twisting back roads, the Varadero needs a firm hand and a confident line. It's a tall bike at 838mm to the seat, so over braking will see you sitting up and heading in the wrong direction.
Grip in the wet is amazing and perhaps far more than your confidence will allow you to test. Deep-tracked snow isn't a problem, thanks to the Varadero's excellent balance. I've also tackled green lanes alongside Africa Twins and Teneres – all this on road tyres.
The Varadero comes with Trail Wings. I'd suggest getting rid of these as soon as they wear out and replacing them with Tourance tyres – a great cross between Road Attacks and full knobblies. Doing this will improve grip and make power delivery much smoother. I get around 7-8,000 miles to a rear tyre and about 220miles to a full 25-litre tank.
Off-road
I've been on a few ABR rallies and done the green-lane option with great suc- cess, but this isn't to be confused with true off-roading! The Varadero is not an off-road bike. It will do gravel and mud; ruts, however, will see that 244kg take its toll on you and sooner or later you're going to lose the front end, unless you're Mr Pavey.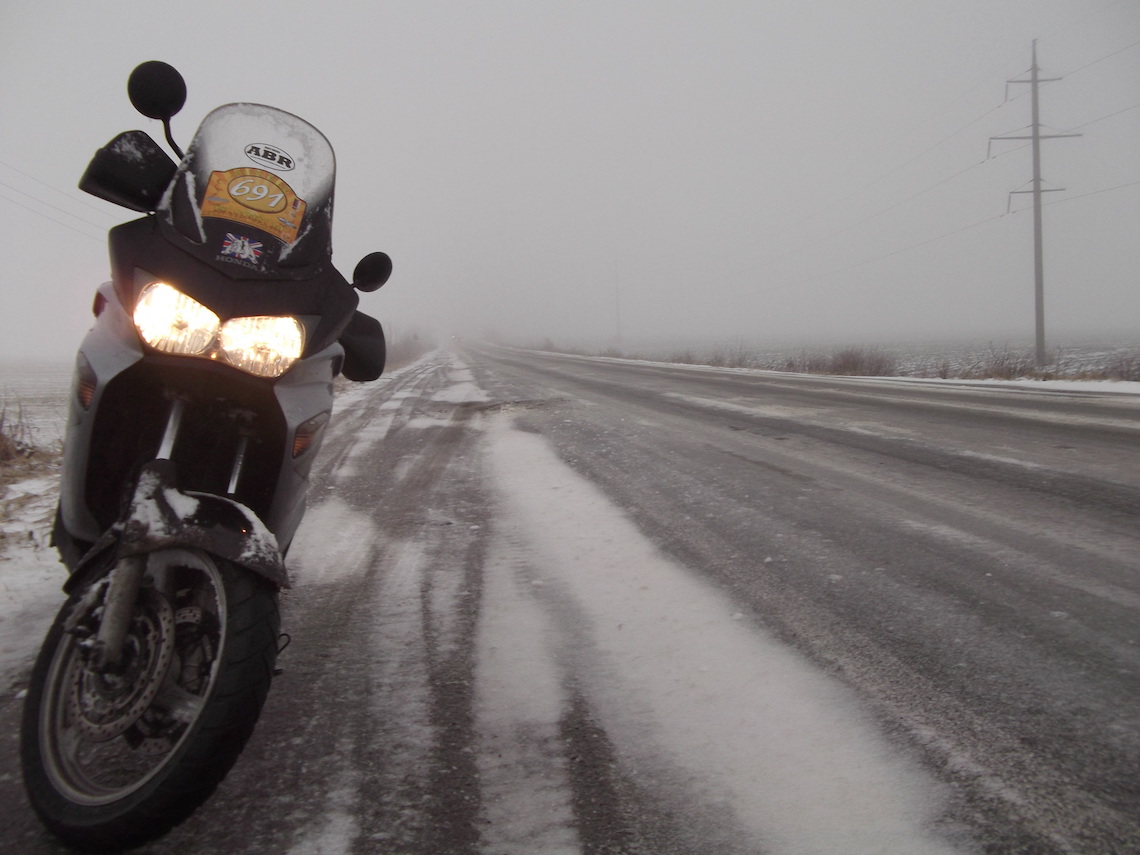 The bash plate, which comes as standard, is very good and the beautifully high-ported exhausts are perfect for water crossings. Honda also makes the electrics, which won't start flashing like a Christmas tree all every time to traverse a puddle.
Luggage
I opted out of Honda Varadero luggage in favour of buying a set of aluminium Ardcases. The standard Varadero luggage is based on the Pan European and I knew I'd be going places where plastic panniers wouldn't survive. If you're never going to leave tarmac though, then Honda's luggage is an option, but an overpriced one, in my opinion.
Verdict
The Varadero is an amazing long-distance ride that takes gravel and pot-holed mayhem in its stride. A great range of 220 miles will see you across most countries without a sweaty brow, but an Enduro it's not! She's a big girl and if you treat her right she'll reply in kind and deliver miles of fun.
My 2012 plans with 'Lola' will see us skipping over the mountain passes of France, Austria and Italy, meeting some other ABR members en route, riding down through the Balkans, to take the slow route to Greece before slipping across on the ferry to Italy. But the main run in 2012 is still in the air – either Magadan and beyond or Singapore. Both rides are over 10,000 miles and I can't wait!
Would I buy a Varadero again? In a heartbeat. Just make sure you know why you're buying one; get that front screen changed asap, and invest in some thermal socks.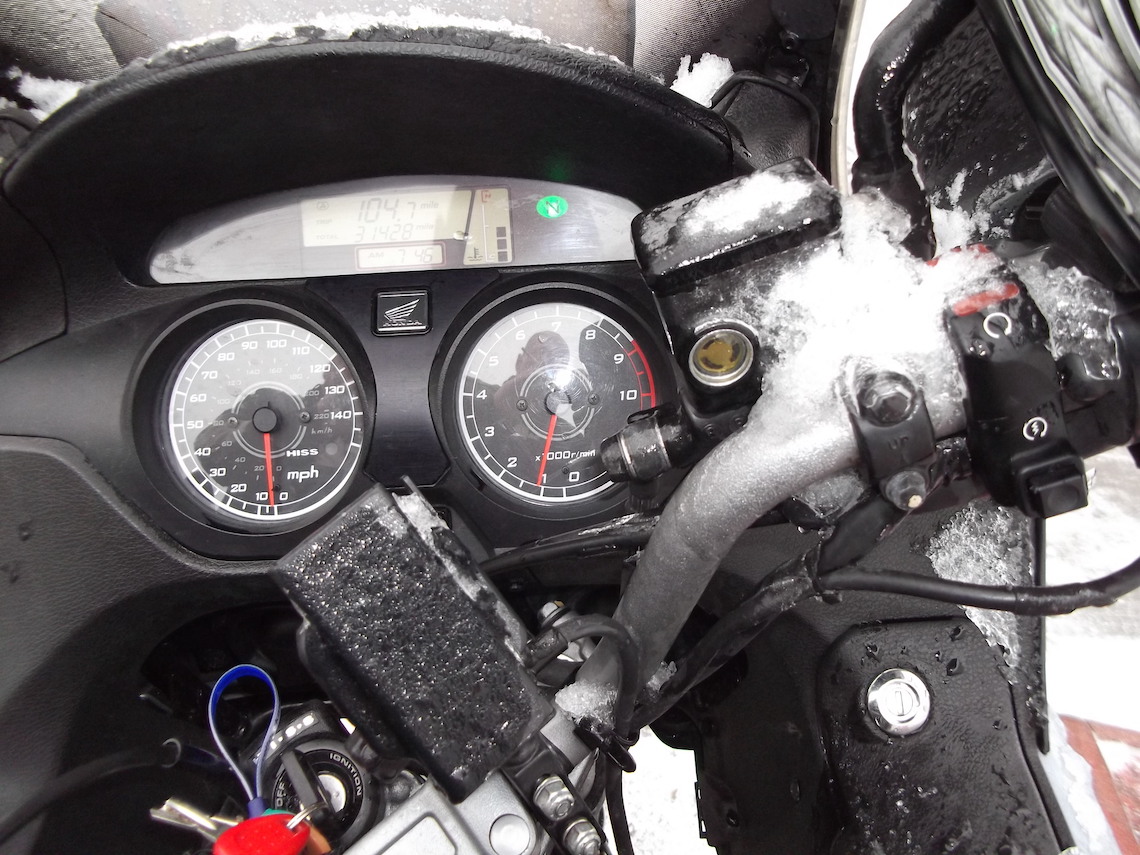 In short
TIME OWNED: 3 years MILEAGE: 52,000 I LIKE: the lack of vibration over long distance rides; very smooth I DISLIKE: the stock screen being too short IN A LINE: a hyper-reliable, mile-munching goddess of an adventure machine that's as at home on tarmac as it is gravel
Ratings (out of 5)
As A long distance tourer: 5 Off-Road capability: 2 Around town: 4 Accessory Availability: 4 Reliability: 5 Handling: 3 engine: 5 economy: 3 Value for money: 4 Overall Rating: 4
The stats
Manufacturer: Honda Model: Varadero XL1000V List price: £9100 OTR Top speed: 135mph Insurance group: 6 Engine size: 996 Engine type: Liquid-cooled four-stroke eight-valve DOCH 90Degree V-Twin Compression ratio: 9.8 : 1 BHP: 93 at 8000rpm Torque: 98Nm at 6,000rpm Gears: Six Fuel capacity: 25 litres including 4-litre warning light Seat height: 838mm Dry weight: 241.5kg Front suspension: 43mm telescopic fork, 155mm axel travel Rear suspension: Prolink with spring preloaded adjustable damper, 145mm axel travel Front tyre: 110/80 – R19 59H Rear tyre: 150/70 – R17 69H Front brake: ABS 269×4.5mm dual hydraulic disc with combined three-piston callipers and sintered metal pads Rear brake: ABS. 256x5mm hydraulic disc with combined three-piston calliper and sintered metal pads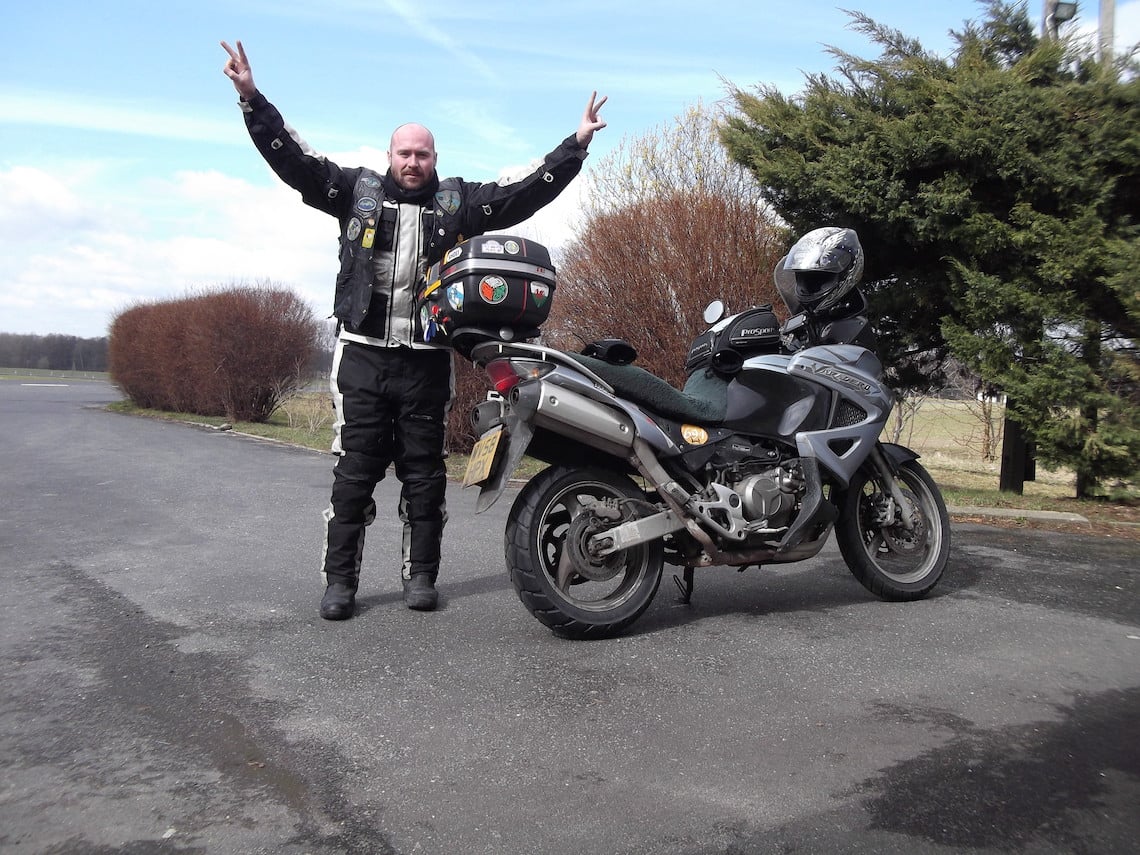 High point:
Riding across the Ukraine in the snow, over destroyed roads and little muddy back lanes as 'Lola' just chewed them all up
Low point:
Having parked outside my house for a pee, some hooded turd on a 125 kicked her over and rode off before I could grab my keys