Imagine being given 12 months' free reign to ride wherever you want. Money and time are no objects, and neither is the boss. Paul Jennison, this is your…Grown-up Gap Year
Where?
I struggled with the concept of a grown-up gap year at first because, back in the day, you left school on a Friday and started work on the Monday. Well, I did anyway! Then I remembered that I had a gap year when I retired from the 'Old Bill' but didn't quite get around to a big trip. I did manage lots of little ones, though.
Reading motorcycle travel books from the comfort of my armchair has been my way of escaping the daily routine for a long while. The one journey I would love to have the time and money to undertake is The Pan-American Highway.
Going from Alaska to Chile by motorcycle is at the top of my Bucket list. Its 16,500 miles made it the world's longest road at one time. From the wide-open spaces of Canada and North America and then into the extremes of Central and South America – wow! I'd also factor in a few diversions, to take in as many of the once-in-a-lifetime must-see places en route as possible.
As I'm from Bristol I'd start the ride in Bristol Bay, Alaska. From here I'd head off into the Alaskan Range, then into the Yukon and the Rockies. The stunning scenery and wildlife will be something to behold with the mountains, the rivers, and the open road for mile after mile.
Stopping in gold rush towns like Whitehorse, I'd spare a thought for all who made the journey there a hundred years ago or more, to make their fortunes or die trying. I might even have a go at prospecting myself, to see if I can boost funds for this trip!
As the beauty and majesty of Canada give way to the west coast of the USA, I'd have a few days off the bike in California, to learn how to roller blade like a native. Then I'd hop over the Golden Gate Bridge into San Francisco and on towards Mexico. Riding through Central American countries like Guatemala, Honduras and Nicaragua will be a stark contrast to the US, but I'd look forward to embracing the different cultures.
After Central America it's on into South America. The Tran-Am Highway passes through Columbia, so the decision is whether to go straight into Columbia with all its inherent dangers, or get the boat across from Panama straight to Ecuador. As this is my fantasy, the world is, of course, at peace and travel holds no bounds so I'd trace the original highway's path and go straight on into Columbia and then Ecuador.
Now I'm in South America and the swamps and humidity of Central America have given way to mountains, freezing temperatures and high altitude. Riding over the Andes in Peru, I'd pass into the Chilean deserts like the Atacama, which is the driest place on earth, before following the highway through Santiago and finally arriving at Chiloe Island.
That's the Pan-American Highway in a nutshell, but while I'm here I may as well continue down to Ushuaia, the southern-most inhabited place on earth. Should the prospecting plan work out, I'd use the cash to hop on over to Buenos Aires in time to wave the Dakar off. Who knows? If I've got some time to kill I might even join them… (its is a fantasy, after all!).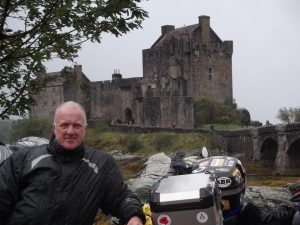 Why?
The television has made the world a smaller place. Films and documentaries can be played out in your front room, bringing visions of these far-off places right to you. It's bike travel books, though, which are to blame for my fantasy. Writers like Sam Manicom, Geoff Hill and Lois Price who have travelled these countries and bought their experiences to life within the pages of their books have whetted my appetite for copying their adventures.
On what?
To undertake such a trip I would want a bike that is both reliable and comfortable. A mile cruncher with a large tank range and strong build characteristics that will withstand the rugged terrains this sort of ride will see me encounter.
The BMW R1200GS Adventure is the right tool for the job, and as luck would have it I have one sat in my garage. It's the DOHC version; this is so smooth and has loads of mid-range torque. All the reliability issues seem to have been rectified on this model, no more ignition switch or fuel control unit breakdowns (fingers crossed).
It has enough luggage capacity to be able to take gear for a night's camping when I get bored of the four-star hotels along the route, too.
My GS has farkles a plenty already, but it would be nice to have a new spare set of panniers with plenty of room for all the stickers I will be collecting. A comprehensive GPS system and comms set-up with loads of music downloaded would also be a must.
With?
As this is all fanciful conjecture, I'd be straight on the phone to Nigella Lawson. Well, a man has to eat!
But seriously, who to choose? It's a tough one. Would I want anyone else there to share this fantastic experience? Sure I would, plenty of people I know would be great travelling companions. But the one person I would love to be with me on this journey is my dad. To have the chance to have a year in his company again and talk about all the stuff that we never got round to talking about would make the whole thing epic.
Who?
Name: Paul Jennison Age: 50… and a bit From: Bristol Status: Married with three kids and two grandchildren Job: Retired police motorcyclist Bike: BMW R1200 GS Adventure and a BMW F650 GS Dakar