An opportunity for those who've been, and those who want to go, to get together…
Sneaking in just before the deadline for this issue is the annual Horizons Unlimited event, held this year at Donnington Park Farmhouse, right beside the famous race-track in the midlands. For those unaware, Horizons Unlimited is the go-to website for anyone looking to plan a long-distance motorbike or four-wheel adventure in foreign countries.
The forum is a hive of information; from shipping to visas to contacts on the ground; there's barely an overland trip completed without the help of members of the Horizons Unlimited community somewhere along the line. The site was the brainchild of Grant and Susan Johnson, an American couple who completed their own travels around the world before throwing all their efforts into helping others. The forum, and the community, has grown ever since.
As part of that community, annual events are held all over the world. Events are held in Europe, Australia, North America, South America, Africa, with the event in the UK the most well attended of them all. At least 500 people went this year, with the numbers seemingly increasing year on year. A full programme of speakers, seminars, workshops, live bands, off-road ride-outs, campfire cook-offs, riding skills competitions were provided, as well as full four days worth of camping.
You could also take CCM's GP450 Adventure for a spin, as well as a range of Suzukis, including the latest V-Strom 1000 and the ever-popular 650. Guest of honour was no other than Ted Simon, arguably the man who founded the Overlanding crave, (or at least made it commonplace) with a whole host of RTW travellers fresh from their adventures, such as Ian Coates, known for having spent 15 years on the road.
It wasn't all big trips and grand stories however; the idea of the weekend was to provide a place that you could go and find out more about how to plan and prepare for your own adventure, big or small, and best of all be amongst like-minded people who understand why you might want to do something daft like ride a motorbike to Magadan, or even to Spain. This year's event also proved once again that when it comes to actual overland adventure there is no best bike or one right way of going about it. You take the bike that suits you, and you do the trip in the way that you think best.
Visit www.horizonsunlimited.com to discover more.
| | |
| --- | --- |
| Vintage Harley wins award for 'coolest' adventure bike, and has seen its fair share of adventures. Owned by Gareth Jones | 'Jill', one of several vintage Ural sidecar outfits |
| | |
| --- | --- |
| James Darley and his Kawasaki KSR 110, complete with camping trailer | Rob Kelley who kindly helped us with the Ténéré test last issue |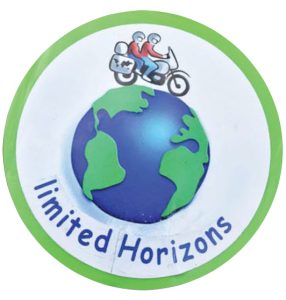 The logo cleverly reworked by James for his KSR110 in the Above left image
| | |
| --- | --- |
| Pete Brooks and his tuned Ténéré. | Tracey Wheeler, about to ride to Romania on her new V-Strom 1000 |
| | |
| --- | --- |
| Lunatic Ian Coates – 15 years on the road – complete with his pink flowery tent | The man responsible for it all; Ted Simon, with Giles from James Cargo and Graham Hoskins from Adventure Bike TV |
| | |
| --- | --- |
| The guys from Tough Miles who did their RTW on DRZs | The diesel-powered Royal Enfield ridden around the world by Harry-Lyon Smith |
| | |
| --- | --- |
| — | An old 'bumble-bee' GS given the Dakar treatment – stunning |
| | |
| --- | --- |
| A muddied ABR sticker – good to see | Whilst the award for biggest panniers goes to this chap. |
| | |
| --- | --- |
| It was good to see that it wasn't just 'adventure' bikes that turned up, with this cruiser, complete with Stahlkoffer panniers and stickers belonging to event volunteer Paul Myers | — |
The man in the overalls, Austin Vince was




there, commandeering one of the Monkey Bikes




and taking it for a spin

A surprising amount of mascots




on show, this tortoise on the handlebars of an




otherwise tough-looking DRZ