While textile suits have dominated the adventure bike scene over the last few years, there's no reason why a leather jacket shouldn't have a place in your wardrobe. They may not be ideal for a RTW trip, but if you're just going off for a weekend ride, or doing a bit of summer touring in Europe, there's no reason you shouldn't consider a leather jacket.
With that in mind, we sat down with Martin Brown, director at motorcycle clothing and accessories store, Bike Stop, to find out everything you need to know about leather jackets…
What makes a good leather touring jacket?
Martin Brown: The key features of any motorcycle clothing are comfort and safety. Comfort of course includes fit and appropriate weather protection (for hot and/or cold). Leather is still the best material for protection particularly in terms of abrasion resistance. There are on-going developments with textiles to improve them as well but ultimately every racer still wears leather!

There is often a compromise between all of these areas and the particular balance for a 'good' touring jacket is probably comfort as normally you want a jacket to be 'snug' to ensure the armour all stays in the correct place to protect you. But you must also remember a leather jacket will stretch so never go too 'loose' at the time of purchase.
Make sure your jacket also includes shoulder, elbow and back protectors. A lot of times the back protector will have to be purchased separately as companies such as Dainese want the customer to be able to choose between armour fitted directly on the customer versus armour fitted in the jacket.
Why isn't my leather jacket fully waterproof?
MB: Leather is not naturally waterproof and to make it so, it has to be specially treated or layers added such as a waterproof liner, taped seams or a waterproof over garment. Leather is normally used as a warmer/summer garment. Textiles are normally purchased for all seasons.
What's an ideal thickness for a leather jacket?
MB: Again the balance here is between thickness and flexibility. Clearly, the thicker the better in terms of abrasion resistance, but some leathers are actually treated for extra abrasive protection so the thickness does not become unusable. As a general rule, a thickness of at least 1.5mm offers the best compromise. Up to 2mm is available but as the thickness increases, so does the lack of flexibility and discomfort.
There are many different types of leather that jackets are constructed from, what are the differences and which is best?
MB: The best leather is actually Kangaroo as it's stronger, so it can be thinner (usually 0.9mm) and therefore lighter and more flexible. Leather needs to be used in all of the impact areas as a minimum. Other 'stretch' materials can then be used under the arms for example − still strong but more flexible than leather to add additional comfort.
Some manufacturers use a mix of elastic and Cordura (a specific hard wearing but flexible Dupont material) for their stretch fabrics. The stitching method and thread material is also important. The way the seams are overlapped, how many times and the type of thread used.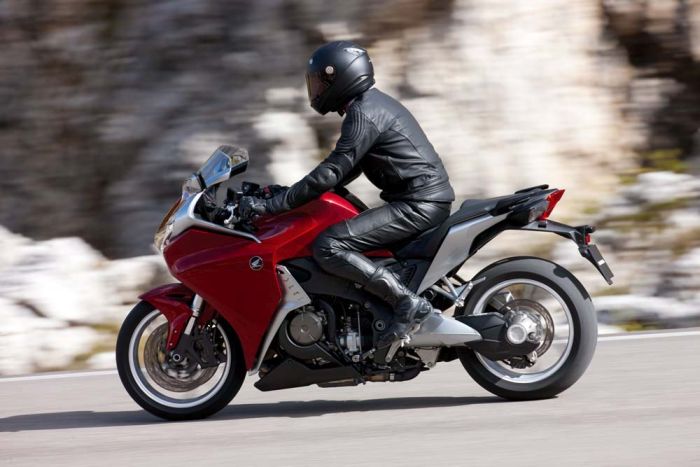 When buying a leather jacket in store, what should I be looking for?
MB: Standard armour should at least be CE-approved on shoulders, elbow and forearm. If it has a standard back protector that is a bonus, although it's normally the less protective type one protector. There is also type two available.
Some jackets are now CE-approved overall (not just the armour). With the higher quality jackets this is often just a few extra tweaks like covering the zips on the sleeves and adding a popper so the sleeves are more difficult to accidentally become undone. See if there are features like removable linings – thermal or windproof. Jackets often have ventilation zips as well which can be a useful feature.
How do I know if my leather jacket fits properly?
MB: A snug but comfortable fit – arm length, body length and chest size. A leather jacket will stretch. It is also very worthwhile considering just how it will attach to the trousers you plan to wear as we always recommend fastening them together for safety. Unusually, we are one of the few businesses to have a bike frame in our shop as the most important fit is when you are on the bike!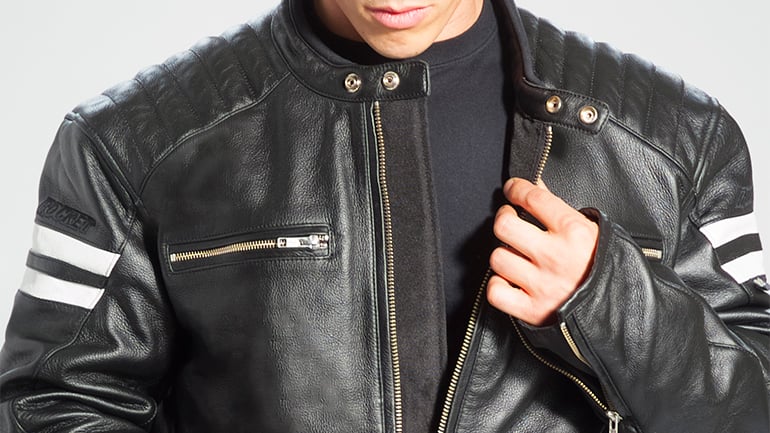 How should I care for my leather jacket?
MB: We suggest a pre-treatment to add protection from the start. Try to avoid getting it soaked – if so make sure it's allowed to dry naturally then feed it with leather treatment.
There are some massive price differences between leather jackets, what's the difference between one that's, say £150, and one that's £600+? Is it worth the extra money?
MB: With any safety item the normal rule that applies is the 'more you pay, the more you get'.  There was recently a fascinating item on the BBC's Fake Britain where a good looking leather jacket with a highly reputable replica look was actually very poor quality leather and stitching so just remember, 'buyer beware'.
The key safety features are the quality and thickness of the leather, plus of course the quality of armour (CE-approval for the armour and the whole jacket). Then there are the zips which again need to be to a high specification like YKK. The higher price jackets then also include venting and windproof or thermal linings.