The adventure sports bike from Ducati gets a total makeover for 2015. Alun Davies reports back from the world launch in Lanzarote.
If Carlsberg was looking to organise a press launch, they'd hand the reigns over to Ducati. Without question. The Italian motorcycle manufacturer wins hands down in the shock, awe and wow factors when it comes to unveiling a new machine to the world's press.
A couple of years ago I attended the launch of the Hyperstrada in the spectacular hilltop village of Bagno Vignoni in Central Italy. A must visit on the touring circuit of Tuscany, Bagno Vignoni is best known for its enchanting town square which, in its entirety, is a large open-air, thermal spring set within a courtyard of beautiful Tuscan stonework. And there, in the middle of the 16th Century baths, seemingly walking on water and shrouded in a swirl of floodlit steam, stood the Ducati.
This surreal and slightly celestial sight didn't particularly help me bond with the Hyperstrada but I've a soft spot for motorcycles levitating over the volcanic springs, especially those where Pope Pius XI and the understated Italian statesman Lorenzo the Magnificent once bathed.
Anyway, let's move on to 2015 and the launch of the all new Ducati Multistrada 1200 on the Canary island of Lanzarote. Would the Italian company parachute the new Multistrada in from a passing space shuttle or maybe have it towed into a nearby marina by a couple of sperm whales? Not quite, but as we descended into the earth's bowels via the astonishing Cueva de los Verdes lava tube you just knew something dramatic was on the way.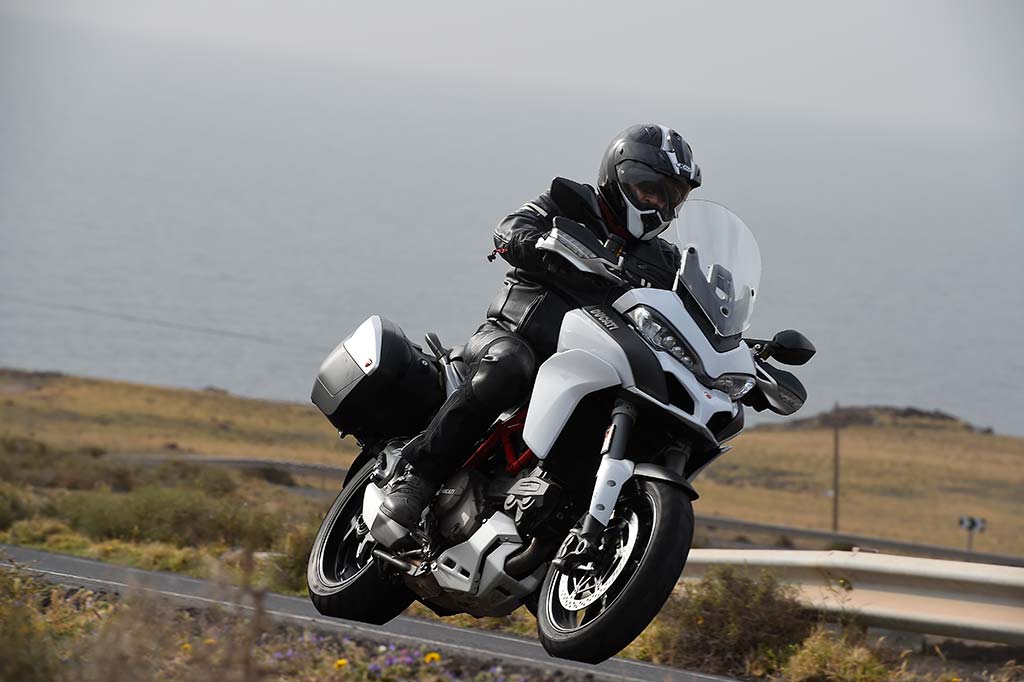 The Cueva de los Verdes was created around 3,000 years ago by lava flows from the nearby volcano Monte Corona. As the lava streams cooled on top, developing a solid crust, a stream of molten rock continued to flow underneath, eventually draining away and leaving a seven mile long cave. Over time sections of the roof have collapsed leaving enormous caverns big enough to host a disco, a restaurant and a concert hall wherein the centre stage was a new lava red (very apt) Ducati Multistrada 1200, a space shuttle and a couple of washed up sperm whales – only one of these observations is true.
The original Multistrada 1200 was launched in 2010 under the marketing headline of being four bikes in one. Following the trend for 'adventure styled' motorcycles the Ducati offered 150bhp, advanced technology, long travel suspension, a comfortable upright riding position, the de rigueur adventure beak and engine mapping software that offered four levels of performance: sports, touring, urban and enduro. Hence the four bikes in one claim.
However, even the most blinkered of riders were aware that the Multistrada, even with its pronounced beak, was no endure machine, it was, and always has been, a sportsbike dressed up in comfortable adventure motorcycle clothing. That's not to say you can't take the Ducati off-road, of course you can, in the same way you could take a Panigale up a deeply rutted muddy lane, just make sure you're back home in good time for the lobotomy.
Jump forward to 2013 and the 1200 was updated with better traction control and ABS plus the 'S' edition saw the launch of the revolutionary (in motorcycle terms) semi-active Skyhook suspension, a system that automatically adjusted suspension settings on the fly with the aim of keeping the bike supremely balanced in all riding situations and conditions. And it worked very well.
Back to the subterranean presentation in Lanzarote and the new 2015 Multistrada looked very similar to its previous offerings but that can't be said for the engine, frame, forks, sub-frame, brakes, shocks, cockpit and just about everything else associated with this bike. Th e 2015 Multistrada is an all-new machine, producing a blistering 160bhp from the Testastretta Desmodromic Variable Timing (DVT) engine and better still, that power is delivered smoothly across the full rev range, and that's something that could not be said about the bike's previous incarnations.
Ducati reckon that DVT is a first in the motorcycle industry with variable valve timing for both the intake and exhaust camshafts. Th e crux of it is this; rather than using fixed cams, hydraulic adjusters continually vary the timing of the cam based on many factors including what the rider is doing with the throttle and the engine speed. Th e result is that the system allows valve overlap timings to be increased.
So what does the adoption of DVT mean for the rider? Engine shudder is reduced by a claimed 78 percent, horsepower and torque are increased seven and nine percent respectively and both those increases are spread over a wider rev range. In other words, the new Multistrada 1200 is faster, smoother and more powerful than its predecessors right through the rev range. For all you statos out there, Ducati is claiming 160bhp at 9,500rpm and a sensational 100.3lbft torque at 7500rpm, which apparently is more than the new Kawasaki Ninja H2 rocket ship.
But what's it like to ride? Put simply, the Mulistrada is stunningly fast and handles superbly, it's comfortable in the saddle and despite having a level of technology with the potential to induce a life-threatening case of information anxiety it's all rather user friendly. Engaging with all the various modes and settings is a no stress experience, something which is lacking in some sectors of the motorcycle industry.
Best of all though, the advances made in the DVT department mean that riding the 1200 is a more relaxed and enjoyable experience when measured against past versions. It's very unlikely that you'll ever get to use the full extent of such a powerful engine on public roads without losing your licence or body parts but what you do use is fluid where it was once considered to be harsh.
We kicked off the day riding the Multistrada 1200 S before swapping over to the base model at a coffee break. Both versions come with the above mentioned four riding modes, a Bosch Internal Measurement Unit (IMU), cornering ABS, cruise control, wheelie control (DWC), traction control (DTC), keyless ignition and a height adjustable seat and screen.
Th e 'S' model also features the more powerful front brakes from the Panigale, Ducati Multimedia System (DMS), lightweight forged wheels, Skyhook semi-active suspension, full LED headlamp with cornering lights (DCL) plus the cockpit display of the 'S' is a full colour TFT unit whereas the base model comes with a monochrome LED.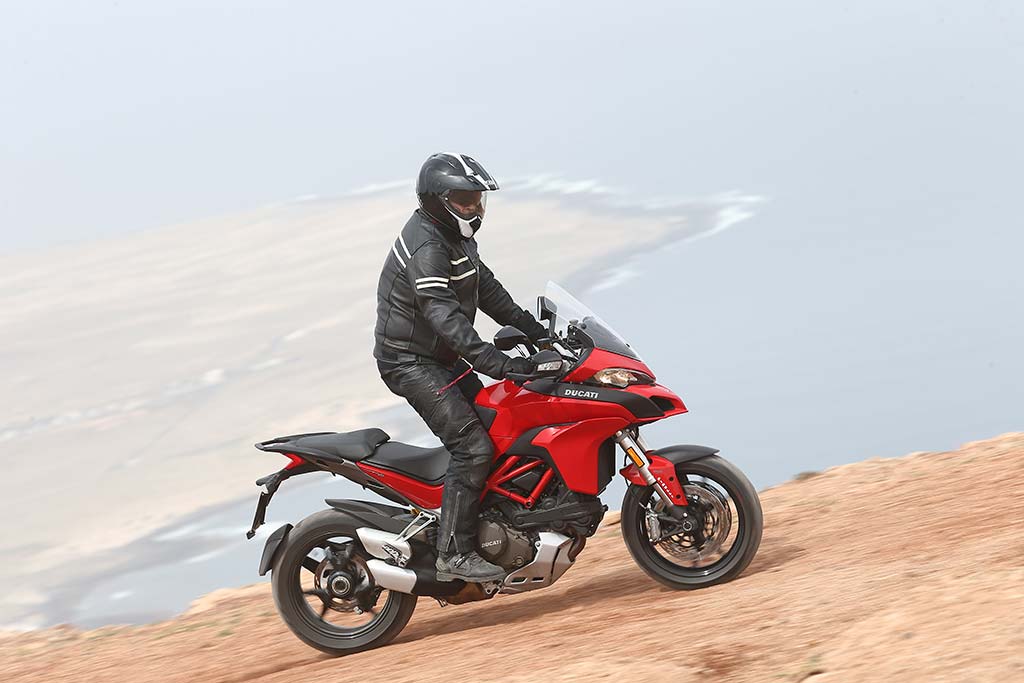 It takes a while for anyone into design, shape and form to swing a leg over the Multistrada. Th is machine is superbly put together and every component, body part and control looks as if it's been the subject of a fight to the death in an Italian design studio striving for perfection. The attention to detail is top drawer and sets a very high benchmark for other manufacturers to better. There is no part of this bike where I could raise and eyebrow and tut tut, 'that was an afterthought'. I wanted to stroke the Multistrada as much as I wanted to ride it. In design terms, Ducati is the Apple of motorcycles.
Out on the road and it's not long before you realise that the Multistrada is a sportsbik for riders of an age and disposition happy to admit that compressing flesh into a full set of leathers to sit uncomfortably on a motorcycle never was such a great idea in the first place.
With its wide bars, comfortable seat and upright ergonomics the Ducati is as comfy a perch as any. Th e adjustable screen is not the most effective and an area where I feel the company could improve. It's OK, but I'd be looking at ways of making the long-distance riding experience more serene. As it is, I found the lower setting produced less buffeting and wind noise that the higher level.
In touring mode the ride is quite soft, not BMW comfort soft, but pleasant enough to smooth out road imperfections as opposed to jarring out the dentures. At plod along speeds there is a noticeable dive at the front end under braking but ratchet up the pace and the semi-active Skyhook suspension firms up the front and rear to a point where forward pitch and back-end squat are reduced significantly.
The roads of Lanzarote are a biker's dream but there can be a significant amount of slow moving traffic and on a motorcycle with the power and capabilities of the Multistrada they can be a frustrating experience. The engine modifications on the 2015 version have made slow paced riding a more relaxed affair but there's no doubting that this machine has the performance, handling and character to bring out the Rossi in the most passive of riders where upon a herd of Sunday afternoon car ramblers become objects of irritation. I could not help but think the same would apply in UK road conditions.
Speaking of performance, and switching into sports mode, the rate of forward momentum is manic. But it doesn't come across that way, there is no noticeable kick as with the KTM 1190, there's just blistering full on liquid smooth acceleration from the moment the knuckles on your right hand nudge backwards. Aggressively open the throttle at 50mph and in about the same time it takes you to read this sentence you'll be approaching a ton. Thrilling, yes. Points on my licence, undoubted.
To capture more of the thrill of riding such a powerful bike in sports mode Ducati has included a Wheelie Control setting on the Multistrada. The Bosch IMU analyses data from sensors to detect front wheel lift and controls the level of power and torque to a limit pre-programmed by the rider. There are eight settings and the lower number you select the more inclined the front wheel is to lift. Ducati reckon the DWC makes popping a wheelie safe…officer. On a more practical and serious side, the inclusion of the DWC is not a puerile feature, it's the company's way of offering the rider more control and safety.
The IMU also controls the traction and ABS, both of which can again be pre-programmed for the level of intervention. The ABS works off cornering sensors which measure the angle of lean and allows the rider to brake significantly mid-bend without the inevitable road rash repercussions. This does not mean that you can forget all you know about the characteristics of motorcycle handling when cornering, but it does provide a safety net that allows considerable braking without losing control.
Cornering ABS may not be everyone's cup of tea, especially those of an old school persuasion who may view it as a feature that'll reduce rider skill levels and offer a false blanket of security. Having used the system I disagree. In my opinion it's a massive step forward in rider safety, in the same way that standard ABS has been. Unlike the KTM 1290 Super Adventure the traction control on the Multistrada does not take into account the lean angle so old schoolers should still be able to drift the back-end to their hearts content or into a nearby hedge. On reflection, it's nice to have such a choice.
Having recently attended the launch of the KTM 1290 Super Adventure where all talk of an off-road nature was off the agenda. The quite surprising when you consider the prodigious dirt drifting pedigree of the boys from Austria – it was a surprise to find that Ducati were keen to pursue the 'enduro' side of the Multistrada at the launch presentation, even pointing out that the chassis has been raised to offer more ground clearance
However, this didn't extend to the test ride which, for the sake of grabbing a few photographs, had us riding a short dusty road of approximately 100m in length connecting two sea view tourist car parks.
Let's not beat around the bush here (pun intended), as stated previously, the Multistrada is just not built for any kind of off -road abuse other than riding between said carparks. It's a fantastic adventure sports bike, it's a more than capable urban machine and it's a motorcycle I'd be very happy to take long distance touring but I'd be sweating torrents at the thought of launching the Ducati on anything other than a graded forestry trail.
As a tourer it lacks at least one essential, heated grips, though the bike comes 'heated grip ready' so you can spend some more cash on these must have accessories. A centre stand is also an option I'd like to see as standard. What you do get is a power socket, cruise control and Ducati claims there's more room for the pillion, something we've yet to put to the test.
The upper fairing of the 2015 Multistrada is 1.4in wider than the previous version which offers more wind protection, the seat has been re-designed with a slimmer front end, making both feet on the floor at stops a more realistic proposition for shorter riders. There's better grab handles for the pillion, all the switchgear is backlit, and the full colour dashboard display of the 'S' is a step up from anything I've met on an adventure bike both in clarity and ease of observation. ‑ e 'S' model also comes with cornering lights which switch on automatically during turns, better lighting up the road ahead.
If I were buying I'd plum for the 'S' version. There's nothing wrong with the base model but the Skyhook suspension is superb and would swing the decision for me. Plus, I've no doubt that 'S' models will create more demand in the second-hand market and hold their value better.
In short, the 2015 Ducati Multistrada 1200 is the best adventure sports touring bike on the market and the only question is where do we go from here? Maybe the addition of a full fairing and clip-ons is the answer, and, I know, we'll call it a 'sportsbike'.
­The App
It's not available yet but I was given a preview of the new Multistrada App which will be available shortly. Love them or hate them, apps are going to become a staple when you buy a new bike in the future. They'll tell you where you've been, how fast you've travelled, how far you've leaned over, when you last washed your undies and just about everything else you've ever done in your motorcycling life. And I'm not absolutely sure about this, but I think Ducati's central server will know too.
In A Line
The ultimate adventure sports bike.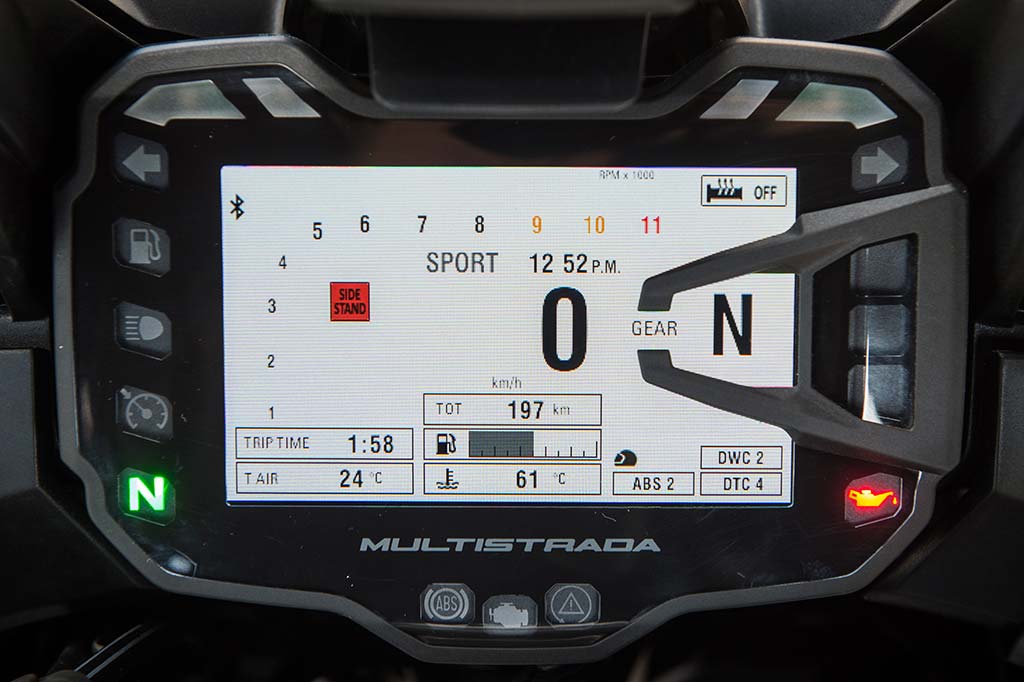 Technology
The Multistrada is the most technologically advanced motorcycle yet from the Italian manufacturer. Here's an at a glance check list. Riding Modes, Power Modes, RbW, Ducati Safety Pack (cornering ABS + DTC), Ducati Skyhook Suspension Evo (DSS), Ducati Wheelie Control (DWC), Cruise Control, Full LED headlamp with Ducati Cornering Lights, Backlit handlebar switches, Ducati Multimedia System(DMS), Full-colour TFT display, Anti-theft ready, Heated grips ready, Supplementary lights ready, Ducati App.
On The Tick
Finance packages are accounting for more new bike sales every year. Here's Ducati's 'representative example' for the Multistrada S.
Cash Price: £15,730
Deposit: £3,537
Total Amount of Credit: £12,193
Duration: 37 Months
Purchase Fee: £10
36 Monthly Payments of: £179
Final Payment of: £8,388
Total Payable: £18,369
Interest rate (Fixed): 8.25%
APR: 8.6%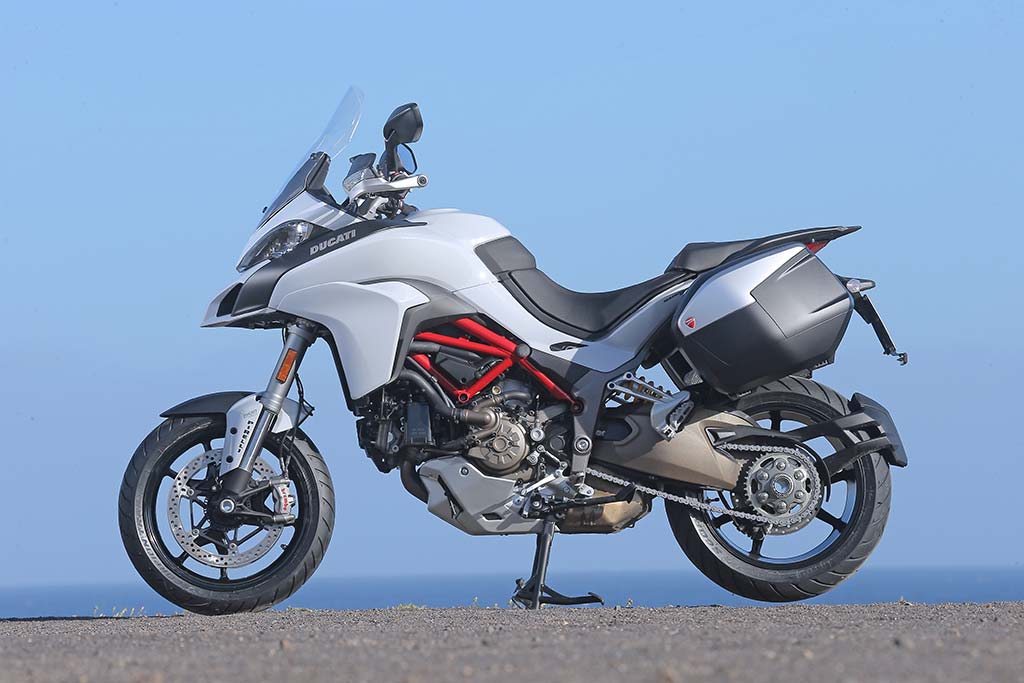 SPECS AT A GLANCE
Multistrada 1200
Price: £12,995
Engine: 1198.4cc, Ducati Testastretta DVT with
Desmodromic Variable Timing, L-Twin cylinder, 4 valve per cylinder, Dual Spark, liquid cooled
Bore & Stroke: 106 x 67.9 mm
Power: 117.7 kW (160 hp) @ 9,500 rpm
Torque: 36 Nm (100,3 lb-ft) @ 7,500 rpm
Frame: Tubular steel Trellis frame
Front Suspension: 48 mm fully adjustable USD forks
Rear Suspension: Fully adjustable Sachs monoshock unit. Remote spring preload adjustment. Aluminium singlesided swingarm
Front Brake: 2 x 320 mm semi-floating discs, radially mounted monobloc Brembo callipers, 4-piston, 2-pad, with cornering ABS as standard equipment
Back Brake: 265 mm disc, 2-piston floating calliper, with cornering ABS as standard equipment
Front Wheel: Y-shaped 3-spoke in light alloy 3.50" x 17"
Rear Wheel: Y-shaped 3-spoke in light alloy  6.00" x 17"
Front Tyre: Pirelli Scopion Trail II 120/70 R17
Rear Tyre: Pirelli Scorpion Trail II 190/55 R17
Seat Height: Adjustable 825 – 845 mm (32.5 – 33.3 in)
Fuel Capacity: 20L
Weight: 209 kg Dry
Colours: Red
Warranty: 2 years unlimited mileage
Service Intervals: 9,000 miles oil change. 18,000 miles for valve clearance.
Multistrada 1200S
Price: £15,595 (Red) £15,795 (White)
Engine: 1198.4cc, Ducati Testastretta DVT with Desmodromic Variable Timing, L-Twin cylinder, 4 valve per cylinder, Dual Spark, liquid cooled
Bore & Stroke: 106 x 67.9 mm
Power: 117.7 kW (160 hp) @ 9,500 rpm
Torque: 136 Nm (100,3 lb-ft) @ 7,500 rpm
Frame: Tubular steel Trellis frame
Front Suspension: Sachs 48 mm fully adjustable USD forks. Electronic compression and rebound damping adjustment with Ducati Skyhook Suspension Evo (DSS)
Rear Suspension: Fully adjustable Sachs unit. Electronic compression and rebound damping adjustment. Electronic spring pre-load adjustment with Ducati Skyhook Suspension (DSS) Evo. Aluminium single-sided swingarm
Front Brake: 2 x 330 mm semi-floating discs, radially mounted Brembo monobloc Evo M50 4-piston callipers, 2-pad, radial pump with cornering ABS as standard equipment
Back Brake: 265 mm disc, 2-piston floating calliper, with cornering ABS as standard equipment
Front Wheel: Y-shaped 3-spoke in light alloy 3.50" x 17"
Rear Wheel: Y-shaped 3-spoke in light alloy 6.00" x 17"
Front Tyre: Pirelli Scopion Trail II 120/70 R17
Rear Tyre: Pirelli Scorpion Trail II 190/55 R17
Seat Height: Adjustable 825 – 845 mm (32,5 – 33,3 in)
Fuel Capacity: 20L
Weight: 212 kg Dry
Colours: Red; White
Warranty: 2 years unlimited mileage
Service Intervals: 9,000 miles oil change. 18,000 miles for valve clearance.
Accessories
The Ducati four-bikes-in-one story for the Multistrada is carried over into the accessory packages where you can spend lots more cash on farkles. They can be bought as individual packages or you can bling up the bike with the works.
Sports Package
Road legal exhaust; Carbon fibrefront mudguard; Billet aluminium brake and clutch reservoir caps. £950
Touring Package
Heated grips; Panniers; Centre Stand. £950
Urban Package
Top case; Tank bag with lock and USB hub. £560
Enduro Package
Touratech engine bars, radiator grill, oil sump guard, larger sidestand base and off road footpegs; supplementary spotlights. £950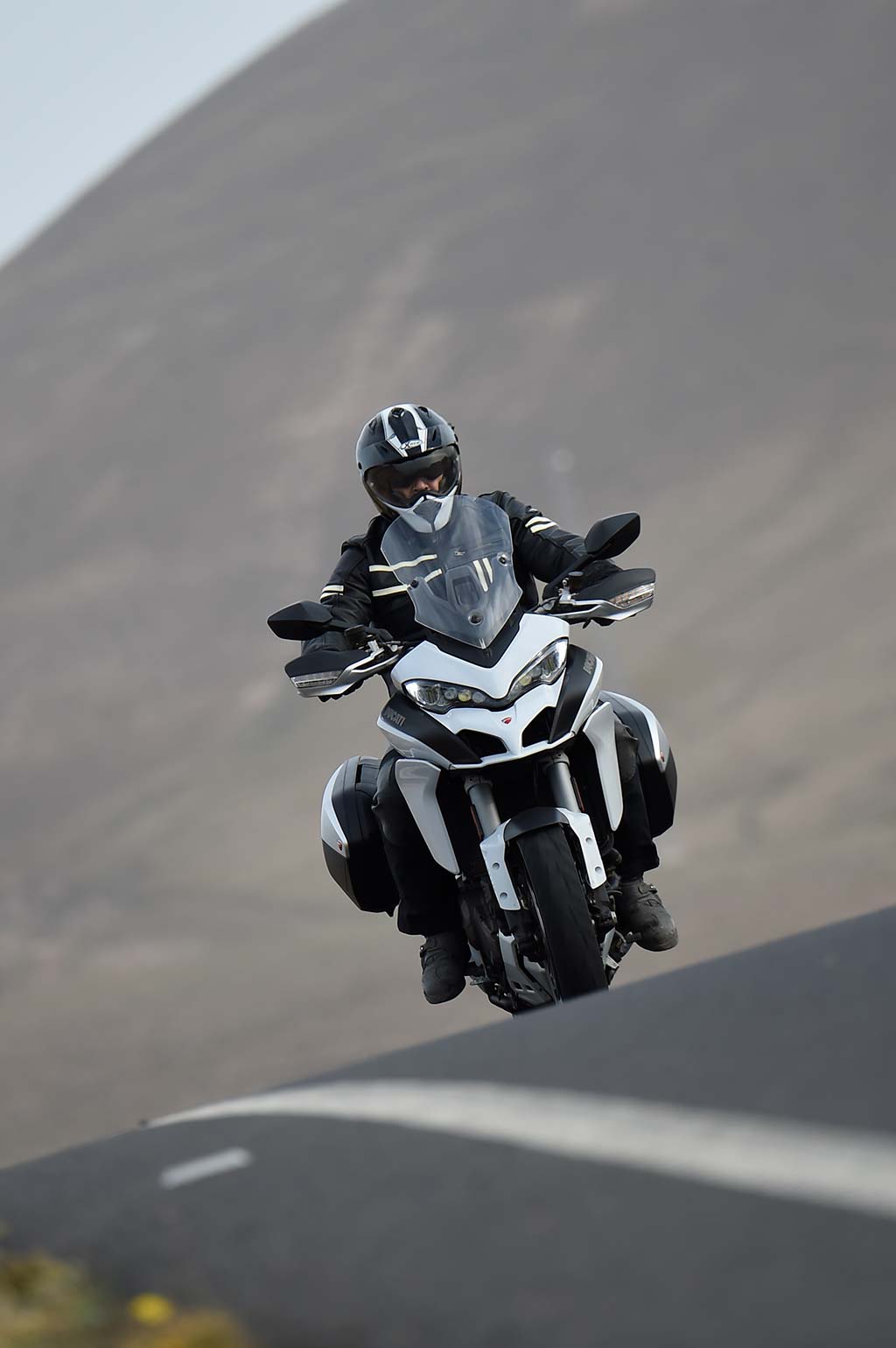 ABR VERDICT
As a commuter
The steering lock on the Mutistrada has been increased making tight U-turns easier, the seat lowered (adjustable between 845mm and 825mm) and narrower at the front making both feet on the ground a more realistic proposition, plus there's better slow speed performance and comfort. All making for a fi ne commuter.
As a weekend tourer
More than enough comfort for long motorway journeys to get you there and bags of power to ensure those A roads are a blast. You'll be wishing for longer weekends.
As an off -roader
No. No. No. Why anyone would want to buy such a fantastic and expensive road going tourer and then consider taking it off -road I fail to understand. Nothing stopping you though.
As a continental road tourer
All day comfort is a given, high speed motorway cruising a breeze. A Multistrada and Alpine roads are a match made in, er, Bologna. Just the job.
As a pillion carrier
Ducati has made the pillion perch roomier for the pillion but we've yet to check what the other half thinks. Can't think of any reason why she'd disapprove.