ABR readers tell us what they'd do with a new pair of Michelin tyres.
Strange place names
It all began in Bethlehem! I doubt however that this account will have quite the same impact as the more well-known one but at least in my tale no one gets nailed to a cross!
Last spring, on a trip to South Wales to visit my father, I found myself riding through Bethlehem in Carmarthenshire. I pulled over to take a picture and my 'tour' had begun. I already knew of several English towns and villages which needed to be included in my itinerary and casually set about finding any others, browsing through the index of my road atlas whilst waiting in traffic queues for example and ultimately resorting to t'interweb to see where else I could find to justify a bike ride to.
As the list grew I enjoyed planning a few routes and have had some great rides to either 'fulfil my ambition' or 'satisfy my obsession' depending on how charitable your viewpoint. A great ride to the Scottish borders to tick a few more destinations off my list was a fabulous 850-mile weekend. The roads and scenery combined with the lack of traffic make it a motorcycling destination 'par excellence' – you might even get dry weather – I'm told it does happen!!
To date I have photographs of my bike at Alexandria, Bermuda, Bethlehem, Boston, California, Columbia, Egypt, Falkland, Florence, Gibraltar, Jerusalem, Little Germany, Londonderry (village), Melbourne, Moscow, New Holland, New York, Paris, Perth, Petty France, Philadelphia, Rhodes, Rhodesia, Toronto, Up Holland, Venetian Marina, Wales (village), Washington, West Auckland and a tongue in cheek 'Welcome to Iceland' (supermarket).
Still on my list of places to get to are Hollywood, Palestine, Sebastopol, Dunkirk, Broadway, Christchurch, Canada, Kingston, Upper Canada, New England, Goose Green and World's End, all of which are far from Yorkshire but maybe I'll get there one day.
If anyone can think of anywhere else I could include please let me know.
Stephen Furber
---
Revisiting Bosnia (STAR LETTER)
Where would I ride on my new Michelin Anakee III tyres? It would have to be Bosnia.
In 1994 whilst serving in the forces, I deployed with my unit (A Squadron of the Light Dragoons) to Bosnia as part of the United Nations Protection Force (UNPROFOR). Our mission was to assist the United Nations High Commissioner for Refugees (UNHCR) in the delivery of humanitarian aid to those who required it, regardless of which of the warring factions they belonged to.
During my six-month tour of duty in Bosnia, my squadron was based for approx. two months in each of the following locations; Tomislavgrad, Gornji Vakuf and Maglaj. Much of the time was spent escorting aid convoys, manning checkpoints and building relations with the locals. A great deal of the travelling between locations was done on Main Supply Routes (MSRs), which were little more than rough dirt tracks that had been hewn out of the mountainsides by the Royal Engineers (no mean feat).
On one occasion I was lucky enough to ride one of the MSRs on a 600cc Armstrong motorcycle. It was a fantastic ride along a rough track (for which Michelin Anakees would have been well suited), passing through forested mountains and deep valleys. Why would I want to go back to Bosnia on my BMW R1200 GS fitted with Michelin Anakee tyres?
Quite simply to see how the country is today, to see if 'we' made a difference during our time there and because it is a lovely country to ride in.
Tim Archer
—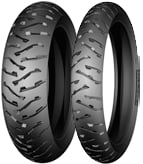 ABR Congratulations Tim, we've chosen your message as our Star Letter, we love the sound of your plans and hope you have a great time!
Thank you to all who entered, we had some great letters but we had to whittle it down to one!
---
A spare set of tyres
I would continue riding my bike (R1200 GSA LC) around Europe. I have just ridden it to Slovenia via the Dolomites, Lake Como and the amazing Julian Alps. I actually just got a new set put on my bike in Slovenia but I intend on doing well over 15k on my trips between my job, Possibly more as I don't need to be in the UK anymore and I love to travel!
It would be good to have a spare set in the bank so to speak. Also, I would like to say that the tyres grip like nothing else I have ridden in the wet and the dry. Great all round.
I have included some pictures to try and edge my place in the competition. Also sorry about the quality of the pictures they were taken on my rubbish phone. Enjoy and keep up the good work. Oh and this particular bike has actually been on your magazine before in issue 24 on the tyre test.
Adam Miller
---
Get in touch!
We'd love to hear what our readers are up to, where you're going, where you've been and what you're planning so get in touch and send your letters to [email protected]. If your message is chosen as 'Star Letter' in the next issue then you'll win a year's subscription to Adventure Bike Rider magazine!