While textile suits have dominated the adventure bike scene over the last few years, there's no reason why a leather jacket can't have a place in your wardrobe. Bryn Davies checks out nine for you to wear this summer.
I know, I know, if you ride an adventure bike the only thing you're allowed to wear is a textile suit, right?
Wrong! If you're just doing what a majority of riders do, which is going out for a ride on the weekend or having a blast around Europe in the summer, there's no reason why you can't wear a pair of armoured jeans (as reviewed in issue 27 of Adventure Bike Rider) and a leather touring jacket, which we've reviewed in this issue.
Consider this, with the exception of some great looking textile jackets and trousers, there's no motorcycle apparel that offers the combination of protection and style that a decent leather jacket can. Add that, if looked after correctly, a leather jacket will last you a lifetime and all you need is a waterproof over jacket to make it as weather resistant as its textile equivalent, why wouldn't you want to wear one?
Indeed we spoke to Elspeth Beard in issue 26 of Adventure Bike Rider, Elspeth was the first British woman to ride a motorcycle around the world (she did so in the early eighties), and what did she wear on her multi-year ride? A leather jacket. With that being said what should you look for when buying a leather jacket? The quality and thickness of the leather I is a good place to start. If you want your kit to provide as much protection as possible then you're going to want to look for the thickest leather you can find, though bear in mind, the thicker the material the less comfortable it will be in use. For added protection look for jackets that have CE-approved shoulder, elbow and back protectors or, better yet, some high-end leather jackets now come with full CE-approval, being tested for (among other things) abrasion resistance and seam burst strength. Th ese will off er that bit more protection in the case of an off.
Another feature you should be conscious of when buying a leather jacket is the fi t. Th ere are many different 'styles' of leather jackets out there, each with specific cuts and fits. You should ideally go for the most comfortable for you. Look for any ventilation options, they'll be a godsend in warmer climes. Does the jacket have enough pockets? Does it have the all-important zip baffle? If it does, is it adequate to prevent cold spots forming? Is the thermal liner of good quality, or will you be using your own one anyway?
Really though the biggest deciding factors for which leather jacket will be best for you is the one that you find fits you best and, to a lesser extent, the one that you like the looks of the most.
A Word On Sizing…
If there's one thing we've noticed from this review, it's just how much manufacturers sizings vary. In some of the jackets an XL fitted perfectly, in others XXXL was a little too tight. While there's not much we can do about how companies decide to size their products, we can tell you that if you're planning on forking out a few hundred quid for a new leather jacket, make sure you go and try it on first so that you know what will be the right size.
Waterproof your leather jacket
Waterproof your leather jacket While your leather jacket will provide you with excellent impact and abrasion resistance it'll lack when it comes to weather protection. The best way to combat this is to pair your jacket with a waterproof overcoat. These are affordable and easily stowed in your panniers and forgotten about 'till the time when the heavens open and you're caught out. While waterproof overcoats come in various colours we prefer the brighter, luminous ones as they'll make you more visible in grim, wet weather. Also make sure you try it on over your motorcycle gear before you buy it, if it doesn't fit it's not going to protect you!
Features We Like
■ Pockets
One of the problems you'll have if you make the switch from textiles to a leather jacket and a pair of jeans is that you won't have as many pockets as you used to. With this being said we like our leather jackets to have two, decent sized hand warmer pockets as well as at least one zippable internal pocket for keeping valuables safe.
■ Vents
While leather itself is a breathable material you can still work up quite a temperature if the sun is shining and for this reason we like our jackets to have good ventilation options. It's not enough just to have vents on the front either, a good jacket should have exhaust vents on the back to allow a good cross flow of cooling air and to prevent the jacket from ballooning up.
■ Adjustable cuffs
Adjustable cuffs will help tidy up any excess material, making it easier to fit under/over your gloves. Good adjustable cuffs will also stop drafts and prevent the jacket from riding up in the case of an off.
■ Adjustable waists
A good adjustable waist will allow you to get the most comfortable fit for you, plus you can loosen it after a heavy lunch stop.
■ Thermal liners
A thermal drop liner will help insulate your body by trapping warm air, some jackets will come with thermal gilets to reduce bulk while still warming your important parts. In many cases it's often better to buy a separate higher quality thermal jacket to use as a mid-layer (as reviewed in issue 25 of Adventure Bike Rider)
■ Mesh liners
While the thermal liners will help keep you warm, if things start to get too hot then you'll be wishing you had a mesh liner. These are usually attached to the inner and a good one will help wick moisture (sweat) away from your skin so that you don't get wet from the inside out.
■ CE-approved armour
While the leather will protect your skin from road rash it's the armour that's going to provide that initial impact protection. Most jackets these days will feature CE-approved armour in the shoulders and elbows, make sure it's placed well for your body shape and that it stays in place when you're in a riding position.
■ Back protector pouch
Some jackets will come with CE-approved back protectors, others will come with foam inserts, either way it's best to make sure your jacket comes with a pouch that allows you to insert back armour if you wish. Some riders prefer the protectors that come as standard with jackets, while others prefer to buy their own, specially fitted armour.
■ Reflective piping
Leather is usually quite dull so it's not the most visible if you're riding in poor visibility or low lighting conditions. For this reason it's never bad if a jacket features reflective piping to help increase your visibility to other road users.
---
Ask The Experts
Martin Brown, director at motorcycle clothing and accessories store, Bike Stop, answers your questions about leather jackets…
ABR: What makes a good leather touring jacket?
Martin Brown: The key features of any motorcycle clothing are comfort and safety. Comfort of course includes fit and appropriate weather protection (for hot and/or cold). Leather is still the best material for protection, particularly in terms of abrasion resistance. There are on-going developments with textiles to improve them as well but ultimately every racer still wears leather! There is often a compromise between all of these areas and the particular balance for a 'good' touring jacket is probably comfort as normally you want a jacket to be 'snug' to ensure the armour all stays in the correct place to protect you. But you must also remember a leather jacket will stretch so never go too 'loose' at the time of purchase. Make sure your jacket also includes shoulder, elbow and back protectors. A lot of times the back protector will have to be purchased separately as some companies want the customer to be able to choose between armour fitted directly on the customer versus armour fitted in the jacket.
ABR: Why isn't my leather jacket fully waterproof?
MB: Leather is not naturally waterproof and to make it so it has to be specially treated or you have to add layers such as a waterproof liner, taped seams or a waterproof over garment. Leather is normally used as a warmer/summer garment. Textiles are normally purchased for 'all seasons'.
ABR: Why would I wear leather over textile?
MB: As indicated already leather is the best safety clothing in terms of abrasion resistance but it's not as good at weather protection as textile. The weather proofing of leather can be helped by wearing additional layers both over the jacket and/or under like base layers.
ABR: What's an ideal thickness for a leather jacket?
MB: Again the balance here is between thickness and flexibility. Clearly the thicker the better in terms of abrasion resistance but some leathers are actually treated for extra abrasion protection so the thickness does not become unusable! As a general rule a thickness of at least of 1.5 mm offers the best compromise. Up to 2 mm is available but as the thickness increases so does the lack of flexibility and discomfort.
ABR: I see there are many different types of leather that jackets are constructed from, what are the differences and which is best?
MB: The best leather is actually kangaroo as it's stronger so can be thinner (usually 0.9mm) and therefore lighter and more flexible. Leather needs to be used in all of the impact areas as a minimum. Other 'stretch' materials can then be used under the arms to add additional comfort. Some manufacturers use a mix of elastic and Cordura (a specific hard wearing but flexible Dupont material) for their stretch fabrics. The stitching method and thread material is also important. The way the seams are overlapped, how many times and the type of thread used.
ABR: When buying a leather jacket in store, what should I be looking for?
MB: Standard armour should at least be CE-approved shoulders, elbow and forearm. If it has a standard back protector that is a bonus although it's normally the less protective type 1 protector, there is also type 2 available. Some jackets are now CE-approved overall (not just the armour) with the higher quality jackets this is often just a few extra tweaks like covering the zips on the sleeves and adding a popper so the sleeves are more difficult to accidentally become undone. See if there are features like removable linings thermal or windproof. Jackets often have ventilation zips as well which can be a useful feature.
ABR: How do I know if my leather jacket fits properly?
MB: A snug but comfortable fit – arm length, body length and chest size. A leather jacket will stretch. It is also very worthwhile considering just how it will attach to the trousers you plan to wear as we always recommend fastening them together for safety. Unusually we are one of the few businesses to have a bike frame in our shop as the most important fit is when you are on the bike!
ABR: How should I care for my leather jacket?
MB: We suggest a pre-treatment to add protection from the start. Try to avoid getting it soaked – if so make sure its allowed to dry naturally then feed it with leather treatment.
ABR: I see that there are some massive price differences between leather jackets, what's the difference between one that's, say £150, and one that's £600+? Is it worth the extra money?
MB: With any safety item the normal rule that applies is 'the more you pay the more you get'. There was recently a fascinating item on the BBC 'Fake Britain' where a good-looking leather jacket with a highly reputable 'replica look' was actually very poor-quality leather and stitching so just remember 'buyer beware'! The key safety features are the quality and thickness of the leather, plus of course the quality of armour (CE-approval for the armour and the whole jacket). Then there are the zips which again need to be to a high specification like 'YKK'. The higher price jackets then also include venting and windproof or thermal linings.
Bike Stop has over 30 years of experience in the world of motorcycle clothing and accessories. With a wide range of clothing in stock and regularly trained and knowledgeable staff on standby it's an excellent place to visit if you're looking to buy a new jacket. For more information visit www.bikestop.co.uk/ask
---

ARMR HIRO JACKET

£179.99
www.tri-motive.com
ABR Rating: 7 out of 10
The Hiro Jacket is an entry level leather jacket from Armr Moto, a brand that was created by distribution company Tri-Motive to off er good quality kit at aff ordable prices. The Hiro is made from a 1.1mm premium grade cowhide leather. It features stretch panels for comfort, a thermal drop liner to help add some warmth and removable CE-approved shoulder and elbow armour, with the provision to add back armour if you wish, to add a little more protection.
Two chest vents will allow you to get the cool air flowing if the going gets hot and they're nicely disguised as pockets for when you're not using them. While vents are always welcome, we would have preferred if they were a bit larger and it would have been nice to have seen an exhaust vent on the rear to get a good cross flow of cooling air when in use.
The jacket features stretch panels at the waist in conjunction with an easy to use Velcro adjuster and a stretch gusset at the shoulder allows for a good range of movement when in the saddle and reaching for the handlebars. While the jacket comes with a thermal liner it's more of a gesture than a useful feature so we'd recommend adding your own mid-layer. The inner of the jacket is mesh lined to help wick sweat away from the skin on those warm days.
The Hiro features reflective piping down the arms and across the back which is a nice touch though the reflection is pretty dull. The zip baffle is great at preventing a cold spot from forming down the length of the zip and all of the zips feel top quality and very sturdy (being YKK). The two hand warmer pockets are zippable though they are on the small side.
All in all the Hiro Jacket is a nice entry level leather jacket, the styling is good, the fi t is comfortable and it feels well made considering its price.
In a line: A good entry level leather jacket.
PROS AND CONS
✔ Easily adjustable waist
✔ Stretch panels for a good f t
✔ Heavy duty zips
✔ Adequate zip base
✘ No exhaust vent
✘ Thermal lining isn't great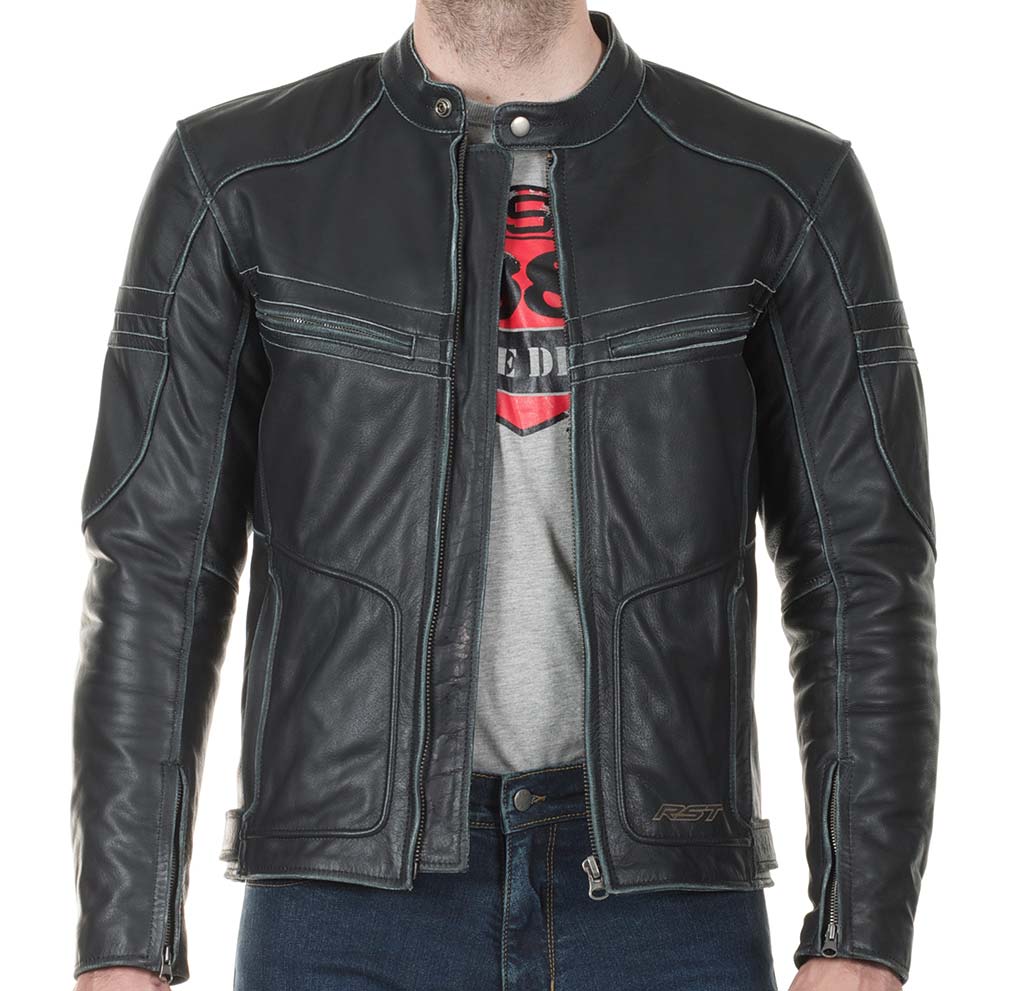 RST ROADSTER
£199.99
www.rst-moto.com
ABR Rating: 7 out of 10
If you're not looking at spending too much on your first leather jacket but you want something that feels heavy and protective then the RST Roadster is for you. For £199 you get leather ranging between 1.1 and 1.3mm in thickness along with CE armour in the shoulders and elbows and a CE back protector. The jacket has a 'distressed' leather styling which looks and feels closer to suede than the type of leather you'd associate with a traditional motorcycle jacket.
Like the Armr Hiro you get two chest vents that are nice and subtle when closed, but where the Roadster scores higher is in the fact that these vents are far more useful, and there's the addition of two exhaust vents on the rear to help provide a nice cross flow of cooling air when you get too warm. Is this worth the extra £20? In my opinion, yes. If you're riding when the mercury's on the low side then you get a thermal drop liner, though this is very thin and offers little insulation, I would therefore recommend using your own mid-layer.
In terms of styling the Roadster has a very casual, relaxed fi t that will appeal to those who don't want aggressively fitted leathers, though I'd recommend trying the jacket on before buying. The seams are double and triple stitched to off er burst protection in the event of an off and an effective zip baffle helps prevent cold spots forming. The waist is adjustable thanks to two poppers, but not by much.
In all the RST Roadster is a good leather jacket for the money you'll be paying. The CE armour is quality and you get a lot of leather for your cash. The styling and fi t might not be for all however.
In a line: Big and heavy but it's a good buy for under £200.
PROS AND CONS
✔ Effective ventilation
✔ Substantial zip baffle
✔ CE armour and back protector
✔ Strong zips
✘ The fit might not suit all
✘ Poor thermal lining
✘ Little waist adjustment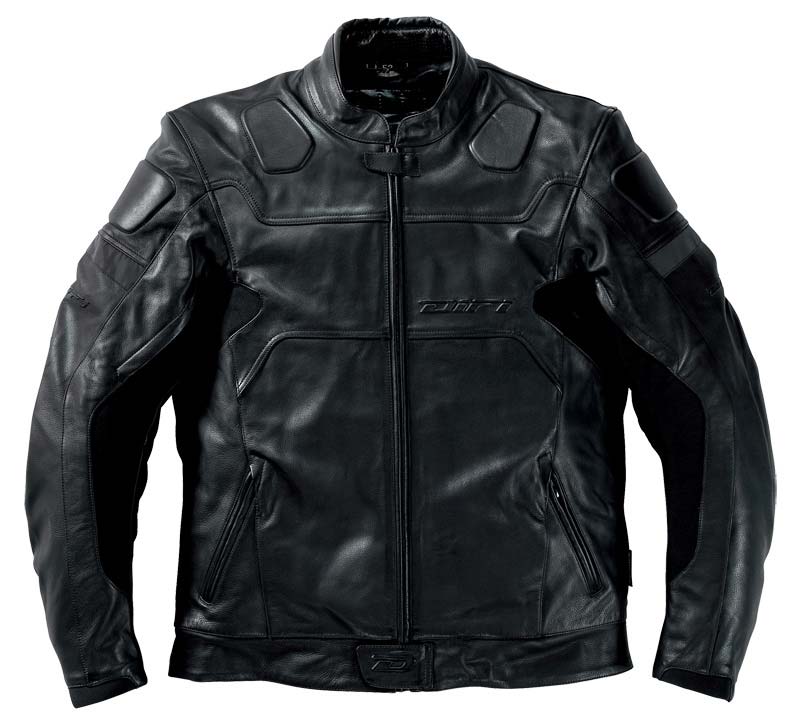 DIFI­ TYLER JACKET
£229.99
www.daneclothing.uk
ABR Rating: 8 out of 10
The Tyler Jacket is an entry to this review from Dutch company, Difi , and it's an aggressively fitted leather jacket with a thermal drop-liner. The liner is removable to off er you some versatility in varying conditions and it comes with CE-approved elbow and shoulder protectors with the provision for adding a back protector if you desire. As standard the jacket comes with a foam insert on the back.
The Tyler is made from aniline leather so the jacket retains a natural leather look and feel and it's a style that I'm a fan of. While the jacket may be a tight fi t a lot has been done to ensure that it doesn't restrict the wearer's movement and you get stretch panels on the back, elbows and hem with the addition of a stretchy textile fabric on the underarms and the pits – all of this comes together to make a jacket that fits like a glove and is able to off er all-day comfort.
The included thermal lining offers an element of insulation for colder riding days while you get two arm vents and two rear exhaust vents for the warmer rideouts. On the subject of warm weather riding, the inner of the jacket is mesh lined to help wick sweat away from the skin. A protective and well insulated zip baffle also works very well at preventing a cold spot from forming and the collar is very comfortable against the skin.
The jacket features two external, zippable pockets while you also get three internal pockets so there's no shortage of room for storing your bits and bobs. In terms of protection, as well as the armour inserts, you also get foam sliders on the shoulders, upper arms and lower back and reflective taping on the back and arms will help to make you more visible in poor lighting.
In a line: A great leather jacket with a slightly aggressive cut.
PROS AND CONS
✔ Quality leather
✔ Great range of movement despite close fit
✔ CE armour and provision for back protector
✔ Effective zip baffle
✘ Poor quality thermal liner
✘ Fit may be too tight for some
✘ Small vents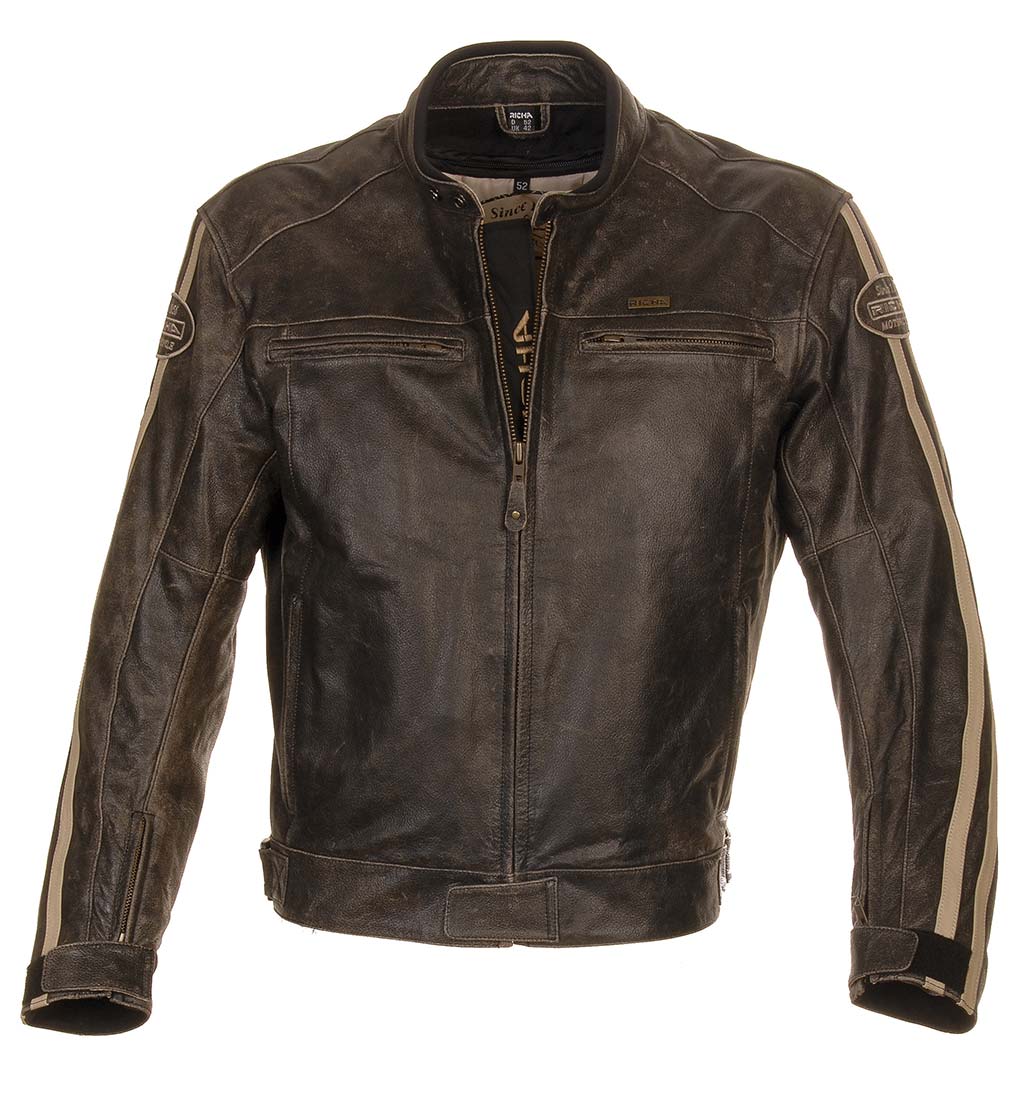 RICHA RETRO RACING JACKET
£239.99
www.nevis.uk.com
ABR Rating: 8 out of 10
The Retro Racing Jacket is Richa's entry into this leather jacket review and, as the name would suggest, it's got a retro styling with distressed and aged looking leather and racing stripes down the arms with a retro Richa badge. The jacket features, as standard, CE-approved D30 shoulder, elbow and back protectors and you also get a removable thermal gilet that helps provide some insulation in colder temperatures.
From the off it's obvious to see that the Retro Racing Jacket is going to appeal to riders with a certain taste, the styling being very obvious but when worn with motorcycle jeans it's a good looking combination.
While the jacket comes with a removable thermal liner it lacks in ventilation so on those hot summer days, you'll find yourself getting a bit stuff y. With that being said, the mesh inner of the jacket will help wick away any sweat that is produced. The fi t of the jacket is slightly adjustable thanks to volume adjusters on either side of the waist though the amount of adjustment isn't particularly great.
The Retro Racing Jacket doesn't feature any form of zip baffle on the main zip so you will find that a cold spot will form here, not too bad if you're riding in warm temperatures but for colder weather riding it could be enough to put us off.
All in all, the Retro Racing Jacket is a nicely priced and styled jacket from Richa, the aged leather looks lovely and the fi t is good. The absence of a zip baffle means that you're going to be more comfortable wearing it in warmer weather, but the lack of ventilation limits you at that end of the scale as well.
In a line: It's a great looking, protective jacket but why no zip baffle?
PROS AND CONS
✔ Aged leather looks great
✔ Nice, relaxed fit
✔ D30 CE-approved armour
✔ Lots of large pockets
✘ No ventilation options
✘ Lack of a zip base
✘ The pocket zips can be fiddly to use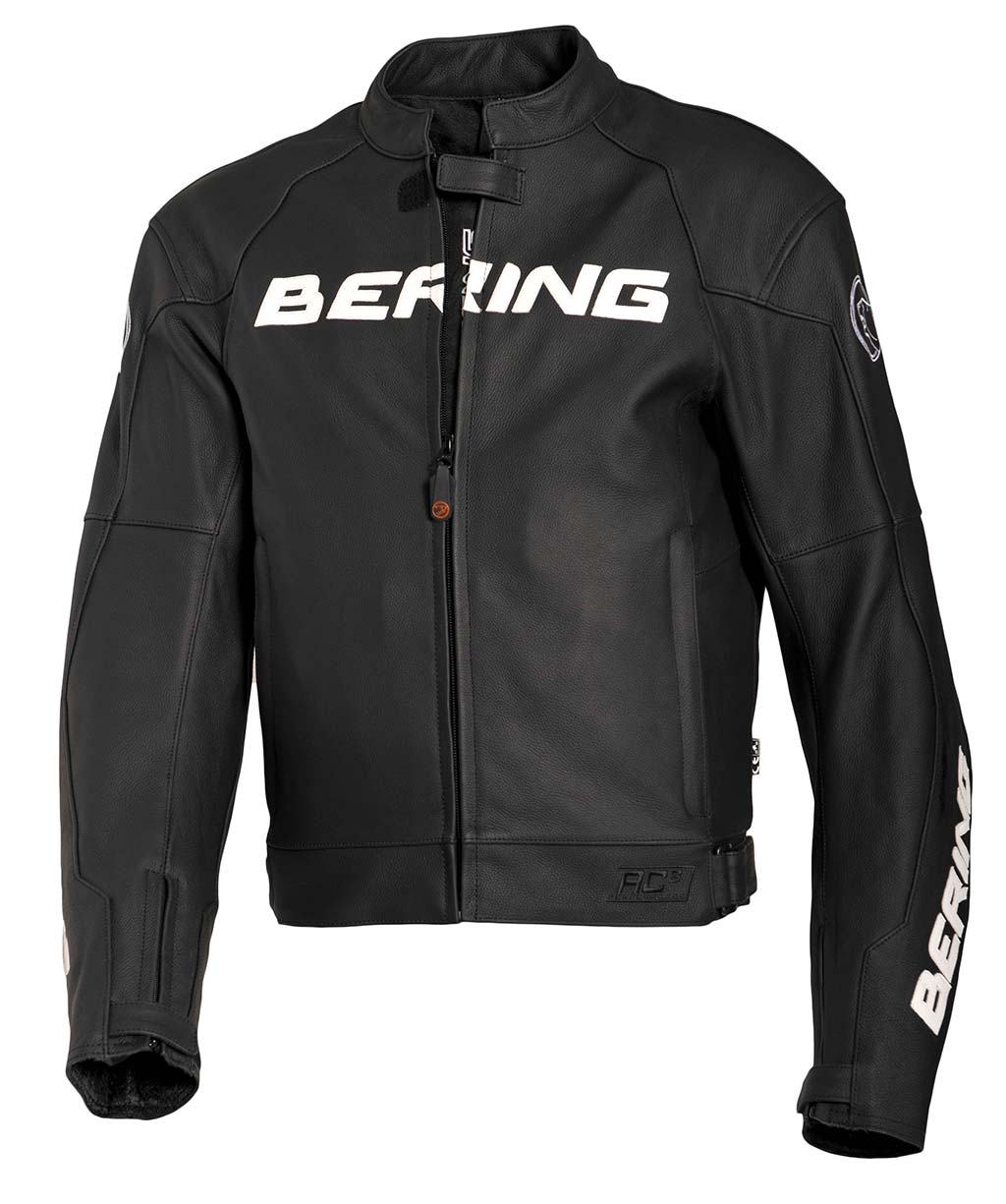 BERING HARRISON JACKET
£279.99
www.tranam.co.uk
ABR Rating: 8 out of 10
Bering is a brand that we don't really hear or see much of here in the UK but when we do the kit that they have on off er tends to be of good quality. For this review we have been trying out the Harrison, a leather jacket made from cuir leather with a slightly aggressive, sporty cut to it which features a removable thermal liner, CE-approved armour on the elbows and shoulders, and there's room to add a back protector if you want.
As mentioned, the jacket is made from cuir leather, also known as boiled leather and this type of cow hide used to be used as armour back in the days of swords and axes so you can see how it'd have a place in motorcycle apparel. While the leather is strong and thick it's also surprisingly light and comfortable. The cut, while cosy, isn't restrictive and allows for a full range of movement and doesn't ride up when you reach for the handlebars.
The removable insulated gilet is of a nice quality and will provide some warmth but I'd go for something a bit more substantial if you're planning on riding at the tail end of autumn and definitely into winter. It's quite hard to ignore the Bering branding which stretches down the arms, across the chest and there's a large logo on the back which bears resemblance to the Thundercat's logo. While I'm not overly bothered about the in-your-face branding, I can see it putting some off.
The Harrison has a nice, substantial full-zip baffle to prevent cold spots forming but if you're getting too warm then you'll notice that there's a lack of ventilation options throughout.
All in all, the Harrison is a great jacket if you're not bothered by the in-your-face branding and you're are a more aggressive fi t. Of course, we would have liked to have seen some ventilation options for those warmer days but a good mesh inner lining will help wick any sweat away if you start to overheat.
In a line: A cosy fitting, comfortable and well made jacket.
PROS AND CONS
✔ Light and comfortable to wear
✔ CE-approved armour
✔ Effective zip base
✔ Quality leather
✘ No ventilation options
✘ Overbearing branding
✘ Slim fit isn't for all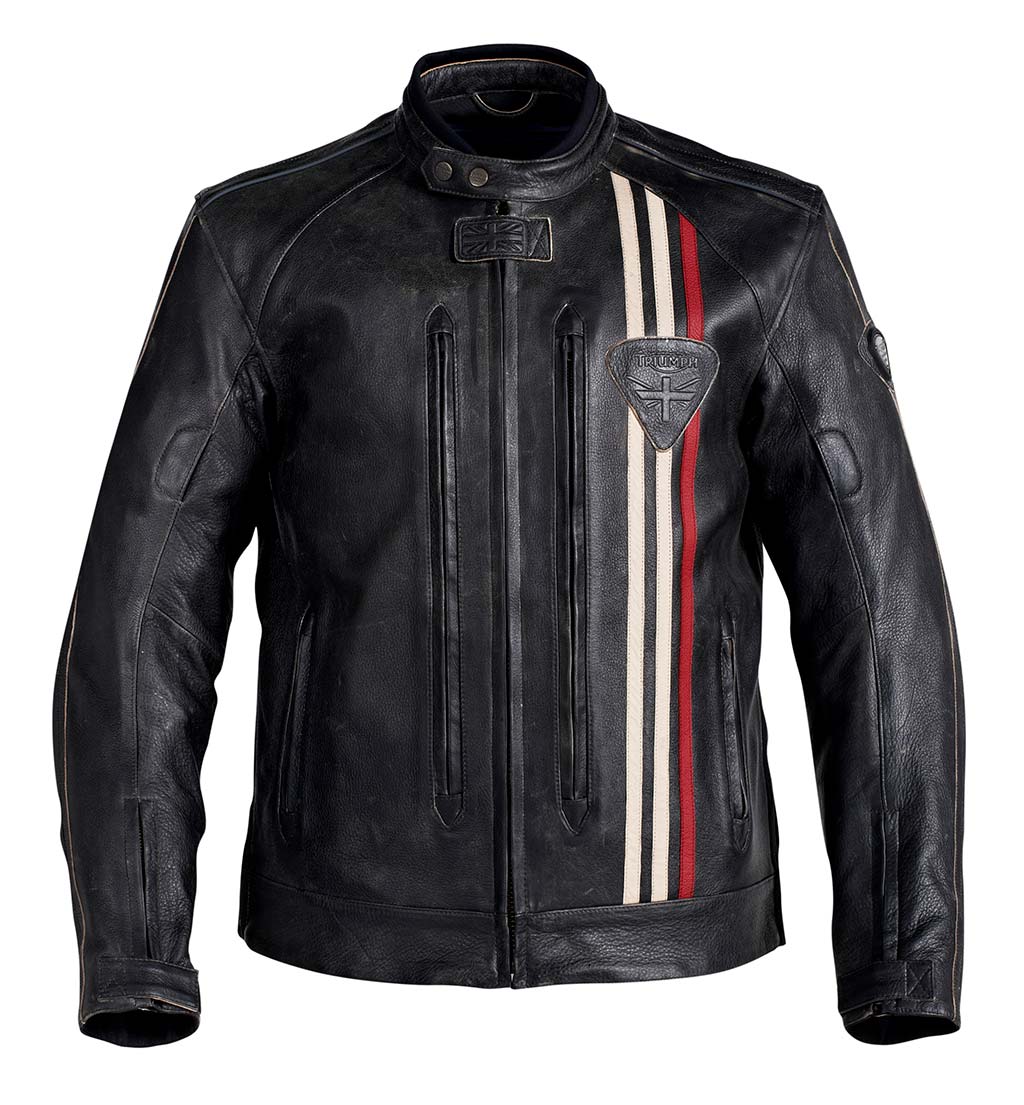 TRIUMPH RAVEN JACKET
£310
www.triumphmotorcycles.co.uk
ABR Rating: 9 out of 10
Out of all of the jackets in this review the Raven Jacket, along with the Segura Retro Jacket, garnered the most interest and admiring glances from friends, colleagues and passersby. Looks aren't everything though and the Raven also comes with plenty of features to make it a great riding jacket. You get a removable thermal lining, substantial CEapproved Knox armour on the elbows and shoulders and there's also the provision for adding a back protector (though, for the price, it would have been nice to have seen one included).
The Raven Jacket manages to strike a brilliant balance of looking great when you're on the bike, but also looking good when worn out of the saddle. The fi t is casual but not too baggy and the retro racing style, while obvious, isn't too in-your-face. The leather has a lovely, sofeel to it and the faded, aged style adds to the brilliant looks.
Looks aside you get two effective shoulder vents and an exhaust vent on the back to help create a cross fl ow of cooling air when you get too hot. For when it's cold the included thermal drop liner gilet is of good quality.
All of the zips on the jacket feel heavy duty and sturdy and you get two outer handwarmer pockets (which are of a decent size) as well as three internal ones. An effective zip baffle provides protection from cold spots forming and the collar is very comfortable against the skin when done up fully.
Whereas the Bering branding is in-your face on the Harrison Jacket, the Triumph branding on the Raven is a bit more subtle and works really well. The only slight niggle I have, other than the omission of an included back protector, is that the leather marks very easily. Some will say that this adds to the distressed styling, however.
In a line: Beautiful to look at and great to wear, what's not to like?
PROS AND CONS
✔ Excellent fit
✔ CE-approved armour
✔ Effective zip base
✔ Looks beautiful
✘ Leather marks easily
✘ No included back protector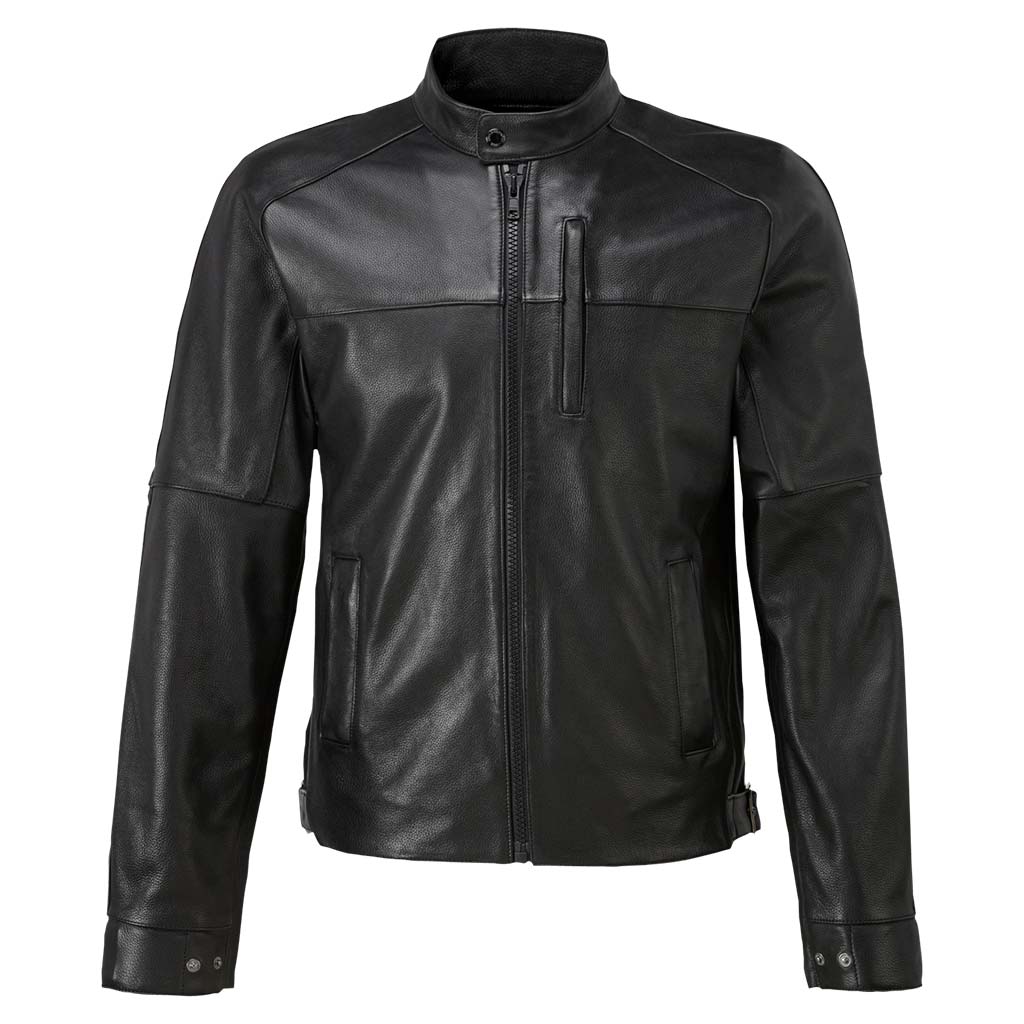 KNOX ROSCOE LEATHER BIKER JACKET
£349.99
www.planet-knox.com
ABR Rating: 9 out of 10
The Roscoe Leather Biker Jacket is a new offering from UK based manufacturer Knox and it's part of the company's Studio Collection. The whole idea behind the Roscoe Jacket, and the rest of the Studio Collection, is that you can mix and match the varying layers to build the jacket combination that works best for you. I wore the Roscoe Jacket along with the Armoured Men's Shirt (£99.99) and the Thermal Quilted Jacket (£39.99) to see how it fared against the similar jackets in this review.
As standard the Roscoe is a very nice looking piece of kit but unless you add the armour and thermal liner it's going to leave you wanting in terms of warmth and impact protection – the combination of the three adding to a pricey £489.97. With this in mind it's reasonable to expect the Roscoe Jacket, and its accompanying layers, to off er something pretty special, and they do.
In terms of versatility no other jacket in this test comes close, while you can take the armour out of the rest, with the Roscoe the armour is worn separately so that the fi t and cut of the jacket can be as casual as possible, making it look spot on in the saddle but also great when walking around town. To deal with the added bulk that the armoured shirt and the insulated liner add, you get a unique 'dual fi t underarm expansion zip system' and this works very well, though when the extra leather is added the cuffs undeniably get a bit bulky.
Exceptional styling and design apart, the Roscoe Leather Biker Jacket is also a very good motorcycle jacket. The fit is spot on and it doesn't ride up when reaching for the handlebars and the waist has a nice amount of adjustment. My only slight criticisms are that the pockets are a tad on the small side and the jacket lacks any ventilation.
In a line: A brilliantly unique jacket that's.
PROS AND CONS
✔ Looks great on and of the bike
✔ Super comfortable
✔ Unique expansion zip system
✔ Great fit
✔ Looks great on and of the bike
✘ Expensive when bought with the insulation and armour
✘ Small pockets
✘ No ventilation
✘ Expensive when bought with the insulation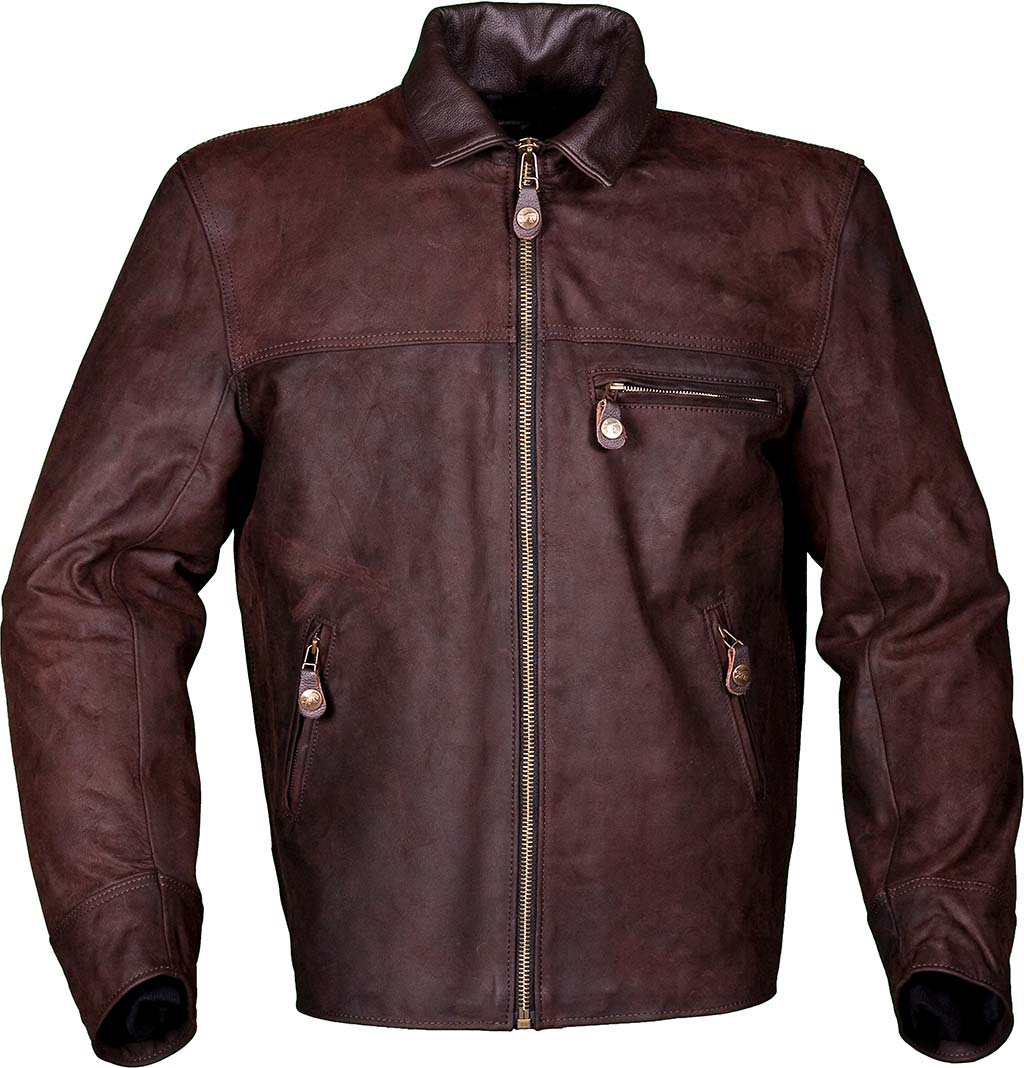 FURYGAN NEW TEXAS JACKET
£379.99
www.nevis.uk.com
ABR Rating: 7 out of 10
When it comes to leather jackets Furygan has a great reputation for producing quality products and their entry to this review is the New Texas, a leather jacket that's CE-approved and features D30 shoulder, elbow and back protectors. The jacket comes with a removable thermal liner and Furygan has placed an emphasis on the fact that it looks just as good off the bike as it does on.
Immediately you notice that the leather of the New Texas is unlike any of the others in this review in the fact that it's waxed suede and this lends itself to the casual styling. The fit of the jacket is very relaxed, almost to the point of it being baggy so you'll want to make sure you get the fi t spot on to avoid excess material flapping in the wind as you ride.
The overall quality of the New Texas is easy to see, and at £379.99 you'd hope so. Everything feels well made, the zips are all YKK and the thermal liner with close fitting stretch cuff s is actually pretty useful, providing added comfort and warmth. The oversized collar, while used mainly for aesthetic appeal can also help protect the neck from wind chill.
I really, really want to like the New Texas Jacket as it's a lovely looking piece of kit and in terms of protection it excels. Where it starts to lack is in the smaller features that you'd usually take for granted on a jacket. While it's largely down to the casual look and fit of the jacket, the cuff s of the New Texas aren't adjustable and, as they're slightly oversized as it is, it's a faff to fi t them inside your gloves. Similarly, the waist does feature some adjustment but it's minimal and on our sample the hem was lehanging loosely and free to catch the wind on rideouts.
In a line: Beautiful and protective but lacks some basics.
PROS AND CONS
✔ Beautiful waxed leather
✔ Full CE-approval
✔ Good quality thermal liner
✔ Effective zip base
✘ No cuff adjustment
✘ Inadequate waist adjustment
✘ No ventilation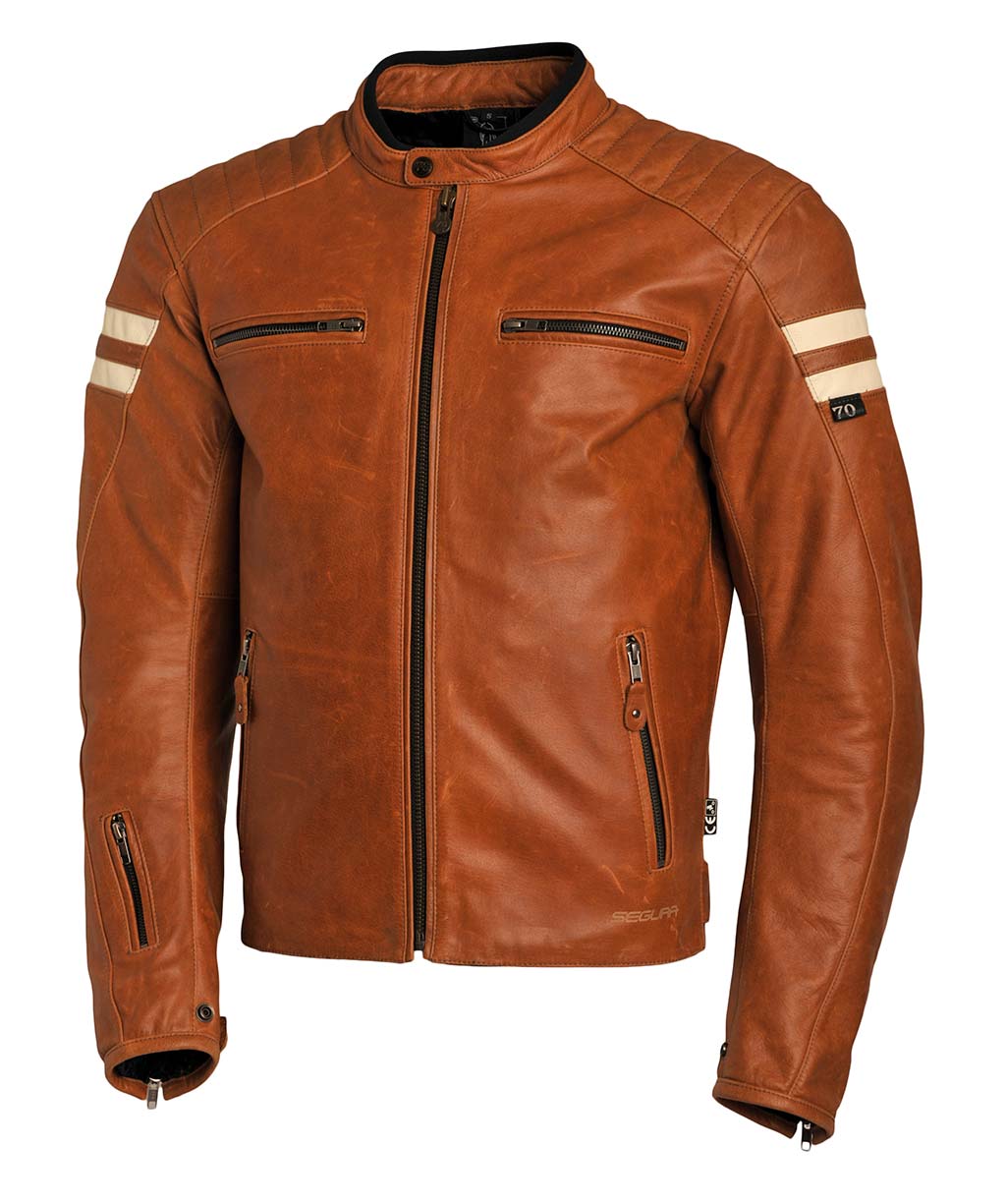 SEGURA RETRO JACKET
£399.99
www.tranam.co.uk
ABR Rating: 9 out of 10
Coming in at £399.99 the Segura Retro Jacket is the most expensive jacket in this review and when you look at it it's easy to see why. The cuir leather just oozes quality and style, especially in the 'camel' brown colour that we had on test, and it's the sort of attire you would imagine the rich and trendy to wear as they ride their Ducatis along the south coast of France. It's not just the looks that you're paying for though, and for your four hundred quid you also get a fully CE-approved jacket (tested for abrasion resistance and seam burst strength), along with CE-approved shoulder and elbow protectors, and a luxurious thermal insulated liner.
As mentioned earlier on in the reviews the Segura Retro Jacket, along with the Triumph Raven, was subject to admiring glances wherever it was worn, such is the styling and appearance. In terms of fi t, it has a close fitting yet non-restrictive cut to it and it's comfortable to wear all day whether in the saddle, hoofing it around town or sitting in a café sipping a latte.
The jacket features five outer pockets (two chest, two hand-warmers and one on the forearm) and these are decent sizes, while on the inner you get four Velcro pouches and an internal chest pocket so there's plenty of room for keeping your valuables safe. The jacket features YKK zips throughout and the main zip is backed by a very effective windproof baffle which helps prevent cold spots.
While the inner of the Retro Jacket is lined with a very nice, moisture wicking mesh, there are no ventilation options for warm weather riding.
While the Segura Retro Jacket features some very good CE-approved shoulder and elbow protectors it's a bit of a shame to see that you don't get a back protector included in the £399.99, though there is a pocket on the rear to add one if need be.
In a line: Expensive, stylish, comfortable, fully CE-approved, start saving.
PROS AND CONS
✔ Beautiful looking jacket
✔ Comfortable fit
✔ Soft supple leather
✔ Fully CE-approved
✔ Beautiful looking jacket
✘ No back protector included in the high price
✘ No ventilation
✘ No back protector included in the high price