For summer riding and blasting around the county on a sunny Sunday afternoon, lined motorcycle jeans are spot on. They are known to provide more abrasion resistance than your standard textile pants, they're lighter, handle heat better and of course, look great when you're off the saddle. With that in mind and the summer swiftly upon us, scroll down for our roundup of seven of the best motorcycle jeans on the market.
Not sure what you need to look for in motorcycle jeans? Check out our guide to everything you need to know right here.
Lindstrand Blaze Pant – £119


www.jofama.se
Out of all the jeans in this test, the Lindstrand Blaze Pants and the Bull-it Cargo Sahara are the only pairs not to use Kevlar to provide abrasion resistance, instead opting to make use of Halvarssons (the sister company to Lindstrand) Hi-Art (High Abrasion Resistant Textile) technology. Sceptics might shy away from a material that's not so widely used, but if you look at the test data then the material provides abrasion resistance results on par with Kevlar. It dissipates friction-induced heat more effectively and, if you look beyond that, it provides a level of comfort far superior to the para-aramid materials.
The Hi-Art material is placed in areas which are most likely to suffer from abrasion in the event of an off, starting in the knees and running up the outside of the thigh to fully cover the seat of the jeans. It's welcoming to note that the stitching in these areas, and throughout the pants, feels rock solid. Of course, we would have liked to have seen a fully lined pair of jeans and I believe they'd be a delight to wear as the lining is so nice against the skin.
In terms of looks and styling the Blaze Jeans score highly, the washed-out black denim (though they're also available in blue) having an aesthetic appeal that's so easily lost in motorcycle jeans. There's also the provision to add hip and knee armour though this will cost you an extra £22.
I've always liked kit from Lindstrand and having relied on Hi-Art when I had an off last summer, I can vouch for its abrasion resistance in a slow speed slide (30mph) as it came out looking untouched.
In a line: Comfortable and stylish, great summer jeans at a reasonable price.
Comfort: 9
Style: 9
Protection: 6
Overall: 8
Road Skin Paranoid Rain Jeans – £119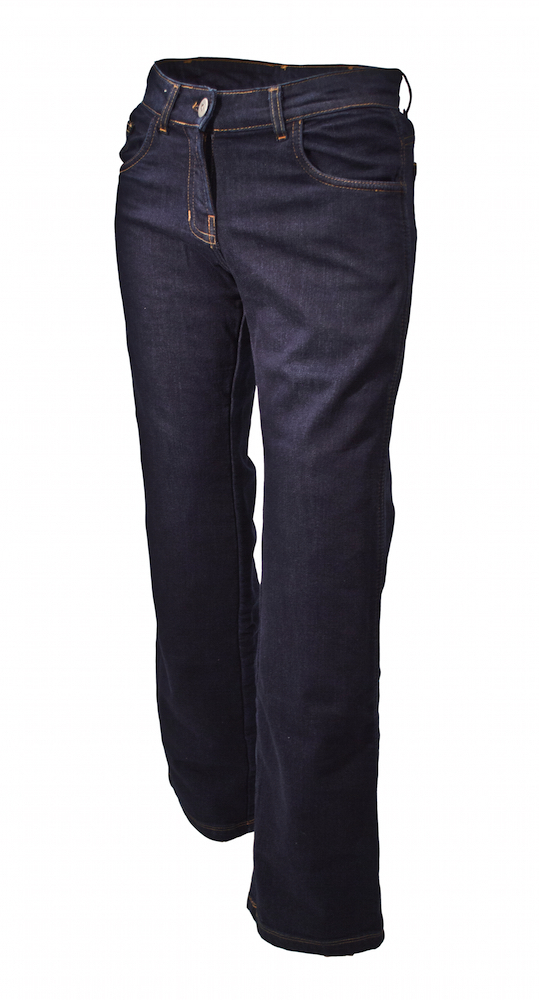 www.grinfactor.com
Road Skin is part of Grin Factor, a company that makes t-shirts, hoodies and mugs with fun slogans on them. But unlike the whimsical slogans on their parent company's clothing, Road Skin offer some serious Kevlar lined jeans designed to offer you as much protection as possible while still maintaining that casual, leisurely look. In for review we have the Paranoid Rain Jeans which get their name from the durable water repellent (DWR) treated outer which will help keep you dry in light showers.
Immediately the comfort of the Paranoid Rain Jeans is apparent. There's a nice stretch to the denim that allows for a comfortable fit and despite being fully Kevlar lined the inner is soft against the skin and doesn't feel too dissimilar to a 'normal' pair of denims. As mentioned above, the Paranoid Jeans come with a DWR coating to help disperse water and this works well in light showers. Anything more than a bit of drizzle will see the denim wetting out as it would on an un-treated pair.
The lining used is a 320g DuPont Kevlar and there's a welcoming and reassuring thickness throughout the whole product that will be more than welcome in the case of an off. A quick look at the Grin Factor website and you'll notice footage of the guys at Road Skin attacking their range of jeans with various sharp implements and machines, a gimmicky yet visual way to show the product's strengths. Road Skin jeans are also manufactured in Devon and to add further protection and value for money you get CE approved Elite hip and knee armour included in the price.
In a line: Great jeans that offer excellent comfort and superb value for money.
Comfort: 8
Style: 8
Protection: 9
Overall: 8
John Doe Kamikaze Jeans – £199
www.ridejohndoe.com
John Doe is an American brand that's relatively new to the UK and we came across them when we stumbled upon their stand at the MCN Motorcycle Show in London. Immediately we were taken in by the attractive look of the company's jeans and for test in this issue we have the Kamikaze Jeans featuring a full Kevlar lining as well as a DWR treated denim to keep you protected from both the tarmac and the rain.
Where other motorcycle jeans might be on the uncomfortable side of things, the Kamikaze Jeans are perhaps the most comfortable lined trousers I've slipped into. While the Kevlar runs throughout the garment there's also a very soft mesh lining that sits nicely against the skin helping wick sweat away, perfect for hot weather riding. To provide protection in case you get caught in a shower, the outer is coated with a DWR that'll help bead water on the surface rather than allowing it to soak into the material. This works well and it'll keep you dry in a short and light period of rain, but it's still worth packing a pair of over trousers if you're expecting precipitation.
There's no doubting that the John Doe Kamikaze Jeans are a very nice looking pair of denims, we also love the fact that they're fully lined with Kevlar and the comfort is top notch. The one thing that's missing, and which is slightly disappointing for a jean of this price, is that there's no provision for adding your own hip armour, and that could be a deal breaker for some people.
In a line: Top styling and comfort but it lacks some features that you'd expect from a jean this price.

Comfort: 9
Style: 9
Protection: 7
Overall: 8
Bull-it Cargo Sahara – £134.99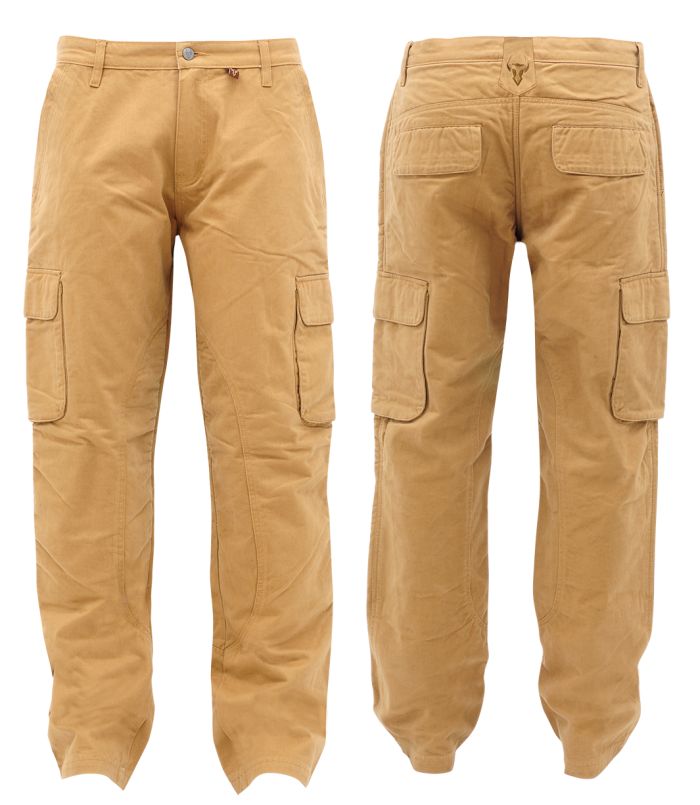 www.bull-it.com
The Cargo Sahara trousers from Bull-it are made from a 12.5 oz twill which gives them the classic cargo look, while large, closable pockets provide cargo functionality. Unlike most of the other jeans in this test, the Cargo Sahara makes use of a Covec SR6 fabric with 60% coverage to provide protection for those unplanned dismounts. Covec, a specially developed technical textile, is claimed to offer a higher abrasion resistance and cut resistance than aramids like Kevlar, while also providing lower friction heat transfer and wear and tear over extended periods of use.
While we can't independently verify those claims, the test results provided by Covec certainly paint a picture of a very hard-wearing and abrasion-resistant material. So it's safe to say that the Cargo Sahara pants have the protection side covered, especially when you add in the optional CE approved hip and knee armour from Bull-it.
On initial inspection, the Cargo's look great and they're the sort of style that suits the adventure bike rider look, making the wearer appear more suited for tackling the deserts of Africa than a pair of blue denims. In use, it's hard not to notice how bulky they are and while it's a reassuring bulk, it's also a mass of material that's going to get quite stuffy in the conditions you're going to want to wear them in most: hot temperatures. The fit is perhaps on the small side, so it's worth trying them on before you buy but if you get the right size then they're very comfortable.
In a line: Great styling and a very nice quality jean, though a little bulky.

Comfort: 8
Style: 8
Protection: 9
Overall: 8
Hornee SA-M14 Storm – £119.95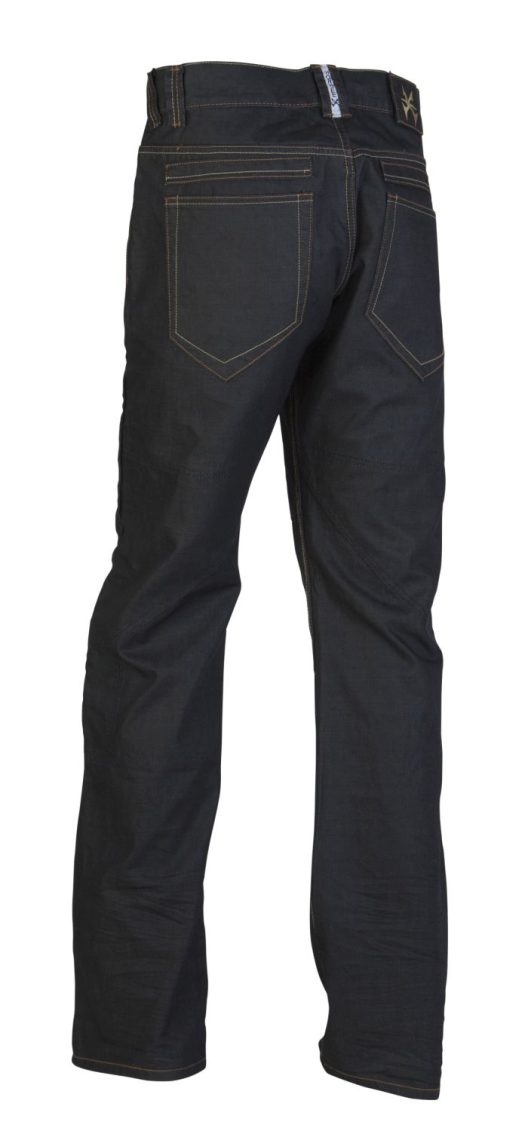 www.feridax.com
If you've never heard of Hornee Jeans before, allow me to enlighten you. The brand was born after two Aussies decided that they wanted riding pants that offered the protection of leathers but the fashion of designer jeans and so they went on to design Kevlar jeans. One of the main provisos was that they looked good, and look good the SA-M14s do. These stylish jeans are part lined with DuPont Kevlar and they're priced at a competitive £119.95.
When it comes to the actual feel of the jeans, the Hornee SA-M14s were as close to wearing non-armoured jeans as I imagine possible. The denim felt thin, but not flimsy, and they'll be the ideal summer riding pants. The part Kevlar lining also helps make them ideal for warmer temperatures and it offers protection from below the knee and up the thigh, covering a substantial area before completely covering the seat. As we've mentioned with the other part-lined jeans, we would love to see them fully lined but the SA-M14s are not far off that.
In terms of styling, they look great and 'trendy' is probably the best word I could use to describe them. They'll certainly appeal to the younger riders and I think that the styling isn't so over the top that it will alienate the jeans from the older, more reserved rider. You can add knee armour but there are no provisions for adding hip armour. In all, they're a fantastic, well-made pair of summer pants.
In a line: Sexy looking jeans that will be perfect for a (hopefully) warm summer.

Comfort: 9
Style: 10
Protection: 7
Overall: 8
Hood K7 Jean – £119.99 – ADVENTURE PROOF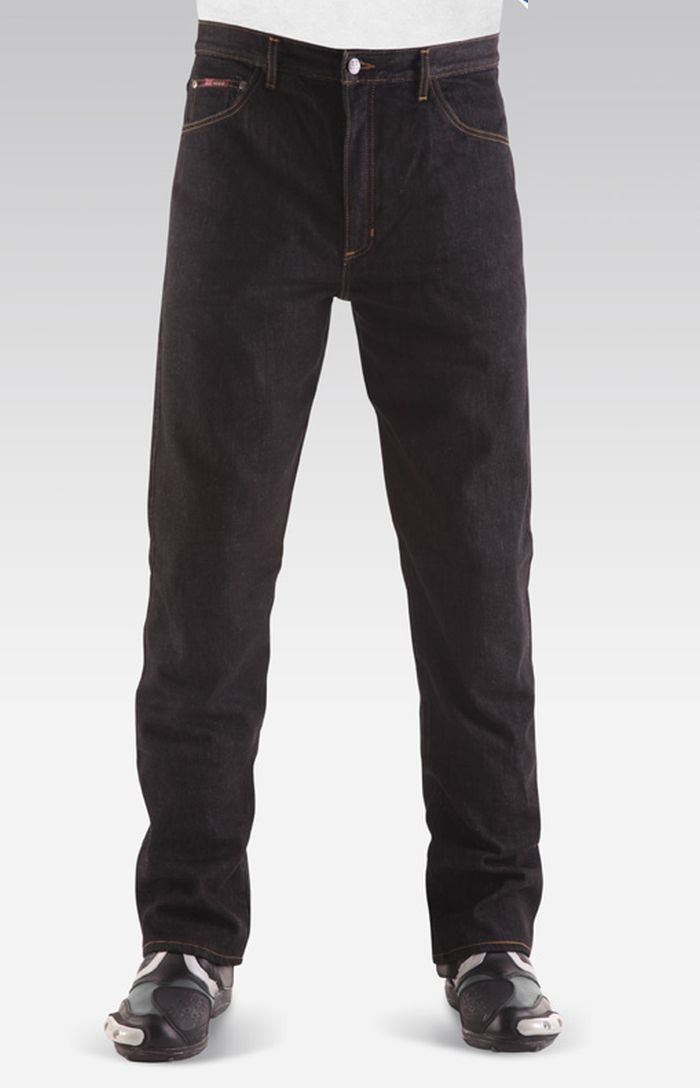 www.hoodjeans.co.uk
The K7 Jean has been in Hood's range in one form or another since the brand's inception in 1998 when it was lauded as the world's first 'seamless' motorcycle jean. Since then, and more recently at the start of 2015, the K7 has undergone a few changes and what started out as a very good pair of jeans has only gotten better and better. Designed and made in the UK, the K7 retails at £119.99 and features a full K-tech Para-aramid lining, which is Hood's own version of Kevlar.
We love the fact that they're fully lined. The presence of para-aramid throughout the whole jean does away with any guesswork of which area of your body is going to see the most abrasion in the event of a slide down the road. In its past incarnations the woven para-aramid material of the K7 has been criticised for being too harsh against the skin, but with the introduction of a knitted para-aramid lining comfort has been massively increased and the jeans now have a softer, more luxurious feel.
In terms of styling, the K7s have a timeless design and the manufacturing heritage of Hood is clear to see in the fact that they look more like a 'normal' pair of jeans than any of the others on test. The fit is great and there's the option to add D30 armour into the hips and knees, a very nice addition but one that will set you back and an extra £30-£42 depending on whether you have the pro armour or not.
In all the K7 Jean is an excellent pair of motorcycle pants. The protection and peace of mind offered from a full lining and the introduction of Hood's new and more comfortable K-tech Para-aramid takes them up a level from the previous models.
In a line: Full on protection and comfort and classic styling.

Comfort: 10
Style: 9
Protection: 9
Overall: 9
Draggin Holeshot Jeans – £264.99 – ADVENTURE PROOF
www.thekeycollection.co.uk
There's a lot to be said for Draggin, the Australian manufacturers of motorcycle jeans. Having a background in the clothing industry has allowed boss, Grant Mackintosh, to manufacture protective motorcycle jeans with the styling and fit of 'normal' jeans and even though the Holeshot's are the thickest and heaviest pair of trousers in this review, they still maintain that casual look that riders want.
The main selling point of the Draggin Holeshot Jeans, and largely the reason for the hefty price tag, is that they are CE Approved Level 2 and have passed the stringent CE tests for abrasion, burst and tear resistance. They also feature a full, soft and comfortable lining composed of a knitted DuPont Kevlar coupled with Dyneema, another extremely strong fabric.
Foot stirrups are included to stop the jeans from riding up in case of a road slide (a feature that should surely be present in all motorcycle jeans?) and you can add Draggin's CE approved armour to the hips and knees for further protection.
All of this padding is fantastic and there's no doubting that the Holeshot Jeans have a superb finish to them, but they are very cumbersome. As mentioned, they're heavy, thick and if you're riding in warm weather you're going to be close to boiling. This is a trade-off you're going to have to make if you want the ultimate in protection. They may be expensive but there's no arguing with the fact that they feel bombproof and are comfortable to boot.
In a line: A great combination of excellent, bombproof build quality and comfort, but they're a bit warm.
Comfort: 9
Style: 9
Protection: 10
Overall: 9