The latest and greatest biking kit
Fuel Exhausts Diablo Mini Exhaust (Feature image above)
Starting from £214.99 | www.fuelexhausts.com
What is it? – An aesthetically pleasing exhaust for the KTM 1190 Adventure
The Diablo is an offering from UK based exhaust manufacturers Fuel Exhausts. All of the company's products are designed and manufactured in their factory in the Lake District where there's an emphasis on providing quality, easy to fit kit.
The Diablo Mini Exhaust for the KTM 1190 Adventure is part of a larger range that includes exhausts to fit a selection of adventure bikes (visit the company's website to see if yours is one of them) while offering riders the chance to customise the look of their Diablo by choosing between a range of finishes and lengths.
For the KTM 1190 Adventure specific model you can expect weight savings of over 4kg against the original silencer (the Diablo weighs 2.2kg) and a carbon fibre tip to add a sexy, aesthetic appeal.
As the name suggests, the company is marketing the Diablo as an exhaust to release the devil in your bike – while performance changes are difficult for us to measure there's no doubting that there's a deeper, more fierce sound coming from the can.
With the baffle in place, the exhaust is fully road legal and as is the case with all Fuel Exhaust products it comes with a lifetime guarantee.
---
Lindstrands Raggy Fleece
£109  | www.jofama.se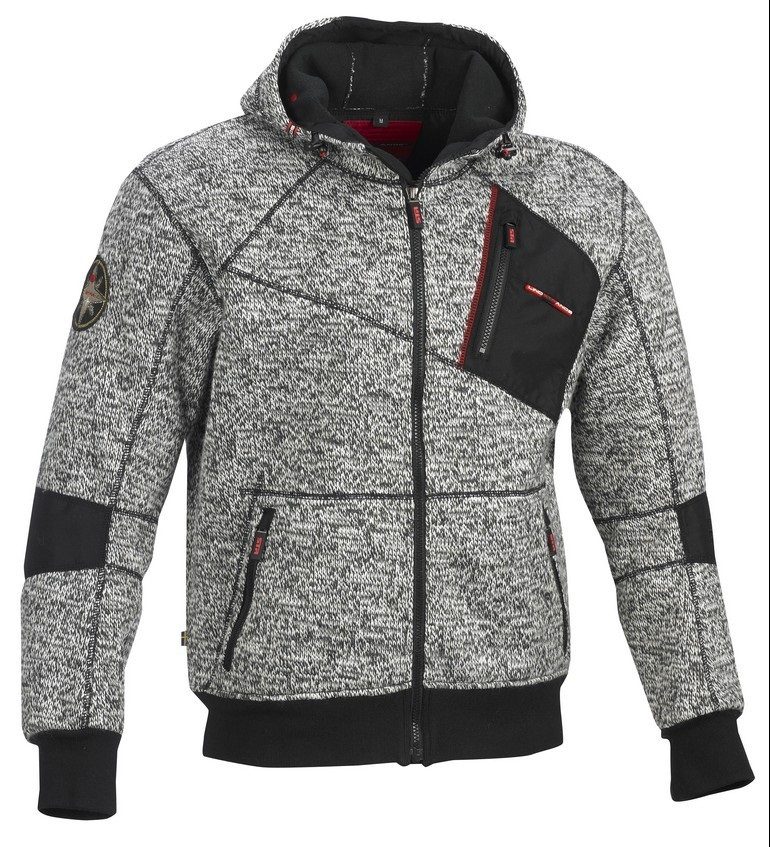 What is it? – A windproof jacket for use on and off the bike.
In the Raggy Fleece Lindstrands has probably made one of my favourite pieces of clothing to date. It's a windproof jacket that has a knitted wool outer and it looks stunning when worn.
You can use it on the bike (under a more protective garment, of course) but the Raggy is best utilised out of the saddle when camping or exploring a new town/city.
You get three zipped pockets (two hand warmers and one on the chest) and ribbed cuffs and waistband. At £109 it's on the pricey side, but it's one hell of a beautiful garment and you won't be disappointed.
Lindstrands also make two other garments of similar styles, but different colours; the Coolly (a dark grey hood-less windproof fleece) and the Woolly (essentially a dark brown version of the Coolly) – both of which also retail at £109
---
Shark Evoline 3 Moov Up
£269.99 | www.nevis.uk.com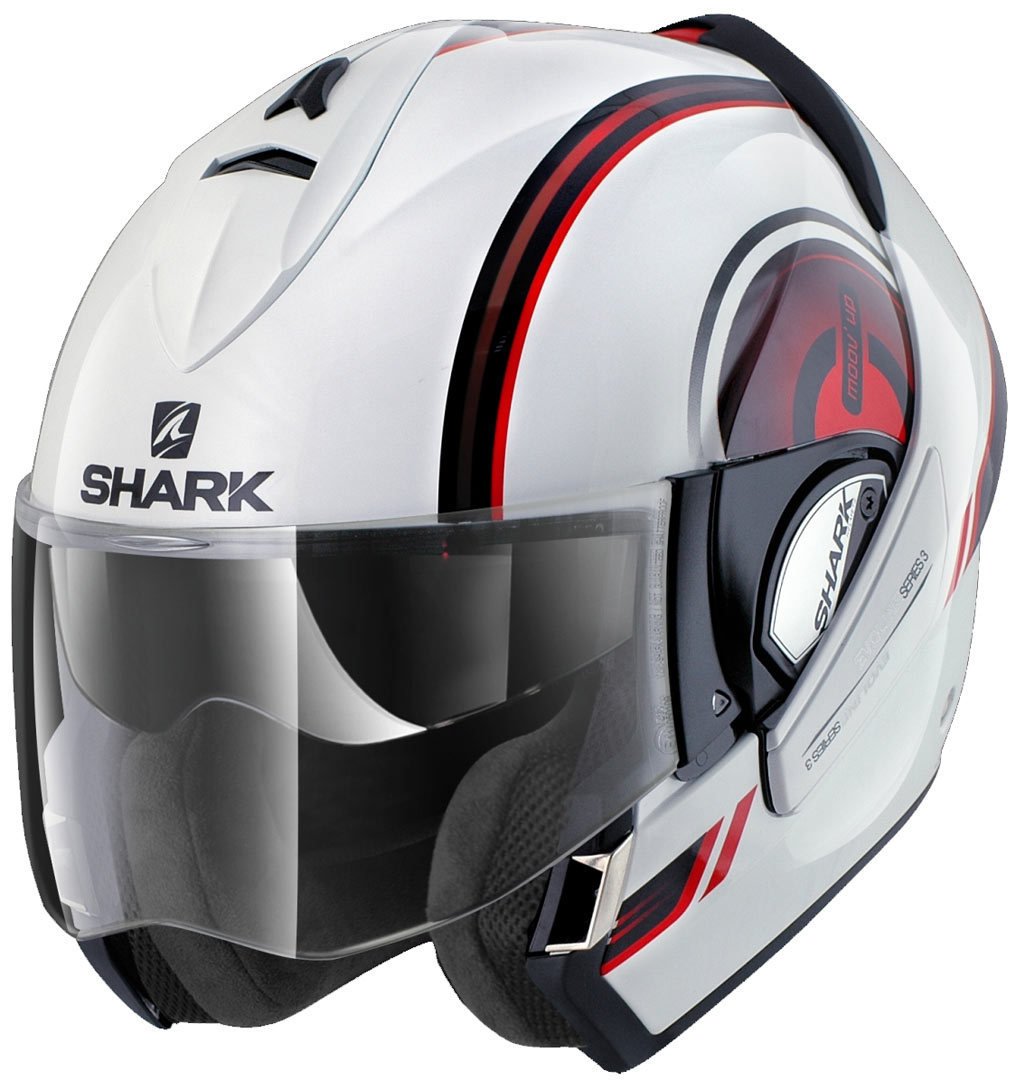 What is it? – Full face or open face – your choice.
The big sell is that the Shark Evoline 3 comes with a safety certificate as both a full face and open-face lid.
With the chin bar flipped up and over the crown, it is a genuine dual-purpose helmet which can be worn fully closed or open depending on the conditions.
And the transformation is slick and quick enough to counter that dreaded moment when you're wearing a full-face lid and there's a big sneeze working its way to fruition.
The Series 3 features a number of upgrades from the previous version. Firstly, it's 200g lighter at 1,715g which is always a bonus.
Secondly, the helmet is now more oval and less round which, when coupled with the softer microfibre lining (removable and washable), makes for a more comfortable fit for the average shaped head, leading to less noise and turbulence.
Further improvements come from features such as removable cutouts for intercom equipment, side channels for slotting through the arms of glasses and the 'auto up' facility where the visor raises with the chin bar.
In use the Evoline 3 offers a great field of vision with the chin bar down and better still with it raised, wet weather misting is minimal and ventilation spot on.
Worth adding to any shortlist with the main proviso: 'does it fit my head shape?'
---
City of Leather Kevlar Armour Hoodie
£129.99 | www.cityofleather.com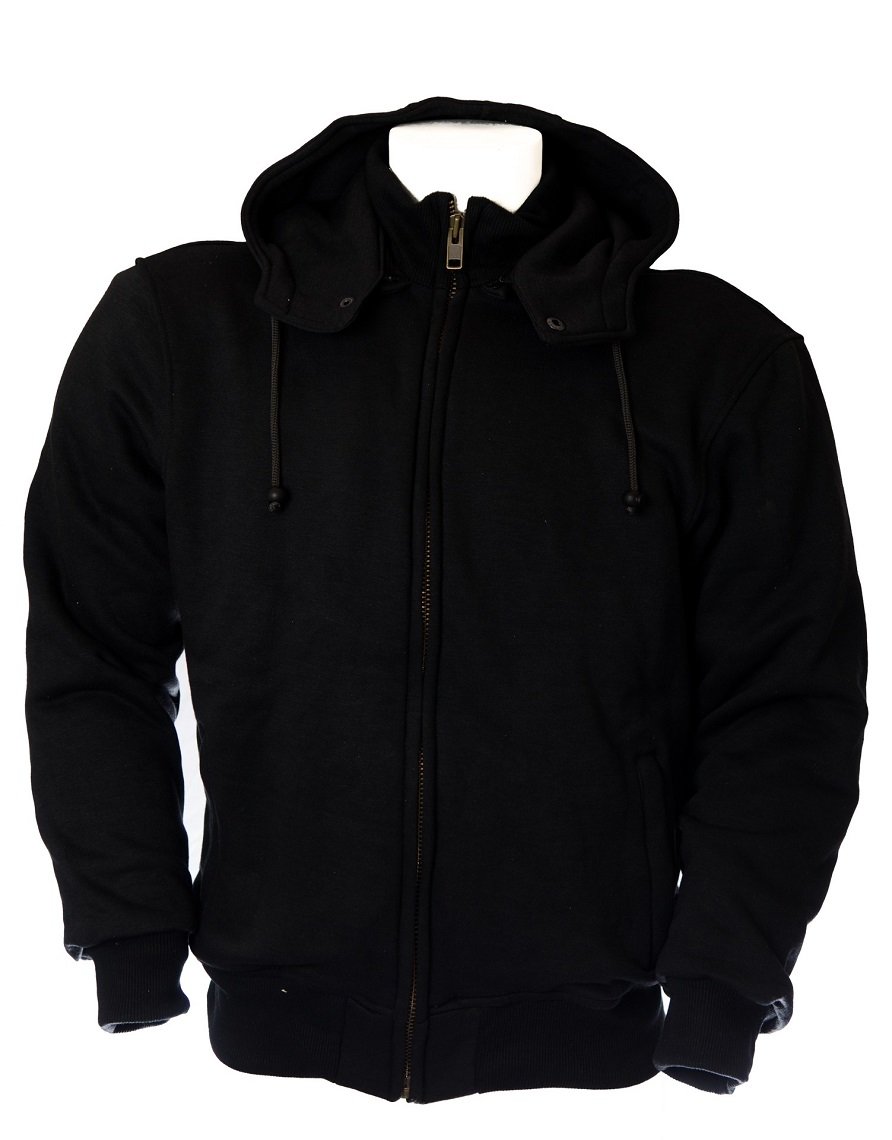 What is it? – Casual wear with crash protection
Occasionally, or in some instances, more than occasionally, the thought of getting kitted out in all the paraphernalia that comes with sitting on a motorcycle is enough to put me off going riding.
I may be older, wiser and better protected than I was in the 1970s when a Levi jacket and a pair of jeans was my riding gear of choice, but along the way, I seem to have perfected the art of gear faffing to the point where it becomes a physiological impediment to just going for a ride.
Oh, how I yearn for those days when jumping on two wheels in casual clothing came without a care in the world.
This City of Leather Hoodie goes some way to – if you'll pardon the pun – redressing the balance between no-fuss casual wear and the modern equivalent of chain mail in which we entangle ourselves for a ride out.
I'd better add some perspective here and tell you that in no way would I choose this garment to go long-distance touring nor would it be on my shortlist if there was heavy rain in the forecast.
The jacket is in the 'I'm just nipping out for an hour dear' category. This cotton hoodie includes protection in the form of a water and wind-resistant membrane, armour at the shoulders, elbows and back plus a Kevlar lining, though strangely no garment label that refers to the use of Kevlar.
In practical use, the cotton outer is just going to absorb any precipitation, get waterlogged and become very cold, very quickly.
The armour is not what you'd call substantial but would provide more protection than a hoodie from a high street retailer.
A couple of external zipped hand-warmer pockets and three zipped inner pockets offer multiple stash points plus the hood and armour are removable if you fancy a walk down the pub after the ride out.
---
Thermarest Treo Chair
£85 | www.thermarest.com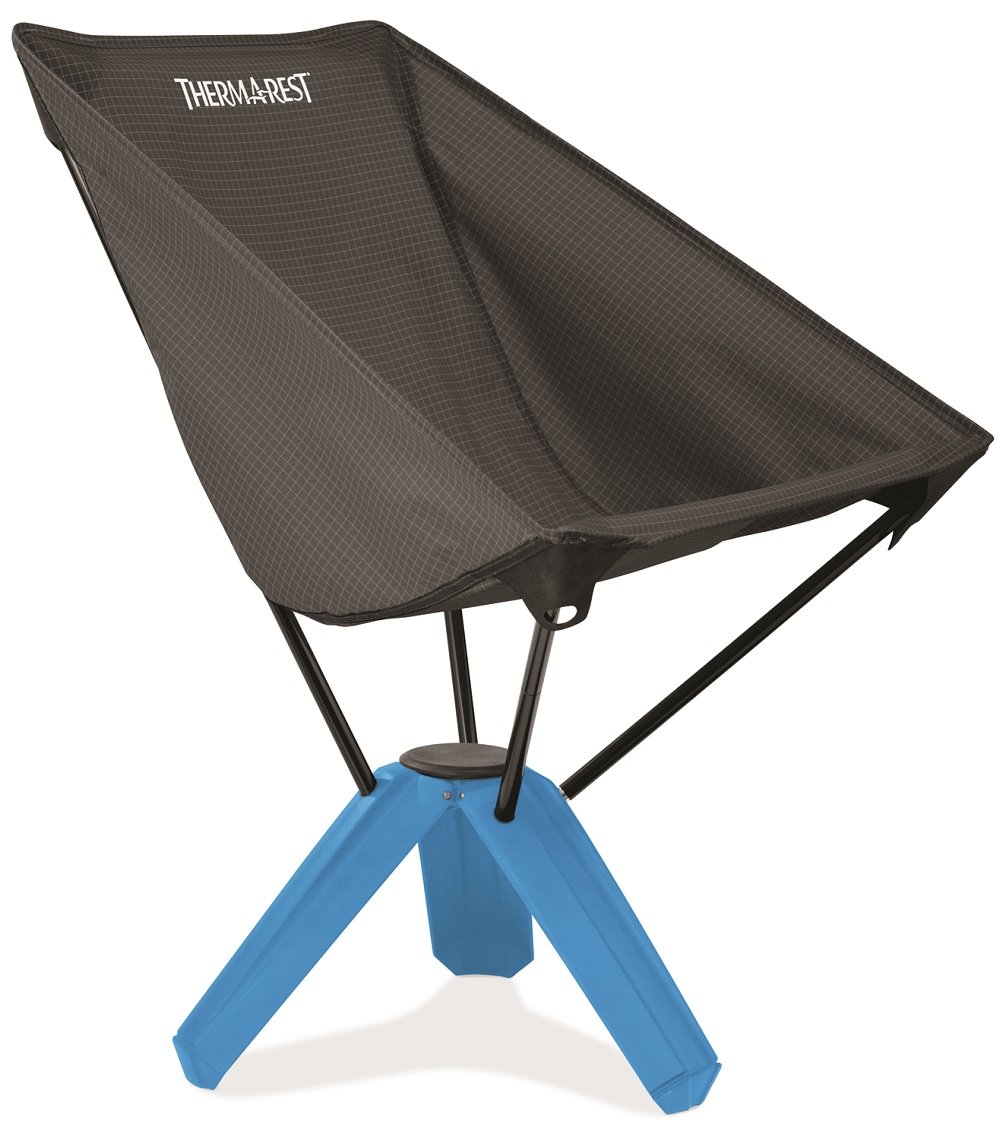 What is it? – A camping chair that packs down very small
When you initially lay eyes on the Thermarest Treo Chair the first few things you think are 'that's bloody small' and 'that'll never take be able to hold my arse without breaking'.
At just 10" long and 4" thick (slightly shorter than the magazine you're holding right now) the compact chair will pack easily onto your bike, and even into your panniers if you've got the space spare.
When unfolded it offers a seat height of 13" and a solid and stable seating experience thanks to the tripod structure of the legs and the tough and hard-wearing Dyneema seat sling.
Previous experience with chairs that promise a tiny pack size has shown that you often sacrifice comfort and stability, but with the Treo, you'll have a very comfortable place to sit that's high enough off the floor for those with creaking joints.
Setting the chair up is a simple affair, taking no more than 40 seconds and the same can be said for packing it back up.
In all, if you're looking for a chair to take with you to a rally or on a tour that you can fit in your panniers, here it is.
---
ProGuard Custom Motorcycle Earplugs
£161.95 | www.proguarduk.co.uk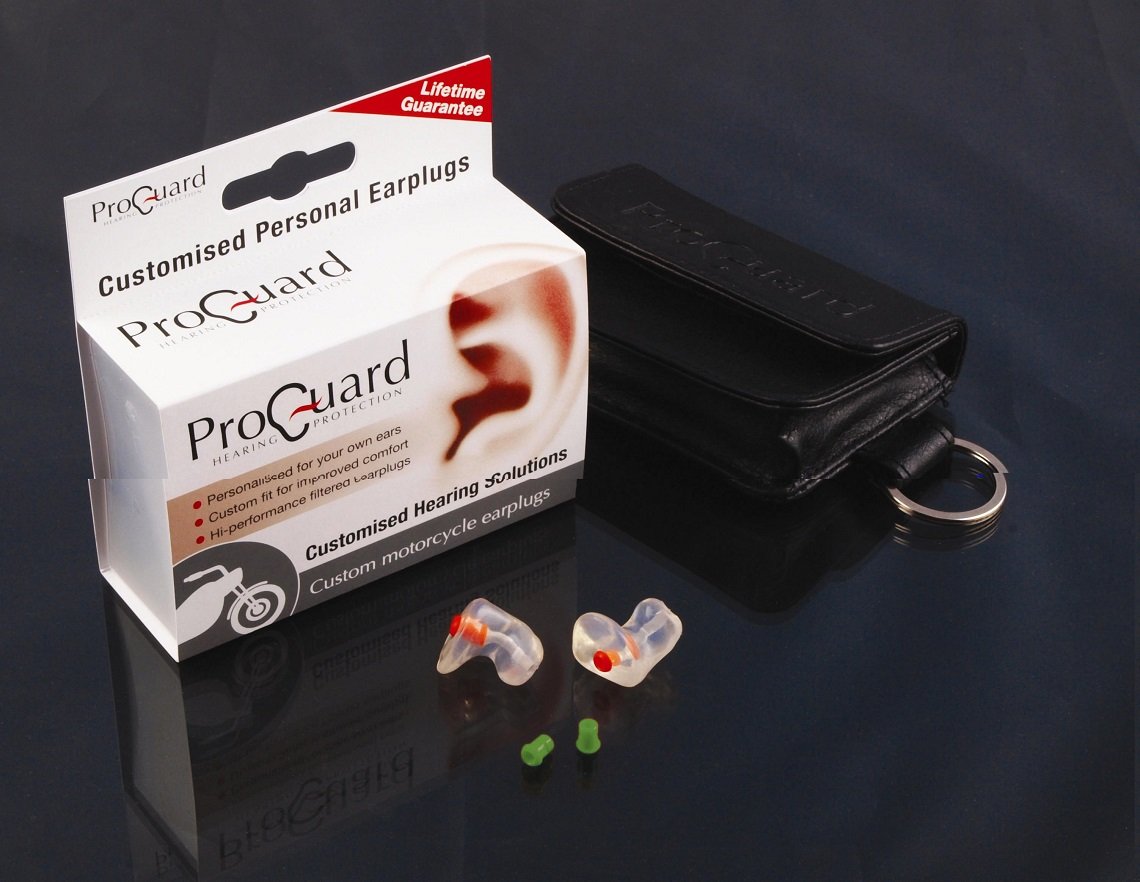 What is it? Custom made earplugs with in-built filters to allow you to hear ambient noises like people's voices
When ABR was at Motorcycle Live last November, over the road from our stand was Proguard, a company that specialises in manufacturing custom hearing protection for all sorts of people, from musicians to swimmers, to those who want a quiet night's sleep and motorcyclists looking to avoid getting tinnitus from the constant drone of the wind at high speeds.
While we were at the show we were fitted up for a pair of Custom Motorcycle Earplugs, the company's motorcycle specific hearing protection that's made to fit comfortably under most helmets.
A few weeks after our fitting (which involved having a silicone gel squirted into our ears to create a like-for-like mould of our ear canal) we received our earplugs and began using them.
The custom fitting is an optional extra for the Motorcycle Earplugs, costing £30 (included in the £161.95 price) and it can be done at a host of audiologists around the country.
Proguard's website has a handy feature which allows you to find your nearest one.
Immediately you realise the benefit of custom-fitted earplugs, not surprisingly they fit amazingly well and the comfort is second to none, slotting into your ears to get a fit that 'ordinary' hearing protection just can't provide.
The Custom Motorcycle Earplugs also come with in-built filters which enable you to hear ambient noise and communicate clearly, be it listening to directions from your satnav or talking to someone on an intercom, all while blocking out high levels of wind noise.
They're brilliant in use and it's an odd feeling when you can almost clearly hear the voice coming through your headset while wind noise is no longer a problem.
They might be a lot more expensive than foam earplugs, but they are far superior in every aspect, and they come with a very nice looking carrying case.
If you're looking for great hearing protection, check these out.
---
Rocky Creek MotoPressor Pocket Pump
£30 | www.rockycreekdesigns.com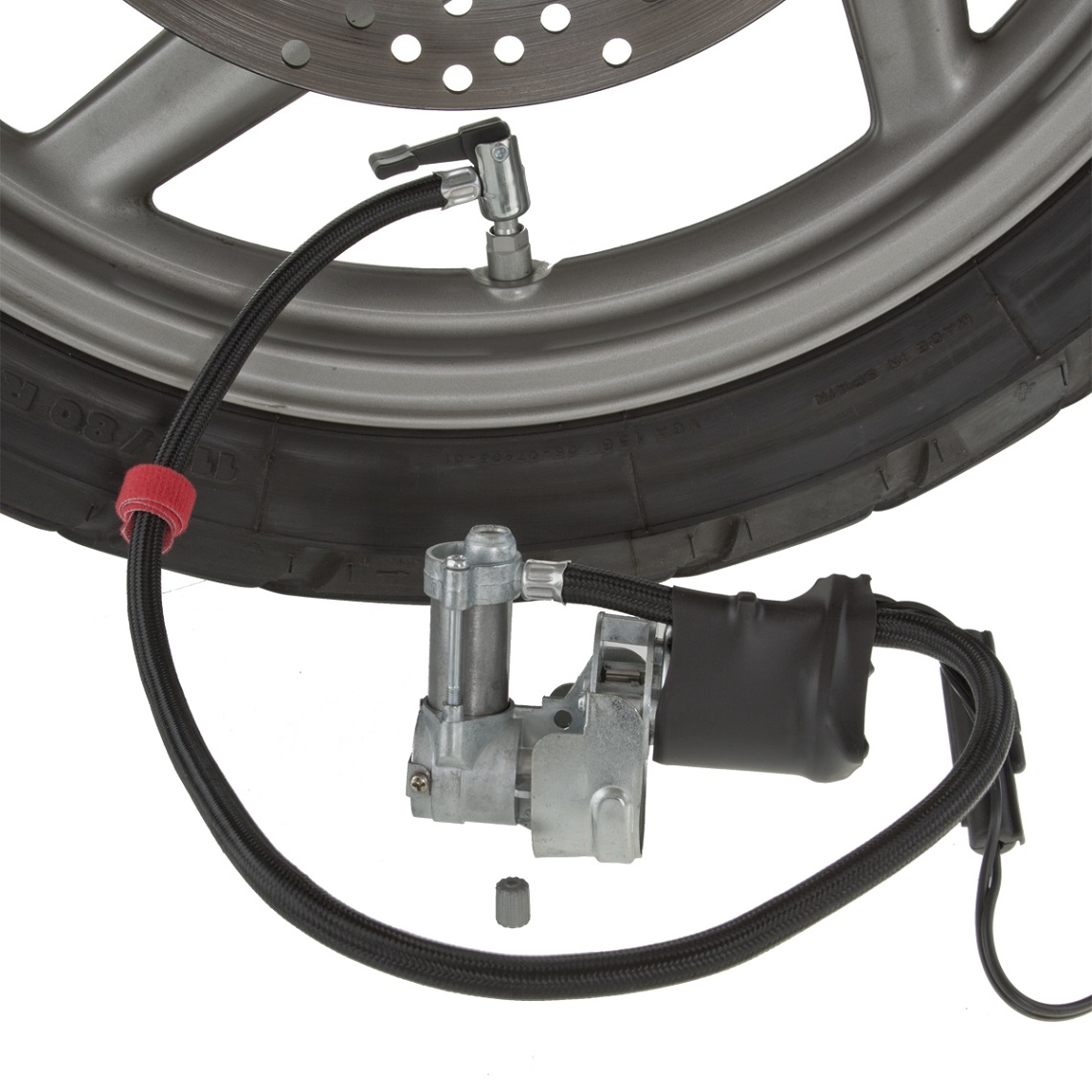 What is it? – A pocket-sized pump that will inflate your tyres.
If you need evidence that size doesn't matter then check out the MotoPressor Pocket Pump.
The palm-sized tyre pump weighs just 570g and is built around a 12-volt inflater.
It will have your tyres pumped up from flat to 32 psi (front) or 28 psi (rear) in roughly two minutes, and once you're done with it you can slip it almost unnoticed into your panniers.
It's incredibly easy to use (just hook it up to your bike's battery) and fitting the nozzle to tyres is a hassle-free affair.
You can also use the Pocket Pump to inflate airbeds and to top off your air shocks and forks.
Also available is the MotoPressor Tyre Gauge (SRP £16.21) which can be used in conjunction with the Pocket Pump to accurately display tyre pressures and for times when you need to fix a puncture on the fly the Dynaplug (SRP £19.60) is a simple to use and effective puncture repair solution for tubeless tyres.
Altogether this can be bundled into a package no bigger than a large bag of Kettle Chips and kept in your panniers for those times when you need them.