After being inspired by a poster in the Chamonix Alpine Museum John Norris decides to ride the historical Route des Grandes Alpes, taking in 17 high mountain cols and too many hairpins to count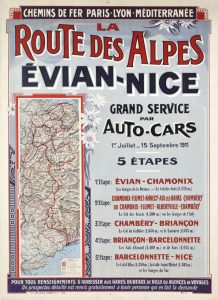 Sometimes the most random things can become the catalyst for an idea. Isaac Newton came up with the Universal Law of Gravitation when he saw an apple fall from a tree, Archimedes came up with his principle of buoyancy after observing how much the water in his tub rose when he got in and I, well I came up with the plan for my most recent trip one day in Chamonix's Alpine Museum when I saw an old poster from the 1930s.
Route des Grandes Alpes in numbers
Start: Thonon-les-Baines
Finish: Menton
Length: 454 miles
Number of cols: 17
Highest point: Col de L'Iseran – 2,764m
It was advertising auto car tours across the Alps on a newly opened route between Lake Geneva and the Mediterranean. And like Archimedes, I had a Eureka moment.
Up until the start of the 20th century, there was no paved route over the Alps for vehicles, valleys were connected by cart and mule tracks at best and many regions in the mountain range were remote and difficult to access.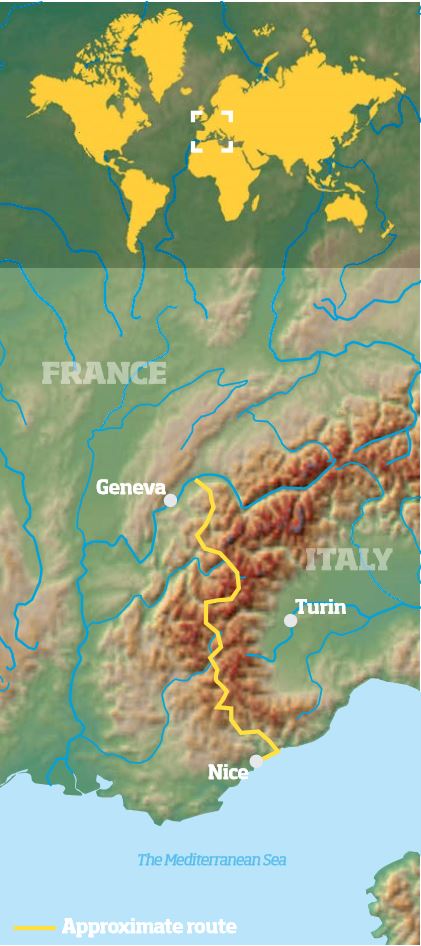 But the Adventurous Touring Club of France had a dream: to build a road across some of the most spectacular and challenging terrain in Europe, and it was now my dream to ride it. Seventy-seven years after the road first opened, my mate Tim and I set out to follow the tyre tracks of the early pioneering adventure travellers.
While the historic route was a draw in itself, the promise of riding endless hairpin bends through spectacular scenery for several days sealed the deal. Tim used to be a photographer for the Royal Navy but having now retired he is spending more time biking and regularly does track days on his Yamaha R6.
He turned up on my doorstep last summer fresh from several days thrashing around the circuit at Le Mans and I began to wonder if a lumbering 17-year-old GS 1100 would be a suitable traveling companion for Tim's machine, but at least top speed would not be an issue on our chosen route!
We agreed not to camp on this trip, leaving a lot of our gear at home and opting to enjoy the winding route without fully laden bikes. Tim's machine was hardly built for adventure luggage cases anyway so our plan of action was fast and light, as the alpinists say!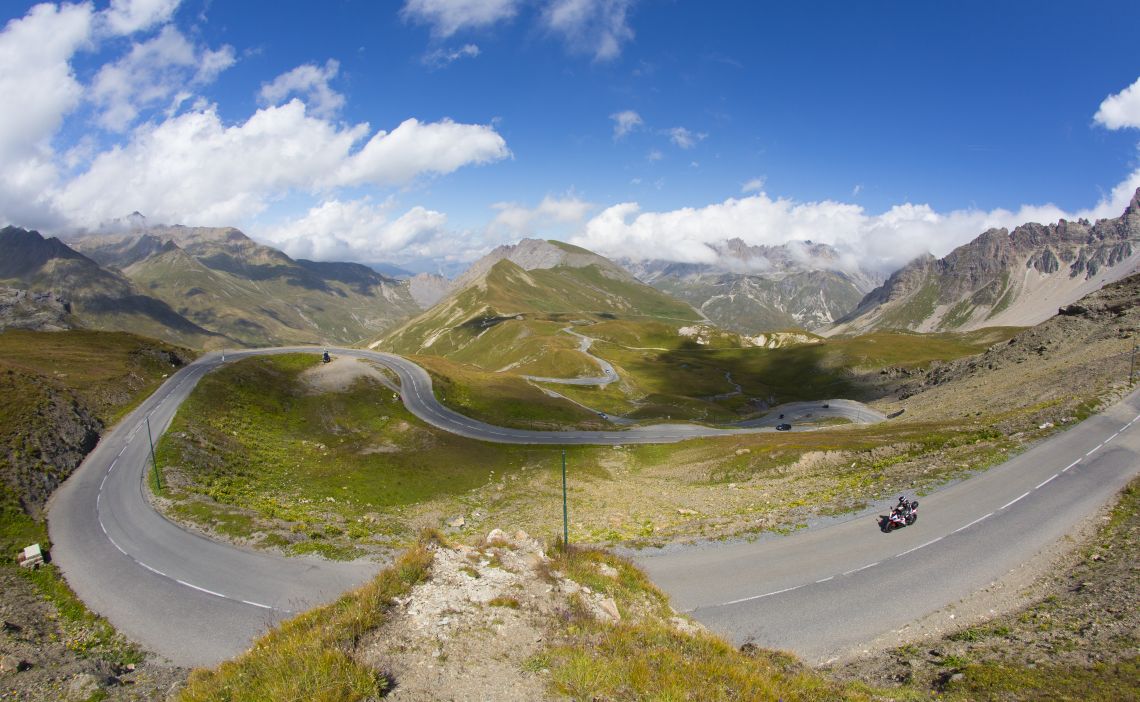 Our route began in Evian-Les-Baines, a small town on the shore of Lake Geneva, most popularly known as being the home of Evian mineral water.
The town's small enough that it seems just minutes as you head south before you are out of the heat of it's suburbs and into the shady gorge of the Vallée Verte.
It was near Cluses that Tim remembered he had not topped up his oil since leaving Le Mans earlier in the year so we headed off in search of his preferred exotic and very expensive oil before our ride into the heart of the Alps began.
It can take a while to get used to different travelling companion's riding styles but following Tim's smooth lines and steady pace I felt at ease right away and the sun-drenched climb up the Col de la Colombier cemented my good mood.
The Cormet de Roseland is one of my favourite cols and often features on the Tour de France route.
In fact much of our route is as big a draw for cyclists as it is for bikers and I too have slogged my way up the Roseland a few times under pedal power.
Getting into relaxed travel mode we paused by the Lac de Roseland and ate the last of our butties looking out over the sparkling blue water.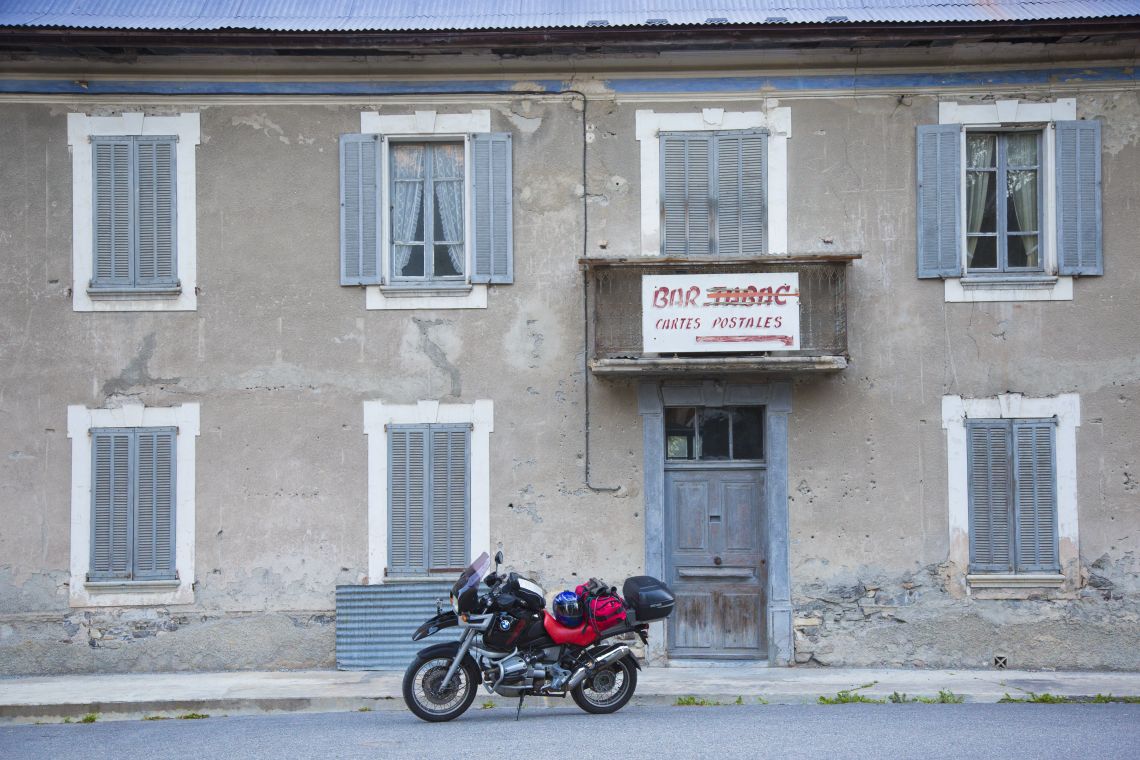 The country changes as you climb the Col d'Iseran, it is more austere and as it was getting later in the day the temperatures plummeted, hardly surprising as we topped out at over 2,700 metres.
Even our chosen place to stay for the night was at over 1,850 metres.  In Bonneval-Sur-Arc having ridden enough for one day we found a nice gîte and a small restaurant to grab a pizza and beer.
The next morning I did that stupid thing where despite knowing you are low on fuel you still pass a couple of petrol stations for no particular reason only to realise that soon you are very close to the serious pain of running out.
Apparently, Tim had been flashing me to stop but I was too busy taking in the early morning views to notice!  After fueling up in the nick of time we pulled over on a village street to look at the map when all of a sudden a psychopathic local who, incensed by foreign biker types 'obstructing' his road went completely mad cursing and swearing in French at us even though we were just across the road from the Gendarmes office.
I didn't let on that I spoke French and just kept saying 'Bonjour Mon-sieur' every time there was a pause!  This appeared to make him even madder and with a furious wheel spin he, at last, roared off.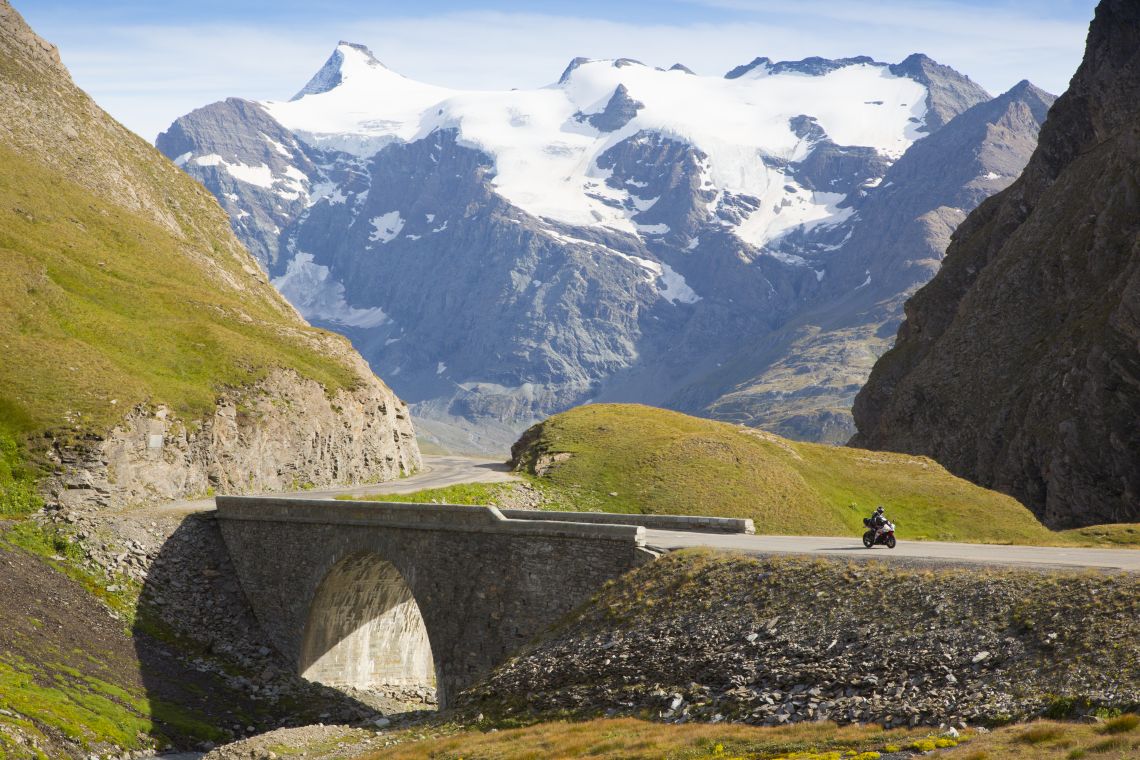 Fortunately, he was not typical of the locals we met! In fact one of the joys of this trip was being reminded at every point how courteous most French drivers are to bikers (and cyclists). If they pass they give a wide berth or if you come up behind them they even drive half into the gutter to let you pass.
Custom requires that as a right-side-of-the-road euro biker you wave your right leg out to say thanks, leaving your right hand free to wind the throttle on!
I am by no means a history buff but if you are then you'll find that there is so much to see on this journey south that you might take a month over it.
The World War 1 and 2 gun emplacements of the Maginot Line beneath the Col de la Bonette or the 19th century Esseillon Forts that we were now approaching are examples, the latter's defensive walls towering over a massive chasm by the road.
We skipped the forts but stopped to walk out over Devil's Bridge which, unlike the one of my biking youth in Kirkby Lonsdale, is certainly not one to jump off (there is sadly no brew cabin here either)!
Over the gorge near the bridge, there's an incredible collection of zip wires or flying foxes, the longest of which runs a kilometre in length.
They look like incredible fun and they run all throughout the forest, every now and again you hear the distinctive hissy whine as another adrenaline seeker flies above your head and out over the void. For me, the mighty Col du Galibier epitomises the 'cult of the col'.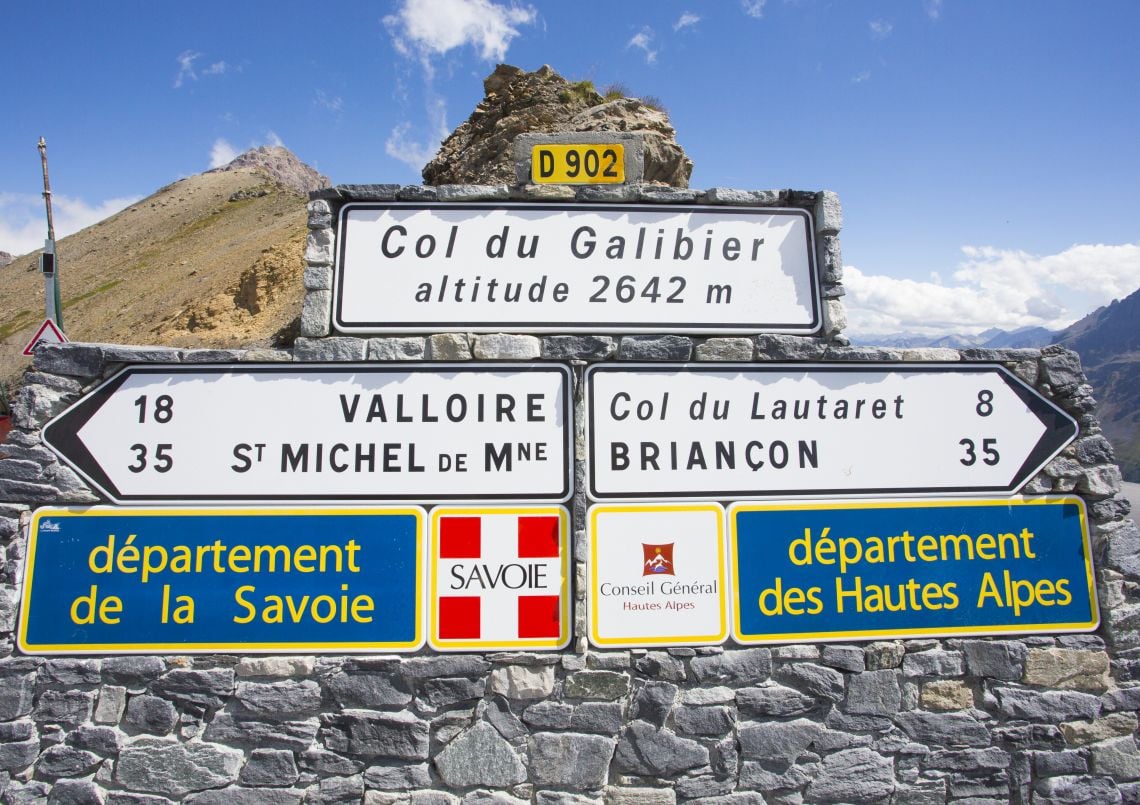 The summit, at 2,642 metres, is more often than not bitterly cold but it is a mecca for everyone on wheels.  There is an atmosphere of camaraderie as bikers and drivers applaud the achievement of cyclists that have spent the best part of their day getting up there.
It is a cosmopolitan place too with languages from all around the world attempting to converse. Bikers, cyclists, vintage car owners and yes even the dreaded camper vanners all take pictures for each other in front of the celebrated col sign.
It was late in the day but we were in a groove and so opted to do one more col before bed; The Col d'Izoard. The mountain pass's 20 km of winding ascent begins in larch forests and finishes in a strange almost lunar landscape. Tim and I had some distance between us on the climb as we each got lost in our own rhythm of seemingly endless changes up and down the gears.
Winding down to near standstill on the tightest bends then powering out before almost immediately doing the same all over again.
This route can be quite physical riding and on mountain roads like this you really have to stay focused but you can reach a kind of mesmerized, almost hypnotic state on a bike and there is nothing quite like it for shutting out the day-to-day worries.
On the col, there was the usual collection of eclectic motorbikes lining the road, their riders enjoying the last of the evening sun on what was once a key col in the opening up of the 'Route Des Grandes Alpes'.
It was the Troupes Alpine, an elite corp of mountain soldiers under Général Baron who completed the hard, dangerous construction work here in 1934.
We rode out through the Casse Deserte, a surreal landscape of yellow rock pinnacles and grey scree slopes, dropping quickly out of the sunshine. At Saint Paul Sur Ubaye we parked the bikes outside a very basic old-fashioned gîte.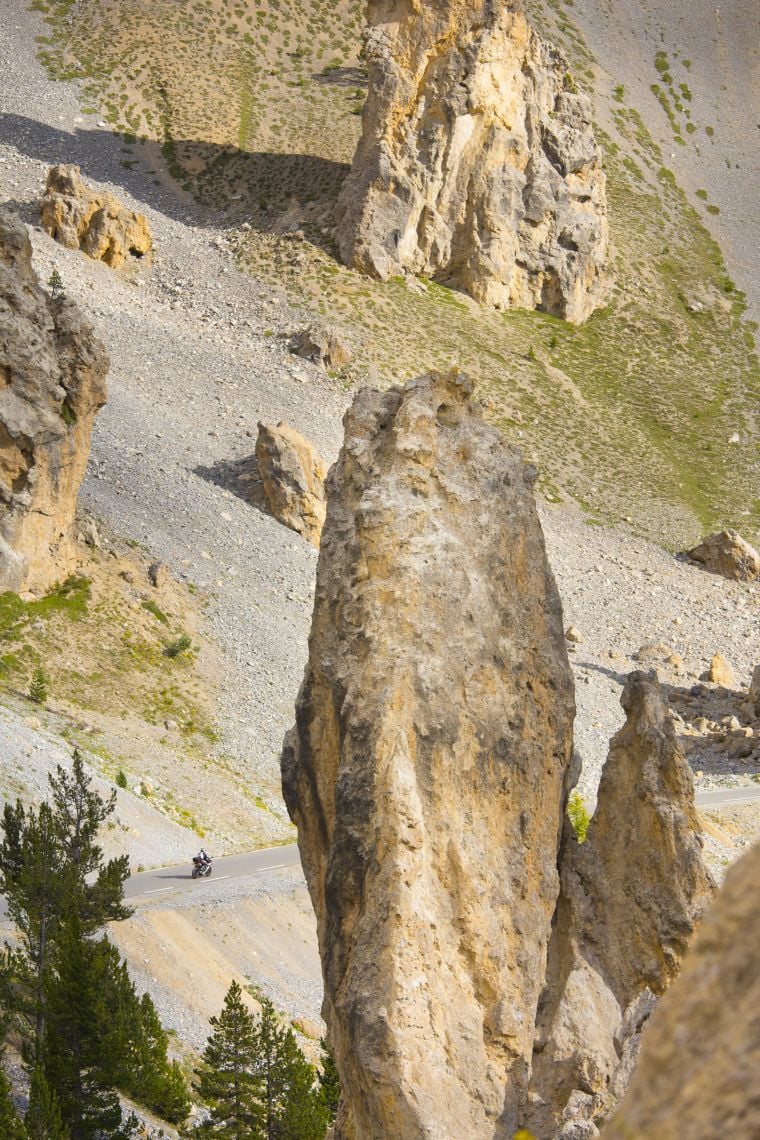 The friendly owner found a room for us inside the ancient building that was still much like a farmhouse and doubled as the village shop.
This valley, which had been completely isolated before the road was built, is still one of those idyllic havens that make France such a great place to tour on two wheels.
The next day, in a close encounter with 'paysan' France, we found ourselves surrounded by hundreds of sheep on the Col de la Bonette.
Following their shepherd they were flowing like a river over the road for so long I gave up and turned the engine off.
Above the col is a loop road that's the highest paved through-road in Europe at 2,802 metres. British cyclist Robert Millar led valiantly over the summit here in the 1993 Tour de France.
We hung around for a while chatting to other bikers and taking pictures before heading down to the warmer valley for a coffee in the sunshine in Saint-Sauveur-Sur-Tinée.
The Monte Carlo Rally holds a stage on our next hairpin feast, the Col de Turini. Until recently it was held at night and nicknamed the 'Night of the Long Knives' referring to the sweeping headlight beams.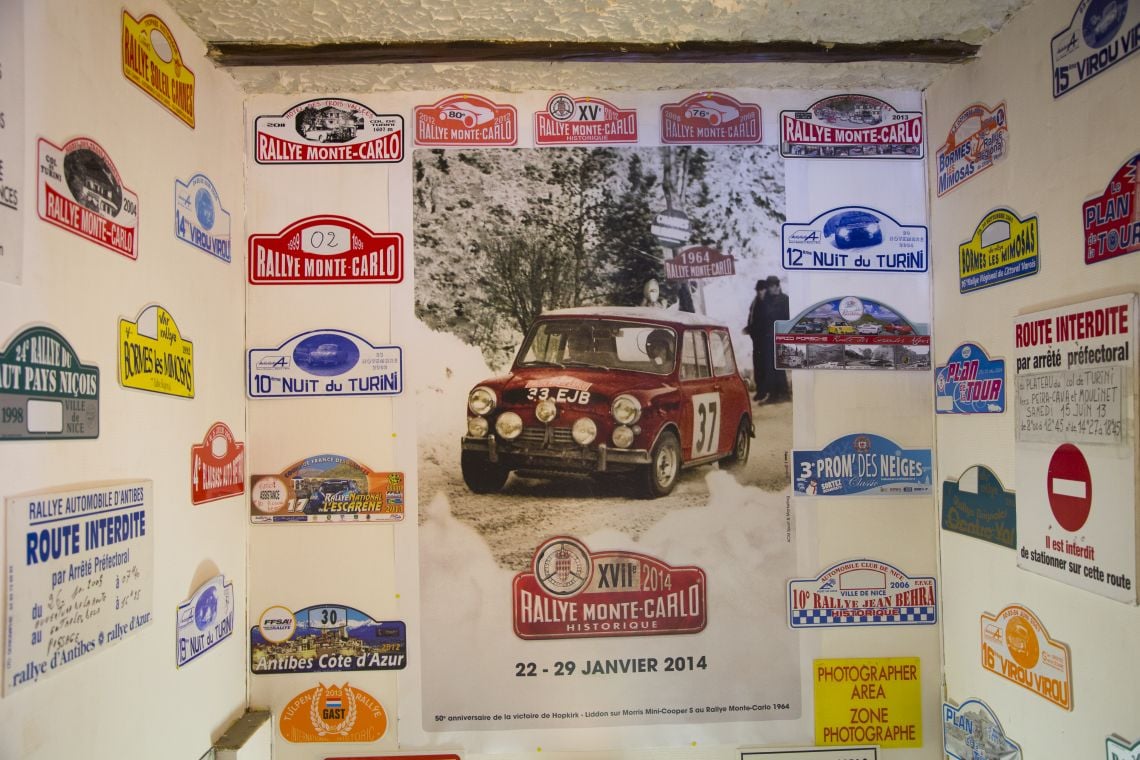 On the bike this road keeps you concentrated as it twists and turns through the rugged forested hillsides of the Maritime Alps. At the top The Hotel Trois Vallées has all kinds of memorabilia from the event on it's walls, it's a real cool place.
When I stopped to take a shot on the ascent I could hear the frenzied howl of a Ducati working it's way through the woods, the guy was probably a local and obviously enjoying himself.
Mind you, you never know what you'll find around the next bend. At one point I caught on camera a guy who was driving a tricked out BMW car like a rally driver, screeching tyres around the bends, in full reverse lock etc.
Out of the corner of my eye, I could see Tim heading up the road on the Yamaha.
Right on a tight hairpin, they met and Tim was confronted with a car broadsiding right across his line!
The driver corrected and shot across onto his own side just as Tim cut out of his path.
I confess it was pretty entertaining, for me at least!
Now, all that remained was to drop down through the foothills into the sweet-scented heat of the coast and that night we ate in Menton, the end of our journey.
It was a nicer place to finish than Nice, historically the other option. It is a lively place at night and there is a nice sandy beach, albeit a typically very populated Mediterranean one, to soak the aching bones in after all the hard riding.
I had originally got to know Tim climbing mountains and it had been great these last few days to get to know him as a biker too.
Our two radically different bikes had both been at home on this trip in their own way and they seemed to have coexisted well enough in a way you probably wouldn't plan. A track bike and a GS?
We had ridden over 700 km (hard to believe as it felt more like 2,000 km!) and crossed 17 high mountain cols. We had climbed around 16,000 metres in all (almost the height of two Mount Everests) and although it would be fun to count the hairpins, that might be deemed somewhat obsessive.
Suffice to say I'd better do some straight-line riding to even up that tyre wear! The journey though had been about much more than the stats. It was a great means of coming into contact with people, both locals and fellow travellers, and of sampling the unique landscape and history of the Alps.
---
Want to do what John did?  Here's how you can…
When to go?
While September is probably an ideal balance between traffic density and good weather you could probably still get away with early October. Late May and June would also be OK, if it is an early Spring, but watch out each year for when the Cols are snow-free. Yes, July and August are busier but they are also warmest and you meet more people at this time which is when we went.
How long to take off work?
It is easily rideable in three days but there are some great optional loops and sightseeing that could make it easily a week's journey.
How much?
Allow about €30-40 per night for basic B&B accommodation or less for campsites which are plentiful.
Is it for you?
If you like straight roads or highway cruising forget it but if you enjoy hairpins it was built especially for you!
What gear?
From June onwards you will be better off with a ventilated jacket backed up with a light rain jacket/ suit rather than a heavy item.
While the Cols can be chilly it is generally warm! I spent most of the time in a ventilated jacket with a light fleece over a t-shirt but you do need windproof, wet weather gear for if the summer weather turns, and it can, to snow!
Basic Michellin yellow maps are fine, it would be hard to get lost! There are brown signs marking the route.
Any advice?
Don't underestimate the wear and tear on brake pads on these descents, it would be wise to go with plenty of life in your brakes and carry a spare clutch cable as that sees an abnormal amount of use on these roads.
Useful information
To find out more information about the route, details of accommodation and sightseeing visit www.moveyouralps.com. The website contains virtually all you need to know about the fantastic journey through the Alps.