In new bike terms, the 2015 Suzuki V-Strom 650XT is the previous best selling model with the lightest of makeovers. Alun Davies asks, 'if it's not broke, why fix it'?
In the motorcycle industry the grim, short days of winter are brightened and enlightened by the launch of new motorcycles on less congested roads in sunnier climes. No doubt, the thinking behind these overseas test rides is that any bike is more likely to be viewed in a favourable light when ridden in a relatively car free, sun drenched setting than up a traffic ravaged M6 on an overcast, soggy and cold winter morning.
Th e Andalusia mountains in Southern Spain are a new launch hot spot, as are the balmy Canary Islands off the coast of Morocco. In both locations pleasant winter weather is as good as guaranteed, the light makes for excellent photographs and the beer is inexpensive. Put simply, you'd have to be in a state of intense rigor mortis not to see the world and all things on two wheels with a more forgiving mind.
Strange then that sandwiched between a couple of t-shirt trips to the Canaries for the unveiling of two all new, technology driven, adventure rocket ships (the KTM 1290 Super Adventure and Ducati Multistrada 1200) I found myself shivering in a bitterly cold, wet and windy corner of Ireland checking out a motorcycle that, I have to say, is far more old than it is new.
At new bike launches there's a slightly tense period after the test ride where the manufacturers are anxious to see what colour smoke appears from the assembled journalists. At the V-Strom Irish gig the verdict was known long before we'd booted up and pressed the start button, in fact the reviews could have been written before the flight over to Kerry airport.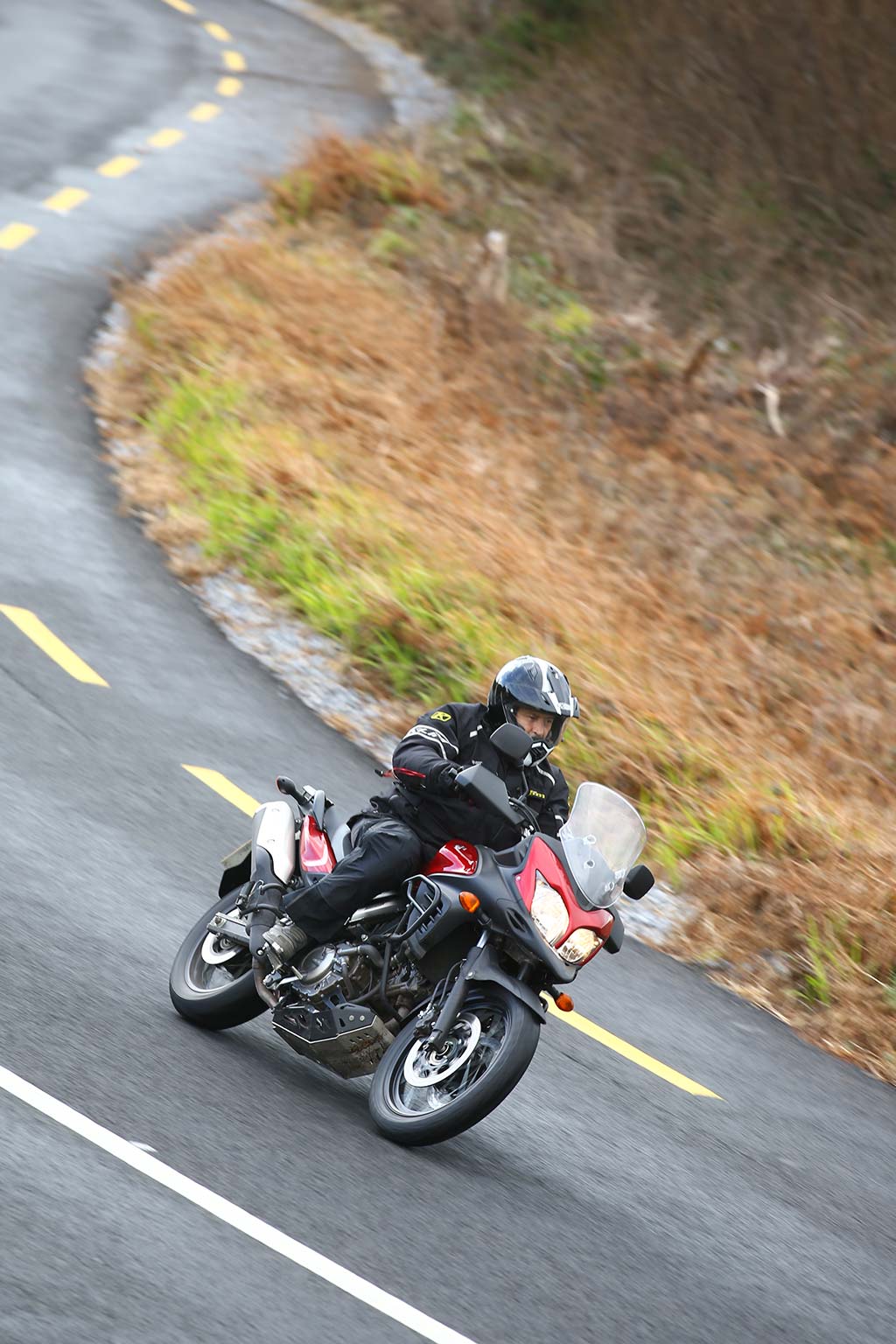 Whilst the above mentioned KTM 1290 Super Adventure and Ducati Multistrada 1200 dazzlers are breaking new ground in just about every way imaginable the highlights at the Irish launch of the Suzuki V-Strom 650XT were decidedly low key and limited to new wheels, a few bolt on accessories and a pointy beak where there once was a stump.
To call the XT 'new' would be on a par with painting the interior walls of a city centre flat and claiming it's now a detached house in the country. In fairness, Suzuki do not trumpet the XT as a new bike and are well aware the changes are of a minor nature. But don't let that put you off.
The 650 Wee, as it's affectionately known, is an excellent mid-range adventure bike. In fact it's the bestselling mid-range adventure bike and apparently the 'Strom' now accounts for 20 percent of Suzuki's motorcycle sales. Th at in itself is a startling fact, especially when you consider the company has 30 years' worth of top tier investment tied up in a lesser selling flagship GSXR line up.
If it ain't broke, don't fix it appears to be the policy with the 650, but that's a risky tactic for any bike manufacturer, especially so when competitors are moving forward with technological and engineering advances and aiming rival machines at the lucrative adventure markets. The new Kawasaki 650 Versys is a case in point and should Yamaha decide to dress up the bestselling and great value MT-07 in adventure clothes (as they've done with the larger MT-09 Tracer) then sales of the Suzuki are undoubtedly going to come under pressure.
The original 650 V-Strom launched in 2003 with an updated version appearing in 2011. The 2011 upgrades included the newer engine from the Gladius retuned to suit a more touring bias. There were also cosmetic enhancements which, to my eye, produced a bike that looked very nice indeed. The aluminium twin spar frame was essentially the same as featured on the original version, as were the suspension and brakes.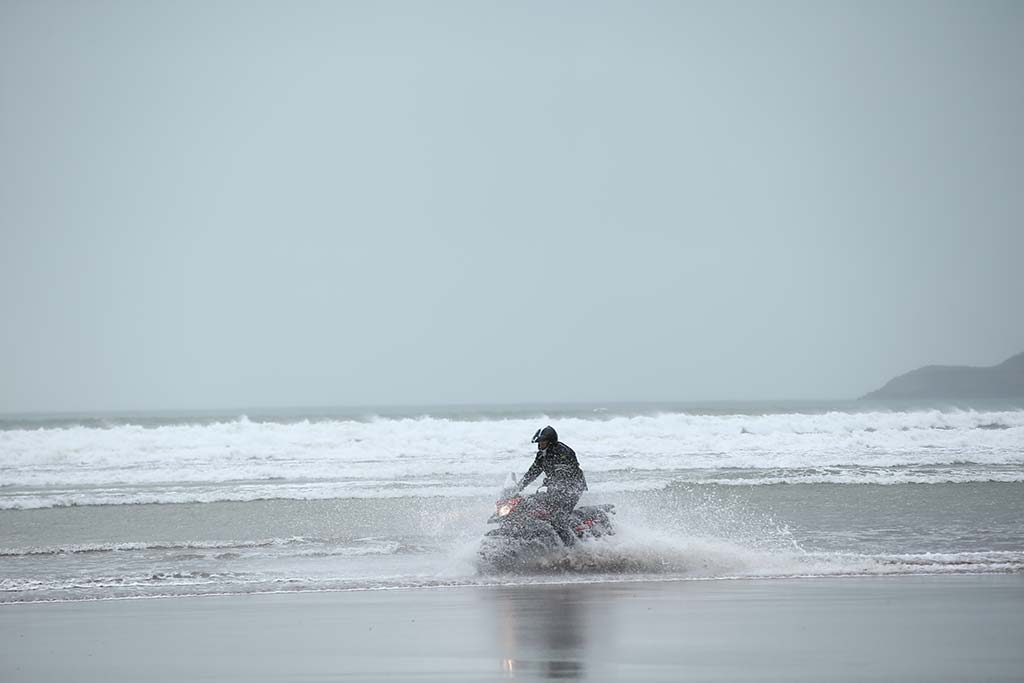 As stated above, the 2015 refresh can be summed up in a few words – new wheels, a beak and a few accessories – which means the XT could be viewed as either long in the tooth or of fine vintage. Essentially, Suzuki decided that the bike needed to have more dual purpose 'adventure' appeal to build on the 650's well established road touring capabilities and they chose to do this, in the main, by adding wire spoked wheels with tubeless tyres.
The advantage of spoked wheels over cast when riding off-road are well known. They are generally accepted as being stronger, less inclined to crack when riding over rocky ground and, most importantly, they add to the gnarly adventurer look of a bike. On the downside they tend to be heavier, more difficult to clean and can be a pain in the butt obstacle when attempting to reflate tyres with garage air-hoses.
The new wheels on the Strom are made by DID with the spokes lacing into raised sections in the centre of the rim. It's a clever and visually appealing design that allows for tubeless tyres to be fitted, in this case Bridgestone Trail Wings.
The addition of a beak could be construed as following the adventure crowd though in this instance it's more back to the future. Suzuki, via the DR-Z of Dakar rider Gaston Rahier, can be credited with inventing the motorcycle proboscis in 1988. The extended front cowl that featured on the DR-Z was made available to the public in the shape of the DR-Big, the production version of the DR-Z. The new 650 beak certainly gives the V-Strom a very 'Angry Bird' look though it has been nicely integrated with the front body and incorporates air intake ducts aimed at the radiator.
The list of new accessories that come as standard on the 2015 XT are as follows: alloy sump guard, crash bars and injection molded hand guards. Not what you'd call ground breaking advancements in motorcycle technology but all the sort of after-market attachments that allow a self-respecting adventure bike rider to sleep peacefully knowing they're there.
Before I move on I'd better reveal a level of self interest in this review. I own a V-Strom 650, bought in 2011 and paid for out of my own hard earned. Here's the executive summary of why I bought it. My son had just passed his motorcycle test and I knew it was only a matter of time until, 'Dad, can I borrow the bike?' was on the agenda. The V-Strom 650 was the bike I wanted my son to ride. And that, in my opinion, sums up the essential essence of the Suzuki.
The bike is so easy to ride; the two feet down seat hight, the long-distance comfort, the non-threatening nature of the performance, the reliability, the economic mpg and an all-encompassing character that makes for a relaxing rather than a 'red mist' style of riding. In a review of the V-Strom back in 2012 I wrote that this was the bike that changed my touring emphasis from thinking less about overtaking opportunities and more about the mountains on my left and the lake on my right. Three years and thousands of miles later that's still my view.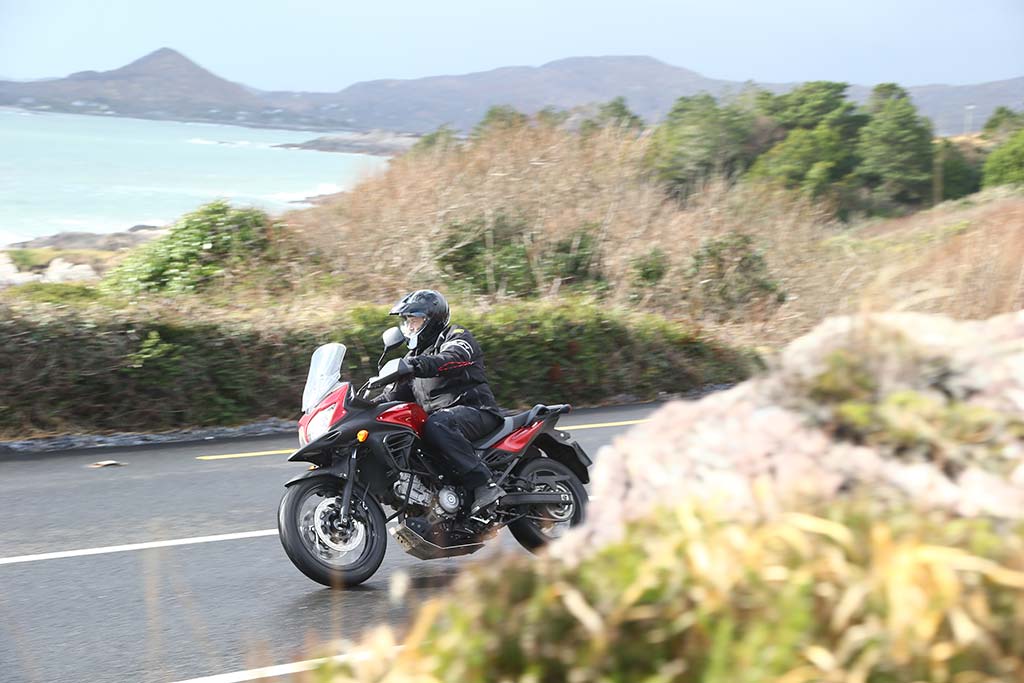 But don't get me wrong here, the Wee has plenty of power when needed and is more than capable of cruising at three figure speeds. You'll not be as relaxed as you would on a 1000cc, especially with a pillion on board, but you're not going to be gripped either. It's also a hoot on A and B roads where you'll get to use far more of the engine than you would on bigger bikes where the top end performance is all but redundant on public roads. In the right hands the Strom will keep up with more powerful bikes on alpine passes and it comes with stable handling and capable brakes with ABS as standard.
But that's not really the point of the V-Strom, you don't buy a 650 adventure styled bike if it's your intention is to race with the pack. The Suzuki is a joy to ride when your state of mind is tuned into purring around mountain roads, staying within legal motorway speed limits and pottering around town. It's a dependable bike to ride and time has proven it's a dependable bike to own. It's also proof that you don't need a big capacity bike to experience enjoyable, comfortable vibration-free long distance touring.
If off-road prowess is a major concern then I'd not buy a V-Strom, even with the addition of wire spoked wheels and battle ready attachments there are better bikes around to satisfy those with regular dual purpose cravings. That said, on the press launch Suzuki were more than happy for us to ride down a rock strewn trail and onto a beach where we spent some hugely enjoyable time sand and surf bashing. And that's more than can be said for many adventure bike manufacturers who don't want to see their bikes anywhere other than on tarmac.
In practice the V-Strom is capable of taking on the gentler side of off-road riding. Indeed, my own cast wheeled 2011 version has proved its worth on rock strewn military roads criss-crossing the French Alps. The relatively light weight, smooth fuel injection and the ability to place both feet on the ground mean it's a lot easier to handle and manoeuvre than some of the taller and heavier machines but the low ground clearance is something to be aware of. It also added to its prowess by towing a fully loaded Yamaha 660 Ténéré back up steep off-road Alpine trails when a snapped chain halted our progress.
For a 650 the Strom also offers an excellent level of comfort and space for a pillion. The wind protection is good, the grab handles are some of the best positioned on any motorcycle and they're big and sturdy enough to inspire confidence in the most timid of back seat partners. The Suzuki also comes with enough torque and power to keep most riders happy on a two up tour plus the handling and stopping power are up to the job. I'd better add that my other half is lighter than average – she'll also let me off the leash a lot more for stating that.
Four years of experience tells me that the three stage adjustable standard screen is okay but I'd not take it out of the showroom without fitting the excellent Givi Airflow after-market screen. Fitting the Givi to the Strom makes a huge difference to comfort behind the bars with no, and I mean no, buffeting to discomfort the rider and substantially reduced wind noise.
One point that does irk me with the Strom is the width of the bike when fitted with the optional Suzuki branded Hepco and Becker aluminium or plastic panniers (£946 and £817 respectively, with rack included). With either fitted the Strom is wide enough to demand a weather station on one side to forecast the conditions on the other. This is a result of the flared out rear of the bike and the gap between the machine and the pannier rails – which could have and should have been closed up a touch. As it stands the panniers are much wider than the bars placing lane filtering on a par with solo Russian Roulette, with every chamber loaded.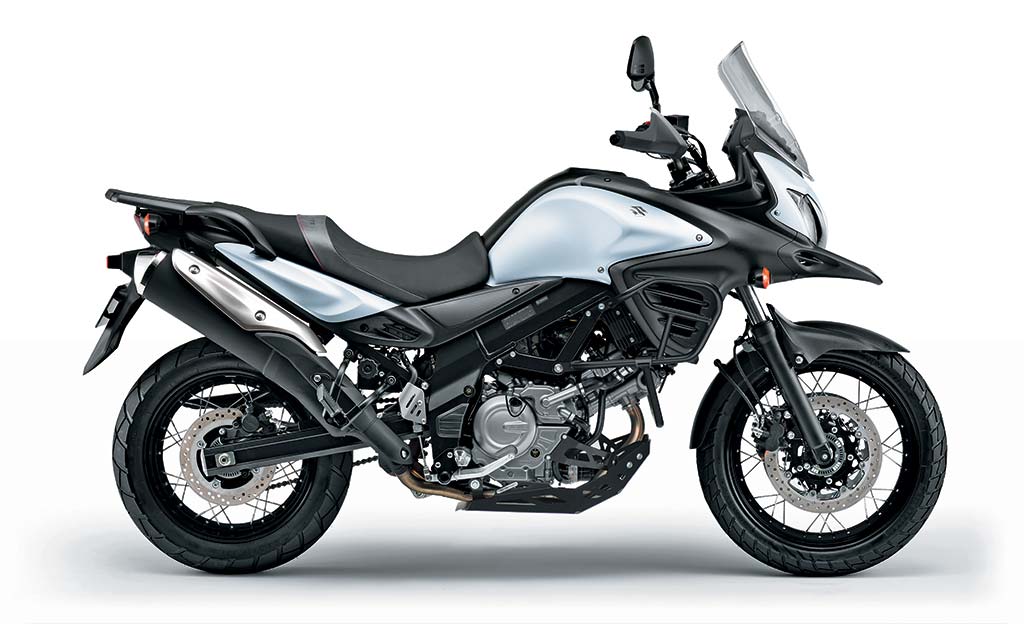 On The Tick
Finance packages are accounting for more new bike sales every year. Here's Suzuki's 'representative example' for the V-Strom 650XT. The figures below are based on 6,000 miles per annum, monthly payments could vary depending on expected mileage.
Cash Price: £7,634
Deposit: £1,000
Total Amount of Credit: £6,634
Duration: 37 Months
Initial Payment of: £135.06
36 Monthly Payments of: £135.06
Final Payment of: £3,076
Total Payable: £8,938.16
Interest rate (Fixed): 8.6%
APR: 8.9%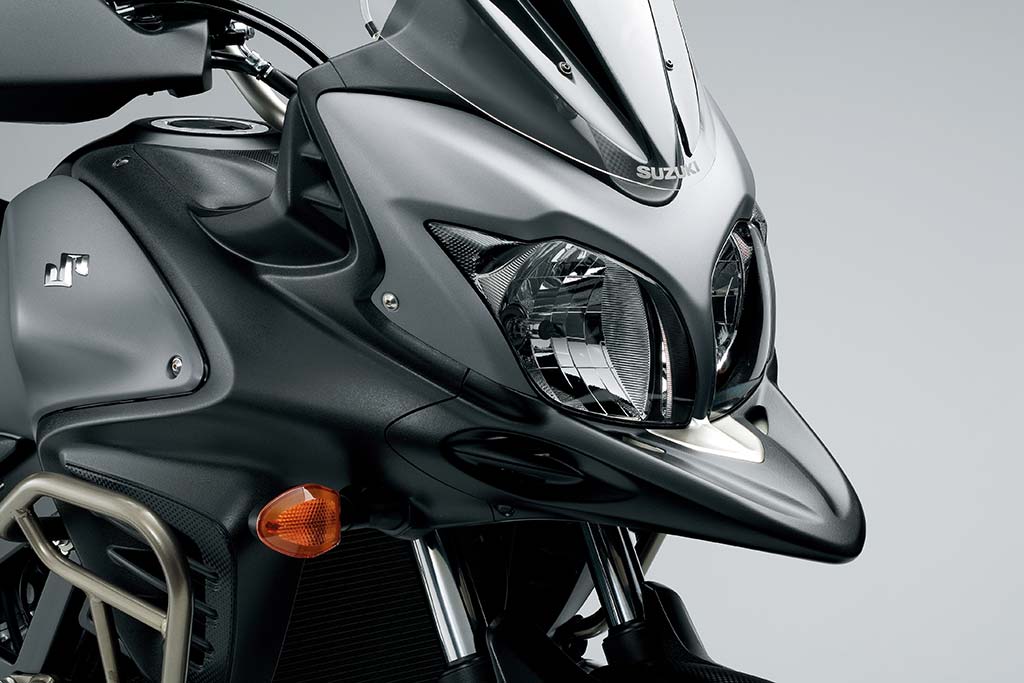 Specs At A Glance
Manufacturer: Suzuki
Model: V-Strom 650XT
Price: £7,499
Engine: 645cc, 4 stroke, liquid cooled, DOHC, 90 degree V-Twin
Power: 50.50kW @ 8800rpm (68hp)
Torque: 60.00N.m @6400rpm (44.00lb.ft)
Frame: Rigid aluminium twin-spar frame and swingarm
Front Suspension: Telescopic, coil spring, oil damped
Rear Suspension: Link type, coil spring, oil damped
Front Brake: Twin disc ABS
Back Brake: Single disc ABS
Front Tyre: 110/80R 19M/C tubeless Bridgestone Trail Wing TW101
Rear Tyre: 150/70R 17M/C tubeless Bridgestone Trail Wing TW152
Seat Height: 835mm
Fuel Capacity: 20L
MPG: 71mpg (manufacturer's claim)
Range: 305 miles (based on manufacturer's claims)
Weight: 215kg
Colours: Blue; Red; Grey; White
Technology: ABS
Warranty: 2 years unlimited miles
Service Intervals: 4000 miles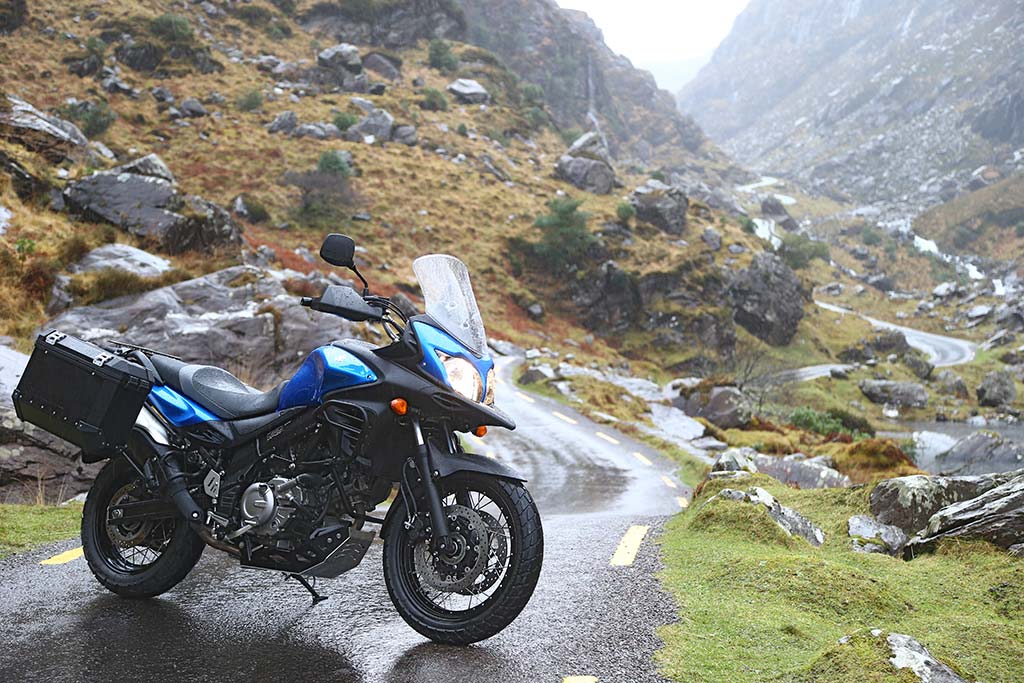 Conclusion
My conclusion now remains the same as it was in 2012 only with far more miles on the clock to substantiate what I'm about to say. The Suzuki V-Strom 650XT is the best mid-range road going adventure styled bike on the market though limited time on the new Kawasaki Versys 650 tells me the gap is closing.
If you're looking for a bike that's comfortable for long days in the saddle, reliable, has frugal mpg figures, a good tank range, cruises effortlessly at legal speed limits and above, looks good and is perky enough for some fun on A and B roads and to carry a pillion and kit in comfort then look no further that the Wee.
ABR VERDICT
As a commuter
Economical, comfy and a commanding view of the road ahead make for a great adventure styled commuter. With the panniers fitted you may as well take a bus.
As a weekend tourer
If your idea of a weekend away is more chill and less thrill this could be the perfect bike for you.
As an off-roader
The spoked wheels and protective attachments help but the Wee is no off-road thoroughbred. That said it's more than capable on easy trails.
As a continental road tourer
Excellent fuel economy, reliability, great comfort and load carrying capacity plus it'll cruise all day at autobahn speeds. Some will miss the extra punch of a more powerful bike on Alpine twisties but then you don't buy a V-Strom for hairpin heroics.
As a pillion carrier
In short; the best 650 adventure styled twin for carrying you, your pillion and a load of gear in comfort. It's never going to be as impressive as the hauling power of a 1000cc machine but it does the job exceptionally well.
In a line
The best 650cc do it all.