YOU NEVER THOUGHT WE'D ASK YOU THAT!
We meet TV presenter Jo Sinnott, the ABR behind Travel Channel's Wild Camping series, to talk Bonnevilles, bivouacs and the best way to eat a squirrel
When did you first get into motorcycling? I've ridden Vespas for years and upgraded to a motorbike two years ago – I love it! Both my husband and father ride motorbikes, so I guess it was inevitable that I'd eventually join them. The Bonneville is my first bike.
Which other model bikes did you consider? The Bonneville's not the most obvious choice for a six-week road trip, but I loved the idea of riding an iconic British bike through Europe. It would have been much easier going on a tourer, but the Bonneville is a great conversation starter!
Before shooting Wild Camping, had you ever done anything like this? No, I was a wild camping novice. But having spent years working for Sky Travel, visiting tourist destinations and staying in plush hotels, I wanted to make a back-to-basics travel series. The idea was to show people that you don't have to be Ray Mears to enjoy the great outdoors, and having recently discovered motorbikes, it made sense to marry the two.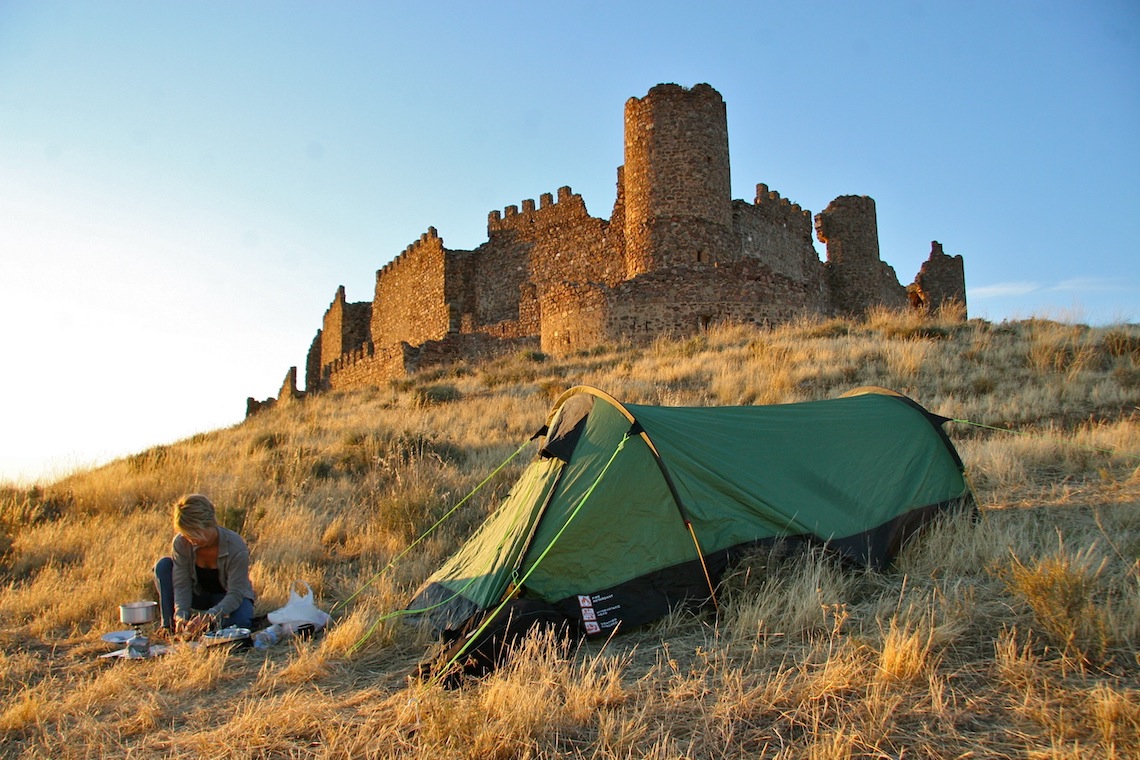 What was your biggest worry? I'm quite an insomniac. I worried that I wouldn't sleep a wink on the journey. But it turns out that wild camping is the perfect aversion therapy. I told myself, 'if I can sleep here, I can sleep anywhere!'
What usually keeps you awake at night? An endless to-do list.
Any technical difficulties on the trip? The bike performed brilliantly, but I did have my back tyre slashed at a local bull running festival near Toledo. Trying to get Triumph tyres for a motorbike on a festival day in Spain is near on impossible.
What was the biggest challenge you faced? The bike riding! It was a baptism of fire. As a new rider I was learning all the time.
Which was your favourite country to ride through and why? France – in particular my route from the Alpes Maritime to the French Riviera. There were some amazing mountains roads, great views and lots of twisties.
Were all your wild camping spots planned and did you have any legal issues with camping along the way? Most were planned, but there were occasions when I had to find somewhere to sleep last minute and didn't necessarily have permission to camp there. I had to take a gamble, hoping no one would move me on – luckily they didn't.
How did filming affect the experience of being 'alone' in the wild? It affected my experience a lot. When I was filmed pitching my tent each night, the crew was obviously with me. Once we stopped filming though, they left, or in very remote regions, one member of the team camped nearby, out of sight. In the middle of the night, I definitely felt alone!
What bushcrafting skills did you learn? I learned how to make a bivouac while staying with a survival expert in the Brecon Beacons. We used long branches to weave a lattice framework and covered it with dense foliage for a canopy. It was surprisingly watertight.
You ate some pretty 'wild' stuff too…? Yes, the most unusual was squirrel. It tastes just like lamb. Who would have expected that?! I also ate nettles, but I wouldn't recommend it.
Who was the most interesting character you met on the road? I met Frederick, a French concert pianist, and his young daughter Fanny in the Mercantour National Park in Southern France. They took me to a deserted village called Molliere, which was a four-hour trek into the mountains. The village was torched by German soldiers during WW II and then abandoned. The majority of the homes were still uninhabited. Frederic has a refuge there. It was freezing cold and there was no electricity but we had a wonderful evening eating dinner by torchlight, wrapped in blankets.
How did people react to you as a solo female rider? I didn't realise before this trip that there is such great camaraderie among bikers. Everyone was very supportive and impressed.
If you were to do the trip again, what would you do differently? I would wild camp with other people more often, not because I didn't enjoy camping alone, but because there's nothing like bonding over a Calor Gas stove and sharing stories.
Any plans for more motorcycling adventures? I'd love to do another Wild Camping series one day. I'd also like to do a bike trip with my husband. For our honeymoon in 2000 we biked around Thailand with me as pillion. I'd like to do another trip, but this time we'd have a bike each.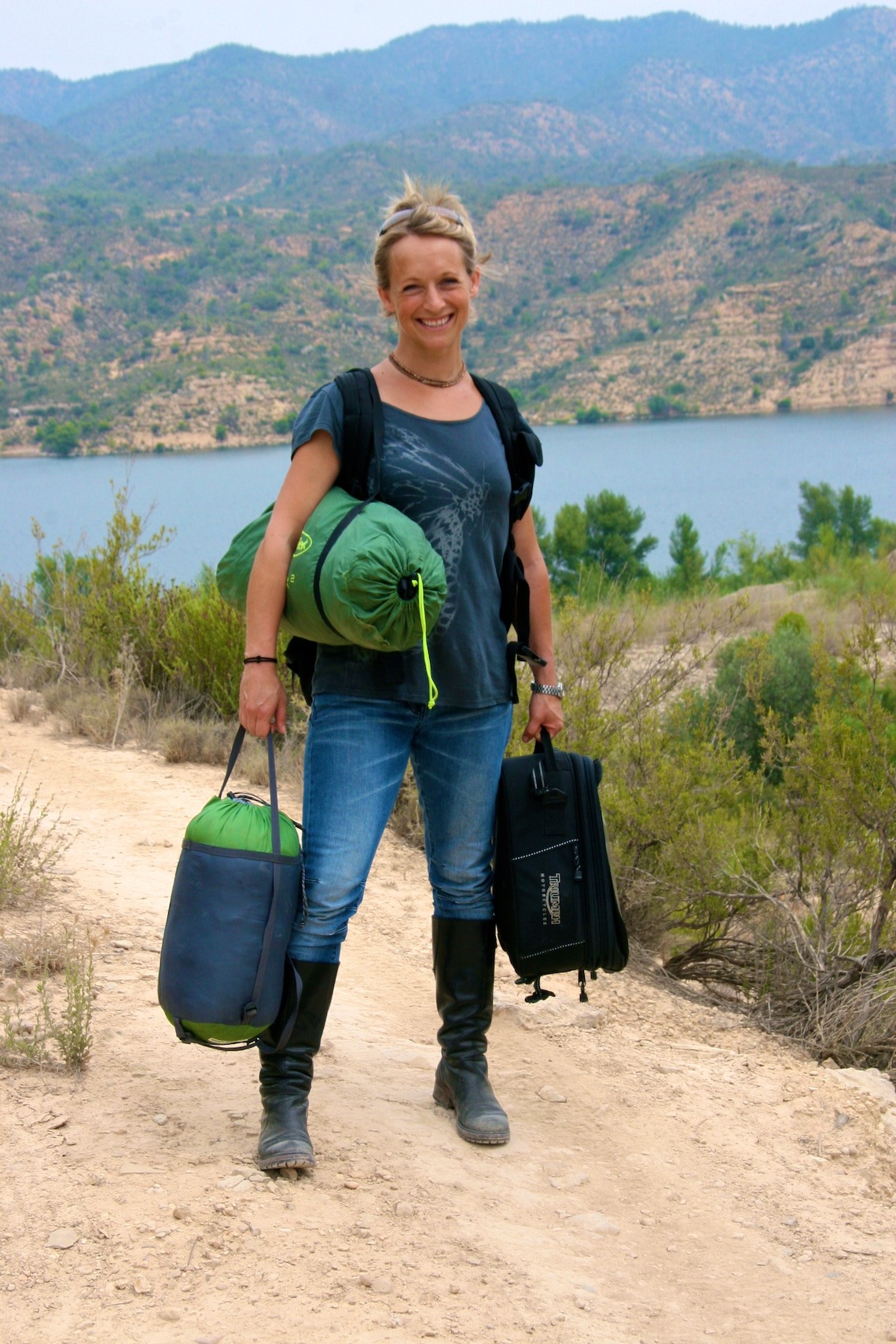 What's your favourite adventure film? I'm not a huge adventure-film lover, but I've always had a soft spot for Indiana Jones.
What's your ultimate indulgence? Gin and tonic – any time.
What's your best characteristic? Determination. Although it's probably also be my worst characteristic, too.
When you were little, what did you want to be when you grew up? I loved Anneka Rice, especially in Treasure Hunt, jumping in and out of those helicopters wearing her brightly coloured jumpsuits.
Who inspires you now? My father. He's an intrepid traveller with more energy than anyone I know. I hope it's in the genes.
Are you a dog or a cat person? Definitely a dog person; I have a black Labrador.
If you were to start a band, what would it be called and what kind of music would you make? I'd love to play the guitar and I can sing a bit. I think I'd start a band called 'Curious Jo' – a mix between modern folk and country music (country music is my guilty pleasure).
To keep up to date with Jo's ABR-ing adventures, see www.joannasinnott.com