Building this; the Harley Davidson derived Carducci CS3 Dual Sport. For this month's Day Job we talk to the man behind it, Jim Carducci, to find out more…
Photos: Neil Hanshaw (www.neilhanshaw.com)
Who is Jim Carducci?
I'm a dual-sport rider and the co-founder of Carducci Dual Sport, LLC. I've been riding motorcycles with a passion for more than 40 years continuously and have a 32 year background in mechanical systems design engineering in the aerospace and semiconductor industries here in Silicon Valley, CA. Together with my wife, we developed the SC3 Adventure and formed the company.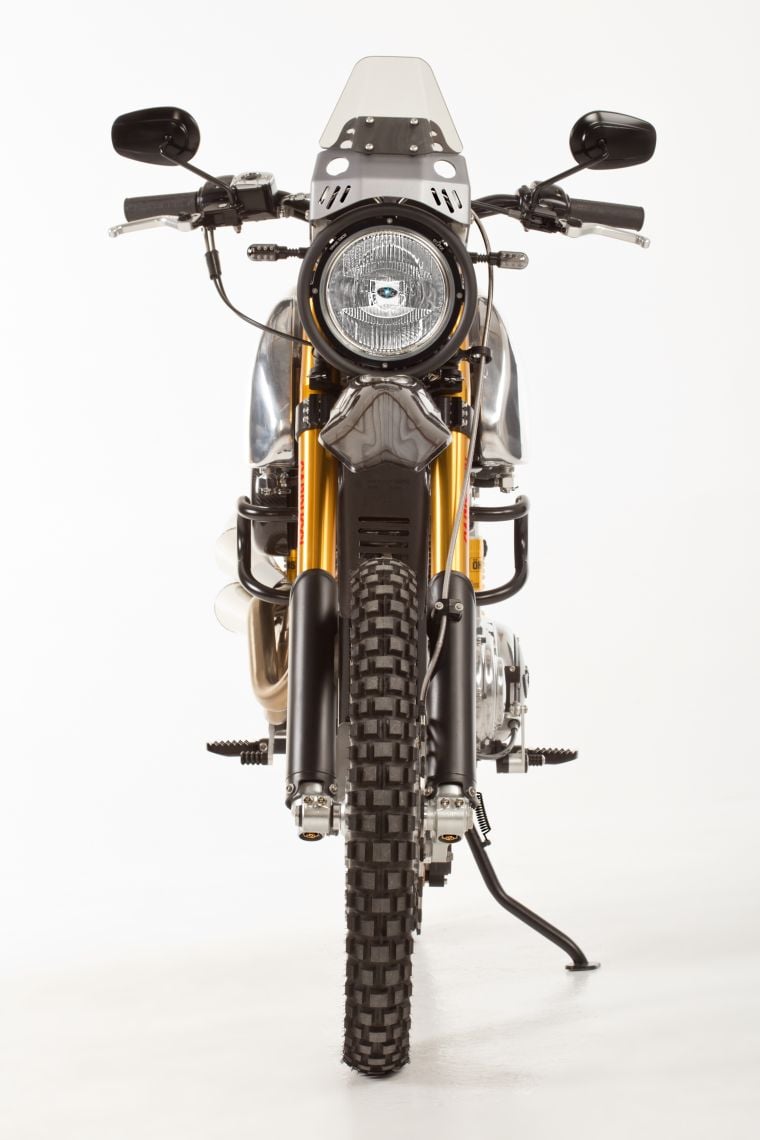 Why did you feel the need to build a Harley based dual-purpose bike?
About twelve years ago I bought a BMW R1150GS and got back into adventure bike riding. Soon after, I began wanting a more unique and more off-road capable big-bore bike. I bought, rode, and sold many of the newer and other big dual sports over those years. While I enjoyed many of them, I was still looking for something that wasn't out there. I also had some Harleys and a Buell X1 Lightning, which both left an impression on me because I liked the torque, feel, and sound of the H-D big twins.
I started thinking about the possibility of designing and building my own big bore dual sport with an H-D Sportster motor, and possibly the frame, as a basis for the bike. The question was: Would it be off-road capable? Eventually, after buying and selling too many bikes, my wife finally said "just build it already". That was all I needed. Soon after, I found a good Sportster donor bike and the day after I bought it, I began taking it apart.
What are the main changes to the bike?
Long travel suspension, lots of ground clearance, 18"/21" wheels, high front fender, tall handlebars, and new foot position for dual-sport standing. As for what remained the same; the motor, frame with minor modifications, oil tank, battery tray, electrical harness, hand controls and instruments, and a few other parts. For dual sporting, I wanted to keep the vital organs of the bike the same so they could be easily serviced by any H-D dealer in any part of the world.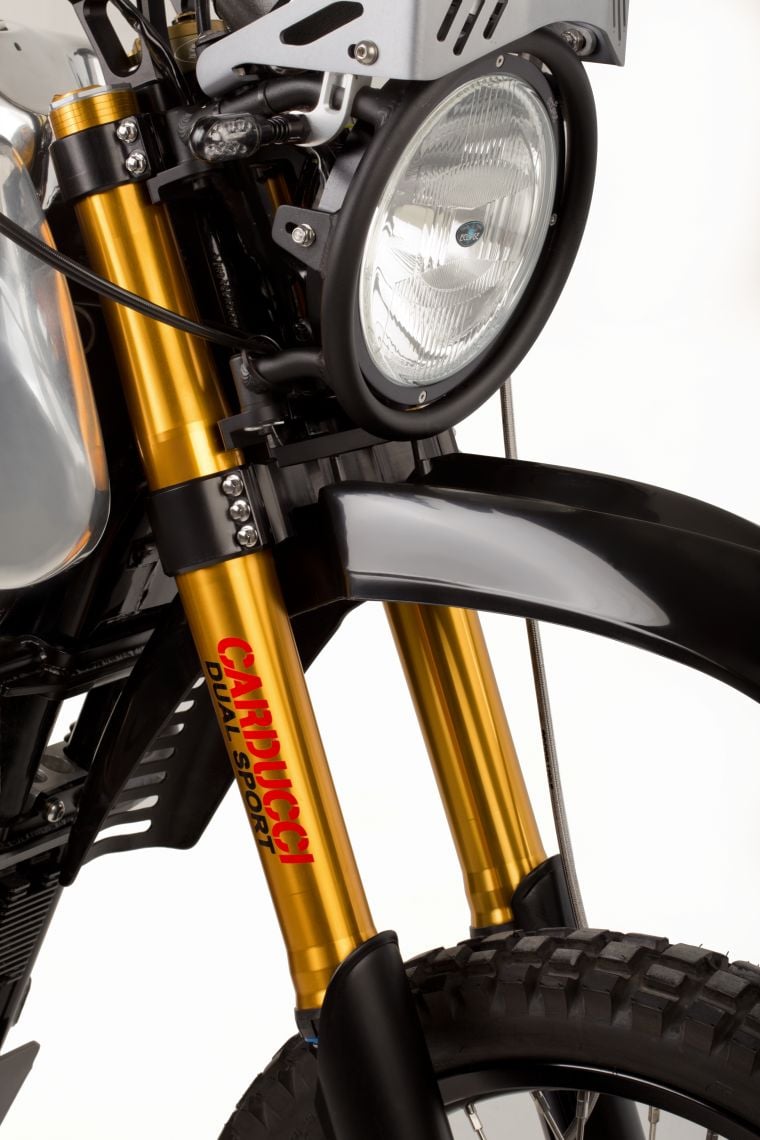 The rest of the bike is parts I designed and had fabricated including the swingarm, rear fender sub-frame and rack which holds fluid canisters, foot controls, triple clamps with integrated Scott's steering damper and integrated bar risers with vibration damping, a 6.3-gallon aluminium tank, which I designed and then had hand formed by Evan Wilcox, a custom shaped Corbin seat, windscreen, crash bar, skid plate, and kickstand.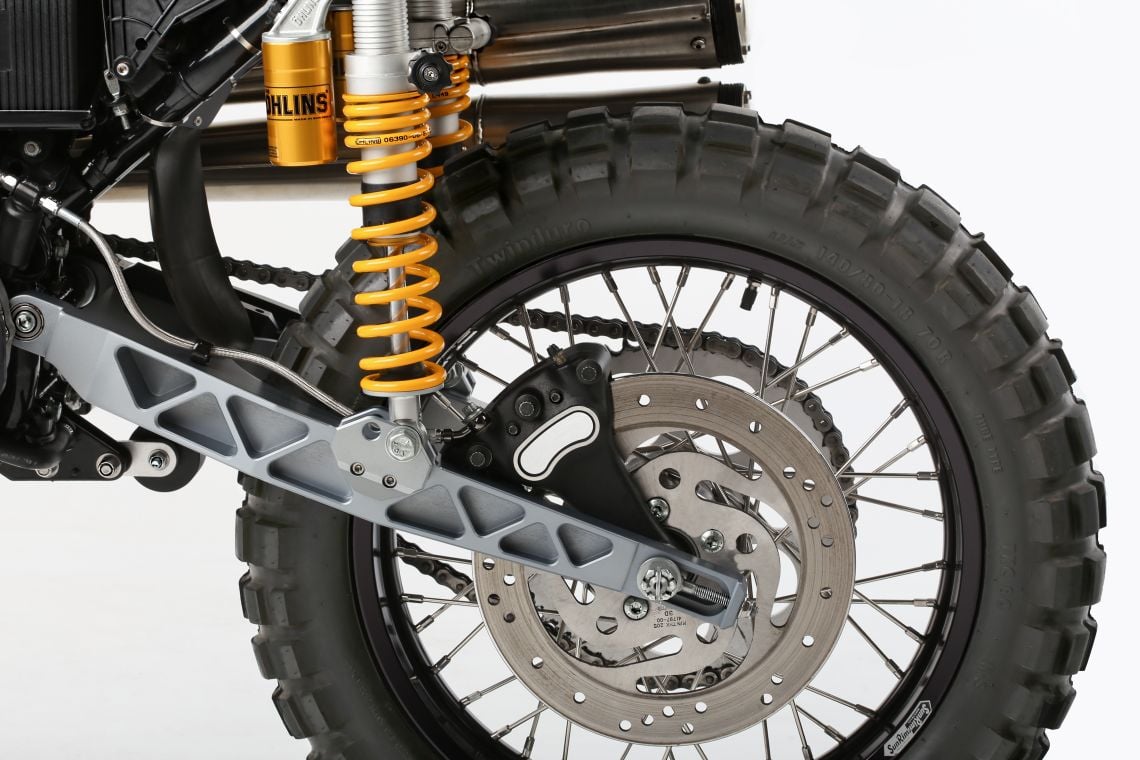 Spec'd in components include: Ohlins suspension front and rear, Supertrapp 2-2 exhaust, Trail Tech 55watt halogen headlight mounted with custom billet aluminium brackets, 18"/21" wheels from Buchanan's with Sun rims, Talon billet aluminium front hub, Storz billet aluminium rear hub, RK Pro 530 o-ring chain conversion, Braking 320mm front rotor and 32mm dual pot floating calliper, Oberon adjustable levers, Acerbis rear fender extension and LED brake light, EDS LED blinkers, and Biltwell handlebars.
What makes a Harley a good starting point for a dual-sport bike?
The Sportster motor has good torque, an integrated transmission (unlike the bigger HD's), is relatively narrow, is reliable, and its parts are readily available worldwide. The Sportster frame was also a good platform to start from because it easily accepted off-road triple clamps and bearings without any modifications, it is already strong, and the geometry worked well for what I envisioned.
How long did it take to complete?
Two and a half years.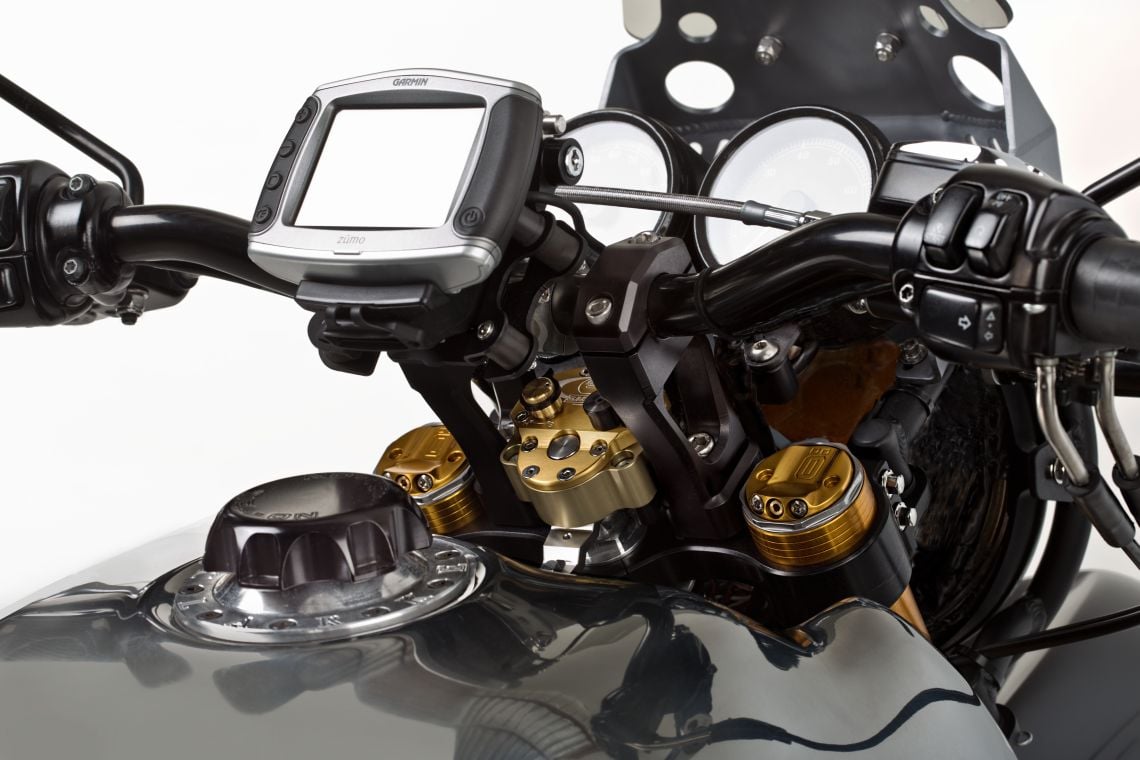 Biggest challenge?
Getting started, because it took a while to get the geometry where I wanted it. I did several designs, checking the look and feel and calculating the CG and combined rider and bike instantaneous force centre each time in the CAD software. Once that was sorted out, the rest was just hard work.
What's the exhaust from? (could you explain what a spark arrestor is and the need for one)
The exhaust is a Supertrapp 2-2 pipe made for the Sportster. Anyone can buy one from Supertrapp as is. The Supertrapp has a stack of discs at the exit of the mufflers that work as a spark arrestor due to their close spacing and also as a means to tune the motors torque profile. The fewer the discs, the more back pressure & torque. Since this is a dual sport and ridden off road, I wanted a spark arrestor to prevent starting any fires.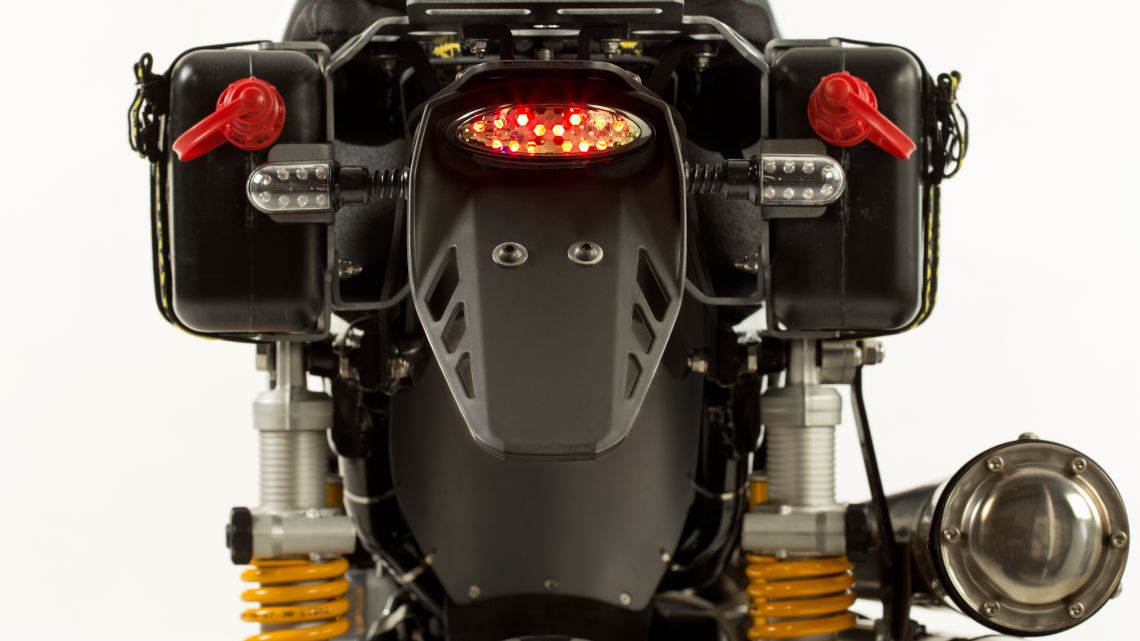 How does it ride (in comparison to other bikes you've ridden)?
The bike handles great on twisty roads, is very planted in the turns, and at higher speeds on the freeway because of its generous rake and trail, and because it has a steering damper. Off-road, the bike works better than even I expected. It feels agile and does great in the soft dirt. Compared to some of the other big dual sports I've ridden, it holds it's own off-road and does better than the heavier ones in the soft conditions. I've surprised many people on local dirt bike trails when they see me keeping up with them, or passing them, on this bike.
Why aren't HD building something like this themselves?
Good question. I'd like to talk to them to find out. I think if they did build one (using my design – haha) in production at a good price, they would sell pretty well and they'd sell all over the world.
Do you think they ever will?
I hope so. I'm optimistic. If Harley-Davidson had designed and built this bike, I would have been the first to buy one.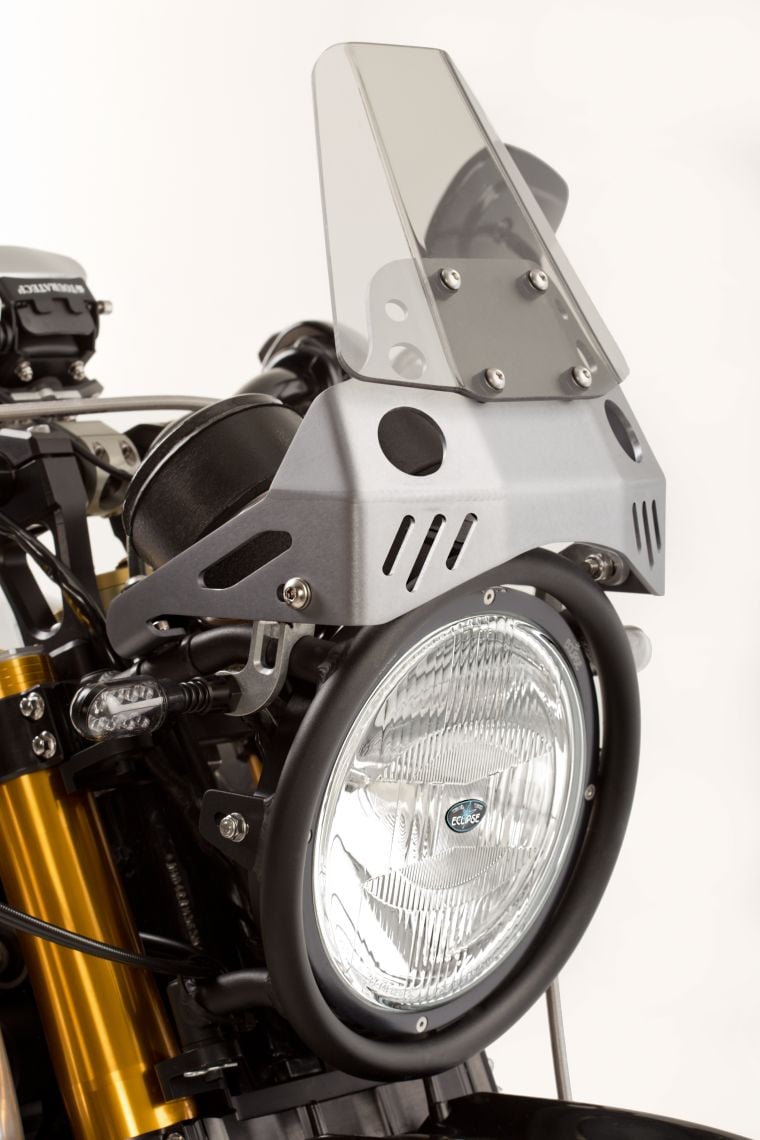 How much would the bike cost to replicate/to buy?
We are working on the pricing now and we plan to make the conversions available in very limited production. Someone will need to provide the donor bike, and we'll do the full conversion.
Has it turned out the way you hoped it would?
Yes, and more so than expected. I'm very pleased with how it works off-road and that was my primary goal. Making a good looking bike was secondary and, as with all 'art', opinions on the look are totally subjective.
Where does it go from here; Scrambler for example?
I'm working on a few more things such as an exhaust that is more dual sport-oriented and some soft pannier racks. Then I may play with the idea of a super-motard version. We shall see. I'm also contemplating a two-up version.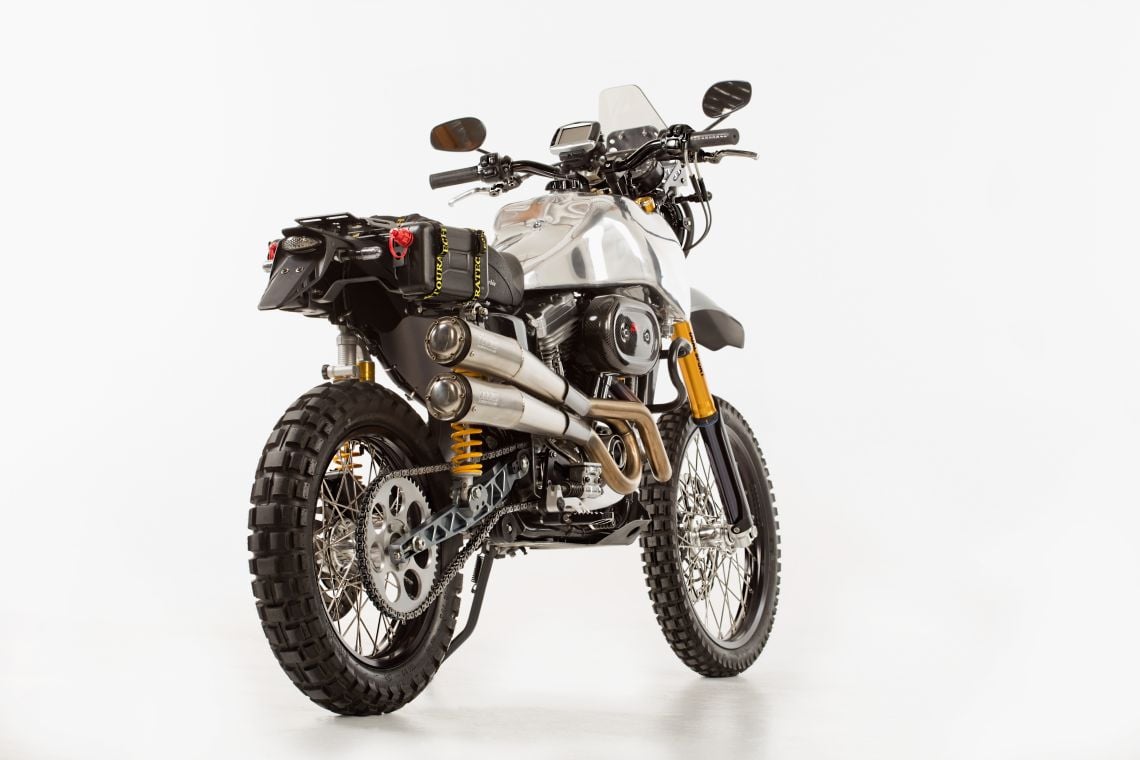 Tell us about the swingarm. What is it made from, using what method and how does it differ from the standard?
The swingarm is a truss design for strength versus weight. It is CNC cut from a single large piece of 7075 billet aluminium. The shock mounts are also cut from billet 7075 aluminium and they bolt onto the main part of the swingarm. To obtain the geometry of the bike with rear-wheel suspension travel of eight-plus inches, I had to extend the swingarm four inches longer than a stock Sportster swingarm.
---
Specs
Power: Never dyno'ed, so not sure
Weight: 215kgs without fuel Tank range: ~240 miles
Seat height: 35.5 inches without a rider
Wheelbase: 63.5 inches
---
Tell us about the tank?
The goals for the new tank design were: six gallons minimum for a 200+ mile range, keep it narrow in the front for standing while riding, keep the mass as low and forward as possible, and follow the natural contour of the motor. For the material, I considered rotationally-moulded plastic as it is tough and suitable for dual sporting, but the tooling costs were very high, so I opted for a prototype tank of 1100 aluminium. I designed the gas tank with 3D CAD. The tank shape was a form-follows-function type of design. I had a local shop create a Styrofoam mock-up tank cut in Styrofoam via CNC using my 3D CAD model. The Styrofoam model of the tank was fit tested on the bike.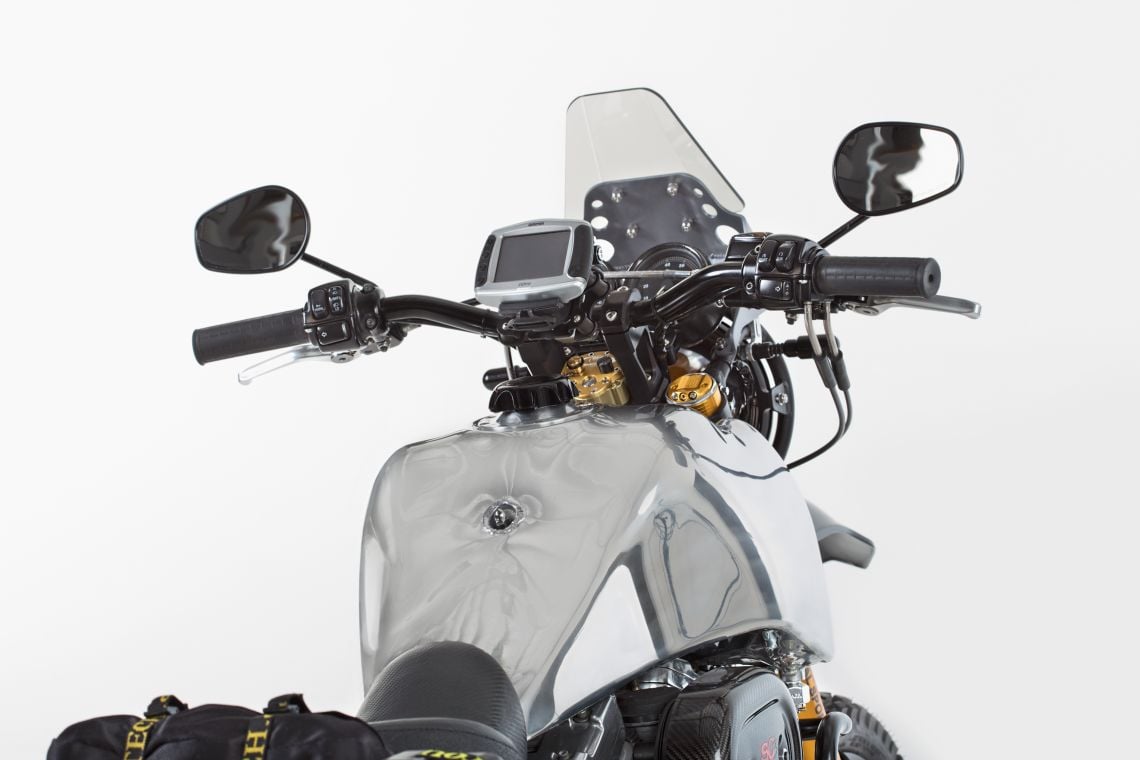 A few tweaks of the Styrofoam were needed to perfect the fit before I contacted Evan Wilcox who is well known for his expertise in hand forming of aluminium for motorcycles. It took a year to get a slot but when I did I took Evan the bike and the Styrofoam mock-up, which he used as a guide to make templates for cutting the sheet aluminium. He added some curves to the tank and made it look even better, with the finished tank having a 6.3 gallon (US) capacity and dual Pingel petcocks, right and left side.
What about the engine?
I used the 2003 883 Sportster motor to start with. The 1993-2003 models are hard mounts, which I thought would be a better option for the more off-road biased dual-sport riding, as compared to a rubber mount motor. The hard mounts are a bit lighter and you feel more connected to the bike. I wanted a bit more torque for highway riding though, so it now has a 1250cc kit modification and some Andrew N4 cams and jetting on a stock carburettor. Pros of the Sportster motor are plenty of low-end torque, it is narrow, and it is a back-to-the-basics reliable motor – air-cooled, with hydraulic pushrods that don't need adjustment, and it is carburetted. All those features mean there is less to go wrong or break out on remote trails.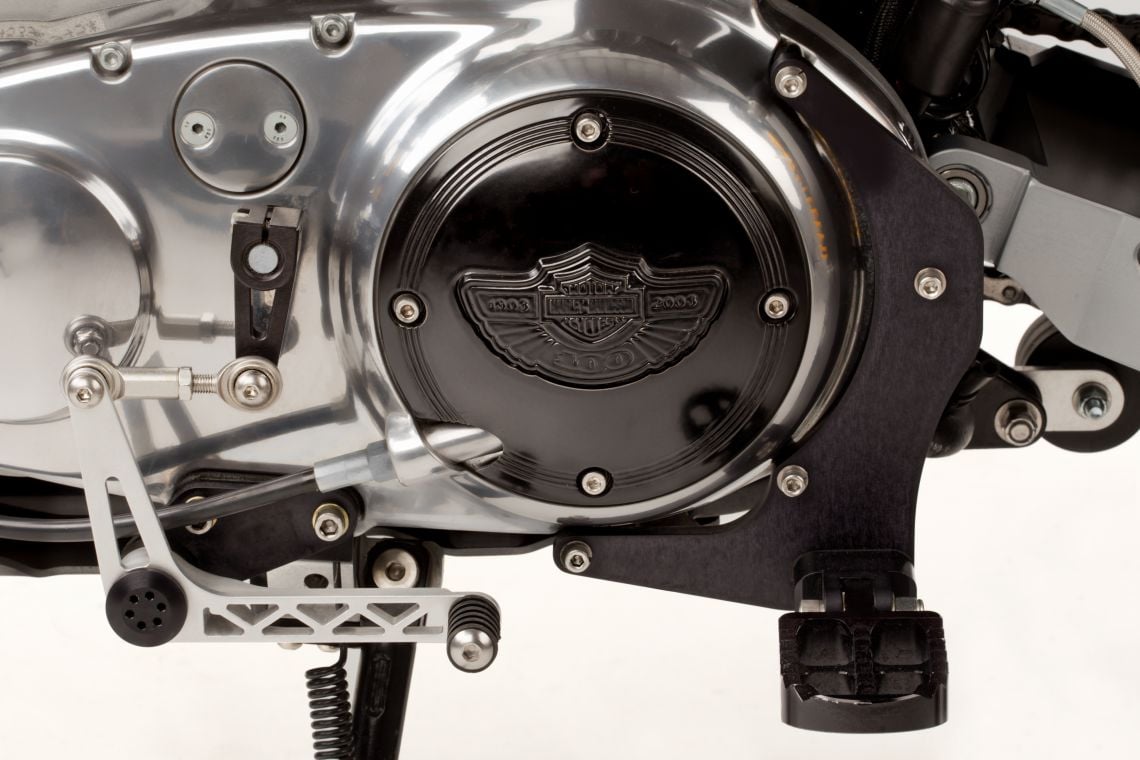 The other pro is that I love the sound and feel of the Sportster motor. The most obvious negative is that the motor is top-heavy and it's a heavy motor in general. We all know that, and I don't try to gloss over it. The interesting thing is that when riding the bike, you don't feel this top-heaviness. It feels very agile on the road and on the dirt trails, much more so than my BMW R1200GS Adventure. I think the difference may have something to do with the V-twin motor, the direction it is turning, single pin crank, or those plus other factors.
What's the process for making the bespoke hangers and brackets?
I had to start with the overall architecture of the bike before making any of the components. I spent a few months getting the geometry, CG, and the positions of the bars, footpegs, and seat right. Then I did a detailed 3D CAD design of the components. The skid plate took maybe a few days to design and then a few weeks to have it fabricated at a local sheet metal shop before it was anodized. Since I contract with other shops to do the sheet metal and CNC machining, there's usually a queue to wait in before your parts are made.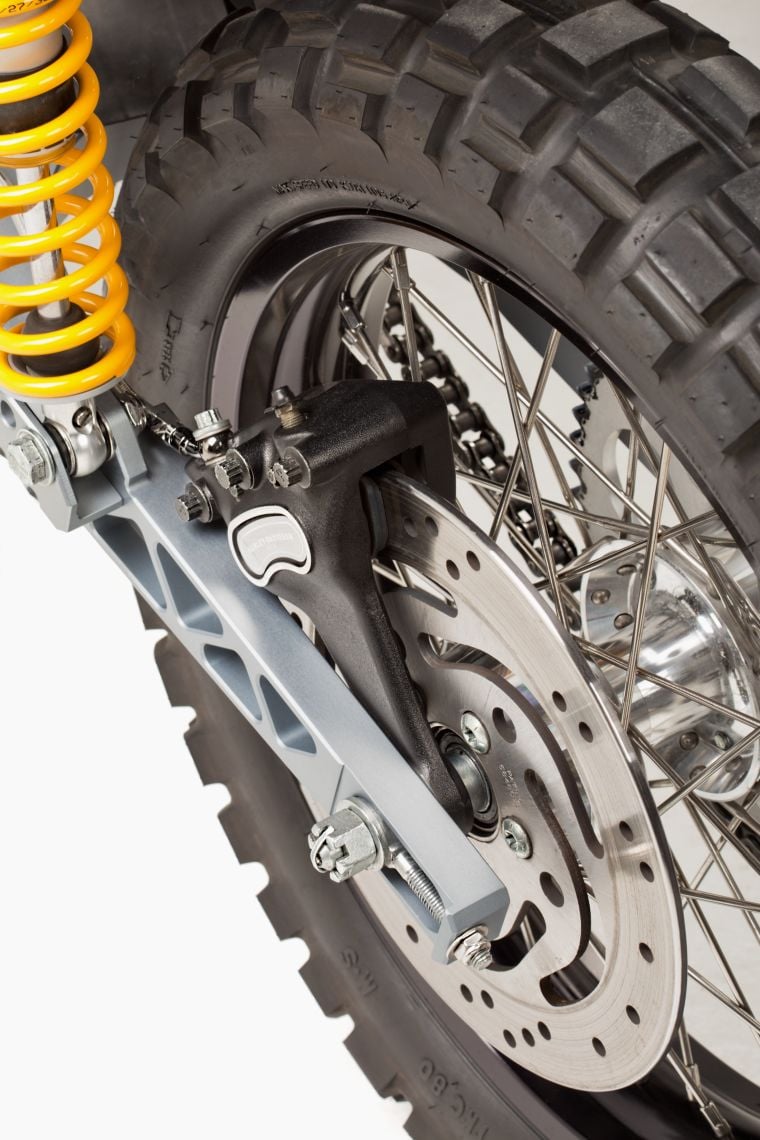 Is it finished or are there still things to improve/change?
It is close to being finished. I'm currently making a new exhaust that will be a 2-into-1 low pipe and have a Leo Vince muffler with a spark arrestor. The current mid-pipe makes it difficult to stand while riding due to the pipe being close to your right leg. While it is possible to ride that way, and I have been, it's not great for long periods of time. I'm designing side racks for mounting soft panniers. I'm also considering designing some different footpegs and shift and brake levers that will be more 'crash' worthy… because we all know dual sport riders occasionally crash. After that, it's done.
Having spent so much time on it, and it being so precious, do you feel nervous riding it?
Yes, I do a bit when riding it off-road, mainly for two reasons first and foremost, I just don't like crashing anymore. Even with slow falls, you can get hurt. I had a pretty bad accident dual sporting a few years ago that did some major damage to my left wrist (hand came off my arm basically – made for a cool x-ray picture), so that took some extensive surgeries and rehab. The other reason is that I don't want to damage that beautiful Evan Wilcox Aluminum gas tank. I know he could repair it, but I don't want to go there.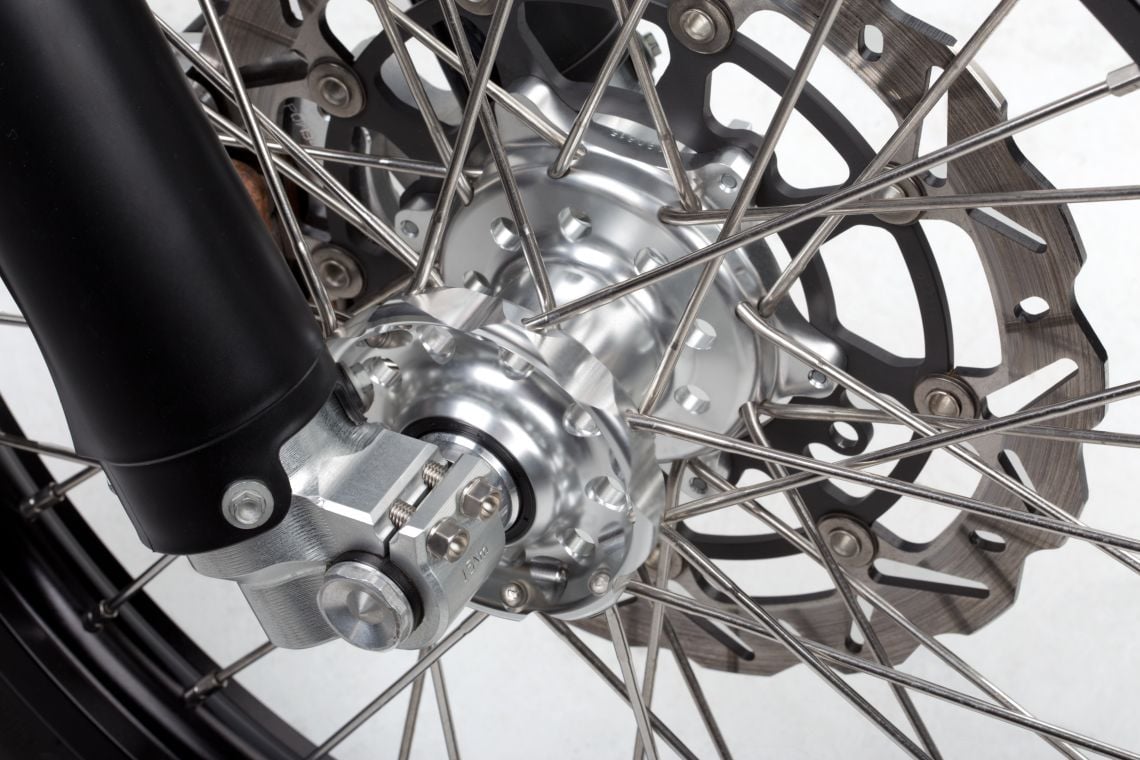 I think I may have mentioned this in the questions but were are considering also doing a plastic version of the tank that's more dual sport worthy. That said, I still tend to ride pretty fast off-road – it's just too fun not to. I just try to keep it with my abilities now and I always wear a carbon fibre wrist brace. I know eventually, it will go down, so we'll see then how it fares. It needs to be able to take a reasonable drop and still get you home. The shift and rear brake levers are my main concern, but I have ideas to improve on them if needed.
Are you surprised by the reaction the bike's had?
Yes, I am very surprised by the amount of interest in the bike and I'm also surprised by the mentions it is receiving all over the world. I'm not at all surprised by the different opinions. Some love it, some don't. I knew it would be a controversial build. Harley Davidson and 'Dual Sport' don't usually go together in the same sentence. I see the SC3 Adventure as a bridging of cultures, and there's usually controversy when that happens. I'm not the first to build a bike that bridges these two cultures – check out RTWdoug on ADVrider who has definitely proven the concept that a Sportster can be ridden off-road in remote places, i.e. his recent travels to Magadan and the Road of Bones!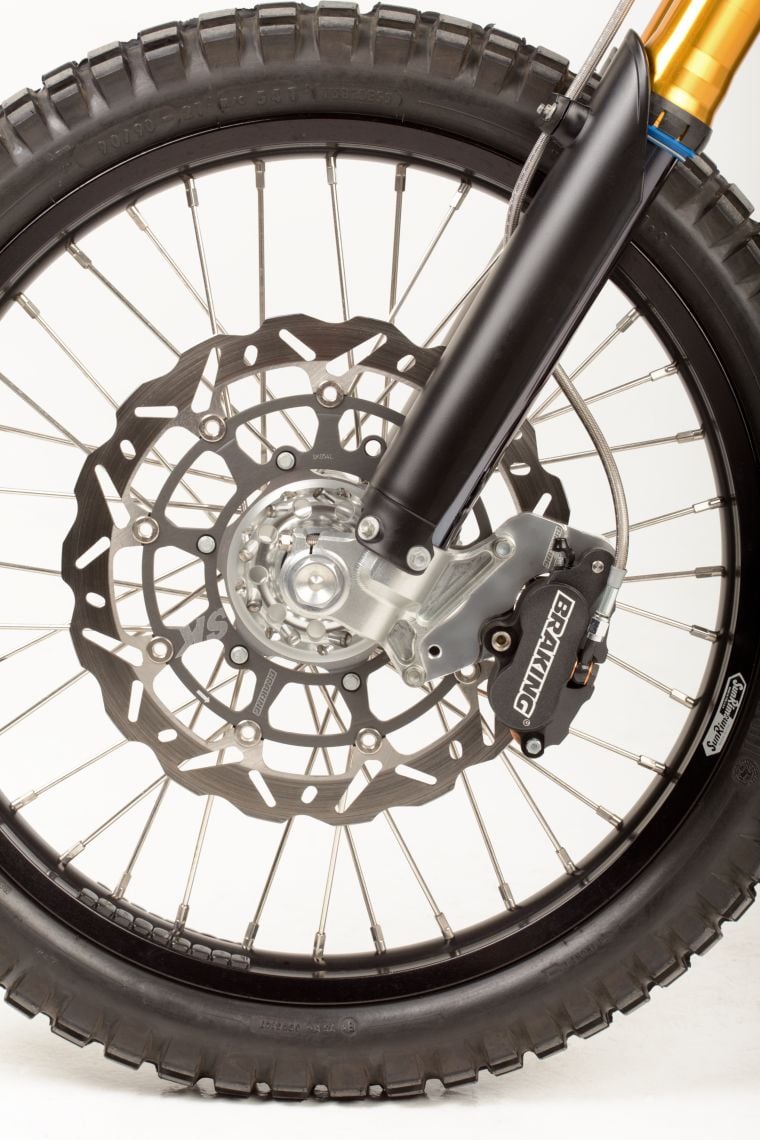 Thoughts on the current state of the 'adventure' bike market; what it's missing, what it needs?
Great dual sports keep coming out into the market! I really like the new 800's, they are getting better each year. I wish BMW and KTM would have continued developing the HP2 and 950SE. The market is missing a more elemental, unique, American big bore dual sport by H-D, so I filled that gap.
Jim would like to thank the ADVrider.com community for their input into the project.