In an age of big bike hype and hysteria, Nathan Millward looks at a bike that might just have slipped under the radar had it not been for the ride up to Scotland and back…
We seem to have said a lot in this issue about what constitutes an adventure bike and how the industry is busy trying to define it. Austin Vince got the ball rolling by telling us we're buying the wrong bikes, and more importantly, the manufacturers are selling us the wrong bikes.
The 800 GSA test then suggests that perhaps we've reached a point in terms of size and scale where sooner or later bikes like the CCM – tested a few pages later – will start to make more sense. Even Ducati's attempt at an adventure bike left Alun wondering just what such a thing is in reality. And then there's this; the Honda CB500X; 'Affordable Adventure', speaks the marketing text. But what is it really, and is it any good?
The bike is actually part of a family of three; there's the CB500F, the R, and this the X. The F is the unfaired street bike of the three, the R is the race-rep with the full fairing and narrow dropped bars, whereas this, the X, comes with higher, wider bars, 20mm extra travel in the front and rear suspension (giving the X more ground clearance than the other two), a seat height of 810mm (25mm higher than the other three), and a fuel tank 1.6 litres bigger – to give a total of 17.3 litres – good for a range of up to and possibly over 250 miles. All three bikes use the same engine and frame.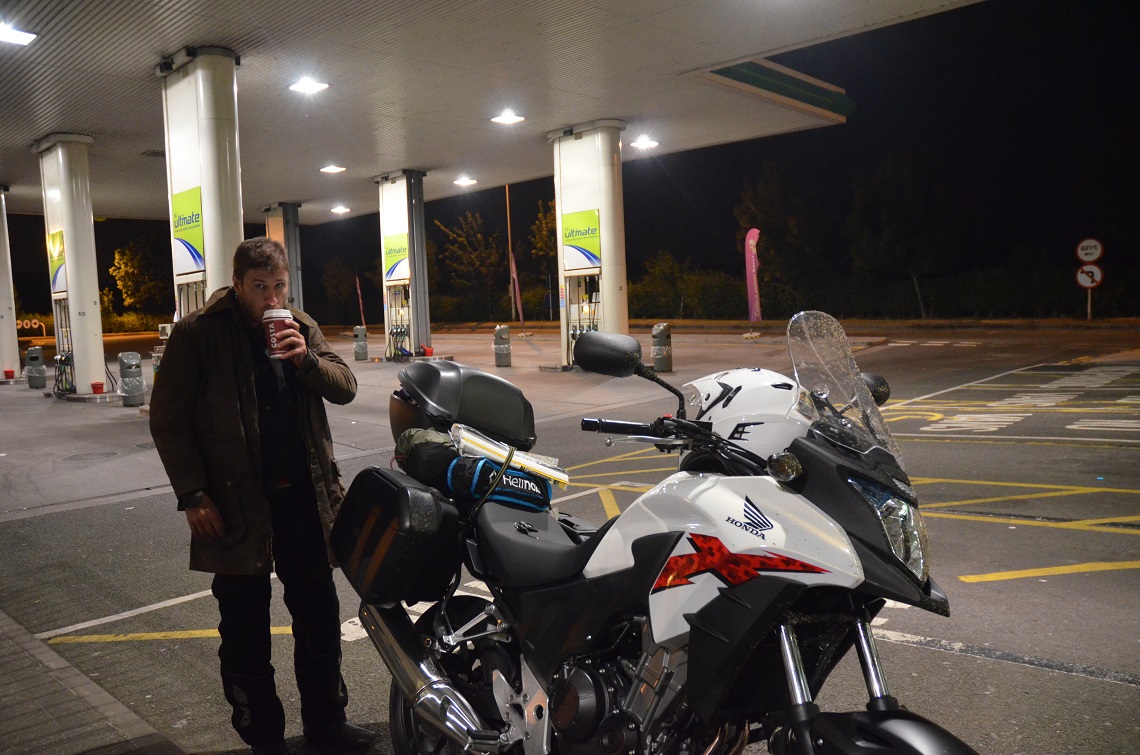 This is actually the bike that we rode up to Scotland on to do the BMW tour. In each direction (from Slough to Edinburgh) it was a distance of around 400 miles, on the way back down that being done between the hours of 8.30 at night and 3.30 in the morning when it was a simple case of getting there as quick and as safely as you possibly could. It was then nothing more than the transit bike of the feature, booked simply because we'd not ridden it ourselves and in having such a decent distance to cover it was necessary to have something economical in order to keep expense claims low.
I didn't expect much from the bike. I wasn't particularly looking forward to riding it and in a way it has kind of slipped under everyone's radar; a 471cc Honda, 47bhp, faux-adventure bike styling and a price tag of just £4,950. They aren't exciting statistics. But I have to say, having racked up those miles to Scotland and back, it's a bloody good bike.
First thing's first the price. For five grand you're getting a bike with a decent enough turn of pace, a comfortable seat, good fuel economy figures (though not quite as good as its stablemate the NC700X) and styling that whilst not cutting edge is certainly handsome enough to bring admiring glances, especially in this white with dynamic red 'X' splashed across the front fairing.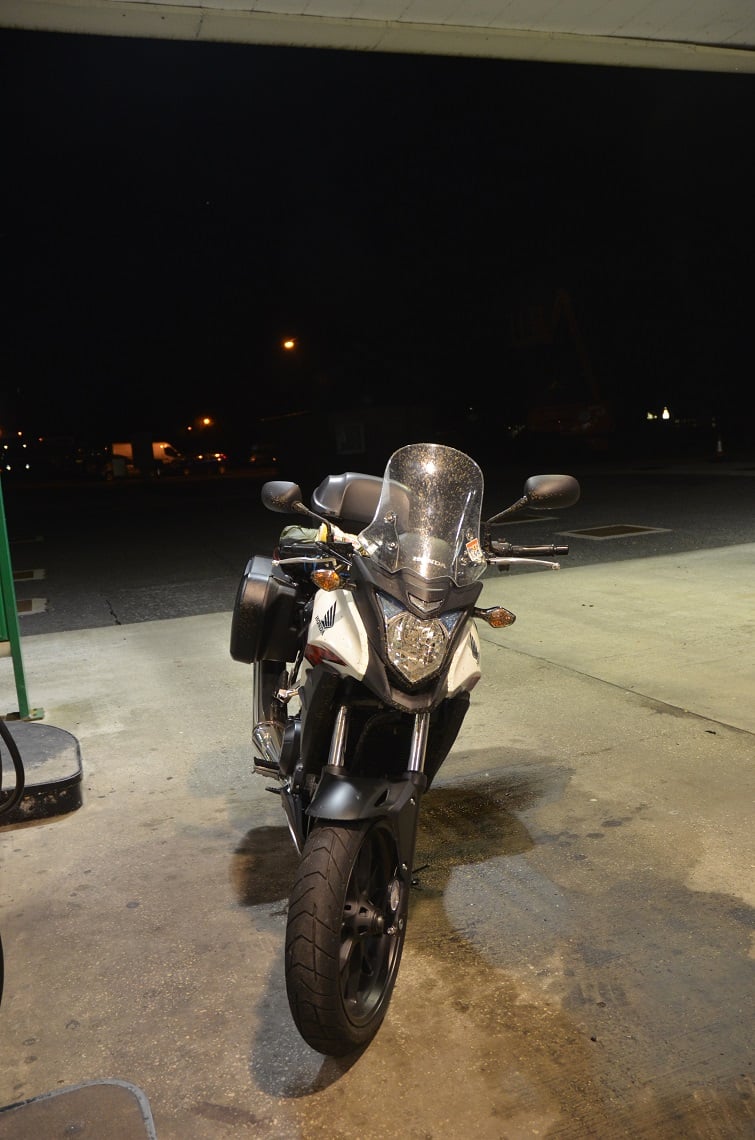 It also feels well screwed together, with this range of bikes being the first 'big' engined bikes to come out of Honda's factory in Thailand. It's part of the reason that the retail price is so reasonable; construction costs were low. Some testers have reported back as not liking the fuel cap as it has no hinge and instead detaches completely leaving you to find somewhere safe to prop it whilst you fill up the tanks.
There's also a lack of gear indicator (six) on the instrument cowl, and no button on the switchgear to scroll through the various information readouts. You have to reach forward to the instrument panel itself, which becomes quite instinctive after a while. These are all niggles really, the only serious complaint aimed at the bike so far has been the surprise first service after only 600 miles – to have the valve clearances checked – at a cost in the region of £250 to £300. Service intervals after that are every 8,000 miles, with Honda assuring us that service costs average out over the long run after that first one has been done.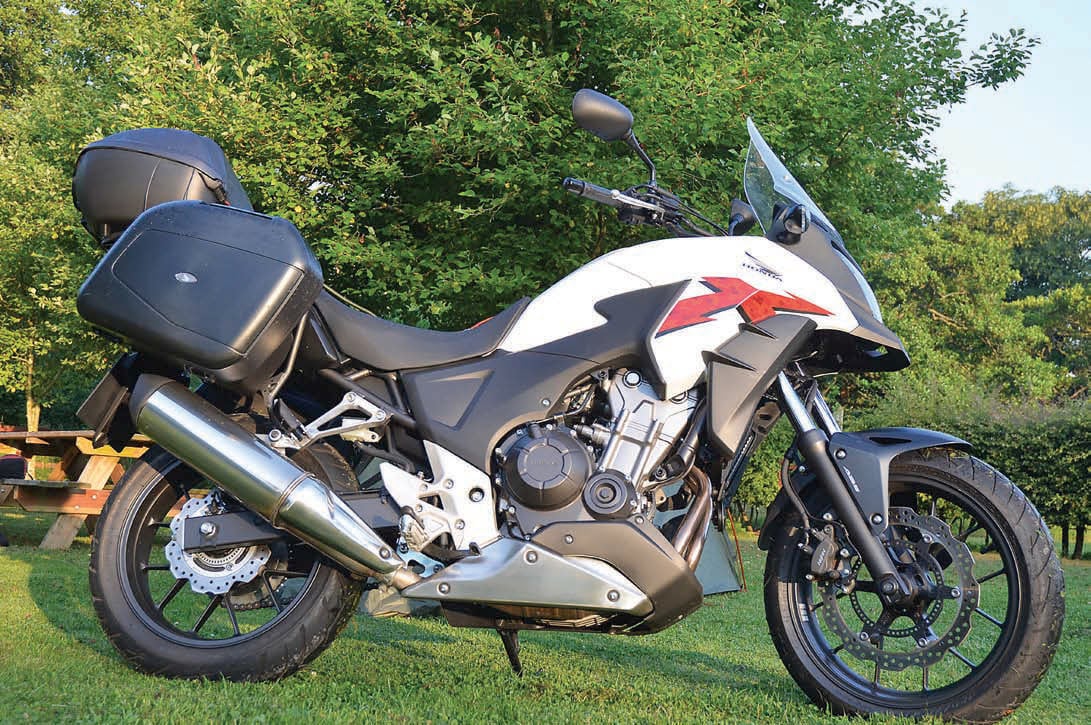 This comes as a consequence of an all-new engine; a 471cc liquid-cooled parallel-twin producing an A2-class friendly 47bhp and 43Nm of torque. For anyone used to riding big bikes this will certainly not feel like a rocket ship by comparison. What it will feel is smooth. Unlike on the CCM and the BMW where the engines in those are sometimes noisy and intrusive when you least want them to be, on this you can barely hear it over the sound of wind noise, and when you go to accelerate it does so with no great drama, vibration or noise, instead the delivery is smooth and linear, the only time it found wanting when you're cruising at eighty on the motorway and go to overtake something or accelerate around something and there's just not that much in reserve, though it will cruise at 85mph and return almost 62mpg as it does so.
The screen isn't massive so you do get some buffeting, but not a lot. The seat was good for those almost continuous seven hours down from Edinburgh and at a slower pace than motorway, you could easily creep up to 70 miles per gallon in terms of fuel economy. ABS also comes as standard, whilst the top box (£420) and panniers (£673) worn in the pictures are optional extras. Being sideloaded and contoured to fit around the shape of the bike they didn't hold a great deal, with that endless frustration of things falling out before you've had chance to close and clamp the cases. More positively, their quick release system is simple and easy to use, coming in handy at four in the morning in the rain.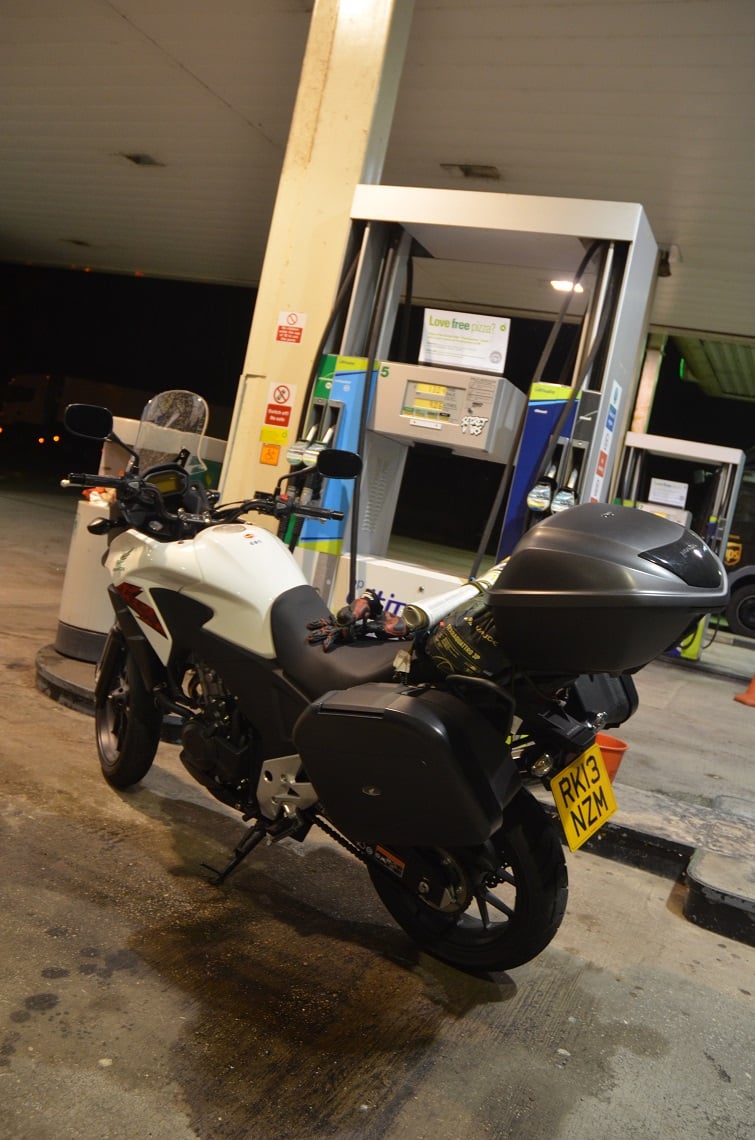 It was interesting on this trip to compare the way in which this bike and the 800 GSA carried the same amount of load. On the BMW I could get everything, including the tent, roll matt and fold-up chair in the side panniers. On the Honda, I couldn't, meaning that I had to strap the bulkier, longer items across the pillion seat, therefore in an instant ruling out the Honda as a two-up weekend camping machine. Moments like these the big bikes make a lot of sense.
But then this isn't really that type of bike; it's as much as a commuter bike as anything else, the faux-adventure styling just giving it a bit of extra height and kudos in an industry where the only sector that seems to be growing is the adventure sector.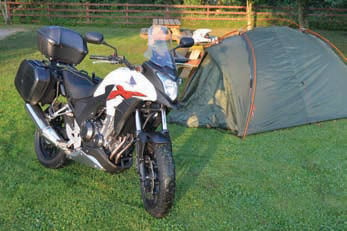 What was most interesting was getting off the big BMW at the end of the 1,000-mile loop of Scotland and jumping straight onto the Honda for the long ride back to Slough. Despite only weighing 33 kilos less (196 versus 229) The CB500X felt tiny by comparison to the 800 GSA; it was like I'd climbed aboard a child's bike and the proportions were all wrong.
I was lower to the ground, didn't have as much bike around me, or ahead of me, and as a result, I felt quite vulnerable for the first few miles. It perhaps hints at why the big adventure bikes have become so popular; they make us feel safer, more imposing, more dominant on the road (like a 4×4 car perhaps). Whereas on a smaller bike such as the CB500X (5′ 10″, both feet on the floor) you're back down to being at the bottom of the food chain. It took some getting used to.
After a few miles though you soon remember the simplicity of riding and what it's actually all about; cruising down a valley road (the A7), dropping into corners without having to worry about counter-steer, weaving around manhole covers for the fun of it, working the engine hard to get it up hills and feeling once more part of the scenery and not sat above it, happy to leave the expectation of adventure behind.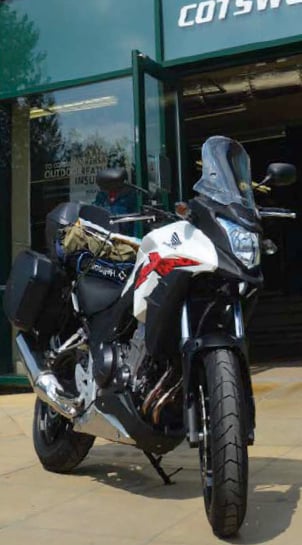 Saying that what with its sweet engine, seat comfort and fuel range, it did leave me wondering just what it would take to turn the CB500X into a 'proper' go-anywhere adventure bike.
And to answer that, I asked Jim Carducci, the chap who modified the Harley back on p22;
'What would I do? To make it more off-road capable, I'd start with a set of TKC80 tires, remove the low front fender and lower plastic, and add a carbon fiber exhaust muffler, an aluminium skid plate, and some handlebar risers for better standing position. Those basic changes would make it look more like an aggressive off road'esque dual sport.
To take it to the next level and make it a cable off-road dual sport'er, I would remove as much of the plastic as possible to expose that diamond-shaped steel frame! Th en I'd add 17"/21" spoked wheels and more suspension travel. I'd shoot for 8" rear and 10" front suspension travel by extending the swingarm a few inches and use a longer travel rear shock, trim the rear mud flap, and use USD forks upfront with 10" travel and a high fender.
Pull the front fairing off – completely – and install a Baja style headlamp & small minimal windscreen. To finish it off, I'd have some custom hand-formed brushed Aluminum pieces made to fill in the cavities on the tank where the fairing used to be.' (Jim Carducci) 
---
Quick Spec:
| | |
| --- | --- |
| Model: | Honda CB500X |
| Price: | £4,950 |
| MPG: | A realistic 65mpg |
| Range: | 250 miles |
| Power: | 47bhp @ 8,500rpm |
| Torque: | 43Nm @ 7,000rpm |
| Transmission: | 6-speed, chain drive |
| Seat Height: | 810mm |
| Weight: | 195kg |
| Wheels: | 17" front and rear |
| Colours: | red, white, black |
---
How versatile is the Honda CB500X as a…
■ Commuter?
Definitely. The bike feels light and manageable, the riding position is comfortable and the fuel economy is good. The only minor criticism is the first 600-mile service to check valve clearance, coming in at around £250. Service intervals after that are every 8,000 miles.
■ Weekend tourer
On the non-stop stint down from Edinburgh, the bike was spot-on. Not too much wind buffeting, the engine happy at 85mph, the bike comfortable and the luggage carriers big enough for a weekend away.
■ Off-roader?
Not in current guise, but see main text for suggestions.
■ Continental road cruiser?
No reason why it couldn't be. The range is at least 200 miles, some claim as many as 300 if you take it steady. Quick-release clips on luggage also add convenience at accommodation rest stops. 'Low' power encourages a leisurely pace, which could be good.
■ RTW overlander?
It'd be no more compromised at times than any other bike. You might want to wait until the bike's all-new parallel-twin has endured some road miles just in case it unearths any gremlins.
■ Pillion carrier?
Didn't get tested for this. Can't see it being a problem, just the issue of luggage capacity as per main copy.
■ Nipping to the shops?
Light, easy to manoeuvre, perfect for parking in tight spaces.