ALASKA ALL THE WAY
Having ridden 33,000 miles from Sydney to Seattle, Nathan Millward makes the final push north to journey's end…
'Watch out for the bears up ahead,' said the lady at the gas station as I paid for my fuel. 'They've only just come out of hibernation, they'll be hungry, and there's not much food around so they might take a liking to an Englishman on a motorbike…' 
I'd heard so many scare stories about bears as I prepared to ride through Canada and into Alaska. I'd even read a book called Bear Attacks that advised you on how best to avoid them, and how painful it would be to play dead whilst they eat you and gorge out your eyes. Play dead until the bear stops eating you and walks away, advised the book as a way of making you feel better. 
It was all quite sobering really, especially as the bike I was riding could only do 37mph and the top speed of a bear is rumoured to be forty. So in a way I was a sitting duck, riding the next hundred miles the lady had warned me about in a total state of alertness, waiting for the trees to rustle and a big grizzly to come bounding out and eat me. It never came, and so quickly I learnt that half of our fears in life are fable. 
I'd learnt many other things on this journey across the world. I'd learnt that it takes 23,000 miles and nine months to ride from Sydney to London on a 105cc Australian post bike (a Honda CT110). I'd also learnt that once you've done one trip you're never completely satisfied, you always want another one, and another one, if only to prove that the last one wasn't a fluke.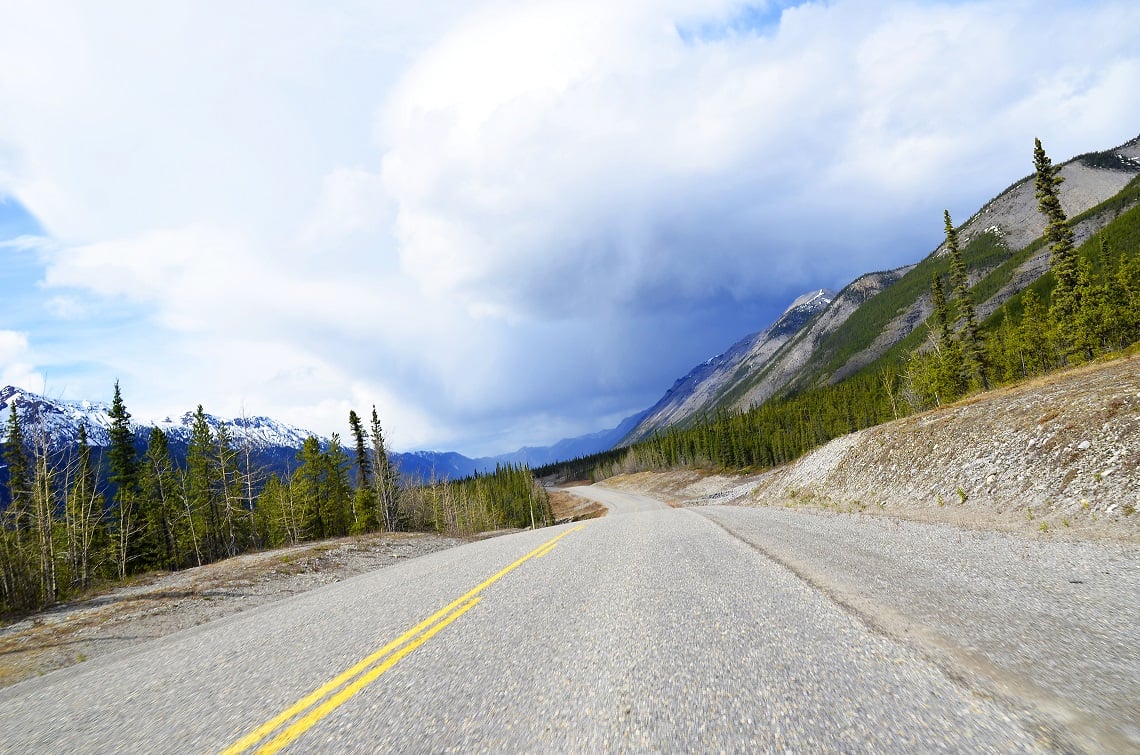 You also find yourself increasingly missing the isolation and freedom of the open road. It really is an addictive place to find yourself, when you're sat alone on a motorbike in the middle of nowhere, no clue as to where you're going to sleep that night, or eat, or who you're going to meet around the next corner; there is no better feeling, a feeling of being alive. And then you get home and you get a job and quickly you realise that this modern life we've created isn't all it's cracked up to be. 
It was for these reasons that having ridden it from Sydney to London I put the same bike on a plane from Heathrow to New York (£600) and continued to ride it across the guts of America, having to take all the back roads, through the ghettos of Detroit and Chicago, the hick towns of Kansas and Missouri, simply because I was too slow to ride the interstate. 
This was a blessing really, as it meant that I had to meet people, and see things, and engage with the world of America around me. I was blown into the weeds by the big rigs across the midwest, I had to physically push the bike over the Rockies thanks to a lack of power, then worry about it breaking down in the midsts of Death Valley. 
There are certainly compromises and pitfalls to travelling on a small slow bike, but there are good reasons to choose one too. They force you to slow down, and when you're the kind of person who enjoys the thrill of the chase, that factor is quite important. On a 'proper' bike I would have tried to ride across the world in a week, such is the joy I get from running.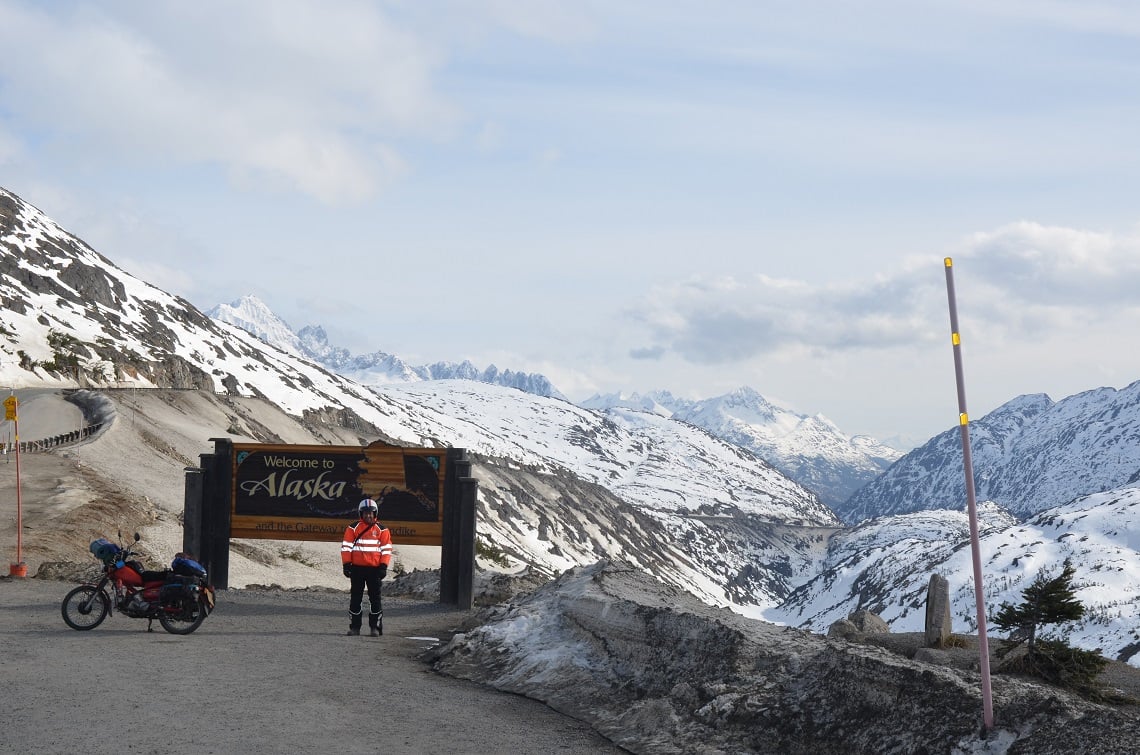 I made it to Seattle in the early autumn of 2012. I considered pushing north to Alaska straight from there but figured I'd missed the window of opportunity for that year and so left the bike in the garage of a couple I met on Facebook. I went home and worked in a factory that made cardboard boxes. Six long winter months passed, scraping together the cash and the inclination to return to America and make that final push north to the top of the world. This time I would have to be better prepared. It would be cold, lonely and isolating up there. The bike by this point was also well past its best. I'd bought it as a retiree from the Australian Postal service 33,000 long miles ago. In that time she'd needed nothing but consumables; oil, tyres, spokes… new piston rings in England. 
Before pushing north I had the back wheel rebuilt in Seattle by a guy that used to work for Boeing, him crafting spokes so thick you could have landed a 747 on them. I also put a new piston in to try and cure the loss of power (7bhp to start with), learning to do a top-end rebuild as I went. And that was that time for the final few thousand miles of this journey across the world, after almost four years of trying (not all of that time riding). It had been a period of highs and lows, tears and laughter. Certainly don't get swept away by any of the 'glamourous' photographs you see in this magazine. Generally speaking, behind each photo is a man, or woman, on the cusp of breakdown, holding it together just long enough to make it to the next moment of respite. Adventure born out of desperation; it seems a running theme amongst the people who do this sort of thing. 
My journey now would take me north from Seattle, over the border into Vancouver, then Whistler, then on through British Columbia all the way up to Dawson Creek, the town that marks the start of the Alaskan Highway, a formidable 1,700 mile artery through Yukon Territory, it finally spitting you out over the border in Alaska, at Delta Junction.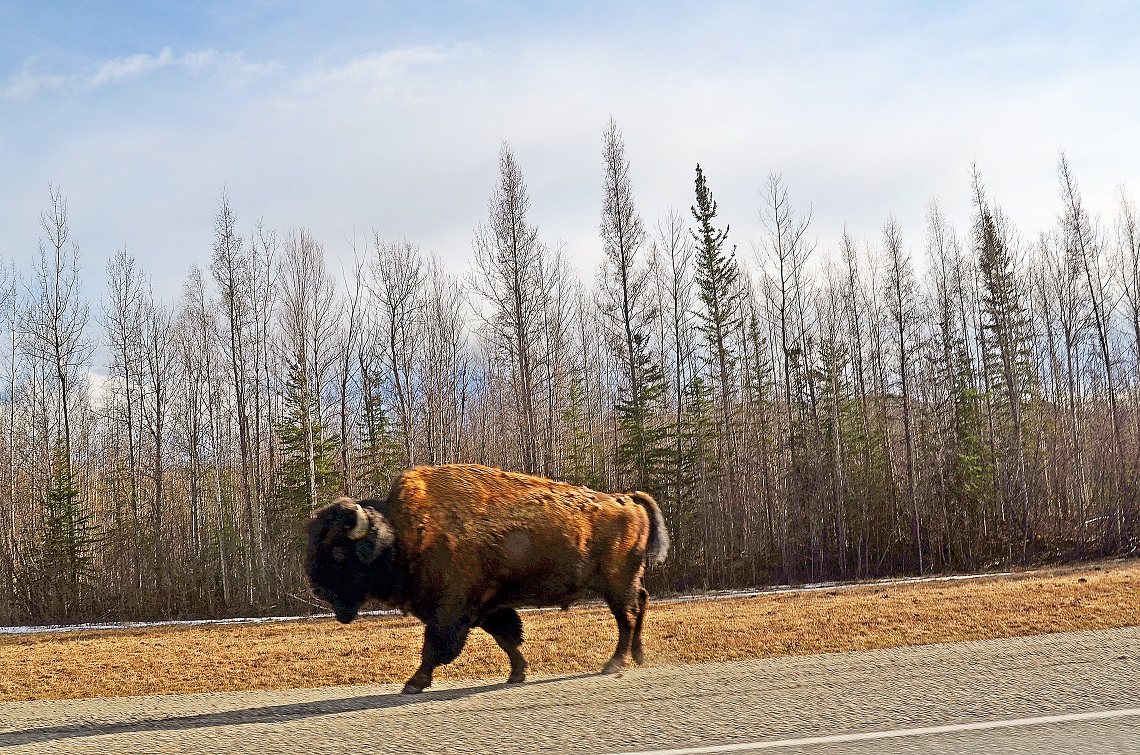 This being early May it perhaps wasn't the ideal time to be riding the road. It was colder than I would have liked, and with spring said to be breaking late this year a lot of the campsites and tourist facilities weren't going to be open. But on the other hand, try and do this route in the middle of summer and whilst it might be warmer there's much more chance of rain, so too is there much more tourist traffic – processions of motorhomes – and mosquitoes that attack in swarms. 
The crossing into Canada was a formality. 'Where are you going?' Alaska. 'On that?' Yes. 'Have a nice day'. And off you set. No need for a carnet or complicated documentation. Riding North America is one of the easiest – in bureaucratic terms – places you can head. The only tip is to have everything clear in your mind as you approach the border agent. Know who you are, where you're heading, where you're staying that night, when you plan on leaving the country, what you do for a living, because any hesitation on any of those questions is what brings further probing. It is intimidating. Borders always are. Especially on a bike trip, simply because they hold the power to ruin everything. But stay calm and be polite, and you'll be fine. 
The further north you go the more spectacular it gets. There's a stretch just north of Whistler as you make your way towards the town of Prince George that is sensational for the way you climb up steep mountain roads, before dropping down along the shore of magnificent cool blue lakes, like the one on the opening picture. Many of the people around here are Native Indian, a pleasant surprise and one that gives the area a real laid back vibe.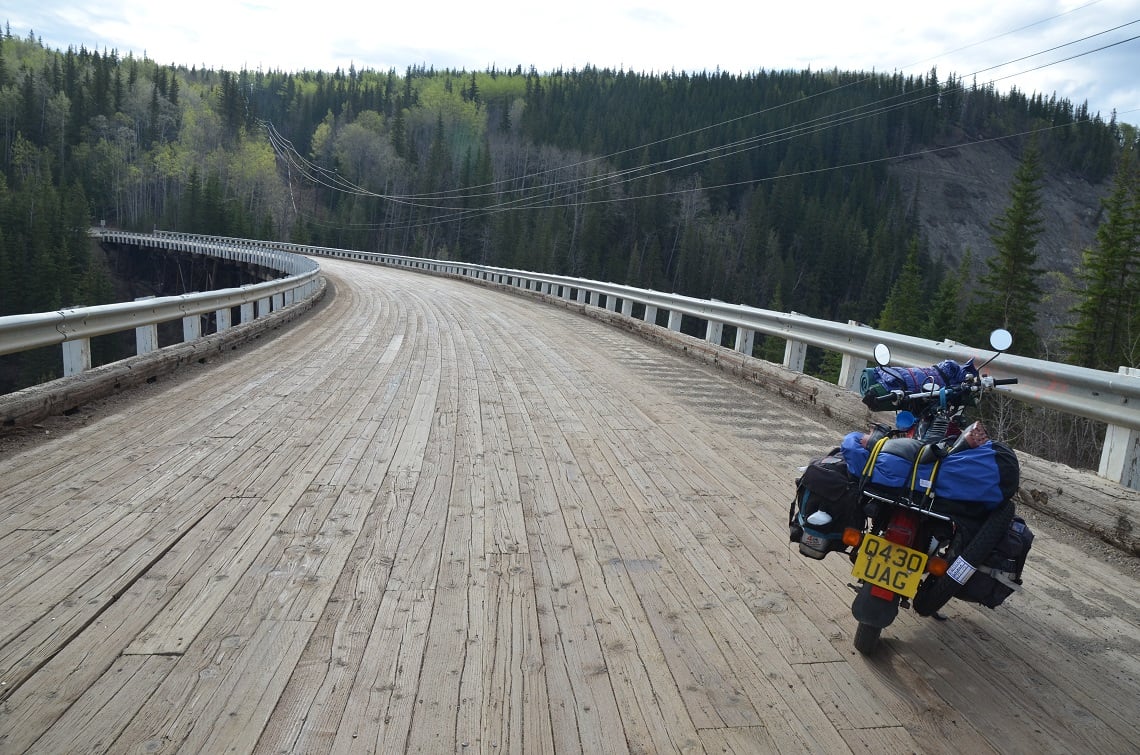 A man at a gas station gave me a can of bear spray, a mace-like substance not too powerful to anger the bear, just antagonise it enough to stop the charge should it see you as dinner one day. Some Americans you meet wouldn't dream of heading up to Alaska without a Colt 44, or a rifle, which is why many of them travel north to Alaska in convoy. They feel safer that way. 
Personally, I think your own wit and intuition is all you really need to stay alive out here. You can generally feel when something isn't right, and the trick is to trust your instinct and put faith in the road. The biggest danger always, anyway, is traffic. Thankfully the further north you go the thinner it gets, cars replaced by less frequent logging trucks that thankfully give plenty of space and consideration. Quality of driving felt good up here too. No one tried to squeeze me out or came too close. Gas stations are also frequent. A bike with a hundred-mile range would be do-able. One with a two-hundred range would be ideal. Food is readily available; plenty of fast-food joints with free wifi in some of the earlier towns you pass through, or stop in one of the local diners and get to hear some stories about what really happens out here in the wild.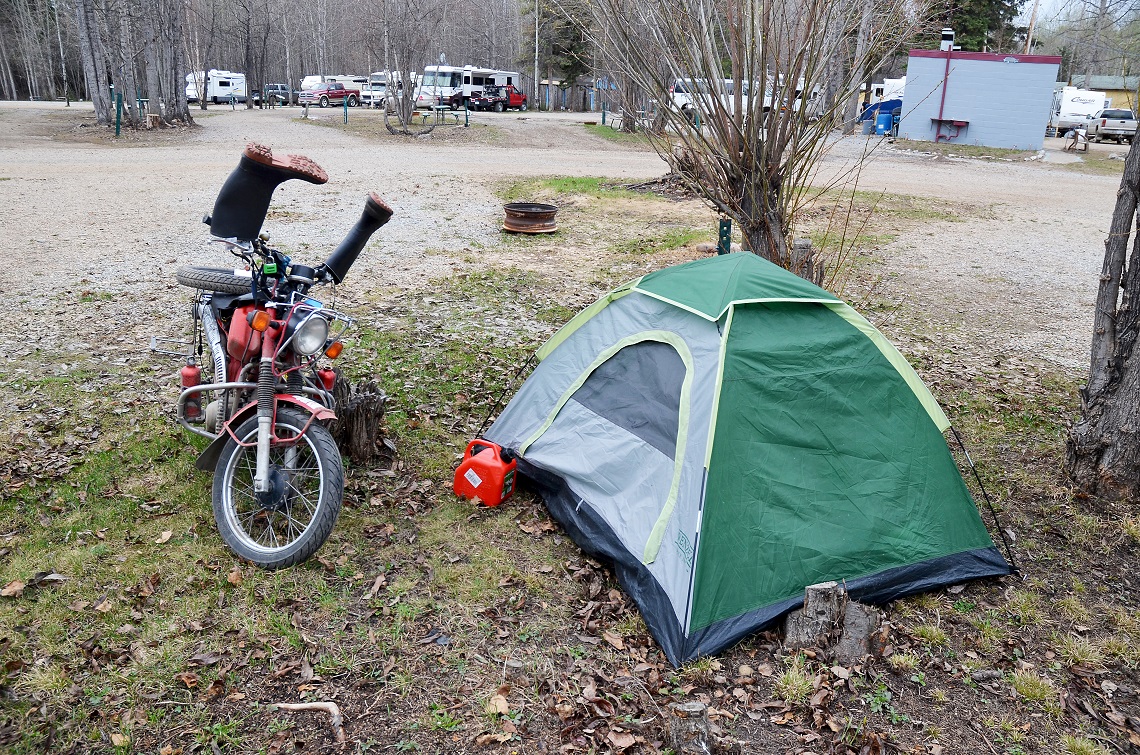 Dawson City is one of the bigger towns on the route, it marking the official start of the Alaskan Highway. As a result of this it has a real frontier town feel, everyone loading up their trucks and bikes with supplies for the journey ahead. What it must have been like riding this road thirty years ago, or fifty years ago, back when vehicles were less reliable and the road was far from being paved. The road itself was completed in 1942 by 11,000 troops and volunteers as a panicked-response to threat of invasion by Japanese forces. It was an incredible feat of engineering; to lay down a 1,700 mile road through such a baron, cold, hostile environment, in only eight months. You wonder if we could do such a thing today what with the employment laws in place. Probably not. Not unless the world was in that same state of panic.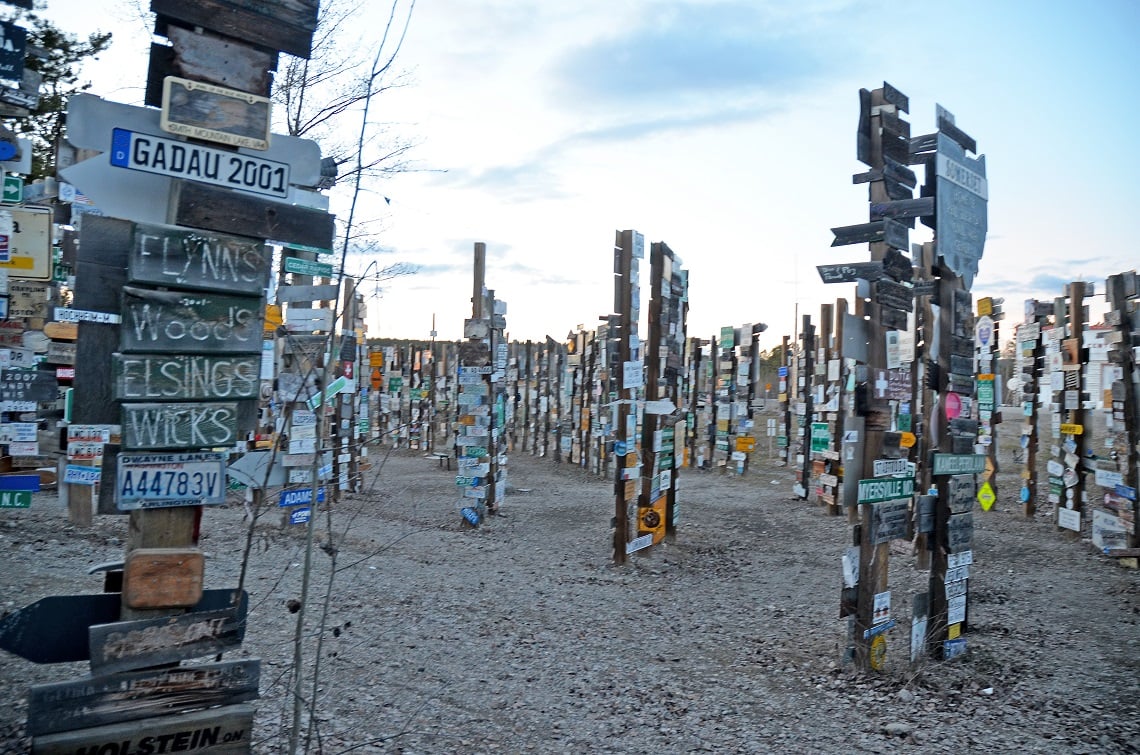 The road now is almost entirely paved, with the distance frequently broken by a string of roadhouses where you can stock up on fuel and food, with there normally a cafe and a campsite, often cabins to stay in. I was intrigued to meet travellers from the Philippines and other such places working up here, waiting to get their visas to allow them to stay indefinitely. It must be an interesting way of life up here; no neighbours for fifty miles either side, a constant stream of travellers passing through, all for different reasons and with different intent. It certainly feels like the last frontier up here, a place where people still come to get away from the world and their lives they've left behind. I always loved hearing the stories of the people you meet along the way. People such as Jim, an octogenarian, living all year round in a cabin in the woods, telling me how he recently had to shoot dead a bear that had charged him down on the path outside his cabin. Perhaps that gun wouldn't have been a bad idea after all! 
My favourite night of the trip was just shy of the Alaskan border, in the remote community of Teslin. There I met Seth, a Colorado-based hippy heading to Alaska to work on the fishing boats. Also Calvin, a farmer's son from Tennessee riding down from Alaska, to put his bike on a boat in San Francisco and sail it to Vladivostok to do the Road of Bones. Lastly, two Israeli soldiers, on leave from the army and decided to spend it riding Alaska on two Kawasaki KLR 650s. In fact, all four of them this night were on KLR650s; the perfect bike for Alaska it seems.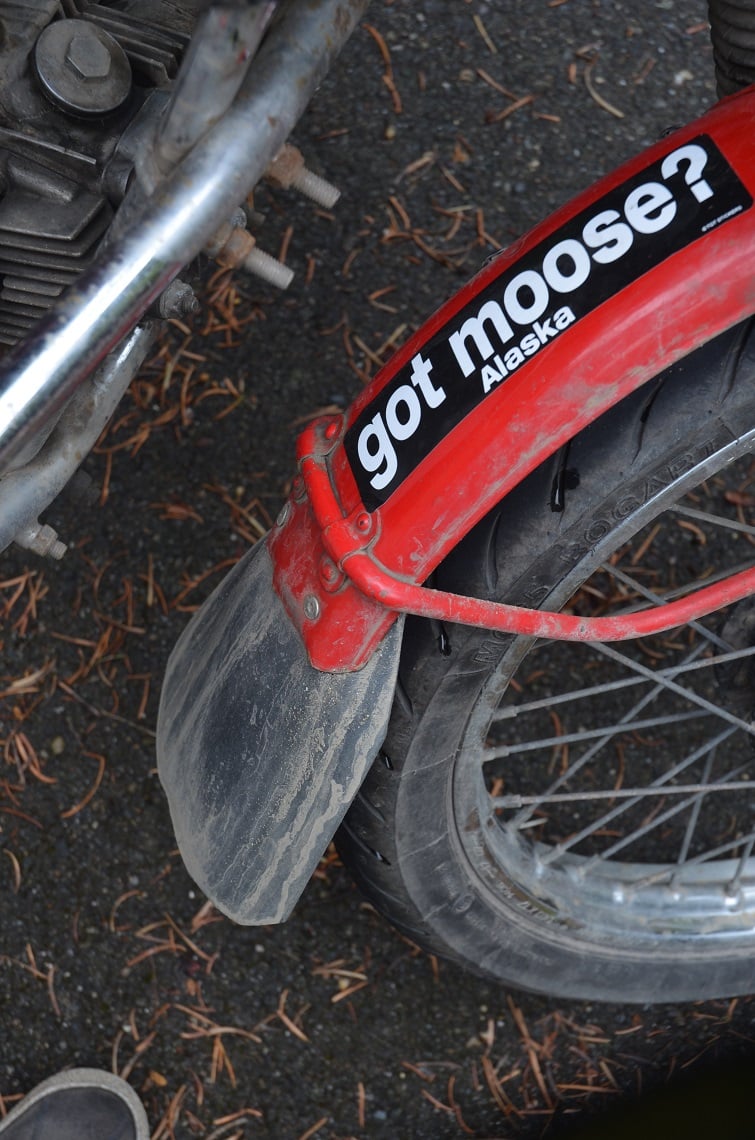 That night camping beside the frozen lake the Israelis cooked up a huge fresh salmon they carried in one of their panniers having purchased it from a fisherman they'd met earlier in the day. After that we sat up talking about our lives on the road. It was just one of those perfect evenings, when all the hard miles seem worthwhile. And then the next day you say goodbye and all of you are gone, off in different directions, for different reasons, like a motorised pack of shooting stars. 
Not long after this I crossed the border into Alaska. It had taken me 2,000 miles and a few weeks to get this far. My original intention was to push on all the way up to Prudhoe Bay, Fairbanks at least. But my true feeling once I saw that sign was that I'd ridden long and hard enough, and finally, after 35,000 miles had arrived at a point at which it just felt right to finally come to a stop. Strange how hard it is to get on the road in the first place, and then even harder to find a way off it once you'd had enough. And I had had enough. I was tired and weary of travelling across the world at 37mph. 
And so, instead of pushing on to Prudhoe Bay (for no other reason than that I would have been able to boast about it), I took the four day vehicle ferry down the coast of Alaska, through the Interior Passage, all the way from Skagway back to Seattle. It was a breathtaking voyage, costing almost $1,000 (not cheap, but that did include a cabin) for those four days at sea. But to wake up and go to sleep with a canyon of snow-capped mountains on either side of the boat was perfect. Chasing the full moon at night, everyone else asleep, you sat at the front of the boat, a feeling of bittersweet, free-wheeling down the coast. The end of an adventure.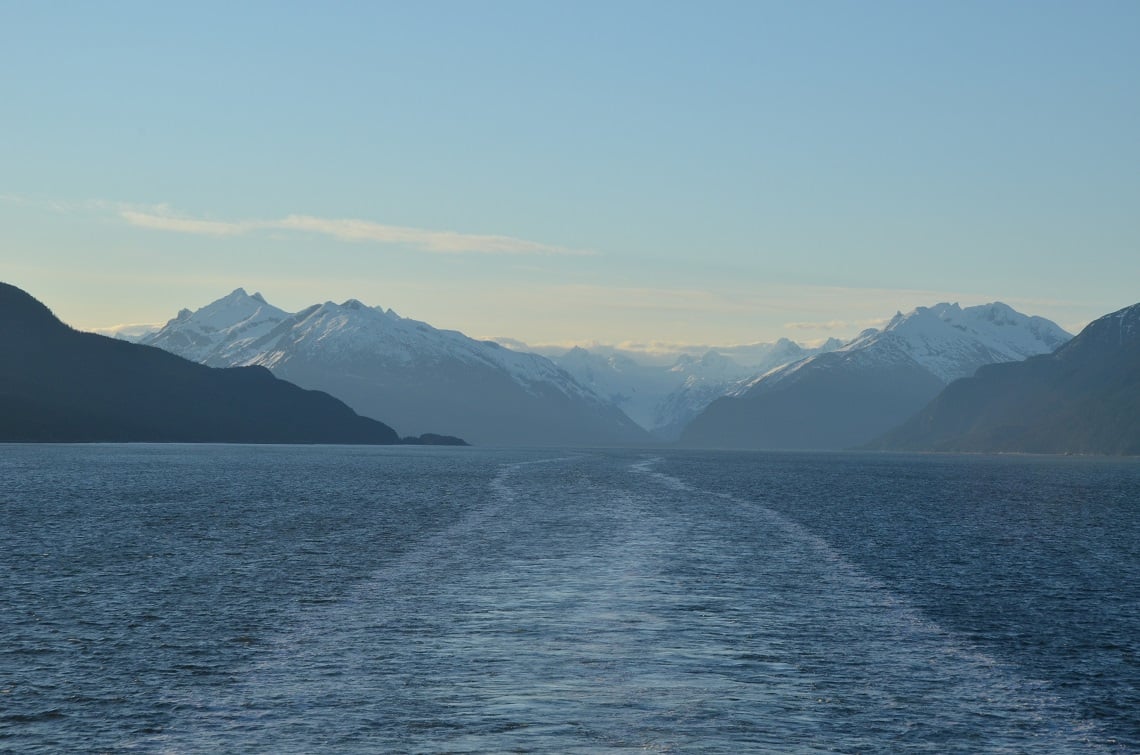 The bike now is on its way back to England by slow boat from Los Angeles. I am also back in England, working on this magazine of all things. I hope my bike choice doesn't disqualify me from commentary, because as I've learnt, there is no perfect bike, or perfect adventure, there is just riding, whatever, or wherever you happen to be riding. See you on the road. 
---
Want to do this? 
How long does it take? 
You could spend a lifetime exploring this part of the world. The actual Alaskan Highway shouldn't take too long however. From the start of it in Dawson Creek, to the end of it at Delta Junction is a distance of 1,700 miles, with there plenty of accommodation options along the way, allowing you to chop it up into a daily distance that will suit you. A realistic figure of 400 miles a day is do-able if you wanted. 
When to go? 
April and May, then September are the shoulder season. These times are generally quieter, colder, but also drier. For those interested in seeing the northern lights, September is your best chance, especially towards the end. It starts getting cold after that. Summer in Alaska is warmer, into the twenties at times, but there's also more rain, traffic and mosquitoes. I enjoyed heading up in May, it not too cold, despite spring apparently running three weeks late. Like a cold day in an English winter, minus the windchill. 
Getting there? 
I flew into Seattle. Budget £600 for that. Flights in and out of Anchorage are also reasonable on Icelandair. Flying a bike into Anchorage costs around £1,395 with James Cargo, but to fly it back out of Anchorage is extortionate, unless you have contacts on the ground. One man was quoted almost £4,000. That's why I took the ferry down to Seattle and shipped from there (£950, by boat). Shipping out of LA is the cheapest option. 
Fly or hire? 
Personally, if it's more than two weeks then taking your own bike starts to make sense. Besides, it's your bike, you know it, you can prep it how you like, and if you drop it you don't have to worry about damage waiver. Looking online I couldn't find a company that rented bikes (there must be), but there are plenty renting motorhomes (starting from $150 a day), which would be a great way of exploring Alaska if you fancied taking the family along. 
Accommodation? 
Take a tent and camp if you want as there are plenty of campsites around, some free. Also cabins, hotels, hostels, guesthouses, with prices starting from around $50. If camping take reasonable bear precautions; don't have food in your tent, hang food in sealed containers from trees, don't run if you see one, respect their privacy and space, and be sure to pick up more detailed information on the route. 
Paperwork for you? 
For America, an ESTA should do it. This gives you three months. For Canada, you just land and get your passport stamped. 
Paperwork for the bike? 
Your shipping agent will advise you. For America, you need an Import Exemption Certificate (free). Email [email protected] for more information. 
How do you afford it? 
You don't. You pay for it later 
Photos: Nathan Millward