THE ALTERNATIVE
Nathan Millward rides a pre-production prototype of the new CCM GP450 Adventure (450cc, 130kg, built in Bolton) to try and find out if less really does mean more…
This is an important bike. It's important because if people choose to buy it and it sells in decent numbers then we might just see a resurgence of the manageable trail bikes of old, such as the DRZ400 and XR400. If it doesn't sell then perhaps all it confirms is that the likes of BMW and Triumph have had it right all along and that people actually do want and prefer heavy, large capacity bikes. Or maybe there's plenty of room for both. Time will tell.
This isn't the finished version of the bike due for the official launch at the NEC show in November. It is instead a pre-production prototype, almost mechanically complete, just waiting for a few final touches to the cosmetics and other final details. The front cowling for example was printed on a 3D printer whilst Acerbis in Italy prepare the final mouldings.
The bike was also running WP front suspension, instead of the Marzocchi it's due to be delivered with, and there was still a little work to do on the engine mapping. But other than that it's complete: including the aluminium Bond-Lite chassis (no welds), Renthal bars and 18-litre combined fuel tank (good for a claimed 250-mile range).
The engine is a 450cc BMW unit, last seen in the now discontinued G450X. It is built by Kymco in Taiwan and produces 51hp as standard, but for this bike, with longevity in mind, detuned to produce 41hp. Maximum revs have also been pegged back from 9,500rpm to 8,500rpm.
A power upgrade chip will be available from CCM, to bring it back up to full power, but it will invalidate the warranty. Service intervals for the engine are confirmed at 5,000 miles for the basics, and 15,000 for investigative work at the top end to make sure everything's still working as it should be.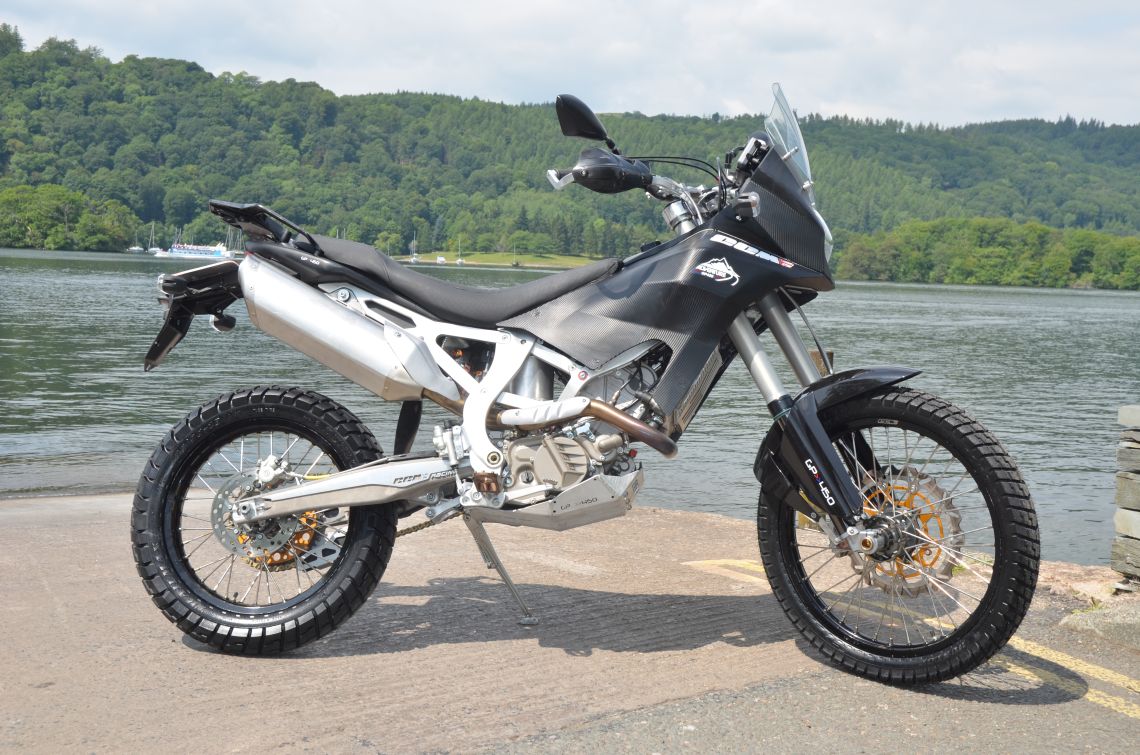 The engine can also be found in the Husqvarna TE449 (following BMWs buy out of Husqvarna), suggesting that the engine was never designed for long-distance usage, more for dirt bikes. This has been a concern for some, who don't see the engine as being robust enough for long-distance overland travel. Another concern has been the price.
The GP450 is expected to cost £7,999, which some see as too expensive for a 450cc motorcycle. Some on the forum have cited how you could buy a cheaper KTM, or the Husqvarna mentioned above and add the touring accessories (seat, long-range tank) to make it comparable.
You can see the reasoning in that, but what we have here is a lighter, more manageable bike – ideal for trails – designed straight from the crate for longer distance travel. In a way then the bike is unique, it hard to think of a direct rival or comparison.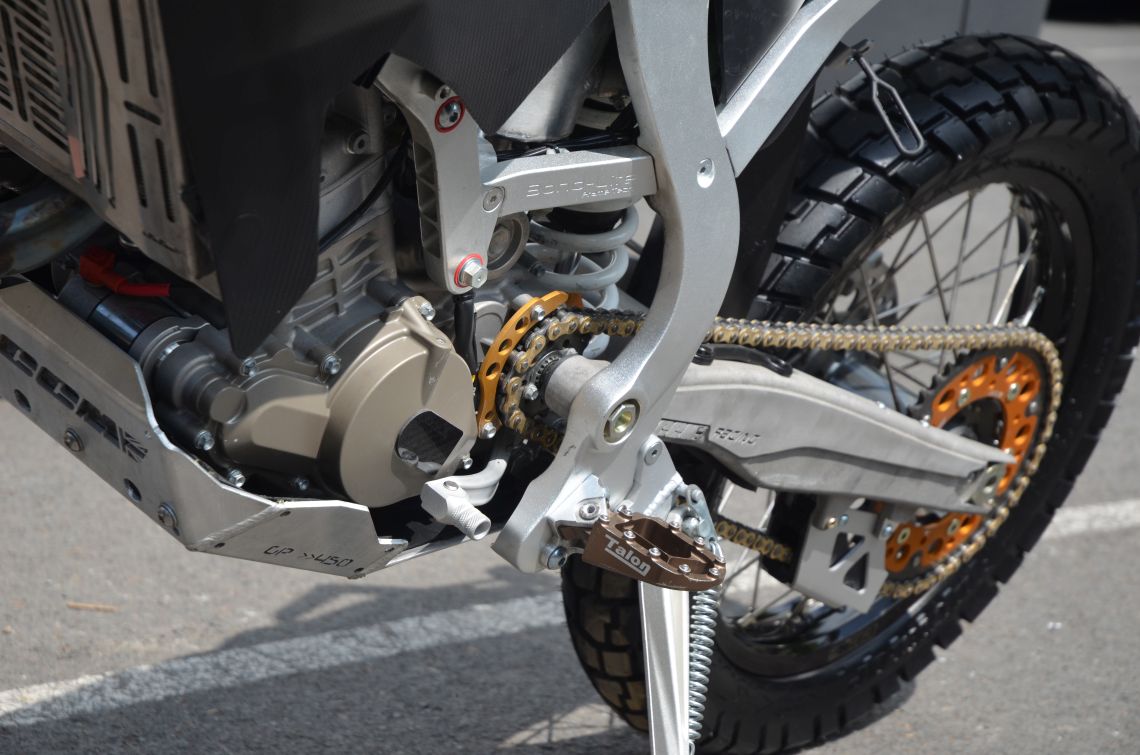 Only the still to be confirmed KTM 390 Adventure could run it close, but that bike's still some distance away, and to be quite fair, it's hard to see how any company could match CCM's commitment to taking the bike to various adventure bike shows, having people sit on it, give them feedback, then take that feedback to the factory for fine-tuning.
The seat and ride height for example has been one area where the factory has really listened, modifying the seat, designing different options and configurations to make the bike as ergonomically suited for as many people as possible. Likewise, at the recent Adventure Bike Festival in Wales, the team were there showcasing their new soft-luggage system, a system completely bespoke and unique in the way it had been seemingly designed with actual road usage in mind.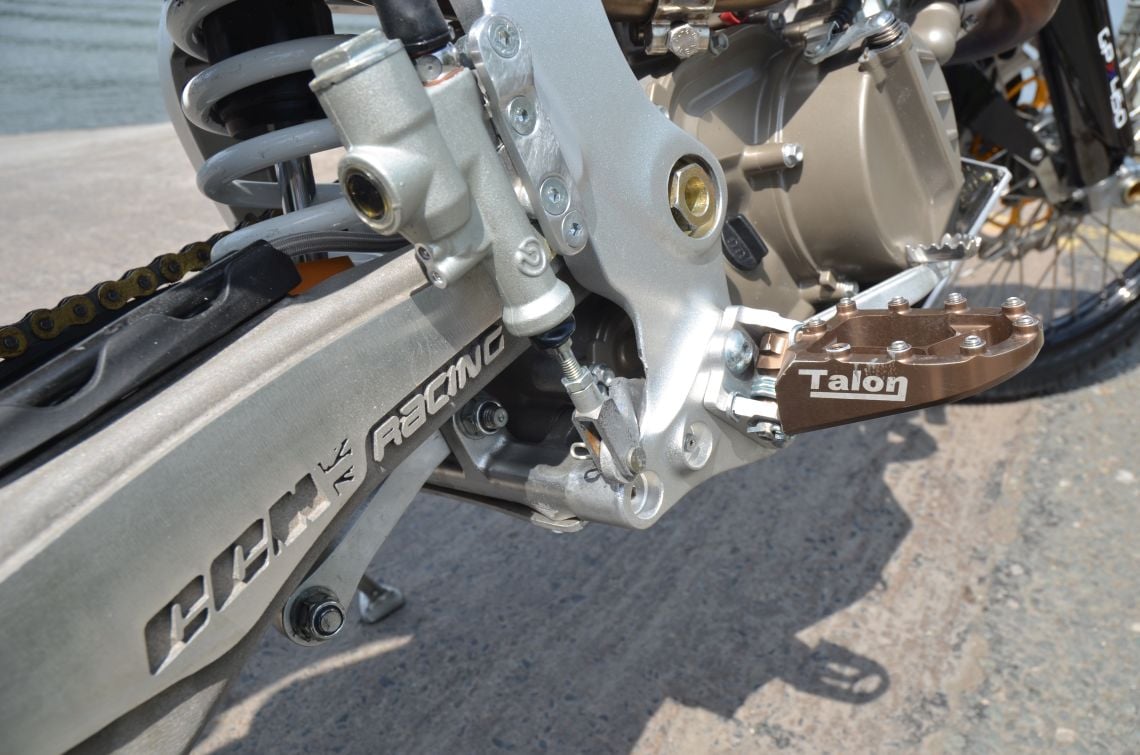 The quick-release system, the assortment of bungee hoops, and then in one of the side pockets they'd thought to stitch in elasticated hoops designed to hold the gas canisters that go in those instant tyre inflators. I'd never seen that sort of attention to detail before, and still, the company was seeking feedback on the design to take back to the factory and work on. You have to admire that. It's what the industry needs to be doing more of.
What's it like to ride? Pretty good actually. We only got an escorted ride on the bike, being tailed around Lake Windermere and into hills by the CCM team behind in the van. It was part of the testing process as much as anything; the bike still raw and rough around the edges, but what impressed me the most was the ease and reassurance it gave off-road.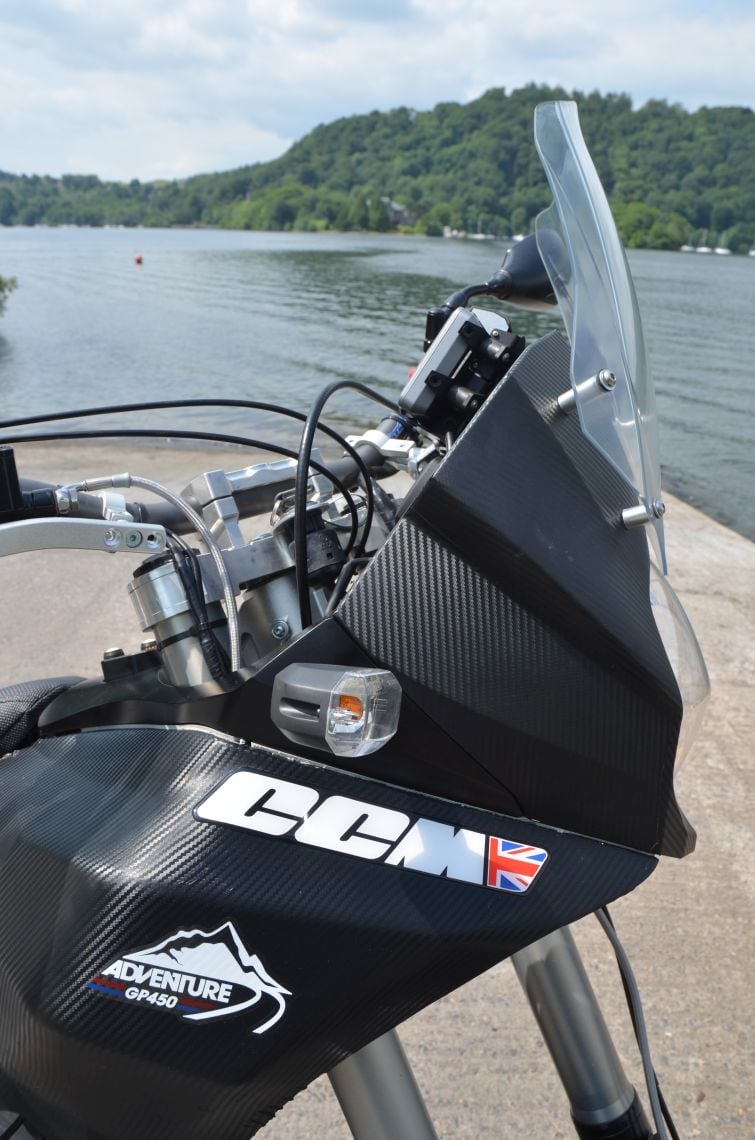 Taking a steep, rocky, washed-out trail was the bike's first test and I was surprised just how easy and light it felt in this environment. Rather than intimidate it inspired confidence, an important factor for those with little off-road experience. A tall first gear really helped, with second only needed once the trail opened up.
There's been much talk about how the bike should have six gears, instead of the five it has. I'm not sure it needs that extra gear (we'll know more when we test it on more open, fast-paced roads), the ratios seem well stacked as they are.
Interestingly, the engine in its Husqvarna guise does have six gears, with it possibly something to do with politics and availability (or just preference) as to why CCM opted for the five-speed option.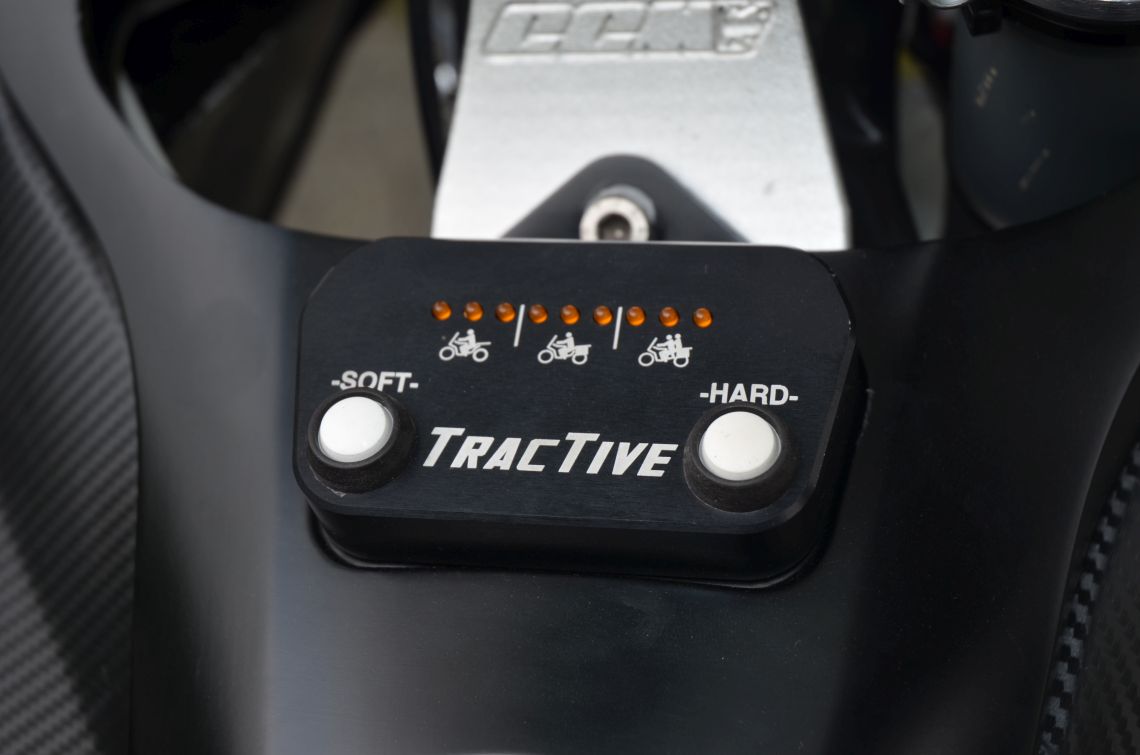 To overcome homologation issues, customers will be able to return their bikes to the factory post-sale and have a sixth gear retro-fitted. An inconvenience, but in this weird world of legislation the only way around it for the time being. What's interesting is that CCM is suggesting that a fully crated engine will be made available should you have problems out in the wild.
That sounds extreme, but it's not unheard of for big global trips to be cancelled due to mechanical problems out on the road, in places far from the dealer network. To be able to ring up CCM, tell them where you are, and for them to ship out a new engine (rumoured to cost between £1500 – £1800) could be the difference between finishing a trip and not finishing a trip.
That leads on to the question of long-distance adventure/overland travel and the suitability of the bike for it. My concern would be the engine; not necessarily the reliability of it as I think with a bit of mechanical sympathy (something a big trip teds to invoke), you could be confident of getting it around the world without any major problems.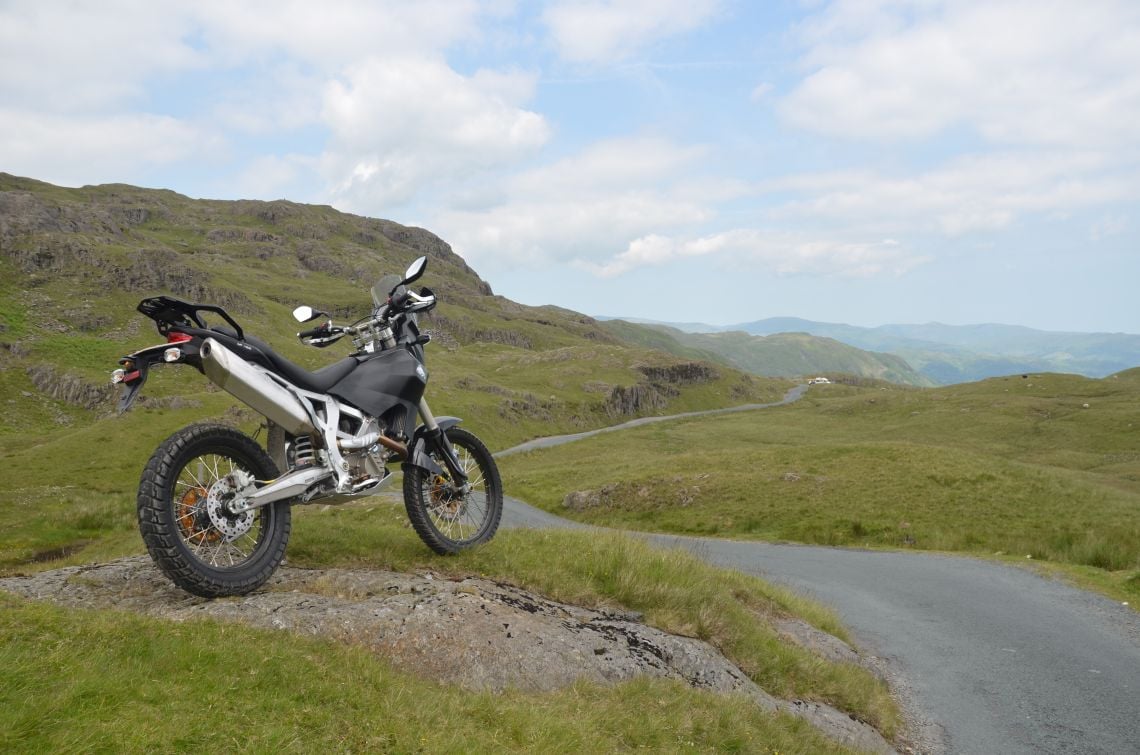 Instead the character of it. As stated, it was originally designed for motocross/ dirt bike usage, and so would it prove too intrusive on long open stretches when all you wanted to do was relax? Perhaps. But again, a proper long-distance test of the bike would be needed to conclude on that.
And at the end of the day, no bike is perfect for a long-distance adventure, it's just a case of in which area you're preferred to compromise; weight/ reliability/speed/economy/practicality/ load capacity/image…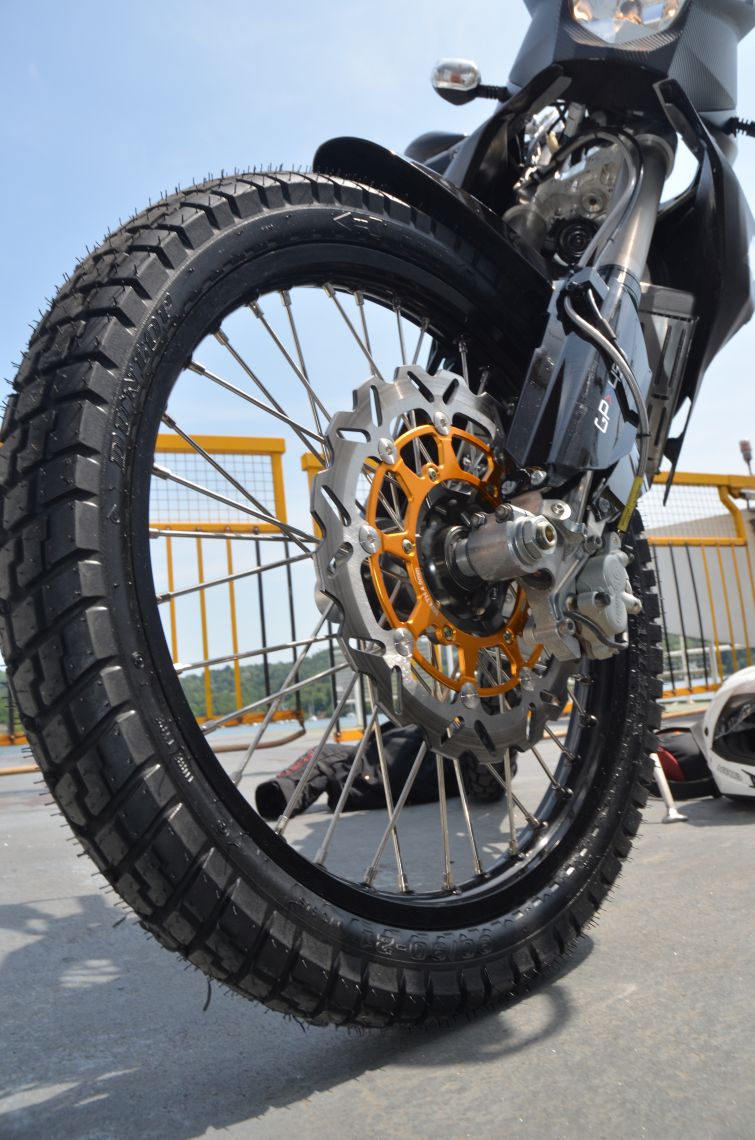 The extra range certainly helps. A realistic 200-mile range out of the combined 18-litre tank (two either side the frame at the front, one under the seat) is easily enough for most parts of the world, and if they get the seat height and shape right, as well as all the other little details that make up the whole, then this could a defining moment for the adventure bike market.
Though in truth, if we ignore the Adventure nomenclature for a second (as we did with the 800 GSA and found it to be a great touring bike) then what we have here is the perfect long-distance green lane bike, one that you could load up for a weekend and go off exploring Scotland for example. It's a bike that you'd have in your garage on a Sunday morning and decide to take out for a blast just because you felt like it.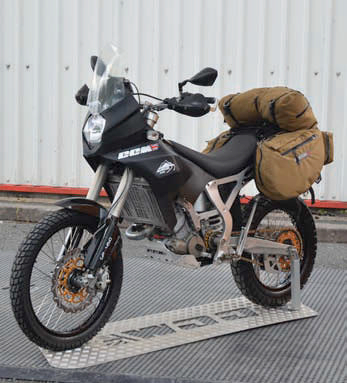 It is a fun bike to ride, especially on these Cumbrian roads, such as the one in the picture on this page. They were narrow, with crests and ridges, tight corners and then some more open and flowing. Along there, with it's punchy engine, low weight of only 130-kilos, the CCM was just sublime.
One of those experiences where you want to turn around at the top and come back the other way, just for the sake of it. So I am in two minds about this bike; yes, you could go around the world on it (or Morocco equally would be ideal), but at the same time I reckon you'd just be as happy blasting around Cumbria for the day, or even using it as a city commuter given how easy to dart through traffic it would be.
And it is something a bit different. I like that it's got the Union Jack on the fairing and that it's built by eleven people in a factory in Bolton. I like that at the events you get to meet the designer and the engineer and the head of the company. It's proper fag-packet philosophy behind this bike.
In truth, it is something of a bit-sa bike. Engine from Germany, suspension from Italy. But it does feel more than the sum of its parts. And it certainly drew a lot of attention on the shores of Lake Windermere.
Non-motorcyclists wanted to know what it was, where it was built, and they enjoyed that it was put together in a British factory, by British people, and like all British industries will no doubt have issues with trade unions and people going on strike. But it brought out a bit of patriotism. And that's no bad thing in my book.
In a way I'm biased. I really want this bike to succeed. A bit like Austin I think it's what the industry needs to put the cat amongst the pigeons and force the big players to really think about the bikes that they're building and the bikes their customers are wanting to buy.
Ultimately it will be the market that decides the success of this one. If people with eight grand to spend genuinely want something different and are prepared to put their money where their mouth is and buy a CCM then we might see some change.
If they baulk at the last minute and plump for the 800 GS instead there's nothing much anyone can do about that, not least of all CCM. All that really needs to be said is that this has the makings of a great bike. So get in touch with the factory, book a test ride and make up your own mind whether it's the bike for you or not.
---
ABR Verdict
■ How versatile is the CCM?
Hard to tell until the full test. Should certainly hold up well off-road and on the tight stuff.
■ As a commuter?
Would be perfect as a London commuter. Lots of punch, looks good, comfortable riding position.
■ As a weekend tourer?
Add the soft luggage option and you've got plenty of space for a few days away, even weeks, months…
■ As an off-roader?
Yep, more than capable. Some say too soft for the experienced riders, but for the rest of us…
■ As a Continental road cruiser?
It wouldn't like motorways, not for long distances. It would encourage you to discover interesting back roads.
■ As an RTW overlander?
Why not, certainly no reason not to take it. Fly the flag if nothing else.
■ As a pillion carrier?
Perhaps one step too far, but again, hard to tell until we get more time with it.
---
Quick Spec:
| | |
| --- | --- |
| Model: | CCM GP450 Adventure |
| Price: | £7,999 |
| MPG: | 52mpg (est) |
| Range: | 200 miles-ish |
| Power: | 41hp @ 7,000rpm |
| Torque: | 43Nm (31.6ft.lbs) @ 6,500rpm |
| Transmission: | Five-speed, chain-driven |
| Seat Height: | 890mm (790mm option) |
| Weight: | 130kg without fuel |
| Wheels: | 21-inch front/18-inch rear |
| Colours: | white (this was carbon wrap) |
---
Around the world on a CCM
On September 21st Liz and Matt, a couple from Bristol will take off around the world on a pair of CCM SR40s. We catch up with them…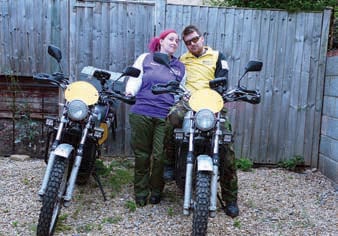 What bikes are they?
CCM SR40s. Matt's is 2009. Liz's is 2010.
Why the SR40s?
We originally wanted to do the trip on the new GP450 but it wasn't going to be ready on time. We then looked at buying new SR40s but missed the last ones off the production line by a matter of days. CCM only made 80, apparently to order, so there weren't many about. We also looked at Yamaha Serows and BMW G650Xs but preferred the CCMs because they were different, and for Liz (5'2") the low seat height was also a bonus.
How much did you pay for them?
£7500 for the pair, them only 15 miles apart over in Kent.
What modifications?
To make them more comfortable we had the seats re-foamed and re-trimmed by Digger Seats Custom Motorcycles. That cost £100 for the pair (I think he did us a discount). We've also upgraded the stator, put in a kickstart (in case the electrics fail), changed all the lights to LEDs and had Gabe over at Zen Overland build us a set of custom luggage racks. Gabe also built lockable top boxes and a cubby to carry a five-litre fuel can to add to the bike's 150 miles range.
What riding experience do you have?
I've (Matt) ridden to Dubrovnik on a Kawasaki W650, and Morocco on a Harley Davidson MT350 and so have a bit of overseas riding experience. I (Liz) only passed my test last year and so this will be my first big trip abroad.
Are you nervous?
I am a bit (Liz), but also excited. I think I'm nervous more (Matt), I feel I have a duty to protect her, but at the same time want to make sure she doesn't miss out on the experience.
What clothing have you gone for?
We've tried to go British as much as possible. We've got (Kevlar) Hood jeans, Forcefield body armour, Belstaff jackets (the XL500), Altberg boots (made in North Yorkshire), but sadly Nolan helmets (the N43E) as we wanted helmets with detachable chin pieces and these were the ones we found.
So what's the plan?
We fly the bikes to Vancouver, spend a winter working in Whistler (on working holiday visas), before riding up to Alaska, then across to Canada, and then back down to Argentina. After that we're not sure. If we have the money we'll head across to New Zealand.
How much is it costing to ship the bike?
£800 each, with Pheonix Air Cargo. We just take the bikes down to Heathrow and they pack and crate them.
Any Special documentation needed?
No, apparently we just get temporary import forms on landing. Because we have visas to work here we shouldn't have any problems with the bikes. We just need proof of ownership.
What were you doing before this?
I (Matt) worked in the licencing trade for a student union. I (Liz) worked in hospitality and catering. We'd both just turned 30, been together ten years and just thought we'd give it a go.
To follow Liz and Matt on their progress, visit www.mudandknobblies.co.uk