MEANWHILE… IN ITALY
Alun Davies checks out the new Ducati Hyperstrada in the Italian hills of Tuscany
So, here's one to get the juices flowing… what's an adventure bike? And another… what's a touring bike? Back in the mid-'70s when I started riding the answer to both the above questions was easy. An 'adventure' or 'touring' bike just happened to be the one you were currently riding.
What's happened in the intervening years is that sophisticated motorcycle marketing departments – aided and abetted by specialist magazines, ahem – have conspired to make a riders life a lot more complicated when it comes to choosing a bike to go on an adventure or tour.
But when you cut through the airbrushed conditioning nothing has really changed since those days when tank tops, curly perms and platforms were cutting edge fashion. Modern bikes are more reliable, but setting off on a trip is still an uncomplicated affair and minor details such as cc's, brand or if the bike has a beak or not are just that, almost irrelevant. Trouser your cash, pack the gear, turn the key and off you go, right?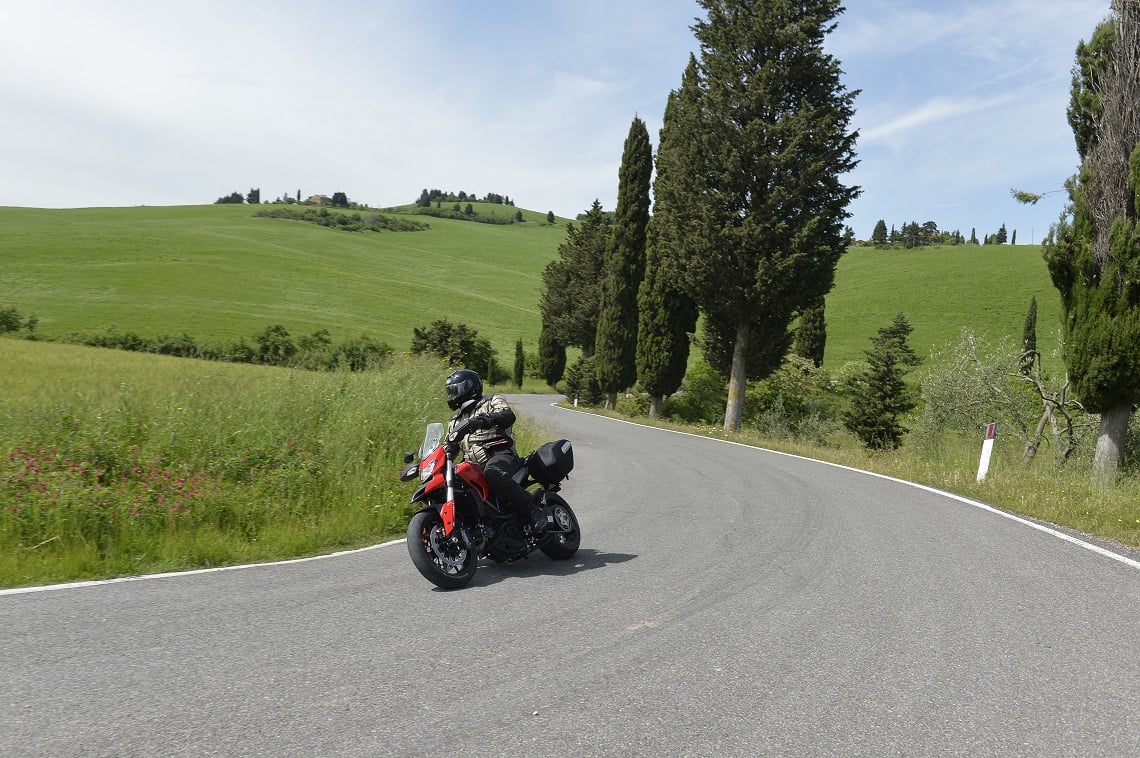 You're going to need that kind of liberated thinking when it comes to viewing Ducati's new midrange touring bike, the Hyperstrada. I have to say that my first impressions were, er, it's a Hypermotard with a couple of shopping bags stitched on the side. And essentially it is.
Ducati launched the all-new liquid-cooled supermoto styled Hypermotard at the back end of 2012 and the 2013 Hyperstrada is the touring version, which the company describes as a 'crossover between the Motard world and that of touring'. And in my mind, that must place the Hyperstrada in the nichest of niches with the possible exception of a 'crossover between competition trials riding and touring'.
Ducati had selected a spectacular setting in the charming, rolling hills of Tuscany for the press launch and I have to admit if it was designed to get the assembled journalists on the side then the score was one-nil to the Italian company before we'd even fired up the bike.
The Hyperstrada comes equipped with touring concessions; a taller screen, bar risers, longer mudguards, wider seat, 20mm less travel in the front forks, two 12v sockets, a centre stand and a couple of plastic/nylon composite panniers. And despite all the dressing it still looks very much like a Hypermotard.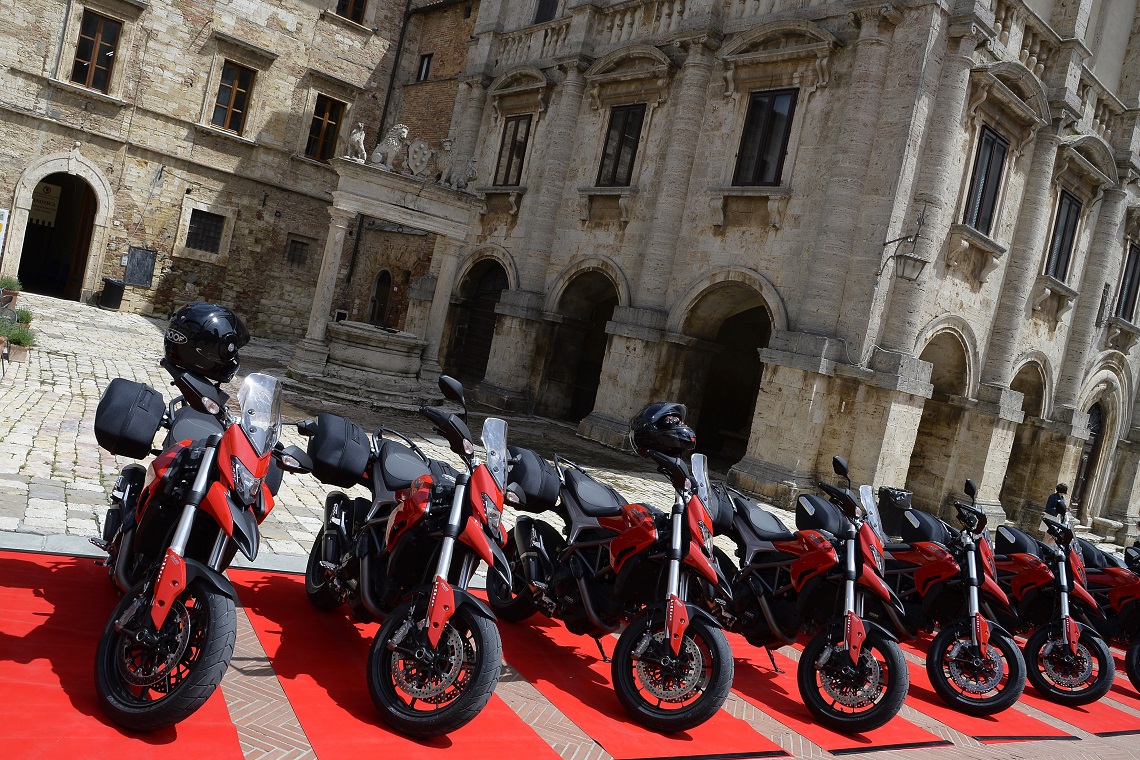 Throwing a leg over the bike it felt like I was sitting on a 250cc rather than an 820cc tourer and even with an 850mm high seat I was able to plant both feet on the ground and still have a little bend at the knee – I'm 6ft 2in. The all-new mirrors I can only describe as useless for anyone with a frame larger than Kate Moss, despite manipulating them all ways and sundry the only way I could see past my shoulders was to ride side-saddle.
Fired up and on the road, the riding position is surprisingly comfy and the seat quite plush, but it's definitely more of a supermoto position than a laid back cruiser, which makes careful positioning and adjustment of the nether regions a pre-requisite to avoid painful tank crushers. The LCD control panel takes a bit of getting used to and the lack of a fuel gauge on a bike marketed as a tourer is something I'd rather forget about, as did the Italian designers.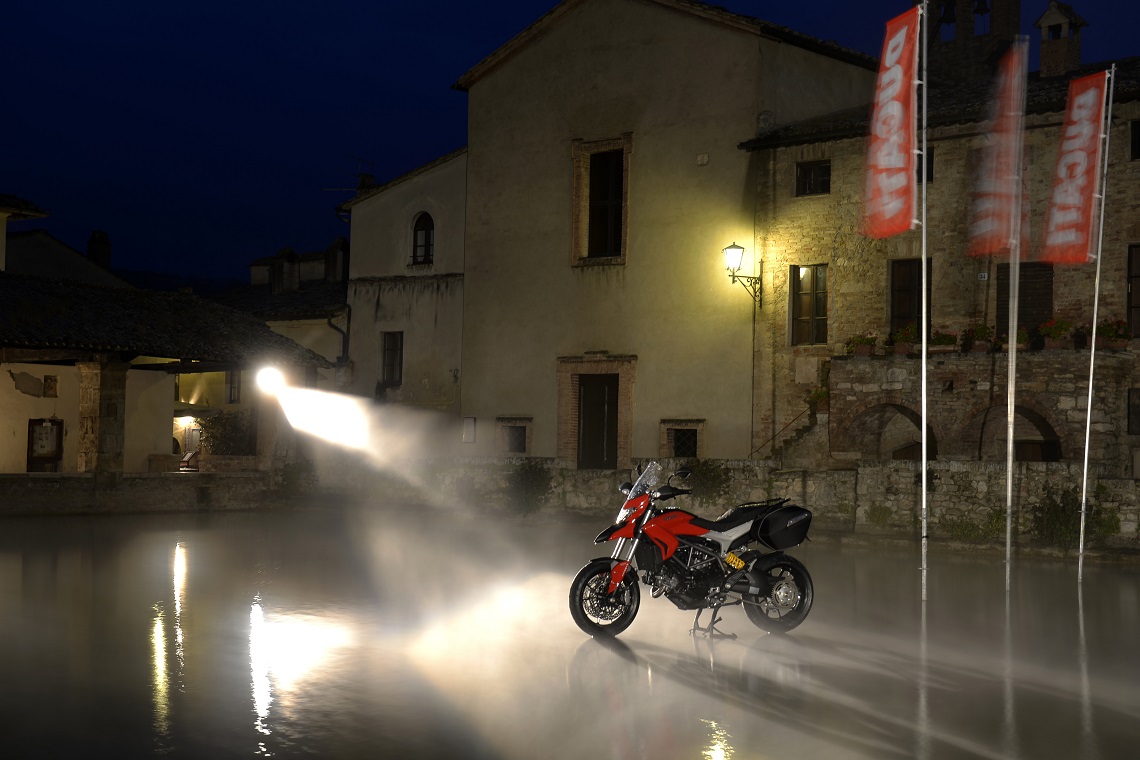 It's been a while since I've ridden a nippy, mid-range bike and it took me a while to get back into the flick and slide groove but once there the Hyperstrada shines. If there's a better bike for blasting around the narrow, twisty roads of the Tuscan Hills then I've yet to test it. Try riding the Ducati like you would a big tourer or adventure bike and it'll be a bum clenching affair as you under and oversteer with abandon, but switch into quick steering flick mode and the Hyperstrada responds with breath-taking precision and poise.
The Ducati is so well balanced and agile that scraping the undercarriage feels almost natural, which is just as well as the addition of a centre stand has lowered the ground clearance to the point where I don't think I rounded the first twenty bends without grinding off a chunk of metal. With the pre-load cranked up to full there were not so many sparks flying around but at a guess, I'd say this could be a problem when riding fully loaded up and with a pillion. Speaking of which, whilst the touring seat was far comfier than I thought it would be, the short pillion perch looked as if it would have a partner raising the white flag before the day was out.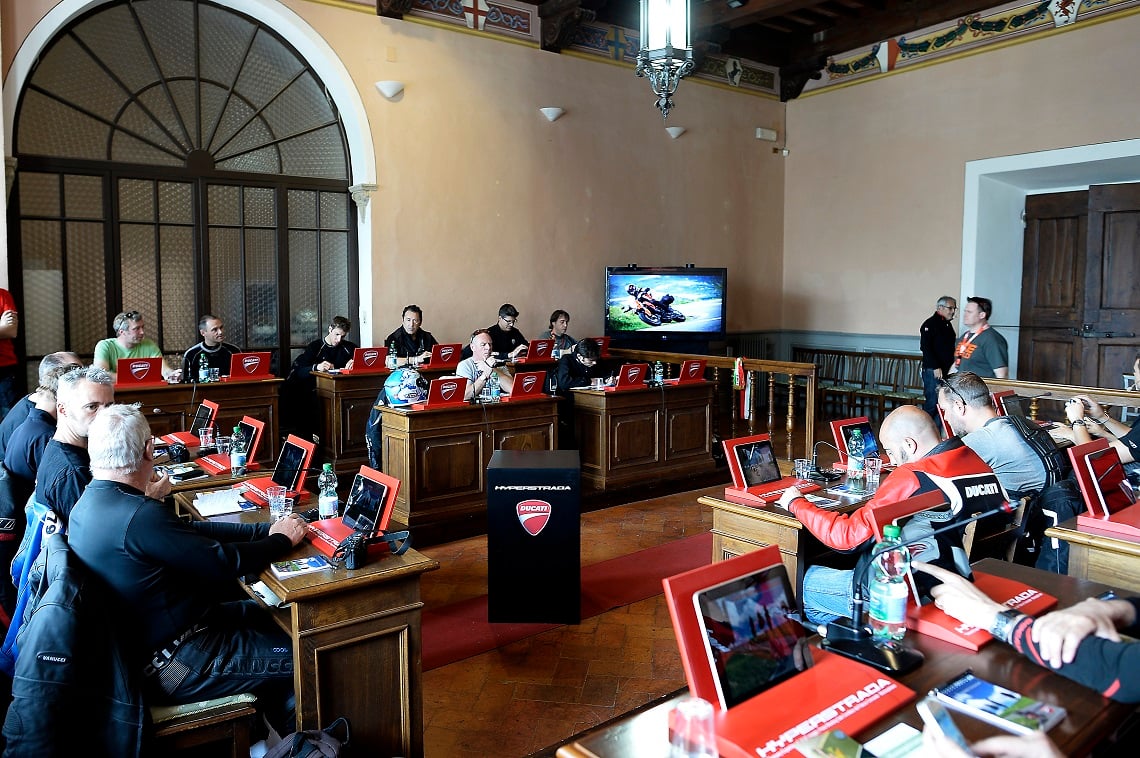 The Testastretta 821cc water-cooled engine revs up quickly and has plenty of poke low down and maintains the power through the speed range that most riders would operate in. With 110bhp and a claimed top speed of around 130mph, it certainly has the credentials to aid fast-paced touring but it does not come with the high-speed stress-free ride you'd find on a larger and heavier adventure bike, and whilst the screen was protective enough for nipping around the Tuscan hills I'd be looking at changing it for comfortable long-distance motorway jaunts.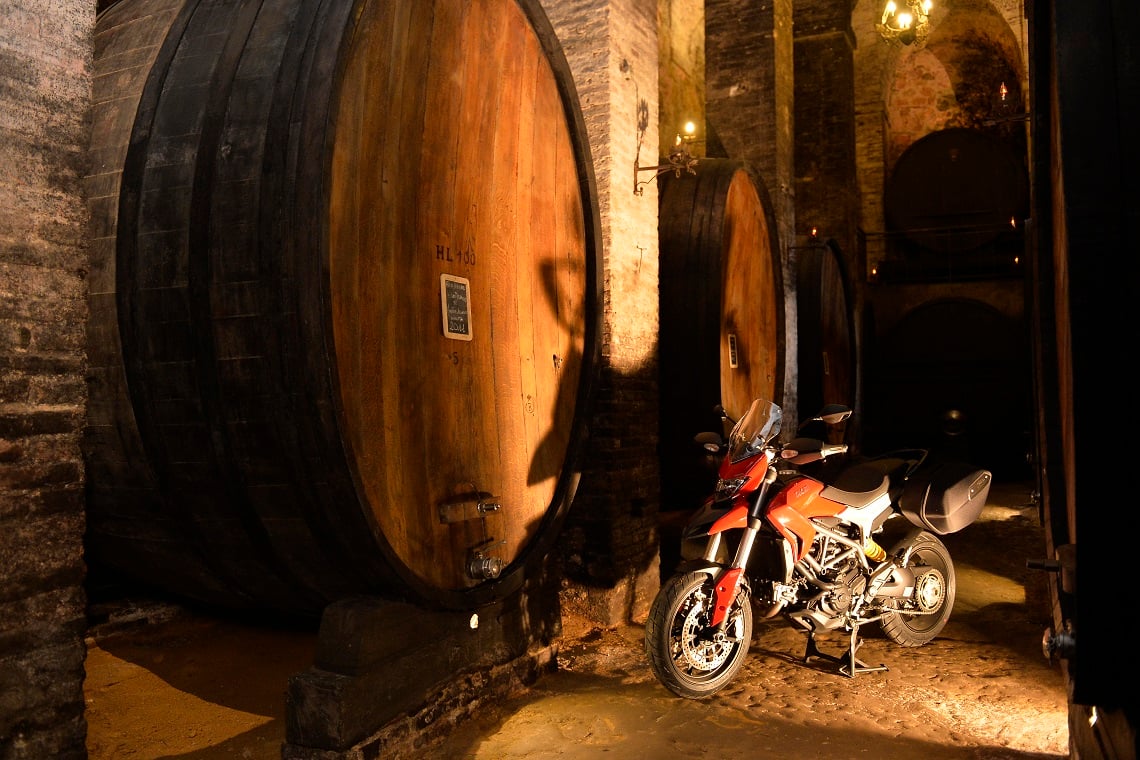 The ride-by-wire Hyperstrada comes with a selection of three riding modes; Sports and Touring at 110bhp and Urban at a downgraded 75bhp, and whichever mode you're in there's the benefit of traction control and ABS. The gearbox is slick, though I did manage to hit a few blankers during the test ride and one feature that did take a little getting used to in the early morning session was the immense stopping power of the Brembo Monoblock calliper system. These brakes are so efficient Ducati could get away with marketing the Hyperstrada as a crossover between the world of stoppies and touring.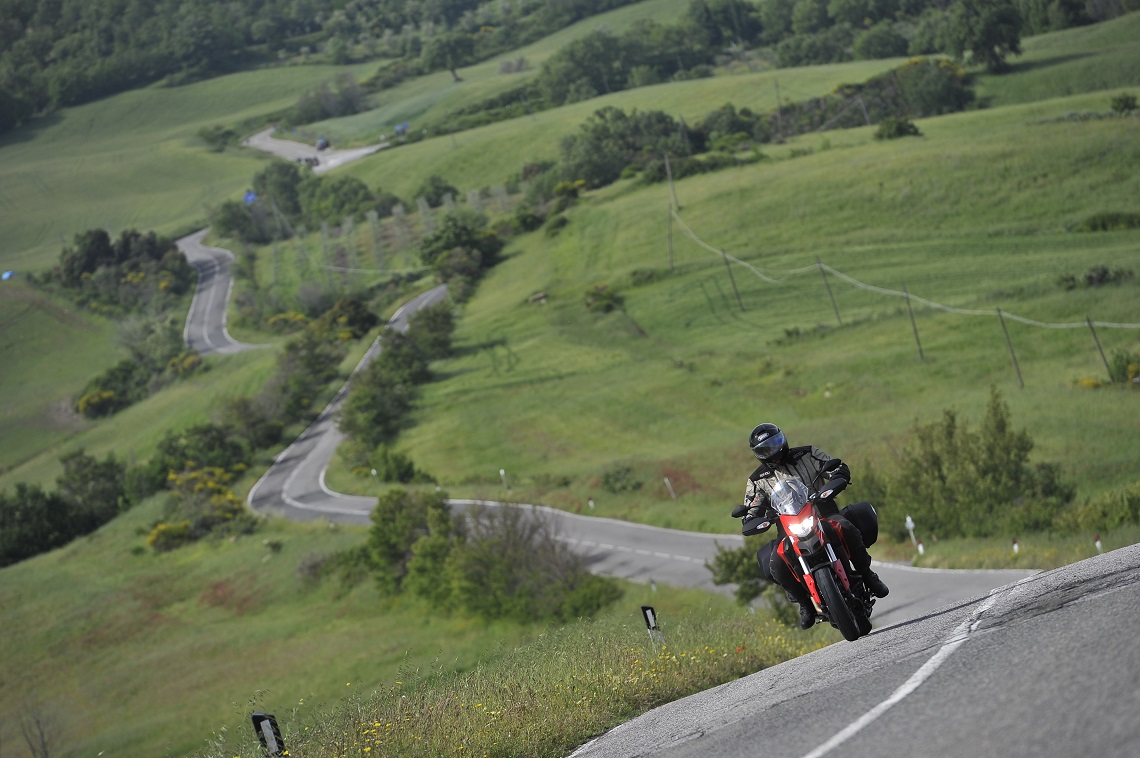 Maintenance intervals are touring friendly with 9,000 miles between minor services and 18,000 for mains. The 16-litre fuel capacity means you'll travel around 150 miles before you'll need to go hunting for a petrol pump, which is not a feature ideally suited to a touring bike. Overall I have to say that I immensely enjoyed my time on the Hyperstrada but is it a bike I'd buy to go touring? At £10,650 it's not looking particularly competitive, especially when measured against adventure bikes such as the 800 Triumph and BMW, and whilst Ducati have bolted on many 'touring' features it still, essentially, is a Hypermotard.
Maybe this bike was best summed up in Ducati's promotional video where it showed the young, fit things arriving at their swanky hotel and the next scene cut to her relaxing by the pool on a sun lounger and him setting off on a fast-paced solo blast around the hills. It's a near-perfect bike for that alright.
---
Specifications:
| | |
| --- | --- |
| Model: | Ducati Hyperstrada |
| Engine: | 821cc; V-Twin 4 stroke |
| Price: | £10,650 |
| MPG: | 50 to 55 miles estimated |
| Range: | 150 – 170 miles estimated |
| Power: | 110bhp at 9,250rpm |
| Torque: | 66lbft at 7,750rpm |
| Transmission: | six-speed chain drive |
| Seat Height: | 850mm 830 low version |
| Dry Weight: | 181kg |
| Wheels: | 17front; 17 rear; cast aluminium |
| Colours: | red or white |
---
How versatile is the Ducatti Hyperstrada as a…
■ Weekend tourer
It's futile to compare the Hyperstrada as a weekend tourer with most of the big-bore adventure bikes. It just doesn't compete in many areas. However, if you've nil off-road ambitions and still like scratching and flicking along A and B-roads it's worth a test ride. If long-distance touring comfort is your priority there are more suitable machines.
■ Commuter?
The high seat offers great vision and it's lightweight, punchy and manoeuvrable. This would make a fine commuter bike around town and especially so if you work in a rural location with tight twisters.
■ Off-roader?
In reality, the Hyperstrada is for fire trails only and even then the centre stand cuts ground clearance a little too much for comfort. That said, if you're determined to take this bike on the sort of conditions found on green lanes in the UK, it'll do it, if you're up for it, and prepared for a fairly hefty repair bill. In short, you're probably best off looking elsewhere.
■ Continental road cruiser?
Yes, you can cross continents on any bike, but some are far more suited to long days in the saddle than others and there are far more suitable bikes for long-distance travel than the Hyperstrada, especially so if you'll be carrying a pillion.
■ RTW overlander?
Why not? It's possible these days to travel around the world without leaving tarmac and if you're into a more sporty style of riding then the Hyperstrada could be for you. It's also worth remembering that riders have taken on trails like the 'Road of Bones' on Harley's, so why not on a Hyperstrada – I can think of a few reasons.
■ Pillion carrier?
On the press launch, we were treated to a video starring the Hyperstrada in which two young fit things were seen touring around the Italian hills before checking into a swanky hotel. I think the keywords here are 'young, fit, things'. There's not a lot of room on the Ducati, and with the centre stand grinding out with one 17 stoner on-board… I'm sure you know what I mean.
■ Nipping to the shops?
Spot on. This really is a fun bike.