ABR's gear editor Paul Jennison's packed the bike and he's going camping – solo
It's been months in the planning but you're ­ finally adding the ­ finishing touches to what's going to be an epic trip. It matters not the destination; your dreams are your own. The reality is usually based on how much time and money is available, but let it be known you're going and you're going solo. O‑ the beaten tourist trails; B&Bs and hotels are a last resort on this trip. What you want is a one-man tent for some real freedom and independence – after all, there's only you to consider. But which one will suit your needs best?
Budget is probably the main factor in choosing which tent will suffice, but to help you make a more informed decision, you may also want to consider the following:
Features We Like:
Weight
The main reason for selecting a one-man tent when travelling alone is to keep luggage weight to a minimum, whether it's because you don't have panniers and everything will be strapped to the bike, or because you're planning some o‑ -road action and the thought of digging your overloaded steed out of boggy ground is just too horri­fic to contemplate
Pitching
One-man tents should be easy to pitch, preferably with the flysheet and the inner going up as one. If the inner pitches first, it's likely to get pretty wet if the weathers bad. Remember you'll be on your own, so there won't be anybody there with you to hold an end while you ­ find the pegs!
Pack size
As with weight, pack size is crucial. If a tent can be stowed away in a roll bag or a pannier, that's ideal
Space
Although we want it small and lightweight, it would be nice to have a tent that's large enough to move about inside once it's up; even just being able to sit up is a bonus
Structure
Tunnel tents are less likely to deform in strong winds, but a geodesic-style tent is more likely to be free-standing and will generally give more headroom; they're also pretty tough. It's down to personal preference here really
Poles
Poles need to be light and tough. The more complicated the pole structure, the more room there is for something to go wrong, and a snapped pole is a pain in the arse. No matter how robust the poles are, always take a pole-repair kit
Doors
The flysheet door should have a two-way zip, so you can leave a ventilation gap at the top; it therefore needs to be protected by a flap or peak. The inner door should have a mozzie net, to keep the midges out, as well as for ventilation
Inner tent
The inner tent's purpose is to keep a tent breathable and prevent a layer of condensation forming on your head in the night. It's good if it's made from light coloured material, to keep the small space feeling as bright as possible. Bonuses in the inner tent include pockets and hanging loops for gear
Guy lines
Guy lines are used for securing the tent in high winds and adjusting tension in the fabric. In a non-free-standing tent they might be a vital part of its construction. They should be easy to adjust, and for bonus points, they'll be reflective, too
Pegs
These should be tough enough to force in to ­ rm ground and able to secure your tent to the ground in high winds. Take a selection of different pegs with you for differing ground conditions, then you'll also have spares
Ventilaiton
Vents should be a decent size and opposite one another for maximum airflow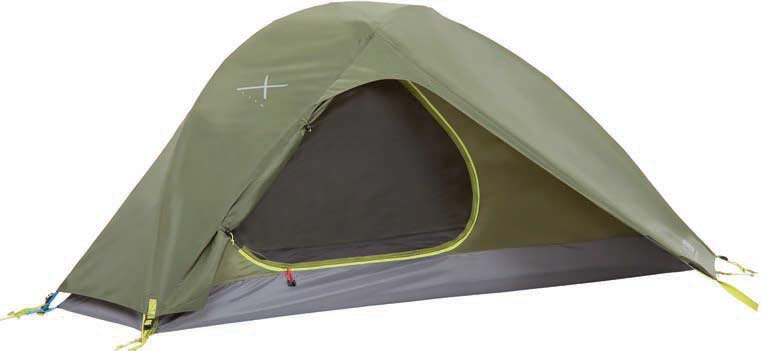 Karrimor X Lite X1
£119.99
1.95kg
Karrimor's entry to this test is the X Lite X1. Yes, it's by far the heaviest tent on test at almost 2kg, but as an entry-level for ABRs on a budget, we like it.
The X Lite 1 pitches inner first (it's designed so you can leave the flysheet behind if you're going somewhere dry) and this part of the pitching process is simple, with colour-coded pole anchor points making it easy to work out what goes where. Harder is getting the flysheet in the right place on top – it ties on to the poles once you've pegged it in, and it would be tricky to do in strong winds. It's also hard to get the seams on the outer to line up with the poles.
Once up, there's lots of space in the tent – in the inner tent at least. There's very good headroom and good length you won't have a problem unless you're well over 6ft – and there's some extra width at the head for some gear. The porch area is a lot smaller though: you'll just be able to fit your additional luggage in and that's about it. Not much room to cook here either (I wouldn't cook in a small tent unless really necessary anyway).
Ventilation is via the inner tent's door, which can be entirely mesh, or you can cover it with fabric if it's colder. The zip on the flysheet door is two-way so you can leave a ventilation gap.
The tent is sturdy, but there are no guy ropes or loops where you can attach your own, so there's nowhere
to add extra stability in strong winds. But the seams are taped and the bathtub groundsheet comes nice and high up the sides of the inner tent. It's made from two pieces of material (one is preferable) but again, the seam is taped where they join. A slightly weak point is the zips – they're not particularly high quality and we're not sure how long they'll last. In conclusion, as an entry-level one-man tent, it isn't that bad.
In a line: A good budget one-man tent for the price
ABR RATING 6 out of 10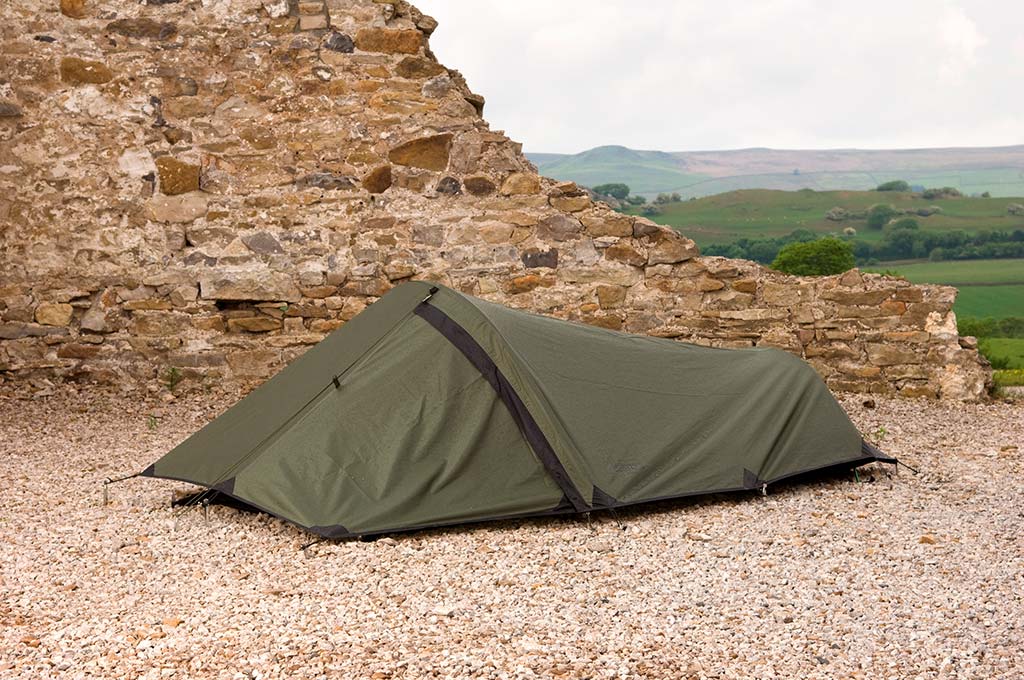 Snugpak Ionosphere
£129.95
1.52kg
At just under £130 this is one of the cheapest tents on test, but it still packs down small and only just tips the 1.5kg mark. So is it worth a buy?
It's a tunnel tent that pitches inner first with a long pole at the front and a shorter one at the back. There's no room to sit up and there's no porch, so there's nowhere to cook, and nowhere sheltered to leave your biking boots. The tent is quite wide though, so you could store some of your gear in there with you, or at your feet if you're short, but if it's wet this isn't very pleasant.
Pitching-wise the tent has the worst of both worlds – pitching inner first is always bad in rain, especially so with this tent as the inner is made from mesh – but it's not free-standing either, so you will find it hard to pitch on hard ground. It's also quite fiddly to adjust the outer sheet so it's an equal distance all round from the inner.
That was a negative start, but our general opinion is that this is a pretty good tent at a very good price. After all, one-man camping is never going to be about luxury – if you want that, you'll go for a five-star hotel. The Ionosphere is sturdy, it has taped seams, tough but light pegs, and the groundsheet comes up very high, so it's going to keep you dry in bad weather, which is its main job. It's also low to the ground and a robust tunnel design, so if you pitch it in the right direction it won't distort much in strong winds.
As mentioned, the inner tent is made entirely from mesh, however, ventilation isn't as good as you might imagine as there aren't any ventilation points on the flysheet and the door zip is only one way, so you can't improve the ventilation without opening the front door from the bottom.
All in all, this tent doesn't offer much in the way of comfort, but it's a competitive weight and will do the job for a fine price.
In a line: Very cramped but a good tent for the price
ABR RATING 7 out of 10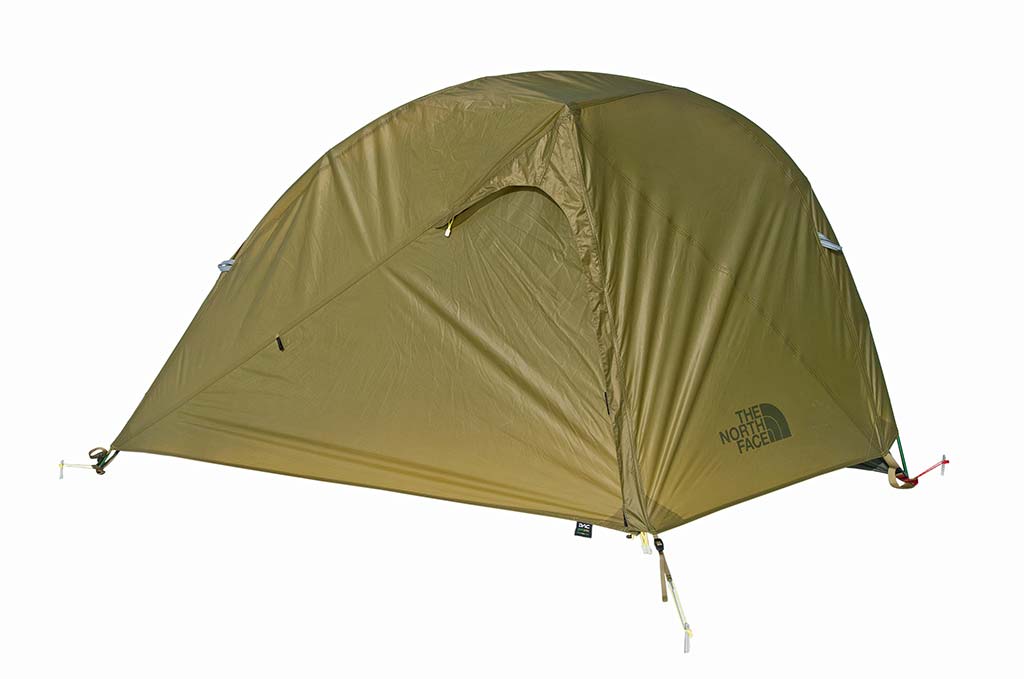 The North Face Mica 1
£220
1.44kg
The Mica 1 is one of the few free-standing tents in this test and it pitches inner tent first, which is never good in rain.
The tent has two poles joined together as one that go up to form a complicated structure, although it's simple enough to pitch, helped by the colour-coded clips on the inner tent, it's sturdy and would stand up to some pretty fierce weather.
Space-wise the Mica 1's best feature is the headroom – I can sit up comfortably inside. There's also pretty good porch space, with enough room to squeeze in some of your gear, which is all you need. Where the tent isn't so spacious is in its length; it's ok for me, but anyone over 6ft will be cramped.
This tent falls in about the middle of those on test for weight, which is pretty good seeing as it's one of the lowest priced.
Ventilation is basically via the door – the whole inner door has a mesh option, or it can be covered by fabric if it's cold. The flysheet door has three zips, so you can maneuver a ventilation window wherever you want to position it; there's also a flap to protect the top of the door.
The inner tent has two large pockets and three decent loops for hanging stuff from on the ceiling. The ground sheet goes high up the sides although it is two pieces of material joined together – the seams are taped, as you'd expect, but one piece of material is always safest. The inner tent is yellow, which makes it feel quite bright inside, and we like the glow-in-the-dark zip pulls to make life easier.
In a line: Great tent at a good price for all but the tallest adventurers
ABR RATING 8 out of 10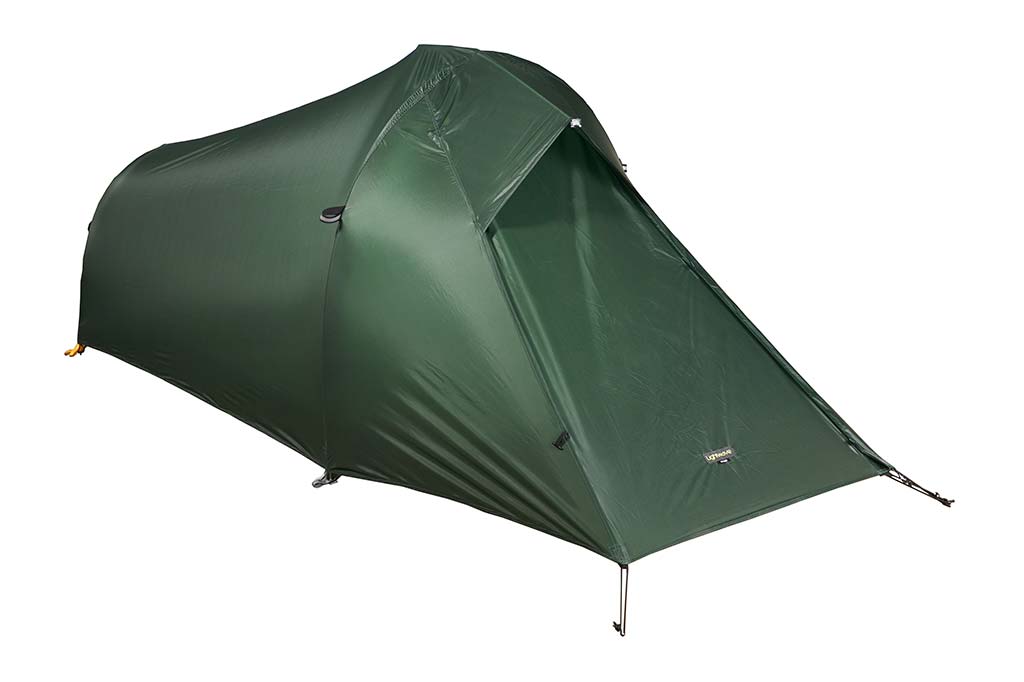 Lightwave T10 trek
£250
1.65kg
The T10 trek pitches inner first – bad if it's raining, good if you want to use the inner only.
It has two poles that slide in to colour-coded sleeves. As it's a tunnel tent it's not free-standing, and the poles tended to catch on the mesh sleeves a bit, but other than that it's easy to pitch. It also comes with three types of pegs, which are all of different sizes and levels of toughness (although even the smallest is pretty tough) – these are quite painful and hard to get in and out with bare hands, but they add to the robustness of the tent.
Lightwave believes the T10 trek is one of the most weatherproof available and I'd feel happy using it in strong weather – pitched in the right direction it's aerodynamic; the inner and outer tents are a good distance apart and with the guys on it's very sturdy. The groundsheet comes nice and high up the sides, with one taped seam at the feet.
Space-wise, the tent is good for those up to 6ft – much more than that and you'll be a bit tall for it. The porch is a good size, and there are two mesh pockets for cooking utensils in the side of it – a nice touch. Inside, there are large pockets all down one side of the tent – useful for the usual camping and personal essentials, like specs and a torch.
Ventilation-wise it's OK – there's a small vent at the back of the inner tent but this isn't matched by one on the flysheet. The inner door is half mesh, though, and the flysheet door has a Velcro vent at the top as well as a two-way zip, so you can open the door from the top down.
In a line: It's not great for tall bikers, but other than that it's a good tent for bad weather
ABR RATING 7 out of 10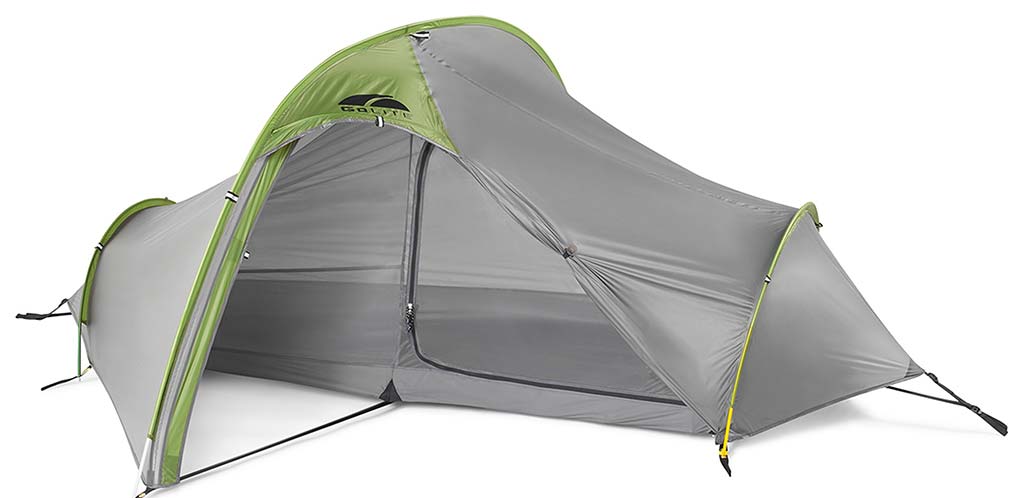 GoLite Eden 1
£250
1.55kg
The GoLite Eden 1 has a clever construction design. It pitches with three poles, kind of like a hoop tent but with one extra high and wide pole in the middle. It's a little tricky to pitch and we wouldn't want to be doing it in a storm, but the result gives one of the best tents for space on test.
The Eden 1 is average weight and a pretty good pack size. Space-wise it gives excellent headroom and a very large porch. Length-wise you won't struggle until you're about 6ft 2 or more and the inner tent is quite wide, too, so you can fit lots of kit in there.
The entire inner tent is made from mesh, and the outer door has a two-way zip, so there can be a ventilation window in the top of it, with a large reinforced visor cover protecting this. You can also adjust the flysheet at each end of the tent, to let more air in. As the inner is all mesh this tent won't offer too much warmth. The groundsheet is a single piece of material and it comes up sufficiently high on the sides of the tent, but the inner and the outer tents are quite close together.
The zips are YKK, but we had a problem with the zip on the flysheet door as it was constantly catching on the flap protecting it. Other good points of the tent are the sturdy but light pegs, the reflective points on the guys and the two ginormous pockets in the inner tent: our usual phone/headtorch/ glasses combo was lost in them. Very useful.
In a line: This tent is an average weight, but when it comes to the Eden 1, it's all about the space; the price isn't bad either
ABR RATING 6 out of 10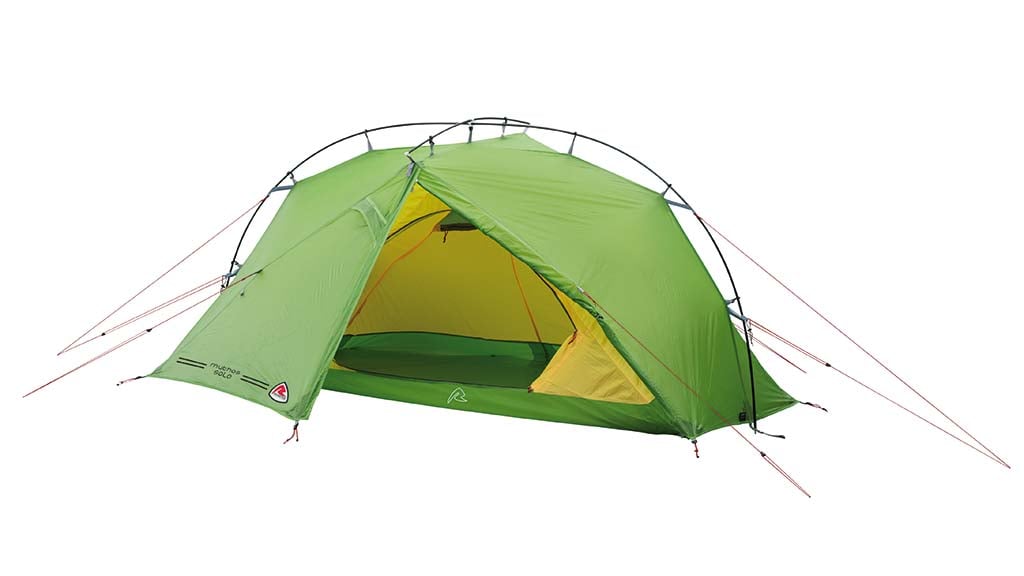 Robens Mythos Solo
£269.99
1.52kg
The Mythos Solo is exceedingly easy to pitch, you really can't go wrong. The inner and the outer go up together (although you can unclip the inner tent if you don't want to take it with you) with the one pole clipping on to the flysheet. The tent isn't free-standing, but other than that it's a similar structure to the Hubba HP below – a sort of geodesic tent but with one of the poles cut off at the top. This results in a superb amount of headroom and a large porch. Where it doesn't do so well is the length of the sleeping area, anyone 6ft or more will be cramped. This will be eased by the extra width in the middle of the tent, though. The tent is tall, compared to a tunnel-style tent anyway, so will get battered about in strong winds, although there are supportive straps attached to the guys that you can wrap around the pole for extra stability. The ground sheet is very deep, the inner is a good distance from the outer and all seams are taped, so no water is going to get in.
Ventilation is good – the top third of the inner door is mesh with an optional fabric cover if it's cold. The flysheet door has two-way zips so you can leave a ventilation gap at the top and there's a ventilation window on the panel next to the door too. Inside the tent, on the opposite wall to the door, is a ventilation
panel which zips open so you can open/close a corresponding ventilation window in the flysheet without having to leave the tent – this will give a good air flow.
Other nice touches are the two pockets at the head of the sleeping compartment and three hanging loops on the roof, and we like the large toggles on the zips and where the flysheet attaches to the pegs, so you can see where you're aiming for if you're doing some middle-of-the-night adjusting. I like this tent for its space, brightness and ease of pitching. It's definitely one to look at.
In a line: A good tent for a decent amount of money
ABR RATING 7 out of 10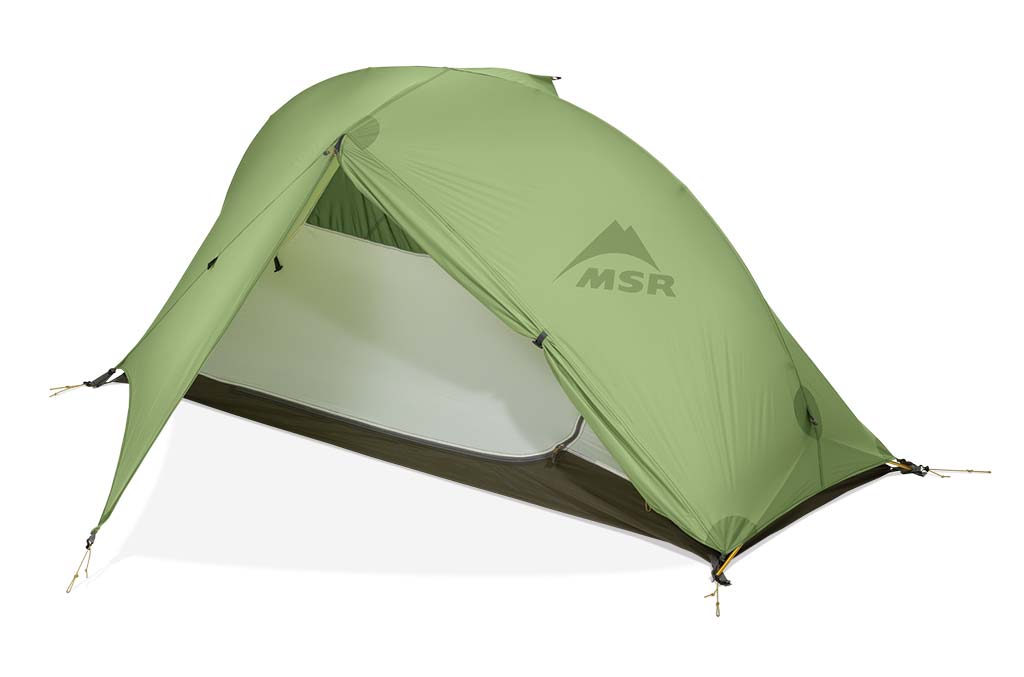 MSR Hubba HP
£320
1.27kg
The Hubba HP Is a free-standing tent; a rarity in one-man tents and infinitely useful, especially if you're on hard terrain and finding a perfect grassy spot to sleep on is proving tough. It does go up inner tent first though (and it's not an option to just leave the two attached to one another), which is always a pain if you're pitching it in the rain.
The Hubba HP is basically a geodesic tent with the sideways pole cut off at the top. What this means is that it has an awful lot of headroom – I can sit up with plenty of clearance. There's less space in the sleeping compartment than with others on test, though.
The downside of this tent's design is the pole system – there's one pole in a spider-like contraption. It's a bit ­ fiddly to pitch and take down, but you'll get used to it; we're worried there's a lot of scope for something to go wrong, unlike the less complicated tents on test. It also means the tent is quite high (as far as oneman tents go) so it would deform more than tunnel-like tents in strong winds.
Other features we like are the large porch that has plenty of room for your bike gear, and the double door on the flysheet. There's a mesh net on the roof of the inner for stashing stuff and two small pockets for valuables: one at each end, so it doesn't matter which way you sleep. We also like the light inner colour that stops it from feeling stuffy. The Hubba HP is made to MSR's high standards – the pegs are tough, the zips are YKK, the seams are taped and there's a pole-repair kit.
Ventilation-wise the inner door is half mesh with a large mesh patch on the opposite wall of the inner, and there's a corresponding ventilation window in the flysheet, although you can't open/ close it from the inside. And if you're somewhere hot you could even leave the flysheet off completely.
In a line: Light tent with a lot of space at a good weight
ABR RATING 9 out of 10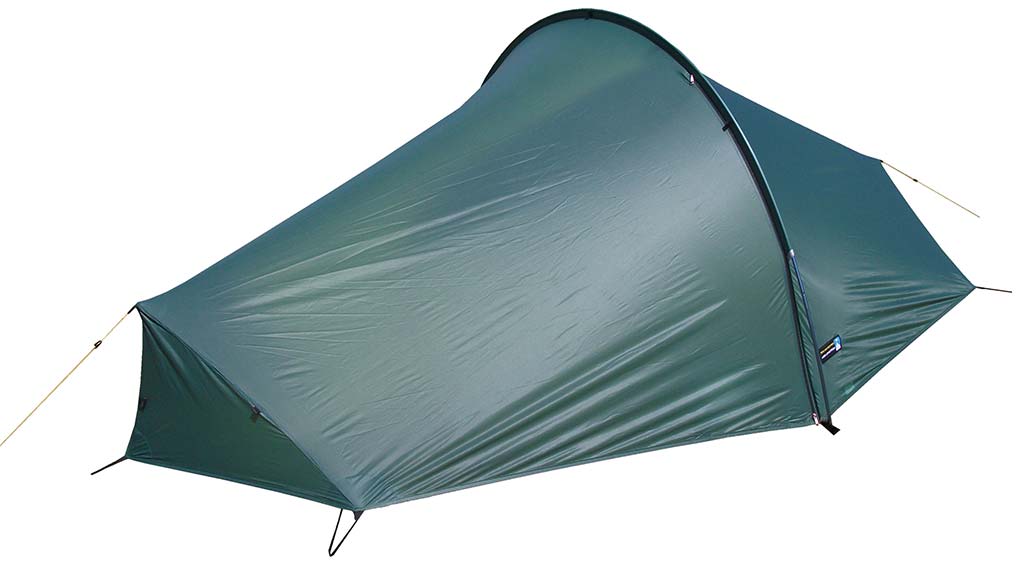 Terra Nova Laser Competition 1
£330
0.93kg
The Laser Competition 1 is fairly easy to put up, with one centre pole and two built-in 40cm poles at each end. You need to peg out the inner groundsheet and outer tent together, which is a little tricky at first but simple once you've got the hang of it. The tent comes with an optional 'pole hood' – a protective, waterproof cover that ties on over the centre pole. This is because the material used to make the tent is so light that the seams can't be taped in the conventional way, but once the pole hood is on the tent is fully waterproof, as the other seams are positioned so they aren't sitting over the inner tent.
All this weight saving hasn't come at expense of space. There's just about room to sit up in the Laser Competition 1, and there's good head and foot clearance; we reckon you'll only start to be cramped if you're 6ft 4 or taller. And there is enough room in the porch for your bike kit, or to cook some food if you had to. Terra Nova claims the tent is suitable for one or two people – we'd advise only if you know the other person exceedingly well.
The tent has good ventilation. You can ventilate by rolling up the outer tent at either end; the inner door is also half mesh. There's no option to cover this with fabric in colder weather – it's a single layered door – but smaller tents are generally quite warm anyway.
The tent is pretty sturdy and there's a good gap between the outer and the inner tents. The groundsheet doesn't come that far up the sides of the tent, but far enough. Some people might like a pocket or some hanging loops in the inner, although with only one person in the tent there's only so far your bits and bobs can go. We would like to have seen a pole-repair kit included though.
In a line: An astoundingly lightweight tent with a surprising amount of space
ABR RATING 7 out of 10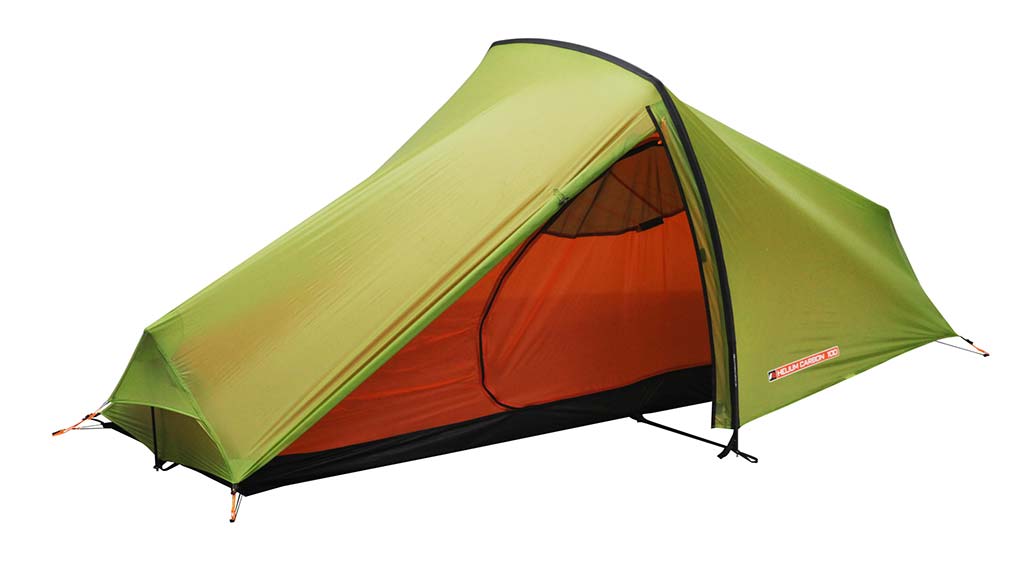 Vango Helium Carbon 100
£400
0.8kg
As with the Terra Nova, the Vango is dedicated to saving weight, from the extra-thin material to the poles and pegs. Six of the pegs are the micro-thin ones and I'd worry about them both on rocky/soft grounds.
Also, four of these extra-thin pegs have the flysheet and the inner tent to support, and the pressure of these tends to twist the pegs round making it easier for them to come unhooked. However, the two pegs at either end of the tent are thicker and sturdier – we'd prefer to see them all like this, or we'd substitute the thin pegs for stronger ones if we knew we were going somewhere where conditions are rough. The three poles are exceptionally light and tough.
The tent pitches with one long pole in the middle and pegs out at either end; it isn't free-standing, which makes it a little tricky to pitch (and means that you need to be able to get your pegs in) but nothing too complicated.
Space-wise the tent scores highly in length: you'll be ­ ne if you're anything up to 6ft 5. Height-wise it's not great. I couldn't sit up fully, but for a tent of this weight you wouldn't expect to be able to, and it's okay to rest on your side to cook.
The porch is pretty tiny; only a small amount of gear could be accommodated. Storage-wise there's nothing in the way of pockets or loops on the ceiling, but again, that's to be expected for a tent this weight.
Other features are small ventilation points at each end to allow a throughflow of air, and the inner door is part mesh too.
The ground sheet is good, with no seams across it. A small gripe is that we could do with an extra clip to hold the doors out of the way, but if you're really bothered you could pack a clothes peg or similar.
In a line: Great for the uber lightweight adventure biker.
ABR RATING 8 out of 10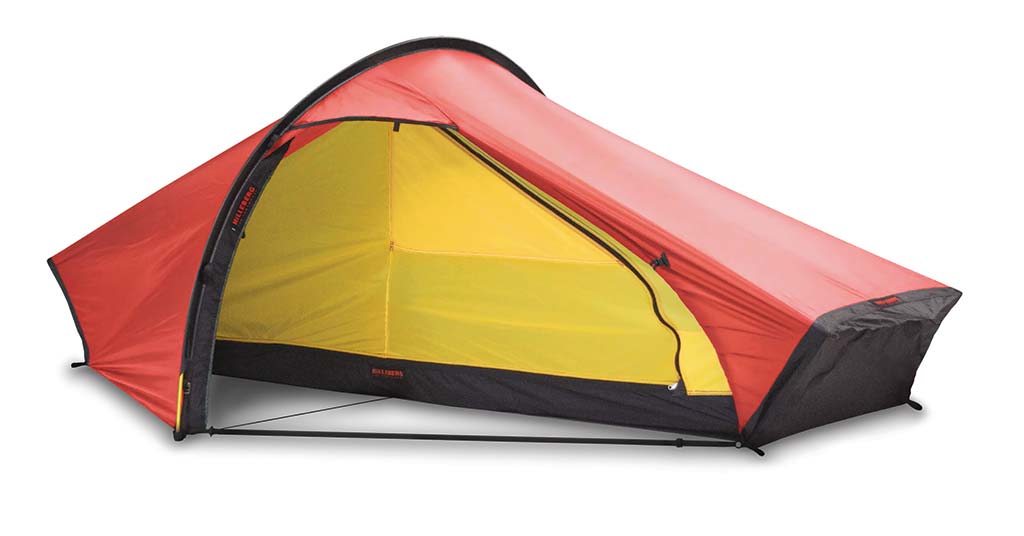 Hilleberg Akto
£400
1.6kg
The Akto is easy to pitch, with one aluminium pole going across the middle and the two ends pegging out away from it. Everything has been considered with the user in mind, even down to small details like the sturdy pegs having bits of rope on the end so you can pull them out of the ground easily. The guy ropes have superb tensioners that make them very easy to tighten; these are one way only, so there's no danger of them coming loose until you take the peg out.
Once up it's clear that the Akto is all about sleeping space. I could lie – at and didn't have the problem of my feet touching the wall of the tent; and I could sit upright too. The porch has easily enough room for your gear or to cook if you had to. Inside there's a handy pocket for your valuables; there are also two hanging loops on the ceiling, although these are very ­fiddly and not particularly useful.
Ventilation is another area the Akto excels in. There are two large zipped ventilation flaps at each end of the tent, opposite each other to give a good airflow; plus there's a ventilation point on the main door, protected by a peak that will stop any rain coming in (this also gives extra shape to the tent). The top half of the inner door is half mesh, although this can be covered up by Velcro-adjustable fabric if it's really cold.
The Akto would stand up to serious weather. It's extremely sturdy; the ripstop outer material is tough (it's called Kerlon 1200); the tent uses YKK zips, the pegs are robust and there's a good distance between the inner and the outer layers of the tent. The groundsheet is all one piece of material, eliminating any chance of water coming through at a join, and it comes up nice and high around the sides of the tent. We also like that it comes with a pole-repair kit.
In a line: A wonderfully made tent for the harshest conditions
ABR RATING 9 out of 10