Paul Jennison rounds up some cool gear that's good to go riding with
Mini Foot-Pump
£34
What is it? A portable mini footpump for combatting flats on the go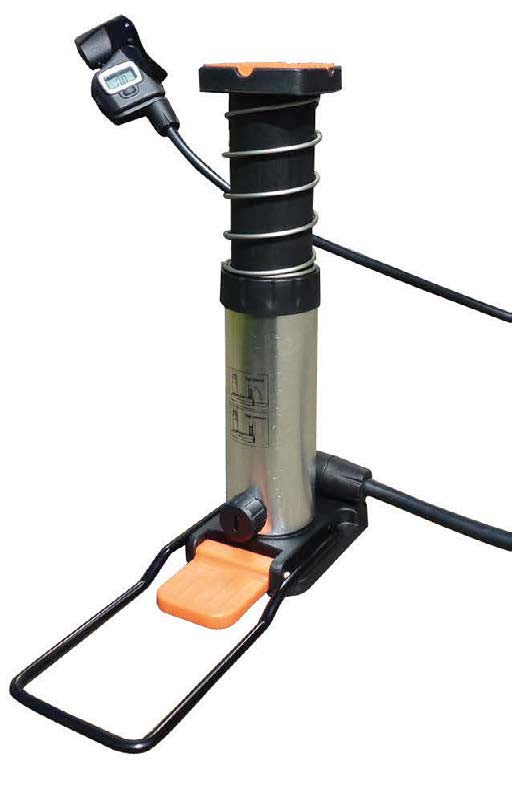 Most ABRs carry the wherewithal to repair a puncture when they're out and about, but unless you manage to get to an airline or are a maestro with those little gas thingies, you may have a problem in­ ating the tyre again… that is, unless you have a foot-pump. This tiny foot-pump is just 17cm high and weighs in at a mere 600g, making it ideal for packing away in a forgotten corner of a pannier until it's called upon for just such a time. It's lightweight, robust and won't have you sweating buckets for your toils either.
To use, simply clamp the pump on to the tyre in­flator valve and switch the inline gauge on, then select the required setting of PSI or BAR. You're now ready to engage foot and pump away to your heart's content. With the fold-out balance foot, pumping is easy going (I was even able to use the pump by hand) and the gauge reads accurately. In no time at all I was able to re-in­flated the tyre that I'd purposely de­flated for this test (see pic left).
This pump can also be used to increase the pressure in an air damping system or pump up your other in­flatables – oo-err! It comes in a neat little zip-up bag, which has additional room for other tyre fixing gear, and a couple of adapters for non-motorcycle use.
In a line: Good things do come in small packages, and this one's worthy of investment
Cymarc BBQ
£120
What is it? A fancy-pants barbeque for posh rally-goers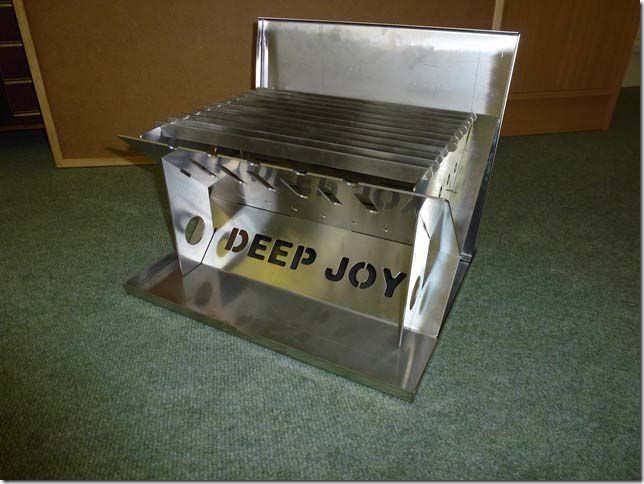 The postie nearly suffered a hernia when he delivered Cymarc's hand-crafted barbeque to ABR central. A small, handmade stainless-steel self-assembly grill in its own container is a thing of beauty, but weighing in at 6kg, it's one for the not-so weight- conscious adventurer.
Designer and ABR Marc Hooton came up with this neat little barbie after seeing a guy with a full-size barbeque strapped to his bike, and it wasn't long before BMW Park Lane got in touch with him to place an order. (We're thinking Hooton should have made some bespoke cocktail shakers and wine coolers to go with it.)
The BBQ folds ­ at and will ‑ t perfectly into a BMW-sized pannier, but you had better counter balance the other one with all the food you want to cook, and then some! Think Fred Flintstone portions and you're halfway there.
In a Line: A heavyweight BBQ for the landed, meat-eating ABR
RST Pro Series Adventure Suit
£199.99 Jacket
£179.99 Pants
What is it? A three-season suit that's perfect for touring in mixed weather conditions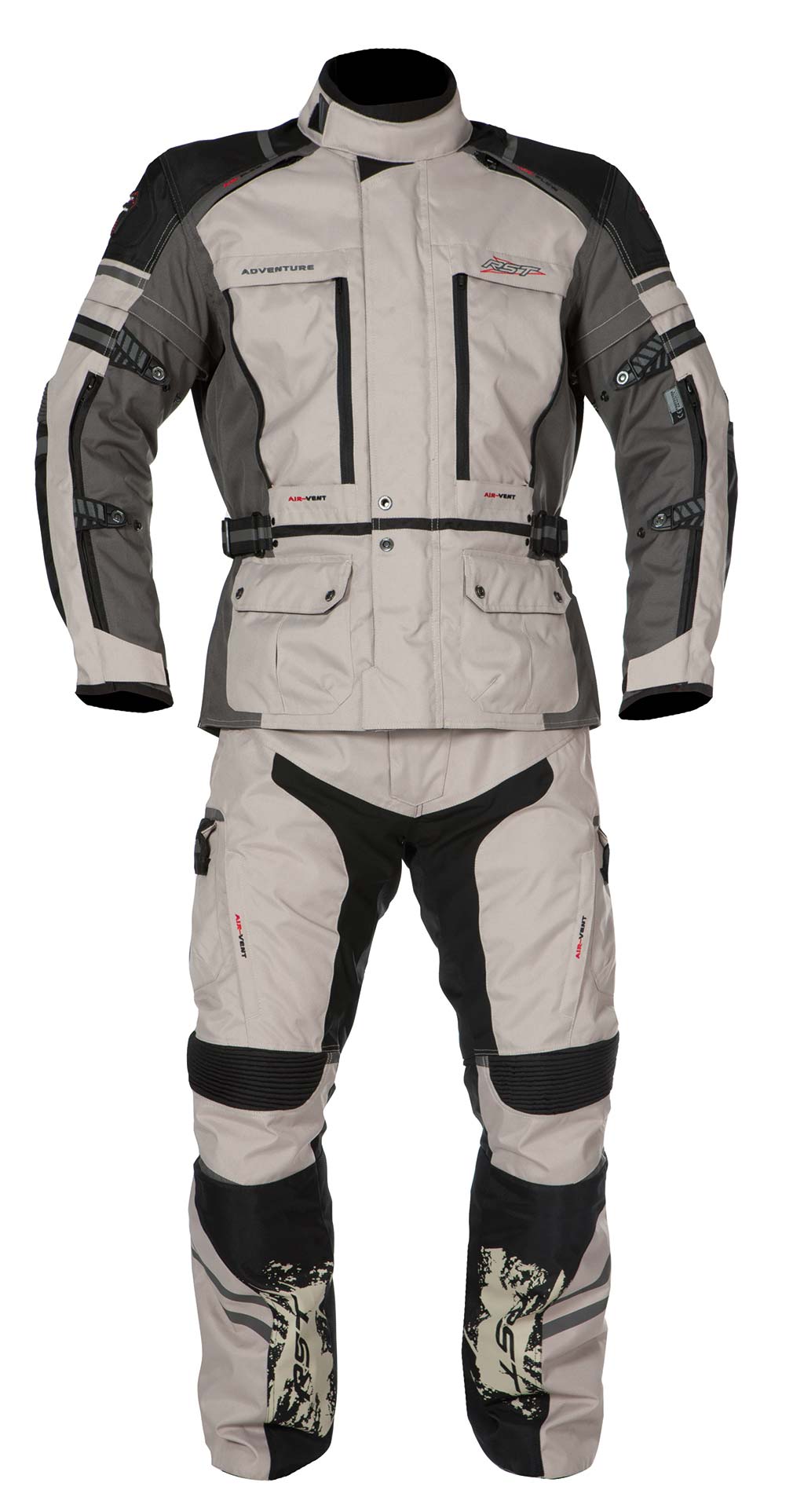 Summer's here and plans for tours, both abroad and at home, are a go. Riding in a hot climate has its pros and cons: as much as you're praying for weather to rival the heat wave of '76, it's exhausting clocking up the miles in those kinds of temperatures wearing heavy, dark coloured kit. On the ­ flipside, the skies can be fickle and the last thing you want is to get stranded in a monsoon without any waterproof gear.
So, a riding suit that caters for all eventualities is the ideal solution; something that's light-coloured to re­flect the heat, has good ventilation and also offers waterproof protection. And that's where the Pro Series Adventure Jacket and Jeans combo from RST comes in. Brand new for 2012, the suit is designed and made by the British motorcycle clothing company and has features aplenty.
Starting with the jacket, then. Straight away you'll notice that the sleeves are detachable from mid-bicep.
This is for comfort and ­ flexibility in hot riding conditions, although you lose the elbow protection in this mode. The sleeves themselves have multiple adjustment points, which help keep the armour in the correct position, and have a zipped air vent from cuff to elbow.
The front of the jacket has a large storm ­ ap covering the zip, which is held in place by strong Velcro and eyelet snap fasteners, and there are waist adjusters for that perfect fit.
Two large cargo pockets at the front are fastened by Velcro and snap fasteners; these pockets have the appearance of being water-resistant, but there's no information on the swing-tag to con‑ rm this. At the back there is a large map pocket, which is zipped and covered by a Velcro ­ ap. This map pocket is fully detachable and the integral waist strap means it can be used as a bum-bag. There's also a pocket to allow for a hydration system, which can be accessed from the outside.
The Jacket outer has a zipped wallet pocket inside, and this is duplicated on the waterproof liner. Ventilation is provided by two large retractable chest panels, which fold away into their own zipped-up pockets, (these could be used for small-item storage) and two additional shoulder vents. There are two large exhaust vents at the back, too, so cool air can circulate in abundance.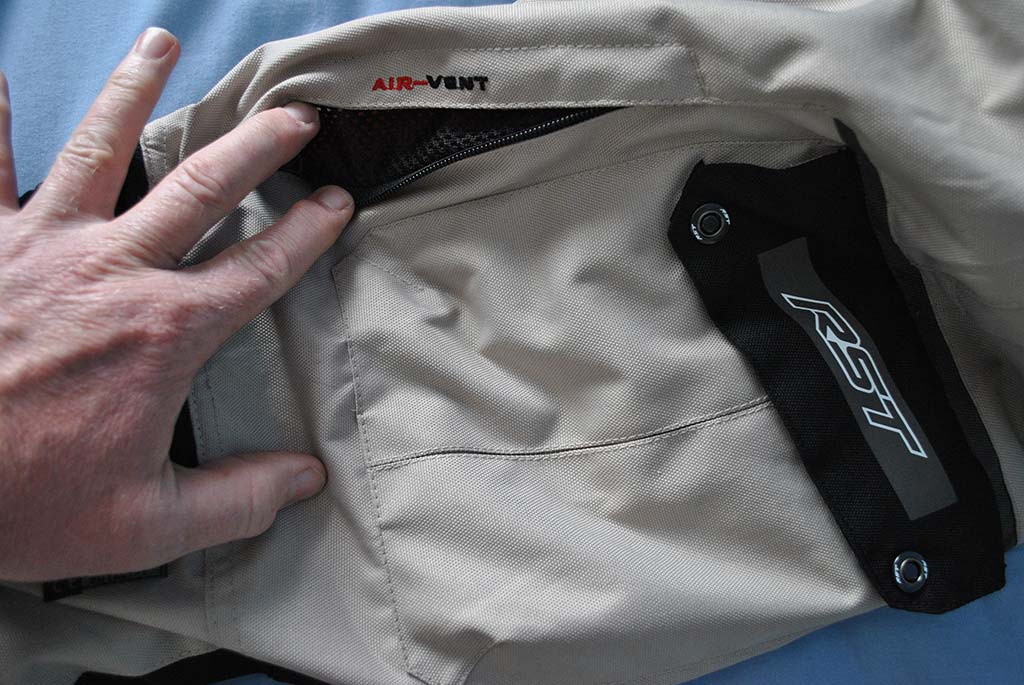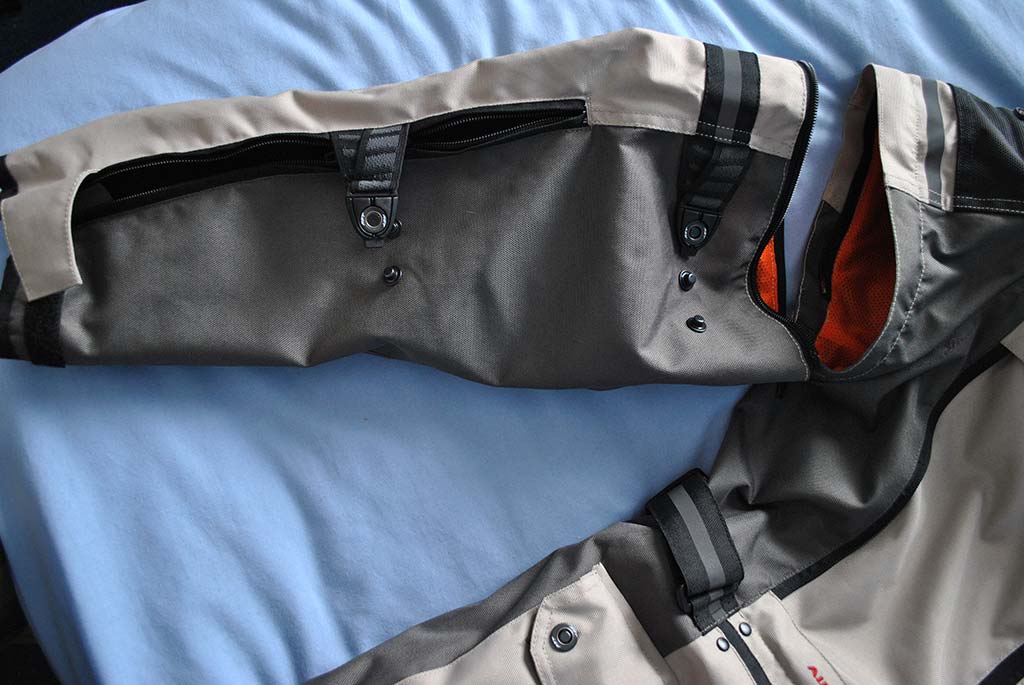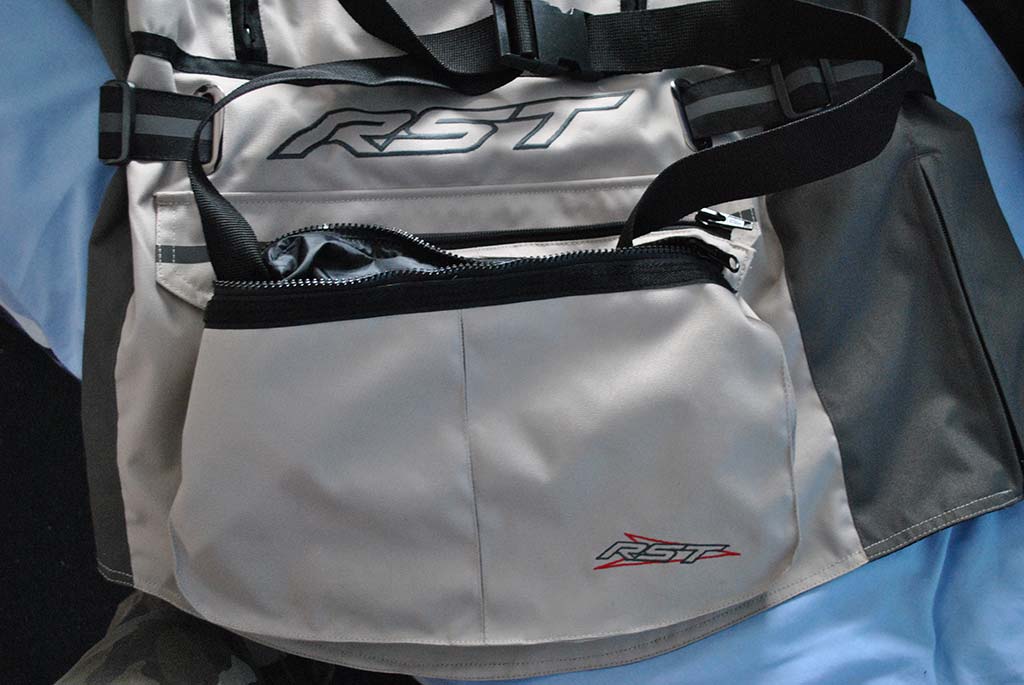 The armour at the shoulder, elbow, knee and back is RST Contour Plus CE-approved and is well positioned and comfortable; the knee protection is also adjustable. The jacket and jeans both have plenty of 3M Scotchlite re­flective panels and piping throughout for added visibility.
A full 360-degree zip attaches the pants to the jacket to prevent draughts or ride-up. The pants have an adjustable waist fastener and a full internal ­ y gusset, to keep the wet weather out. There are also two zipped hip pockets for loose change as well as two large cargo-style patch pockets with Velcro and snap fasteners on the thighs. Like the jacket, these pockets look pretty watertight but there's nothing in the literature to guarantee this.
There are zipped air vents on the thighs for cooling. The lower legs have good-sized zips and expansion areas to accommodate larger adventure-style boots; my Sidis went in easily without the need to open the adjusters.
Waterproofing in high-end textile suits is generally achieved by bonding a laminate to the outer fabric. This prevents the outer from wetting-out and the inevitable cooling effect of soaked clothing is kept away from the wearer. The Pro Series suit fabric is constructed from Maxtex polyester and Ballistic nylon treated with Te­flon, which forces water to bead off and also prevents dirt and grime penetrating the material. This should stop the outer from wetting-out completely, but as an extra failsafe, there's also a drop-in Humax-Z waterproof and breathable liner to see off any serious showers; to keep out the chill, there are quilted liners which can be removed separately.
In conclusion, this is a well-designed, well-made three-season suit, which I found comfortable and warm with both liners in place, and blissfully cool with the liners removed and the vents open – a great summer touring suit.
In a Line: A versatile adventure suit packed with great features at a very good price