The bikes we rode to work on…
Alun Davies – BMW R1200GS
I've forgiven the Germans for dropping an incendiary bomb on my gran's outhouse in the Rhondda Valley during the 1940s. With peace and love in my heart, I've even managed to look beyond the grotesque Bavarian act of infesting world music with Milli Vanilli.
But, in the first half of 2013, I was still prepared to go into hand to hand combat with any local in the Mosel Valley to avenge the destruction they caused to a generation of teenage British men and women during the 1970s.
Somehow, the winegrowers of the Mosel Region had brainwashed the British public into thinking that swigging Blue Nun was the height of social sophistication and a grape juice experience par excellence.
The effect and I can only speak personally here, was that I entered a wine wilderness during my 20's and 30's where I could not even contemplate drinking plonk due to the gut-wrenching, fear-inducing memories of lying prone in back lanes with a couple of bottles of that sickly sweet, facial contorting vilest of Liebfraumilch* at my side.
Anyway, that's why I ended up pulling up in Koblenz at the head of the spectacular Mosel Valley with thoughts of strapping a flame thrower to my water-cooled BMW R1200GS steed. Revenge, always best served with a lousy bottle of white, would be mine.
The Mosel Valley, just to the south of the famous Nurburgring race track, is a fantastic place to go motorcycle touring. The meandering river Mosel has cut a stunning, steep-sided valley through the high shale escarpment, which the locals have decorated with fairytale castles and continued with the Roman custom of planting vines on anything that doesn't move for half an hour.
As we rode on long sweeping bends with the river on our right and ridiculously precipitous vineyards to our left I could not help but think how could such a beautiful place produce such poison and get away with charging for it? Anyway, sometime during the 1980's the local growers either had a road to Damascus moment or reacted to hugely declining sales by introducing a far superior grape that produced a drink that didn't make you retch from the first sip.
Riding the GS over to a trade show at Fredrichshaften via the Mosel Valley was the perfect opportunity to rekindle my relationship with the bike and motorcycle touring. As regular readers of ABR magazine would know, I was involved in a serious accident at the press launch for the new water-cooled BMW back in January 2013 in South Africa.
Whilst my physical injuries are well on the mend, the psychological discomfort has proved a little more difficult to deal with. For the first time in my life I'd been feeling an abnormally high degree of anxiety each time I threw a leg over a motorcycle, so much so my passion and enthusiasm for two-wheeled propulsion was beginning to wane.
I reckoned what was needed was a good week in the saddle covering a couple of thousand miles during which I'd hopefully get back to enjoying the ride rather than being burdened with thoughts of frailness and mortality.
As it worked out the new GS was the perfect partner and by the time we arrived at the Alpine-style roads in the Black Forrest I was back in the groove and approaching that motorcycle Nirvana when man and machine move in perfect harmony and all thoughts other than enjoying the moment are banished for another time and place.
Over the past six months, a lot has been written and said about potential handling issues with the new GS and having been through a life-threatening, confidence-sapping crash aboard one earlier in the year I can tell you now that I'm probably more sensitive to such issues than most, irrelevant of which bike I'm currently riding.
What I can tell you is this: the GS behaved impeccably. On high-speed autobahn blasts, it was rock solid. On off-road trails and dizzying switchbacks in the Black Forrest, it went where I pointed without a hint of a challenge and as we arrived back home I'd made up my mind if the BMW R1200GS was the last bike I'd ever own then I'd be a happy man.
I'd even go so far as saying I'd drink it's weight in Blue Nun if BMW promised not to take it back. Or perhaps not. Whatever, I'm back to enjoying life in the saddle.
*Liebfraumilch literally translates into 'Beloved Lady's Milk'. Man, they really did take the piss.
---
Paul Jennison – Triumph Explorer XC
Several years in development, the eagerly awaited Triumph Explorer was designed and built to rival the best-selling adventure bike to date; the BMW R1200GS. So after its launch last year the bike proved to be a hit in the adventure market, sales figures spoke for themselves as the 1200 Explorer certainly made a dent in the German marque's profit sheets. Then came the Explorer XC, to compete with the GS Adventure…
We were initially disappointed; all Triumph had seemed to do was add a few bolt-on accessories to 'ruggedize' the standard Explorer. No larger tank or electronic adjustable suspension, just a set of spoked wheels and a sump guard to give it a beefed-up appearance and some fog lights and handguards to complete the aesthetics (read the full review of the launch of the XC in issue 17 of Adventure Bike Rider).
With that said I was still keen to extend my previous short rides on the Triumph when we took delivery on a long term loan of an XC. And as a long-time owner of a 1200 GSA who better to compare the two?
The ride by wire throttle took a little time to get used to, it is very light and the power from the triple-cylinder motor is instantaneous and very quick off the mark. It's certainly quicker than my GSA. It also took me a while to get used to the reduced engine braking on the Triumph over the flat-twin boxer.
One thing I really thought the new version would have is some form of electronic suspension adjustment (ESA) like so many of the other bikes in this sector, but they haven't added it… yet. A little bit of adjustment was required on the rear preload to get the right setting for my style of riding.
I don't mind a bit of bounce on uneven roads, but I like to feel a little more planted at fairly progressive speeds. This is one of the benefits of having ESA on the Beemer; a few button presses is all that is required to obtain the right level of damping and preload for the current conditions.
I was enjoying the experience though.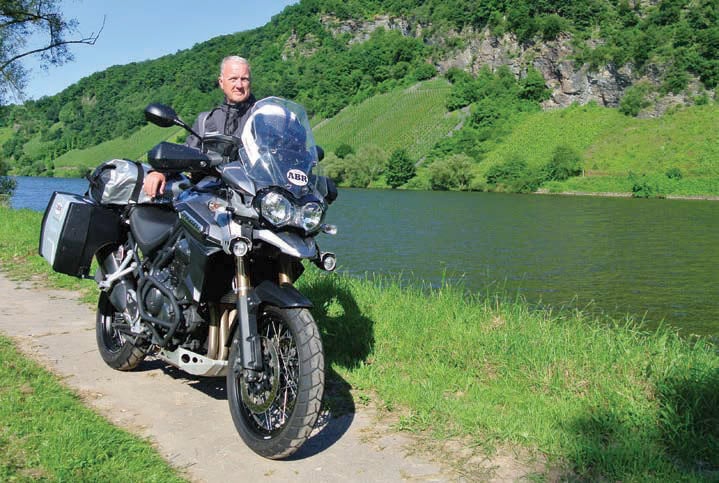 I have heard people waxing lyrical about the stonking three-cylinder triumph engines, but as I hadn't really ridden a big bore one much before I didn't quite get it. What I 'did get' was how fast this bike can be. I was finding it difficult to ride it slowly. Overtakes are a breeze when I'm in the mood and by now the Triumph was putting me in the mood every time I rode it.
Another mechanical feature I really like is the slick six-speed gearbox. I can honestly state that in 4,000 miles I haven't missed a gear or found a false neutral, which is more than can be said of a few other bikes I have ridden just recently. The gear select is precise, it's just a little snick to change gear either up or down the box and clutchless shifting is just as pleasing when I feel the need.
I've no doubt the Explorer is an excellent adventure tourer where high mileage are concerned. I was able to put this to the test on a recent sojourn across Western Europe, down to Friedrichshafen, in the southwest of Germany. The chosen route was across Belgium on their badly potholed motorways, into Germany and then to navigate the Mosel Valley south and then cut over into the Black Forest to our destination.
The first full day from Ypres in Belgium was going to be a good 300 miler during which the cruise control would get plenty of use and seat comfort put to the test. The Triumph coped well, using the cruise control more and more, though if I was being really picky I would prefer the control to be on the non-throttle side of the switchgear because when you release your grip on the throttle to stretch your thumb over to engage the cruise control it snaps shut and the front tends to dive like a startled mermaid.
Seat comfort is a high requirement on any bike, especially when mile crunching. I was already happy with the riding position and the comfort hadn't been an issue on my daily rides. But a real test was to ride in hot weather for 250-300 miles a day. I am happy to report that the seat is comfortable, with ample width and firm but deep padding.
Three days solid riding and another two to return hasn't left me with a flat arse or seeking a good chiropractor, in fact, the Explorer is one of those bikes that you could ride long distances on for several days without bulking at the thought of another few days in the saddle.
Weather protection from the screen and the styled front plastics are great in wet weather, in hot weather, the cooling wind blast is being deflected away from my jacket vents and over the top of my helmet, so an adjustment of the screen was required to get some welcome air into my jacket and lid vents.
By the time I got home, I had covered about 1,700 miles and had ridden for a total of 34 hours. So what do I really think about the Explorer? Well, all things considered, it's a great bike. A comfortable mile cruncher, which is equally at home cruising at Autobahn speeds as it is being tipped from side to side through the bends.
It has solid handling (as long as the suspension is properly adjusted) and great brakes. But its best feature for my money is that brilliant triple-cylinder engine, coupled to a beautifully precise gearbox that work so well together that it makes you just want to ride and ride.
---
Ben Toomey – Suzuki EN 125-2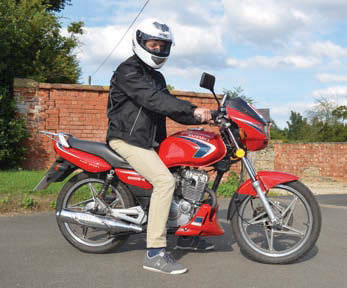 What year is it?
2007
How long have you owned it?
Three weeks.
How many miles has it done?
9,870
How much did you pay for it?
Just under £600 with Mot, service and tax.
Why that bike?
Because my future father in law is a mechanic in a bike shop and that came in to the shop. It had been there for a while and he pursuaded his boss to give me a discount.
Is this your first bike?
Yes.
Why did you get into biking?
After joining the magazine really. I like cars, but then started on the magazine and fancied giving it a go.
How did you find your CBT?
It was alright, quite a long day, you have to do theory about the bike; how to get on the bike, how to start the bike, how to use the gears. You have to do loads of carpark stuff before you can even go out on the road. So all in all it's a solid eight hours of teaching.
Next step?
Start lessons in the next few weeks. That'll be on a 500cc.
How was it first few weeks on the road?
I think you get the impression that most car drivers are out to kill you and it's quite nerve wracking actually. Even stupid things like hill starts, which you'd do in a car without even thinking about it, on a bike it's quite hard, a bit of a challenge all over again. But I enjoy it. We've had a mix of weather, which has been a real test, hot and dry and then wet.
What do you like about the bike?
Nothing, it's awful, it's a really bad bike. It's slow, uncomfortable, it's small, but I wanted to ride it a little while before I jumped on a big bike, just so I could get used to bike handling skills. I could have jumped straight in to doing lessons on a 500cc, but instead of doing that I thought it'd be good to ride a 125cc for a while.
Are current regulations ridiculous?
Not ridiculous, they're quite confusing though, especially if you're uninitiated. I do think it's important, especially for young people to learn how to ride a smaller bike before they jump on anything bigger. You see too many people driving badly.
If money was no object what bike would you buy?
I quite like the new CCM, because it's British.
Where would you ride it if you bought it?
I don't know, Tescos.
Dream trip?
I went to Canada a long time ago and spent time in the Rockies. It'd be nice to go back and discover it.
Who with?
I don't know, my partner, or Austin Vince, because he's mental.
---
Bryn Davies – Triumph Tiger 885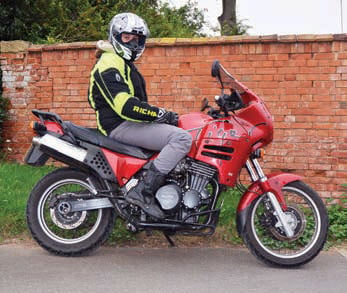 What year is it?
1997
How long you owned it?
About 3 months now. It was my dad's before. I think he'd had it about 4 years.
How many miles has it done?
32,000, though it had a new engine put in about 5,000 miles ago.
How much did you pay?
I bought it for £1,300, he assured me it was a good buy…
Why that bike?
I was saving up for a Suzuki V-Strom 650, but then I was offered the Tiger at a good price! I'd always looked at it and thought 'phwoaaaaar' and so I jumped at the chance to buy it. I honestly think that despite showing its age a bit, it's one of the best looking adventure bikes around.
Is this your first bike?
In a sense. It's the first one that I've owned. I rode a Yamaha TTR660 for a bit after I passed my test, but I was just borrowing it.
Why did you get into biking?
It was something I'd always wanted to do since I saw my dad coming home on his bikes. Being so close to ABR also had some influence I'm sure! They're also useful in a zombie apocalypse, so I'm told.
Anything gone wrong with the bike so far?
Yeah, the fuse blows every time I start it with the headlights on! I think I've been through nine fuses now. The neutral switch is a bit dodgy and goes off after riding the bike for a certain period of time. They don't really affect the riding though if I get going for a few meters without the headlight on it doesn't blow and the neutral switch only turns the bike off when I put the kickstand down, so no biggie.
What do you like about it?
Pretty much everything. I love the look of it, it's nippy enough for me and I love the sound of the triple engine when you start to get going, it sounds like a jet engine getting warmed up.
Dislike about it?
It's probably a little bit too heavy to consider green laning, but I might give it a go! Also, I'm not sure if this is a dislike, but it sounds like a tractor when it's idling.
Any big problems/costs, servicing or otherwise?
None for me so far, though I probably should get the headlight issue looked at sometime soon.
What would you replace it with money no object?
In all honesty, probably a brand new Suzuki V-Strom 650! I'm in love with the look of it.
Any adventure, where would you go?
I've got it in my head that I want to go up to Nordkapp in Norway sometime in the winter. Failing that I'd love to ride the length of the Americas.
Who with?
Anyone who wants to tag along!
For how long?
As long as it takes. I think I'd be happy on the road for a few years.