FOUR SEASON TENTS
Paul Jennison rounds up a collection of tents for all seasons, ranging from affordable to top of the range, but which one will come out top?
A common topic of conversation over on the forum (www.adventurebikerider.com/forum) is members asking for advice on which tent they should buy, whether it's for a specific trip or just to join in the fun of attending one of our hugely successful rallies. The answers come from the vast experience that is out there and from these answers I can draw a conclusion that like me many ABR's have more than one tent! For every conceivable circumstance and weather situation, I like to be prepared. Dib-dib!! If we take the rally theme, in particular, ABR rallies are now into their third year.
The first few were held from spring through to autumn, but such was their popularity that more dates were added to the calendar and now there is at least one per month throughout the year. Now your average summer weight tents will serve you well for pretty much three seasons and I dare say a few will push them into winter use as long as the weather isn't too bad. But if the conditions deteriorate suddenly into gale-force winds with rain and/or snow that summer tent could be a pretty grim place to hole up.
And what about the BIG rallies such as the Elephant (Germany) and Primus (Norway) or even the Dragon (North Wales) where the weather is sure to be at the very least testing. Temperatures are certain to be several degrees below freezing even if it's mild. What could be needed is a four-season tent that will take pretty much anything the weather gods can throw at it whilst you are sleeping off that bottle of Schnapps.
As a general rule, because of the high-grade materials that are used in their construction the costs are going to be substantially higher than your summer choice and they are going to weigh a bit more too, but you are not carrying it, the bike is, so it shouldn't deter you. They are quite at home in any season, and some UK summers can put the best tent to the test. Here I have reviewed eight four-season tents from a little under £120 up to an eye-watering £688 but rest assured they should last the test of time and weather.
---
Important!
We should mention that cooking within a confined space comes with obvious inherent dangers like fire, but more importantly, the greater risk is from carbon monoxide, which is odourless and deadly. Many people die each year from carbon monoxide poisoning after cooking inside a tent or using the stove as a heat source.
---
Features of a 4-Season Tent
Poles
Poles need to be tough. The more complicated the pole structure, the more there is to go wrong (like something snapping). And no matter how robust the poles are, always take a pole repair kit.
Ventilation
Vents should be a decent size and opposite one another for maximum airflow. However, it will be necessary to be able to close the vents completely when the weather is bad.
Doors
The flysheet door should have a two-way zip so you can leave a ventilation gap at the top; it, therefore, needs to be protected by a flap or peak. The inner door should have a mozzie net to keep the midges out as well as for ventilation.
Guy Lines
Guy lines are used for securing the tent in high winds and adjusting tension in the fabric, and in a non-freestanding tent, they might be a vital part of its construction. They should be easy to adjust.
Inner Tent
The inner tent's purpose is to keep a tent breathable and stop us from waking up with a layer of condensation on our heads. It's good if it's made from light-coloured material, to keep the small space feeling as bright as possible. Bonuses in the inner tent include pockets and hanging loops for gear.
Pegs
These should be tough enough to force into firm ground and able to secure your tent to the ground in high winds. If the likelihood is that you will be pitching in snow, then longer pegs are a must.
Groundsheet
Keeping you dry from beneath, the groundsheet should have a bathtub construction (coming up at the sides so it looks like a low bathtub) and be made from rugged material. Ideally, it will only be made from one piece of material; if it's made of more than one the seams connecting the two must be taped.
Outer Tent/Flysheet
This is the outer layer of the tent. It should be strong, waterproof and have fully taped seams to stop water from getting in anywhere.
Porch
A 4-Season tent should have a porch large enough to stash any surplus gear like panniers, wet boots and gear in overnight. It would also be beneficial to be big enough and with adequate ventilation to allow you to cook inside.
---
Karrimor Discovery 2
SRP £119.99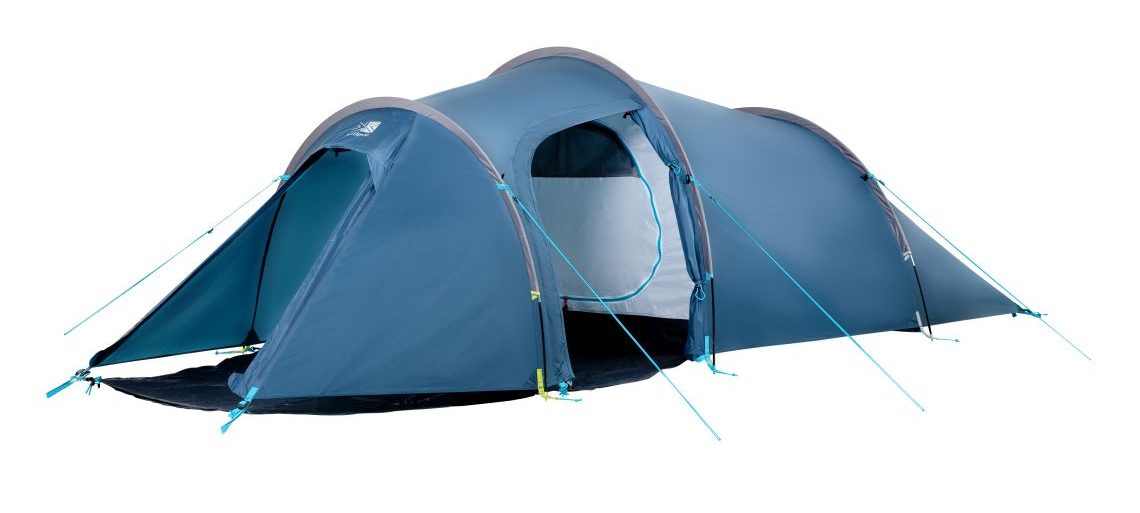 The Discovery 2 is part of Karrimor's Explore range. It's a two-person tunnel tent with fibreglass poles and durable fabrics. The outer tent goes up first, which is good as it means the inner shouldn't get wet during the pitching. And you could leave the two attached after you've pitched it once so it goes up quicker. The tent packs down to 58x20cm and weighs in at around 4.25kg. It took two of us about 20 minutes to put the tent up and I was impressed with the space it affords.
There's plenty of room to sit up inside and it will accommodate two people with ease, although ABRs over six foot will find lying down a bit tight. All of your kit can be stored in the porch with some space to spare. Weatherproofing is good, with the flysheet being made from polyester with taped seams and a 3,000mm hydrostatic head, making it very water-resistant.
The inner tent is made from breathable polyester with a bathtub groundsheet made from durable PE (polyethylene), which is quite stiff, but strong and water-resistant. The groundsheet extends to cover the entire porch area so kit isn't lying on the wet ground. The supplied steel wire pegs came out of the ground easily, so an investment in some stronger and lighter replacements would be a good idea.
ABR Rating: 6/10
In a line: A tent for a winter rally on a limited budget
Khyam Nimbus
SRP £175.00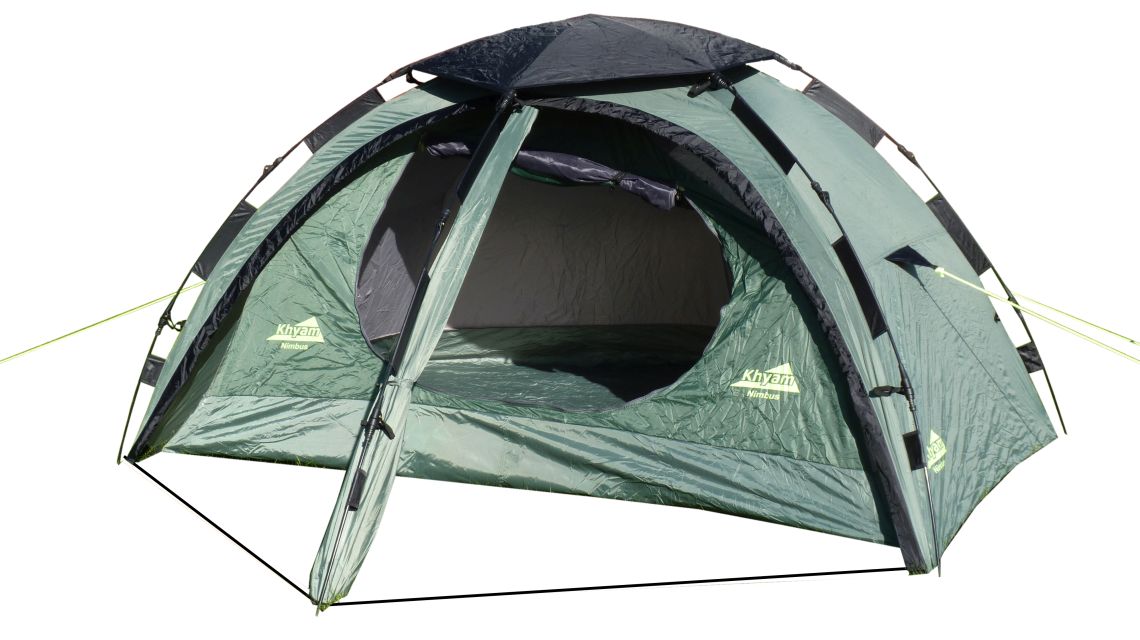 British manufacturer Khyam has been making tents for just over 20 years and the company is behind the innovation of what it calls Quick Erect tents, where the poles are fixed in place around the outside of the tent and fold-out in a few seconds into a rigid frame. The Nimbus was one of the early tents offering this system. At 5kg and measuring 60x20cm, it's one of the larger tents on the test. Being a dome tent, it's taller than others in this review and I could easily kneel up inside.
However its height also makes it susceptible to windy conditions, so make sure the guys are well pegged in. As well as having plenty of headroom the inner tent will accommodate two people for sleeping, but there won't be much space left for gear. You could put some kit in the porch, but again it's not overly generous. The door to the inner tent has a secondary full-size mesh panel; inside this are two fixed mesh vents, which can't be covered in bad weather.
The flysheet has two main doors. The polyester flysheet is made from the company's Weatherweave Pro, which is strong and waterproof, although it doesn't have a hydrostatic head measurement so it's hard to say how waterproof it is. The groundsheet is bathtub shaped with the sides coming higher than normal. It's made from polyester with nylon taffeta, which should resist normal abrasion and punctures.
ABR Rating: 7/10
In a line: Quick and easy to pitch but also big and heavy!
Vango Hurricane 200
SRP £350.00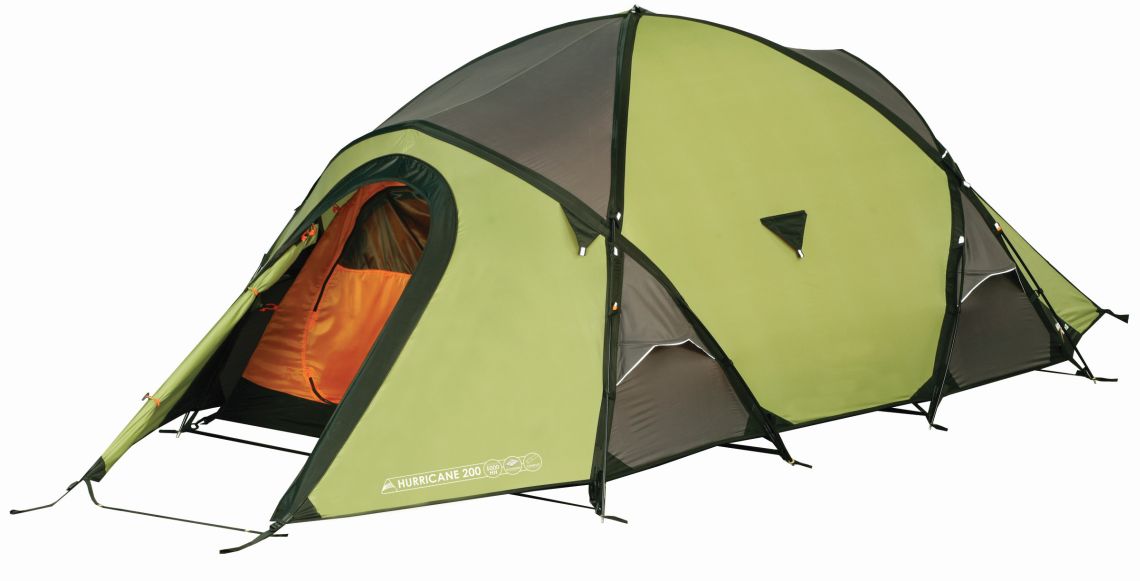 The Hurricane 200 is an expedition tent that will perform at its best when the weather is foul. At 54x20cm and 4.2kg, it's pretty neat. And when you consider that the flysheet is 70D ripstop polyester with a hydrostatic head of 5,000mm that weight is well placed. The Hurricane 200 has a four-pole system with the two longest poles making the mainframe and the remaining two giving height to the front and rear vestibule areas.
Threading the poles through the thicker flysheet sleeves felt onerous compared to a lot of tents on test and I was surprised that it went up in just 10 minutes. The Hurricane 200 is symmetrical, with identical points of access at either end and porches to match. There's plenty of room to sit up and two people can lie down with room for some kit, although with two porches on offer there's plenty of room outside the sleeping area for gear.
The inner tent is made from breathable ripstop material with a heavy-duty nylon bathtub groundsheet with taped seams, which will stop any water from finding its way in from the ground. There are vents on the outer tent with corresponding mesh panels on the inner tent. The inner doors have a half-moon zipped mesh panel, so airflow is good. The Hurricane 200 is a strong and spacious tent. It will keep out the rain and retain its shape in the wind. It's well made and good value for money.
ABR Rating: 9/10
In a line: A fine example of a four-season tent
The North Face Westwind 2
SRP £385.00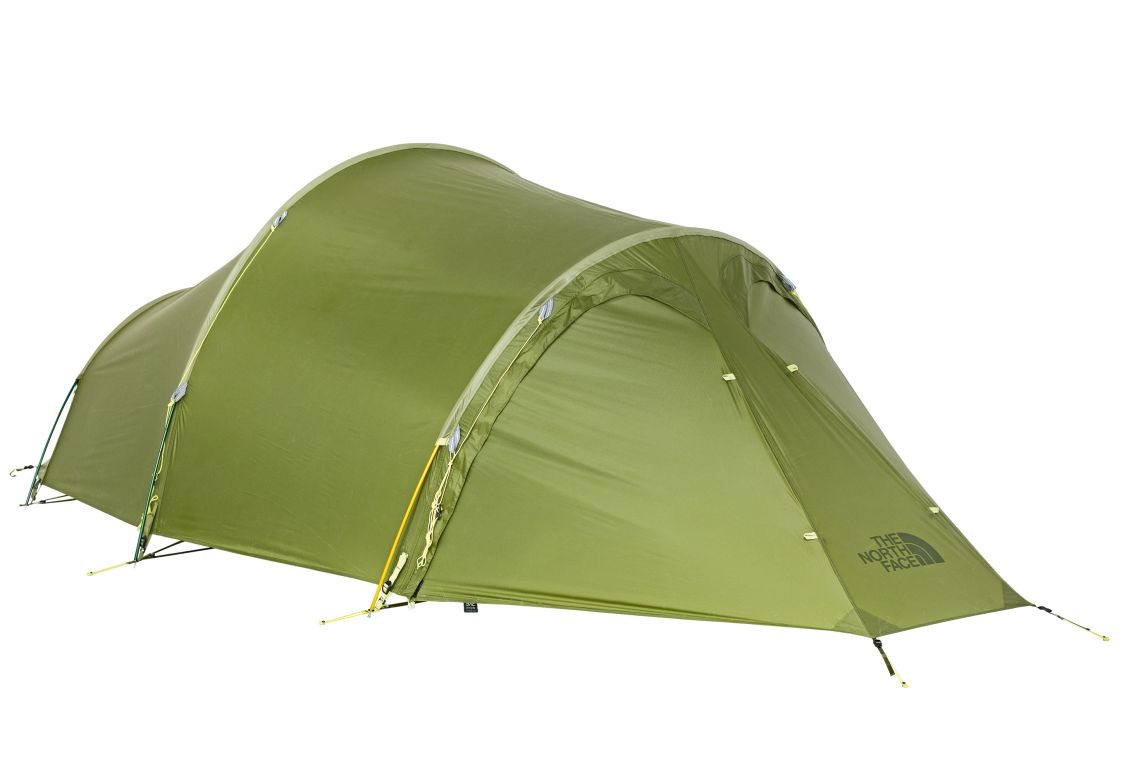 Billed as a 'three-season plus' tent, I'm satisfied that The North Face's Westwind 2 fits the four-season tent criteria. Weighing in at a respectable 2.88kg and with a pack size of approximately 60x20cm, it's one of the lighter tents on the test. It comes with the inner tent attached to the outer and it was easy to put up as the poles and their respective sleeves are colour coded. Once the poles were inserted and locked into their anchor points it was simply a matter of pegging out the ends and sides, but be warned: you'll need to buy additional pegs for the guy lines.
The flysheet is made from nylon ripstop fabric with a 1,500mm hydrostatic head and a silicone water-resistant coating, which together keep out the rain. Space inside the inner is abundant. I was able to sit up and move around with relative ease. I'm six foot and lying down I still had several inches to spare, so taller ABRs are catered for here.
At the foot of the tent, there's a small door leading to a space where you could store small pieces of kit like boots. The groundsheet is constructed from nylon taffeta with a 5,000mm hydrostatic head. It also comes up around the sides in the bathtub style and the seams are fully taped. The porch is a good size and the ideal place to store larger items of gear, or indeed to cook a meal with adequate ventilation.
ABR Rating: 8/10
In a line: Makes me want to go to the Elefant Rally
Robens Osprey 2EXS
£399.99

The Osprey 2EX is a versatile and sturdy two-person tent, ideal for lightweight adventuring whatever the weather. Weighing in at a respectable 3.35kg on our scales, it's slightly at odds with Robens' stated weight of 3.1kg, but we're not going to quibble too much. Pack size is 44x18cm, so plenty of pannier space there. I put the tent up in a little under 10 minutes. The set-up was straightforward, with three poles inserted into sleeves, which run under the flysheet to make the tent more streamlined.
The fly can then be pegged out and tensioned by the multiple adjusters, followed by the guy ropes. Robens supplies sufficient, strong, lightweight pegs for all the pegging points and guys. Once inside, you can't fail to be impressed with the space on offer. The sleeping compartment easily accommodates two people with kit, although the porch has plenty of room for gear storage, with space left to cook in if needed.
The flysheet is made from HydroTex Ultralite fabric, which is unique to Robens. It's made from 30 denier ripstop polyester fabric coated on both sides with silicone, which gives it a rating of 3,000mm hydrostatic head. The inner tent is also ripstop polyester and the bathtub groundsheet has a waterproof rating of 10,000mm, which will stop any groundwater from getting in. Ventilation in the Osprey 2EX is good, with closable vents on the front and back of the flysheet and corresponding mesh panels in the inner.
ABR Rating: 9/10
In a line: A good tent for that winter rally
MSR Fury
£480.00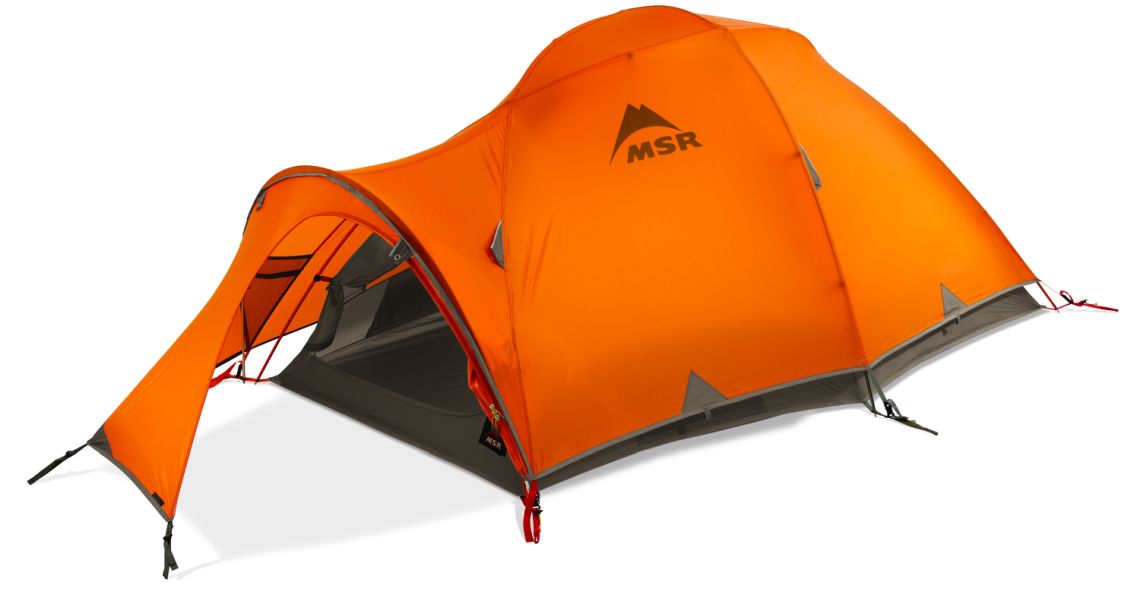 The Fury has a reasonably small footprint of 2.4×1.5m and is light, at just over 3.1kg. The pack size is also good: 45x25cm. It has a semi-geodesic design, in that the inner is pitched first – the colour-coded poles simply clip into the responding anchor points and then clip the inner to the frame. It can then be moved into position before you peg it down. The flysheet is attached next and has its own pole to form the porch area.
On my own, I had the tent up in less than 10 minutes. There's more than enough room for one person plus kit, or two if you cosy up with a pillion and store your kit in the reasonable-sized porch. I was able to sit up with ease and my head didn't touch the central storage shelf; lying down I had plenty of room top and bottom. The flysheet is ripstop nylon with a waterproof value of 1,500mm.
The inner has a bathtub groundsheet, coming up the sides of the tent, and it's made from MSR's DuraShield taffeta taped nylon treated with DWR (durable water repellent) so although it's light and flexible it's strong and waterproof. Ventilation is in the form of a full mesh panel on the inner door, plus at the rear of the inner tent, there's a closable mesh panel for access to the flysheet vent. The flysheet door also has a two-way zip for ventilation.
ABR Rating: 8/10
In a line: A good-sized strong tent perfect for that winter weekend getaway
Fjällräven Akka Endurance 2
SRP £495.00

The Akka Endurance 2 is an all-season tunnel tent with a pack size of 54x20cm. It weighs in at a respectable 3.7kg. The tent comes with the inner already attached to the outer. It has three poles that go into colour-coded sleeves; once this is done the tunnel shape is formed. Then you just have to peg out the front, back and sides and position the guy ropes. The whole process took me less than 10 minutes by myself.
The flysheet is made from ripstop polyester, which is coated with silicone on both sides. The porch has a door on each side, each with a two-way zip and separate mesh doors, which give good ventilation. Porch space is impressive, with plenty of room for a couple of roll bags and cooking gear. I could sit up inside the tent, but if you're over six foot, headroom may be restricted.
Lengthwise it's fine for lying down, but as a two-person tent it's not hugely wide, so you'd have to be good mates! The bathtub groundsheet is 70D nylon and it's strong and waterproof. The seams are double-stitched and taped for durability and weatherproofing.
ABR Rating: 8/10
In a line: Meets Fjällräven's usual impeccable standards
Hilleberg Allak
SRP £688.00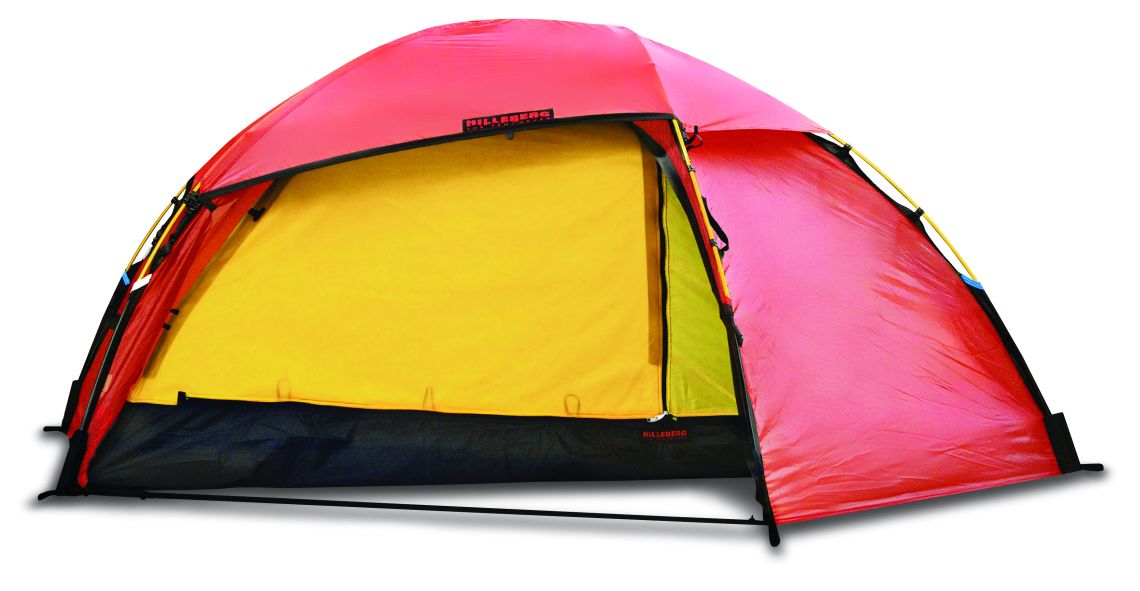 The old adage you get what you pay for is true here: with a Hilleberg tent you pay a lot and you get a lot. It weighs just 3.1kg and pack size is approximately 45x20cm. A free-standing dome tent, the Allak has three light yet strong poles that cross in the middle giving it a sturdy structure for use in exposed places, even above the tree line. These poles slip into small sleeves at each anchor point, then it's just a matter of clipping the tent to the poles.
The tent comes with the inner attached to the outer. Using both it took me a little over 20 minutes to pitch, but this would be less with practice. There aren't enough pegs for all the points so you would have to get some more for full all-round stability. Access is through either of the two side doors, which can be rolled and secured out of the way and there's ample storage space in the porch. Inside the inner tent, there is plenty of room to move about and good headroom for sitting up, although it will be a bit snug for two people.
The inner also has a door on each side, both with full mesh panels and two-way zips for ventilation. The flysheet is made from Kerlon 1200 ripstop nylon with a three-layer silicone treatment. The inner tent is made from lighter ripstop nylon that has a DWR (durable water repellent) treatment. The groundsheet is the bathtub design and is made from nylon with high puncture and abrasion resistance.
ABR Rating: 8/10
In a line: The perfect all-season tent for all adventures