TANK & TAIL
Paul Jennison tests the latest tank bags and tail packs – or dry bags – to see which ones work best
Over the past couple of years, we have tested and reviewed bike panniers that are suited to the 'adventure' style bikes. If you are going on a major tour then panniers are usually needed to contain your kit with it just down to personal preference whether you prefer the rigid or soft type of cases. In addition to your panniers and top case, there may be a requirement to strap on a bit more storage space.
A lot of riders use a tank mounted bag, which I think are an essential bit of luggage for carrying kit that I want close to hand, like a camera and documents. The list of small items that I stuff in mine is pretty long, but I'm guessing you get my drift and anyway we all have our own list of what we want to hand. The most significant necessity of any tank bag is the facility to carry a map.
The age of the satnav is with us and how many of us rely on that piece of technology to take us to our destination? Quite a few I bet. But I also know that some bikers prefer to use a good old paper map. Me, I use both as I like to have the wider picture available to route plan etc. Having said that, for a day to day commute a small bag with enough room for your daily essentials is probably all we need.
Back in the day, a tank bag was a generic item held on with a configuration of straps or bungee cords. Nowadays there are still generic types with well thought out straps or magnets to fix them onto your bike, but there are also model-specific ones that are designed to fit on to the different tank shapes.
But a point worth bearing in mind is that however a tank bag fits, dust and debris will find a way between the tank and bag and over time this will cause a fine abrasive surface which may damage the paintwork. I recommend regular removal of fixed harnesses and cleaning of the surfaces. Then there are a plethora of roll/dry bags and tail packs that are great for stowing extra kit or camping gear. These can be strapped onto the back of the bike in whatever fashion you decide.
The majority are waterproof or at the very least come with a rain cover. And if side bags are not your thing some are large enough to be used for all your gear, especially if you like to travel light. We have an assortment of these bags here and I have used them on short and long trips alike and found each one useful in its own right. What suits you might be different, but you'll get a general idea of what is on offer.
---
Tank Bags
Features we like…
Rain Covers
The majority of tank bags are water/ shower resistant, but very few are waterproof. The very nature of the bag – even with water lock-out zips – means that there are seams and openings where water can seep through. If we are carrying electrical gadgetry and vital documentation close to hand we need that to be kept dry. A rain cover will be needed to guarantee that the water stays on the outside. And in my experience, the cover also needs to have a clear panel so that a map can still be used.
Map pockets
Some are part and parcel of the bag, others are fully detachable for convenience. Whatever the option for a trip, if I'm going to be referring to a map I want it readily available and the clear panel big enough to show sufficient detail.
Easy to detach
Most bikes have a petrol cap on the top of the tank and a bag will sit right on top of it. So when we do need to refuel we don't want to be spending an eternity unfastening loads of clips and straps to access the filler. Likewise, when we are parking up and the bag is coming with us, a quick and easy release system is preferred.
Carry Strap
The bag needs to have a handle or three to make carrying it around effortless. There are even ones that have a rucksack harness incorporated into them for easier carrying.
Outer Pockets
One or two external pockets on the bag are great for small items like loose change for tolls etc. It saves a lot of time not having to rummage about in the main compartment.
Internal Compartments
A few small compartments inside the bag are useful to organise the contents and make them accessible in a matter of seconds. It's the small things you need that are always at the bottom.
---
Halvarssons Tank Bag
SRP £69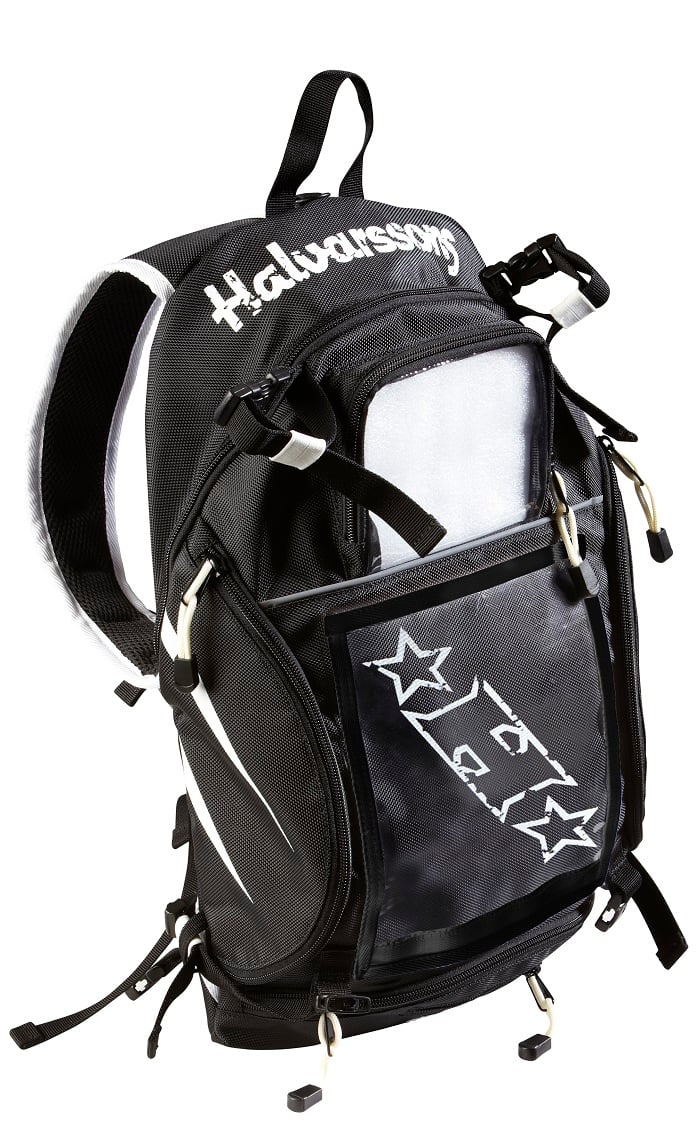 I like the compact nature of the Halvarssons Tankbag – it works well as a small carrier for everyday use on a commute to the office or a weekend jaunt when you want a camera close at hand. It can be removed quickly, leaving its harness behind and can be deployed as a rucksack using the integral straps.
Unfortunately what I'm not so keen on is the mounting harness. It needs to be left in situ as there is a multitude of straps securing it to the bike. The main ones that attach to the headstock and to the rear tank mounting area would probably suffice, but for a belt and braces effect they have included an additional four (two on each side) straps, which on some bikes would be a major headache to achieve, although they can be removed and not deployed, but that does make the bag a little less secure.
The harness does however have an aperture allowing easy access to the petrol filler when the bag is removed. The tank bag is made from heavy-duty polyester that is water-resistant and hard-wearing. It has no expansion capability, with its maximum load capacity limited to 12-litres. But like I said, it's an ideal daily commute bag. The rucksack straps are neatly stowed behind a padded partition and there is a small carry handle for convenience. A nice feature of the bag is the sat nav pocket, which you can adjust for better viewing.
This is just above and separate to the traditional map pocket. There are two small pockets that sit at the front of the bag nearer the rider, which are handy for toll money etc. The two side pockets are reasonable in size and one has an internal zip giving quick access to the main compartment. Internally there is a partition where the rain cover can be stored, but apart from that, the bag is void of any further features. If you can get passed the mounting problems with the harness the bag is sound for those who don't always want to carry loads of stuff upfront.
ABR Rating: 6/10
In a line: A good commuter's bag, if you can put up with loads of straps.
| | | |
| --- | --- | --- |
| Straps can be fiddly | Good access to petrol cap | Moveable sat nav pocket |
---
Oxford X40 Tank Bag
SRP £109.99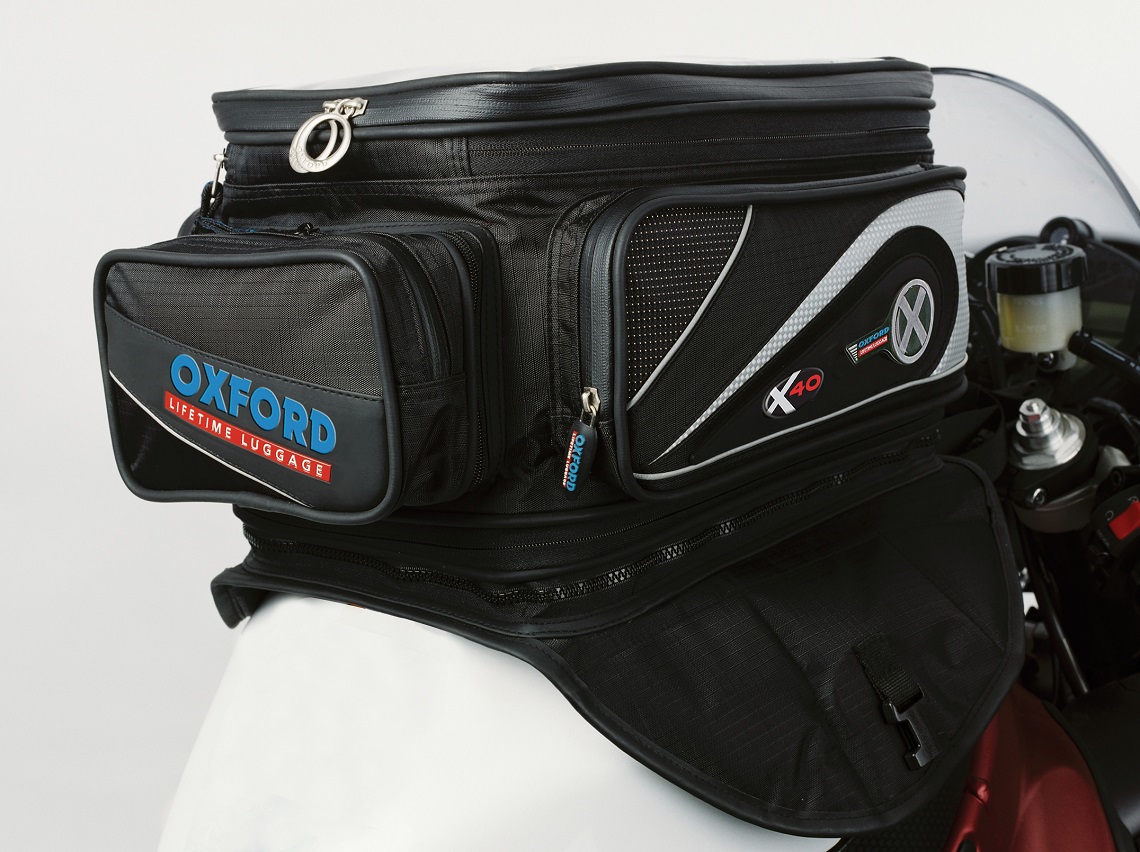 As I recall, one of my first tank bags was an early offering from Oxford. It had a generic pad that was held in place by several straps and I remember having to find a piece of foam to protect the paint on the tank from scuffs. It wasn't in the least bit waterproof and the rain cover tore to shreds in no time flat, but it did a reasonable job for not a lot of money. That was then, this is now. Oxford now produces some really decent items of luggage for today's biker. They are well constructed and come with a lifetime guarantee.
The basic idea is the same on this X40 bag, although it is designed for a steel tank so the magnetic base plate can attach securely. It does have an additional strap that can fasten around the headstock for added safety, and it has an anti-scuff non-slip backing to protect the paintwork. If used alone it has its own map pocket. The bag itself is constructed from heavy-duty ripstop nylon that is water-resistant and can be expanded out via two separate panels to a maximum capacity of 40-litres, which is pretty huge. When detached from the base it has rucksack straps for easier carrying. In the lid there is the usual map pocket incorporating a separate compartment for a sat nav and a couple of handy slots for a phone and pens.
The inside is spacious even before you start expanding the sides and there are removable supports for more rigidity. Externally there are two good sized fixed side pockets and a detachable belt pouch that has its own port for a power cable. All the compartment and pocket zips are water-resistant, but it is not a waterproof bag, so Oxford has included a dry bag that will keep the contents of the main bag protected from the damp. The fit on the test bike wasn't the snuggest, but it was secure and in normal use was fine, when expanded it was quite high but didn't impede the controls.
ABR Rating: 8/10
In a line: A huge capacity bag with good features.
| | | |
| --- | --- | --- |
| Holds 40-litres | Two good sized pockets | Comes with shoulder straps |
---
Wolfman Rainier Tank Bag
srP £125.00 (rain Cover £14.50)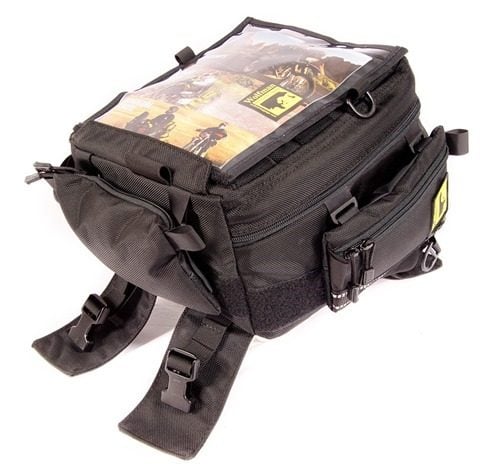 Wolfman have produced the Rainier bag specifically for bikes with sloped fuel tanks, which the vast majority of adventure bikes seem to have these days. And as is the way with their luggage it is a robust piece of kit that's going to satisfy the daily commuter and the world traveller alike. It has a simple universal mounting system that consists of four straps. The front two fasten around suitable frame parts near the headstock and the rear two straps attach under the front of the seat. These then clip onto the bag and are adjusted to secure it onto the tank.
The bag is constructed from heavy-duty ballistic nylon that will withstand light showers, and although the main zip has a covering flap it will not prevent water from finding its way through in heavier rain. This is when the additional rain cover will be needed. I personally would like to have seen this included as with so many others. The capacity is 17-litres and can expand to 20-litres via the zip-out gusset. The base of the bag has a non-slip, anti-scratch finish to protect the paintwork. Inside the main lid is a zipped pocket that is ideal for carrying documents safe. The remaining space is open without any further designated pockets.
Externally the bag has four good-sized pockets. The front one being the biggest is fixed, whereas the remaining three can be removed to give a smaller profile for day trips or commuting. There is also a removable map pocket, which is Velcro sealed so again not waterproof. The bag has a carry handle for normal use, but additional straps to convert into a backpack are an additional extra. In use the bag fits well and is compact and rugged, it has a reasonable price tag, but you will need to reckon in the additional cost of a rain cover or at the least consider dry bag inserts to protect your gear. That said, I like the basic functionality of the Rainier.
ABR Rating: 7/10
In a line: A robust bag that should include a rain cover.
| | | |
| --- | --- | --- |
| Might still need rain cover | Removable outside pockets | Fixed front pocket |
---
Givi XS308 Tanklock 20 litre
SRP £115.52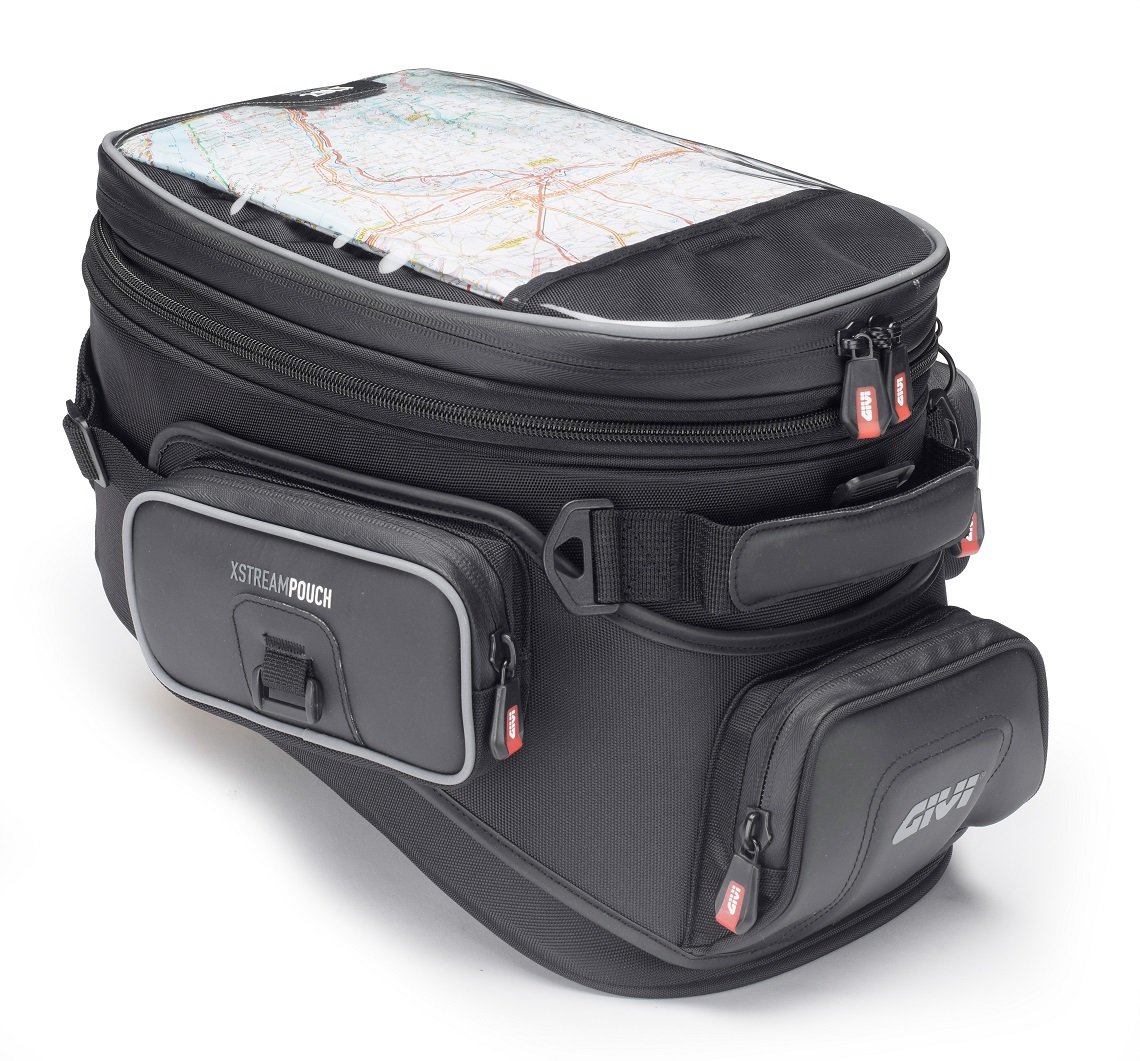 Givi is a well-known motorcycle luggage manufacturer, everything from panniers and top boxes to all types of soft luggage. So it figures that they would do a range of tank bags (and what a range there is!). What I like about the Tanklock range is that once you have purchased the individual tank ring for your particular bike (£13.74) the bag just locks on to the flange on the petrol filler and stays put. It's such a simple and effective way of mounting the bag and removal is done in a second or two.
The XS308 is one of the larger bags in this range and is ideal for that European tour and beyond. Its expanded capacity of 20-litres allows plenty of room for all your essentials including a larger SLR camera. It is constructed from a strong 1200 denier fabric with water-resistant zips to repel moisture, however, it is not waterproof so the included hi-viz rain cover will be needed in bad weather. Inside the bag is an adjustable inner shroud that will give added protection to the contents in damp weather. The main lid has a pocket with a clear top, which is useful for a map, but for added convenience, they have included a removable map pocket, which could also protect a tablet (iPad size) while still being able to use the screen.
There are three outer pockets all with water lock zips. These are mounted onto a detachable belt so they could be worn around your waist if preferred. There is a carry handle and a removable shoulder strap for better transportation of the bag when away from the bike. In use, the bag is stable on the Tanklock, although there is an additional securing strap which can be fed around the headstock. I found this a bit fiddly to keep threading through so I folded it away and did not feel the need to use it. The outer pockets are great for small items like loose change for the road tolls on the continent or visor cleaning sprays and cloths.
ABR Rating: 9/10
In a line: Quick and easy to fit and has great features. Recommended.
| | | |
| --- | --- | --- |
| Suits you sir | Quick, easy 'Tanklock' | The 3D601 also available |
---
Triumph Explorer Tank Bag
SRP £149.99 (Harness £30.99)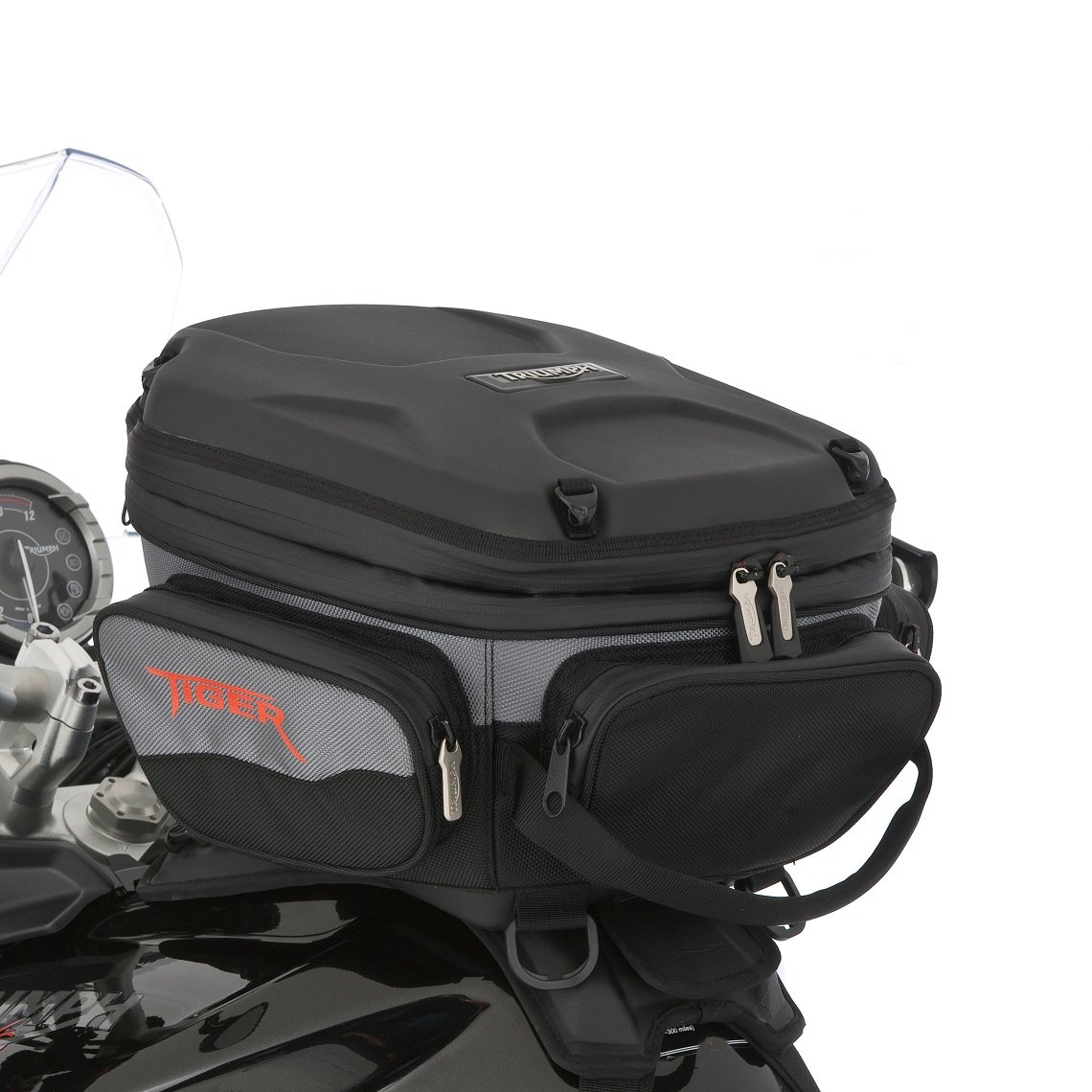 As with a lot of the newer model bikes the individual manufacturers produce bespoke luggage systems to enhance the bike's appearance. The benefit of this is that you can be certain it will fit correctly with the minimum of fuss. A great example of this kind of accessory is the Triumph Explorer tank bag (there is also one for the Tiger 800). It requires its own harness, which is specifically shaped to fit snuggly onto the Triumph's tank. Once that is in place the bag clips onto it via two clips on each side and a magnetic flap at the front. This allows quick and easy removal on refuel stops.
The bag is the Tardis in reverse; it looks huge, but only has a capacity of 15-litres (although it does expand to 18-litres). This is undoubtedly due to the shaped hardshell construction which makes the bag a robust piece of luggage. This also gives it a good level of water resistance, although it is not totally waterproof so a rain cover is included. Inside the lid, there are two zipped compartments within the lid itself, with the rest of the space for whatever you need to carry. To protect the contents from the weather – should you need to open the bag in the rain – there is a fixed inner shroud with a drawstring closure.
It has a detachable map pocket that clips to the top of the lid, with the rain cover also featuring a transparent panel that corresponds to it, so a map will still be visible. There are two zipped side pockets, a zipped front receptacle and a removable front pouch that are useful for small items and valuables. As well as the small carry handle the bag also comes with two detachable straps that can convert it into a backpack. When fitted to the Explorer I found the height of it quite significant and it changed the air flow around my helmet, the result of which was that the buffeting was increased. That said, the bespoke shape makes it a solid fit and it is not obtrusive when riding.
ABR Rating: 7/10
In a line: If you've bought the bike, you'll buy one of these.
| | | |
| --- | --- | --- |
| Removable front pouch | Not as voluminous as it looks | Triumph's own mount |
---
S W Motech Quick-Lock Evo Trial Bag
£151 (tank ring £28.26)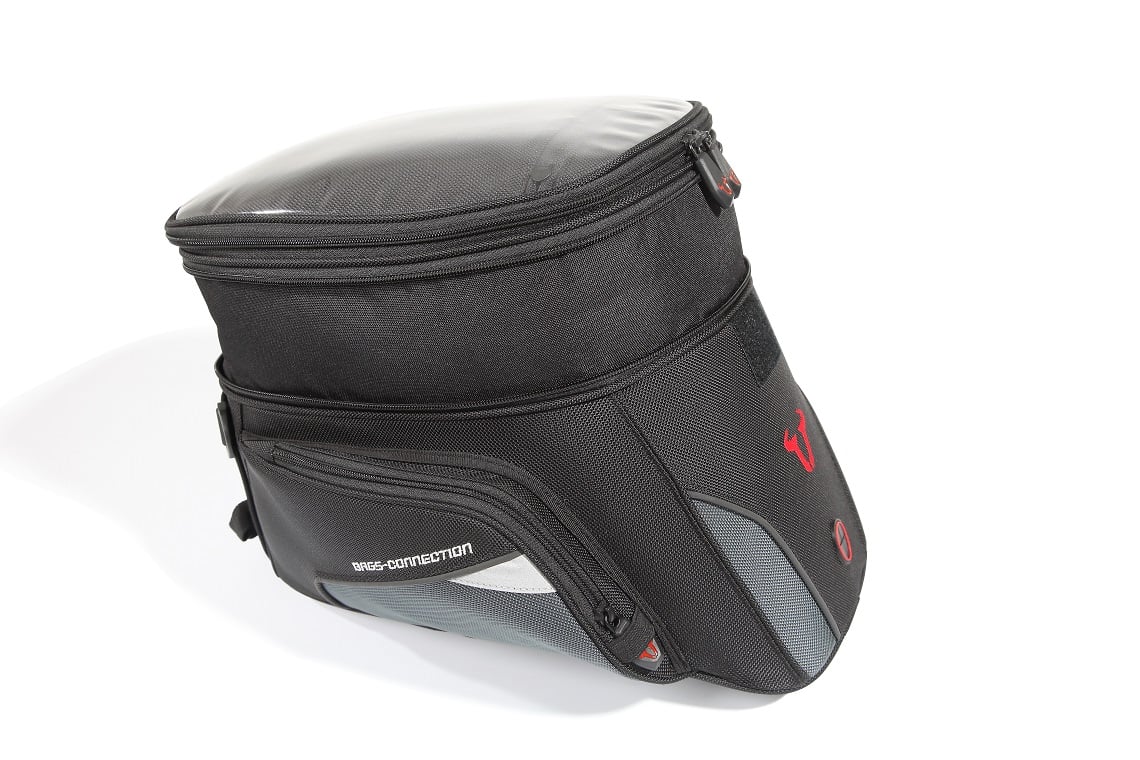 S W Motech's Quick-lock range has several bags of different shapes and sizes that clip to a tank ring, so we opted for one that has a reasonably large capacity for a long-distance tour and importantly has a generic shape that will fit a decent number of the current curved tanks that most 'adventure' style bikes are designed with. The quick lock rings are bike-specific, but most bikes are catered for. They are simple enough to fit, the only slightly fiddly bit being to fit the locking mechanism to the bag itself, it needing drilling through the bottom of the bag to screw it into place (full instructions, screws and the drill bit are supplied).
This is done to take into account the position of the filler cap in relation to the shape of the tank to ensure the best fit on the bike. Once fitted the bag locks onto the ring and is released by pulling the small cable that disengages the lock. The Trial bag has a standard capacity of 15-litres which can be increased to 22-litres by unzipping the volume expansion panel just below the lid. The fabric of the bag is a very durable ballistic nylon that is abrasion-resistant and will cope with a light shower.
For heavier rain, there is an inclusive rain cover. The bag has a rigid body that gives it its shape while protecting the contents inside from being crushed in normal use. It has a dedicated map pocket in the lid that is accessed from inside via a zip. On the reverse side, there are several organiser pockets where you could store documents and pens etc. The main bag is large enough to store a decent-sized camera with a lens and there are four meshed pockets around the inside which are great for locating small items. On the outside, there are two zipped pockets and a carry handle. There is a detachable shoulder strap and two electrical cable ports that would allow you to power your gadgets while they are in the bag.
ABR Rating: 8/10
In a line: Get over the fiddly fitting and you have a solid and secure bag.
| | | |
| --- | --- | --- |
| Rain cover included | Works well once in place | Internal organiser pockets |
---
Roll/tail bags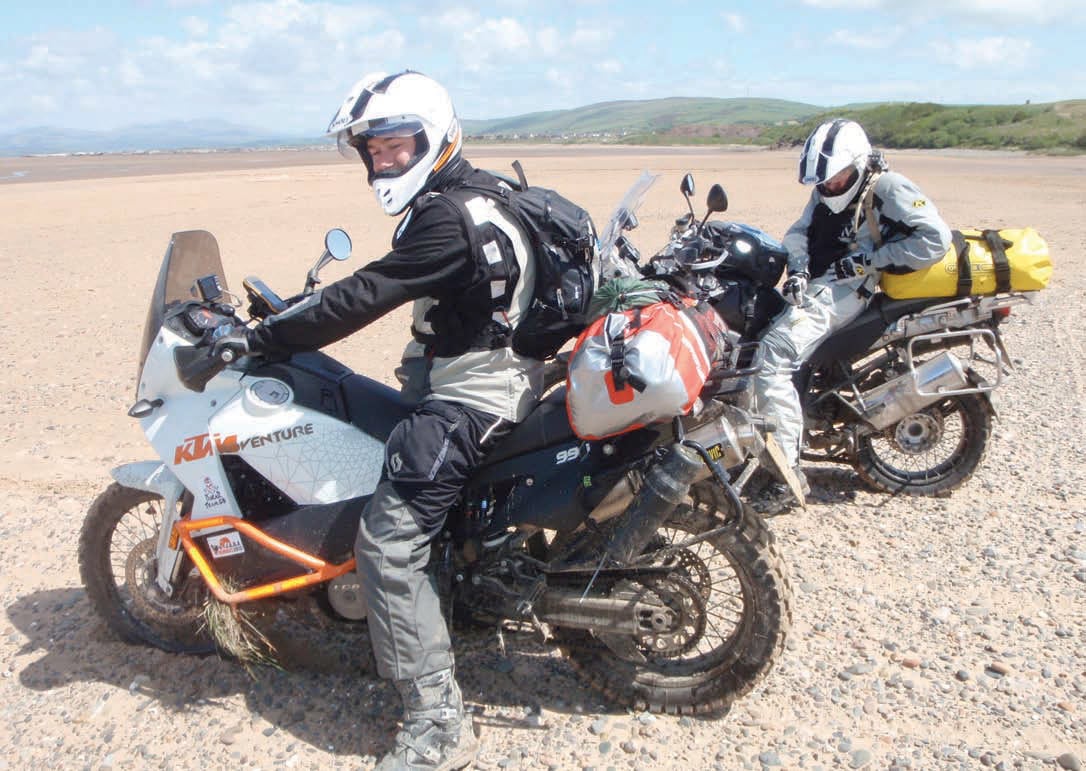 Features we like… 
Strap Loops
For extra security of the bag, a few strategically placed loops that the fastening straps can be passed through keep it in place and stop them from slipping.
Carry Handles
As with tank bags, we need to carry these larger bags and need handles to lug them around. A good-sized shoulder strap should be the minimum.
Waterproof/Rain Cover
A lot of roll bags I have used are 100% waterproof and they need to be because they are exposed to the elements. Tail packs are the same, but few are waterproof so will need a rain cover.
---
Lomo 40-litre Dry Bag
SRP £20.99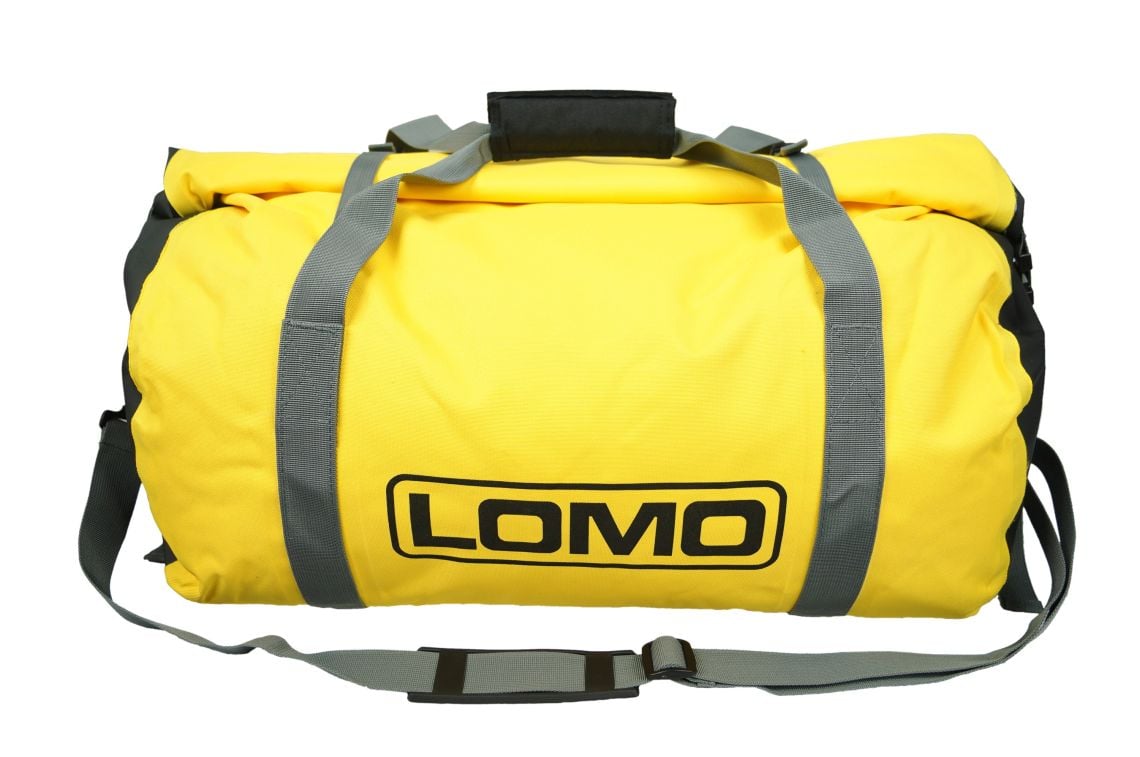 Although Lomo are engaged primarily in the water sports industry, their dry bags are proving very popular among our readers. That's probably down to recognising the fact that if it's used in nautical pastimes then it's assured to be waterproof and because it's not logoed with motorcycle-related labels the price on the swing tag is certainly more attractive.
This dry bag is a top opening roll bag, which for me is more preferable than a side opening (duffel) bag because it is easier to pack/unpack and particular items can be located without having to pull out the entire contents to find them. It is made from highly abrasion resistant and waterproof polyurethane (PU) coated nylon. All the seams are welded to ensure that there is no possibility of them leaking.
The roll down is fastened at each end with clips and there are lateral compression straps that secure the contents. With the brushed material, it gives a certain amount of grip when place on the bike and your securing bungees or straps are less likely to slip off when tying down. It has a two-piece carry handle and a detachable shoulder strap for easier transportation away from the bike.
ABR Rating: 9/10
In a line: A roll bag pure and simple and good value for money.
---
Wunderlich Combi Bag Highway
SRP £29.00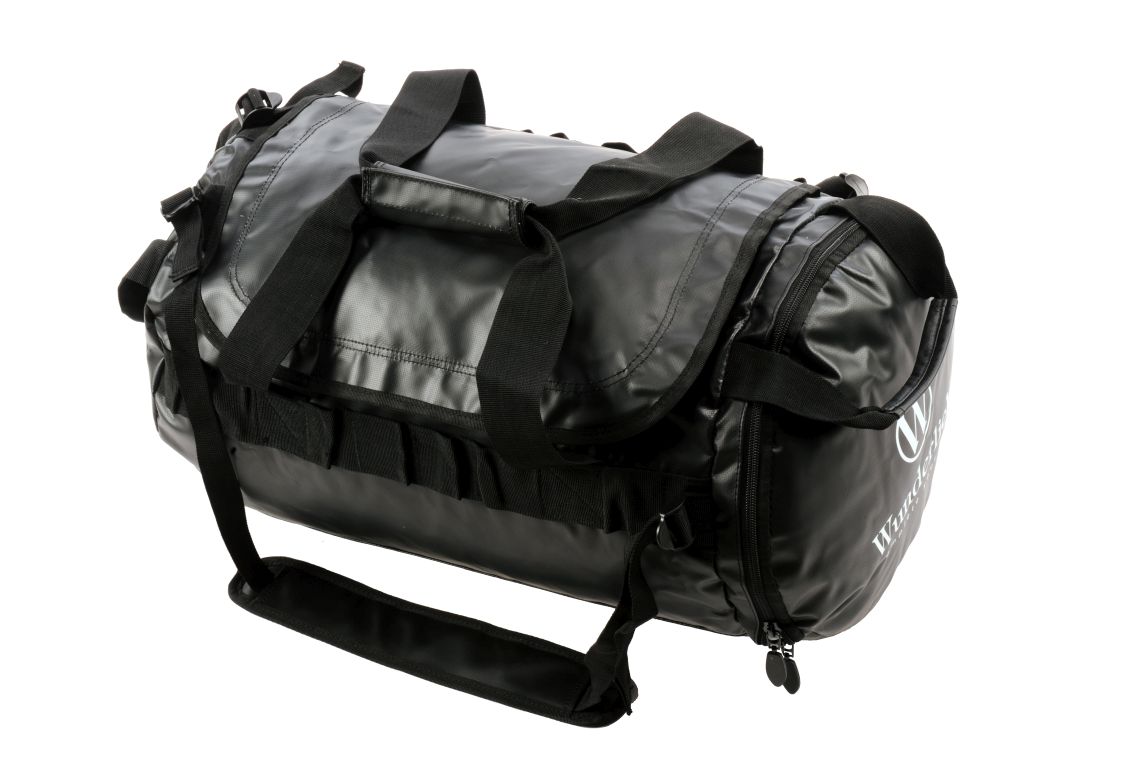 For the money, this bag from Wunderlich is a bargain. Although the logo is underpinned by a 'Complete your BMW' statement it isn't a huge motif so will go mainly unnoticed if you don't want to boast about your liking of the Bavarian company. The bag is made from a hard-wearing waterproof vinyl and instead of being a roll bag it has a zipped opening lid.
The zip however is not water-resistant, though it is covered by a substantial flap that does a good job of keeping the rain out. I can vouch for water resilience as I toured Spain and Morocco with this bag strapped on the back and I encountered more than enough wet weather for my liking. That said, the contents – which were mostly camping kit – stayed dry.
There is an outer end zipped compartment that I wouldn't trust with anything I didn't want to get damp though. The bag has a 48-litre capacity, which is more than enough for your extra gear. It has the usual carry handles but in addition, there are two shoulder straps that convert the bag into a backpack for easier transportation away from the bike.
ABR Rating: 8/10
In a line: A bag that can be used on the bike or just about anywhere.
---
Triumph Dry Bag
SRP £74.99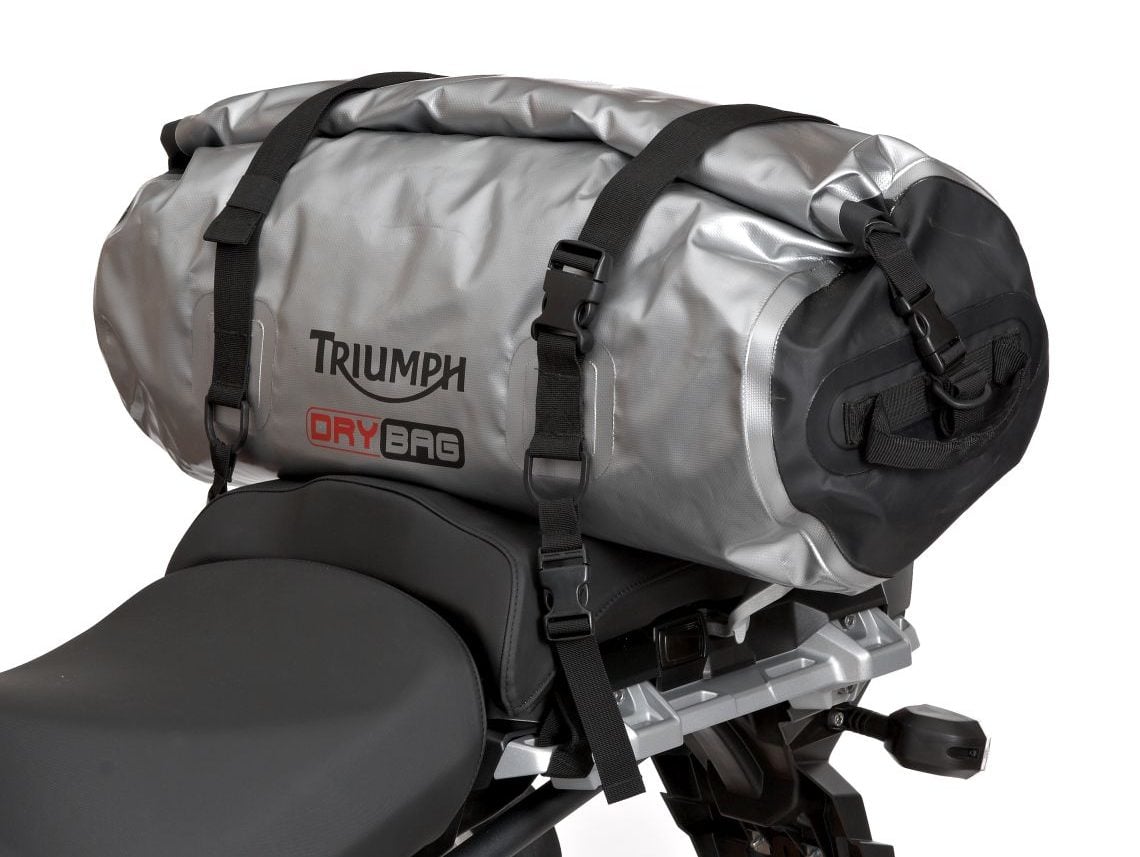 Like with the tank bag reviewed earlier, Triumph has produced a Roll Bag for the Explorer/Tiger owner who wants their luggage to display the infamous Hinckley brand name. But you are paying for it. Apart from the obvious branding on the bag, there is nothing that differentiates this from any other roll bag in terms of its functionality; it's a roll bag! It is made from heavy-duty PU vinyl, which is of course waterproof (once it is rolled down sealing the top entry point).
The top is held down by adjustable clips on each end and the carry handles double up as compression straps to hold the contents in place. It has a 40-litre capacity, which is plenty to store extra clothing or all of your camping kit. And that's about all you can say about a roll bag, apart from this one in particular which has its own mounting straps that loop around the frame of your bike then clip on to the bag in four places and are tightened down to secure it over the pillion seat. So there is no need for extra straps. If you are not worried about the branding I can see no reason why this bag couldn't be used on any bike.
ABR Rating: 7/10
In a line: Expensive Triumph branding but could be used on any bike.
---
Jofama Bags
SRP £79/£89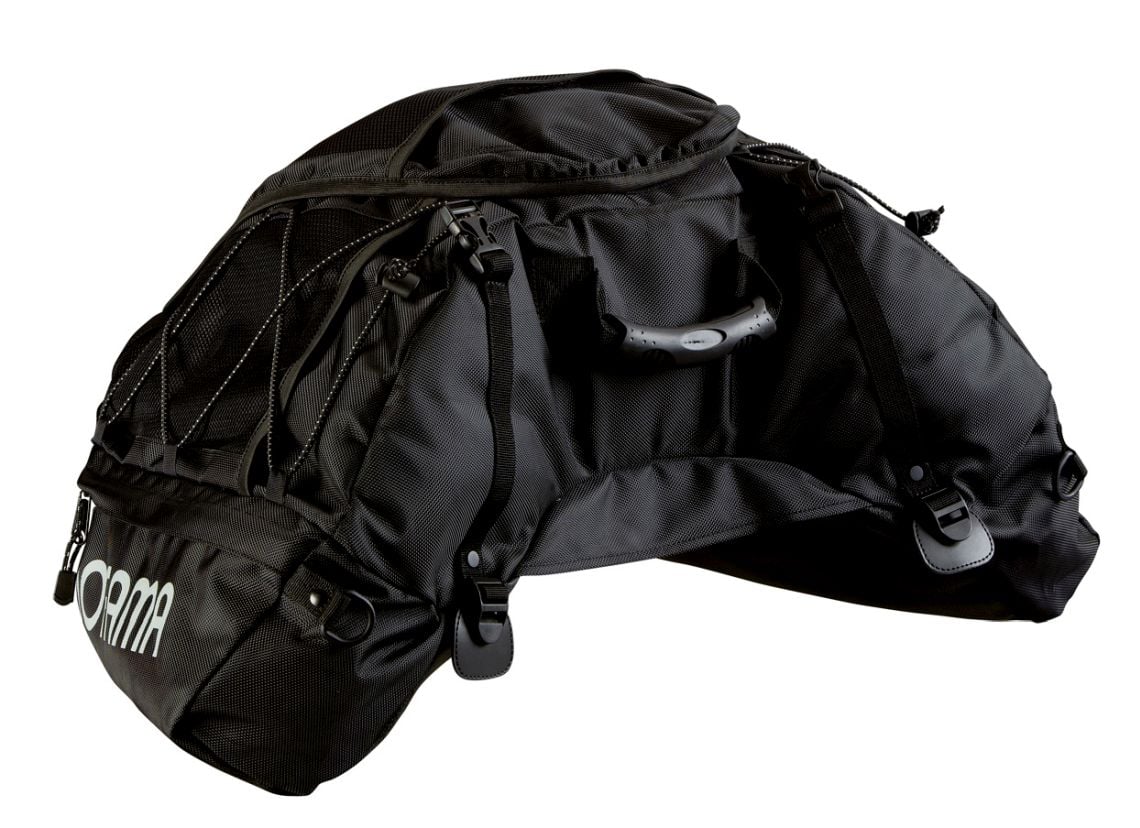 The Jofama bag we have here is the smaller of two with 42-litres of storage capacity as opposed to the larger 52-litre option. These bags are designed to sit on the back of the bike and hang down each side, which is ideal if you are not using panniers. The base of the bag has an anti-slip coating that will grip the pillion seat option and there are adjustable straps to secure it to the bike.
The main fabric is robust polyester, which is abrasion and shower resistant, the bag also featuring three external mesh pockets that are handy for storing gloves and the like. Two of them also have elastic cargo nets to keep things in place. The bag is accessed via a top opening, with a zip closure covered with a flap.
The two hanging sides have individual storage areas for smaller items. Unfortunately, the bag is not waterproof and the contents need to be protected so Jofama has included three water-tight storage bags with drawstrings. Personally, I would replace these with different sized stuff bags, which I know will repel any water.
ABR Rating: 6/10
In a line: A compact tail pack with built inside bags.
---
Ortlieb Zip n Go Holdall
SRP £111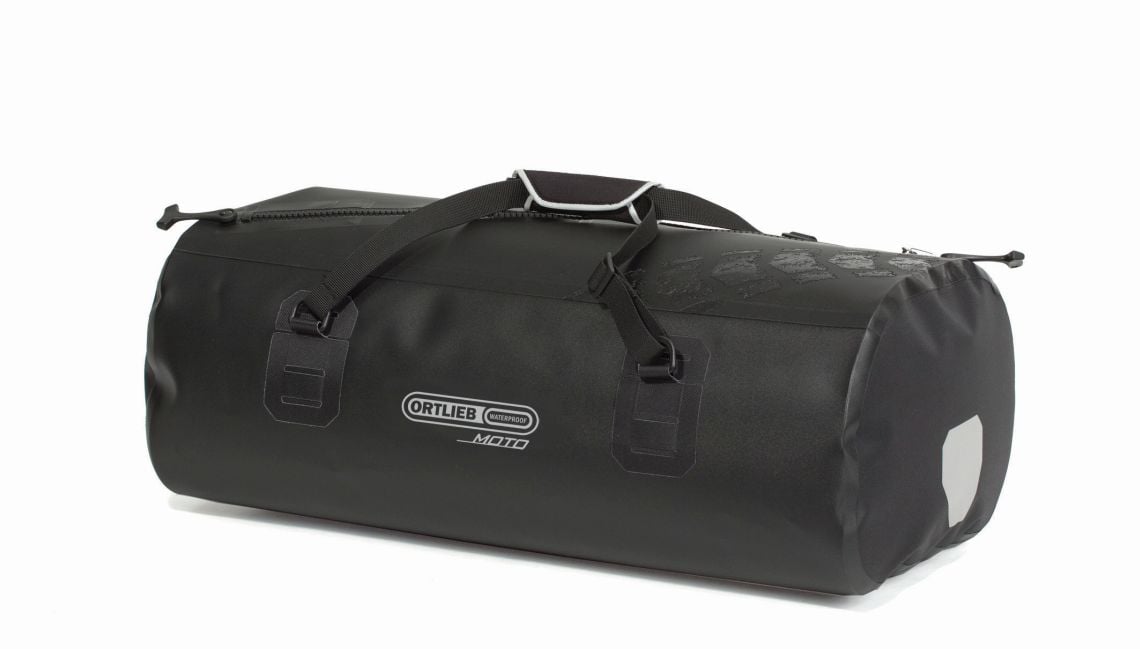 I know a lot of riders who use roll bags from Ortlieb because the quality is always going to be there and it should last a multitude of trips and tours. The Zip n Go Holdall is a fairly new product to the range, and instead of having a roll-top, it has a waterproof TIZIP zip that seals the bag and renders it watertight.
These types of bags are used by nautical enthusiasts because, let's face it, they need it to be waterproof! The Ortlieb is made from abrasion and fold resistant PU fabric, which should take a lot of punishment. The seams are also welded to ensure that there is no possibility of moisture getting in. It has a 45-litre capacity, which is a good size for strapping on the back of the bike.
I used one on a wet trip around Scotland with my camping gear inside, all of which remained dry. The only downside I could see was that the diagonal zip made it a little awkward to get bulky items (like tent and sleeping bag) in and out. It has a padded handle for easier carrying and there are fixing points for compression straps to secure the bag to the bike.
ABR Rating: 8/10
In a line: A tough, waterproof bag that'll last and last.
---
Givi XS305 Tail Bag
SRP £159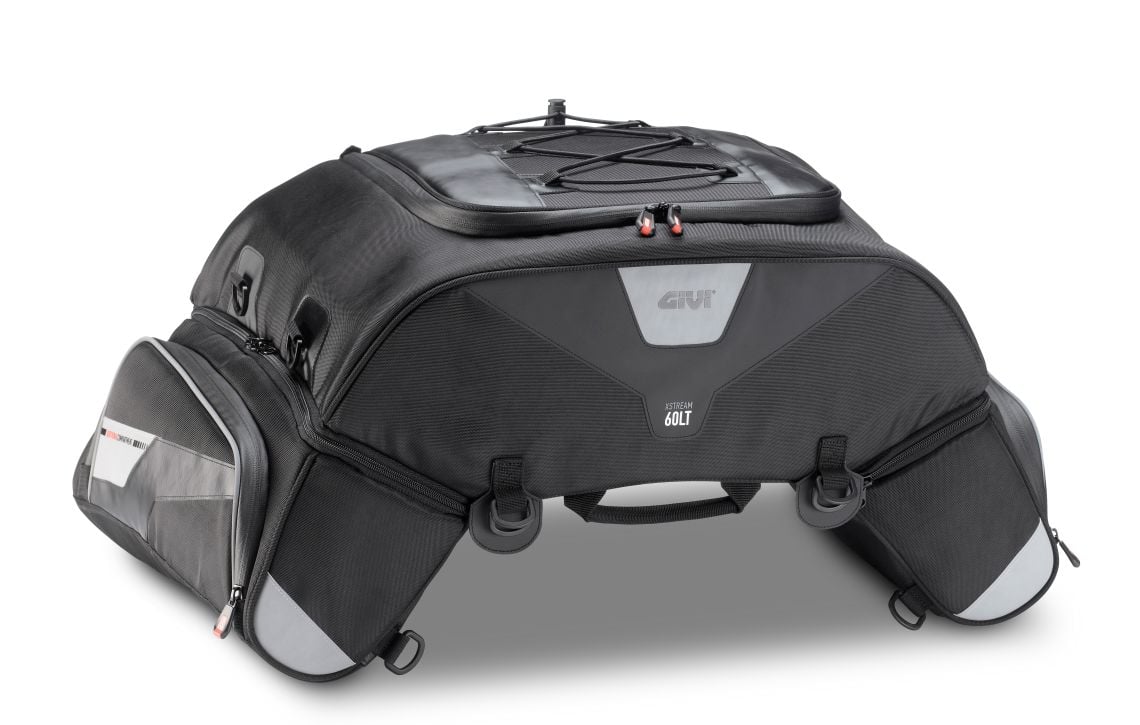 As far as tail packs and roll bags go this one's a monster, although at 60-litres of storage it isn't the largest in terms of capacity that I have seen. Its large appearance is down to a semi-rigid construction and low profile, which is shaped similar to the Jofama bag and in all honesty wouldn't look out of place on an airport baggage carousel.
The base of the bag has an anti-slip finish that should grip the rear seat and also protect any vulnerable paintwork from being rubbed. It has a securing strap that passes under the seat and four adjustable tie-down straps for added security.
The outer fabric is a 1200 denier nylon, which is extremely hardwearing and water-resistant. The main and side compartments have water-resistant zips to keep out moisture, but if the weather does turn ugly Givi has included a fluorescent rain cover to keep things dry. If in its standard shape the bag protrudes too much the side compartments have a zipped panel that can be undone to lower their angle. Externally there are two mesh pockets on the sides and an elasticated cargo net on the top to hold extra gear.
ABR Rating: 7/10
In a line: A big sturdy bag with good features.
---
Amphibious Dry Tube Bag 60-litres
SRP £35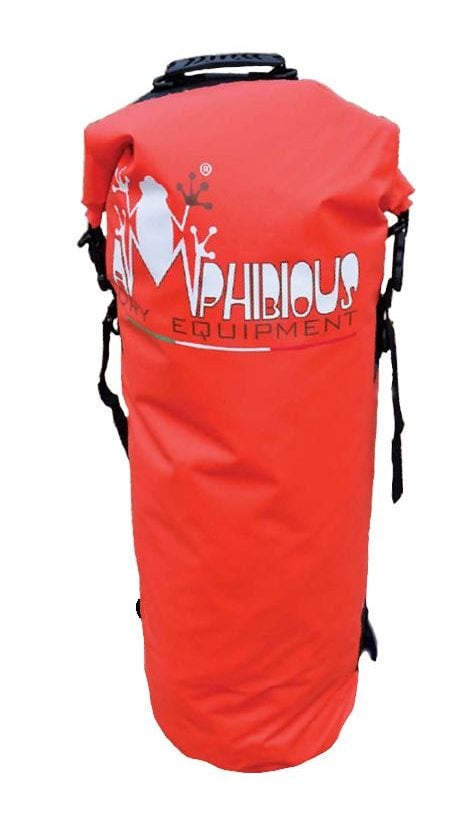 The Amphibious range of waterproof dry bags are new to the UK and are ideal for packing all your kit onto your bike with a peace of mind that everything will be as dry when you reach your destination as it was when you packed it. The bags have been tried and tested in marine environments so are sure to stand up to the rigours of a trip around the west coast of Scotland and beyond.
This particular bag is labelled as a tube bag and is perhaps better known as a duffel or stuff bag. At 60-litres it will swallow up a lot of kit via the top of the tube. The only downside of this type of bag is that the contents are not easily accessible once it is packed, not without removing most of your stuff to find what you want, so selective packing will be required.
The bag is made from strong 500 denier PVC with welded seams to prevent moisture from creeping through. The roll-top is secured by robust clips and it has a top carry handle as well as a detachable padded shoulder strap.
ABR Rating: 8/10
In a line: A strong durable dry bag with a massive storage capacity.